It looks like you've tried Slack and it doesn't meet your needs. You're not alone.
Perhaps you're looking for a tool that's faster, less complicated and more affordable than Slack.
We've been there too and we've actually tried a few Slack alternatives to find the app that suits our needs the best. Here are the apps we tried: 
✓

Chanty

✓

Fleep

✓

Flock

✓

Microsoft Teams

✓

ProofHub

✓

Ryver

✓

Glip

✓

Google Chat
By the way, we used to have Stride and HipChat on this list until recently, too. However, Slack acquired both tools with plans to migrate their users. Since both of them were discontinued in February 2019, we won't put them on our Slack alternatives list anymore.

In any case, we've used Slack and realized that it doesn't meet our needs perfectly. Since we realized that there's a market for a team chat app that's less complicated and more affordable, we decided to create a tool of our own – this is why we created Chanty.
Chanty is a super simple team chat app. Before we created the app, we spent at least a few weeks researching and actually using our competitor apps which we mentioned above. So, this article is based on our own experience with using these apps.
The apps mentioned on this list are the few that we've chosen as the very best Slack alternatives. These are the apps that are the top Slack alternatives, in our humble opinion.
There are 100+ Slack alternatives. Or are there?
If you do a quick Google search for "slack alternatives", you'll find lots of results that mention various apps as Slack competitors. The problem is, a good number of these tools are CRM apps which are hardly a Slack competitor, which can be confusing you. 
The reason for listing CRMs (and other types of apps) as Slack competitors is probably just to add some numbers to their posts. If you want to know the real number, you can head to alternativeto.net and find out that there are more than 100 different Slack competitors out there. However, we are here to focus on quality, rather than quantity, so here are the very best.
Why do people choose Slack?
There are three main reasons why people use Slack as their application of choice. Communication, collaboration and notifications. It lets you chat with your team, share files and use different integrations, as well as stay up to date with notifications, all the while taking your communication away from your email inbox. Here is what we had to say about Slack in a video: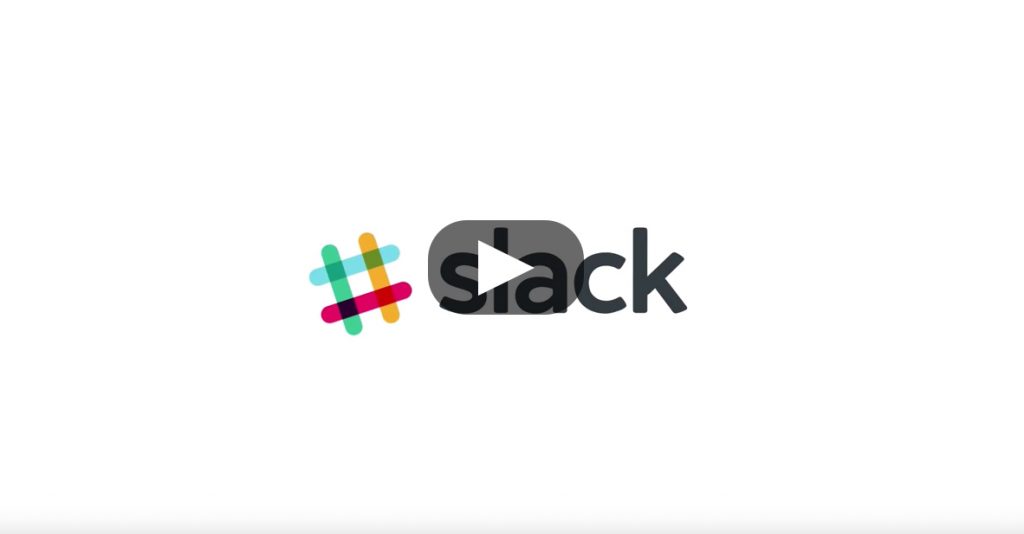 If you want to find out more about Slack in detail, you can read our Slack review. Let's briefly discuss the advantages of using Slack instead of its many competitors.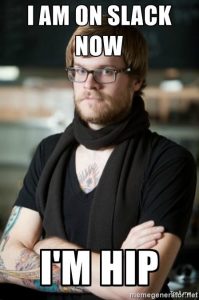 Image source
It's hip.

While talking to a large number of CEOs and founders, I found that they all love Slack. No matter their

management styles

, their industry, niche market or size of their company, everyone knows about Slack. It also has this air of being cool, probably thanks to its fancy bots and the fancy copy on their website. Usually, when I ask people what's cool about Slack, they have a hard time explaining it. It mostly boils down to "It's popular and everyone else is using it". Integrations are one of the best parts of the app, but very few Slack fans actually integrate Slack with their other apps at work.
Integrations.

At the moment of writing, there are more than 800 different integrations for Slack. If you don't know what integrations are, here's the best way to explain it. When you integrate your other work apps with Slack (such as MailChimp, Zendesk, Salesforce, etc.), you can get notifications from them within Slack in real-time. You don't have to open any of these apps and check them all the time – you have everything in one place. It acts as a single notification hub for your workplace.
Powerful search.

When you create a lot of messages daily, you'll have to search for them quite frequently. Slack allows searching through messages and files, and even the content within the files. More precisely, you can search through Google Docs, Office and Dropbox files that you shared in Slack. There are advanced search operators (such as quotation marks) that let you search for a specific phrase, for example.
Okay, now that was enough about Slack, let's take a look at some of the top Slack alternatives. Hopefully, you'll find the one that suits your needs the best.
The top Slack alternatives
It's our blog, after all, so we're putting Chanty as the first one on this list. We've been building Chanty for the past 4 years as the strongest Slack alternative out there. Putting our love for technology and communication together, we've created an app that people love using. If you haven't tried Chanty yet, this up-and-coming team chat app is definitely worth your time.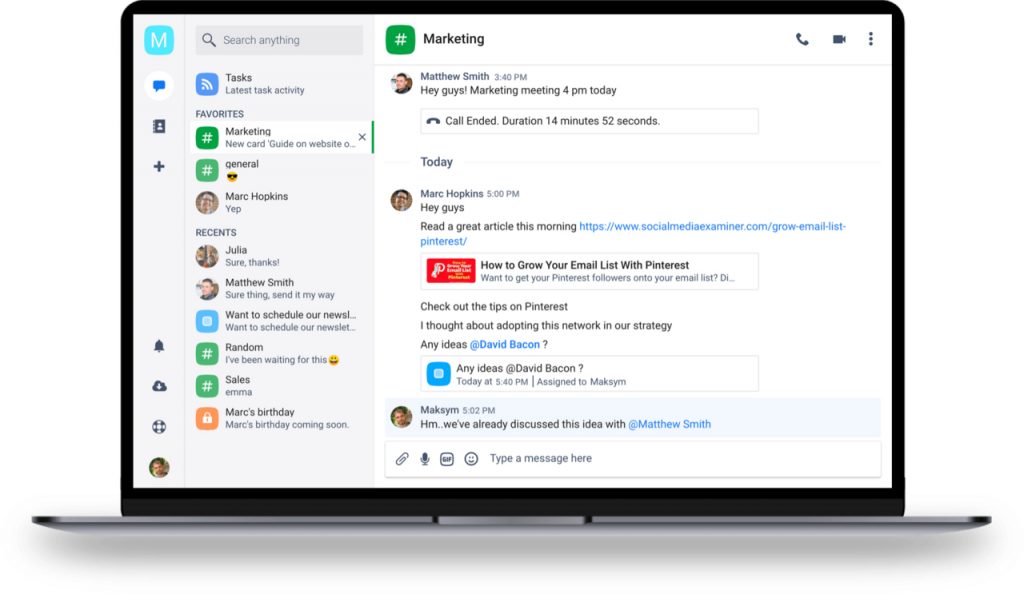 Chanty vs Slack. How is it different?
The main goal of Chanty is to create an intuitive experience for our users. For this reason, we focused on making our onboarding and user interface as simple and clean as possible. You may get the feeling that using Slack is getting more complicated, with more features being added every day. At Chanty, we want to keep the right balance between features and usability. This is why we stay simple but also have enough powerful features which teams need to work effectively.
Compared to Slack, Chanty is faster and more affordable (up to 75% cheaper) and it offers twice as much storage compared to Slack. You can view all your files, links, tasks and conversations in our Teambook. Chanty also comes with a built-in task manager – you can turn any message into a task, assign it to your team member and get notified when it's done. By the way, there are unlimited messages, even in the freemium plan. That means that you can have an unlimited number of messages and search for them. On the other hand, Slack only allows 10,000 messages in their free plan. 
Here is a neat video on how you can use Chanty to improve your team's productivity: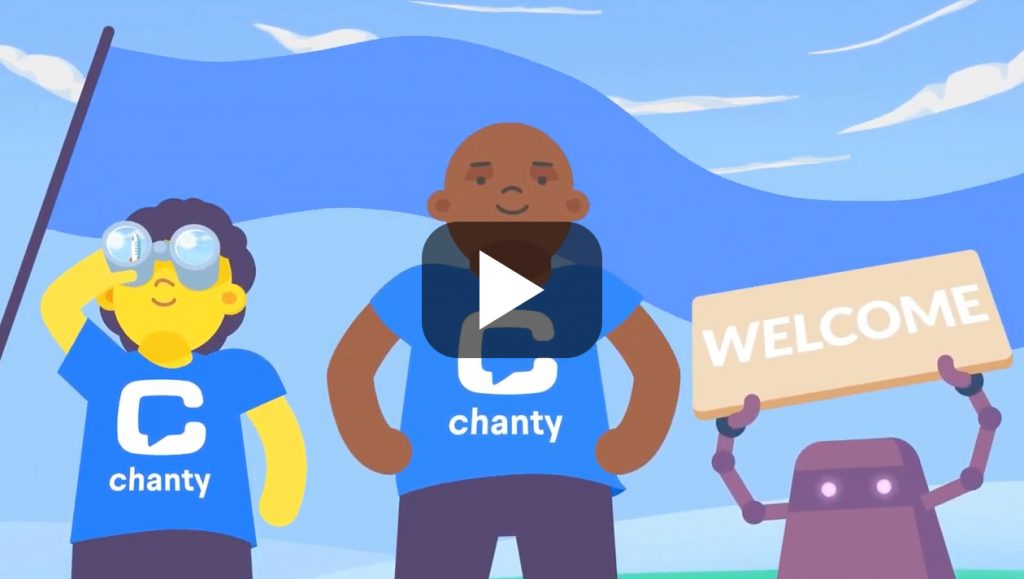 In the past few months, Chanty has rolled out a number of useful features. You can now connect a large number of apps using our Zapier integration. Moreover, you can use high-quality audio and video calls with your team members. Also you can send voice messages besides just writing text.
We are strong believers in work-life balance. We continue improving our app so you can spend less time working and more time getting some rest. Feel free to give Chanty a try, we look forward to your feedback!😊
Fleep
The first thing you should know about Fleep is that you can send a message to anyone who uses this app. All you need to know is their email and you can connect with any Fleep user out there. In theory, this app should fit somewhere between email and a team chat app. Instead of creating a sandbox such as Slack, Fleep's idea is that you can communicate with anyone who uses the app.
Fleep vs. Slack – how do they stack up?
We personally asked the Fleep staff about the differences between Fleep and Slack. This is what they answered us:
Fleep is an open network and you can chat with anyone who's using the app. If you want to be a member of several teams or projects at once, you need one account only. In Slack, you need an account for each team you're in.

Fleep is completely free if you don't need admin controls, i.e. you don't need to control your company's accounts and conversations. The cheapest paid package is called Fleep for Business and it costs 5 Euros per user per month.

In the free Fleep package, you get unlimited message history and unlimited integrations.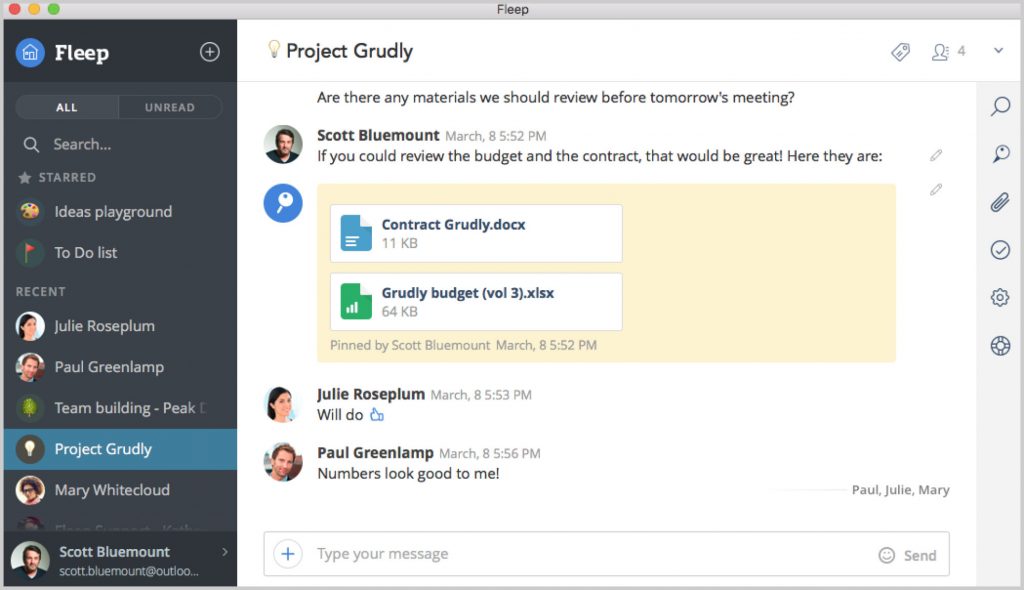 Our experience using Fleep
The way that Fleep is set up, with users being in the focus, actually makes it more complicated for use in teams. It's similar to Skype but with the option of sending and receiving emails. This isn't such a bad idea, but then again, Skype is not ideal for team communication.
Just like Slack, Fleep also has an option to send a message to yourself. In other words, you can click on your own name and send yourself a note or copy and paste a link so you can save it for later. Fleep has the same option and you can create unlimited monologues with yourself. It's kind of easy to get lost in them, but the good news is that you have the option.
Here is how our team scored Fleep: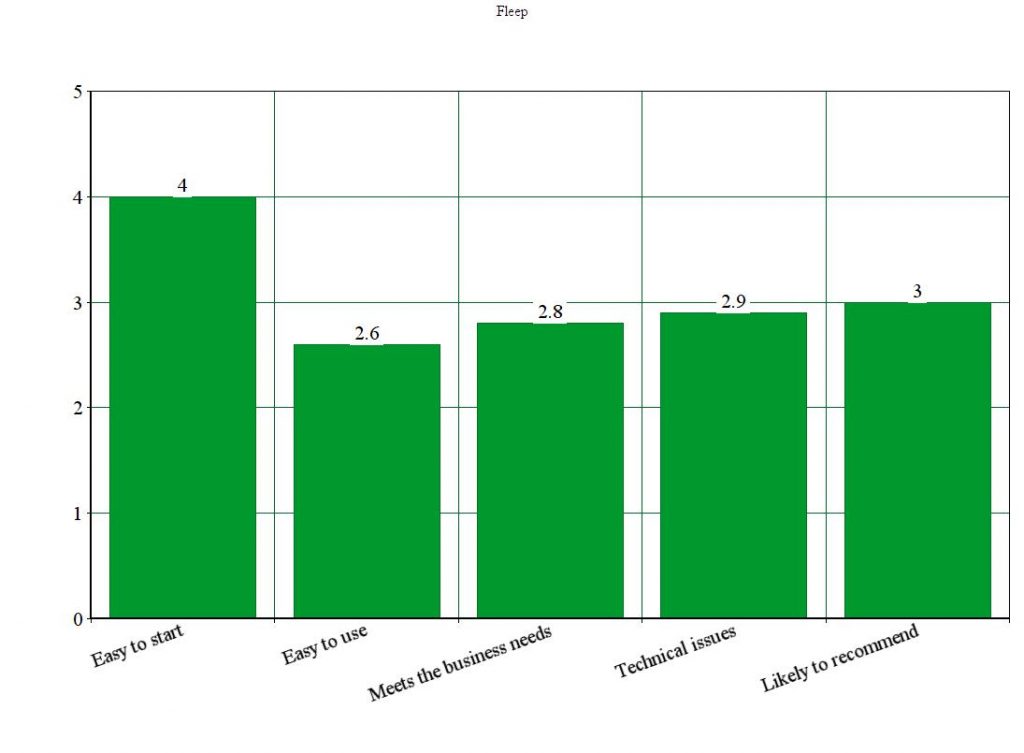 Fleep summary
You should use Fleep if:
–   You communicate more outside of your team than with your team members
–   You're not a fan of emails
–   You need more than 10,000 messages in Slack's history for the free plan
–  You require more than 10 app integrations for work on a free plan
Flock
Founded in 2014 in India, Flock is a messaging app that has been around almost as long as Slack. Besides standard messages, it supports group chat, video and audio calls, screen sharing and more. You also get polls and to-do lists, which require third-party integrations in Slack. Flock is available in several languages, including Spanish and Portuguese.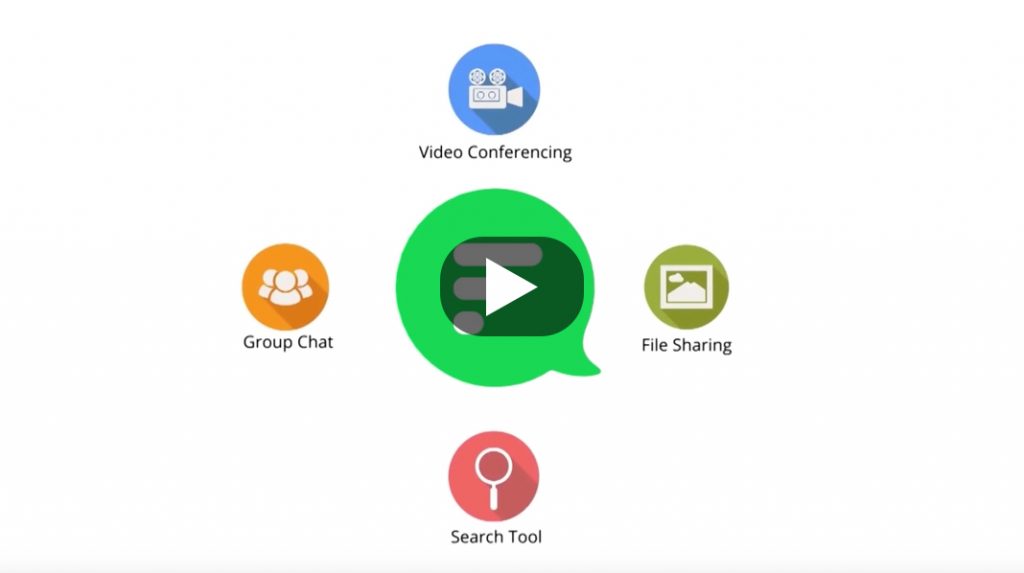 We went and asked the guys from Flock what makes them better than Slack. Here are some of their points:
–   Flock claims to have a better UI than Slack. We decided to test this out and we spent a week using Flock. We found out that the 5-column interface can be a bit complicated.
–   According to load time and file sharing tests, Flock is faster than Slack.
–   Flock is cheaper than Slack, with plans starting at $4.5 per user per month.
–   Flock offers a limited 10,000 searchable message history and unlimited integrations in the free plan.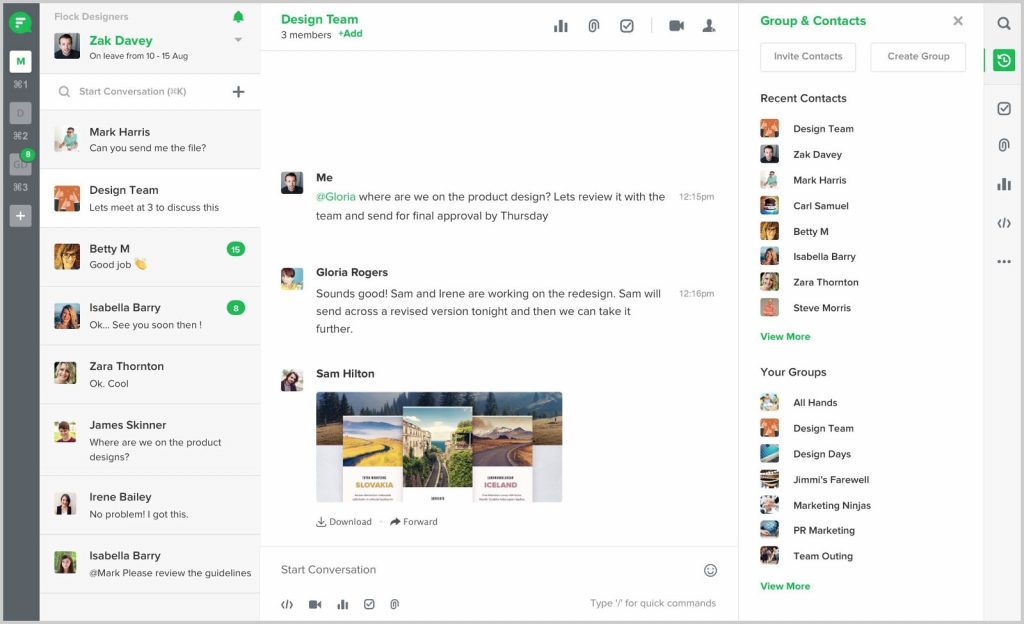 Our experience with Flock
Compared to other team chat apps on this list, we've used Flock the longest. The interface and design are pretty good. We especially loved their parakeet green color for the app. As mentioned before, the interface is split up in 5 columns, which is a bit too busy. However, Flock turned out to be fairly easy to use.
We had one big issue though – we lost our message history one day and couldn't access it for over 8 hours. It happened on the third day of testing Flock. We couldn't access a single private or channel message, which slowed us down for the day significantly.
For Flock (and all other apps on this list), we created a grading scale based on these parameters:
Is it easy to use on a scale from 1 to 5? (5 – very easy, 1 – not easy at all)

Is it easy to start using, on a scale from 1 to 5 (5 – very easy, 1 – not easy at all)

On a scale from 1 – 5, how do the features of the app meet your business needs at work? (5 – perfectly, 1 – not at all)

How many technical issues have you experienced while using this app? (5 – no issues, 1 – lots of issues)

How likely are you to recommend this app to your friends? (5 – very likely, 1 – very unlikely)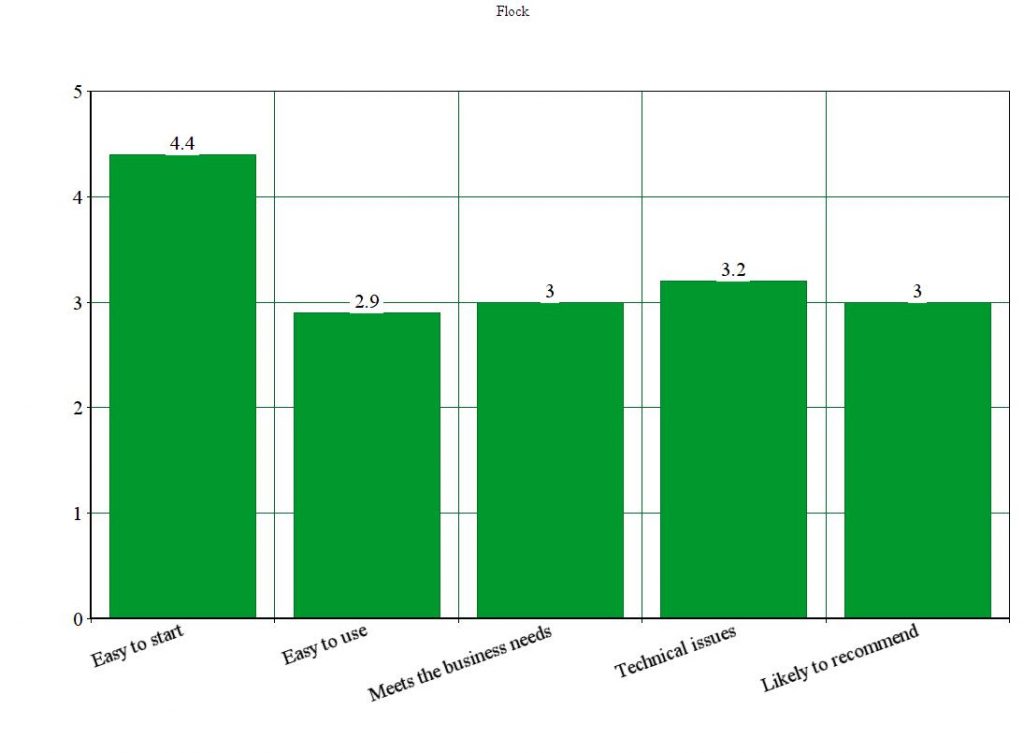 Flock summary
You should use Flock if…
–   The disappearing message history in Slack makes you mad
–   You don't mind being left without your message history for more than 8 hours
–   You want a cheaper price than Slack
–   You want a Spanish or Portuguese interface in your team chat app
–   You want more than 10 integrations that Slack Freemium offers
Microsoft Teams
The main target audience for Teams is the enterprise sector. However, it obviously had some inspiration from Slack, judging by the way it looks and feels, so we decided to take it for a spin.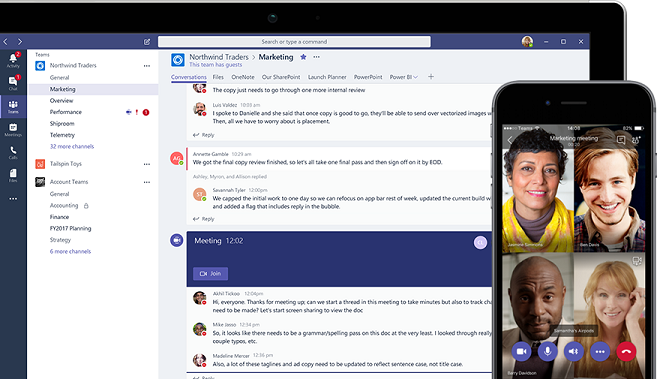 Microsoft Teams vs. Slack. Are they similar at all?
One of the biggest selling points of Microsoft Teams is that the app seamlessly integrates with Office 365. This makes it especially useful if you already depend on this suite for your daily operations. The great news is, if you purchase a Microsoft Office 365 package, you'll get Microsoft Teams included, all for $12.5 per user per month. If you want just Teams, it's $5 per user per month.
If you're interested, we have an in-depth comparison of Microsoft Teams vs Slack on our blog.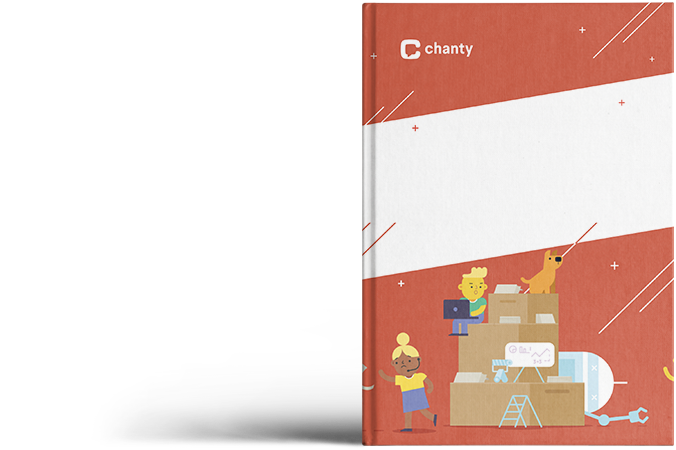 Communication issues at work?
"50 Surefire Ways to Improve Your
Team Communication"
Get eBook
Our experience using Microsoft Teams
Setting up this app was not an easy task. We assigned it to the most patient guy in our team, who spent an entire day setting it up as part of the Office 365 Business Premium package. If a guy with over 15 years of experience in development can't install and set up an app within a day, something's not right.
Particularly annoying is the fact that you have to set up a unique email for each user in your team, such as user@teamname.onmicrosoft.com
which you have to use every time when you log in. If you forget your email or password (which happened to me, twice), tough luck – it's another 30 minutes of struggle to get them back.
If you want to properly set up Teams by yourself, make sure to have an experienced admin on your team. And by the way, as of recently the app supports drag and drop uploads. 
Microsoft Teams is a great product. However, the user experience leaves much to be desired. According to our team, although it is difficult to set it up, Teams meets their business needs.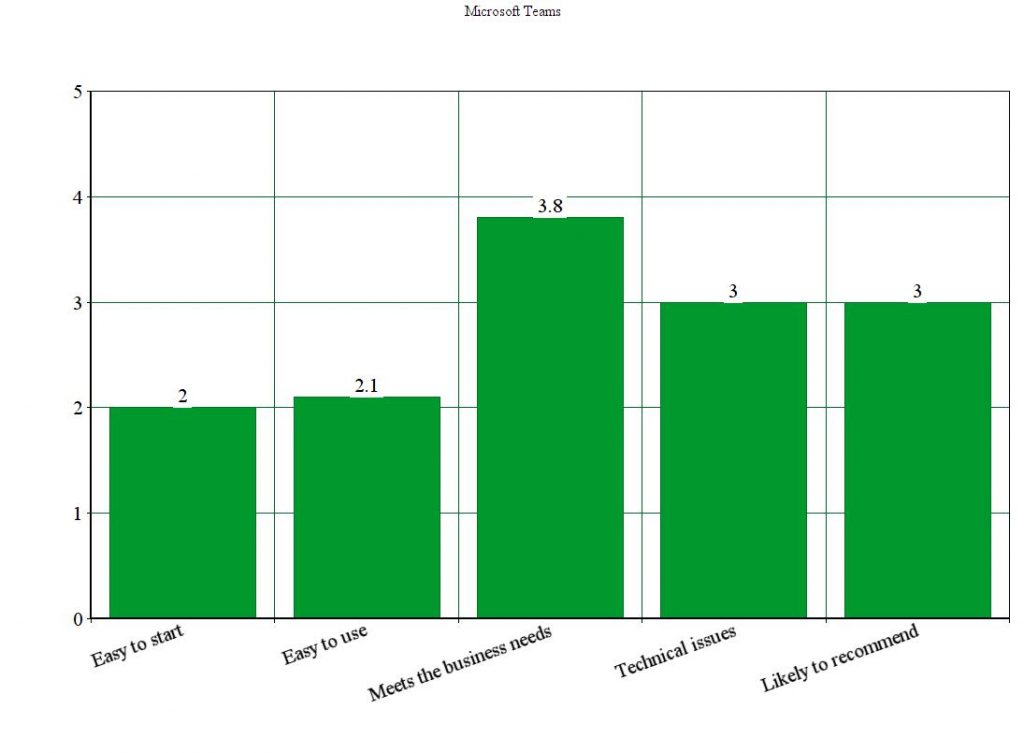 To end this section on a positive note, I really love the Microsoft Teams video: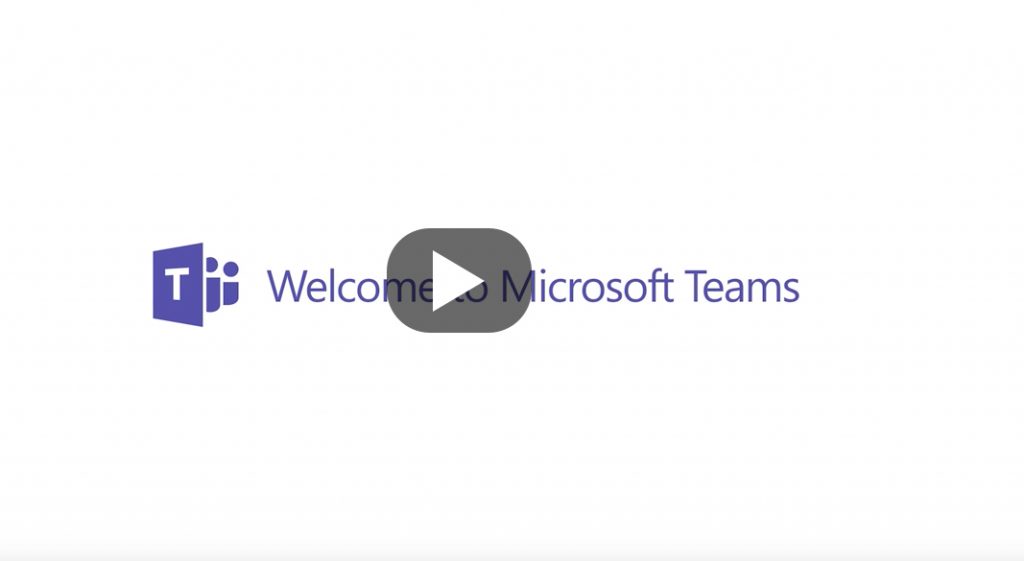 Microsoft Teams summary
You should use this app if:
–   You already have a contract with Microsoft and have no choice but to use this app
–   You have no problem with technical obstacles when using apps
–   You use other Office 365 products every day
–   You have a boatload of patience
An award winning business collaboration app, an easy to use interface and an almost never-ending list of features are the USPs of ProofHub. Besides standard Group chat, ProofHub also provides its users with a dedicated space where they can carry out real-time discussions. You also get an online proofing tool, which is fantastic if your team has to collaborate quite often on creative files. The tool is available in more than half a dozen languages, which makes it truly global.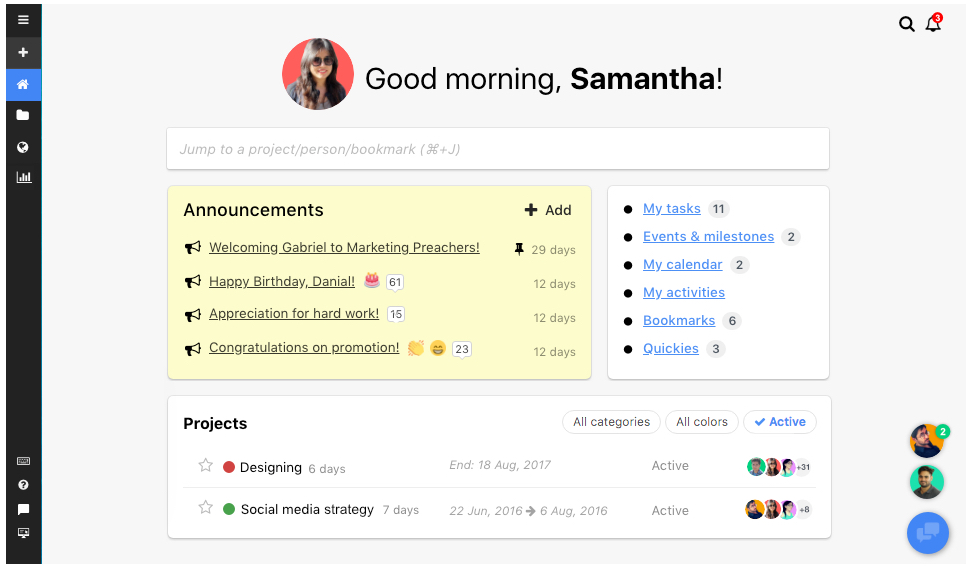 ProofHub vs Slack: which one stands out
ProofHub stands out for being a lot more than just a simple communication tool. It has an easy-to-use interface, with features that can help teams in overall work management.
Here's how ProofHub stands out from Slack:
Makes working in teams easy as teams can create custom workflows using Kanban boards.

Brings flexibility in the way teams can work with its multiple project views (Table view, Board view, Timeline view, Calendar view).

Helps in keeping things organized with in-built Note-taking and advanced file management capabilities.

All-in-one tool for planning, collaboration, and keeping work organized.

Built in calendar and time tracking software to help manage all your tasks.

Simple, no per-user pricing (unlimited users and unlimited projects) means that ProofHub proves to be a highly cost-effective option where you don't have to pay for standalone tools for every team member.
Our experience using ProofHub
As a communication tool, ProofHub allows to carry out one-to-one conversations, as well as group chats. You can share files, links, use emojis and carry out all the basic functionalities that are available in Slack.
However, when compared to Slack, ProofHub has an advantage of having some top project and task management capabilities.
For instance, it has online proofing features that make collaboration on creative files a breeze. It has this really cool feature called Quickies in which you can add quick links or jot down random information to keep it handy – it works just like quick notes.
The interface is super-easy to use, and in spite of having all the advanced features this all-in-one project management and team collaboration software has little to no learning curve.
ProofHub summary
ProofHub is definitely a must-have app if:
You use a number of apps for managing your daily tasks.

You are tired of paying for a per member subscription for all the apps.

You want your team communication tool to be

as easy-to-use as possible.

You want a tool that can help you with more than just communication.
Ryver
Launched in 2015, Ryver came into the team chat app game when Slack was already doing great. To get the upper hand, Ryver decided to attack Slack by using Twitter ads.
The main selling point of Ryver is the combination of team communication and task management. It's something like putting Slack and Trello together. The idea of this mix sounded interesting, so we were eager to try it.
Ryver vs. Slack – what's the difference?
According to the Ryver team, having both communication and task management in a single tool is crucial for productivity. Besides the native task management feature, they also have integrations with Google Drive, Dropbox and Box, so you can choose and upload files directly from the cloud. The app allegedly integrates with more than 2000 different apps through Zapier.
We successfully connected several apps to Ryver. The thing is, Zapier only lets you handle up to 100 Zaps in their free plan. If you need lots of integrations every day, you will have to pay for a Zapier plan, which costs around $250 for 50,000 tasks. So, your free Ryver plan could lead to a paid Zapier plan instead.
Compared with Slack, setting up Zapier is much more complicated. Each integration you set up has to be tested, which can take quite a bit of time and a few errors. In case you're interested, we wrote an in-depth comparison of the two tools on our blog. The main takeaway is that Slack's search options, notification management and integrations are much more advanced and intuitive. 
Of course, price is one of the main considerations. The freemium Slack plan is fairly limited, so you will have to switch to a Pro plan (starting at $6.67 per user per month) or Business (from $12.50 per user per month). Ryver's pricing has changed over the years and since December 2018 they no longer have a freemium version, even for small teams. The tool costs $49 per month for teams up to 12 users and $99 per month for unlimited users ($79 for the COVID period). You can get the Enterprise package too, starting at $199 monthly ($149 for the COVID period).
Ryver also comes with audio and video calls as native features. We tested them out and the quality was pretty good. However, there were no advanced call features. You cannot record calls (like in Microsoft Teams) or react with emojis to what a colleague has said in the call (like in Slack). However, the quality was pretty good.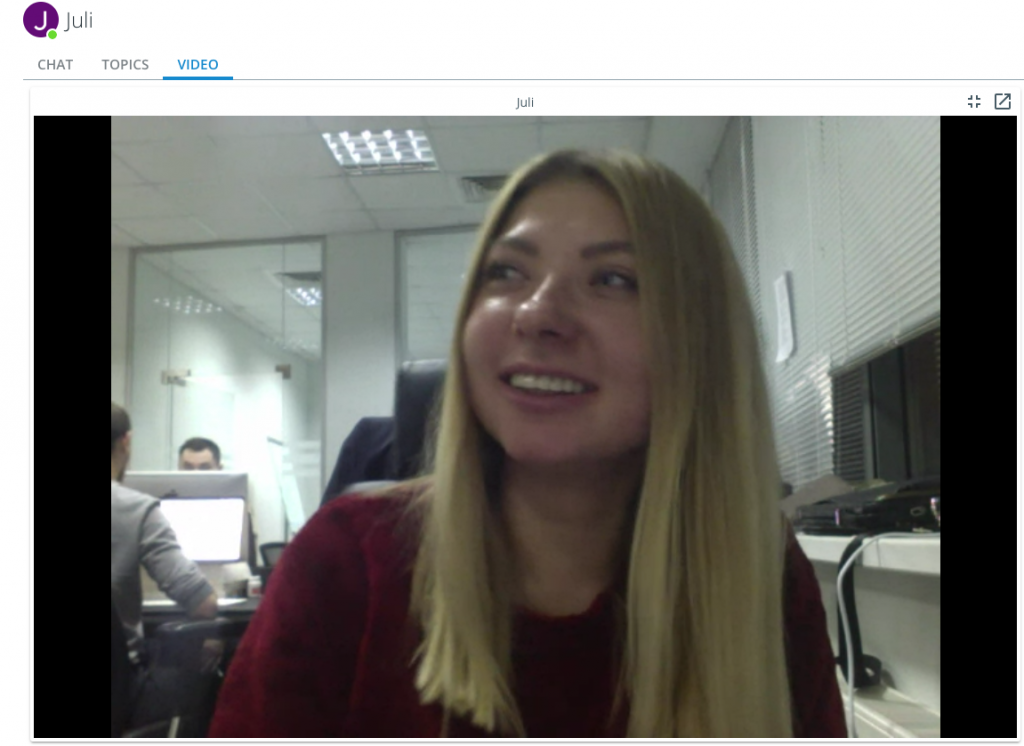 Chanty team is testing video calls in Ryver
In Slack, there is a limit of 15 people in audio and video calls. If that's not enough, you can use any video conferencing tool for meetings with your entire team.
Our experience using Ryver
The first time I opened Ryver, it seemed confusing and not very intuitive. What's the difference between Forums and Teams? What do I do with All Hands? Tasks were split up under Task Stream and Personal Tasks. Overall, the user experience seemed like it could be much better.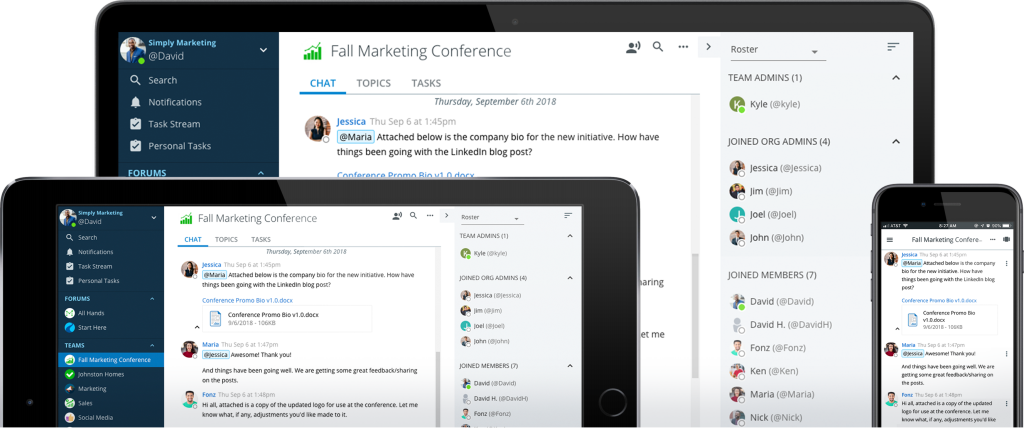 Ryver's user interface
Ryver conversations are organized in Open forums, Private teams and Direct messages, similar to Slack. Also, there are Topics, similar to threads in Slack.
We also tried the task management part of the app, which didn't go as smoothly as planned. I wasn't able to assign tasks to my colleagues from the messages that I sent to them. Search results couldn't find any forums or teams I was looking for, while the Assign field was disabled. Therefore, I couldn't assign a task to any team members.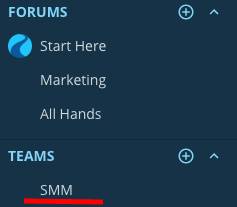 I created 'SMM' Team in Ryver

I couldn't find it when setting up a task
I asked the Ryver support team and they said that Tasks have to be initialized before using them. To do this, you need to click on Tasks within a Team or a Forum.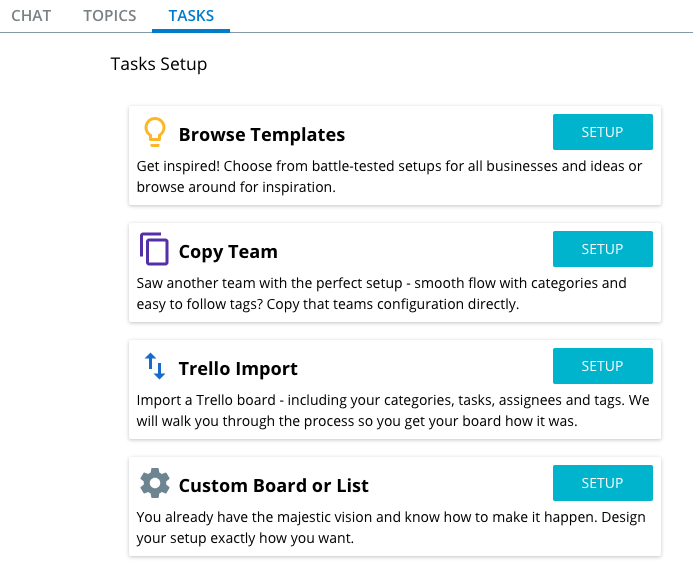 "Tasks" tab within a Team
This didn't seem all that intuitive and it wasn't so easy to figure out what we had to do. Here is our team's rating of Ryver:
Ryver summary
You should use Ryver if…
–   You like using Kanban for your projects
–   You don't mind potential UI and UX issues
–   You need lots of integrations and you're already paying for Zapier
– You prefer a flat rate plan rather than a per member per month plan (not sure if needed)
Glip
Glip is a team chat app launched by the company RingCentral. It was released in 2013, just like Slack. According to Peter Pezaris, founder and CEO of Glip, here is how it's different:
"With Glip, we are introducing a new wave in team collaboration – one that keeps conversations at the center of teamwork." 
Glip wants to improve the way teams collaborate by combining instant messaging, video calls, task management, and team calendars in one application.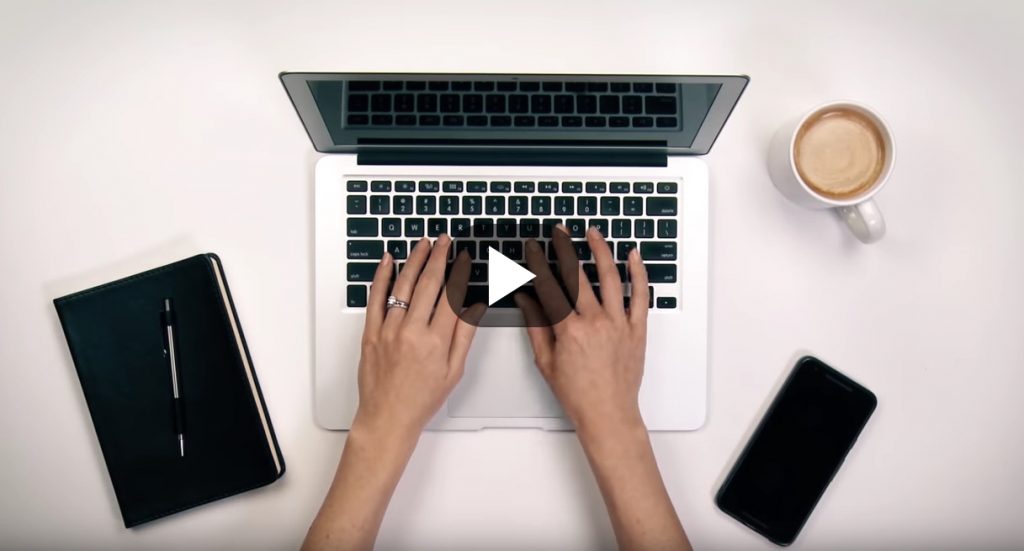 Compared to Slack, Glip provides more built-in options. You can create and assign to-do lists in the Tasks portion of the app, schedule meetings and set deadlines in the shared calendar and keep track of your notes and thoughts in the Notes portion of Glip.
If you want to use video conferencing in Glip, you have to use RingCentral Meetings. In Slack, you can hop on a video call directly from the app. Glip forces you to download an additional piece of software, which is not very handy. Moreover, you cannot integrate other video conferencing apps into Glip. On the other hand, you can hook up a variety of them to Slack, including Google Hangouts and Appear.in.
As a freemium Slack user, you face quite a few limitations in terms of message history and the number of integrations. Glip gives you many more features and tools in its free plan.
Our experience using Glip
We created our first team space in Glip and we were welcomed with a surprise. We were all members of different teams and we couldn't see everyone who joined. Some time and a lot of thinking later, we realized that Glip creates a separate team space for each email within a different domain. You don't get any notification or explanation for this, so you kind of have to figure it out on your own. The bottom line is: you better make sure that all of the emails you invite are within a single domain.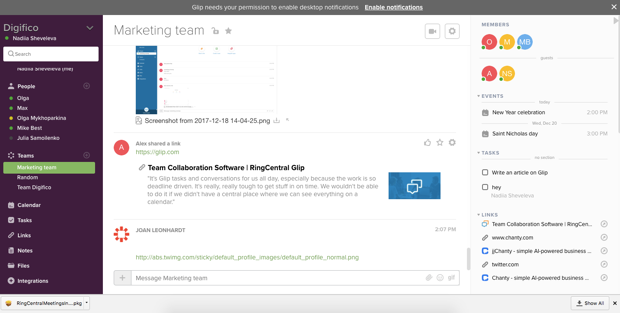 Glip interface
Glip is similar to Slack in that you can communicate privately, one-to-one and in public conversations. There is also that cool feature where you can "talk" to yourself and leave notes and links. One thing that we did not like as much is that you cannot forward messages from one conversation to another. 
Once you download the RingCentral Meetings app, you can enjoy video calls with your team and share your screen. In the free plan, you get 500 minutes of video chat with up to 100 people, which is better than Slack's offer in the free plan. 
Using the built-in to-do lists, you can manage your tasks directly in Glip. However, you can also hook up your favorite project management tool using integrations. Some of them include Asana, Jira and Trello, among others.
If you want to connect Glip with a third-party app, you might run into some problems. For example, we wanted to hook it up with Confluence. This took us eight steps and writing a few lines of code to get started. So, if you want to manage integrations successfully, you need someone with a tech background in your team.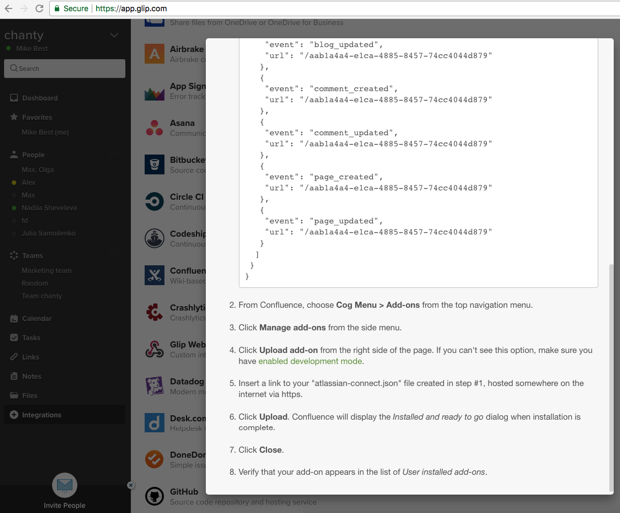 Steps to set up the Confluence integration in Glip
We've used Glip for one week in total. One day, we opened the app and our entire message history was completely gone and there was no real reason for it. We tried getting in touch with the support center, but that didn't help either.
Here is our overall impression of Glip: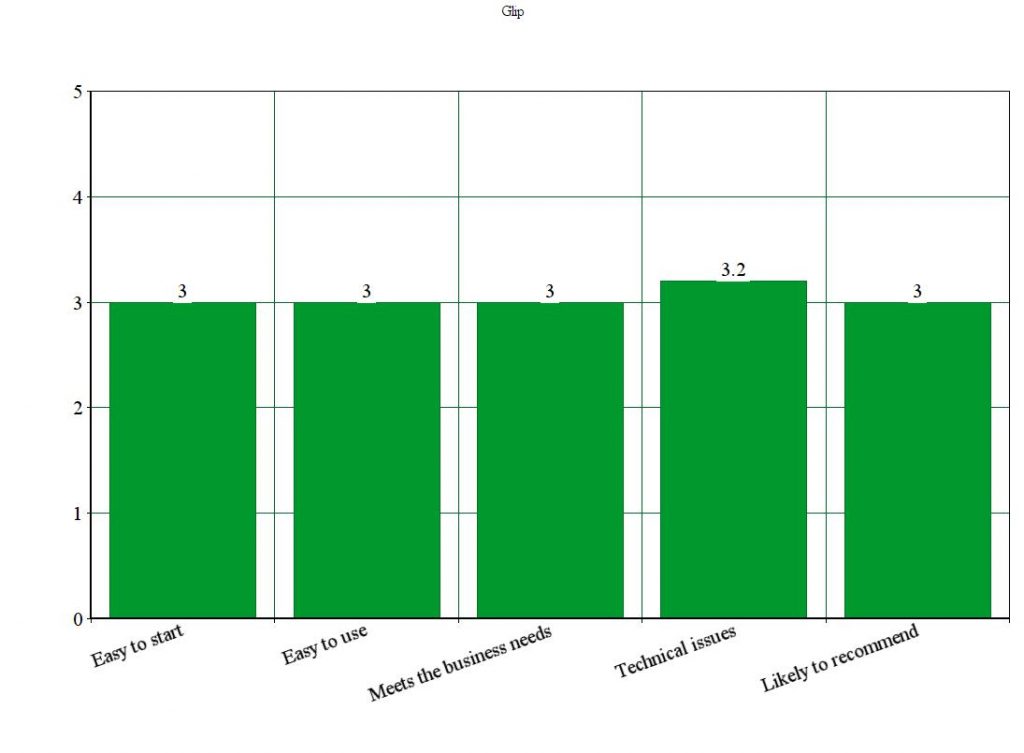 Glip summary
You will like Glip if:
–   All of your employees' emails are on one domain
–   You like uploading images and turning them into stickers
–   You have someone tech-savvy on your team who deals with integrations and onboarding the entire team
–   You don't have a problem with your entire message history disappearing randomly.
Bonus:
Also, we've written a great article on Glip vs Slack so you can check it out if you want more details.
Google Chat
Google released Google Chat as its messaging platform in February 2018. It's available as a part of the Google Workspace package and it's deeply integrated with the rest of the Google Workspace tools. One of the major perks is being able to view files from Drive and Docs directly in conversations.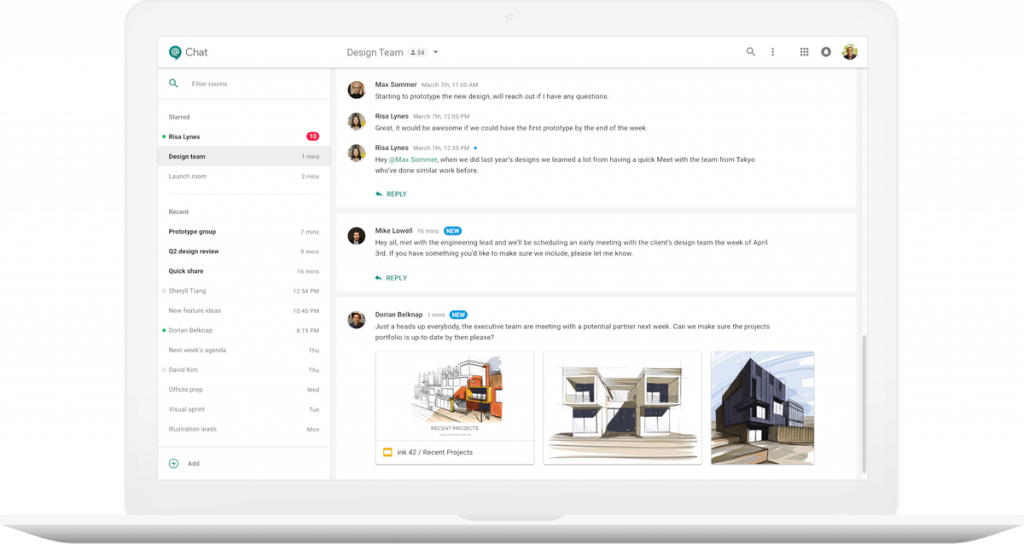 Google Chat interface
Similar to Slack, there is a dedicated space for group conversations in Hangouts. It's called Rooms and it's something like a channel in Slack. Also, you can send private and group messages within the tool. There are more than 50 integrations available, including tools such as Asana, Box and Zendesk, but there is no Zapier integration.
There are currently 28 supported languages in the Google Chat interface, which is more than any other app in this list. You can add up to 8,000 members to each Hangouts room.
Google Chat vs. Slack – which works better?
First of all, Google Chat doesn't have a freemium version of the app, unlike Slack. Second, Google Chat organizes communication in threads, while Slack has public channels.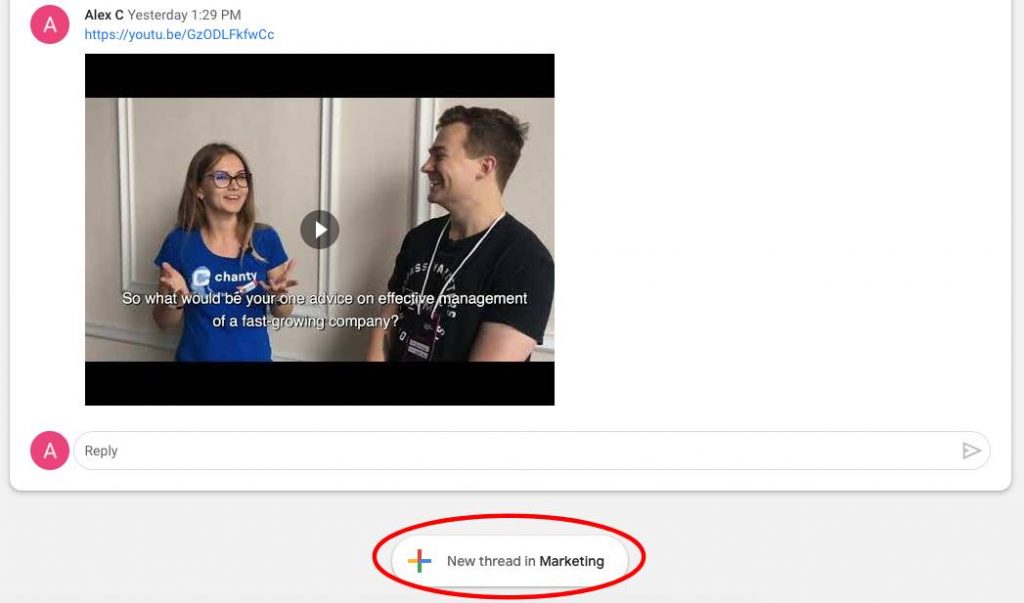 Third, all Rooms in Google Chat are private by default. Unless you invite someone to a room, no one in your Google Workspace can view or join it. On the other hand, when you create a channel in Slack, you can choose if it's private or public.
Our experience using Google Chat
When we explored Hangouts, we found some pretty unique features. For example, there is a Smart Reply feature, similar to what you have in your Gmail inbox. When you start typing, Smart Reply will suggest the right word or phrase to you.

However, the notification settings aren't all that great. There are no notifications specific to rooms and there are no time settings for the Do Not Disturb mode. However, you can adjust your settings for web, desktop, mobile, and email applications.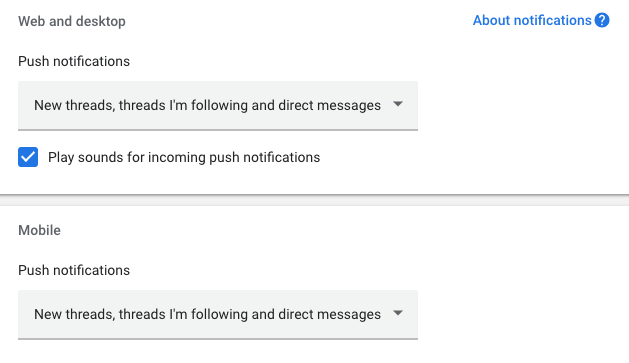 Notification settings in Google Chat
Google Chat summary
When comparing their functionality, Google Chat seems not to be as good as Slack, but it is fairly easy to use. 
If you have a Google Workspace subscription, using Google's messaging platform seems like a reasonable choice. However, bear in mind that you cannot use Google Chat for free. 
If you do choose this app, you need to be comfortable with using Threads to communicate. Also, make sure to check if your favorite integrations are supported.
Will Google Chat replace Slack at some point? It's difficult to say.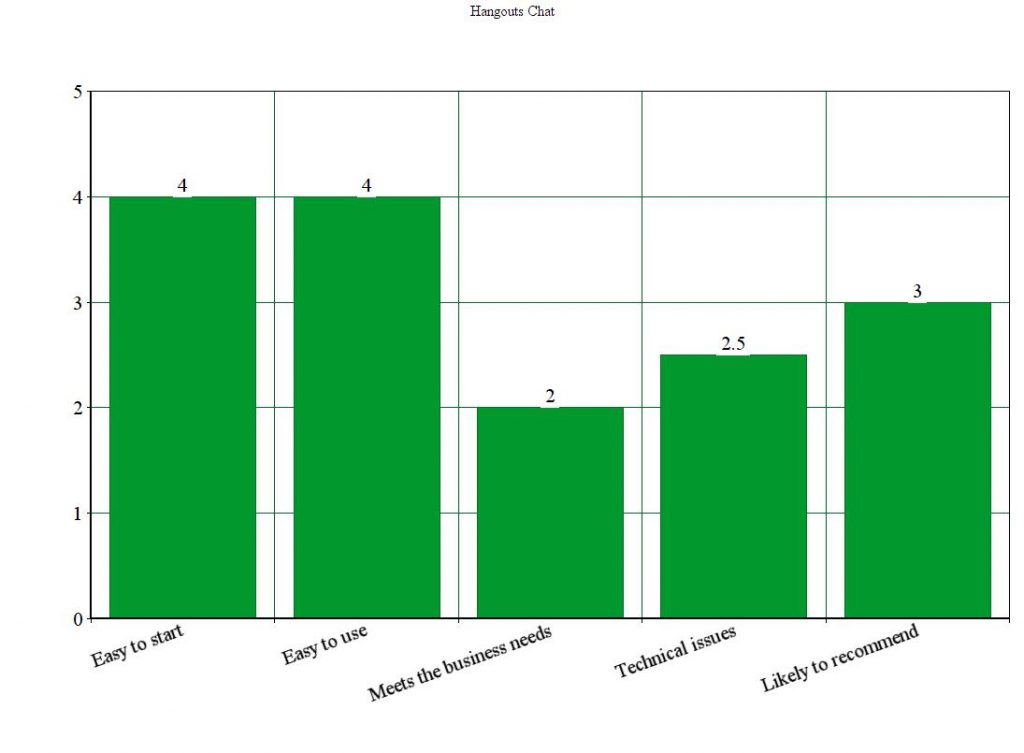 The results of our voting
The Chanty team has used different team chat apps for several weeks. In the end, we completed a survey that had 20 questions.
The results are summarized in these charts. The maximum number of points that one app could get is 250. As you can see, Flock is ahead of the competition and Glip is slightly behind. Fleep and Google Chat are somewhere on the same level.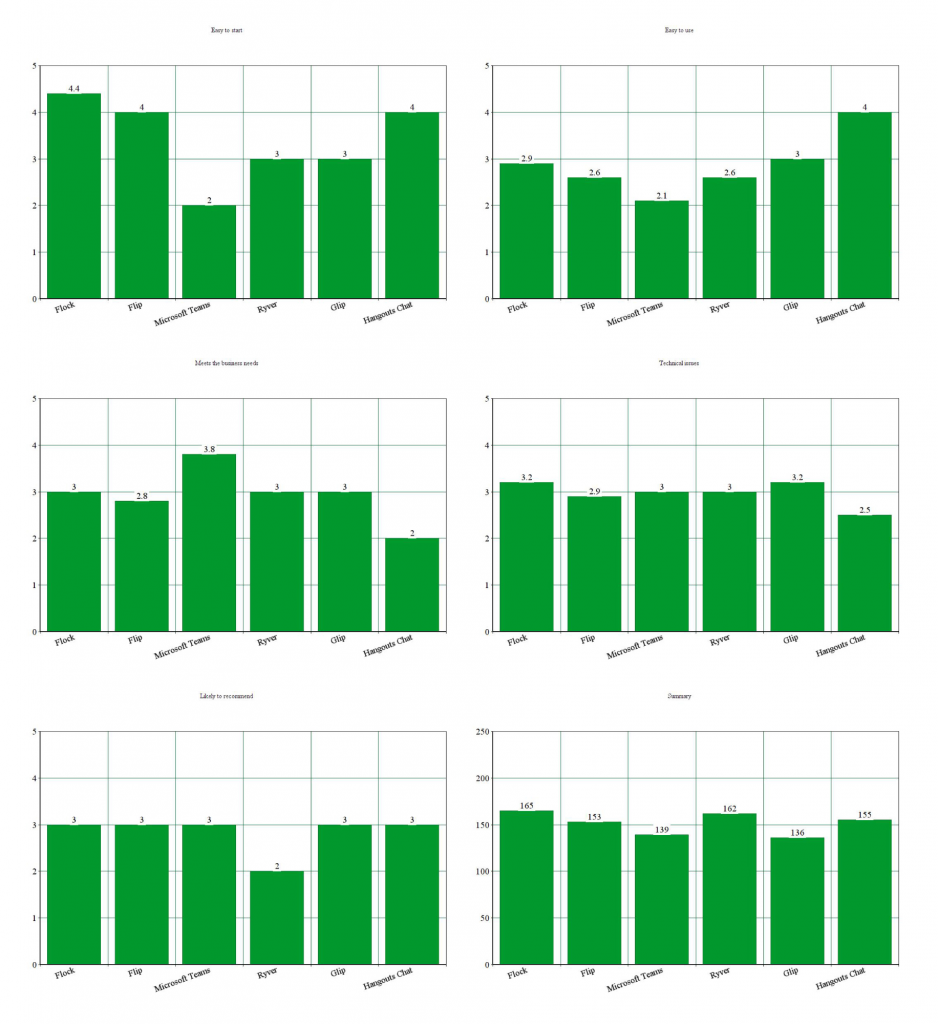 Our goal with Chanty is to create a team chat and collaboration tool that ranks higher than the competition. We want to create something that is easy to set up and most importantly something that meets all your business needs at work. Feel free to give it a try and let us know what you think!