While your workforce of talented individuals should be a major asset for your company, it won't be worth much if these employees aren't able to effectively collaborate with one another.
For many companies, quality collaboration efforts are becoming more and more difficult because of remote teams and a global workforce.
The importance of using team collaboration apps
The ability to successfully collaborate is too important to ignore. Those companies that can support ongoing and effective collaboration gain an enviable competitive edge.
Successful collaboration is multifaceted, and a key piece is a software that's used. Below are seven powerful software tools that have become especially popular with companies that value collaboration.
Chanty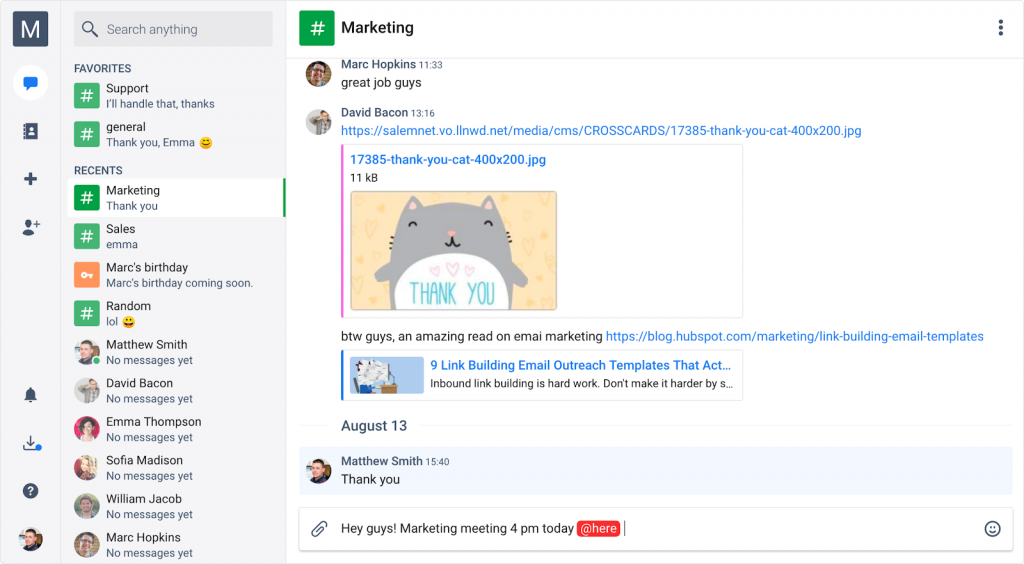 Image source
Chanty is one of the team collaboration apps that offers much more that just chat. This app improves team collaboration by ensuring that communication is organized and transparent.
Chanty has launched new features, such as the ability to integrate with third-party apps, make audio and video calls and receive voice messages, include workflow with threads. Chanty offers a built-in task manager with the Kanban board.
Chanty has an assortment of features that are simple and intuitive. For example, it offers Teambook, which is essentially one home for all the content you share and Conversation actions where you can rename conversations or pin messages.
Plans are affordable and range from Free (up to 5 users) to $3 per month paid annually.
ProofHub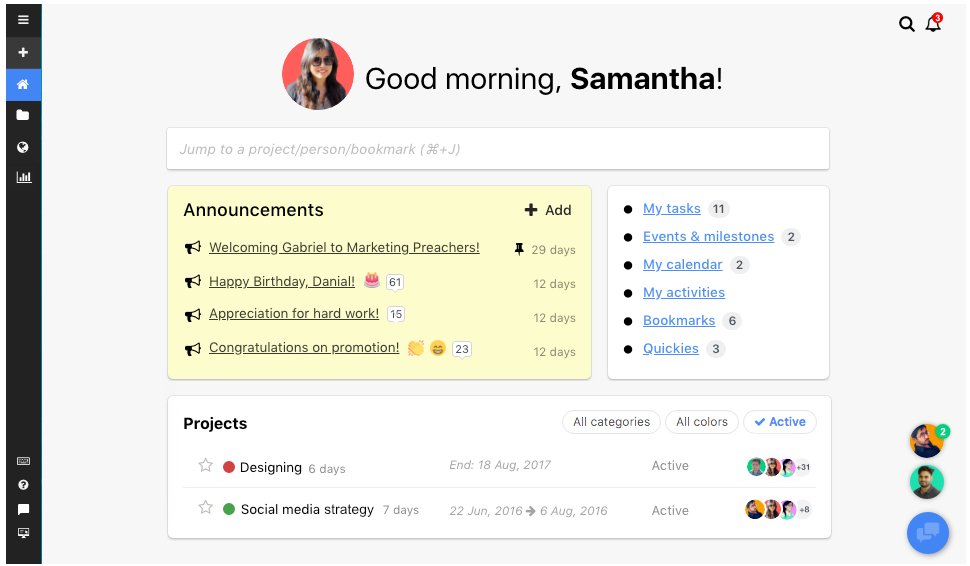 ProofHub is a project management software that excels at helping teams work together more efficiently. The software system gives managers, teams, and clients a central space to visualize work, assign roles, share files, discuss matters, track progress, and get work done.
It comes packed with a rich collection of tools and settings in the team collaboration category, including one-on-one chats, group chats, private discussion topics, announcements, @mention, emojis, inline comments, file sharing, file proofing, and more.
With ProofHub, you won't have to worry about important work-related emails stuck in the inbox. Instead, you can bring everyone in one place to work together on projects and collaborate smartly using just one app.
Furthermore, if you're looking for core project management features like Gantt chart, Kanban board, custom reports, and time tracking—ProofHub has those too!
If you're interested to give this flexible and multipurpose tool a go, then simply sign up for its FREE trial (all features and integrations included).
nTask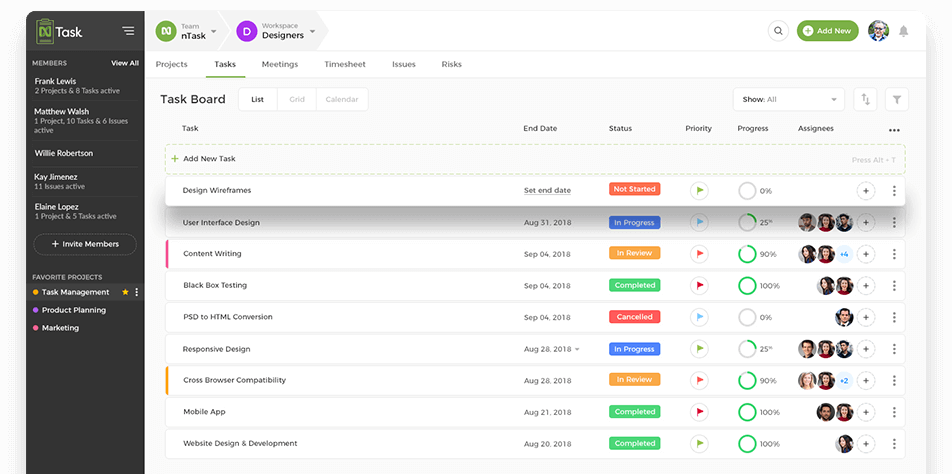 nTask is a great project management software that lets your team collaborate, communicate, plan and manage day-to-day tasks. The app is ideal for onsite and remote teams because the project data is stored in the cloud. Key features of nTask are the following:
Multiple collaboration features for the entire team

Project management modules 

Timesheets, time monitoring and approval process control

Task comments

Multiple board views

Data export

Project time tracking

Risk analytics and management

Task assignment
Unless it is converted into proactive customer data that is used to make data-driven decisions, conducting and collecting NPS feedback is relatively simple.
By sending NPS surveys, analyzing survey responses, and generating shareholder-friendly reports, Zonka Feedback's comprehensive NPS software can help you understand your customers' opinions, contentment, and loyalty.
Zonka Feedback, an award-winning customer feedback SaaS, can provide you with detailed NPS reports such as Insights, Trends, Text Analysis, and more, as well as drill down and filter the reports and assign relevant team members to address any issue(s) raised by a detractor.
This option is critical for taking action, resolving issues, and closing the feedback loop in order to improve the customer experience.
GoToMeeting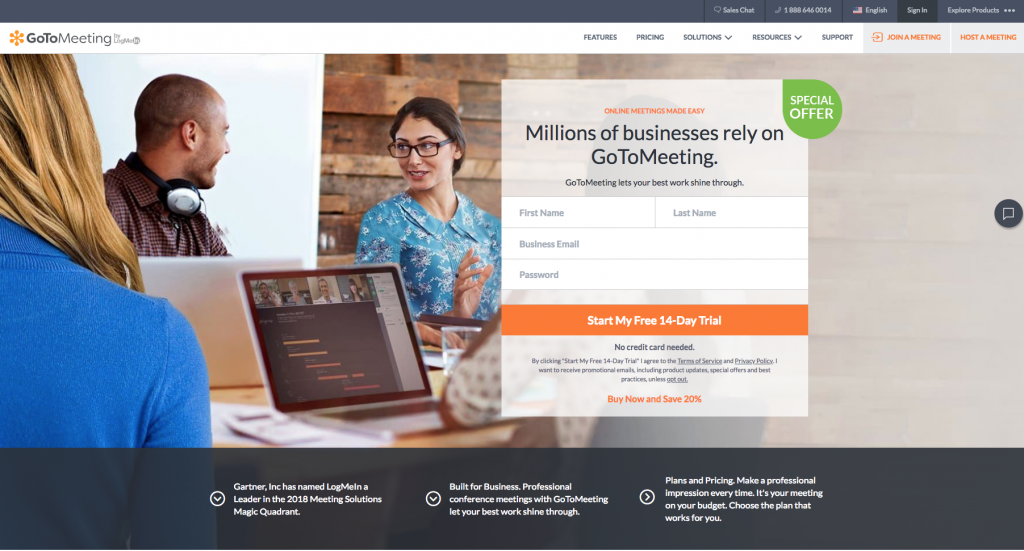 Image source
If your company hasn't yet embraced the benefits of video conferencing, it's time to change that. Unless all of your employees can be in the same room, video conferencing is the best option for creating an engaging, collaborative environment.
While there are countless options to choose from, GoToMeeting is probably the most popular video conferencing platform available — a title it's held since launching back in 2004.
Providing high definition video conferencing may be impressive enough for most companies, but GoToMeeting also comes with industry-leading security features and user-friendly administrative capabilities that make it easy to manage meetings. All of these benefits are also available to people attending through their smartphones and other mobile devices.
Asana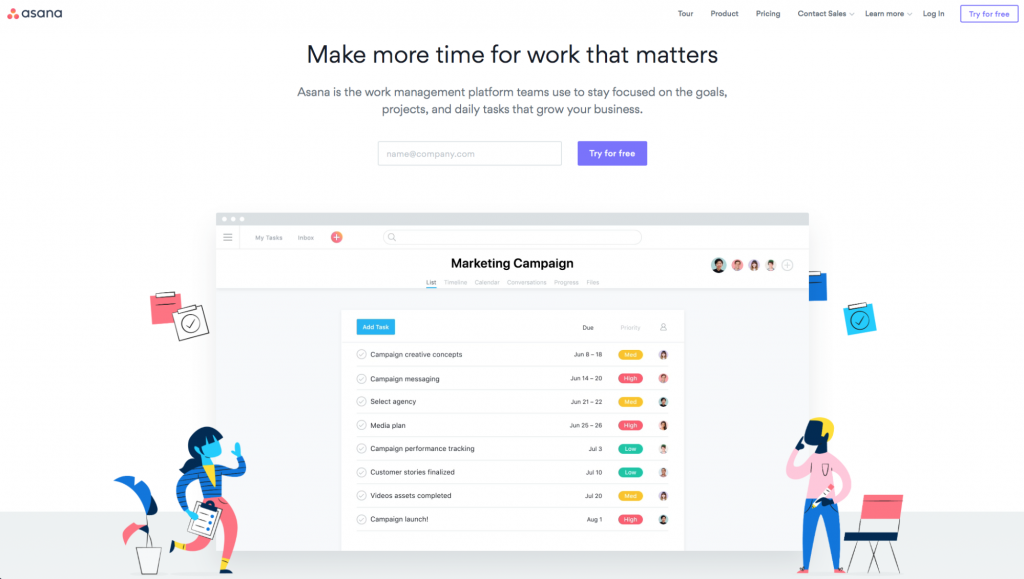 Image source
No collaborative effort can succeed without effective project management. In fact, a skilled project manager is often the difference between collaborative efforts that produce results and those that quickly go awry.
Even the best project managers can use some help, though. That's why so many of them rely on Asana. This collaborative software is long on features, but its most attractive benefit is probably simplicity.
Every project can be assigned countless tasks, which, in turn, can contain information about comments, due dates, notes, responsibility, subtasks, and tagging. Additionally, all of this can be accessed through a web browser or smartphone.
Indy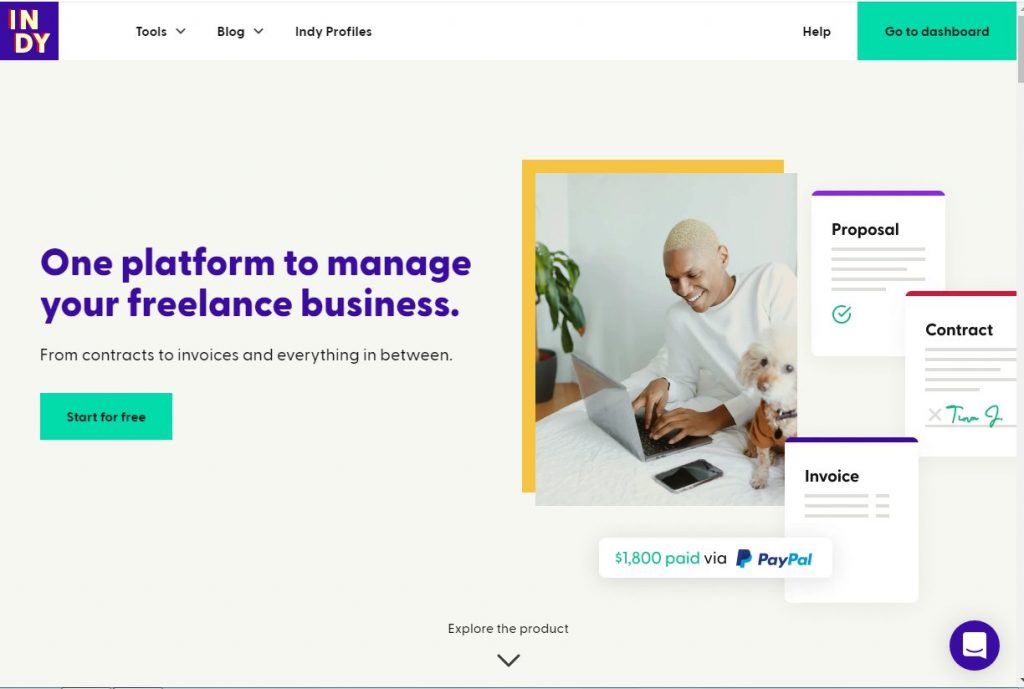 Indy is an adaptive, all-in one management software that helps freelancers and small businesses track everything from proposals to payments. Indy makes organization and time management easy, letting its users focus on their work. 
Key Features include: Proposal and contract templates, Manage projects on a large or small scale, Time tracking, Custom branding, Client management, Chat directly with clients and other freelancers, Invoice creation and management, Integrated online payment with PayPal, Stripe, and Zelle.
JotForm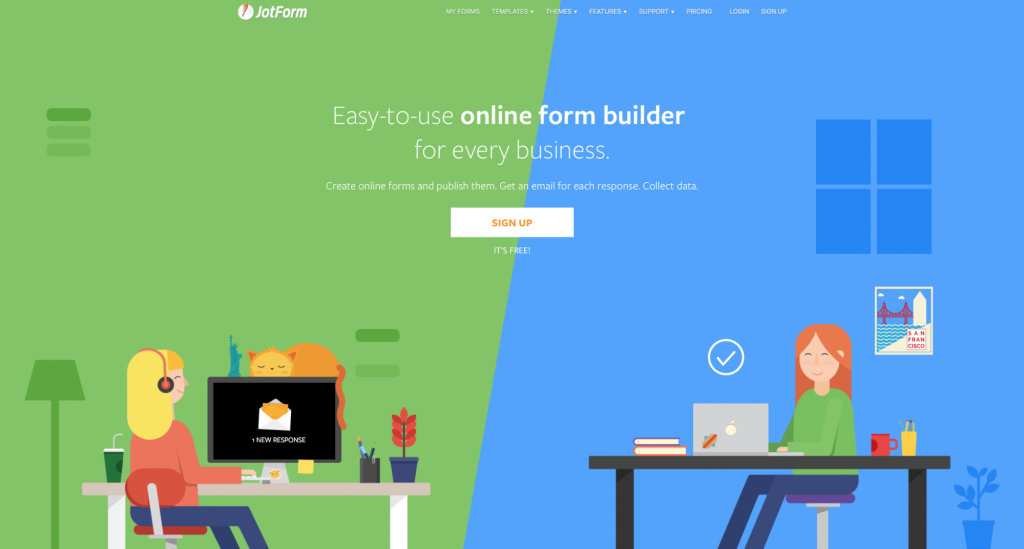 Image source
Today every company's website needs forms. They can be used for any number of reasons, including generating leads, collecting payments, soliciting feedback, conducting customer surveys, accepting job applications, registering guests for an upcoming event, taking reservations, and more.
JotForm has become the go-to solution for companies that take form creation seriously. The drag-and-drop form builder lets you create customized forms in minutes. JotForm even makes it easy to edit PDFs, a task that can otherwise put the brakes on any collaborative project.
Igloo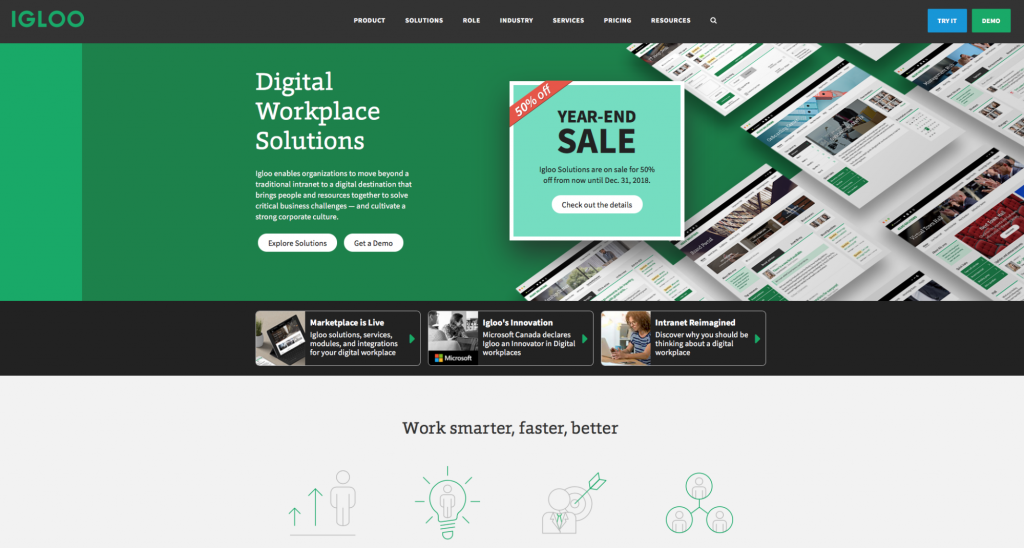 Image source
Intranet software has always been a common platform in the project manager's toolbox, if an unpopular one. Though it provides a central network for storing all the relevant information about countless projects, intranet has become a bit of a four-letter word among many in project management. Why? Because intranets are often unnecessarily complicated to use.
Enter: Igloo.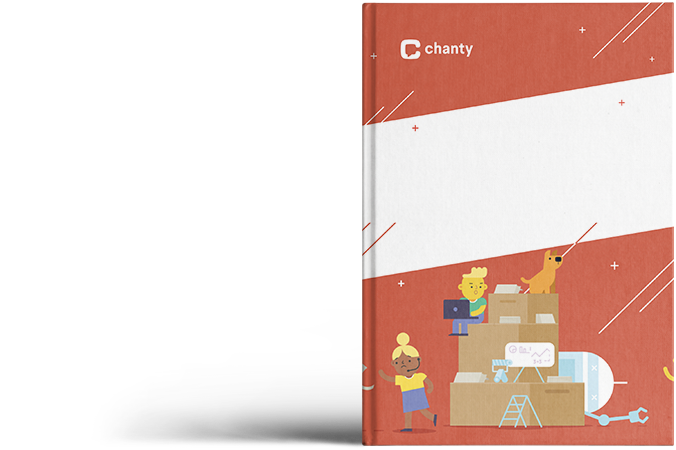 Communication issues at work?
"50 Surefire Ways to Improve Your
Team Communication"
Get eBook
The popular software offers the standard intranet fare, including blogs, file sharing, newsfeeds, social networks, tasks, team calendars, and wikis.
What really sets Igloo apart from other intranet platforms is the amount of customization it supports. The vast majority of customizable features can be accessed through a simple drag-and-drop interface. No need to bother your IT team every time you want to make a change.
This level of customization also lends itself to effortless integration, meaning Igloo will dovetail nicely with many of the other platforms your teams rely on to do their best work.
ProWorkflow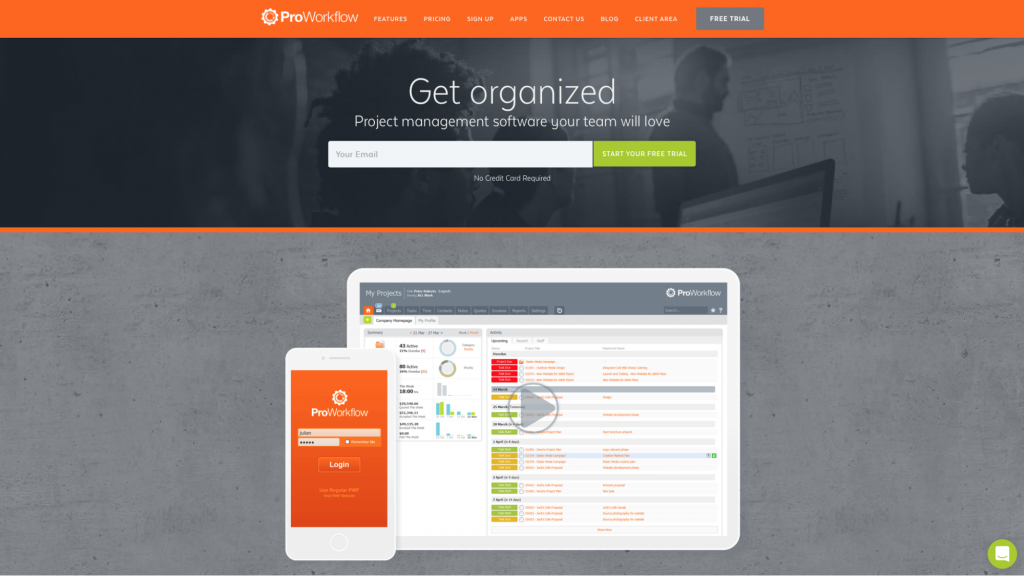 Image source
There are a lot of reasons so many companies have come to rely on ProWorkflow for their project management needs. One is the fact that the platform can accommodate companies of any size. Whether you're an independent contractor or you employ thousands of people, ProWorkflow will meet your project management needs. This makes it an especially valuable platform for companies that want to scale up in the near future.
ProWorkflow's other major strength is how effectively it integrates with accounting platforms, like FreshBooks, KashFlow, QuickBooks Desktop, QuickBooks Online, Xero, and more.
This makes it much easier to manage a team that includes independent contractors who may get paid by the milestone.
Beekeeper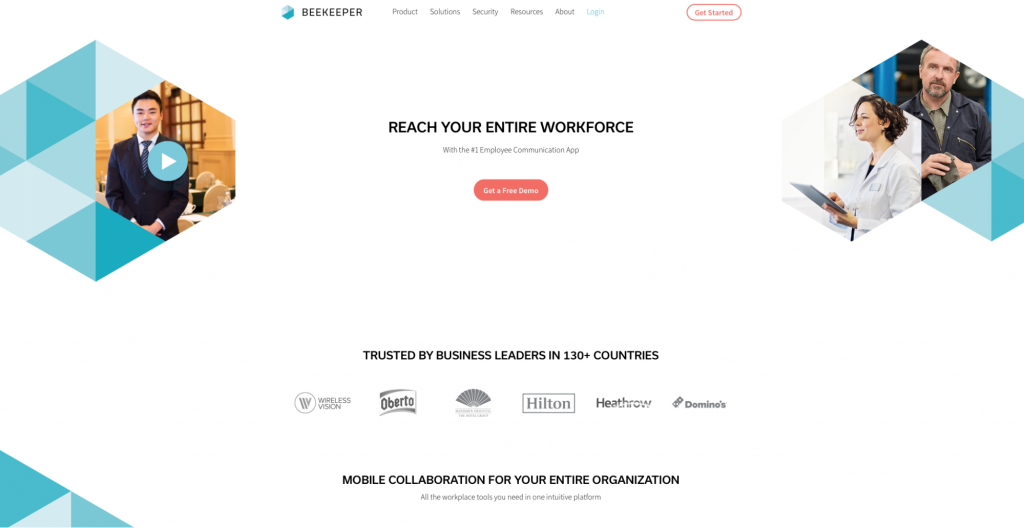 Companies in more than 130 different countries depend on this project management app because it integrates multiple communication channels and operational systems into one secure platform that can be accessed through a desktop or mobile device.
Don't let the word "app" fool you either. It's plenty powerful. Beekeeper can track more than 100 data points, showing you trends across your workforce, and produce actionable insights you can use to improve your team's efforts.
Able to connect with well over 750 cloud applications, this app makes it easy to integrate or even construct your own customized solutions and make them available to remote workers. Even if your company is tied to enterprise systems, there's no reason why you can't leverage the benefits of a remote workforce.
FlippingBook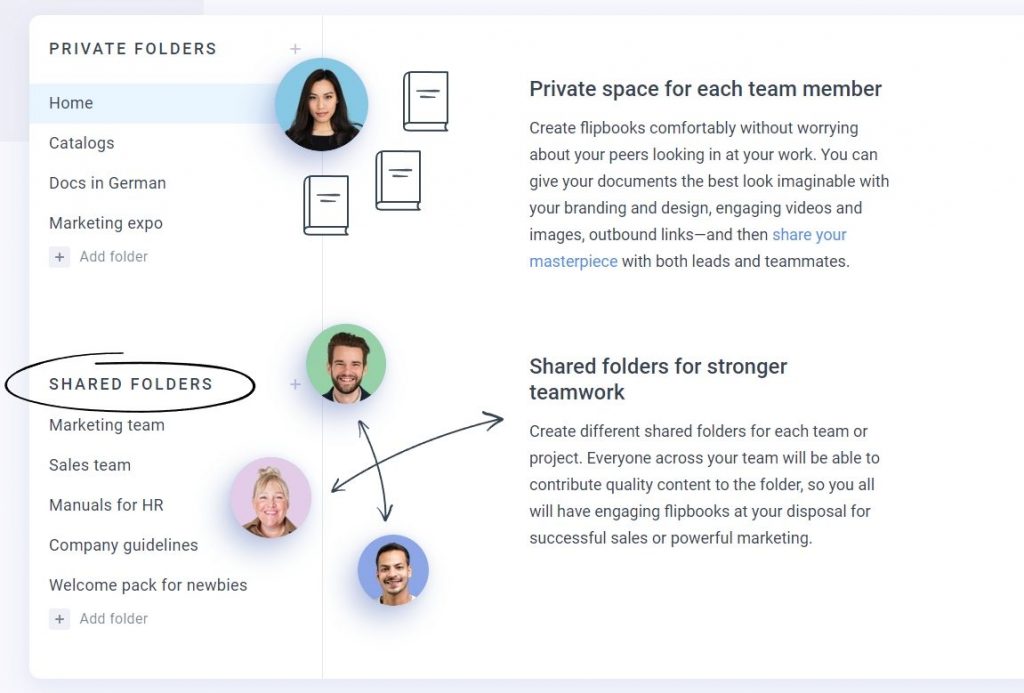 FlippingBook offers an online tool and desktop software for creating digital flipbooks. The tool converts PDFs to interactive professional documents that can be shared as links. FlippingBook makes it easier for teams to collaborate: create flipbooks in a private workspace, use private or shared folders, integrate other tools for smoother workflows. The tool offers multiple features already built-in for your convenience: from a lead capture form to design options to thorough stats native to the product. Also, you can integrate it with any other tool using Zapier.
Pricing options:
Free 14-day trial, no credit card required

Subscription (starts from $329 for 5 users/month)
Platforms: Windows, Mac, iOS, Android
Turning team collaboration apps into a competitive edge
Hiring the best people has always been one of the most important ways companies can out-compete their rivals.
However, the ability to bring any number of these people together to achieve shared goals is now more important than ever. Hiring the best people is no longer enough — you need them to work together, too.
Using team collaboration apps has become an advantage that can't be ignored. One of the easiest ways to wield this valuable competitive edge is by leveraging the power of platforms like the ones above.