Building a Twitter followers community isn't easy
Do you know that feeling when you are looking at zero followers on your corporate Twitter account and have no idea what to start with? You might feel discouraged. To tell the truth, I felt the same way… If you are struggling with this problem now, you are welcome to read my article. I hope, it will help you to understand what your first steps on Twitter you should be.
It is common for a startup to analyze every detail of their product development process, and social media is often an afterthought. The key reason is that usually this marketing channel does not deliver quick results. This article is not about "how to get 10K followers fast," but how to manage your Twitter account to achieve your business goals.
Should you increase the number of your followers on Twitter with bots?
Have you ever seen Twitter accounts with tens of thousands followers and zero likes, retweets, and replies? Probably so. I personally have seen many of them 🙂 Most likely, the owners of these accounts have bought fake followers. That kind of fake community building is easy to spot with different tools or even by analyzing the activity manually. Empty Twitter bios, "egg" avatars instead of a profile photo, long obscure names, and a lack of activity are a red flag that says, "Be careful! I am a bot." You can uncover a percentage of fake followers for your competitors by yourself if you want to. For example, we found that our competitors' Twitter accounts  have from 13 to 37 percent of fake followers.
Why do people buy followers? Is it vanity? Do they want to make themselves look more appreciated and more engaged than competitors? Or do they simply want to look like they have a greater marketing reach they actually do? Probably there are many reasons for buying bots, not to mention that the process is fast and doesn't take much effort.
Here at Chanty, we've decided to grow our Twitter community organically. What would it take to get 1000 organic followers within a month? Read further to find out 😉 This is not a story about how to grow your Twitter account super fast. This is the story about how to do it right. This is my experience showing which social actions on Twitter actually help to attract targeted, engaged followers for your corporate Twitter account. However, if  you want to gain 5K valuable followers in one month from scratch and do almost nothing, good luck with that. To be honest, I don't know how to help you in that case, because that's just not the way things work when it comes to building an authentic Twitter community.
Analyze how your competitors promote their Twitter accounts
Startups have to keep a close eye on their industry. Companies launch and fail every day, so it is important to regularly check your competitors' social media activity. You will see exactly what other startups are doing to get their customers' attention. Also, don't neglect looking at the most popular accounts from other industries that are far from your field of interest. You may find useful techniques that your competitors aren't using yet.
So, I started my task by researching how our competitors actually perform on Twitter. The specific aspects I analyzed were:
interaction style

activity

engagement

number of tweets

followers and following

retweets

mentions

This research gave me my first insights into the best practices and the weaknesses of our competitors and helped to define Chanty's first steps in Twitter management.
"Setting Goals" stage
You should determine your social media strategy before you begin creating your social media profiles. Even before you start choosing the right social media channels, think of your business goals and objectives and how social media can help you to achieve them.
A crucial question for you to consider: what is your goal for your startup?
I cannot overstate the importance of knowing the answer to that question. Defined goals help your team take strategic and measurable steps. Twitter can be used as a tool to achieve six of these goals:
grow your list of email subscribers

grow profitability

generate leads

increase website traffic

improve customer service

increase brand awareness
Here at Chanty we set two main goals for our marketing strategy on Twitter. First, we needed to gather an active community around our product that would engage with content on the Chanty page and share it further on Twitter. Secondly, we wanted people to join our beta testers community.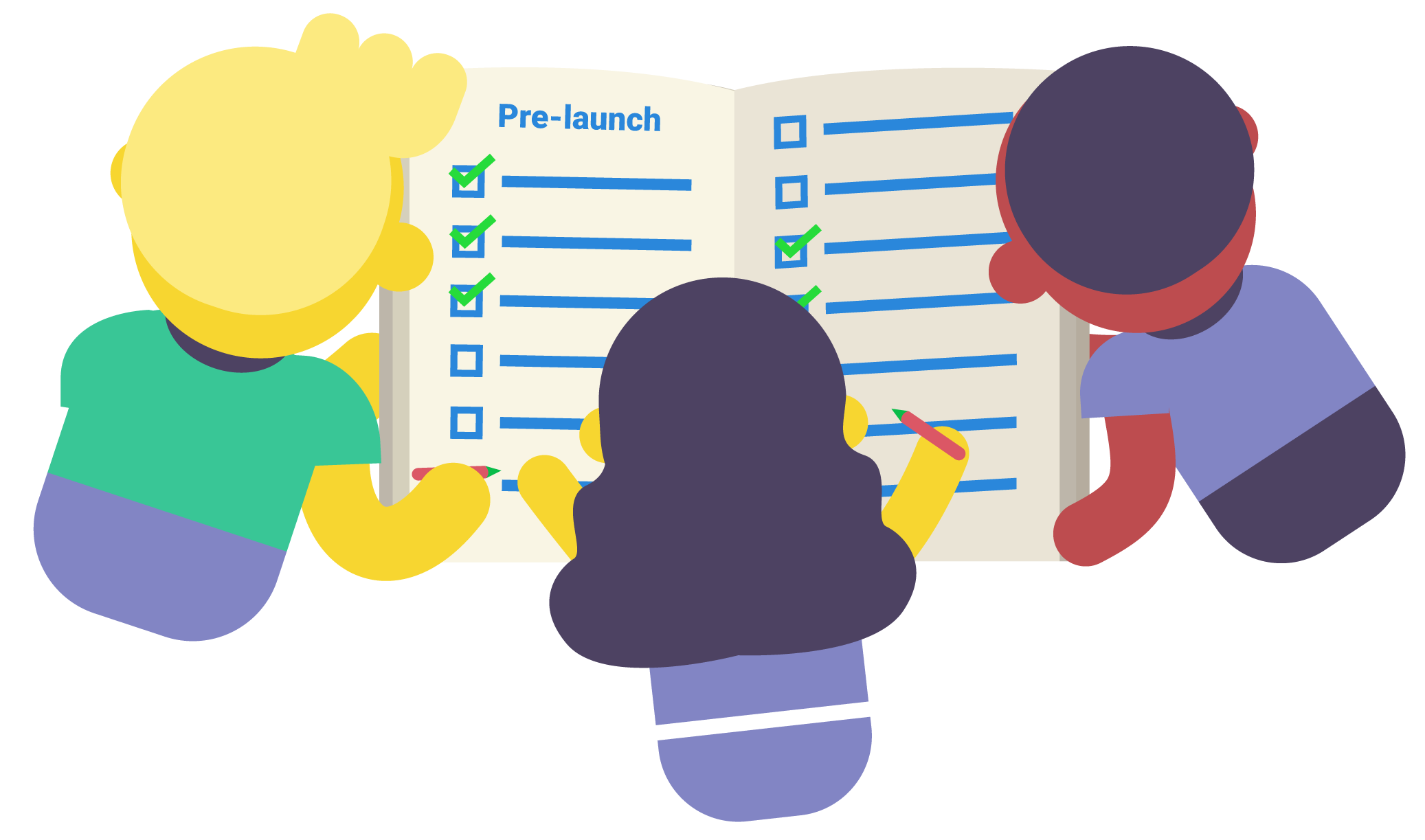 Launching a SaaS product?
"SaaS Product Pre-launch
Checklist: 50 Tips for Your Startup"
Get eBook
Define audience, set up content strategy
While anyone can be your potential audience, not everyone can help you achieve your goals. Therefore, defining your audience is a critical step on the journey. You may have several segments of your audience or just one. It can be diversified by geographic location, age, job, title, or other factors. We chose startups and small business owners as our target audience.  Not only can this audience provide us with relevant feedback, but they are also naturally further along the conversion funnel to becoming Chanty customers. Also, and perhaps more importantly, we are able to produce valuable content for them because we are a startup too.
Running a startup is interesting work, and we can offer an inside view, talk about upcoming features, discuss tech world news, and share our company's culture and startup experience. We try to build the audience of people around Chanty who share our worldviews and our challenges. We try to attract followers by giving them a behind-the-scenes look at the life of a startup company and a peek at the inner workings of Chanty.
Many people reading my article may think, "But I don't have anything valuable to share." That is ridiculous. We are always learning new things in the business world. You probably learned something last week to help your business be more efficient or successful that someone else is still struggling with. Sharing your experience is not only good for your followers, but it is good for you as well. It makes you perform better because you keep in mind that one day you may share this experience with a wide audience. There is so much you already know that someone else would love to learn.
When determining your strategy, you should also think of what kind of company image you want to create on social media. What is your voice? Will your brand stand for a practical, no-nonsense approach to social messaging, or do you prefer a more easygoing presence? Make your social media activity congruent with your company culture. That doesn't mean you can't have a playful tweet once in awhile — but do strive for consistency across your feeds.
Only you can choose the right approach for your company. I can only give you a bit of insight to begin with: build connections and communicate with users like you would do with a new friend. The right attitude will attract attention, and staying calm, cool and collected in your communications will help you to achieve better results.
When you share tweets, be sure to use hashtags in your captions. As people come across your content in a hashtag stream, they will be able to click a button next to your name to follow you. I have found that  posts with popular hashtags can bring up to five new followers apart from likes and retweets. This may not sound very impressive, but remember that we are talking about a brand new Twitter account and no promotion of tweets.
Engagement stage
Twitter initially allows you to follow up to 5,000 people. This number grows after people begin to add you to their feed. Twitter users get a notification when you follow them, so don't just lurk in the background; start a conversation with them. Seek out people who match your target audience using Twitter Advanced Search. Twitter will search keywords in people's bios as well as their tweets. When you see someone's tweet you can reply to, do it. If people like your reply, they may follow you back.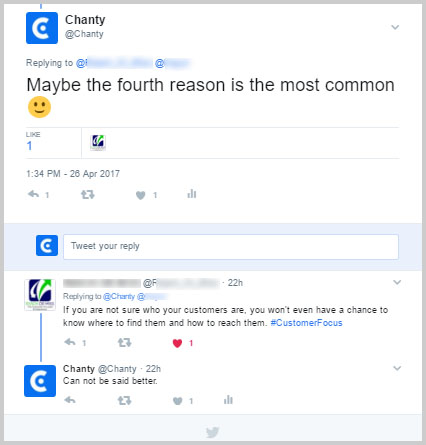 Don't just add people to get your numbers up. Followers or 'likes' you gain through mass-friending/following efforts will never be as worthwhile as the ones you get through sincere and customized communication. Every single person you win over can pay off tenfold, so making every interaction positive is important. Keep your community active by asking for feedback and going the extra mile on complaints.
Don't forget to reciprocate when people who are relevant to your business follow you. Collect as many members of your target audience as you are able, because Twitter will suggest similar accounts for your business to follow, helping you track down leads.
Follow influencers based on your interests. Engage with them on Twitter and by commenting on their blog posts. Don't forget to follow people who are subscribed to your competitors. They may find your Twitter profile interesting as well and follow you back.
Never miss a chance to start a conversation with people who comment on your posts. Do your best to instantly reply to comments. The faster you reply the more love you'll get from your followers. It shows your fans that you care about them. As a result, you may find your fans engaging with your content more often, playing an important role in promotion of your company or a product.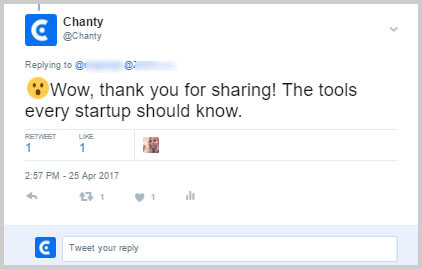 In my experience, liking a tweet alone just isn't enough. Twitter users rarely react to this type of activity. Instead, 100 thoughtful replies (to your prospect's tweets) could pay you back with 13 new followers if your Twitter account is "young."
Tools to help you grow Twitter following
Leveraging the power of Twitter sometimes requires third-party tools designed to make your social media efforts more manageable. Be aware that some of the tools available are low-quality or full of ads. Sifting through the ocean of Twitter tools and finding a good one can be a difficult task, so I have done the dirty work for you. Here are my favorites:
ManageFlitter. This tool offers advanced analytics and many different features, including one that helps you unfollow all inactive Twitter accounts and accounts that didn't follow you back. ManageFlitter works much like the popular Tweepi, program but is more user friendly at half the cost.

Tweetdeck

.

I personally love Tweetdeck and what it has to offer. Even the free version of powerful and flexible tool makes it easy to swipe swiftly between multiple profiles, send Direct Messages and schedule tweets.

Twilerts

and

Mention

.

These two tools act  like Google Alerts for your Twitter feed. Just set up your keywords or hashtags and get email alerts with tweets containing them. When your brand or your competitors get mentioned on Twitter or influencers of your business niche post tweets, you will be

notified

. Their free trials help you decide if these tools are useful for your business.
 "Never give up" stage
Promoting your startup on Twitter can be challenging. It is another full-time job added to your already packed work day. Based on my own experience, if you want to get valuable followers organically prepare for hard, time-consuming work. Ultimately, it comes down to your ability to engage one-on-one with followers related to your industry accounts and constantly deliver relevant content.
The general idea is simple. Find accounts related to yours and engage with their followers. Spend a few hours a day following new accounts, monitoring your current followers, liking, writing  and responding to their tweets. Social media is a long game and definitely not something that produces results overnight. Relationships take time to build and even more time to nurture.
So there you have it! These are the basics of Twitter management that you can use to promote your startup. Of course, taking these steps is just the beginning of building a Twitter presence for your business or brand. Let me know in the comments if you have any extra advice on growing your Twitter account!