This fall we are taking Chanty, the world's most popular team chat to the next level. I'm going to show you what is by far the most advanced Chanty update we've ever released. This is Chanty 0.3.0
–Inspired by recent Apple event
On a serious note, we've got a doozy of an update for you. Our team worked hard to add some amazing features to Chanty team chat so you can solve more business tasks with our tool. At the same time, our focus remains on the seamless user experience you've come to love. Let's see what we got for you this time.
Turn any message into a ✅ task
From now on Chanty is much more than a team chat. We are shipping the task manager that is a breeze to use: create tasks from any message; assign them to team members; get notified when they are done or manage your own to-do lists. It's totally built-in with no extra effort or integrations required from your side. But wait, there's more! Need to chat over a task? Simply click Discuss in the task menu and start getting things done.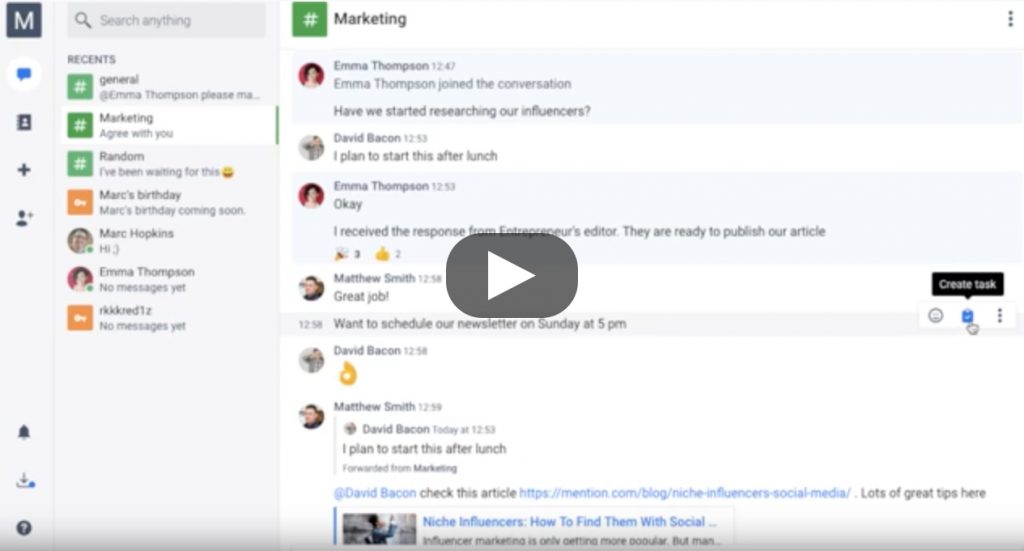 How to create tasks in Chanty 0.3.0
Address teammates with @mentions
Sometimes your message doesn't address everyone in a conversation. What if you just need to notify a couple of team members? This is when @mentions come in handy. Here's how it works: @team notifies an entire team and works for public conversations; @here notifies everyone in a conversation either it's private or public; @username (yeah, you got it) notifies a team member. Simply start typing the name and choose who you want to mention from a drop-down menu.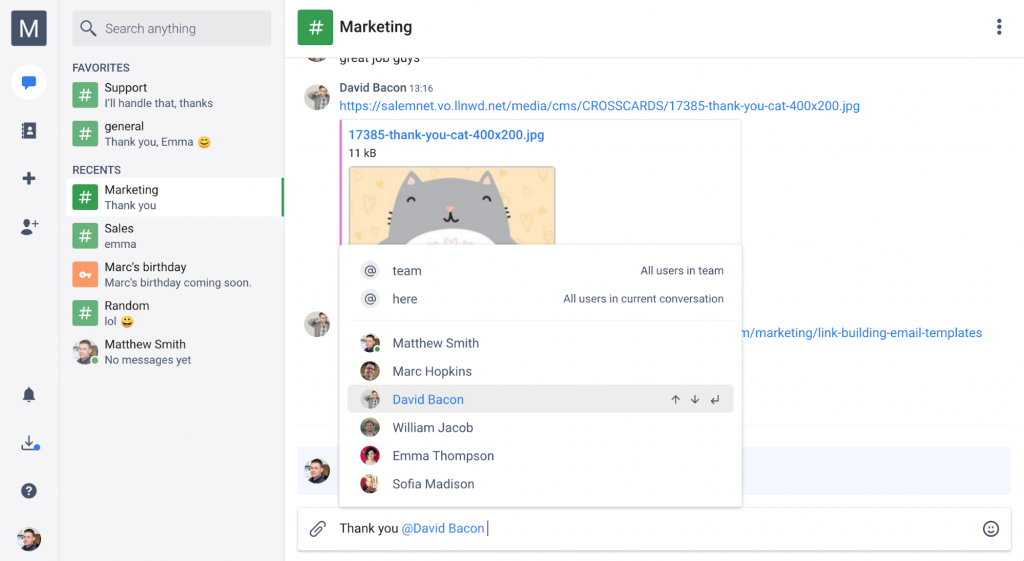 Mentioning a team member in Chanty 0.3.0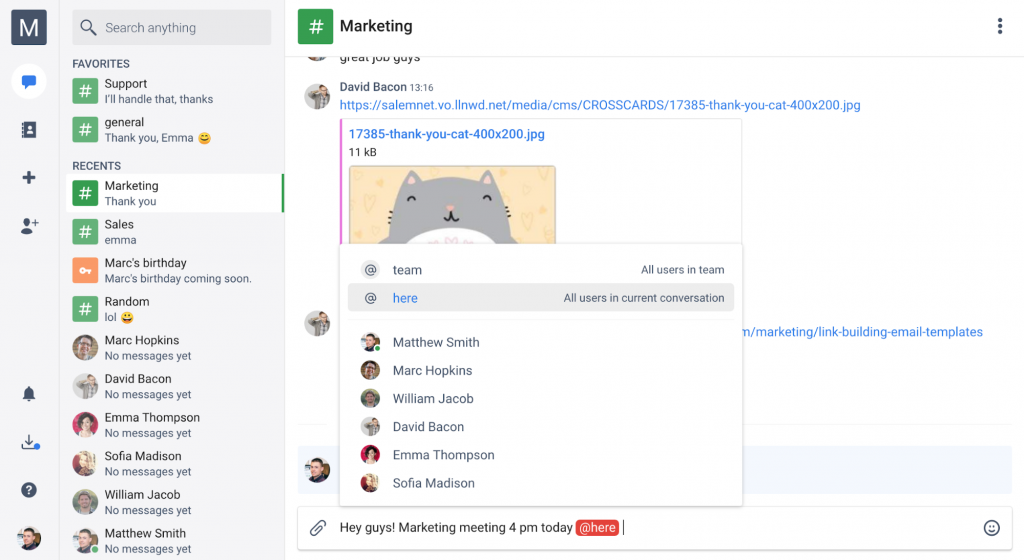 Mentioning all users in conversation in Chanty 0.3.0
Choose what you get 🔔 notified about
Your focus is our priority. Now, on the top of do-not-disturb mode and silent mode you can choose what you get notified about: get an alert for every new message in conversations where you are a member; get no alerts at all (the app badges will still be available) or strike the balance with alerts for one to one messages, mentions and task updates.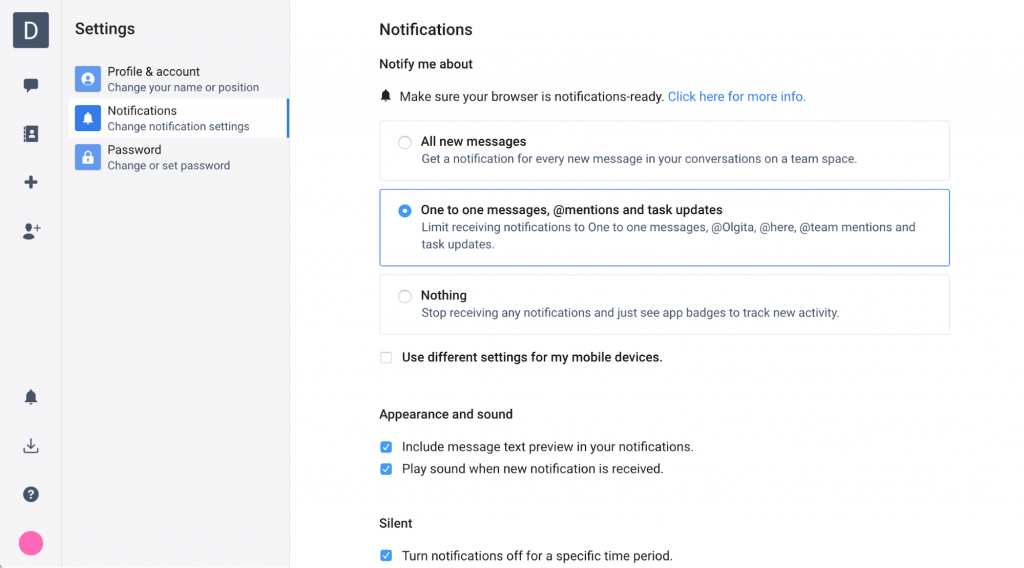 Notification settings in Chanty 0.3.0
Watch 📽️ YouTube, Facebook, Coub videos
We know how much you love videos. But it's no longer just about sharing video links from YouTube, Facebook and Coub. The best part is you can watch them directly in Chanty. See, the less you switch between tabs, the more time you save.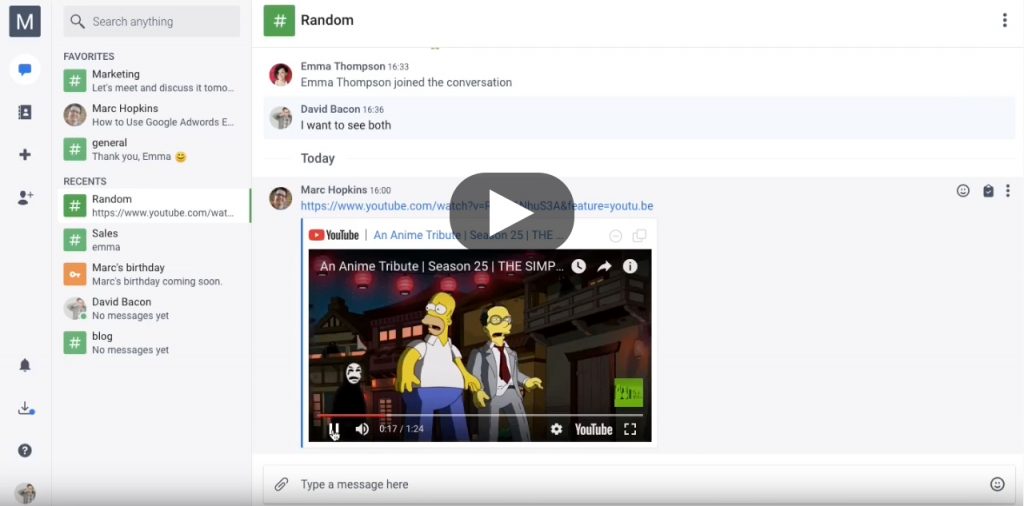 Embedded videos in Chanty 0.3.0
Less noise is more work done
Previously we showed you an image of a team member for every message he or she writes. Today we decided to take another step towards cleaner UX and unclutter the conversation screen with 🌂 collapsed messages. This way, if Jane wrote you ten messages in a row, there'll be just one image of Jane for these ten.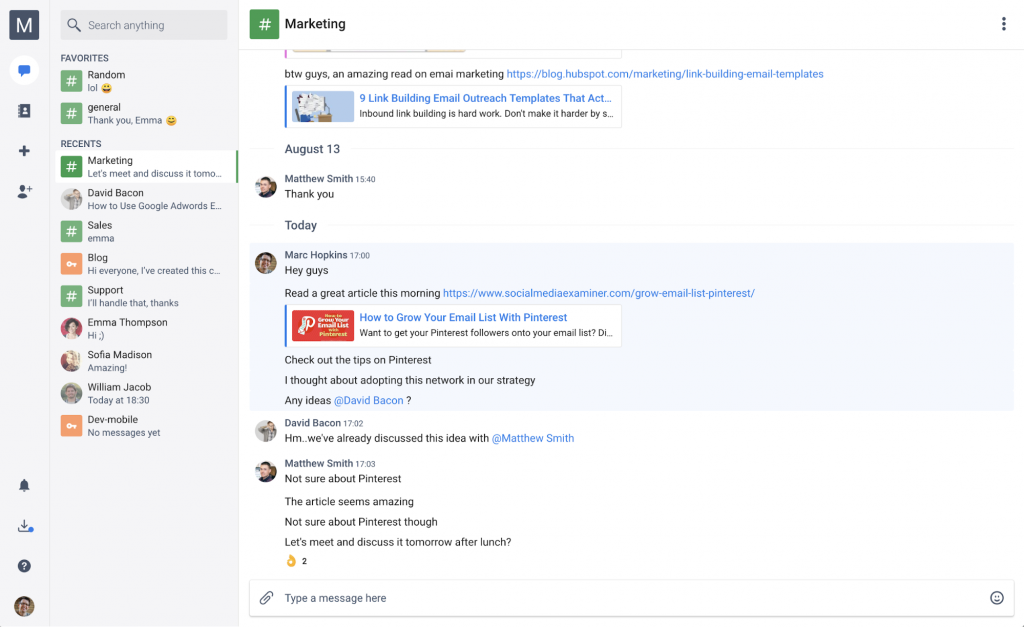 Collapsed messages in Chanty 0.3.0
Updated apps to take your work "to the next level"
Our team is already enjoying the easy-to-use task manager, useful mentions and new notification options in Chanty 0.3.0. Today we are happy to share it with you. It's time for you to download the latest apps and give a new updated Chanty a try. We are looking forward to your feedback. As always, feel free to share your thoughts with our team.