Today we are proud to roll out the new version of Chanty apps. Several months of our hard teamwork turned out to be extremely productive. Despite the sleepless nights, we've achieved amazing results:
The updated crisp and clean mobile apps for iOS and Android
The insanely fast desktop app for both Mac and Windows
Major updates and some minor tweaks to Chanty web version
Get more things done on the go with Chanty iOS & Android apps
Communication on the go has never been so fast and easy. If your laptop isn't with you, a smartphone will do the job just as well. We've packed Chanty mobile apps with a bunch of cool features so you won't feel a difference between desktop and mobile.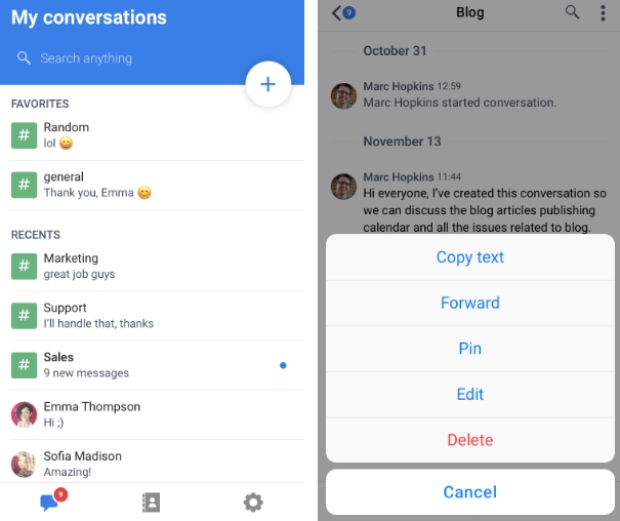 In this version Chanty mobile app receives an extreme makeover:
New slick design that's easier to navigate
In-app preview for incoming messages, unread badges and markers won't let you miss a thing
The app got faster than ever before. No more waiting for messages to show up
Search algorithm got smarter and now uses Elastic search engine letting you find exactly what you need
Say Hi to the Teambook tab. This is where all conversations and team members live and can be reached within a second
New team members can be now easily invited via mobile app
Gain greater control with conversation actions: 'Favorite', 'Add member', 'Details', 'Kick member', 'Leave' conversation
Team communication just got even more convenient with a long tap: 'Forward', 'Pin', 'Delete', 'Edit', 'Copy', 'Open in system browser' message actions
Discover more options in the Settings: 'Edit profile', 'Change password', 'Help & Support' 'Notifications settings' for control lovers like you guys.
We've brushed the app up and fixed a number of bugs so you and your team can enjoy the polished and shining Chanty mobile app;)
Now it's Download time! Feel free to visit App Store or Play Market to get Chanty team communication app.
Simplified communication in redesigned Chanty web app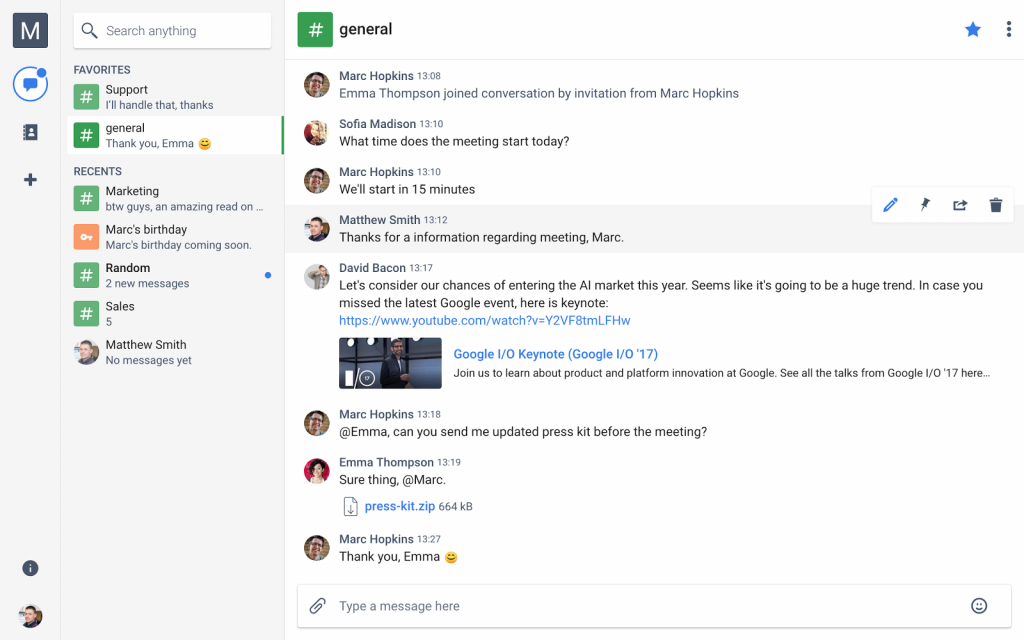 At Chanty we believe in spending more time at work getting things done and less time chatting. Here's why communication in Chanty gets better, easier and faster with each new release. Apart from fixing a number of bugs and minor tweaks, the new version of Chanty web app received several major updates:
We know how easy it is to get distracted these days. So when you write a message and forget to send it, we keep it as a conversation draft so you can go back to it later
Chanty web app got super fast. We've significantly increased the speed of message rendering and scrolling
We've redesigned Chanty web interface to give it a cleaner look and feel
The adjusted search algorithm now delivers more relevant results letting you find just what you need
Hit a 'star' icon at the top right corner of the chat window and keep any conversation, public or private on top with the new 'Favorite conversations' feature
Forget about copy-pasting. Simply forward a message to any conversation in a blink of an eye
Pin important messages for future reference
Tired of entering six digit pins every time you sign in? Set a password and forget about the hassle
Contact support directly from the app if you have a question or suggestion
Don't miss a single thing with unread markers
Excited? Guess what, today is a lovely day to create your teamspace on Chanty if you haven't already 😉
Everything you love about Chanty in a powerful desktop app

On a mission to make a reliable team communication app, we've developed a powerful and convenient desktop solution that's available at your fingertips. Our customer survey had put it clear – web app is great, but desktop is even better when you need to constantly stay in touch with your teammates.
Feel free to download native apps for macOS and Windows. Launch Chanty from your dock or taskbar, receive desktop notifications and enjoy seamless team communication.
The new logo for Chanty team chat
Apart from new awesome features, Chanty has also received an external makeover. We've already mentioned the redesign which makes the app look cleaner and the interface more user-friendly. Last, but definitely not least change we've made – is a logo change.
Today we are happy to introduce the new Chanty logo. Its concept was developed with the customer in mind. The new laconic logo comes in a shape of "C" with a chat bubble inside. It represents the team chat we are building and the core values of our brand – simplicity, openness and reliability. The new logo looks better in both print and digital formats. Chanty application and website will start using the new logo immediately after the press release.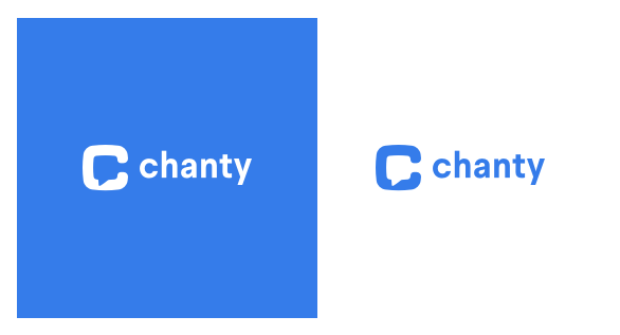 In the end…
It's no secret that we use Chanty to communicate with our team at work. Hope you'll love it even more after the update. Give new shiny Chanty a try and let us know your thoughts, questions or comments. We are always here to help 😉