Stride was discontinued as of 2021.
Team chat wars are heating up!
In spring, Atlassian's Stride got the general release, as experts suggested in its "latest bid to slow down Slack". At Chanty, we were curious about this news, because it's always a great idea to keep up with your colleagues-slash-competitors. Analyzing pros and cons of our rivals helps us in building our simple team communication tool for small businesses.
So we dived into Stride and compared it to Slack that recently boasted 8 mln. users daily. Which tool has a friendlier user interface? Who is a clear winner in terms of pricing? Where would you find more useful features? Keep on reading to find out.
What happened to HipChat?
HipChat was actually very hip. It appeared in 2010 – long before Slack was publicly introduced. Years later, it became one of the most popular chat tools in Silicon Valley and beyond, with customers including Tesla, Expedia, and Uber.
So why did HipChat sink into oblivion? Was it somehow connected with a hacker attack it suffered in 2017? I might have missed something but Atlassian seemed discreet about the reasons for actually replacing HipChat. In the press-release unveiling Stride, there is not a single word about its predecessor. Experts put it boldly assuming Atlassian released Stride, simply because HipChat wasn't hip enough to whack Slack.
The thing is, HipChat always promoted itself as a communication tool. It never broke out of this niche, as Verge experts suggest. At the same time, Slack, appearing in 2014, strived to become the command center for entire organizations – this made all the difference.
Anyway, Atlassian introduced Stride as the successor of HipChat in September 2017. Six months later it became publicly available.
Stride vs. Slack: a quick preview
Slack main pros are quite polished UX and robust integration with multiple tools. However, its upgraded version is twice more expensive than the one of the Atlassian tool.
In its turn, Stride stands out with native Action, Decision tools and the Focus mode.
For those of you who are in a hurry, here's a quick comparison of two messengers.
Slack
Stride
Pricing
Freemium

Standard $7.25 user/month (billed annually)

Plus $12.50 user/month (billed annually)

Freemium

Standard $3 user/month

Message history limit
90 days of messages in Free plan, unlimited in Standard and Plus plans
25K messages in Free plan, unlimited in Standard plan
Audio/video calls
Unlimited 1:1 voice and video calls in Free plan

Conference calls for up to 15 participants in Paid plans

Unlimited group and voice meetings in Free plan

Up to 50 participants in a video conference

Integrations
10 integrations limit  in Free plan

800+ integrations in paid plans

10 apps or bots limit in Free plan

29 integrations in Standard version (as of June, 1 2018)

File storage limit
Free plan: 5GB file storage for a team

Standard plan: 10GB per user

Plus plan: 20GB per user

Free plan: 5GB file storage for a team

Standard plan: claimed to be unlimited

Screen sharing
Unavailable in Free version, available in Standard and Plus versions
Unavailable in Free version, available in Standard version
Interface color options
Custom sidebar themes.
Not available (with the default blue, grey and white coloring scheme)
Conversation threads
Yes
No
Stride vs Slack layout
The layouts of Stride and Slack are very much alike. Techcrunch even points out that Stride looks "striking similar" to Slack. But, still, there are some differences.
In Slack, once you've come into your space, it will greet you with only 2 vertical panels. There's also a horizontal one in the upper-right corner with some extra tools.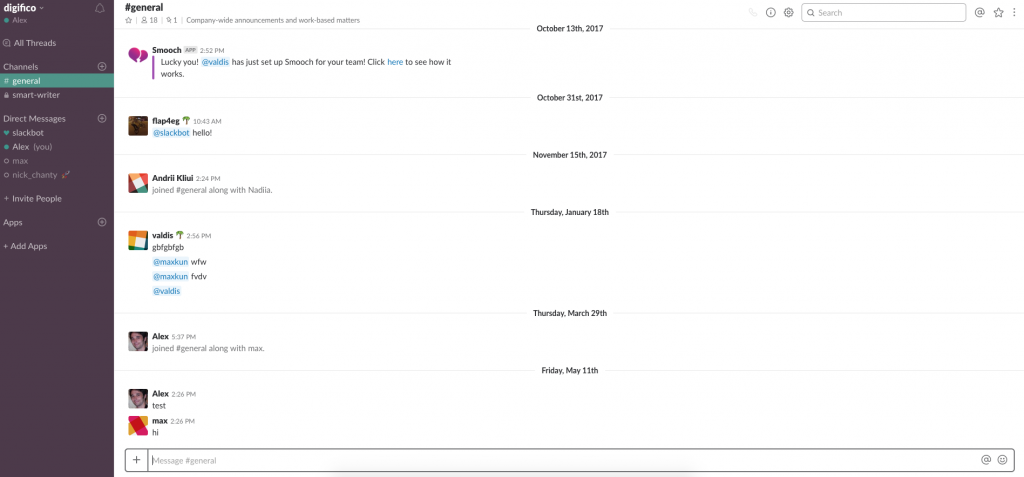 Slack's communication space
In Stride, you will face not two but three vertical panels. Moreover, once you start a conversation the extra 4th bar comes up (When you initiate a chat in Slack, there are still two panels).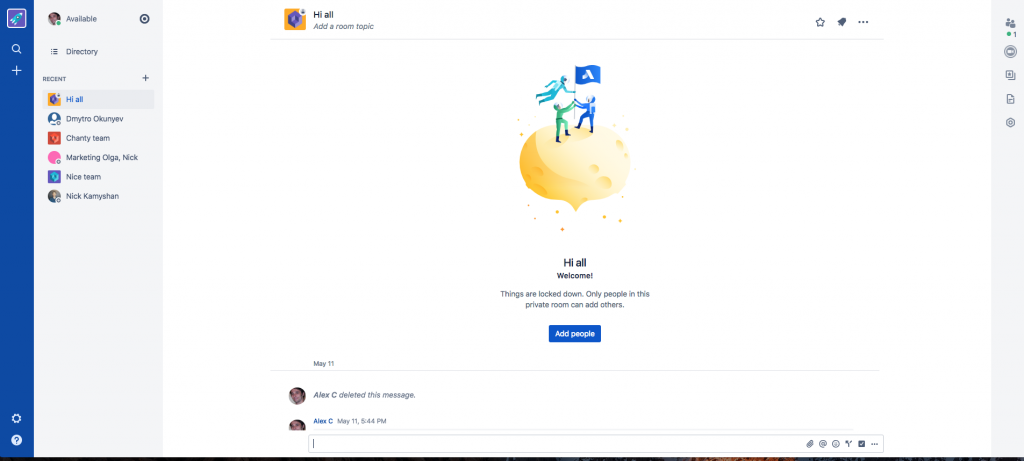 Stride's communication space
4 vertical panels with the given UI seems quite a lot to me. Slack seems more compact in wrapping up the tools and it also lets you customize colors of the left sidebar to improve your UX. We didn't find the same opportunity in Stride.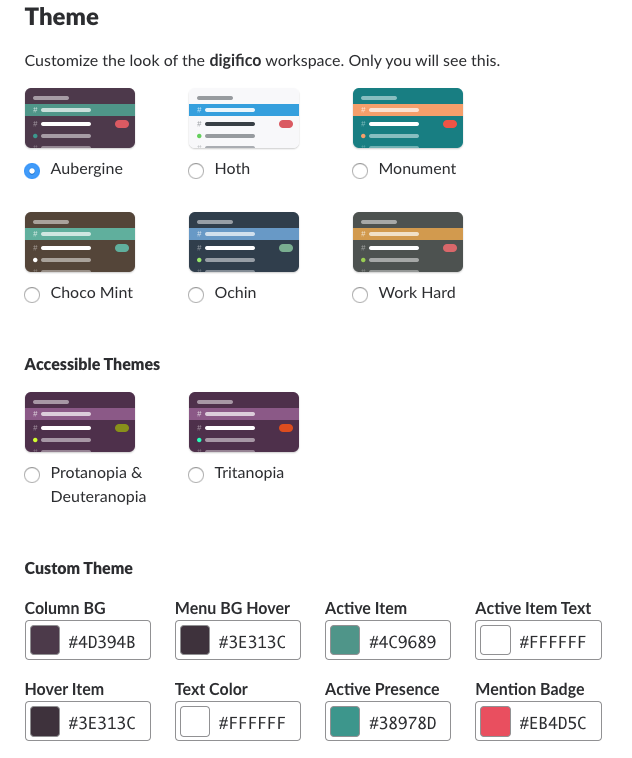 Options for customizing your workplace in Slack
Stride vs Slack messaging
Stride and Slack deal with messaging in a similar way. Slack divides a conversational space into Public, Private channels and direct messages. Stride does basically the same, but instead Channels it has Rooms.
When it comes to messaging box, you can perform only three actions in Slack: insert a file, add an emoji or put a mention.

Slack's messaging box
Stride lists all the tools Slack delivers with some extra: creating 'decision' or 'action', 'formatting tips' and 'explore apps'. By the way, I'm not sure whether I need to 'explore apps' within every single message I send. Do you?

Stride's messaging box
As for 'Formatting tips', in Stride they open a separate modal box with a transparent background. So you can't type a message and consult prompts at the same time.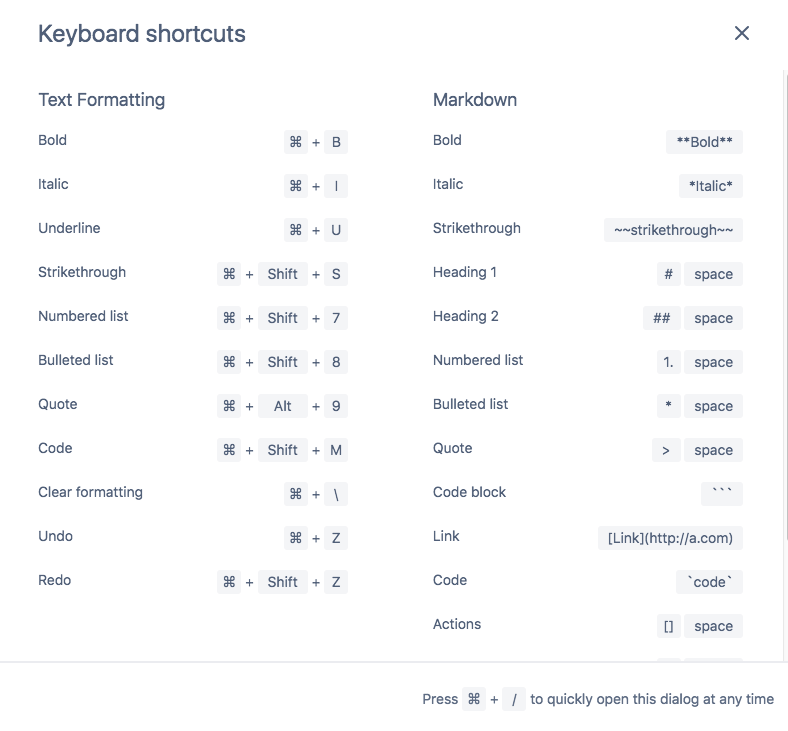 Formatting tips in Stride
Formatting tips in Slack are more convenient, as you don't have to keep the prompts in mind when writing a message. They are available below the messaging box after you typed at least two symbols in it.

Formatting tips in Slack
If you made an error in a message – don't worry. Both – Slack and Stride – offer the option of deleting or editing it. However, Slack has a much wider set of features for managing messages. You can star, share, react to them and also mark as unread (the latter option is the only one from listed available in Stride).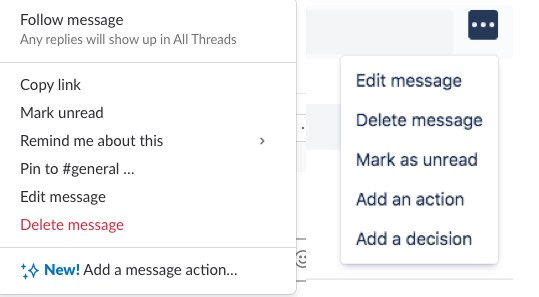 Slack                                                Stride
Decision making and action taking
Actions and Decisions are the features Atlassian headlined when launching Stride. Actions allow you to create a task from the main chat interface and assign it to a co-worker with @mention. There's also a checkbox you can tick in after the action is completed.

Assigning a task in Stride
After you assigned a task it will appear in the sidebar – in Highlights section. To have all of your to-do's listed in one place seems convenient.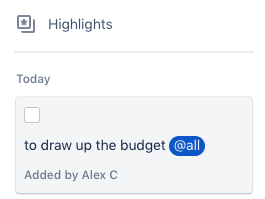 A task in the Highlights section in Stride
Slack introduced Actions in May 2018. However, they are not built-in, but available through integrations – Asana, Zendesk and Jira.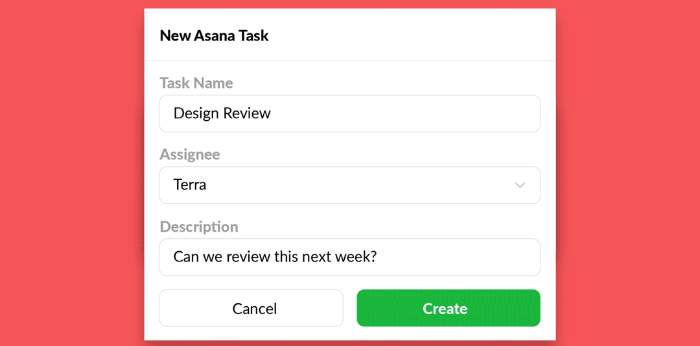 Creating an Asana task with a Slack message
Also, Stride has a 'decision' feature. You can mark a message as a decision, and reference it later anytime.

Decision making in Stride
All Decisions are also listed in the Highlights.
Slack doesn't have a 'decision' feature. However, it has another popular feature which is Threads.
Threads: a curse or a blessing?
One of the controversial topics in Slack is conversation threads. In a nutshell, they let you respond directly to a message in a channel, keeping the replies organized in a single, threaded conversation.

Using Threads in Slack
Some think Threads create chaos, but others actually love them. For example, here's a comment from a Stride user who would like to use this Slack's feature.

Stride user complaining over not having Threads in Slack
However, Atlassian team claims Threads are not going to be implemented in Stride despite having requirements.

Atlassian team member claims Stride doesn't have plans to feature threading
In Chanty, we see pros and cons of having Threads. We are weighing up all the arguments to come up with the best solution for our users. That's why we are wondering what's your take on Threads? Are they necessary? Do they actually serve you or stand in the way of your productivity? Hit the comments below and share your thoughts.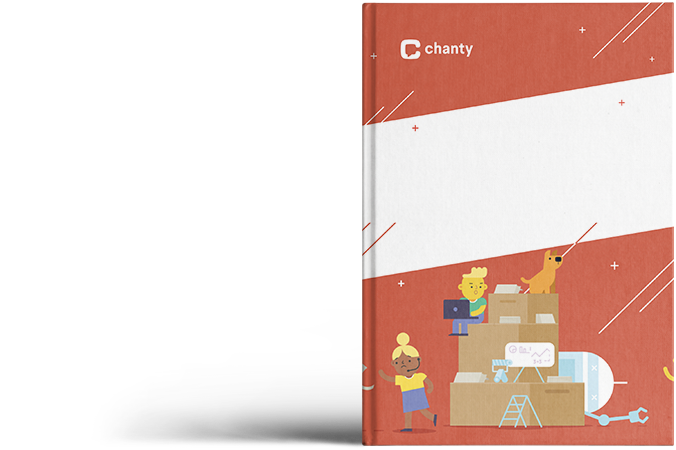 Communication issues at work?
"50 Surefire Ways to Improve Your
Team Communication"
Get eBook
Stride vs. Slack message history
As we mentioned, both Slack and Stride limit your message history in the free version. When using search in Slack you will see a reminder.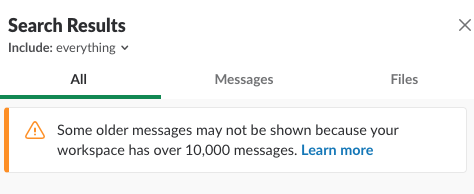 Just to give you an idea of what 90 days of message limit is – a team of 15 people generates around 6K messages per week. It means that less in two weeks they won't be able to restore their today's conversations.
In Stride there's a bigger – 25K messages limit if you don't feel like upgrading to Standard plan. But, still, that's not much.
Chanty, on the other hand, won't restrict you with your message history. We realize how important keeping the record of your conversations might be. Еnjoy unlimited message history at Chanty!
Slack vs. Stride: notifications
Slack's notifications have been the talk of the town for many years. You can keep your concentration under control with Do Not Disturb mode, channel-specific settings, keyword alerts and many other features.
Notification preferences in Slack
On the other hand, even those multiple tools might not save you from being continuously distracted. If you have a huge team chatting in multiple channels (rooms) or colleagues who don't use @mentions wisely, you can be buried under tons of notifications.
In 2016, this problem received wide publicity with so-called 'Slacklash' trend. It all started with "Slack, I'm breaking up with you" article. Many users complained they have to deal with volumes of notifications in Slack, which makes them awfully distracted.
Needless to say, Slack embraced the notification challenge. It strived to improve notification preferences and dedicated a special help page offering tips. However, the issue is still here. Rumor has it, workers even have nightmares over missing notifications.
It also seems that Slack misses a single tool to summarize all notifications and define a single point.
Stride jumped right on that. It provides the possibility to mute all notifications and distractions and then show it up in a 'While you were away' box. It breaks up messages by channel and by person and also aggregates what was actually done.
At Chanty, we are working hard on a tool of delivering conversation highlights, so you'll be able to give your attention to the most important things only. Stay tuned to our news.
Slack vs Stride file sharing
Within both messengers, you can share files easily. In Slack, the size limit for uploading a file is 1GB. If you try to upload a larger one, you'll get a timely notification.

Slack's notification on uploading file limit
In Stride, we struggled to define a file limit, as there wasn't any official information about this. So I took a bold step uploading a 1,5Gb video file and sent it to a colleague.

You can successfully drag and drop a 1,5Gb file in Stride
The file preview wasn't available. But my colleague was able to download the file.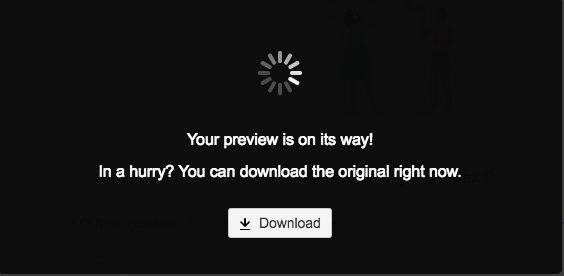 My colleague successfully downloaded 1,5 Gb file in Stride
Maybe you could send even bigger files in Stride, but we decided not to continue the experiment.
Both messengers have 5GB file storage limit for a team in the Free plan. In paid versions, Slack offers 10GB per user in Standard plan and 20GB per user in Plus plan. There's no storage limit in Stride according to official information.
Since we are talking about sharing here, we noticed that Stride has no built-in preview for links. However, it's available via integration with this app:

To get a preview for links in Stride you will need a Link preview app
After installing the app, you'll be able to choose either "compact-style" or "card-style" preview. Here's the image of the latter one.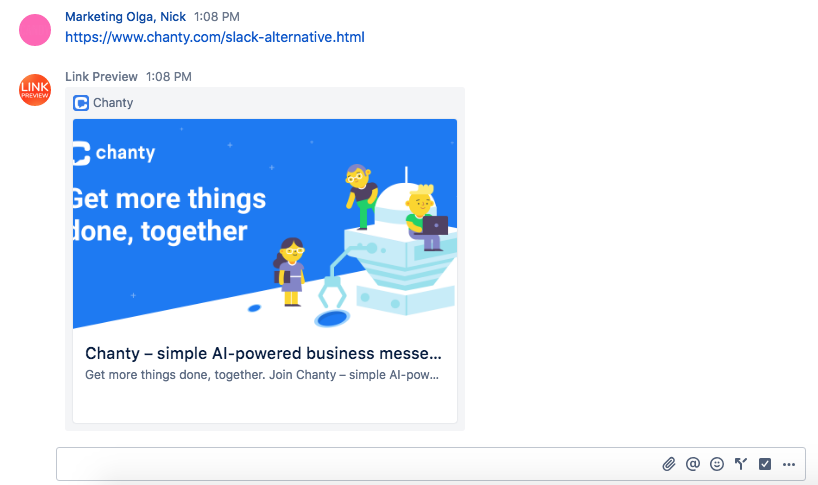 Let's dive deeper into integrations.
Integrations
Integrations is a leading blow of Slack. There are more than 800 of them available. A full list of integrations can be found on Slack's website. They are quite neatly organized by staff picks and categories.

Choosing integrations in Slack
Meanwhile, Stride has only 29 integrations available (as of June 2018). Naturally, the messenger integrates with the rest of Atlassian's products like Trello and Jira.At the same time, it has no integrations with many popular tools like Gmail or Salesforce (as for the time the article is published).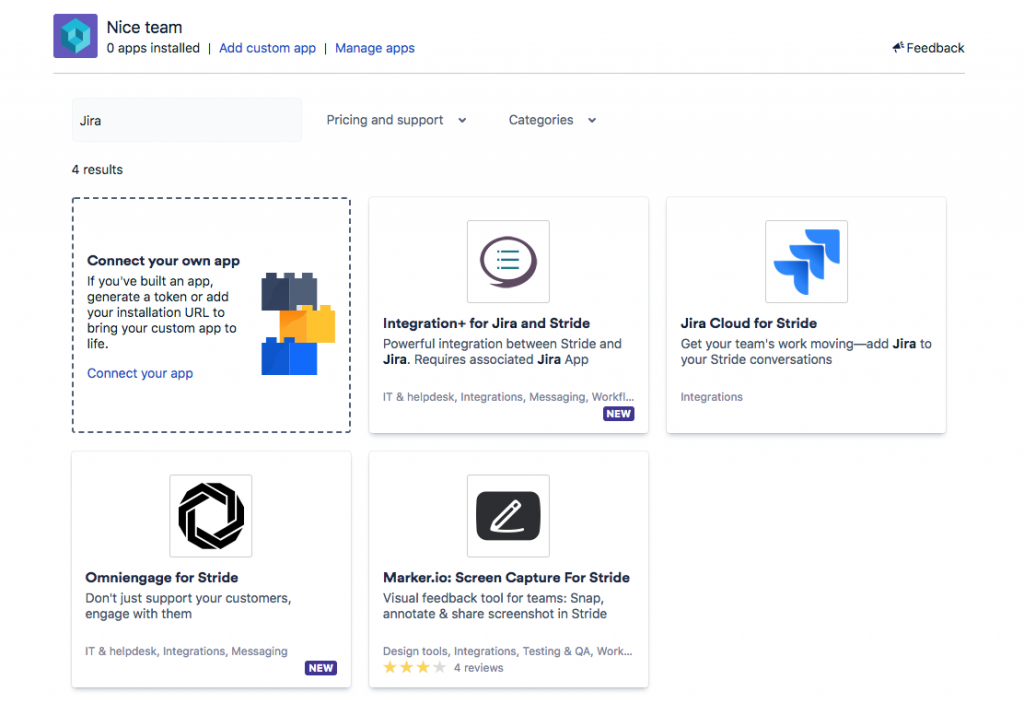 Integrations menu in Stride
However, Stride has a great app that actually bonds it with its Slack. Isn't it surprising?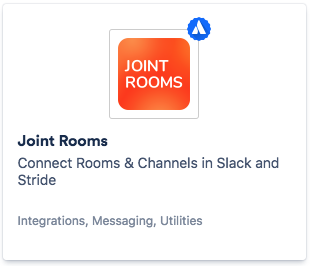 Joint Rooms app in Stride
Via this app, you can connect a Stride's room to a Slack's channel. So when you send a message to any of them, it will automatically appear in another. To connect a room and a channel, you'll need to exchange their codes. It took some time for me to sort out the whole procedure, but, eventually, it worked! Here I sent a message to Slack group.

The message automatically appeared in our Stride channel.

It seems like a great possibility to integrate with external partners, companies or just different teams within your company.
Stride vs Slack voice & video calls
As we mentioned, only 1:1 voice and video calls are available in Slack free version. While in Stride you have unlimited group and voice meetings without upgrading or using integrations.
Our Chanty team jumped on a short meeting in Stride and hung out there for a while.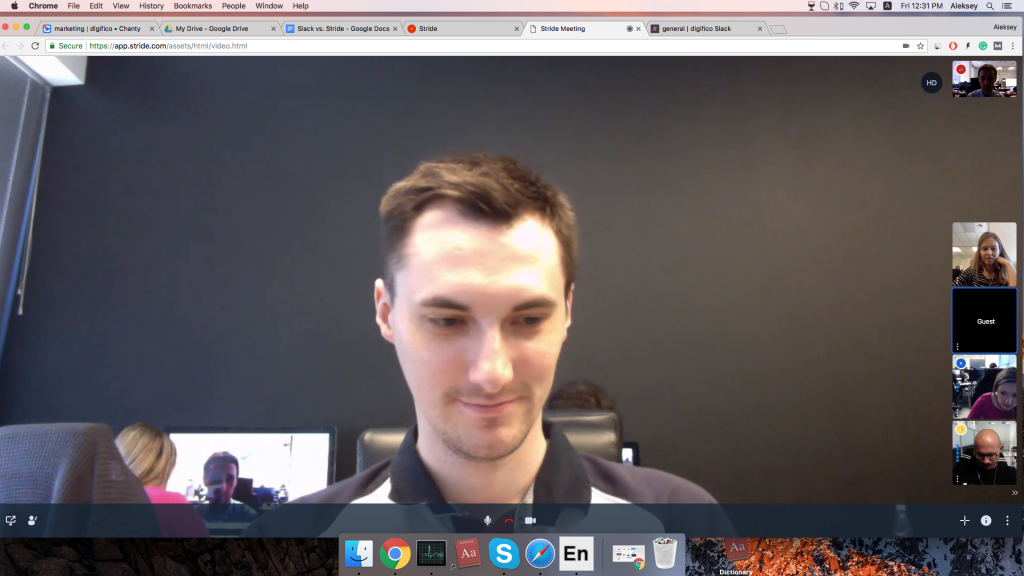 Chanty team exploring Stride video conferencing tool
The quality was good. Occasionally the image wasn't so sharp, but it didn't bother us. We were surprised that video calls in Stride have quite a lot of features. E.g. are you curious who is the biggest blabbermouth in your company? Check out speaker stats.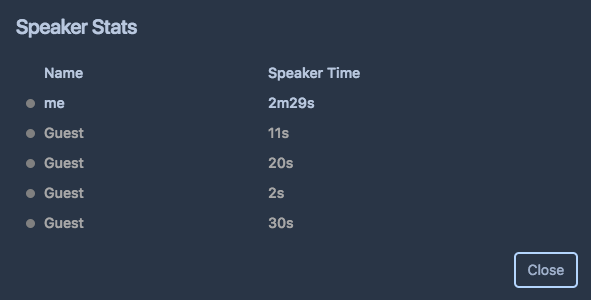 You can also adjust your call quality or switch it over to an audio call.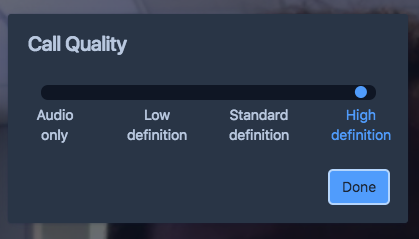 If you want to speak you may raise your hand. By the way, we didn't find this opportunity in Slack.

In Slack we could talk only 1-1. So it wasn't that much fun, I guess. Of course, we could add Google Hangout or another video app, but decided to stick to in-built tools. My video didn't work, but we are pretty sure it's because of some local issues – there was nothing wrong with Slack.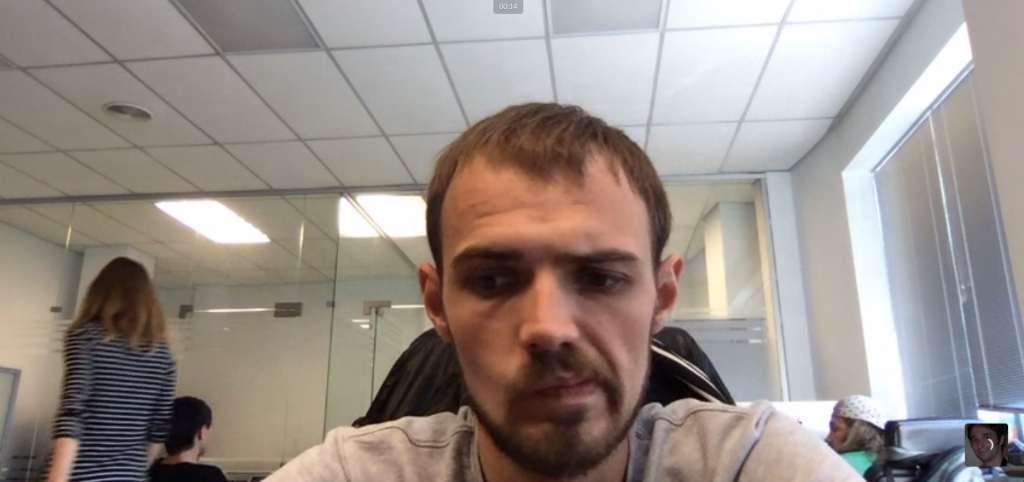 Quality of the call was fine, but no features in free versions, like speaker stats. However, there is a fun feature in Slack – you can react to the calls with emojis.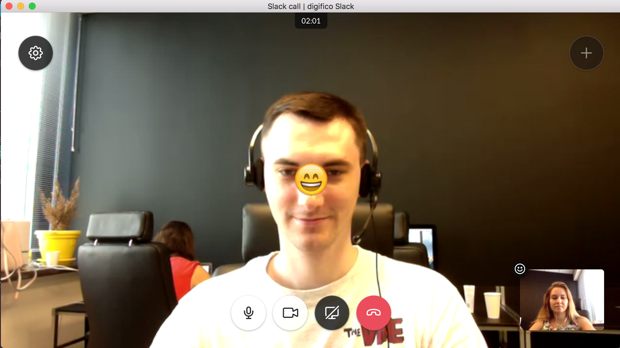 After all, if your team needs to make a lot of calls and you don't want to bother with integrations, Stride seems a better choice.
Stride vs Slack Help and Support
Let's say I'm looking for a particular feature in a team chat. This is when I turn for assistance.
In Slack, the 'Help' section looks pretty friendly. Not only has it the search query, but also features popular topics. Seems convenient for anyone getting to know a messenger.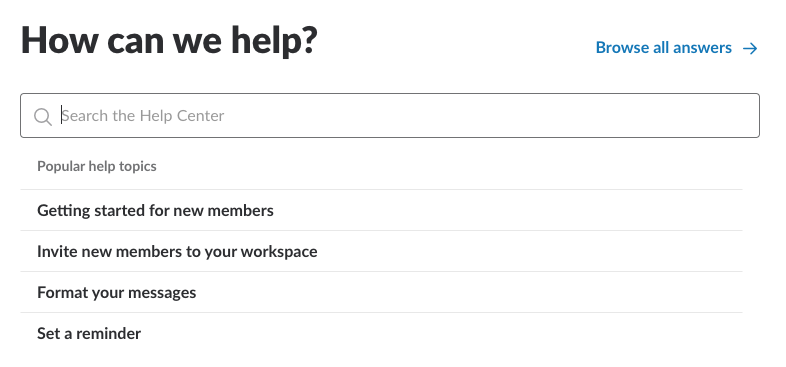 'Help' section in Slack
In Stride, the search box won't appear right before your eyes. You'll have to open it to type the query. Instead of 'Popular help topics', Stride offers 'Support resources' menu which items seem much less user-friendly.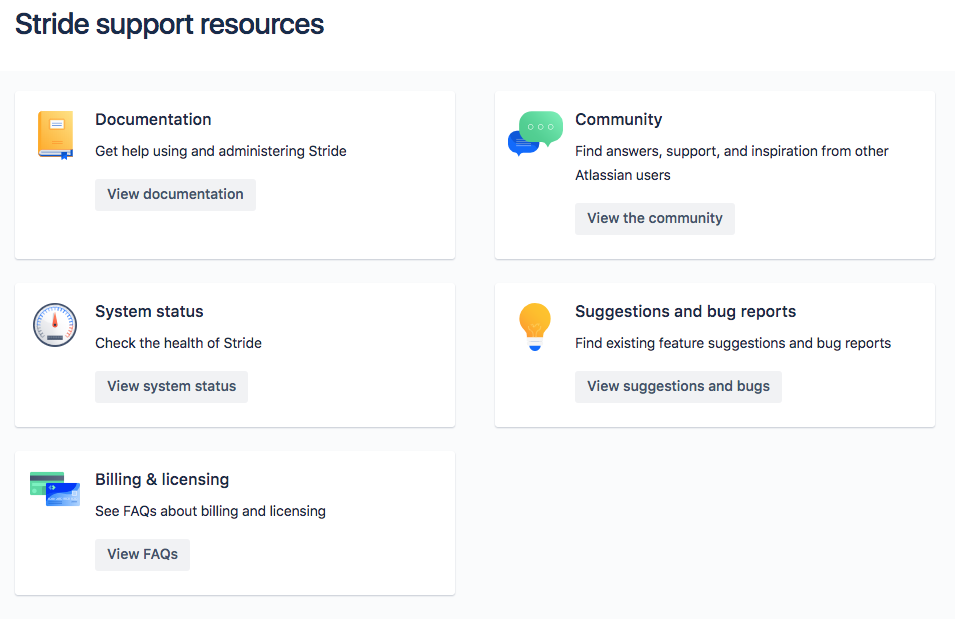 Stride's support section
Let's suppose, I'd like to add an RSS feed to a messenger and don't know where to start. In Slack, after I type a query 'add' in the search box, I get the whole drop-down list box, among them I can see 'Add RSS feeds to Slack' – just what I was looking for.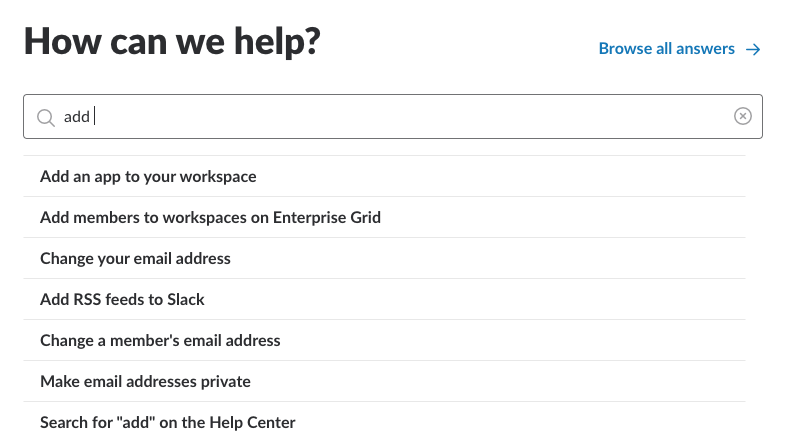 Slack's drop-down list box in the 'Help' section
In Stride, I need to make an extra step for that same purpose. The 'Help and Support' section works for all Atlassian services by default. I should specify that I need to perform the search in Stride only. There's also no drop-down list box.

Overall, Slack's 'Help' section seemed a bit more polished to me.
Search
In Slack, you can search messages, files and snippets. What's more important – Search functionality is powerful enough to find what you need in the documents. The content within the files you share as well Google docs and Dropbox is also searchable. Specify results with a particular person, channel or time period.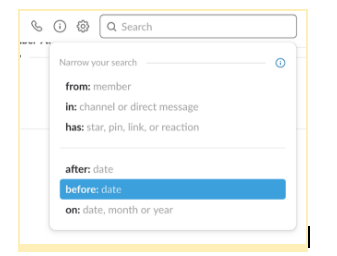 Search options in Slack
Just to be safe, we tested Slack's search within files. I sent to my colleague our '50 ways to improve team communication' e-book in pdf. format. So I typed the name of the last chapter 'Thinking outside the box' to find out whether I can find it via search. And – voila – Slack found it!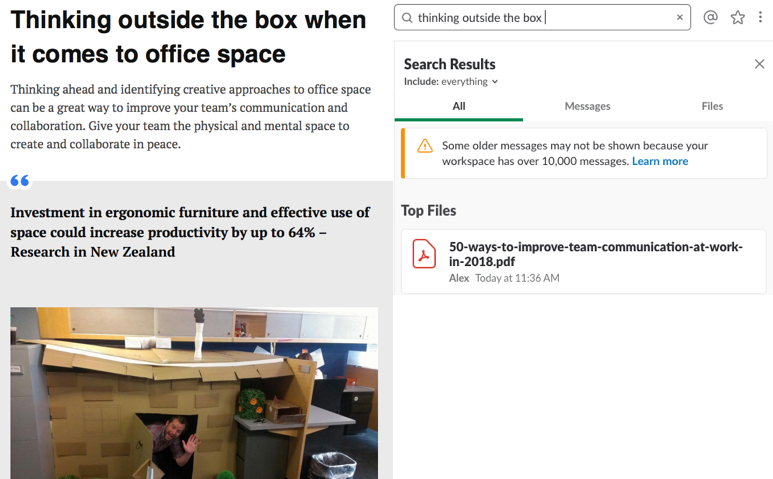 A snippet of the book                                                  Slack found it!
I didn't manage to do the same thing in Stride. I could find neither the chapter name, not even the name of the file. I'm not sure why though, because Stride claims to perform the search through files and links.

Conclusion
Both Slack and Stride offer some competitive tools for your team communication. Here are the key takeaways from our comparison.
Layout. Slack's UI seems a bit more polished with a possibility to customize colors of the left sidebar.
Messaging. Both tools are quite skillful in messaging. Slack offers the controversial Threads features that some love, others hate. Stride has native Decisions and Actions that improve team collaboration. Unless you upgrade, both tools limit your messaging history.
Notifications. Slack has multiple options for managing notifications, however, chances are you'll still be quite distracted by them. Stride has a useful 'While you are away box' that helps you not to get buried under notifications, especially after being away for a long time.
Video calls. If you plan using video calls with your team and don't want to bother with integrations, Stride is probably the better choice. In the free version, it provides unlimited group and voice meetings (up to 15 persons). Slack provides only 1-1 calls in the Free plan. Stride's got some neat video call features, such as speaker stats, the possibility to raise a hand, etc.
Integrations. Slack is sure to have the integration with your favorite app (800+ integrations so far). Stride has still a long way to go (only 29 integrations available as for June, 2018)
Help and Support. We found Slack's Help section looks more comprehensive, because of the user-friendly menu and easy search with a drop-down list box.
Search. Slack has a powerful search, amplified by a search within documents and Google Docs. We tested this opportunity in Stride and it didn't work.
Price. Stride's paid plan is twice less expensive than Slack's Standard one.
Did we miss something? Drop a comment.
Not sure which messenger to choose? Give Chanty a try! It's simple, fast team communication tool and a single notification center. We've analyzed pros and cons of other messengers to deliver you a tool that is more simple, reliable and fast. Enjoy the unlimited message history and organized communication in Chanty. Join our amazing community of early adopters!