Glip became part of RingCentral Office
Can you imagine the working environment without team communication tools? Nowadays it's really difficult. Once you start using them, you forget about keeping contact with colleagues via emails.
Team chat applications accumulate the workforce in one place, organizing the working process and making conversations faster. However, the more tools hit the market, the more efforts are required to find the best one for you.
My team is working hard to develop a simple, team chat – Chanty. We take into account everything that can help us on this mission, including our competitors' evolution.
We have already made in-depth comparisons of Slack vs Ryver, Slack vs Skype, Slack vs Flock and given a comprehensive feedback on five Slack alternatives.
Today I offer you to read about a lesser-known team collaboration software Glip and understand how this tool compares to Slack. What if they are not competitors at all? Let's figure it out.
What is Glip?
Glip is a collaboration software by RingCentral, it lets you chat, share files and manage tasks. Let's see how it compares to Slack.
Glip vs Slack pricing (1:0)
First of all, let's take a look at what you get when you use Glip or Slack Free Plans.
Glip vs Slack pricing

| | Slack (free) | Glip (free) |
| --- | --- | --- |
| Message history limit | 90 days | Unlimited |
| Video calls | Unlimited 1:1 voice and video calls | 500 minutes of shared video chat with up to 100 people |
| Unlimited team members | Yes | Yes |
| File storage limit | 5 GB total | Unlimited |
| Project management | Integrations with project management tools | Built-in to-do tasks |
| Integrations | Up to 10 third-party or custom integrations | Unlimited out of 48 integrations |
If you want to get more – be ready to pay.
Glip has only one paid plan (Standard). For $5 per member/month this communication tool promises you to provide 1,000 minutes of shared video chat per user/month, advanced administration controls, data retention policies, compliance exports and 24/7 priority support.
Slack offers a wider choice – Standard and Plus Plans. In a Standard Plan that starts from $7.25 per member/month billed annually or $8 billed monthly, you will get an unlimited message history and integrations, group calls (up to 15 participants) with screen sharing, 10GB of file storage per member and a possibility to invite guests to Slack channels.
Plus Plan – $12.50 per member/month billed annually or $15 billed monthly – provides enhanced security with SSO, guaranteed 99.99% uptime 20GB of file storage per member and 24/7 customer support and compliance export of the entire Slack message history, including private channel messages and direct messages.
It's clear that Slack will cost you more than Glip when it comes to paid plans. In addition, freemium plan in Glip has far fewer limits on its functionality, so that this tool earns the first point.
Glip vs Slack design (0:1)
Glip is visually divided into three columns. The left panel is used to find your contact list, calendar, conversations, tasks, notes and all attachments ever sent and received.
Once you open any conversation, the right collapsible panel 'Shelf' pops up, repeating the info on the left panel. The only difference is that you see the last ten shared files/links/notes/tasks/events or members who are online and all pinned messages. In other cases, the right panel displays tips or advice that can be helpful for users.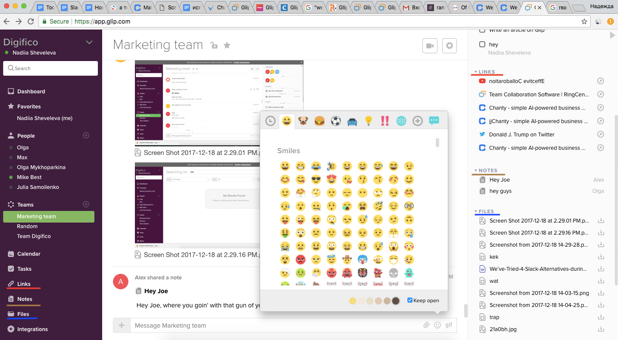 Glip interface
As you can see, Glip looks rather messy with lots of information stuffed in the app interface.
Drag and drop feature can be a pleasant surprise for you – it takes one click to move sections from the left panel up or down. It's also possible to change the width of both right and left panel (users should be reasonable, or the interface will look really weird).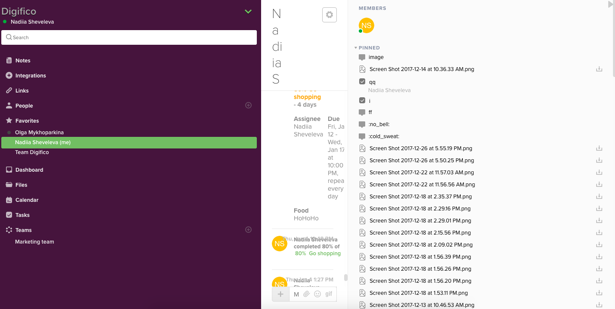 Drag and drop feature in Glip
Slack, in turn, cleans up interface hiding its features behind different buttons. I found Slack's design more pleasing to the eye, and my colleagues agree with me.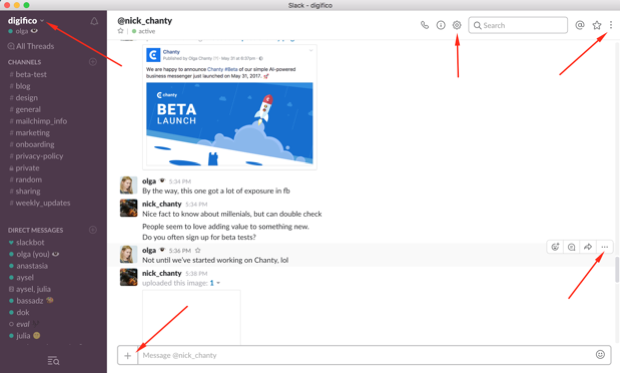 Slack interface
All you can find on the left panel is your threads, open channels, direct messages and applications. Nothing prevents you from focusing on what is really important.
However, there is a scope for improvement too. For example, there are two icons Add reaction and Share message, but when you click the button next to them, the same actions are repeated again.
My teammate explained me this repetition is done on purpose (the menu contains all the options available). I found it rather strange to see, anyway.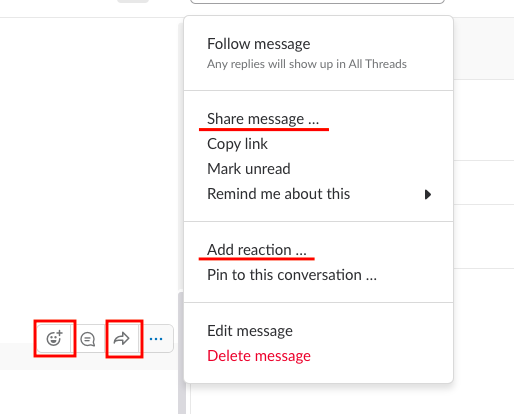 Slack message options
Despite the fact that user interfaces of both messengers seem to be quite similar, Slack bribes with its user-friendly and clean design. Score one for it.
Glip vs Slack team messaging (0:1)
Slack and Glip claim to put conversation at the center of teamwork. To check out if their features are that powerful, I invited colleagues both to Slack and Glip teams.
The difficulties started as soon as I sent out invitation emails to my teammates to join Glip. Why? Let me explain.
First off, there is no special custom URL for a team space. Whatever name for the team you choose, you will still see this link address: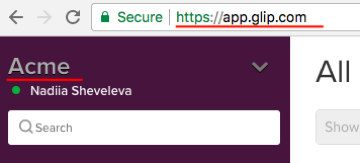 Glip team link address
I named my team 'Acme' and invited colleagues to join it, but it wasn't as simple as I expected. We spent about an hour trying to figure out why people found themselves in different teams with different users in their list of contacts.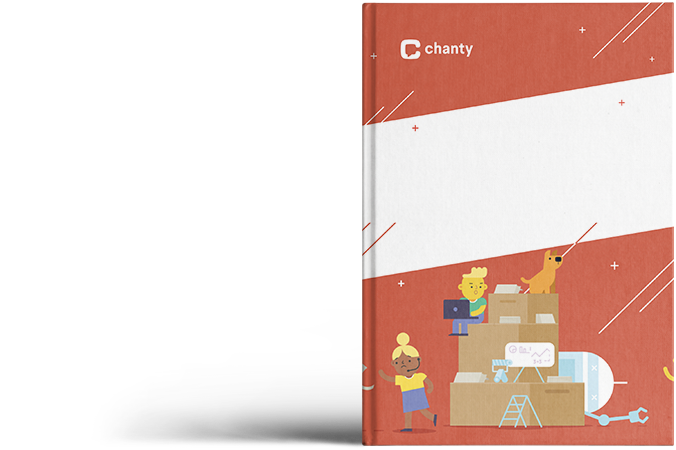 Communication issues at work?
"50 Surefire Ways to Improve Your
Team Communication"
Get eBook
Finally, it turned out Glip automatically created separate team spaces for emails within different domains.
By the way, conversations are called 'Teams' here in Glip. They can be public (every user can join them) or private (invitation-only). When you create a new conversation with several people, you can manage who can access it and control what people can do there.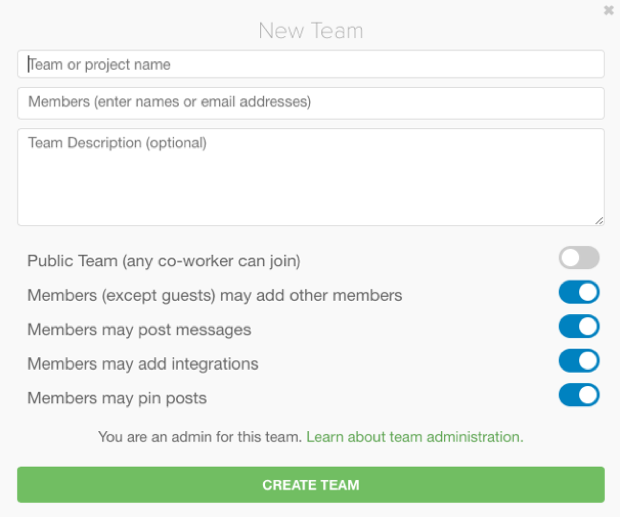 'Create a new team' option in Glip
Well, unfortunately, once we began chatting, our experience became less inspiring. You are free to like, pin or quote any message in Glip, however, you can forget about forwarding feature.
Conversation with yourself allows you to keep important files or annotations in one place. Moreover, everything you do with your tasks is displayed here too.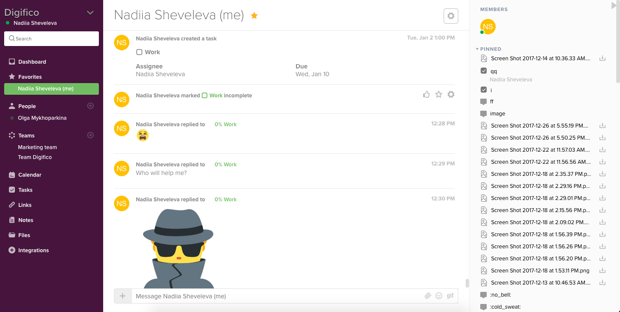 'Conversation with myself' in Glip
What also surprised me was that team admins were able to edit any shared link or replace its web address with another one (see the result below). And there was not even a sign that the message was edited.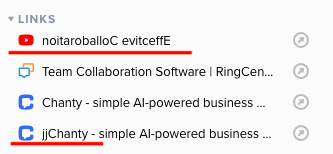 Edited links in Glip
Everything was okay while sending images or videos. However, link previews weren't displayed, though this function is on by default in Glip.
Personally, I like the possibility to look through downloaded documents right in Glip. You can also add them to Favorites, write an annotation, share or remove from one dialogue to another.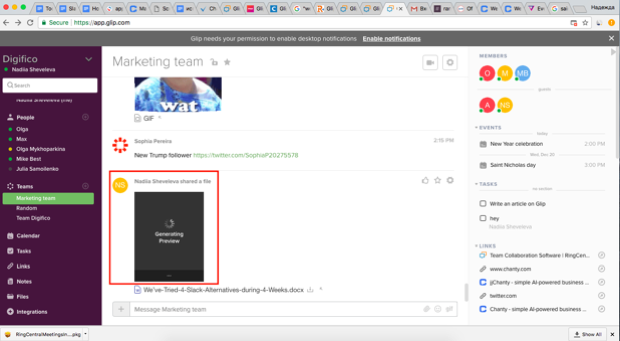 Document preview in Glip
I would also like to mention that there is no emoji search in Glip, but you are able to upload your own images and turn them into stickers.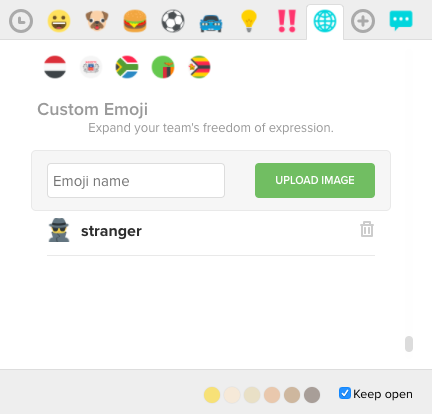 Glip emojis
Slack offers users a richer set of features in its public and private channels. In addition to basic actions like edit, delete, share or pin any message, you can also add reaction, like it or set a reminder.
Slack also provides a thread feature in its channels. It gives an opportunity to reply directly to a message and start one to one instant chats without switching between conversations.

Threads feature in Slack
When you create a channel in Slack, you can manage access to it (whether it will be private or public), name and add description.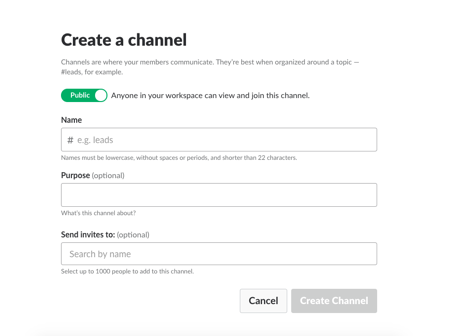 "Create a channel" feature in Slack
Overall, Slack gives people more opportunity to communicate and express their points of view, but you must always remember about 90 days message history limit in Freemium plan. If you hit it, all your notes, links and files will begin disappearing. Nevertheless, other team messaging features in Slack take precedence over Glip. 0:1 again.
By the way, neither Slack nor Glip delivers a built-in voice messaging feature, which is really handy if you want to share a quick thought with your colleague. This is where Chanty might step in. You can record voice messages in the tool to deliver important information asap. 
Book a demo with Chanty team and enjoy boosting your productivity with our tool.
Glip vs Slack video conferencing (0:1)
As for Glip, you should be ready to download RingCentral Meetings – a video conferencing application that enables video calls in this messenger. Whereas Glip doesn't offer integrations with other video calling tools, you just have no choice.
The quality of video is quite fine. However, if you face video calls daily at work, it won't be comfortable to open RingCentral Meetings every time you want to start a video conversation.
When I tried to join a conference with my teammate, RingCentral Meetings offered me just to watch it without a possibility to hear what other people were talking about. It's hard to think of a benefit such a video conference delivers.
Good news: if you just close the popup, you will hear everything other people say and they will hear you too.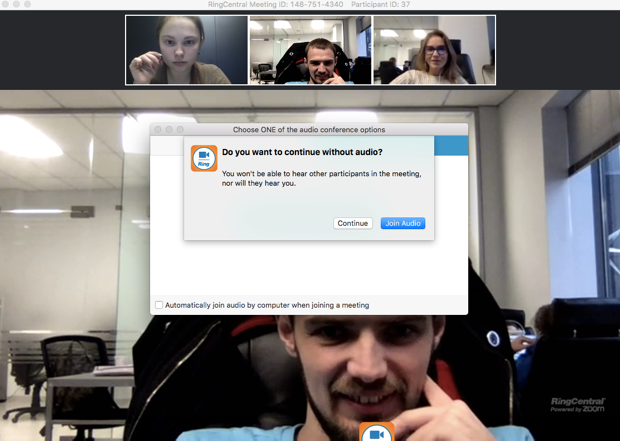 Popup in RingCentral Meetings
Nevertheless, RingCentral Meetings app offers a possibility to share your screen and draw or write something over it.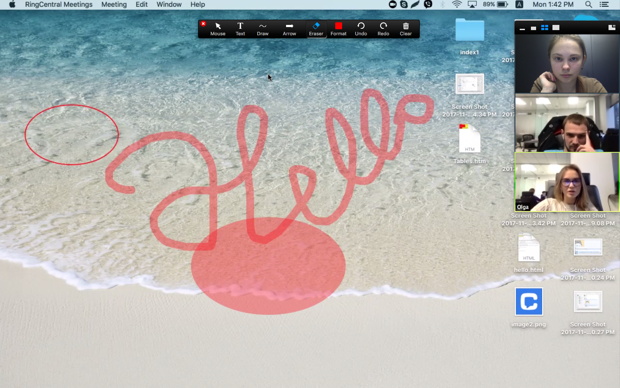 Glip screen sharing feature
Slack comes with native video calls which means you don't need to download any additional software. If you have to communicate with more than one person at a time, the paid plan is waiting for you. You can use screen sharing option only for money too.
My team made several free video calls in Slack. The audio quality was good, while there were some issues while turning camera on and off.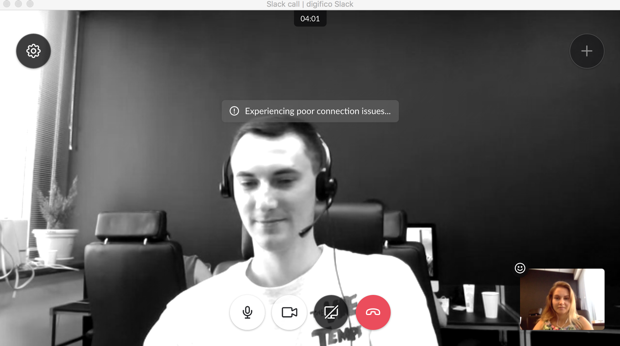 Some issues during the video call in Slack
In case you want to have some fun, you can add emojis to the middle of your screen. No, you are not able to drag them. But who knows, maybe it will make you smile?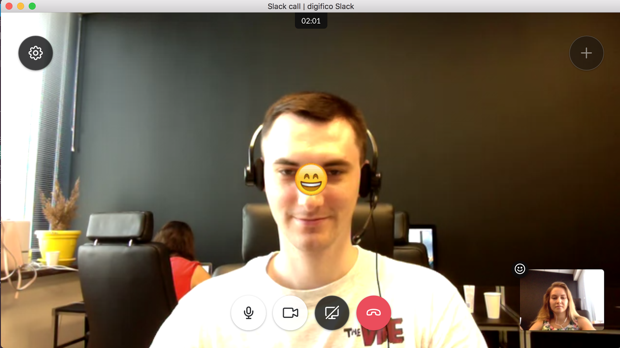 Using emojis during the video call in Slack
Of course, you can integrate Slack with other video conferencing tools like appear.in, Google Hangouts or Cisco WebEx. If you use a freemium plan, however, you have ten possible integrations only, don't forget about it.
Slack earns one more point with its built-in video calls and integrations with other video conferencing tools.
Glip vs Slack search (0:1)
Search field in Glip lets you type anything you want to find (a filename or just a word). You can also filter the results specifying the time and the team where your request was posted or written.
I tried to find the same word in both Slack and Glip. You can see how the results look like below.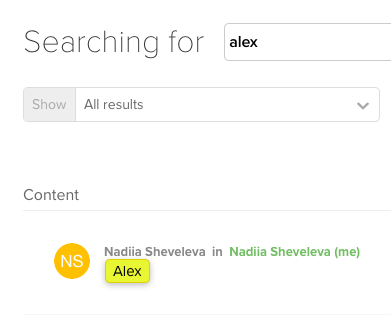 Search in Slack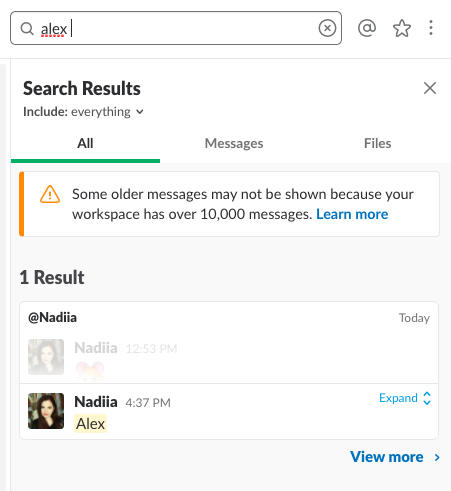 Search in Glip
If you want to find a file in another way in Glip, click the Files section in the left panel. There are folders with all attachments ever sent to your conversations. You can filter files by team, person or sort them alphabetically, but if you have lots of data, be ready to search for several hours. Here's how it looks: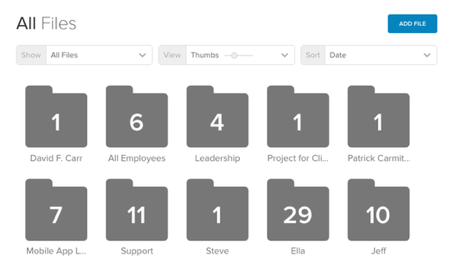 Image source
Slack presents a more detailed search that allows you to specify the search query to find exactly what you need without scrolling tons of messages or files.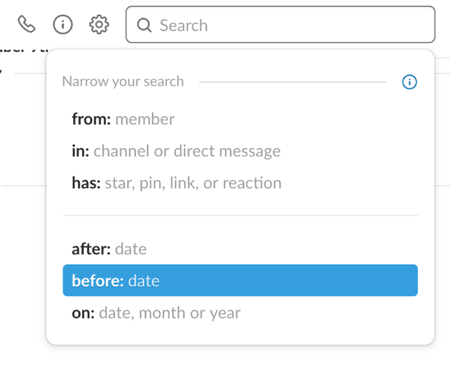 Search options in Slack
What is more, Slack enables search within files. It is extremely useful when you forgot the document name. Slack will find it, if you recall some words the document contains.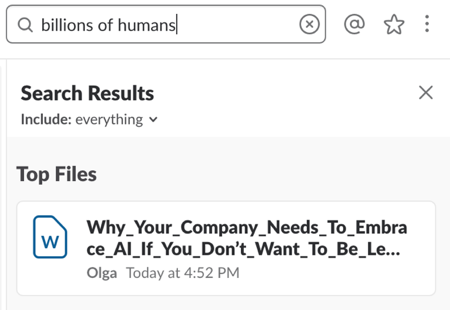 Slack search within files
With file folders in Glip, searching files may become an issue. Search options in Slack are far more advanced. One more point in your favour, Slack.
Glip vs Slack project management (1:0)
Glip has a built-in task manager. Here you can create to-do lists right in Tasks menu or turn any message into a task. Every task must be posted in any conversation. You can also move tasks via drag and drop, change their colors or filter them by status, assignees, teams or other criteria.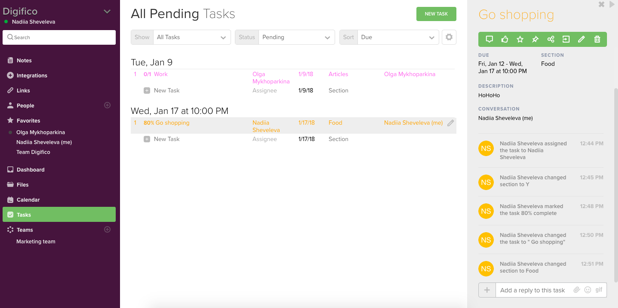 Glip task manager
All details about a task are displayed at the right panel which you can hide, if necessary. You can also write a reply, share, like or move your task to another conversation.
If you don't like Glip task manager, you are free to integrate with Pivotal Tracker, Asana, Jira or Trello.
The Tasks will be visible to all team members, mind that while using Tasks for your personal plans.
Slack meets users' task management needs via connecting to different third-party apps. For example, my colleague used this To-do app integration to create simple tasks with a due date and assign them to team members.

To-do integration in Slack
If your tasks are more complicated and you need a wider choice of features, integrations with Trello, Asana, Jira, Wrike and many other project management tools come handy.
Both Glip and Slack have integrations with third-party apps to deal with tasks. However, Glip wins with its own built-in task manager and unlimited number of integrations.
Glip vs Slack integrations (0:1)
Glip has only 48 integrations up to now, but promises to give users more in the future.
I've tried to send a picture from my Google Drive account right in a conversation. It was dead simple, I just allowed access to my account. However, all files were displayed without any content preview, and a new window opens every time you click to open the file.

I thought that I could integrate easily with every application available in Glip, but I was wrong. Here are the screenshots from my teammate who tried to connect his Glip account to Confluence.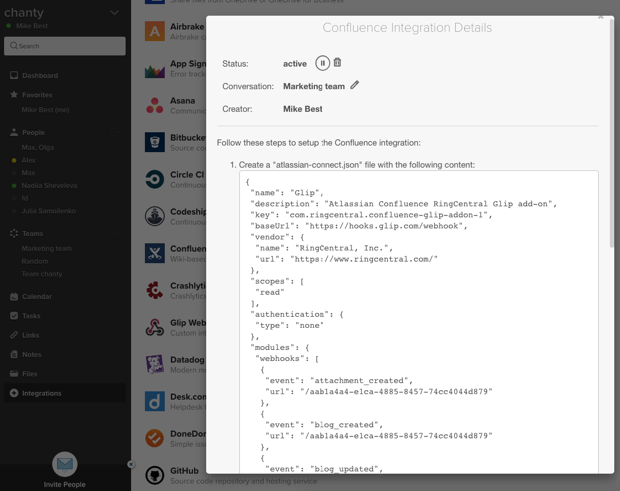 Steps to setup the Confluence integration in Glip (1)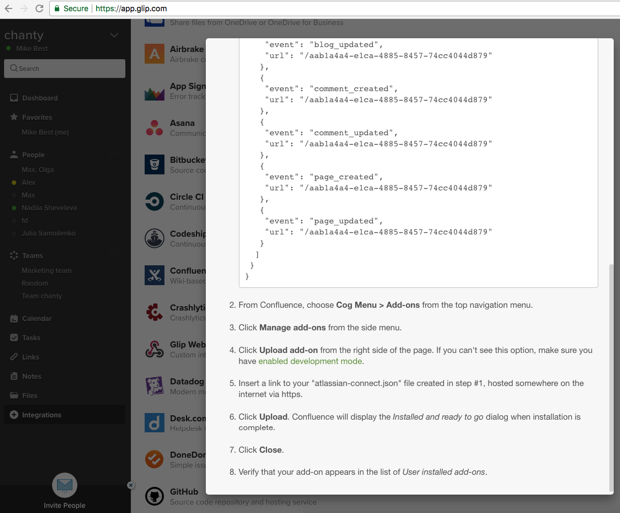 Steps to setup the Confluence integration in Glip (2)
Do you see those eight (!) steps you have to go through? I bet non-tech savvy teams have low chances of setting up an integration in Glip.
Luckily, Mike succeeded to integrate with Zapier in order to receive notifications about new followers in Twitter.
Here's what's interesting, Zapier blocks sending a large number of notifications in Glip, but continues to push out emails about it every 15 minutes at the same time. Your Inbox may turn into this: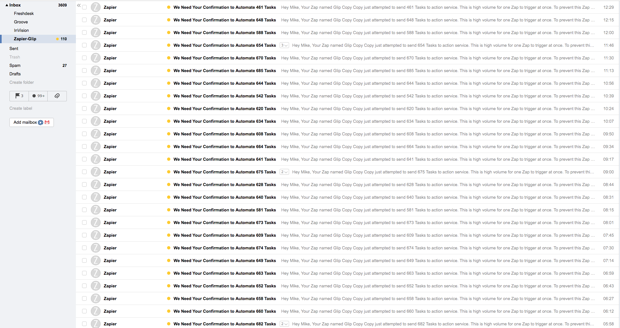 Emails received after Glip and Twitter integration
At the same time, Slack offers 10 integrations in its Free Plan and 800+ seamless integrations with third-party apps in Standard and Plus Plans.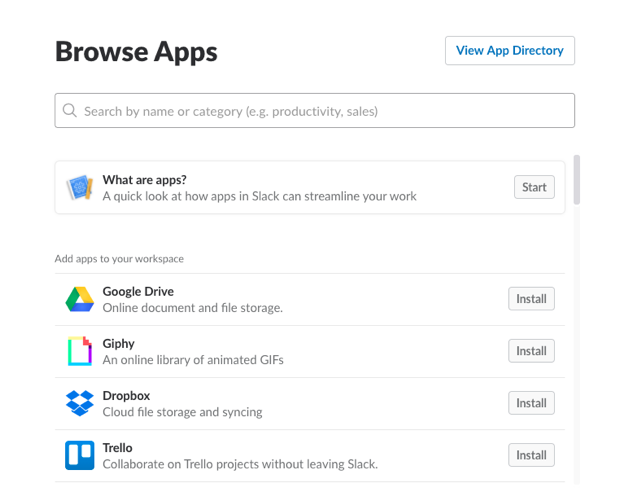 Setting up Slack integrations
All you have to do is to click the Instal button and add an integration in just a few clicks. It's like a sight for sore eyes after Glip's instructions. I don't have any doubts that Slack wins one more point.
Glip vs Slack customer support (0:1)
I didn't mean to include this point first, but the comparison wouldn't be true without it.
My team and I used Glip for several days. Then, one morning, I found out that all my message history disappeared. When I asked teammates to check out their accounts, the situation repeated again and again. Everything in Glip looked like we had just signed up.
I took the opportunity to contact the support team in Glip. I explained what happened and asked whether it was possible to restore the data. I waited for a reply for almost seven hours, but it didn't help me to fix the problem at all.

Glip customer support
I have no complaints about Slack, as my team has never experienced such problems with this chat app. On average, it takes about two hours to hear back from the customer support.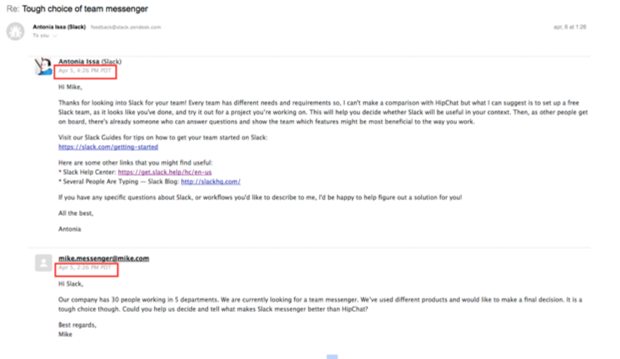 Slack customer support response time
If you use one of these messengers, you will not wait forever to receive an answer from the customer support. However, when it comes to Glip, a quick reply isn't always equal to the solution of your problem. Glip loses once again.
Glip vs Slack upshot of the battle (2:6)
Glip and Slack are team chat apps which seem to be pretty similar at first sight, and are completely different from within.
Despite the fact that these tools were launched in the same year, Slack is many steps ahead of Glip in almost every point I have mentioned. However, Slack imposes limits on the visible message history and the number of integrations available in its Free Plan. At the same time, the high price of Standard and Plus Plans can be a headache for both small and large businesses.
With Glip you will save money, but spend nerves on discovering where all your conversations and files have gone. I hope such problem isn't a common practice for this messenger. Nevertheless, my team's experience shows that no one is safe from it.
If you get tired of complicated team communication tools, Chanty is here to help you. Our chat app with clear interface and unlimited searchable history lets you stay up to date via instant messaging and file sharing.
If you are tired of typing, feel free to launch an audio or video call, or drop a voice a message to a colleague. 
Chanty also integrates with other team collaboration tools becoming a single notification center.
Be sure to book a demo with Chanty team to learn how the tool can boost your productivity.