Here's a peculiar fact: Microsoft Teams could not have existed.
On a winter day 2016, Bill Gates and Satya Nadella met up for coffee. (As rumor has it.) Microsoft's founder and its CEO were sipping drinks and basking in the sun. The main question on the agenda was: should they bid $8 bln to acquire Slack? In the end, whether the coffee was bitter or the sun was too hot, they vetoed the big purchase. Microsoft's top dogs decided to develop their own application. Later on, in November 2016 Microsoft Teams made its official launch.
Now, as for 2018, MT with 200,000 organizations using it, is in hot pursuit of their biggest rival – Slack. Microsoft Teams pulls into pole position for large enterprises and is headed to U.S. Government customers.
Thanks to building Chanty – an AI-powered team chat, our team spent weeks performing an in-depth analysis of our competitors. We've considered their pros and cons from a customer's perspective to design a smart and easy-to-use team chat. Don't hesitate to give Chanty a try, we are looking forward to your feedback!
Now, let's look at the key features of Slack and Microsoft Teams.
Slack vs Microsoft Teams: fast facts
For those of you in a hurry, let's make a quick comparison.
Until recently, the main difference between the tools was that Microsoft Teams didn't have a Freemium version. However, in July 2018 Microsoft introduced a new tier of Teams available at no cost, shoring up its position as a Slack competitor.
Talking about distinctions, MT doesn't seem easy to deploy and admin. In general, it is designed for larger enterprises. However, it offers some convenient features for businesses of any size, such as robust integration with Office 365 applications. Slack, in its turn, is famous for the carefully designed UX and has integrations with pretty much every piece of software.
For a more careful analysis of Slack, read our Slack review article.
Slack
Microsoft Teams
Pricing model

Freemium

Standard $6.67 user/month (billed annually)

Plus $12.50 user/month (billed annually)

Freemium

Office 365 Business Essentials

$5 per user/month

(billed annually)

Office 365 Business Premium

$12.50 per user/month

(billed annually)

You can try both paid plans for free for 30 days

Message history limit
10K messages in Free plan, unlimited in Standard and Plus plans
Unlimited in all plans
Audio/video calls
Unlimited 1:1 voice and video calls in Free plan

Conference calls for up to 15 participants in Paid plans

Voice/video calls with up to 80 people in a meeting.
Integrations
10 integrations limit in Free plan, 800+ integrations in paid plans
180+ apps and services (as of July 2018)
File storage limit
Free plan: 5GB file storage for a team

Standard plan: 10GB per user

Plus plan: 20GB per user

Free plan:

2 GB/user and 10GB of shared storage

Paid plans: 1 TB per organization

Screen sharing
Unavailable in Free version, available in Standard and Plus versions

Available in all plans

Interface color options
Custom sidebar themes.
3 themes (light, dark, high contrast)
Conversation threads
Yes
Yes
Slack vs Microsoft Teams: pricing
As I mentioned, both tools have the Freemium versions. But if you are interested in some advanced features of MT and Slack, upgrading is your choice.   
MT paid plans are available to account holders for Business Premium and Essentials models.
The most budget Office 365 version that has MT in its package (Business Essentials) costs $5.00 user/ month (annual commitment). It's less expensive than the Slack's cheapest (Standard) version, which is $6.67 user/month (billed annually). If to consider that the Office 365 subscription includes access to a set of Microsoft applications, its pricing seems more appealing than the Slack's one.
The more upgraded versions of both Slack (Plus version) and MT (Office 365 Business Premium) cost the same – $12.50 user/month (billed annually).
At the same time, our Chanty team chat is more affordable than Slack and Microsoft. So if the price is a game changer for you, have a try on our AI-powered, easy to use team chat with unlimited message history.
Slack vs Microsoft Teams: getting started
When deploying Microsoft Teams, arm yourself with patience. In my experience, it may take a while and be somewhat confusing. In this article, we'll consider the case when you don't have Office 365 with MT in the package yet.
Let's start from MT page. This is where you sign up and download the MT app. Whether you are interested in a free trial or up to buy Office 365, be prepared to share a bunch of your personal info, including credit card information, phone number and business email (the personal one won't work. I tried to cheat – no use).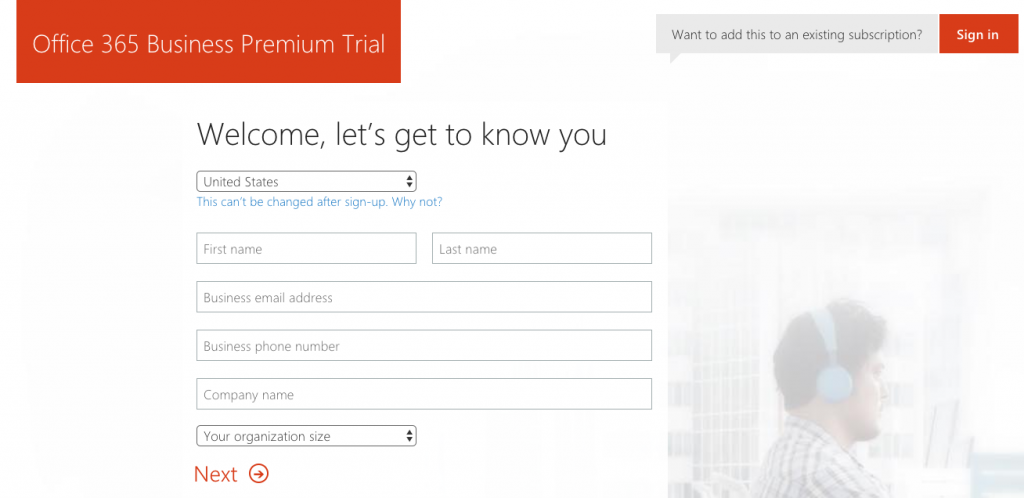 Office 365 Business Premium registration
After your free trial registration (or the purchase) is completed, you'll get to Team deployment advisor. It offers quite a lot of tools, so it's not easy to do the stuff, but not the fluff.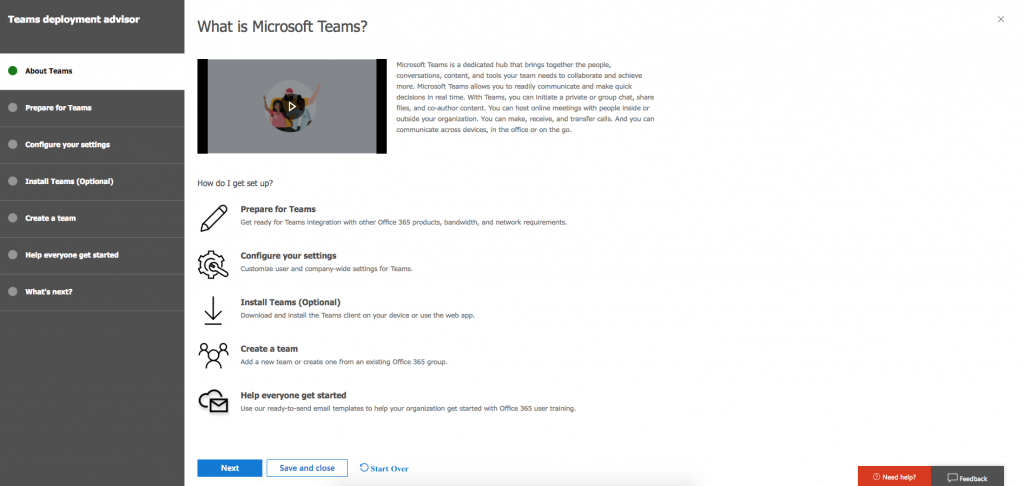 Team Deployment Advisor in Microsoft Teams
Your deployment voyage is about to end when you come to the Admin Panel where you can start all your activities. Once again, you'll encounter many boxes and tabs. The only way to succeed is to keep it simple and stick to the goal – MT deployment. The details can be worked out later.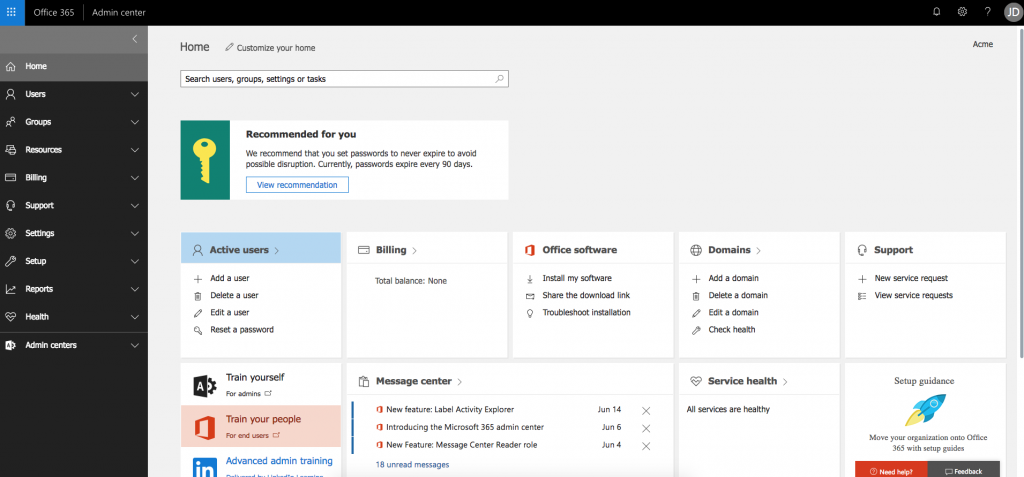 Office 365 Admin panel
Eventually, you'll enter to the MT desktop app, in which you can start collaborating.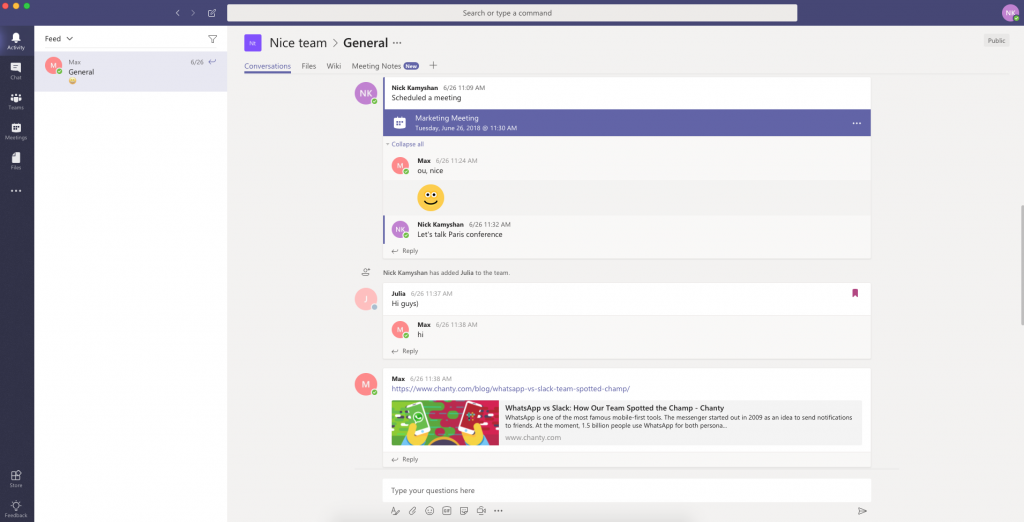 Microsoft Teams workspace
Slack's deployment is much easier and faster. No credit card or the phone number is required unless you are interested in a paid version. Overall, you'll have to go through 7-8 registration steps, like this one.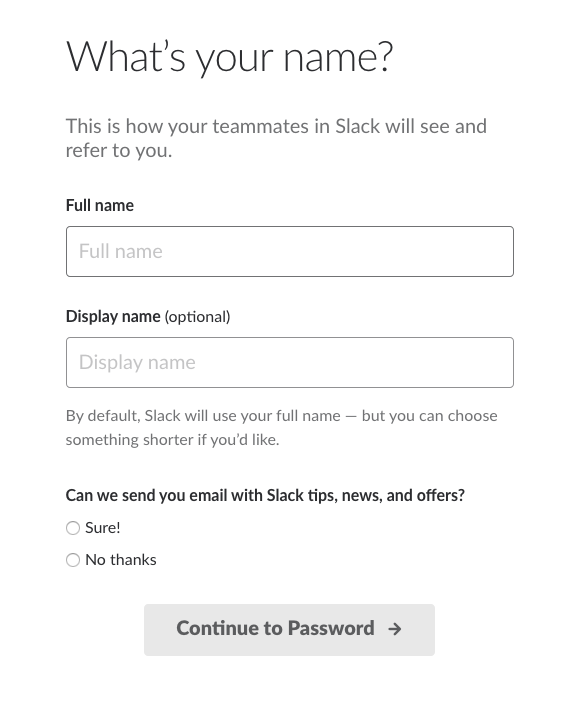 A registration modal box in Slack
Overall, it took me about 7 minutes to deploy Slack and about an hour to start Microsoft Teams.
Slack vs Microsoft Teams: inviting users
In Slack, inviting members to your workspace is simple. The app will offer you to do it at the end of creating a workspace. As an alternative, you can ask your colleagues to join the workspace anytime (using the tab "invite people").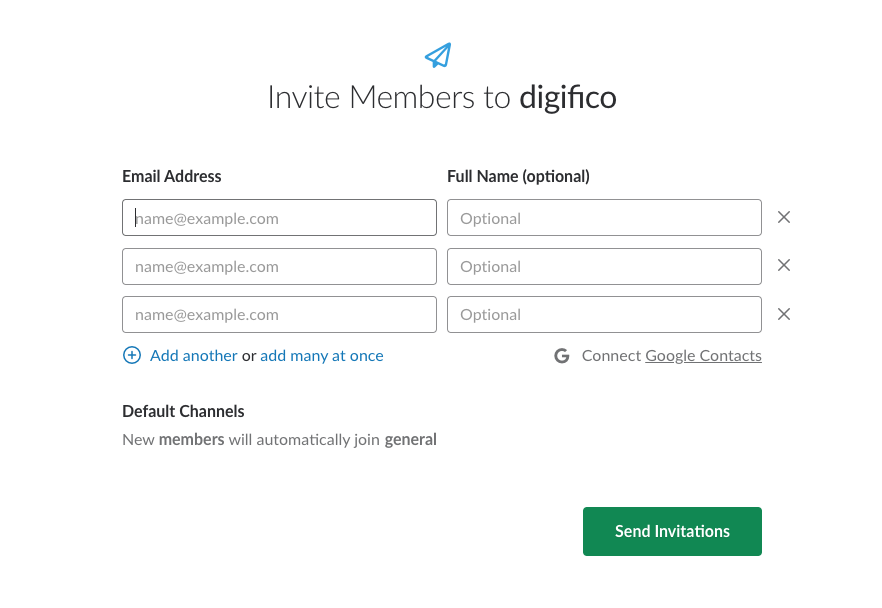 Modal box for inviting new members in Slack
In MT, adding team members is trickier. First, you have to add them in the Office 365 Admin Panel that can be reached via Office start page.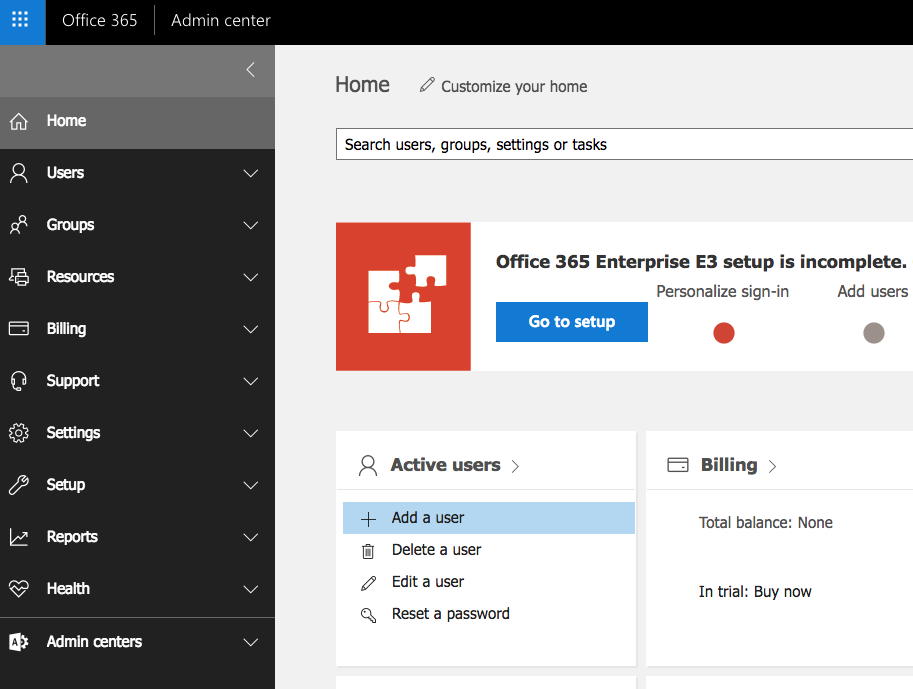 Adding a user in Admin Panel
After you add a user in the Admin panel, they get an email at "on.microsoft.com" domain. They should log in Office 365 and change a given password. (Wow, that's a lot of steps, I know!) Only then, you can go to the MT app and add a user to your team.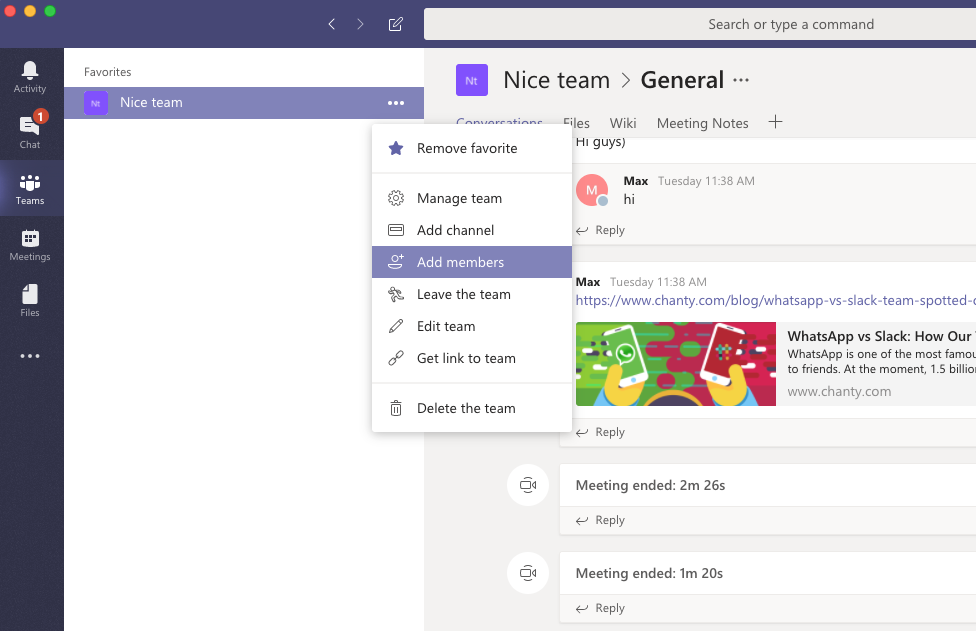 Adding members to a team in Microsoft Teams app
My two colleagues whom I sent an invitation to join MT, complained it took them too much time to deploy and sign up for MT.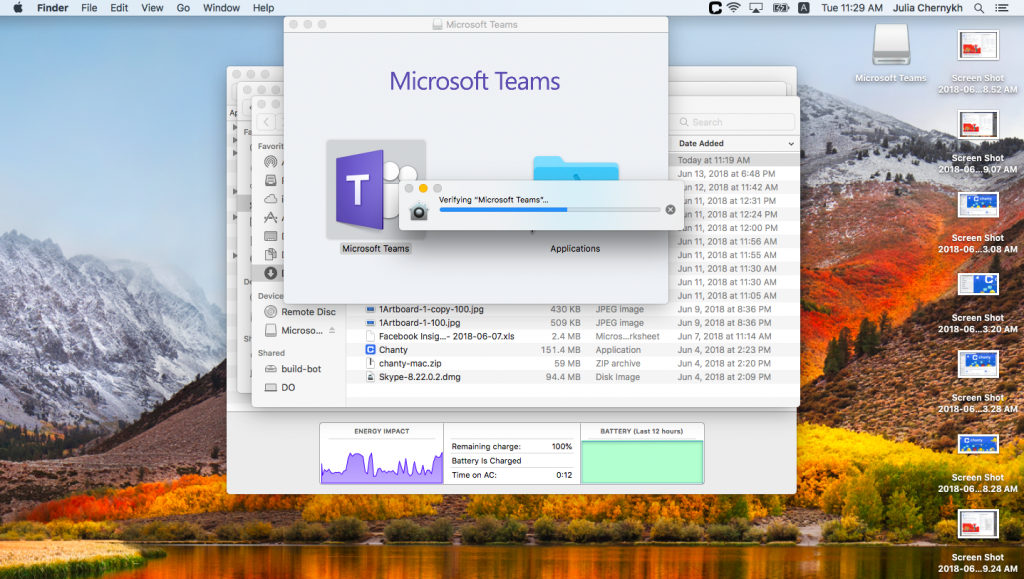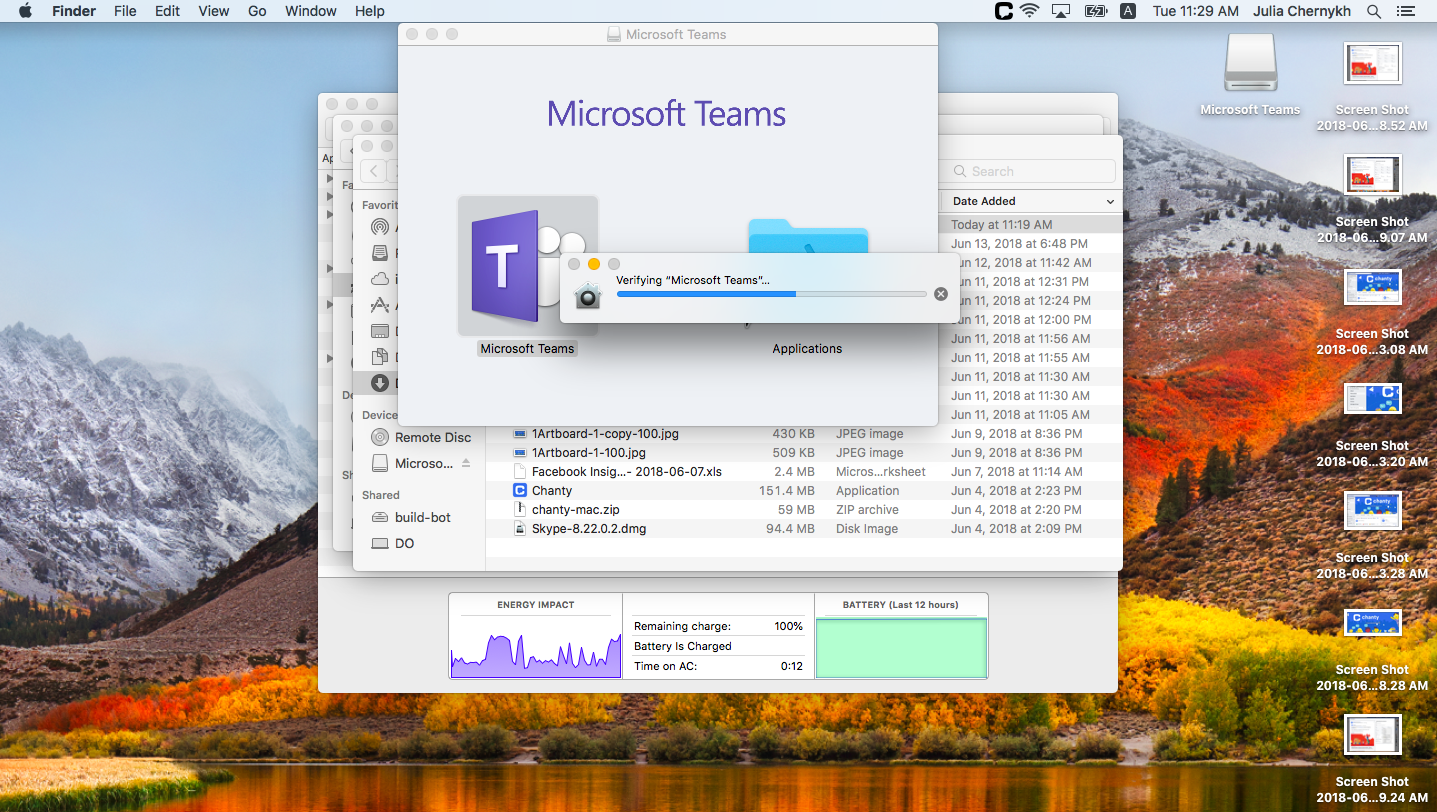 My colleague sent me a screenshot arguing that getting MT started takes too much time
If you are a lead in your company, you wouldn't like to spend so much time on deployment and adding users. I'd recommend you delegate this task to IT admins. As an alternative, you may give a try to a more simple, yet fast and agile tool like Chanty.
Slack vs Microsoft Teams: layout and design
The layouts of Slack and Microsoft Teams look similar. Both have a smaller vertical panel for contacts and some tools, as well as a bigger one, primarily, for conversations.
Slack's layout vs. Microsoft Teams layout:
At the same time, MT has an extra vertical (the far left) panel featuring tabs like "Activity", "Chat", "Teams", "Meetings" and "Files". Also, its search box (in the upper part of the workspace) differs from the Slack's one by functionality. It offers shortcuts to multiple actions via drop-down list box. Type "@" or "/" to see someone's activity, set your status, call someone, change status, join a team etc.


Microsoft Teams search box
As for design, Slack has wider possibilities of adjusting the look of your workspace. You can change the color of your left sidebar in any way you wish.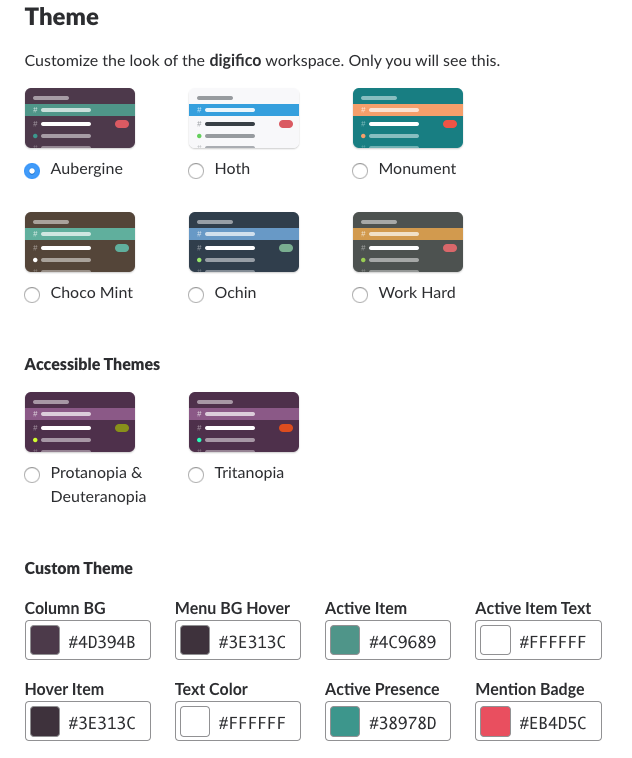 Options for customizing your workplace in Slack
Microsoft Teams offers only three themes for customizing your workspace.

Options for customizing your workplace in MT
Slack vs Microsoft Teams: messaging
Both – Slack and MT – support group chat rooms with threaded conversations, as well as private chatting. Both of them offer a wide set of messaging features, like editing, deleting, pinning (analog to "saving" at MT), mentioning, threading, sharing files, etc.
If to talk about differences, Microsoft Teams has advanced formatting tools within a messaging box. You can create a bulleted list, change the font color, etc.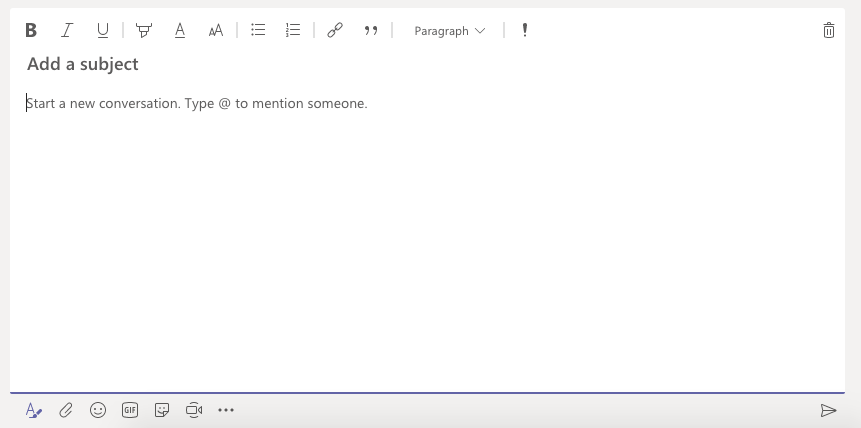 Formatting options in MT
Also, in Microsoft Teams you can insert not only an emoji but also a gif. If you are confused which one to choose, you can type the name of the emotion you want to express in a search box. So if you want to declare love to your colleague (happens, you know), you are sure to send the right smiley or gif.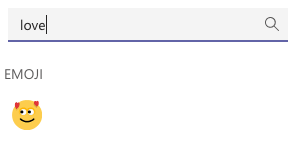 Emoji search by name in MT
Slack, in its turn, allows you to react to a message not just with Like (as in MT), but with smileys and put a reminder on a particular message.
To sum up, here's a comparison of what you can do with messages in both tools.
What can you do with messages?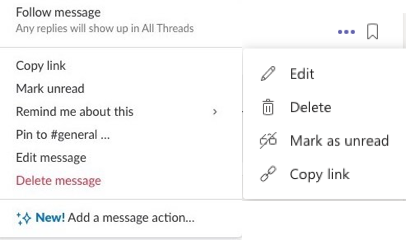 Slack                                          Microsoft Teams
Both – Slack and Microsoft Teams – have a well-designed notification system. You can fine-tune it in case you need to be alerted about new messages, mentions etc. However, both tools seem to lack a single alert center where all notifications can be summed up in a review, like in Stride.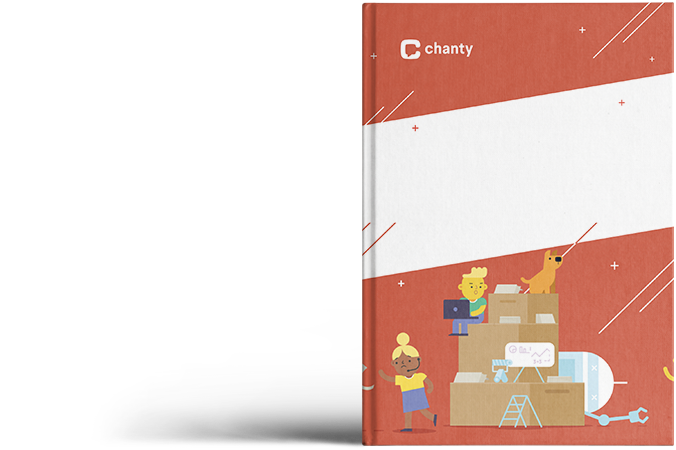 Communication issues at work?
"50 Surefire Ways to Improve Your
Team Communication in 2019"
Get eBook
Slack vs Microsoft Teams: threads
Both – Slack and Microsoft Teams – have threads. This is a controversial feature loved by ones, hated by others. Threads let you respond directly to a message in a channel, keeping the replies organized neatly in a single conversation.
To create a thread in MT, one should hit "reply" to a message. You can follow the threads via  "All Threads" tab or by "pinning" or "starring" a particular message. Unlike Slack, threading is only available in channels in MT – you can't use them in private conversations. Similar to Slack, there's no way to turn off threads in Microsoft Teams.

Using Threads in Slack
Slack vs Microsoft Teams: file sharing and collaboration
While in Slack the size limit for uploading a file is 1GB, it's significantly bigger in Microsoft Teams – 15GB. I decided not to check these numbers by uploading huge files, as I was more interested in collaboration possibilities. So I uploaded an 800MB video file and sent it to a colleague. Interestingly, he was able to play it right in the MT workspace. In other words, he didn't need to download it in order to watch. (Slack doesn't have a built-in feature for that).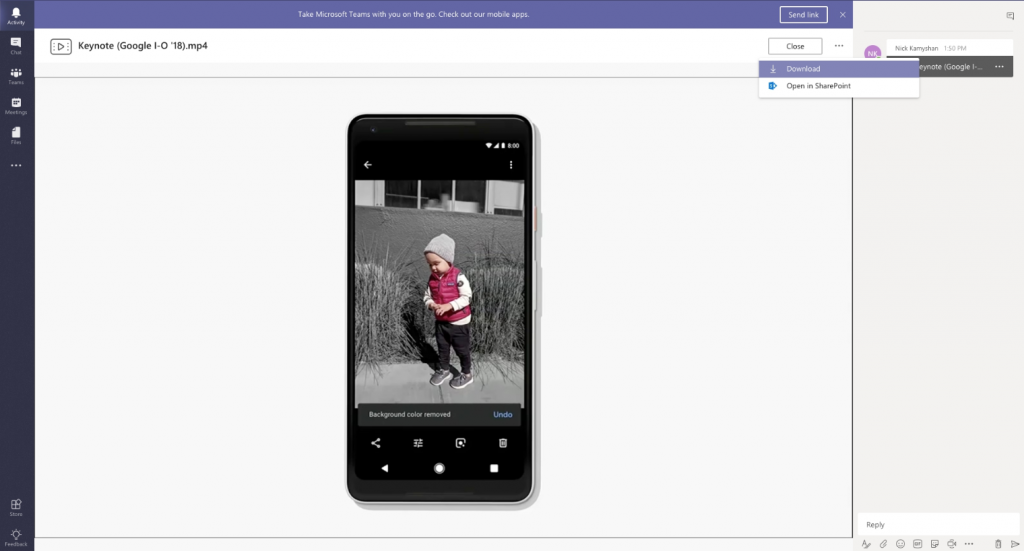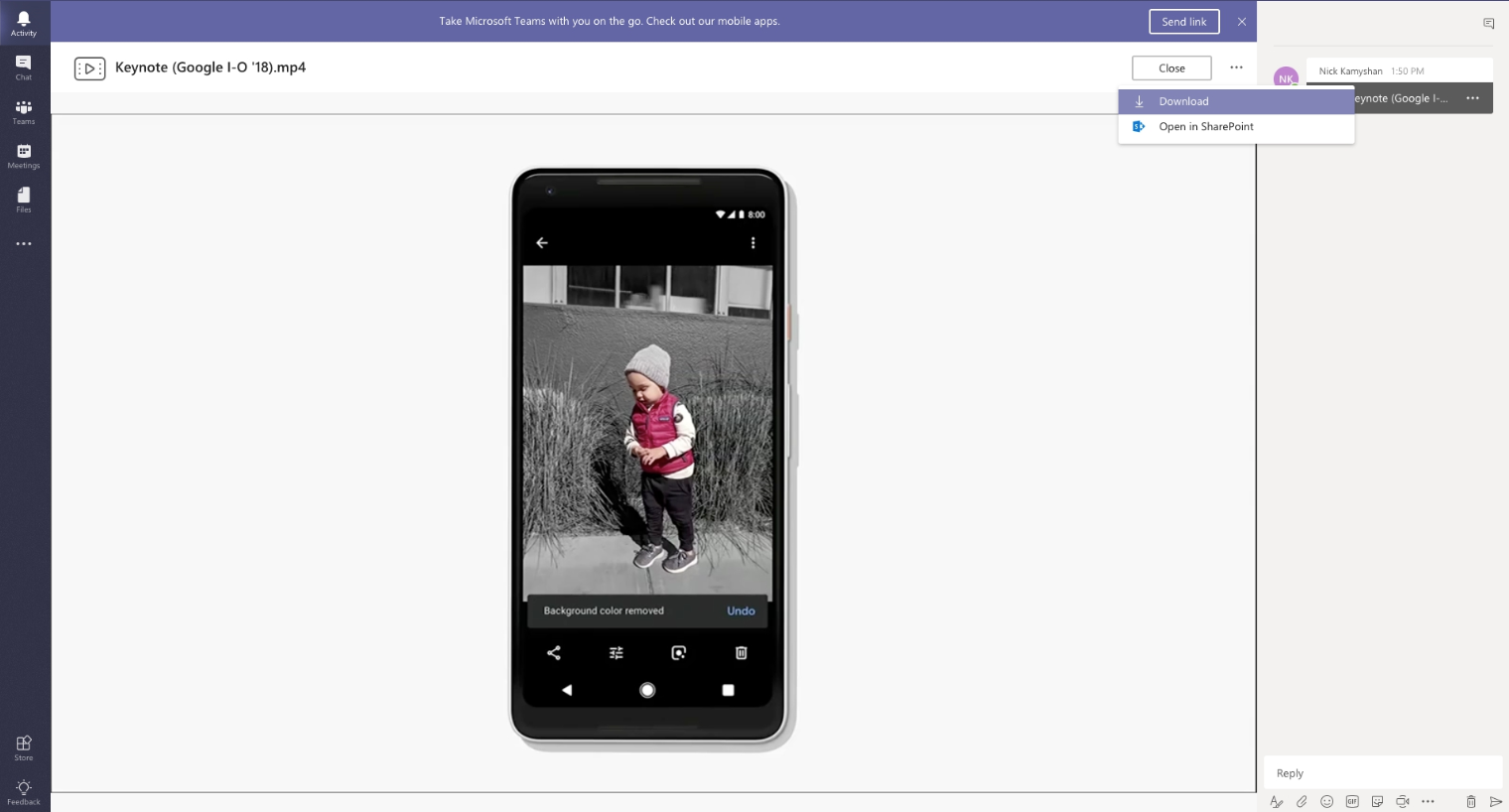 Watching a video within MT workspace without downloading it
However, I experienced problems with loading the video I sent and actually couldn't watch it.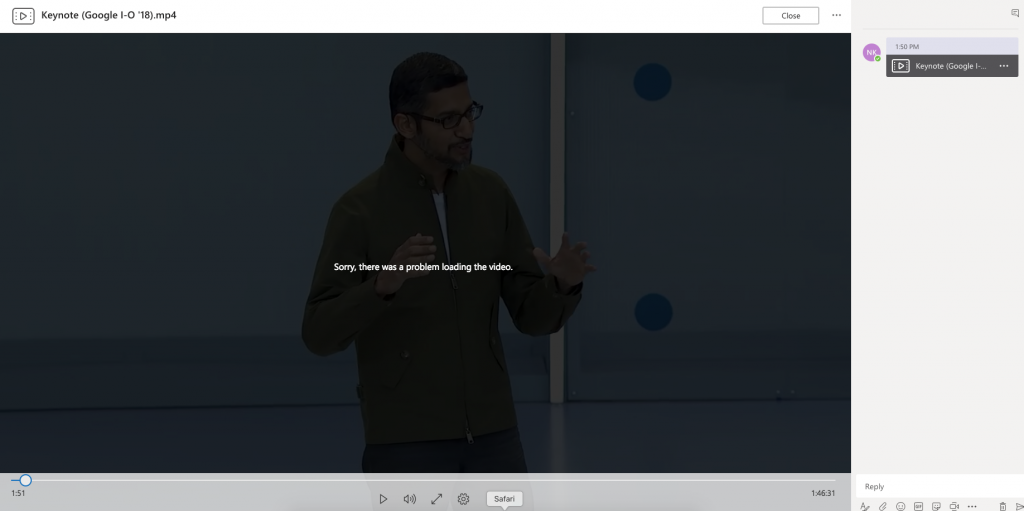 Experiencing some troubles with uploaded video
Ideally, my colleague and I could both watch the video within the workspace and chat in the panel box on the right. The same way we can collaborate on any Office or OneDrive document – access it and edit without leaving the app. As follows from this short review, Microsoft presents this collaboration feature as its main advantage before Slack.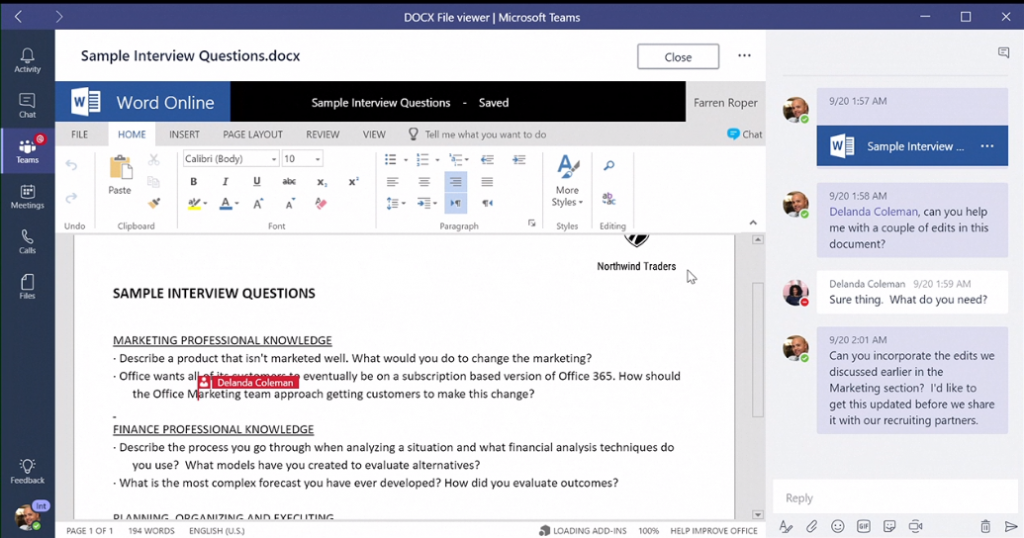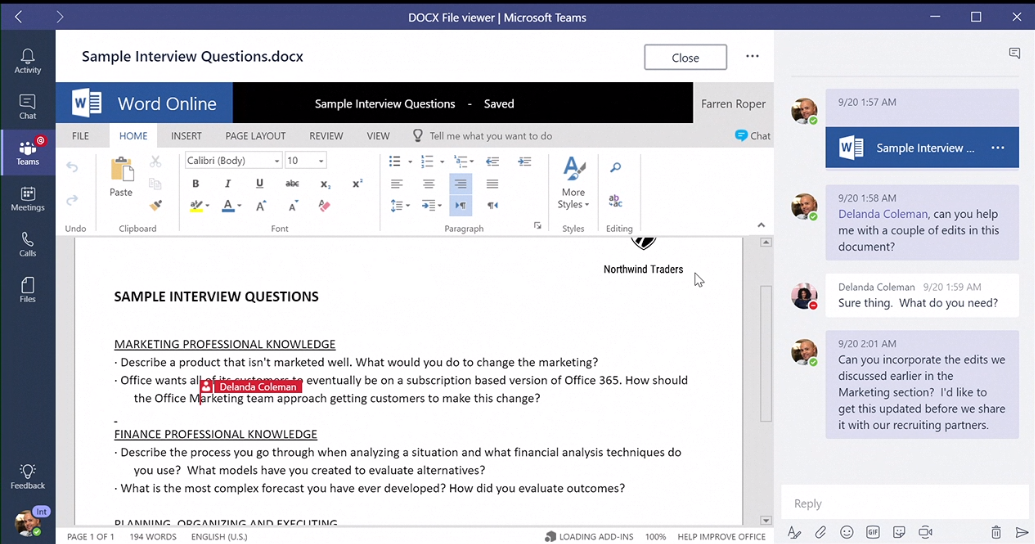 Image source
As for file storage limit, Slack offers 5GB for a team in the free plan and 10-20GB per user in paid plans. Microsoft Teams provides 1TB per organization.
Slack vs Microsoft Teams: video calls
Here's our team exploring video calls in MT. Everything went fine, we could see and hear each other well.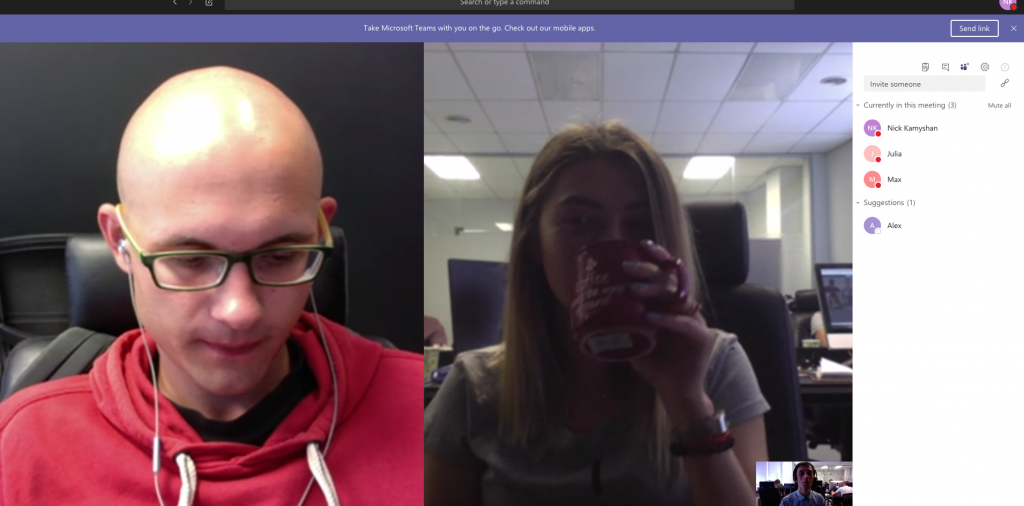 Chanty team is exploring video calls in Microsoft Teams
When necessary, we could jump from instant messaging to a video or audio call at the push of a button.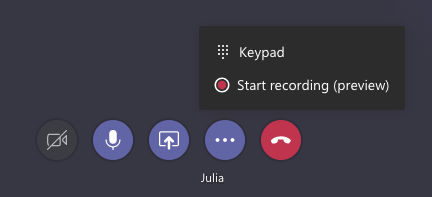 Video calls features in MT
We also successfully tested an MT built-in feature – recording a call. The video of our meeting appeared in the chat feed a few minutes after finishing the conversation.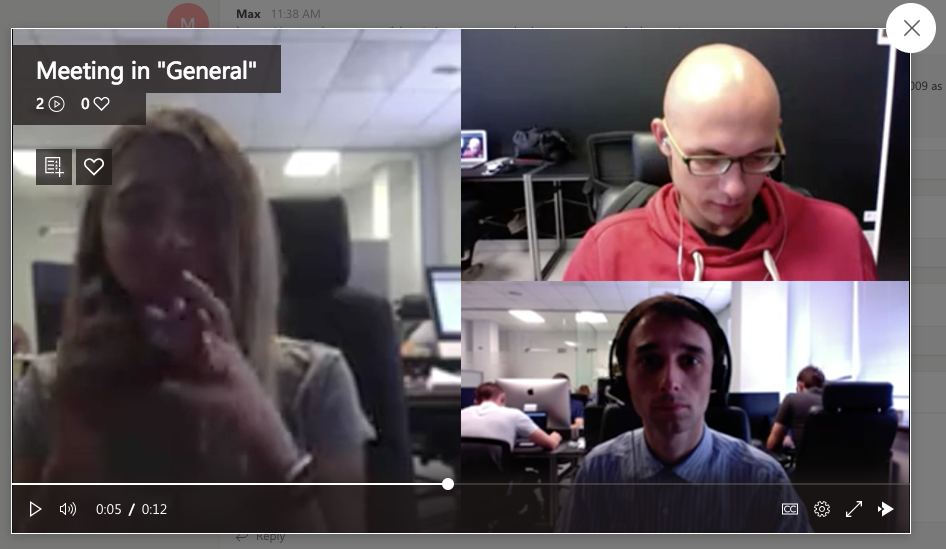 As for Slack video calls, our team tested them many times, so we didn't do it again. What's important to know is that they are available between only two people unless you are on a paid plan. If you are, however, the participants limit extends to 15 people, comparing to 80 in MT.
Slack vs Microsoft Teams: integrations
Naturally, MT has integrations with Office 365 apps. So there is no problem with adding such services as SharePoint, OneNote, Power BI, and Planner. MT also provides integrations with third-party bots and apps including project management tools like Trello. However, there are not so many of them. As of July 2018, overall MT has 180+ integrations.
It is clear that MT is trying to catch up with Slack. However, it's a long way to go. Slack has more ready-to-go integrations with external systems (800+). For example, Slack has integration with Salesforce that Teams doesn't have.
Slack vs Microsoft Teams: task management 
Neither Slack nor Microsoft Teams provide a built-in task management feature.  
Slack has Actions allowing to create and finish tasks without leaving the app. But still, the feature is implemented via integrations, as explained in our Slack review article.
In Teams, Microsoft experts suggest using Planner to stay organized. Although, the tool integrates with some other task management tools as well. 
For the record, in Chanty you don't have to bother with integrations when it comes to tasks – the feature is totally built-in. You can create them from scratch or turn any message into a task. Assigning and filtering tasks by status, dates and people is also available.  
To try out Tasks and other cool features in Chanty, sign up for a demo session!
Slack vs Microsoft Teams: search
In Slack you can easily search through messages, contacts and files. You can even find what you need in the content within the files (Google Docs and Dropbox files are also searchable). We decided to double-check it.
Long ago, I shared an e-book  '50 ways to improve team communication' in PDF. So I typed the name of a chapter 'Celebrating workplace diversity' to check whether I can find it via search. And it worked!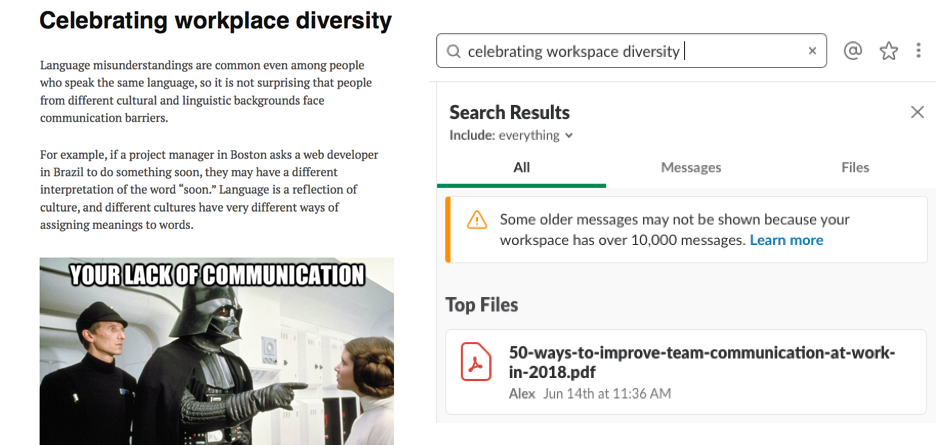 A snippet of the book                                                   Slack found it!
I tried the same experiment with MT. To my surprise, it worked too! Microsoft Teams searches within the content of your files.

Microsoft Teams searches the content within files
Slack vs Microsoft Teams: help and support
Let's say, I need to delete a channel in Slack or Microsoft Teams and I'm not sure how to do it. What will happen if I turn for assistance?
In Microsoft Teams, the most common way to get support is via T-Bot. It pops up in your Chats tab after you sign in. I typed "delete a channel" in a message box and got some instructions in return. Seems to work fine.

T-Bot is answering questions in MT
If you prefer browsing the content, there are sections in the tabs, you can use, such as Help and FAQs.

Sections within a bot to browse "Help" content in MT
In Slack, the easiest way to get support is to address Slack's Help Centre. After just typing the word "delete", the answer to my question "how to delete a channel" popped up.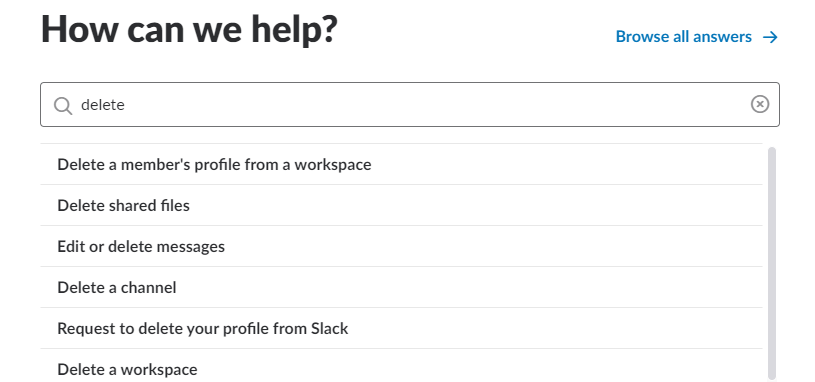 Help Centre in Slack
However, in the case with Slack and MT, it may be enough to simply Google your question. Chances are you'll find the answer much faster.
Wrapping up
Pricing. Both – MT and Slack – offer the Freemium plans. As for the paid versions, the most affordable MT plan (within Office 365 package) is less expensive than the Slack's cheapest tier.
Getting started. While Slack is easy to deploy, you can spend much time starting,  managing MT and inviting users to it. If you are a lead, you'd better delegate all technical tasks to an IT admin.
Layout and design. MT's layout is more saturated with tabs. Slack, in its turn, tends to wrap up its features to improve UI. It also provides wider possibilities for customizing a workspace.
Messaging. Both tools have many instruments for messaging, including threads. MT provide more built-in options for formatting, while Slack allows setting a reminder for a particular message.
File sharing and collaboration. In MT, you can share Office files and collaborate on them while right in the workspace. Slack doesn't have built-in tools for that, so to edit a Doc. file, for example, you've got to download it and switch to another tab for editing.
Video calls. MT has a built-in feature for recording video calls. In Slack, you can do it via app only, e.g. using HYFY Screen Video Recorder. Also, in MT you can have a video meeting with up to 80 people in a call, while Slack limits you with only 15 participants (even in paid plans).
Integrations. MT has native integrations with Office applications and some third-party apps, However, Slack has way more of them – 800+ (comparing to 180+ in MT).
Task management. In both tools, you have to use integrations for working with tasks. In Slack, you can create and assign them without leaving the app using Actions feature. In Teams, you might use Microsoft Planner or a third-party integration.
Search. Both tools search within messages, contacts, files, and even within the content of the files you share.
Help and Support. Both – Microsoft Teams and Slack – provide support via different channels, such as bots and help sections.
To sum it up, Slack may be your choice if it has some third-party apps that you need, and Microsoft Teams doesn't have them.
Microsoft Teams is your way to go:
if you work extensively with Office 365 applications and interested in using Business Essential or Premium model that have MT in their packages
if you are not afraid of challenges with tool deployment and administration.
Did we miss something? Drop a comment.
Not sure which messenger to choose? Give Chanty a try! It's simple, fast and AI-powered team chat with a built-in task manager that is a breeze to use. We've analyzed pros and cons of other business tools to deliver you a better one. Enjoy the unlimited message history, built-in task manager, as well as high-quality audio and video calls in Chanty.
Learn what benefits your business can get from Chanty by scheduling a demo call with our team.