Microsoft Teams, one of the most successful tools of today, almost wasn't created.
In 2016, Satya Nadella and Bill Gates met up to discuss an important matter. They wanted to bid 8 billion USD to acquire Slack, the SaaS giant that dominated the team chat app space. The meeting had a surprising conclusion: instead of buying Slack, they decided to build their own team chat app tool. In November 2016, Microsoft Teams was officially launched.
At the moment of writing this article, Microsoft Teams has over 13 million daily active users, which is a sign that Microsoft management made the right move. It is also a sign that Microsoft Teams is here to give Slack a run for its money.
However, how do the tools really compare? As we were building Chanty, we wanted to find out, so we actively used both tools to find out their pros and cons. So, here is our objective review of Slack vs. Microsoft Teams, based on real-world use from our team. 
Oh and by the way, if you read this review and you're not a fan of either tool, there is still an option. If you'd like to try out a team chat app that is easy to use, fast and has unlimited message history in the free plan, make sure to give Chanty a try!
Now, let's look at the key features of Slack and Microsoft Teams.
Slack vs Microsoft Teams: fast facts
If you want a quick and dirty overview of the two tools, here is everything you need to know. 
The biggest difference between Slack vs. Microsoft teams recently was the fact that Teams didn't have a freemium plan. This changed in July 2018, when Microsoft rolled out a new version of Teams for free, strengthening its position as a Slack competitor.
By far, the biggest difference between the two apps is that Slack is easier to set up and administrate. On the other hand, Microsoft Teams is designed for larger enterprise companies and its setup is more complex. In return, it offers excellent integrations with Office 365 applications. However, if integrations are your primary concern for your team chat app, Slack is the clear winner since it integrates with every other tool under the sun.
If you're looking for a full, detailed review of Slack, we have one on our blog too.
Slack
Microsoft Teams
Pricing model
Freemium

Standard $6.67 user/month (billed annually)

Plus $12.50 user/month (billed annually)

Freemium

Office 365 Business Essentials

$5 per user/month

(billed annually)

Office 365 Business Premium

$12.50 per user/month

(billed annually)

You can try both paid plans for free for 30 days

Message history limit
10K messages in Free plan, unlimited in Standard and Plus plans
Unlimited in all plans
Audio/video calls
Unlimited 1:1 voice and video calls in Free plan

Conference calls for up to 15 participants in Paid plans

Voice/video calls with up to 250 people in a meeting.
Integrations
10 integrations limit in Free plan, 800+ integrations in paid plans
180+ apps and services (as of July 2018)
File storage limit
Free plan: 5GB file storage for a team

Standard plan: 10GB per user

Plus plan: 20GB per user

Free plan:

2 GB/user and 10GB of shared storage

Paid plans: 1 TB per organization

Screen sharing
Unavailable in Free version, available in Standard and Plus versions

Available in all plans

Interface color options
Custom sidebar themes.
3 themes (light, dark, high contrast)
Conversation threads
Yes
Yes
Slack vs Microsoft Teams: pricing
As mentioned before, both tools have freemium plans available. However, if you want to get the most out of Microsoft Teams and Slack, you'll have to get a paid plan. In Microsoft Tools, that means that you need to have an account that is either Business Premium or Essentials. In other words, you need Office 365 and Teams comes as an add-on.
To cut the story short, the cheapest Office 365 Plan that has Teams in it is called Business Essentials. It costs $5 per user per month and you have to buy an annual plan to get started. This is actually cheaper than Slack's cheapest plan (Standard), which costs $6.67 per user per month when billed annually. When you consider the fact that $5 spent on Microsoft Teams also gives you access to Office 365, it makes the price much more attractive. 
If you want the upgraded plans in Slack or Microsoft Teams, they cost the same, at $12.50 per user per month. However, you do get Office 365 included with Teams.
If the price is your major concern, you may want to check out Chanty as an alternative. It's more affordable than Slack or Microsoft Teams while offering advanced features such as unlimited message history and audio and video calls.
Slack vs Microsoft Teams: getting started
If you want to get started with Teams, you'd better have lots of time and patience. In our experience, setting it up for your team can be extremely daunting. We started out from the scenario where we don't have Office 365 with Microsoft Tools. 
So, we start from the Microsoft Tools page on their website, where we sign up and download the app. No matter if you're getting a free trial or a paid plan, prepare to share lots of your personal data, including your credit card and phone numbers and your business emails. And nope, personal emails won't work – we tried.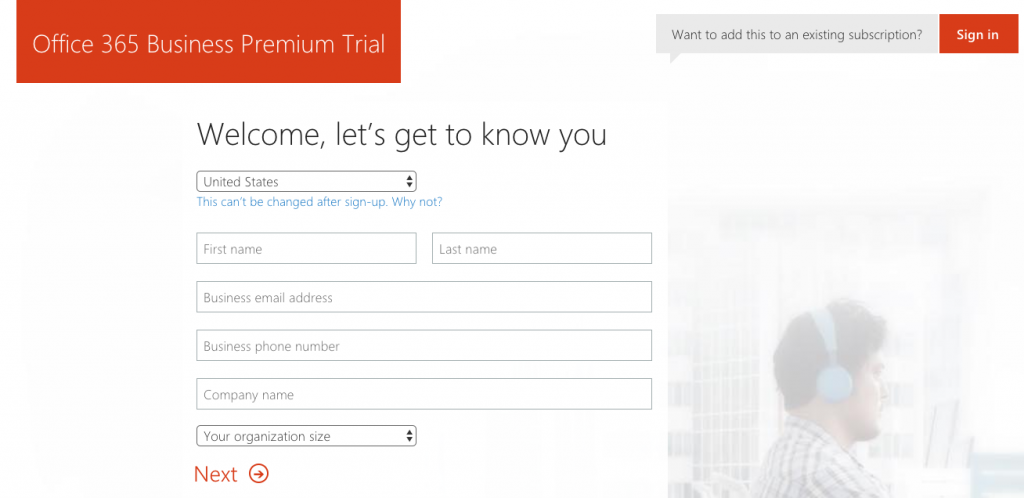 Office 365 Business Premium registration
Once your free trial (or paid plan) registration is done, you're given access to the Team deployment advisor. It covers a lot of tools and you'll have to go through all of them before getting to actually starting the application.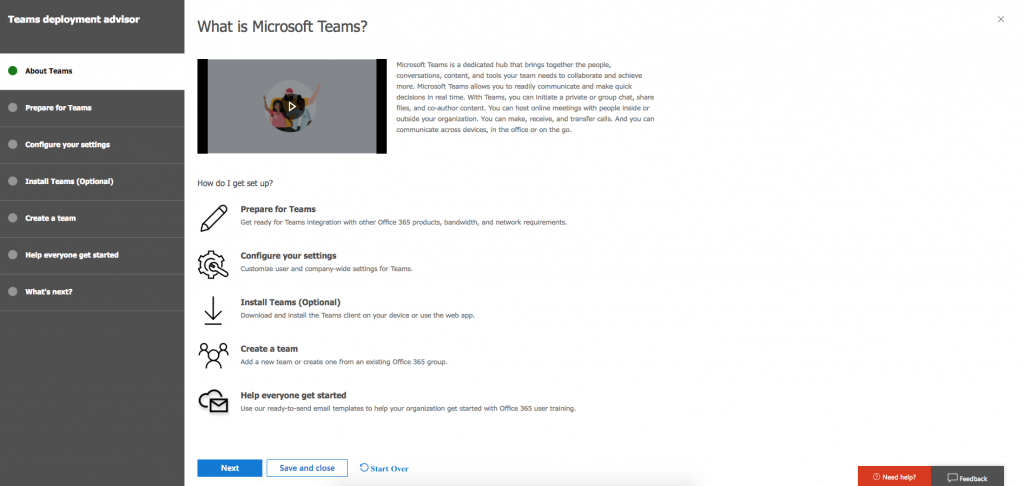 Team Deployment Advisor in Microsoft Teams
Once you get to your Admin Panel, you can start with launching the app, finally. Even on this screen, there is so much going on that you may be tempted to click on random boxes and tabs. Don't – stick to launching the app.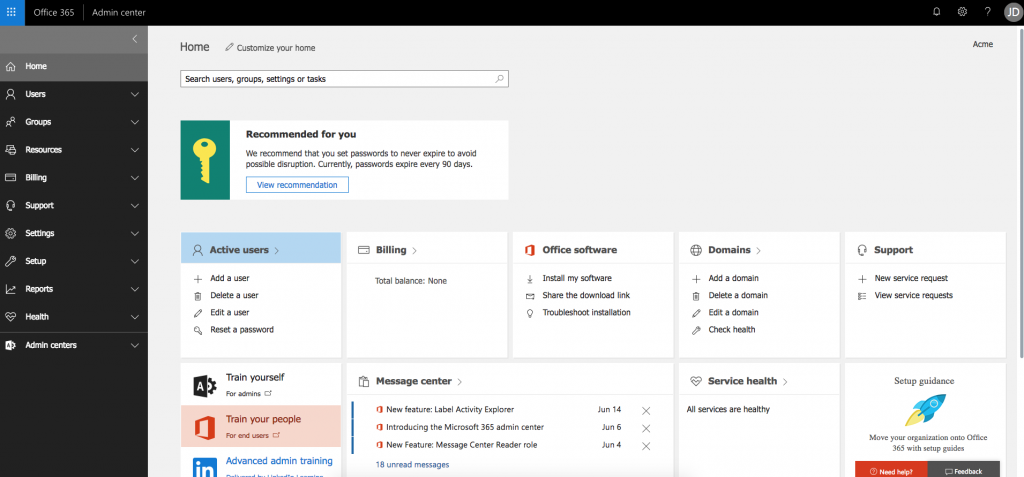 Office 365 Admin panel
Many moons later, you'll get to the Microsoft Teams desktop app, and you can start collaborating.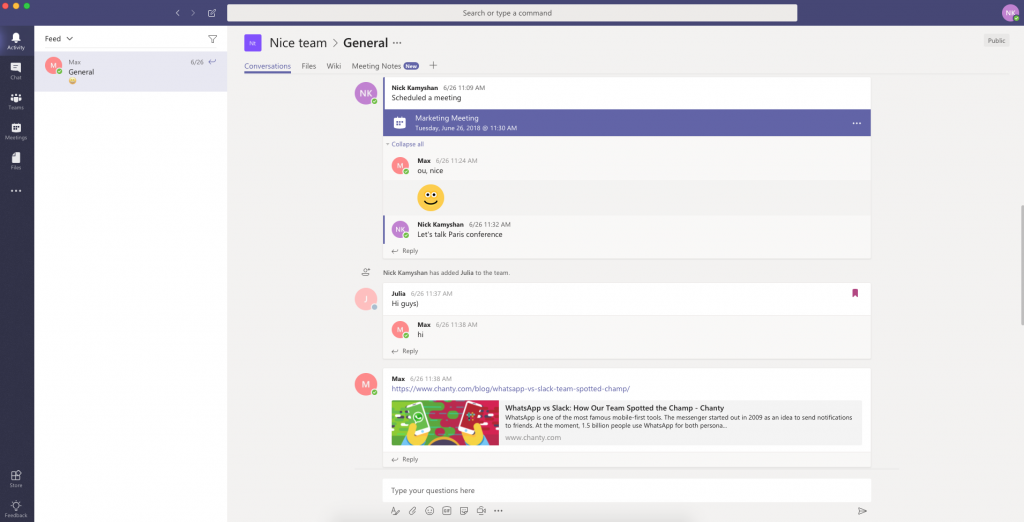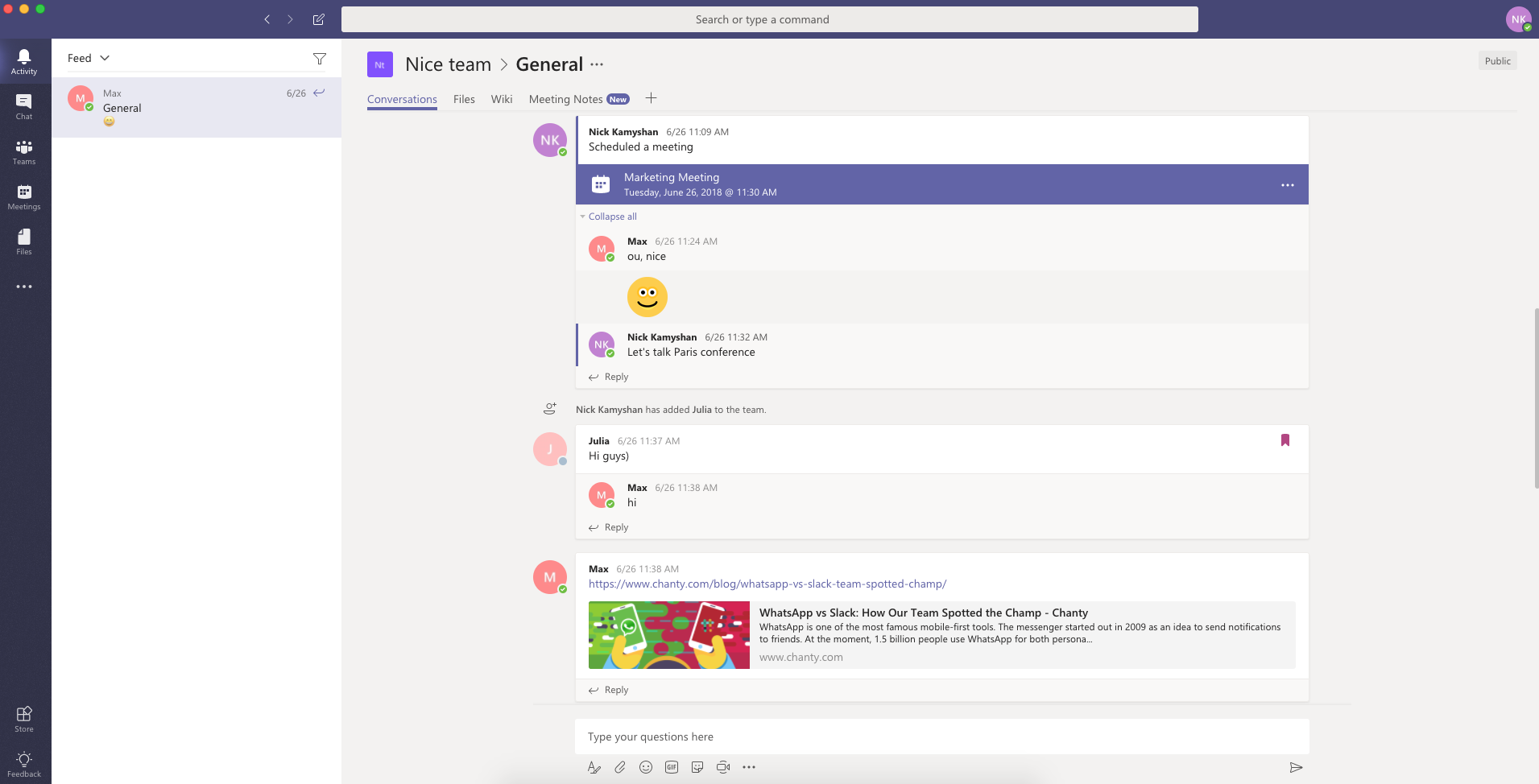 Microsoft Teams workspace
On the other hand, getting started with Slack is much easier and faster. There is no personal information required and you don't have to provide a credit card unless you want to buy a paid plan. In total, there are about 7-8 steps in the registration process.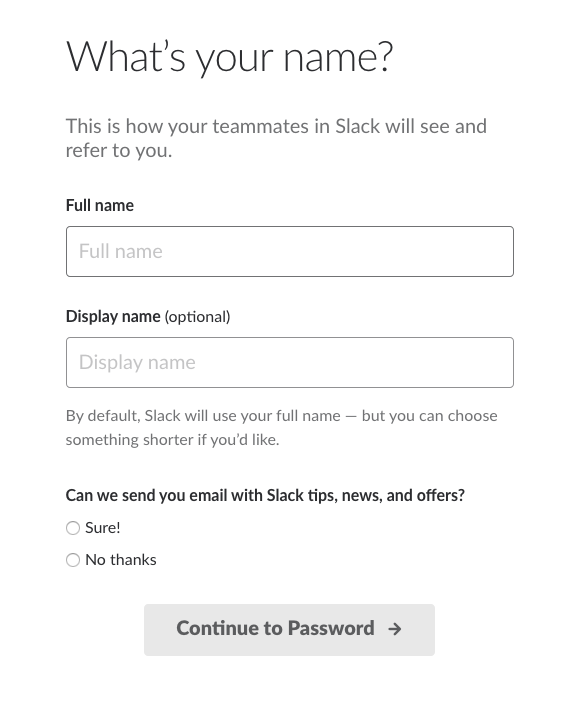 A registration modal box in Slack
Overall, getting started with Slack took us about 7 minutes, compared to an hour spent on Microsoft Teams.
Slack vs Microsoft Teams: inviting users
If you want to invite people to Slack, it's a pretty simple process. At the end of the registration process, the app will offer to invite people to your workspace. Alternatively, you can add them later on, using the "invite people" tab.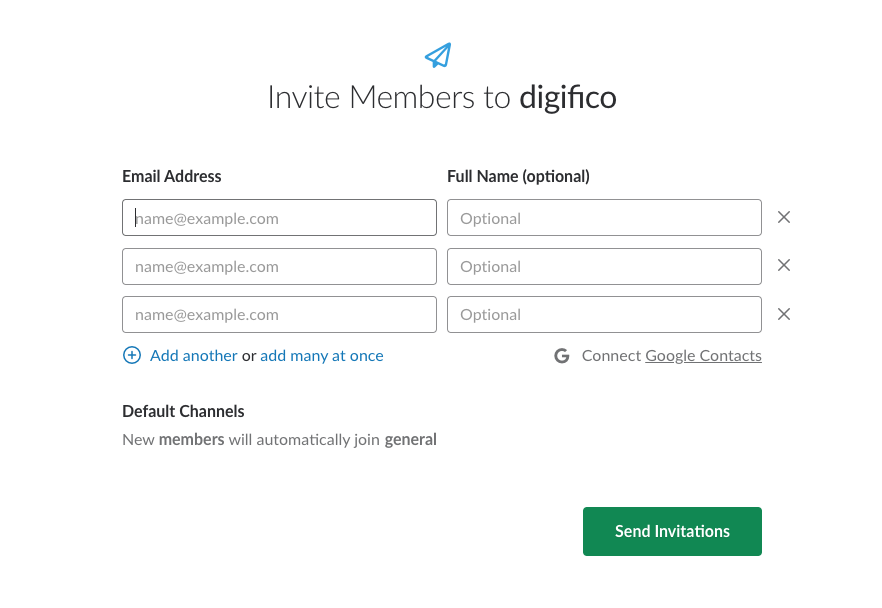 Modal box for inviting new members in Slack
On the other hand, adding new people to your team is slightly more complicated in Microsoft Teams. First, they have to be added to the Office 365 Admin Panel, from the Office start page.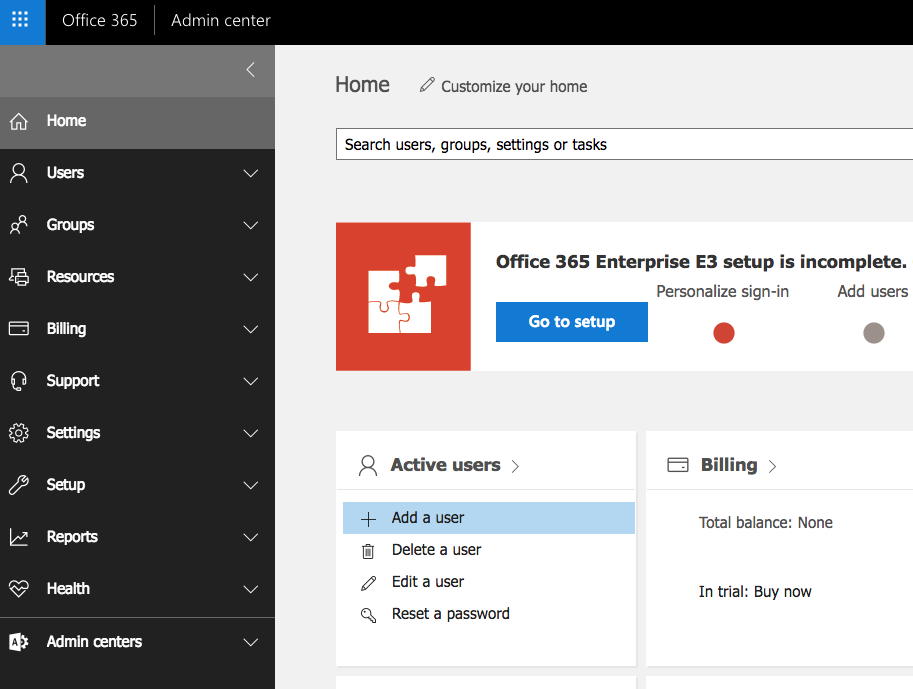 Adding a user in Admin Panel
Once you add a user to the Admin panel, they will get an email about their registration. They have to log in and change their password. Once all of this is done, you can go to the Microsoft Teams app and only then can you add them.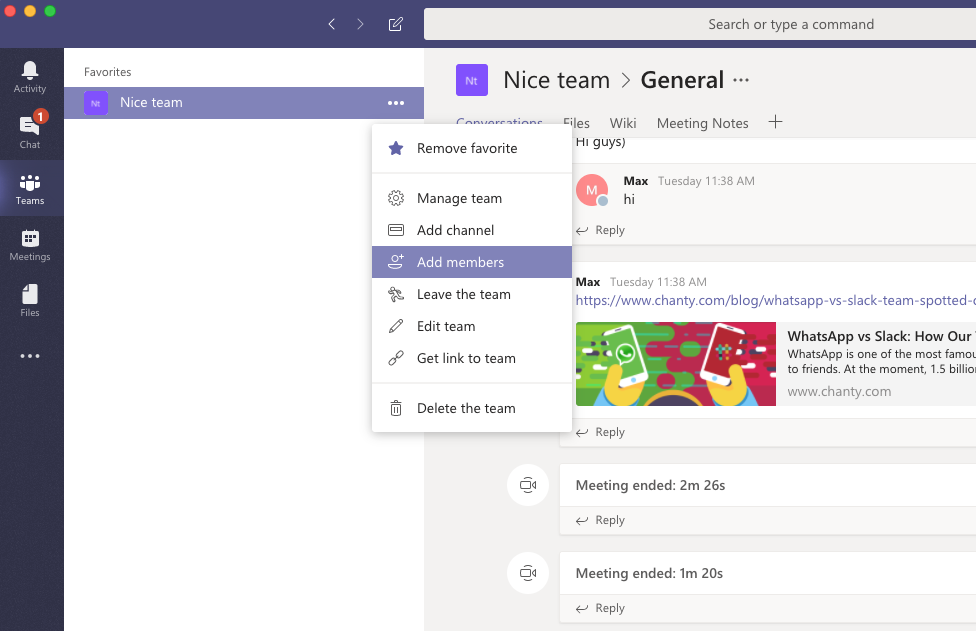 Adding members to a team in Microsoft Teams app
The two colleagues from the office that were invited to Microsoft Teams complained that it took them far too long to register for Microsoft Teams.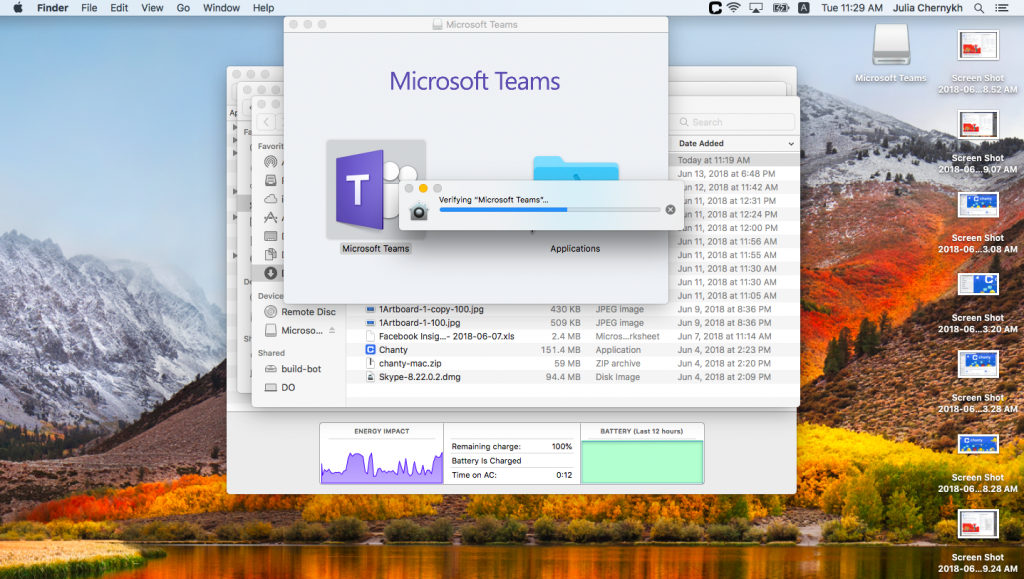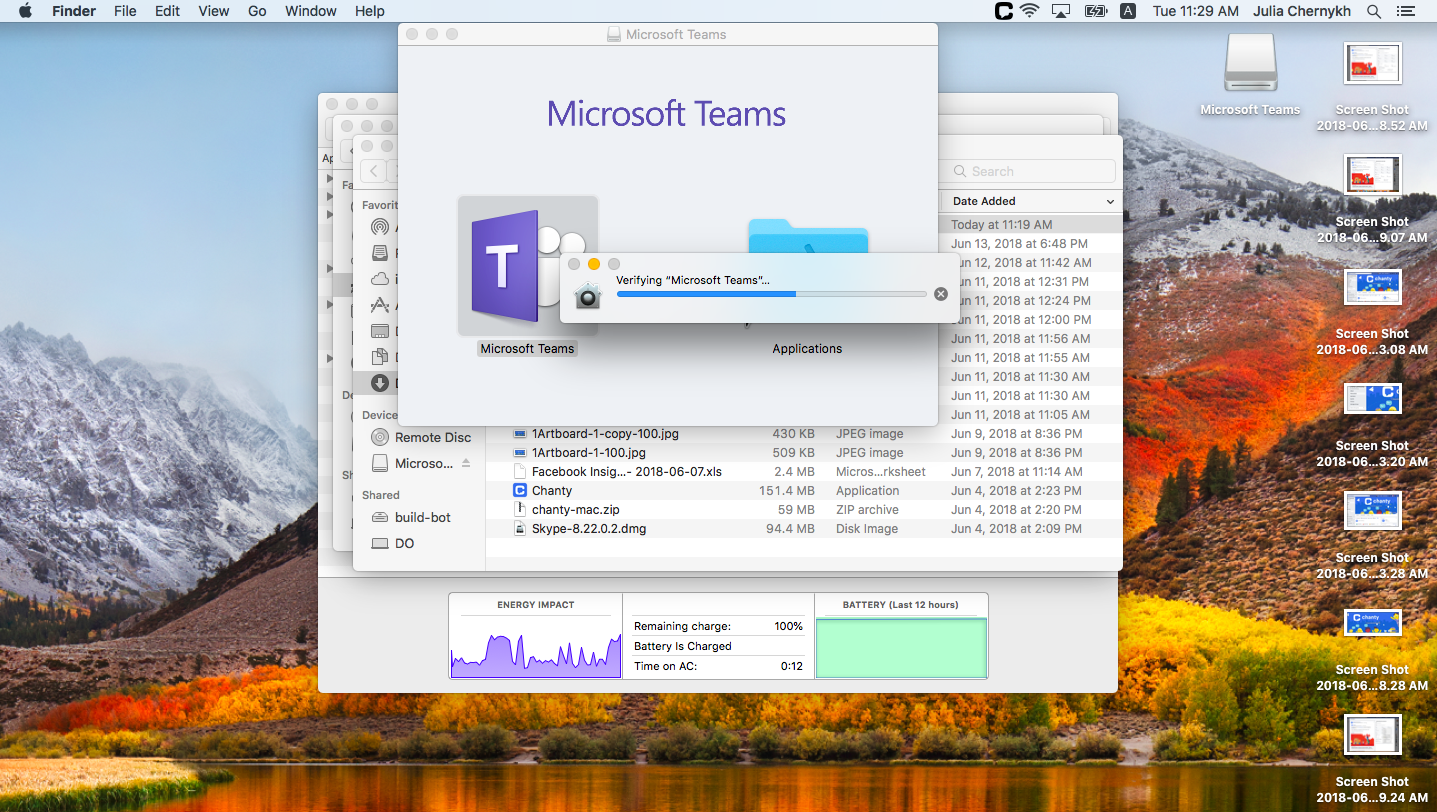 My colleague sent me a screenshot arguing that getting MT started takes too much time
Finally, I really have to say that getting started and inviting users to your team chat app should not take this long. If you're a team leader in your company, you would be better off delegating this task to an IT admin.
Alternatively, you can try a tool like Chanty, which is super easy to set up and use.
Slack vs Microsoft Teams: layout and design
I have to be completely honest: the two tools look very similar in terms of layout and design. Both come with a smaller vertical panel (for your contacts) and a larger panel for conversations.
Slack's layout vs. Microsoft Teams layout:
On the very left, Microsoft Teams has an extra panel with features such as Activity, Chat, Teams, Meetings, and Files. Moreover, the search box in Microsoft Teams has different functionalities and offer several actions.


Microsoft Teams search box
In terms of design, Slack has more options for customizing the app, as you can change the color of the app to suit your style.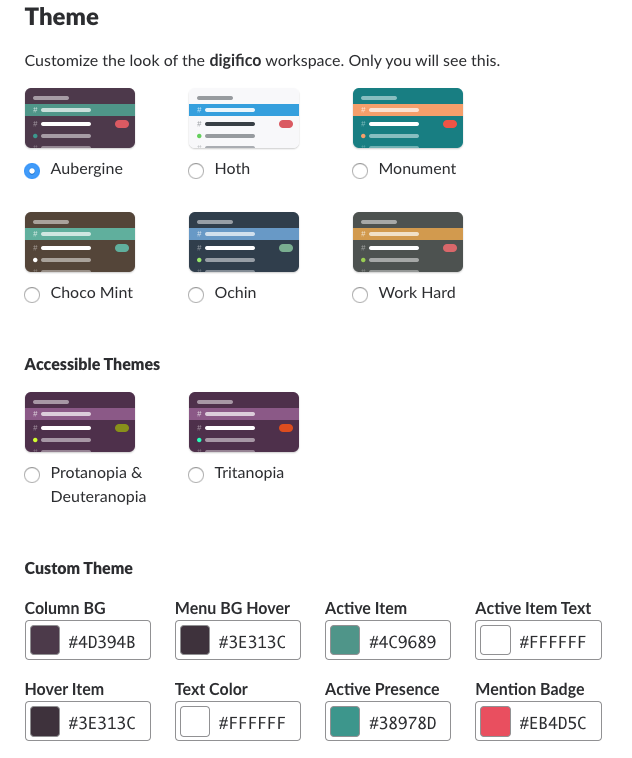 Options for customizing your workplace in Slack
On the other hand, Microsoft Teams has only three themes that you can use to customize your workspace.

Options for customizing your workplace in MT
Slack vs Microsoft Teams: messaging
We'll skip the standard 1:1 messaging and get straight to the good stuff. Both tools have group chat functionality with threaded messaging, as well as standard private chat. Whoever is on the other side of the chat, there are lots of handy features to use, such as editing, deleting, pinning your messages, as well as mentioning someone, starting a new thread, sharing a file and many other features.
Perhaps the biggest difference in messaging is that Microsoft Teams has advanced formatting for the messages you send. That means that you can create bulleted lists, change the color of your font, make the words bold or italic, etc.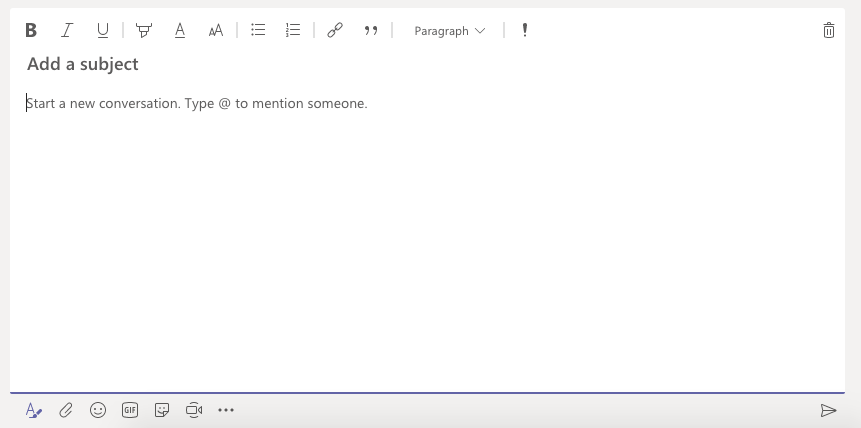 Formatting options in MT
Another cool feature is that Microsoft Teams lets you send .gif images, as well as emojis. Finding the ideal gif or emoji is easy because all you have to do is type in the right search term and you get a list of matching results.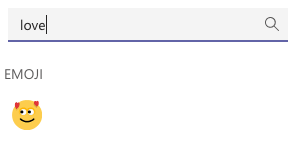 Emoji search by name in MT
On the other hand, Slack makes it possible to not only "like" someone's message, but also leave a variety of other emojis as a reaction. Moreover, Slack lets you set reminders on messages. Here is a handy comparison of what you can do with messages in both tools: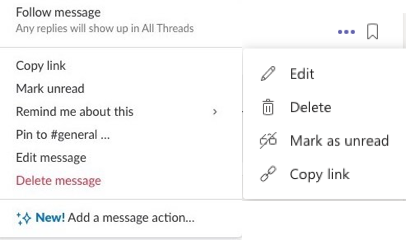 Slack                                          Microsoft Teams
When it comes to notifications, both tools have advanced notification systems that you can set up to your liking. One thing that both apps are missing is a central notifications hub, similar to that which Stride used to have back in the day.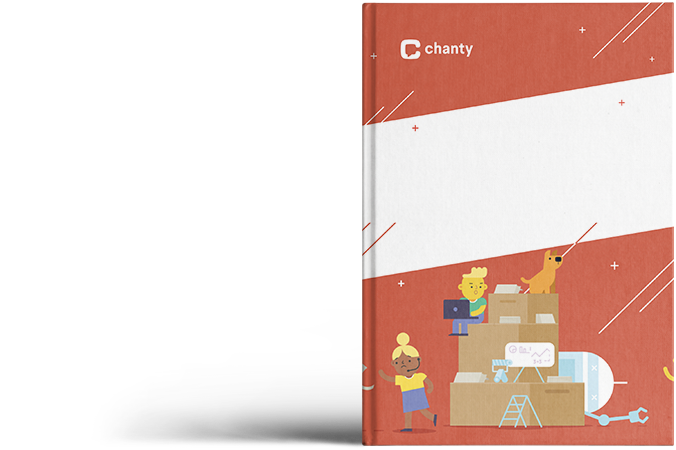 Communication issues at work?
"50 Surefire Ways to Improve Your
Team Communication"
Get eBook
Slack vs Microsoft Teams: threads
If you're used to communicating in threads, this is probably one of your favorite features. Threads allow for cleaner communication and keep the replies organized in a single conversation.
If you want to create a thread in Microsoft Teams, all you have to do is to hit "reply" on a message. Threads can be followed through the "All threads" tab or by pinning a certain message or labeling it with a star. In Teams, you can only use threads in channels and not in private conversations, and they cannot be turned off.

Using Threads in Slack
Slack vs Microsoft Teams: file sharing and collaboration
The most important thing to know is that Slack's size limit for uploading is 1GB, while Microsoft Teams is capped at 15GB. We didn't bother to check these numbers and upload gigantic files – we were more interested in how you can collaborate in these apps. So, we decided to upload an 800MB video file in Microsoft Teams to give it a try. To our surprise, the file not only opened immediately but also played within Microsoft Teams – very impressive.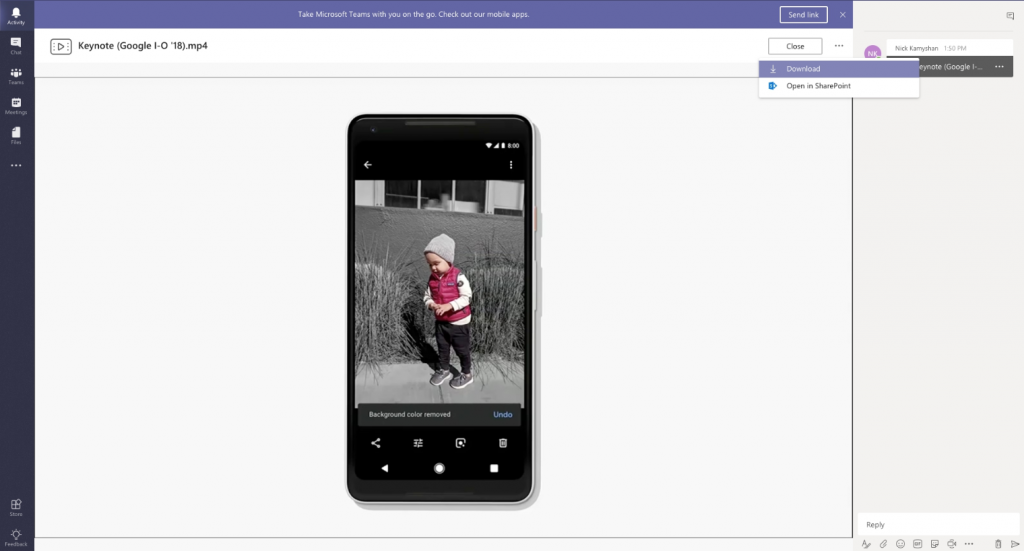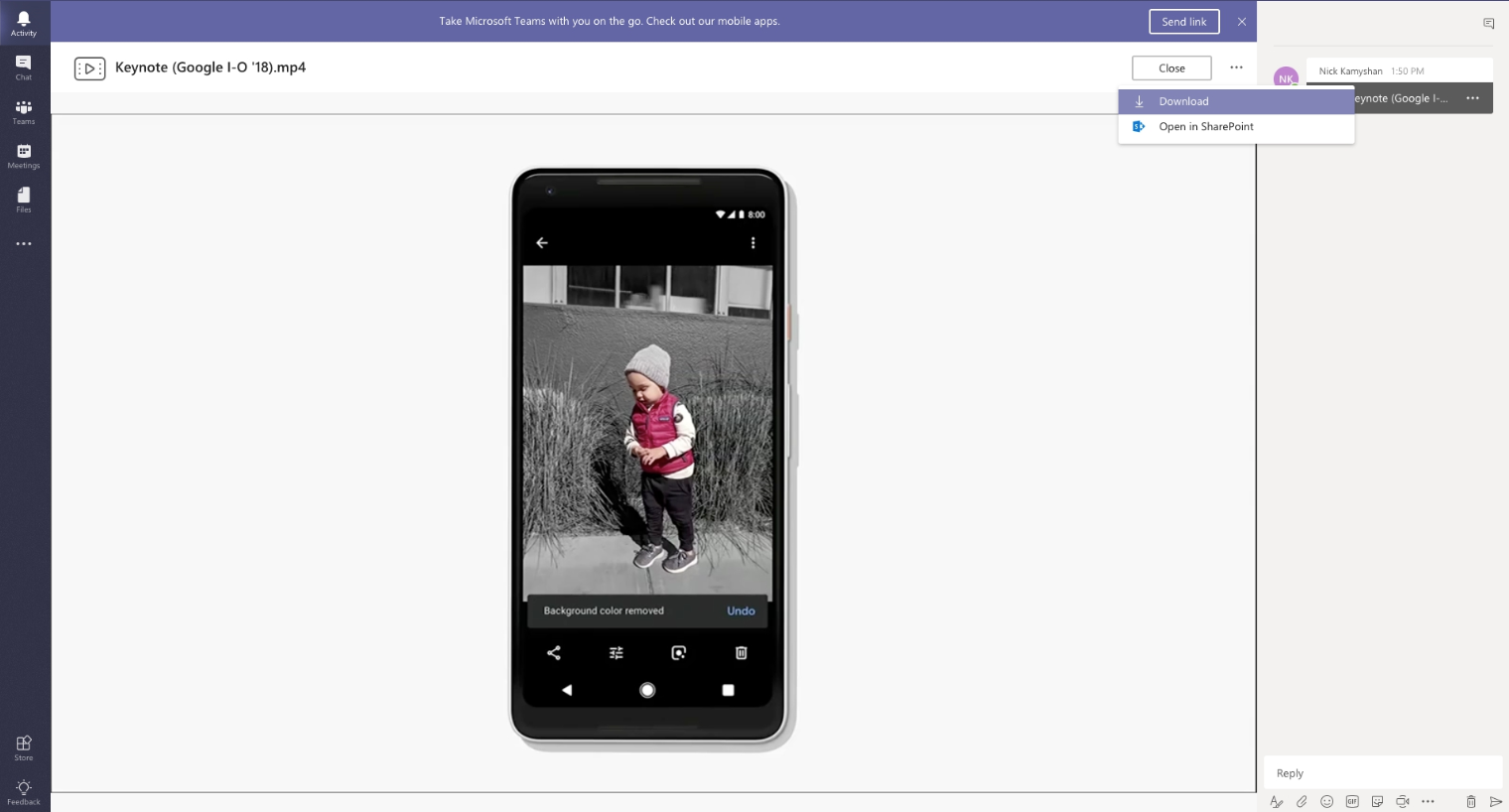 Watching a video within MT workspace without downloading it
HoOn the other hand, you would have to download a video to get it to play in Slack.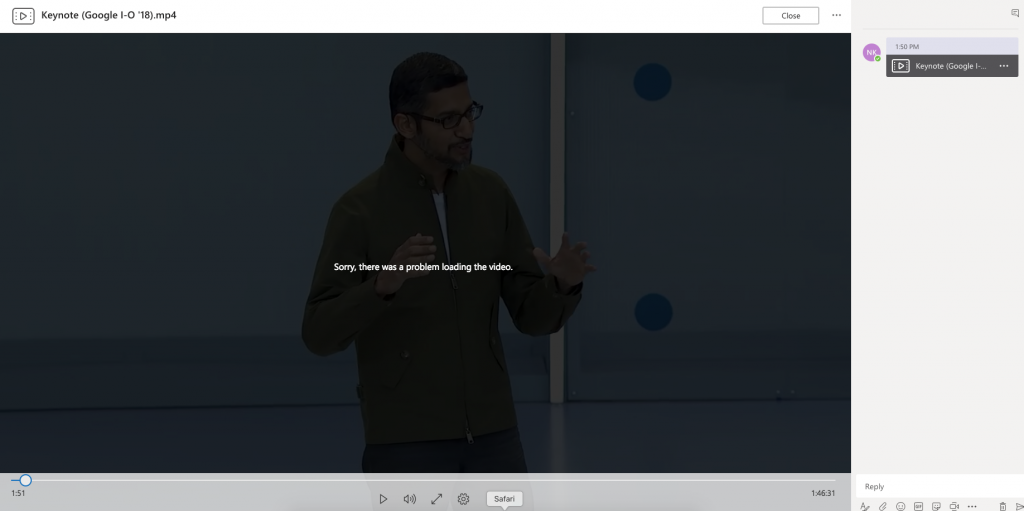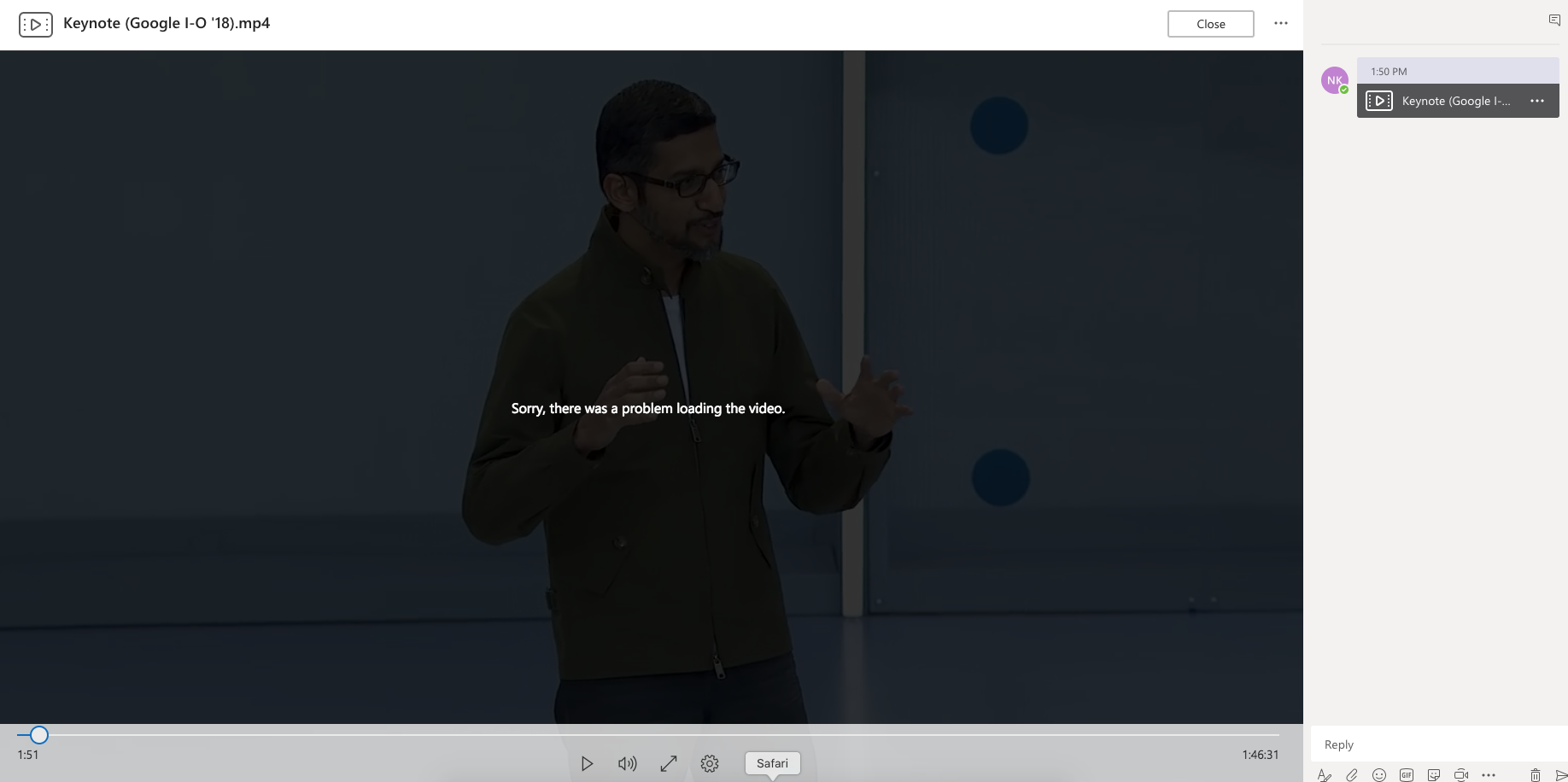 Experiencing some troubles with uploaded video
My idea of collaboration was watching the video together with my colleague and chatting with them, which is not something you can do in Slack. On the other hand, this is one of the main advantages of Microsoft Teams. Not only can you play videos and comment at the same time, but you can also work together on Office and OneDrive documents within Microsoft Teams, without leaving the app.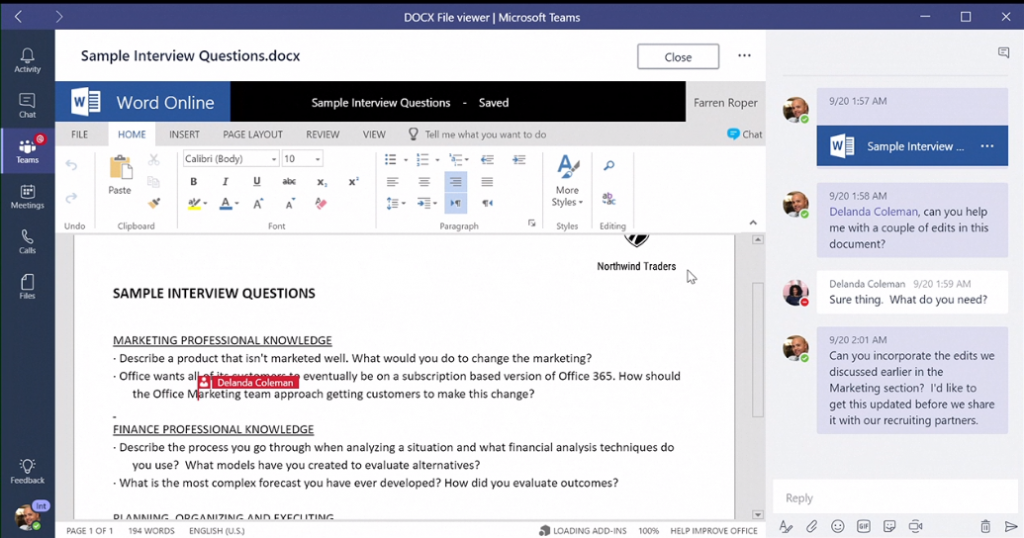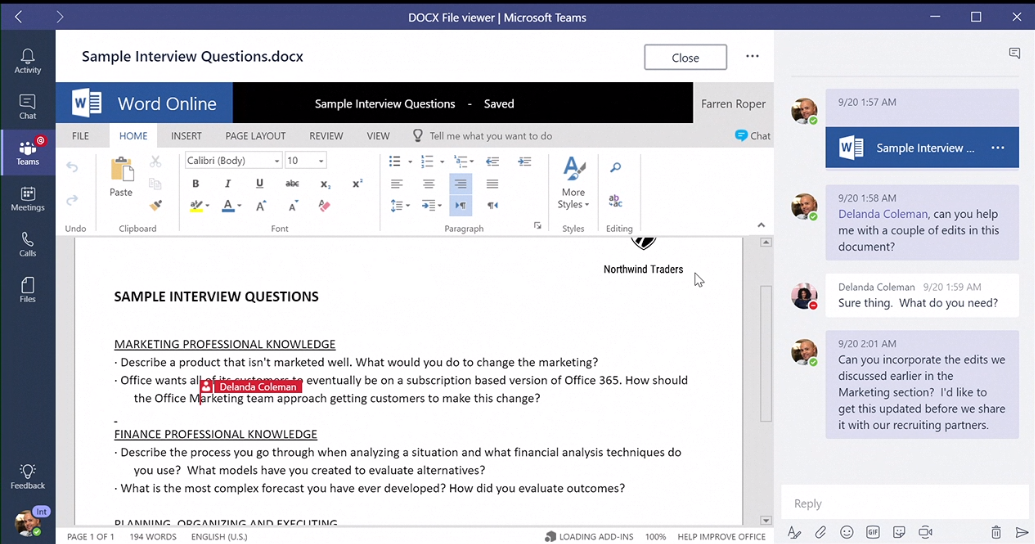 Image source
When it comes to storage limits, you get 5GB of space in Slack's free plan and 10 or 20GB in the paid plans – per user, depending on the plan. In Microsoft Teams, the structure is slightly different and you get 1TB per organization.
Slack vs Microsoft Teams: video calls
Here are some photos of our team making video calls in Microsoft Teams. The sound and video were pretty good and we were generally happy with video calls in this app.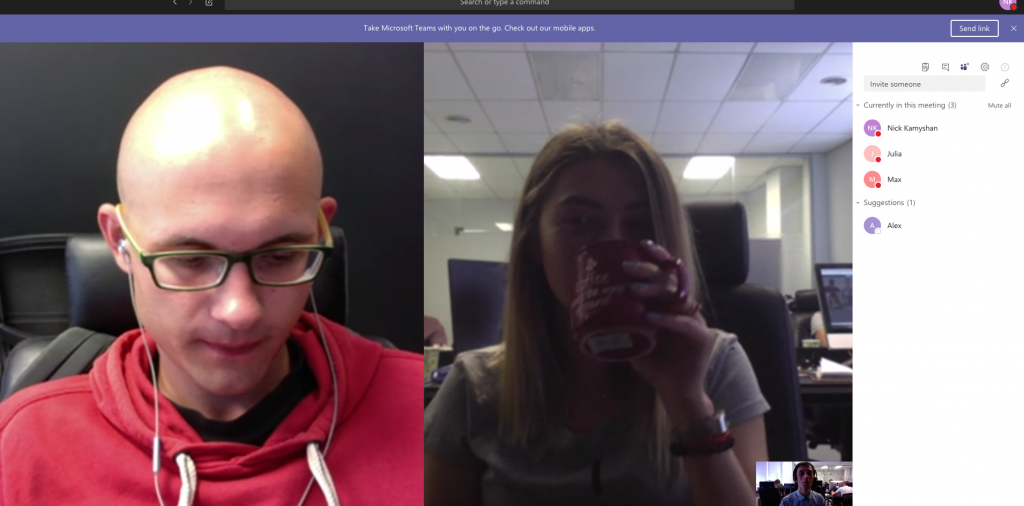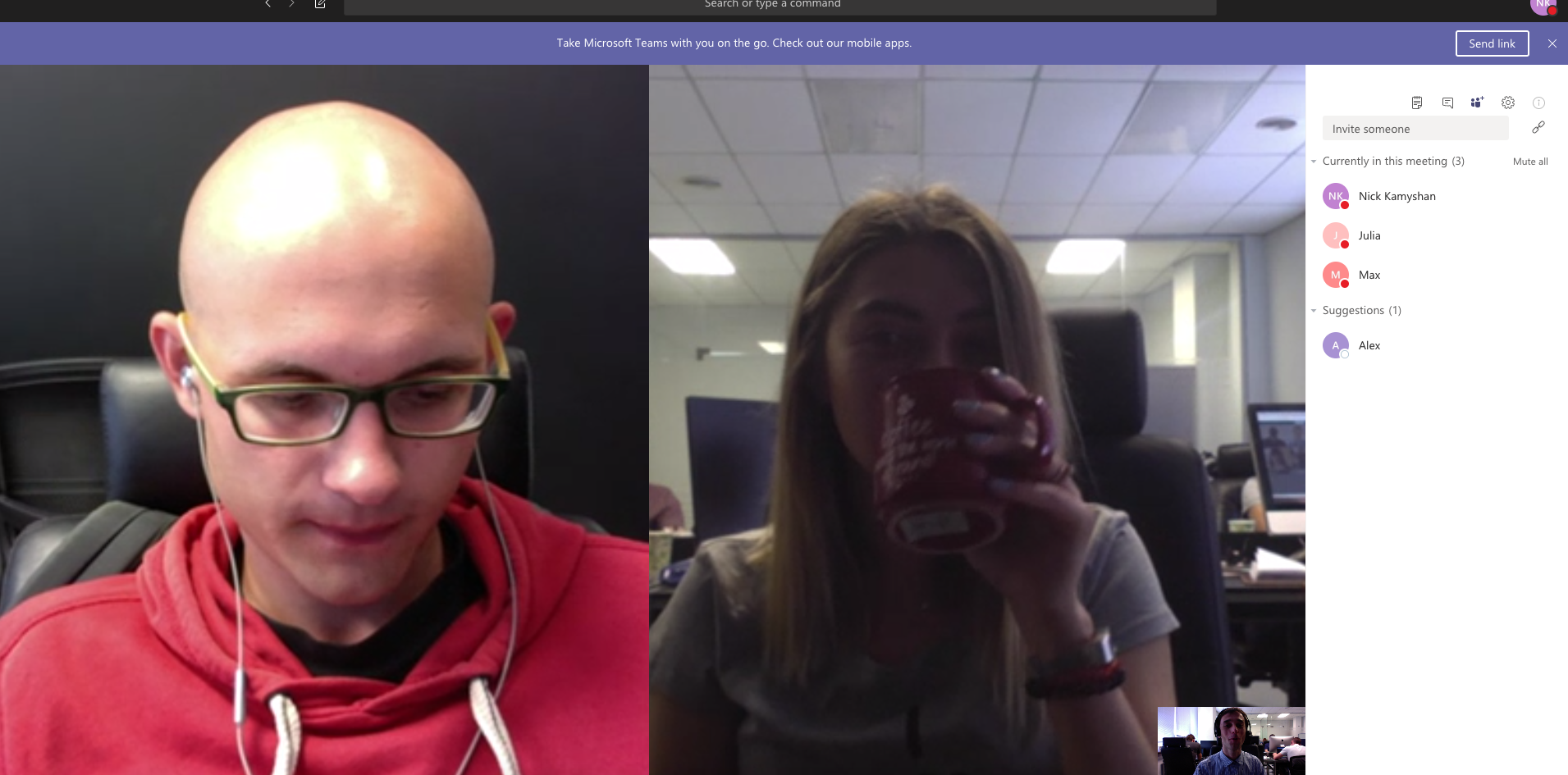 Chanty team is exploring video calls in Microsoft Teams
If we wanted to, we could switch from instant messaging to video or audio calling by pushing a single button.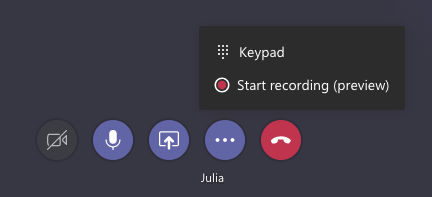 Video calls features in MT
Just for fun, we also tried out recording video calls. We hit the record button and a few minutes after finishing the recording, the video showed up in our chat window. So far, so good.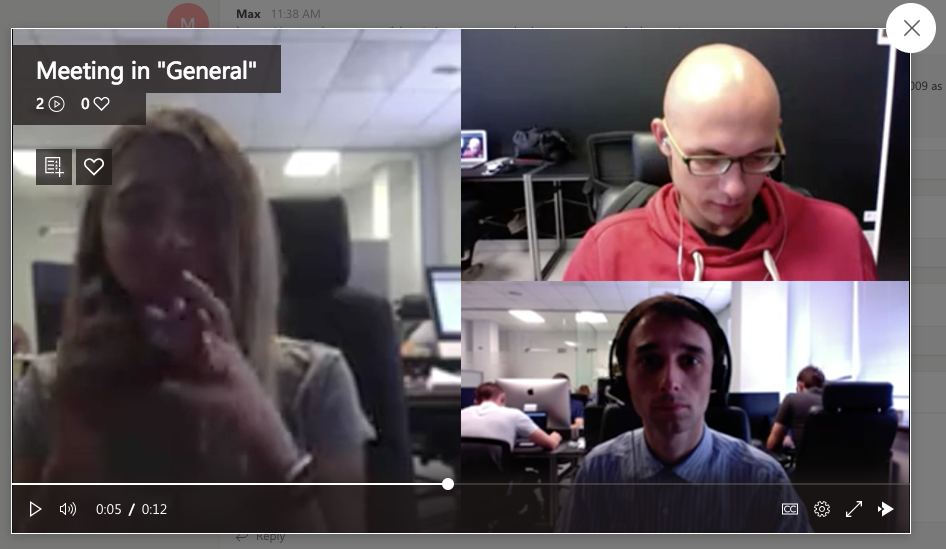 When it comes to Slack, we've tested its video calls many times before, so we didn't want to try it once again. On the free plan, you can talk only to one person at a time. If you opt for a paid plan, you can get up to 15 participants. Sounds good – but Microsoft Teams has up to 250 people per video call in their paid plans.
Slack vs Microsoft Teams: integrations
Being a Microsoft product, it's only natural that Teams integrates well with Office 365. If you frequently work in SharePoint, OneNote, Power BI or Planner, you'll have an easy time connecting them with Teams. There are also third-party integrations with apps such as Trello. At the moment of writing this article (December 2019), there are over 270 integrations for Teams.
Sounds great, until you realize that Slack has 800+ integrations total. In other words, companies are trying hard to integrate with Slack and the number of apps is increasing by the day.
Slack vs Microsoft Teams: task management 
Let's get over the bad things first: neither Slack nor Teams offer built-in task management.
In Slack, there are Actions, which you can use to create tasks and finish them without getting out of the app. However, you can only get this functionality through integrations. It's similar in Teams, where you can use Planner to manage your tasks.
By the way, if you're looking for a team chat app that has task management functionalities, make sure to give Chanty a try. Using the built-in task management feature, you can easily turn messages into tasks in Chanty. Moreover, you can filter tasks by status, dates, and people.
If you'd like to learn more about task management and other features in Chanty, sign up for a demo today!
Slack vs Microsoft Teams: search
If you want to find something in Slack, you can easily search through messages, contacts, and files. What's more, you can even search the content within the files using the Slack search. That way, you can find words within Google Docs and Dropbox files. We tested this out by searching for the phrase "celebrating workplace diversity" which was in a PDF. Of course, Slack found it through its search.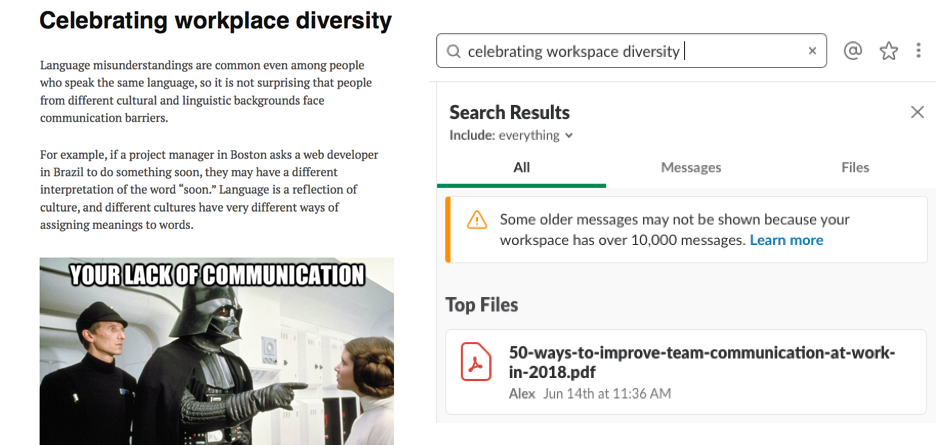 A snippet of the book                                                   Slack found it!
We tried the same action in Microsoft Teams, and to our surprise, it worked just as well.

Microsoft Teams searches the content within files
Slack vs Microsoft Teams: help and support
Let's make up a scenario: I want to delete a channel in Slack or Teams and I have no clue how to do it. What happens if I look for help?

T-Bot is answering questions in MT
The easiest way to get help in Teams is by using their app, called T-Bot. Once you sign in, it's there in your Chats tab. So, I type in "delete a channel" and I get some (very useful) instructions. Works well so far.

Sections within a bot to browse "Help" content in MT
On the other hand, the easiest way to get help in Slack by using their Help Centre. I just type in the word "delete" and the answer to my question is right there.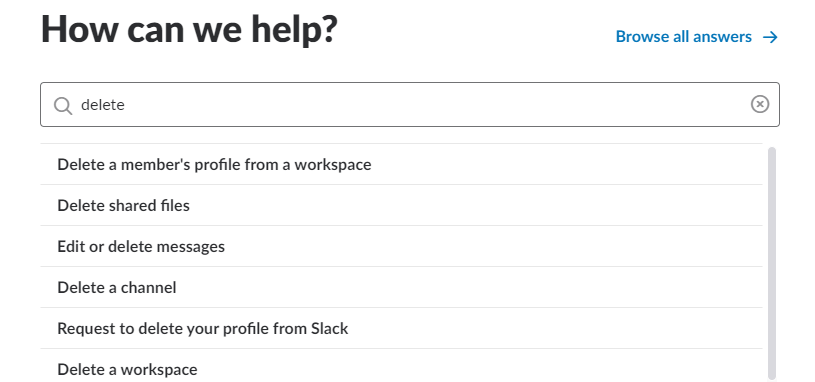 Help Centre in Slack
However, if you're looking for help really quickly, you can just google your question and you may find your answer immediately.
Wrapping up
Here are some of our conclusions regarding Slack vs. Microsoft Teams.
Pricing: Both Teams and Slack have freemium plans. When it comes to the paid plans, the cheapest Microsoft Teams plan is less expensive than Slack's cheapest plan. MT wins this roound.
Getting started. Slack is very easy to get started with. On the other hand, Microsoft Teams is anything but simple. If you don't have some spare time, you should have someone else handle setting up Teams.
Layout and design. The layout in Microsoft Teams has far too many tabs. On the other hand, there is less to see immediately in Slack because they want to improve their user interface. Moreover, Slack has more options to customize the app's look.
Messaging. Both Teams and Slack have different ways to send and receive messages, including threads. Microsoft Teams has more built-in options to format your text, and in return, Slack lets you set reminders for individual messages. 
File sharing and collaboration. Microsoft Teams lets you share Office files and work on them immediately from the workspace. Slack doesn't come with the option of editing documents from the workspace, so you have to download files and open them in specific apps to edit them. 
Video calls. Both apps allow video calls and the feature works very well. However, Teams has a built-in video recording feature, which is really neat. Moreover, MT allows up to 250 people in a single call when you're on a paid plan, compared to Slack which allows 15 people at a time. 
Integrations. While Microsoft Teams has excellent native integrations with Office and some third-party app integrations, Slack definitely wins in this department – it has more than 800 integrations that you can use.
Task management. Both tools need integrations in order to work with managing projects and tasks. In Slack, you can assign and manage tasks using Actions. Similarly, MT also requires integration with the Planner tool.
Search. Microsoft Teams and Slack let you search your chat history, contacts and even the content of the files you share in the app. 
Help and Support. Microsoft Teams and Slack provide support through different channels like bots and FAQs. Of course, sometimes googling gives you the best and quickest results. 
Summary: Both apps are a good choice but they are catered for different needs. If you want lots of third-party integrations and the ability to customize your app to a great extent.
On the other hand, Microsoft Teams works really well for companies that do a lot of work Office 365 and who already pay for that service. Additionally, it has to be mentioned that Teams takes quite a lot of time to set up, so bear that in mind.
Or alternatively, if you're looking for a fast, reliable team chat app with a variety of features, make sure to give Chanty a try! We offer audio and video calls, screen sharing, as well as in-built task management. The setup and user interface are extremely easy to use and we are adding to our list of integrations every day. If you're interested in Chanty, you can sign up today or book a free demo!