There's no question that the internet has forever revolutionized the way we communicate. Gone are the days where we'd write letters to relatives to see how they were doing — having to wait days if not weeks to hear back.
In fact, many of us don't even make phone calls or send emails anymore. There are just so many better online options that the digital world has brought us to the point where legacy communication methods have become increasingly obscure year after year.
Video calls have become a top pick for many people. It was already on the rise but since certain public health issues made staying at home the norm, the transition has only further accelerated.
That being the case, we wanted to cover some of the best team chat apps with a video calling feature. Whether you're talking to coworkers, friends, or your loved ones in a different country, being able to see the look on their face brings that feeling of warmth to correspondence.
Chanty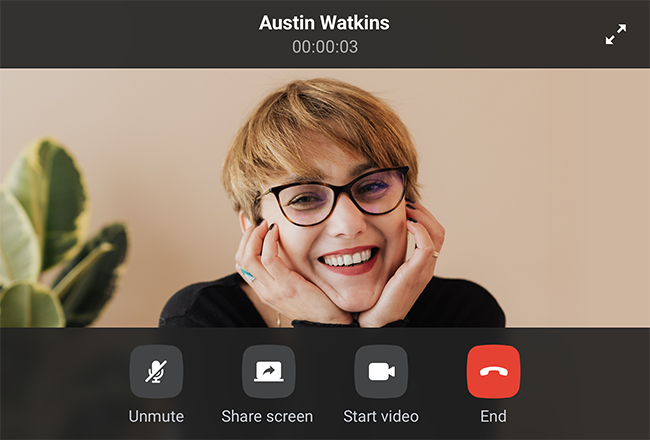 Chanty is one of the fastest rising team chat apps for a plethora of reasons. First of all, it provides features that are normally locked to pricey subscriptions on its free tier which really sets it apart from competitors.
Beyond affordability, Chanty also does a great job at syndicating the entire company's workflow into a single dashboard so that team members don't have to hop back and forth from one tab to the next.
Its Teambook feature lets you view all tasks, conversations, and shared files from a single point in the platform. This centrist ideology that the developers lean on boosts productivity and prevents mental clutter from gathering in the minds of collaborators.
It's worth noting that the video call functionality is reserved for paid users, but the plan will only cost you $4/month for each person, so it's still well in reach for even the most bootstrapped startups. You can also get a dollar off the price by billing annually which is a 25% discount.
Video calls are available on both a one-on-one basis as well as group settings, so it all comes down to what your specific needs are. Screen sharing is supported which is very useful during presentation-type meetings.
A couple of other noteworthy features include the recently-introduced Kanban system as well as the 20 GB worth of cloud storage that each premium team member gets. Of course, you can also integrate Google Drive and Dropbox for extra capacity.
Discord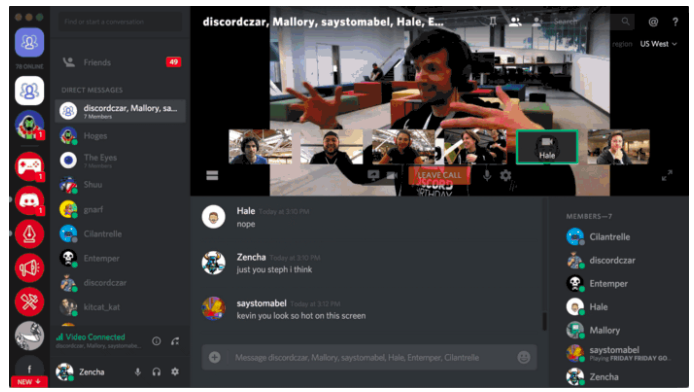 When you think of the best video chat apps, Discord may not exactly be the first name that comes to mind but it's actually a surprisingly robust option. If you're not familiar, the app was created as a platform that gamers could use to communicate.
It's essentially a spiritual successor to TeamSpeak. Some have also described it as a more streamlined, gaming-centric version of Skype. Surprisingly, it has begun gaining traction in the business world as well.
One of the main catalysts for Discord's widespread adoption is the fact that you can use almost all of the features for free without paying a dime. It also has no user limit and doesn't limit your chat history.
Discord video call can be initiated both through direct messages or on a server depending on the type of call that you're trying to initiate.
They do have a paid subscription known as Discord Nitro that provides extra features such as bigger upload sizes, GIF profile pictures, custom emojis, and a few other cosmetic perks. Perhaps the most useful Nitro perk is screen sharing.
The free version in itself has enough functionality for the majority of users, but even if you find yourself wanting to upgrade, it'll only cost you $9.99/month. If you switch to annual billing, then you even get two months for free each year.
WhatsApp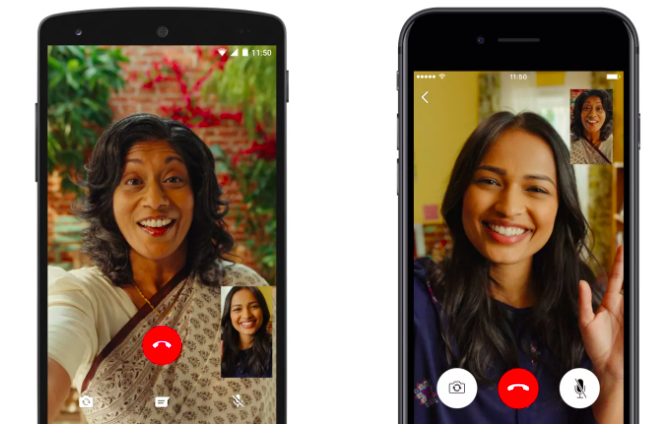 WhatsApp is Facebook's most used app, beating out Messenger and Instagram by a magnitude of hundreds of millions. With over two billion users, more than half of all Facebook users are on WhatsApp.
The platform is a favorite amongst global companies since it makes international communication extremely seamless. End-to-end encryption is another feature that users often rave about, though take note that it isn't on by default so you should tweak your settings accordingly.
Another big attractor is also the widespread usage since WhatsApp has almost become the de-facto platform of the business world. Many people don't even have anything specific that they like about the app but just use it because everyone else does.
If we had to nitpick one thing about the platform, it would be the fact that backups are saved locally to your phone rather than synced to the cloud. This means you could lose information if your device is stolen or your drive is damaged.
A significant breakthrough for the platform came in April 2020 when the developers doubled the capacity limit on WhatsApp video call — taking the max up from four to eight. This makes WhatsApp even more viable for groups than it already was.
Brosix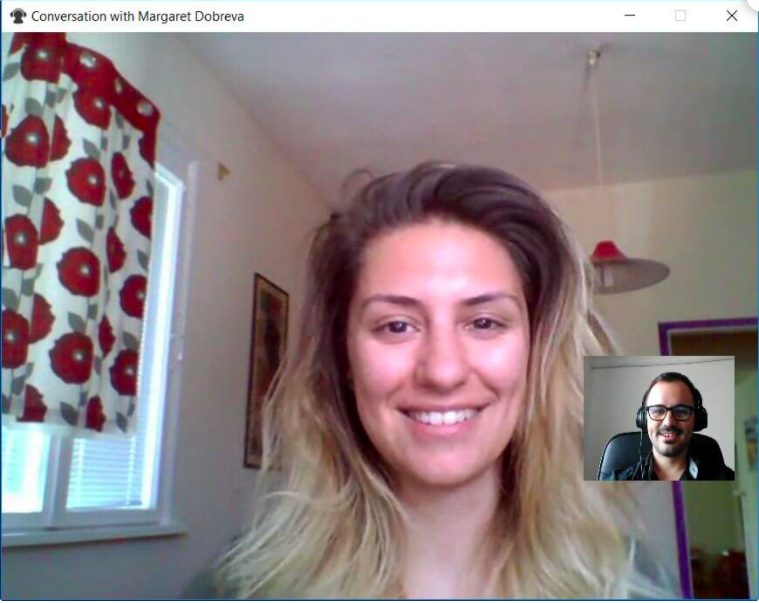 Brosix is one of the older team chat apps out there having been founded in 2006. This makes it only two years older than Facebook and one year older than YouTube. It's often been touted as one of the most secure chat platforms out there — held to a standard higher than Telegram.
The ability to monitor staff chats ensures that no corporate espionage occurs. This is key for businesses that rely on trade secrets for revenue. In less serious situations, it can be used by project managers to ensure everyone isn't slacking off.
It's also really convenient to broadcast messages to specific subsets of people within the team since Brosix's group management features are well above par. If your team comprises three people or less, then you can make use of the free tier to try the platform out.
That being said, the $4/month subscription is well worth the price since it gives you access to the hyper-secure P2P file-sharing system. Seeing as it's 15 years old, the UX is bound to be refined for simplicity at this point.
Navigation is very intuitive with a single click on the video chat icon allowing you to launch a video conference from any text chat window. In addition to screen sharing, Brosix also lets you utilize the virtual whiteboard to illustrate your points which can be quite handy.
8×8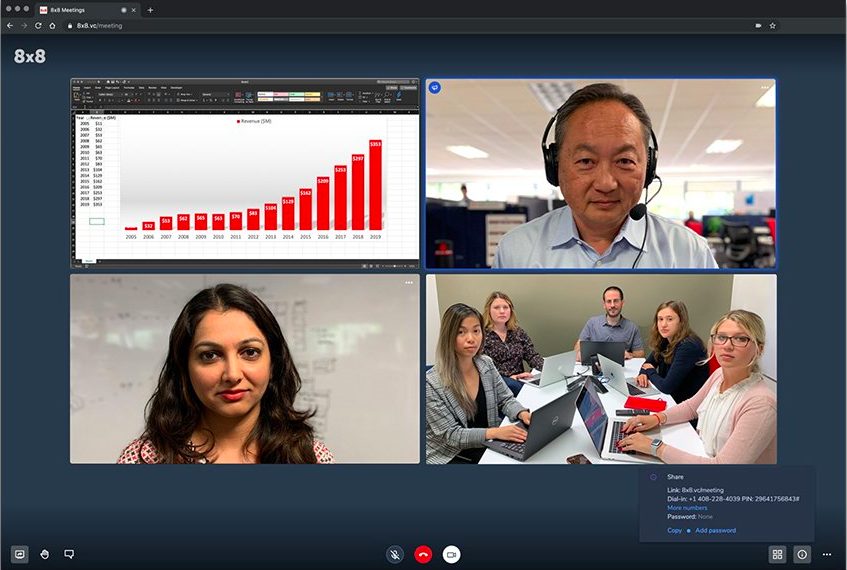 If you're looking for a plug-and-play solution that doesn't require a long setup, then 8×8 might be the right video conferencing option for you. While it doesn't have the other workplace chat and project management tools that competitors provide, it's by far the most accessible conferencing tool.
You don't need to sign up, install any software, or download a mobile app since 8×8 lets you run unlimited video calls through your browser. This is ideal in companies where each employee uses a different solution since you don't need an account to use 8×8.
Many people know 8×8 from the VoIP world since they're right up there with other industry leaders such as Nextiva and RingCentral, but they've slowly been expanding into the software industry to diversify their audience and revenue streams.
Despite originally launching under the main 8×8 brand, the company has since spun the browser-based software off under the Jitsi Meet label to differentiate it from their paid solutions. All you have to do is set a meeting name, share it with your team, then get on with the meeting!
There are tonnes of great features on the free Jitsi conferencing tool such as HD video, multi-user screen sharing, end-to-end encryption, and the ability to host as many as 50 participants in a single group call.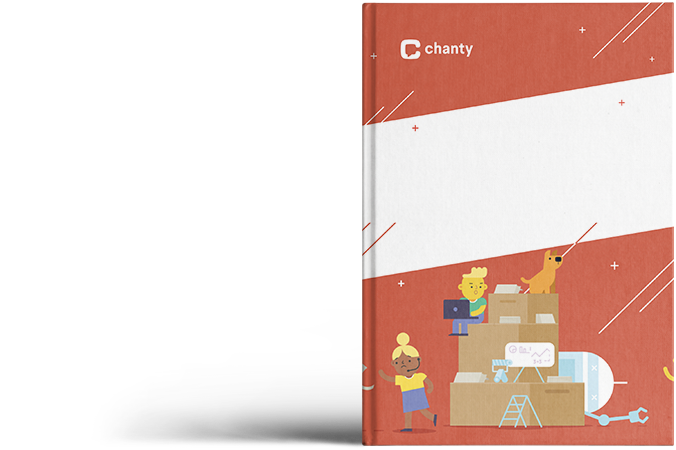 Communication issues at work?
"50 Surefire Ways to Improve Your
Team Communication"
Get eBook
How to Pick a Solution
Before you choose an app and commit to it long-term, there are a few things that you might want to consider first.
Price
There's nothing wrong with trying to look for the best solution with a few bells and whistles, but you shouldn't be breaking the bank on your subscription. Find a subscription price that you can afford long-term even if revenue remains stagnant.
Features
Instead of focusing on the number of features, look at which features you actually need. Picking a feature set that will line up with the needs of your team is essential to getting the most bang for your buck. For example, you can focus on opting for an upgraded VoIP system if you're not keen on the video call element for your communications.
Adoption
The last thing you want to do is spend your hard-earned money on a pricy subscription only to realize that all your contacts use a different platform for videoconference. Surveying employees before choosing a platform may be wise.
Conclusion
As you can see, there's really no shortage of team chat apps with robust video call functionality. It all comes down to finding the right one for your specific needs and maybe trying out a few free trials until you've made up your mind.
All the apps we covered in this piece are worthwhile so you really can't go wrong as long as you do your homework. Remember, with due diligence comes an informed buying decision. That's all for now, stay safe, and get that video conference started!