What is Discord?
Discord is one of the most popular and effective online communication tools. So why do so few companies use it for business?
Here we'll discuss Discord and the 21 Discord alternatives available today.
Discord is a communication app. It allows its users to communicate through voice, video, and text for free. The app began as a messaging solution for gamers but has quickly grown, and users now use Discord to communicate about various topics and interests.
A user can create a server and invite other users to join and chat.
This server could be a place to talk about your favorite hobby or a server exclusively for you and your employees.
Discord is a free service for everyone, but does offer a premium option named Discord Nitro. Nitro increases your upload limits, allows enhanced live-streaming options, upgrades the number of services you can join, and more.
Discord is available on all major platforms and runs on Windows, macOS, iOS, Android, and Linux.
What can Discord do for your business?
While Discord has been known primarily by gamers, it offers a wide range of services ideal for many businesses. If you need an easy-to-use communication tool for your business, Discord might be right for you. Discord is also free for most users.
While there is a $99 Nitro membership, many of the perks are not needed to utilize Discord effectively. The free membership is everything you need to use Discord's voice, text, and video chat options. Setting up a private server for your business is also free.
Discord is easy to use, and getting your teams up to speed should be no problem.
The app is available for all devices, and you can learn how to use it in minutes. Once running, you join the server for your business, and employees have access to chat rooms, private rooms, voice calls, and more from inside the app.
The same app can be used at home to play video games, join hobby enthusiast groups, and more. There's no need for your employees to learn how to use another communications app.
Why use Discord alternatives?
While Discord is an excellent app for communication, it isn't perfect. Since it was initially a solution for gamers, Discord may not seem professional enough for some offices.
From the game controller icons to the wide range of stickers or emojis, some business owners may feel a lack of professionalism while using Discord.
Do you want to integrate other apps into your workflow with Discord?
You may need to search for third-party solutions if you plan on integrating other applications like Trello or Asana into Discord.
Discord is incredibly secure, but since there is no private hosting, your information may not be as safe and secure as you would like it to be. Other issues, like server raids, can be highly damaging to your server and privacy as well.
If privacy and professionalism are at the top of your feature list, there are plenty of other Discord alternatives available for you to test.
21 Best Discord alternatives
Ready to test out a new communication app for your business. Here are the 21 best Discord alternatives available on the market today.
Chanty
Chanty is one of the best options for business communications. The app offers chat, voice messaging, audio, and video calls. It also features task management features with Kanban board, screen sharing, and discussion threads.
If you use a variety of other apps, Chanty is ideal for you.
Trello, Asana, Google Drive, OneDrive, GitLab, and more are fully integrated into Chanty, making sharing files and information throughout your office efficient and straightforward.
The free membership has plenty of features and allows for groups of up to 5 members. The $3 premium membership lets you have unlimited team members and integration with other applications. It also includes unlimited group calls, screen sharing, and 20GB of file storage per team member. 
While an excellent Discord alternative, Chanty does not have status messages to notify others you are "AFK" or "in a meeting."
ProofHub
ProofHub is more than just a communications channel, it is a platform for complete collaboration.
Plan. Collaborate. Organize. Deliver. The ultimate project planning software.
ProofHub comes with powerful tools to help you (and your entire team) stay on track. These core features include time tracking, proofing, gantt chart visualization, a discussion form, calendar functionality, task management, file sharing, a group chat and much more.
Not to mention it also integrates with plenty of apps that you are probably already familiar with.
The group chat and discussion function are what make ProofHub a Discord alternative. Only ProofHub does so much more.
Like most other softwares. ProofHub works on a subscription pricing plan. And yes, there is a free trial offered too. The minimum you can pay is $45/month billed annually. However this package lacks some key features, allows a limited number of projects and only 15GB of storage. The ultimate control package is $89 per month billed annually and has increased functionality, unlimited projects and 100GB of storage.
It is worth noting that both packages allow for an unlimited number of users.
TeamSpeak
TeamSpeak is a voice-over communication protocol (VoIP) service designed for gamers. It offers incredible clarity and lag-free communication through your computer or smart device. While created for gamers, TeamSpeak can be an excellent VoIP option for many businesses looking to upgrade their communication options.
You'll get exceptional audio quality and the ability to synchronize your voice servers across several devices.
TeamSpeak is not free, but it is a relatively inexpensive group chat option. Pricing ranges from $55 for one virtual server with 64 slots to $500 for two virtual servers and 1024 slots.
If group chat is your primary reason for using Discord, TeamSpeak might be a better option. Unfortunately, if you are looking for an app that integrates with other business applications, you may have to check out some of our other options.
nTask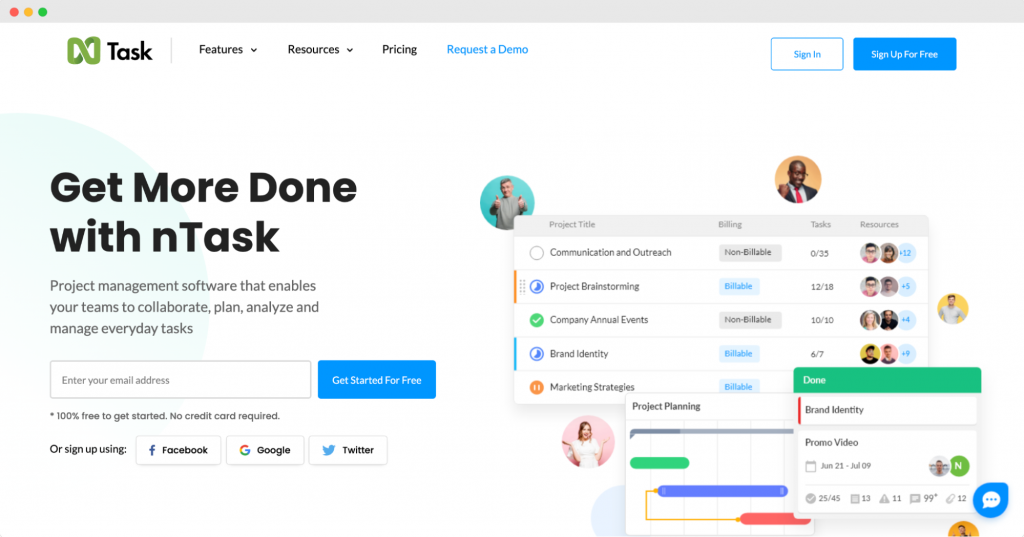 nTask is a full-featured project management tool. You can quickly work together and get your teams to collaborate efficiently while using nTask. The app features a host of communication, time tracking, and task management tools to help you run your business smoothly.
Inside the application, you'll find it's easy to set up projects, schedule team meetings, and track team progress. Chat and communication are handled through text, Kanban Boards, and Gantt Charts. Other features include:
Reminders
Notifications
Team progress tracking
Tasks
Basic members can set up a project with up to 5 members per team. Premium memberships are available for $3 and $8 per user per month. A membership upgrades your online store and adds advanced reporting tools, custom fields, custom roles, and more. nTask also offers enterprise solutions for larger corporations as well.
While nTask has limited video or group calls options, it's still a good option for business owners looking for a project management tool instead of a full-features voice communication tool.
Slack
Slack is one of the more popular team chat applications available. With many of the features of Discord, Slack is ideal for almost any working environment.
The app can replace your team's voice chat, video call, team messaging, and emailing applications. Featuring an easy-to-use and intuitive interface, you'll have no problem setting up and getting your employees on board. It can even help with the onboarding process.
Integration with other apps is where Slack truly shines. Everything from Office 365 to Mailchimp can be integrated into your Slack channels with the click of your mouse.
Slack is available to use for free and gives you private and public channels, ten app integrations, 1:1 voice calls, file sharing, and personalized notifications. Pro memberships start at $7.25/month per user, and Business+ memberships are $12.50/month per user.
Upgraded versions include group voice and video chats, up to 500,000 users, HIPAA compliance, and more.
The main drawback is that Slack keeps your messaging history for only 90 days in the Free plan.
Telegram
If you're looking for an instant messaging solution for your business, Telegram is one of the best. This highly secure platform offers impressive encryption to keep your files and information safe and secure.
Fast, reliable, and safe messaging are at the forefront of Telegram. This makes it an ideal Discord alternative, WhatsApp, and many other messenger applications. The app can send messages, photos, videos, and files of almost any type. They also support encrypted voice calls, video calls, and group voice chats.
This makes Telegram an ideal communication tool for almost any business.
Unfortunately, users may notice the lack of task management tools or business integrations with Telegram meaning you may still need other tools for your business.
Telegram is free to use for all and is open source.
Flock
Flock offers a suite of messaging tools and productivity tools. Hoping to replace several apps, Flock gives you access to team messaging, project management tools, video conferencing, voice notes, to-do lists, and reminders.
Almost everything you need to communicate and manage your team is included in Flock. Flock is free to use and gives users ten public channels, 1:1 video calls, and 5GB of storage.
The product shines once you upgrade to the Pro Plan at $4.50/month per user. Here you get private channels, group video calls, audio conferencing, 10GB of storage per team member, and more. They also offer an enterprise solution for larger corporations and businesses.
Wire
If security is your top priority during communications, Wire has you covered. This messaging and conferencing application offers end-to-end encryption that ensures the privacy and security of your data.
This 100% open-source project offers some of the highest security protocols in the industry and can be utilized for cloud, private cloud, or on-premise communications.
Top features include video calls, file sharing, video conferencing, and screen sharing. You also have instant messaging, real-time notifications, and data synchronization.
Wire offers a free service that handles up to 5 team members. Enterprise solutions start at $7.65/month per user and add app integration, team management tools, customer support, and team conferences.
Rocket.Chat
Rocket.Chat is an easy-to-use app that allows you to talk to colleagues, other companies, and your customers. Rocket.Chat offers real-time chat, audio, file sharing, and video call services that work just as well as Discord and its alternatives.
The team at Rocket.Chat takes security seriously and features end-to-end encryption on all transmissions and secure file uploads.
Rocket.Chat has a marketplace filled with apps that will help you integrate any other software you use during the workday. Whether you want to integrate WhatsApp or Twitter, you can quickly add many apps to Rocket.Chat.
Rocket.Chat is available for free. The free edition offers up to 1000 users. Pro users can upgrade for $3/month. The pro version provides social network login, up to 25,000 push notifications/month, hourly analytics reporting, and more.
Pumble
Pumble is a free team chat and collaboration app.
As soon as you install the app, you can communicate with your colleagues in real time.
Thanks to team channels and direct messages features, you get the opportunity to create your workspace and organize it by your own needs.
What makes Pumble one of the best free Discord alternatives is that it has a free plan featuring:
10GB storage room,
Unlimited users and message history,
Features for sharing files and media,
One-on-one audio and video calls,
Threads,
Mentions, and
Voice messages.
In addition, the app is available on any device you prefer.
In the paid version that costs $1.99 per month per user, you get extra features like a 10GB storage room per person, more options for group or workspace customization, and you can use additional features like screen-sharing and guest access.
Guest access is a particularly impressive feature because it enables you to invite and communicate with contractors or external partners who haven't used Pumble before.
Finally, Pumble constantly improves the existing features and adds new ones. As a result, Pumble users will soon be able to create video messages and use group audio and video calls.
Hangouts Chat
If you already use Gmail or G Suite, you might be familiar with Hangouts. Hangouts Chat is Google's team messaging application. The suite offers many applications that make group chats and sharing easy.
Hangouts feature video conferencing, voice chat, group chat, direct messaging, file sharing, and more. It also integrates well with all other Google products, making it an excellent option for many businesses.
Hangouts Chat is available as part of Google Workspace.
The suite of apps includes Gmail, Docs, Sheets, Calendar, Chat, and more. Standard business membership is $12/month per user and gives each client 2TB cloud storage and up to 150 member video meetings. Business Plus membership is $18 and gives you 5TB storage and up to 500 person video meetings.
And if being in meetings is a key part of your workday, we recommend you to subscribe to a meeting lifecycle assistant to improve your productive efficiency.
Element
Open source and decentralized, Element is built on the Matrix open network. It features secure and independent communication features that outshine many other Discord alternatives.
Fast and secure communications are the main feature of Element.
Using end-to-end encryption, your data is always safe and secure while using Element. It also features quick file sharing, 1:1 calls, group conversations, and more.
This chat app is full-featured and lets you talk to users on almost any other platform, and it offers unlimited calls and texts and unlimited rooms. There are also no ads, tracking, or data mining in the app for your security.
The free plan gives you unlimited encrypted messages, voice and video chat. Upgrading to the Element One plan ($5/month) lets you bridge other communication apps to Element and provides fast hosting on a dedicated server. The Home package gives you five accounts for $10/month.
Mumble
Mumble is a low-latency chat option for business owners. While it may have been designed for gaming, it can still be effective for your business.
The team at Mumble has been perfecting their software for over a decade.
Today, the app provides incredibly clear audio with near-zero latency. Servers can accommodate 100s of voices at once, making Mumble ideal for large virtual gatherings.
The project is open source and requires no licensing to use in your business. The hosting software is free, which makes this a cost-effective voice communication solution as well. Mumble is also customizable through web interfaces or third-party software.
Microsoft Teams
If most of your workday is spent on Office365, Microsoft Teams and its alternatives might be the ideal communication solution for your office. This tool features chat, voice calls, group calls, video, file sharing, and great Office365 integration.
Microsoft Teams is free to use and offers group meetings up to 60 minutes and up to 100 participants per meeting. You also get unlimited chat, file sharing, and 5GB of storage.
They also offer plans for $4, $5, and $12.50/month per user. These plans up your storage space, participants, and meeting length. They also improve security, customer tracking, and more. You'll also get more Office app integrations with the higher-tiered plans.
Skype
Skype is one of Discord alternatives that features audio and video calls, texting, file sharing, and more. Skype is simple to use and can be ideal for teams that don't need bloated software and would rather have one tool that is exclusively used for communication.
Skype shines with its audio and video calling services. Chatting with employees or clients worldwide has never been easier than when using Skype.
Other key features include screen sharing, recording subtitles, calling landlines, and smart messaging. You can also get a local phone number while using Skype.
Tox
Are you worried someone is listening in on your conversations?
Tox is a communication tool that takes your privacy seriously. Everything performed in Tox is 100% encrypted using open-source libraries.
Inside the app, you'll find plenty of features, including instant messaging, voice, video, screen sharing, and file sharing. There are also plenty of tools for groups, including group chats.
What sets Tox apart is its distributed nature. There are no central servers used, meaning they can never be raided, shut down, or forced to turn over your data. Your data is safe and secure while using Tox.
The app is also free for use and can be modified and shared by users.
Ventrilo
Ventrilo is one of the most successful VoIP software projects ever and is often emulated by its competitors. If you've ever played games online, you may have needed to use Ventrilo in the past.
Today the app offers incredible sound quality, surround sound acoustics, and special sound effects. It is also extremely CPU efficient and won't interfere with the other applications running on your computer.
The app is ideal for businesses that don't need integration with other apps and are just looking for a lightweight group communication tool.
Viber
This Discord alternative gives you plenty of the same features. Viber offers secure calling, video calls, instant messaging, file sharing, and group conversations.
Part messaging tool, part social media platform, communities in Viber give users a way to find pages that match their likes and interests. Setting up a community for your business takes a few clicks, and you'll have your team up and running on the app in no time.
Security is provided by end-to-end encryption, meaning all your messages and data are always safe when using Viber.
The app also offers trusted contacts that ensure you only chat with verified users in your team.
Viber also offers a wide range of business and marketing tools that can help you advertise, promote products, and interact with clients.
HeySpace
HeySpace is collaboration software that combines project management tools with communication tools. HeySpace gives users direct messaging, conversations, collaboration tools, and more as a communication tool.
HeySpace is free to use for up to 5 users, so it's an ideal solution for small teams on a budget. You get 10GB of storage and unlimited chats, tasks, and projects while using the free service. Premium accounts are $5/month and grant you unlimited storage.
Other upgrades include new views, video calls, tagging, and recurring tasks.
For small companies that need both a communication tool and a project management tool, HeySpace is a great alternative to Discord.
Confluence
Atlassian first developed Confluence in 2004. Since then, they've kept up the pace for collaborating, creating, and organizing work all in one place.
One place where Confluence shines is that it allows users to integrate third-party applications, other Atlassian platforms, and Jira software into Confluence so that projects are easier to streamline. The team also boasts that there's a Confluence template for anything a user may want to do.
Confluence has better project management and communication software than Discord, but Discord's file sharing and management systems are somewhat better.
Updates within Confluence don't get lost as easily when users get updates in their home page feed and emails. However, with all the integrations, some components can be clunky to use and configure on the page, and you may run into integration issues that result in lost time or work.
Confluence is always free for ten or fewer users, but it has fewer features and only 2GB of storage. The Standard plan is $5.50/month per user and includes more features with 250GB of storage. Premium is $10.50/month per user and consists of all features with unlimited storage.
RaidCall
RaidCall was more popular in the early 2010s before Discord came on the scene with better marketing. However, RaidCall still exists. It's simple and intuitive, making it perfect for people who don't want to learn a complicated app. Another bonus is that it's free.
RaidCall is largely about large-scale communication. It supports voice and text chat as well as file sharing. Its ability to support up to 100,000 users in a single group and integrate polls has made RaidCall more popular with millennials and younger generations.
The platform also allows you to share YouTube videos, chat within different groups, watch embedded Twitch, and sync with your Facebook account. The application also includes voice recording options.
The main negative is that it doesn't have the project-management infrastructure that many businesses want to have in Discord alternatives since it's mainly geared toward gaming.
What Discord alternatives are best for your business?
When choosing the best Discord alternative for your business, you should consider your needs and budget.
As you can see from this list, each of these products offers a wide range of features. Some are simply voice call replacements, while others are fully-integrated communication and task management software.
You should look for the most important features for you before picking an option.
Smaller businesses also have different needs. If you only have five employees, some of the free options on this list will be fine for your business. Of course, if you plan on hosting video conferences with hundreds of attendees, you will need to invest in one of the higher-cost options.
Other things to consider are the applications' security features, cloud storage, app integration with other software, and ease of use.
Discord Alternatives in Review
As we covered the best Discord alternatives, we hope one meets your needs. Each one has a unique feature set, and many can provide a wide range of functions. If you're set on using this communication tool, make sure to perfect your Discord image size to keep your profile looking its best.
We found these options to be the best alternatives to Discord for single users to huge corporations. Still confused? Here's a link to a beginner's guide on Discord. It provides plenty of info for users new to online communication tools.
Modern online communication is incredibly safe, thanks to dedicated programmers and engineers. Here you can learn more about end-to-end encryption in messages and how they provide security.
We hope this list of discord alternatives is informative and will help you find the perfect communication solution for you or your business. Whether you need to video chat or share files securely around the world, one of these Discord alternatives should be perfect for your needs.