The way we communicate as a population has changed. Text messages are an everyday staple. Platforms like Facebook Messenger and WhatsApp are increasingly popular in our social lives and business communication apps at work. When was the last time you 'called' home because you were going to be late?
In fact, people across all generations prefer to message than call or email when chatting one-to-one or with a group. With 65% of millennials and 63% of baby boomers choosing messages as their preferred choice in a Nielsen Facebook Messaging Survey.
This trend can be seen in the business world too. With the number of small businesses using collaborative chat apps increasing from 42% in 2016 to 58% in 2018. And 38% of medium sized business to 61% in 2018. And there is good reason for this. Business communication apps fit well with the changing nature of the workplace and they have a number of benefits in general.
Business communication apps, why they are a good fit for the future
The workplace is changing
The nature of the workplace is shifting. More and more positions are remote and strict 9 -5 office hours aren't as common as they used to be. With 77% of millennials saying they would be more productive in a flexible workplace.
Business communication apps provide a flexible platform for meeting the needs of these workers. They ensure that you don't have to be present for physical meetings. And you can get instant answers to questions from colleagues without having to pop into their office.
They suit alternative working hours as employees can catch up on threads in their own time, they can set 'Do not disturb' when they are not working and leave replies for co-workers to pick up when they return to work. You can also reply to messages on the move from your phone if the software you use has a smartphone application.
Everything in one place
Thanks to technology there is a wealth of apps, clouds and tools being used by businesses today. As innovations continue it looks as though this is only going to increase. This is good news, but a lot of time can be wasted in projects looking for the relevant documents, instructions or contacts. Using a business communication app ensures that all this information is stored in one place and easy to find. A quality app will allow you to search for documents etc. within your device keeping things simple for you.
Sharing information is easy
Leading on from our last point, it's easy to share information between team members when using a collaboration app. You can share links or upload files directly in a stream or start a new thread, making it easy to find later.
Project management is simpler
Project management can be a nightmare when communication is across multiple channels. Having everything in one place allows you to get a good overview, allowing you to stay on top of what is going on and organize appropriately. It also increases accountability for tasks as team members have to update managers and everyone can see what others are expected to do.
Less time wasted in meetings
It's a problem now and its likely to still be a problem in the future. Wasted time from team meetings. Getting to the meeting place, listening to colleagues asking questions that aren't relevant to you etc. With a team collaboration app, you can access relevant information from anywhere, cherry pick the pieces relevant to you and updates can be made as and when needed. It also gives you the chance to ask questions that you may have not thought of during actual meetings and get rapid responses.
Improves employee engagement
With more distractions than ever in the form of apps and the internet and a demand from employees for the tasks and working environment they want. It can be hard to keep them engaged. HRMorning recommend fun and socialization to give employees a chance to de-stress. You can add a chat stream on your business communication app so employees have a specific place they know they can go to blow off steam, share memes and generally talk about anything unrelated to work.
Which of the following tools can best help in efficient communication management?
Slack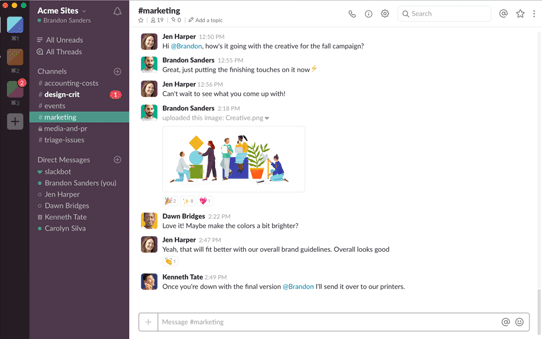 A popular option for internal communication. Slack was launched in 2013 as a solution to frustrating and complicated office communication. Slack communication is organised into channels and you can create them for teams, projects, office locations or anything else that will work for your company.
You can use the Freemium version of Slack or a Standard Plan starts at $6.67 a month.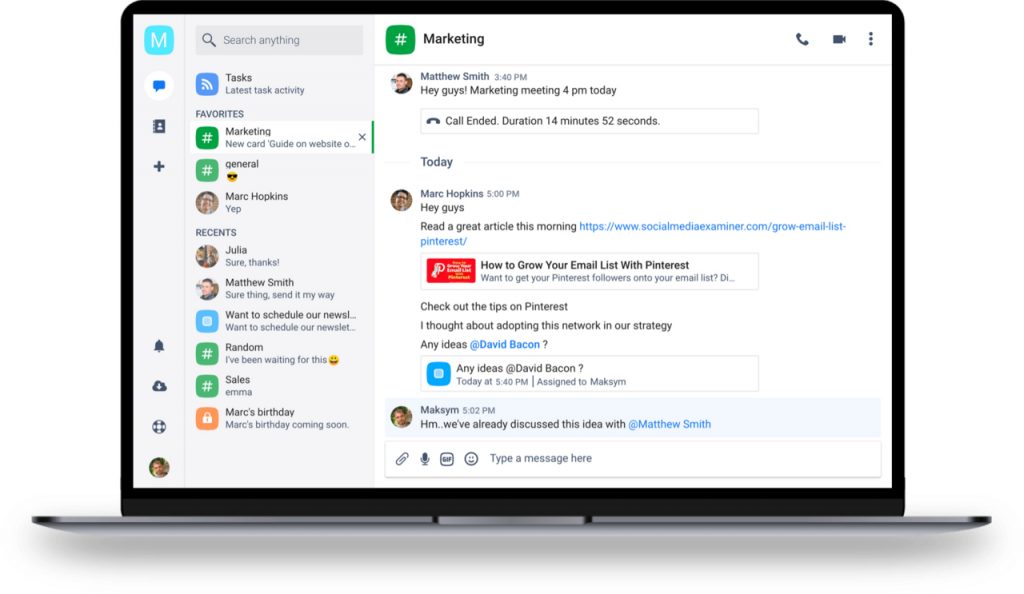 Chanty is a team chat with all the features needed to help increase your team's productivity now and in the future. You can share screenshots, files or links within the app. Set up smart notifications to fit in with a remote position or alternative working hours and integrate third party apps such as Google Drive, Asana and Zendesk to consolidate all relevant information in one place.
You can get a Free Plan (forever) for teams of up to 10 or a Business Plan at $3 per user, per month with additional features and unlimited members.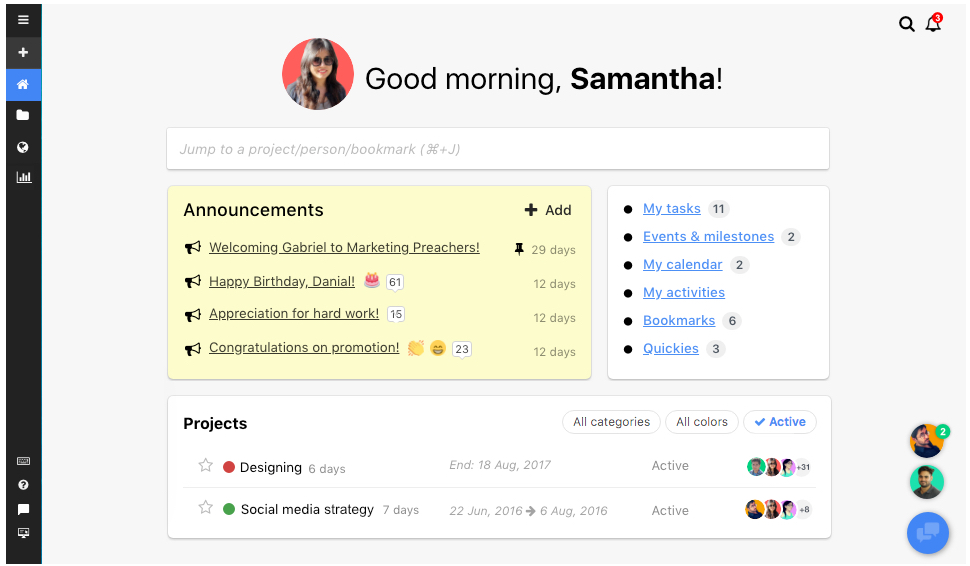 A lot more than just a simple business communication app, ProofHub is an all-in-one project management and team collaboration software with an in-built chat app. You can share files, notes, screenshots, links, and emojis and carry out one-to-one or group conversations.
ProofHub boosts your business collaboration efforts by providing a dedicated space to carry out real-time discussions. The online proofing tool in the software works great to streamline the proofing, review, and approval work for your creative teams. Major features include Workflows, task management, project planning, time tracking, online reporting, and note-taking.
ProofHub comes with a free trial, and the Ultimate plan with unlimited users and projects is available at $89 per month.
Connecteam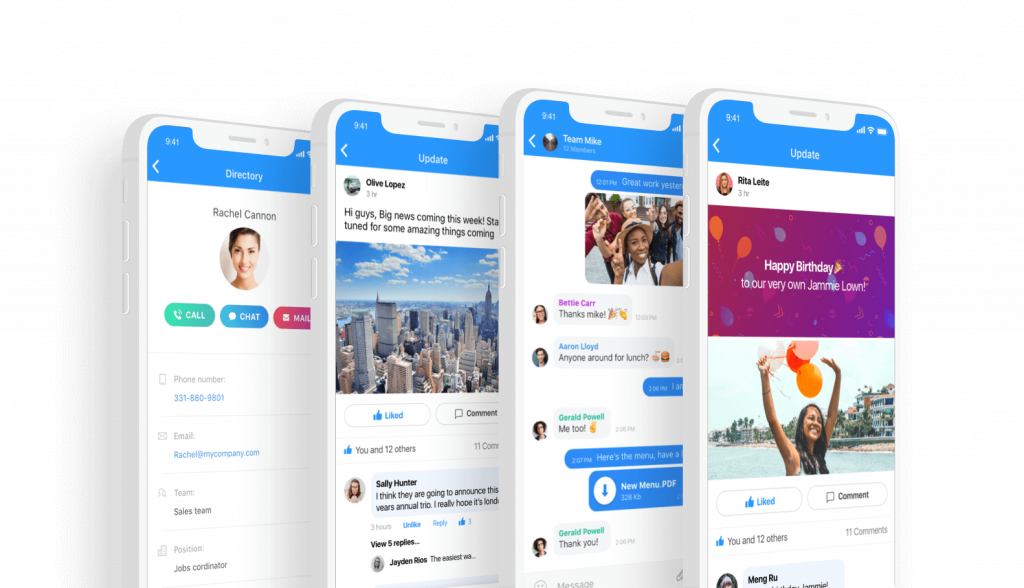 Connecteam is a communication app designed especially for the deskless workforce. With Connecteam, you can reach every single member in your team, and turn communication into a targeted measurable and fun experience.
Connecteam's communication and engagement solution includes all the features you need to effectively communicate with your employees: company updates and notifications, company chat, employee directory, suggestion box, tailored surveys, digital workflows, knowledge center and more.
They offer a free plan for up to 200 users and premium plans that start at USD 29 a month for up to 200 employees.
Basecamp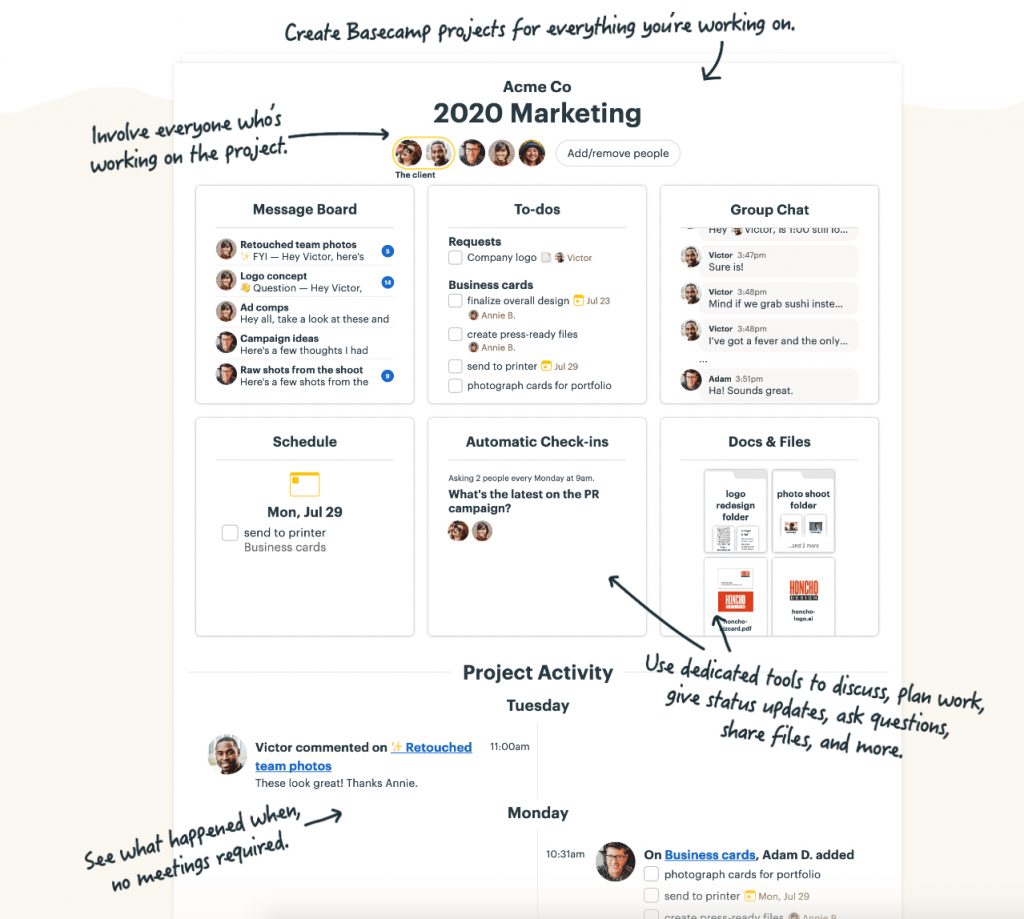 A project management tool with a little extra. Basecamp not only allows team collaboration but it brings clients into the process too. It breaks work up into separate projects, and within each of them will be all the information everyone needs to do their job. Its features include: scheduling tools, to-do lists, message boards, automatic check-ins and real-time group chat with Campfire.
You can try Basecamp Business for 30 days for free but after that it comes in at $99 a month.
Wrike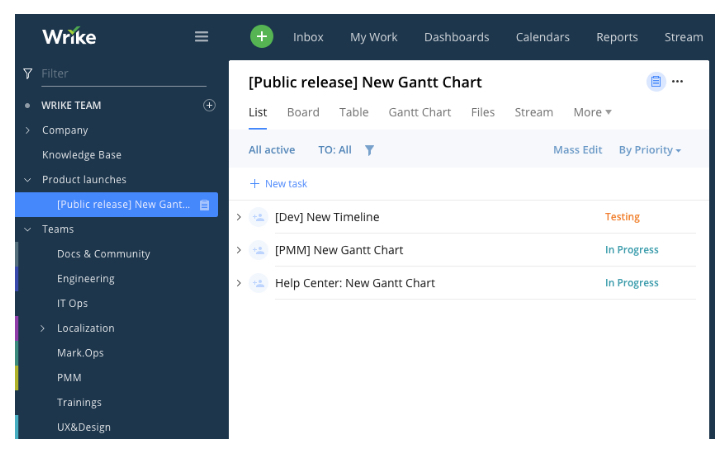 Wrike is another project management and collaboration software, designed to streamline workflow, simplify planning and much more. It comes with a range of integrations such as Salesforce and Github. It comes with real-time status reports for all of your projects to help optimize your process and keep on top of deadlines.
Each plan offers a free trial. You can use a Free Plan for 5 users, a Professional Plan at $9.80 per user, per month, whilst the Business Plan comes in at $24.80 per user, per month.
Bitrix24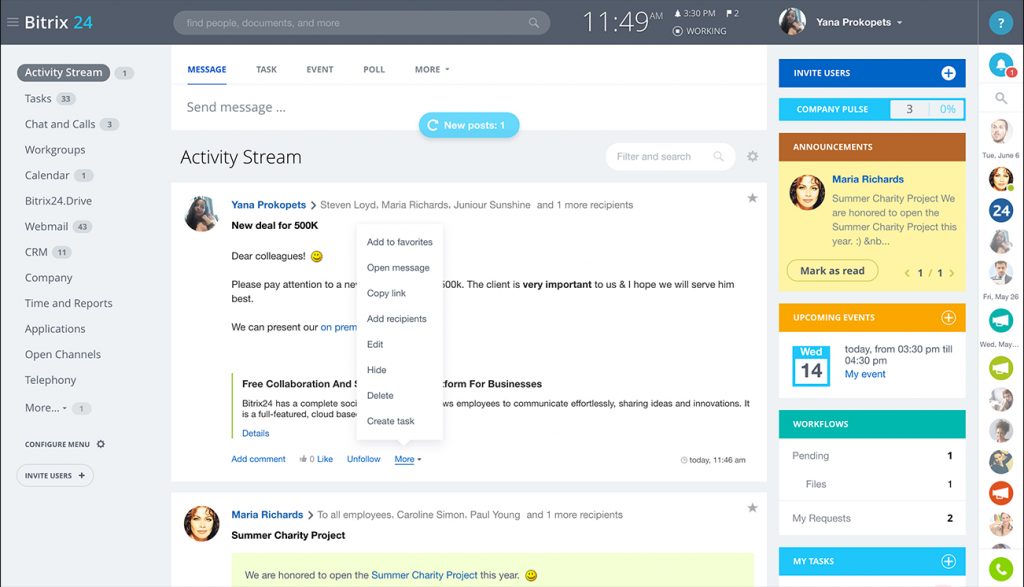 Bitrix24 offers a collaboration, project management and CRM solution all in one place. Over 6 million organizations use the software. It features include: time tracking, Gantt charts and Kanban boards to improve efficiency, project workspaces and team chat for collaboration and a CRM to keep track of marketing ROI and customer support.
There is a Free Plan for up to 12 users. Paid options start at $19 per month with their Standard Business Plan costing $79.20 per month for up to 50 users.
Flowdock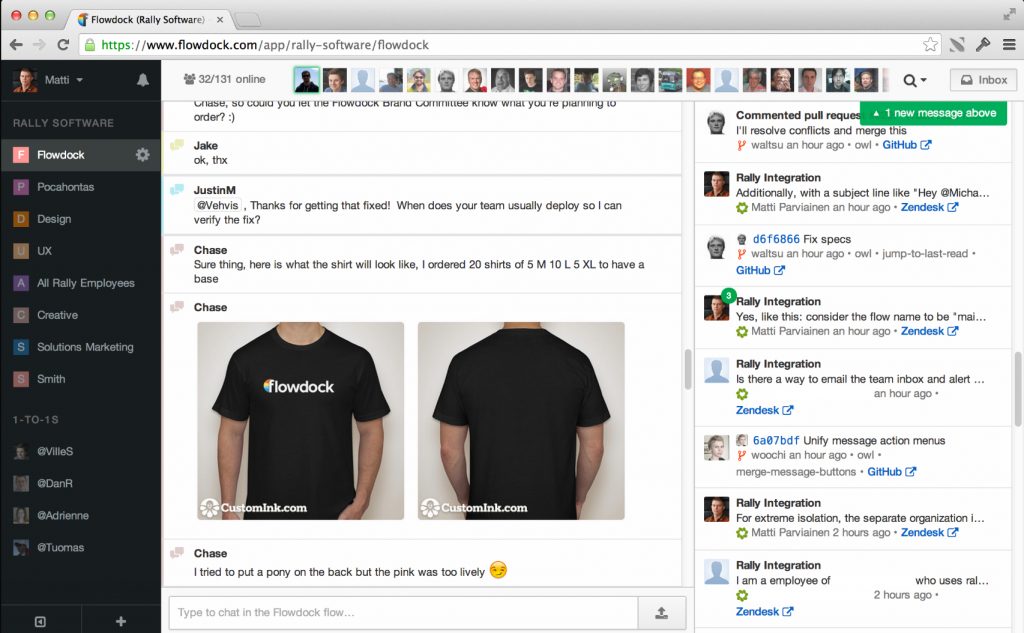 A collaboration app that organises workspaces into "flows". Each flow is broken up into threads. Flowdock comes with a host of integrations from Jira to Trello. And all integration updates can be viewed from one place to keep your team focused. WIth a choice of notification options your team can find a balance between keeping up to date and not being constantly interrupted.
Flowdock offers a free 30 day trial with all the standalone features. Their Standalone option is $3 dollars per user, per month and Enterprise $9 per user, per month.
Blogin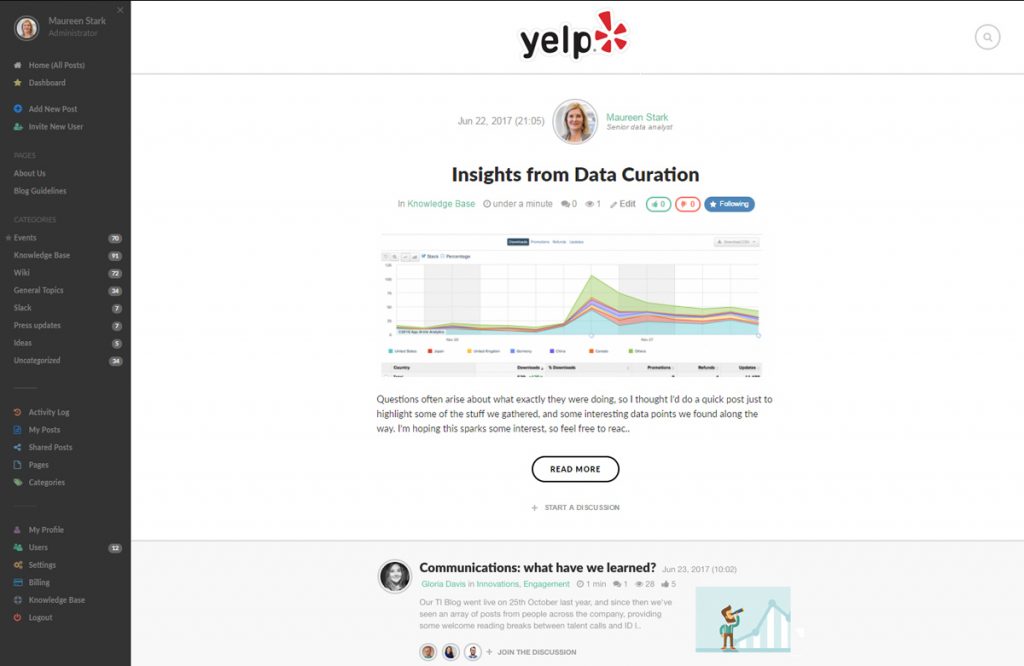 Blogin is an internal company blog that you can use to consolidate important news, feedback and project information in one place. It allows two way communication between you and your team, useful for floating ideas and getting feedback from team members etc. One of its strengths is that it is simple and easy to use.
They offer a free 14-day trial, a Monthly Plan at $39 per month or Annual at $390 (getting two months free).
Asana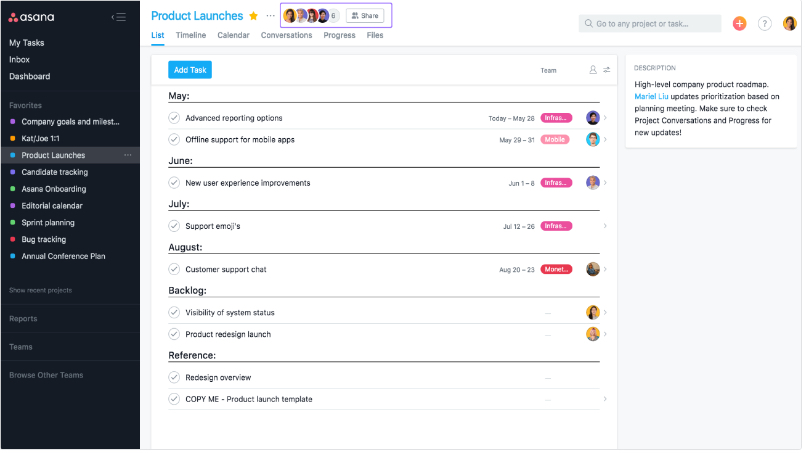 Not strictly a communication app, Asana is a powerful work management platform with communication tools. Asana helps you organize work in a way that suits your business, with lists, timelines and calendars etc. to help projects run smoothly and get finished on time. You can use task comments, and individual and group chat to communicate with members of your team.
There is a Basic Plan available for free. Premium comes in at $10.99 per user, per month.
Flock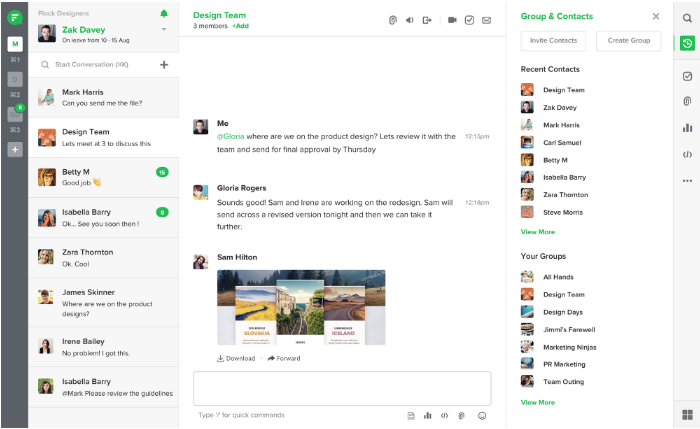 Flock is another cloud based collaboration tool. It has lots of popular features including the ability to tag team members, upload multiple mediums and reminders. It also has an invite 'guests' feature so you can add people from outside your company into the picture, such as freelancers or vendors.
They offer a Free Plan for up to 20 users. And a Pro Plan for $4.50 per month, per user.
Zoho Cliq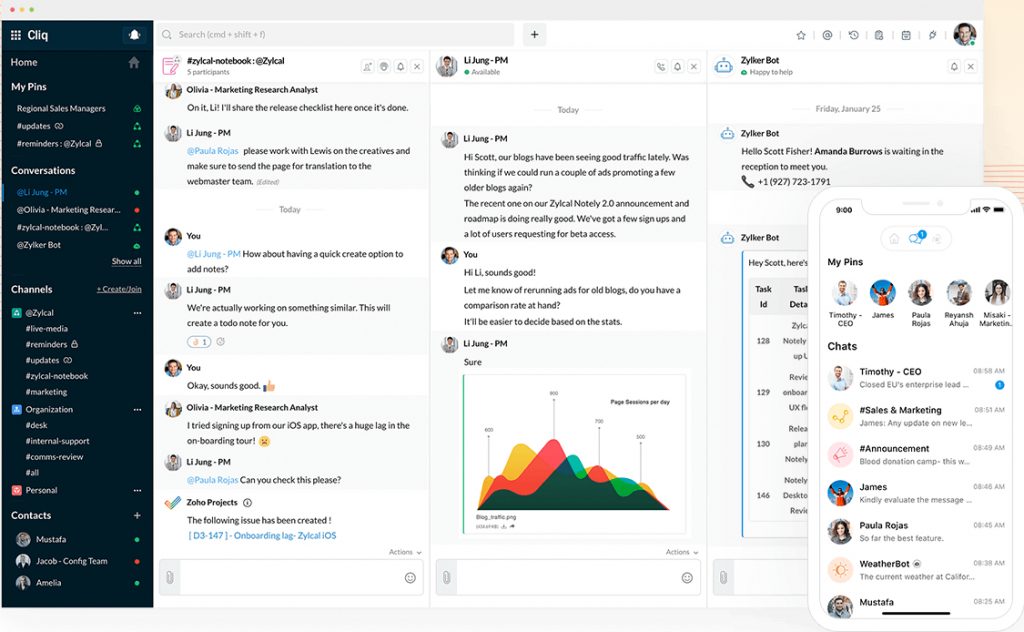 Another business communication app to add to the list. Zoho Cliq offers many popular features to help centralize your workflow. You can join separate communication into channels and search for messages and files. But one of its unique features is that you can separate messages from different channels into columns and view them all on one screen.
They offer a Free Plan for unlimited users or the Unlimited Plan differs in price depending on how many users you have.
Wrapping it up
You can't predict the future but looking at recent trends it looks like workplace culture and the way businesses operate will continue to shift. A business communication app compliments this shift nicely, and it brings multiple benefits to productivity, workflow and efficiency regardless.
What are your predictions for the future of team communication?