Effective communication plans are critical to any business. You need to describe your specific business messages and who should say them across business situations. This can help ensure your staff and stakeholders take your desired action. The result is that you reach your communication goals.
The thing is, certain business situations crop up more than once. So, if you write about what should be said every time your firm has a marketing campaign, you might have to write three long reports in a single month or four or five, depending on the campaigns you run during that period.
Writing about the same things all over again is time-consuming. It can take your attention away from other, more important business activities.
That said, the question is this: Is there a way you can announce communication strategies without wasting that much time in these repetitive situations?
Yes, you can! Let me introduce you to the business communication plan template.
What is a communication plan template?
A communication plan template is a pre-written document that outlines your business messages across different situations. They say who is responsible for each communication task in the overall communication strategy.
When you have a template ready, you can disseminate your strategy to your staff or other stakeholders quickly and effectively. After all, all you need to do is fill out the variables and hit send.
You shouldn't, of course, just get any kind of template. Good business templates for communication plans should help you get your message across. Whether you send your template via team communication tools or offline, after reading it, everyone involved should know exactly what to do to achieve communication goals.
But where do you get these templates?
The good news is, there is always a good communication plan template at your disposal. I'll share some of them with you in the next section.
6 Communication plan templates for businesses
From communicating changes in management to announcing exciting new product launches, here are six message templates you can use for your different business communication goals.
1. Change in the management communication plan template
You need to announce any management change in a business or a project. After all, if employees don't know to whom they should report, any existing workflow can be disrupted.
A change in management communication plan should detail the information that you will communicate to stakeholders and employees. The main message, of course, is the change in management. The tone of your message, however, may vary across your different target audiences.
For instance, you might need to be more reassuring when announcing the development to the rank-and-file employees. When doing the same with upper management, you might have to sound firm.
The purpose of the communication plan is to help everyone involved in the dissemination of the message understand their respective roles. Effective communication of the details of the handover, in turn, will help convince people about the benefits of the change.
Here's an excellent template for change management communications.
The template specifies the different stakeholders, the communication methods, the frequency, and the responsible parties for the communication task. It also has room for notes. The more specific your communication strategy, the more effectively the change in management will be communicated.
2. Marketing communication plan template
A communication plan is critical when you're running marketing campaigns. After all, at the core of effective marketing is effective communication. You need to know how to communicate with your different audience segments so you can drive them to action.
But your potential customers aren't the only people you need to speak to when it comes to your marketing efforts. Your plan (and template) should include how you should address media partners, too, especially if you're holding events you'd like to have covered.
Check out the marketing communication plan template below.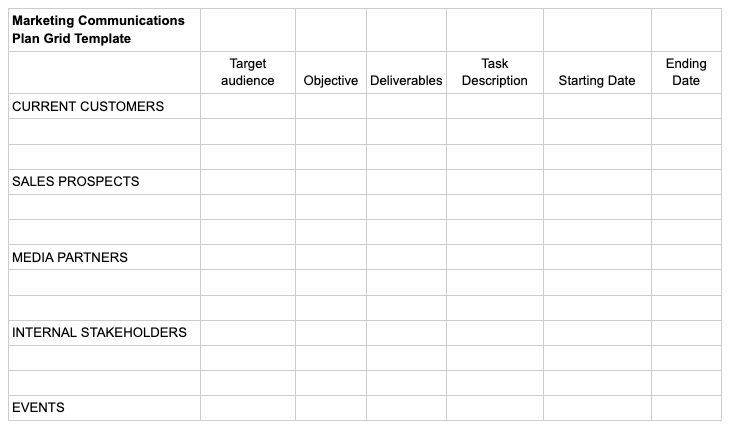 The key to creating a good communication plan is to look at your marketing campaign holistically. This way, you can determine the types of audiences that require different communication approaches.
The platforms used for disseminating your messages should be specified, too. For instance, when talking to event coordinators for a marketing event, your preferred platform could be email or secure messaging app. When talking to your current customers, your preferred platforms could be social media, email, and your website.
If you're planning to use marketing automation tools for your marketing campaigns, list them in your plan as well.
3. Product launch communication plan template
Launching a new product is exciting. A good product is half of the success equation. The other half requires a team working together to ensure proper communication of the product launch. After all, if you don't get to communicate your launch, you can't expect to generate sales, at least not as immediately as you would have wanted.
This is where you need a product launch communication plan.
Your template should have fields for the different product launch messages you'll disseminate. For instance, you might decide to send a product feature kit to your customers. As for the media, you might decide to send them a press release instead. You'd need to specify the content of each of these product launch messages in your template.
You'll need to include other specifics, too. For instance, will you use a custom sales email template as part of your email series to subscribers? What tone will you use in your product launch messages to each of your stakeholders?
Here is a product launch communication plan template that you can edit:
PRODUCT LAUNCH COMMUNICATION PLAN
OBJECTIVES
1.
2.
TARGET MARKET
1.
2.
MESSAGING MATRIX
| | | |
| --- | --- | --- |
| Media channel | Message | Target market |
| | | |
| | | |
TEAM MEMBERS
1.
2.
3.
You can customize the template so that it matches your brand colors, just for branding purposes. Then share the document with your marketing and sales teams through email, if you gave them communication tasks as well.
You can just reuse the template for your next product launch.
4. Project management communication plan template
If you think about it, the plans and templates we talked about in previous sections (the marketing communication plan and template, for instance) are also project management communication plans.
There are, however, other projects that aren't covered by the templates we've so far discussed. So, we'll discuss the project management communication plan in this section separately.
In general, a project manager should be clear about what their team needs to do when working together on a project. It's their job to make sure everything is taken care of correctly and on time. The thing is, your team members might not be the only people you need to talk to for a successful project implementation.
If you're designing a website for a client, for instance, you'd have to coordinate with the freelance web designer and that client at different stages of the project. If you plan to set up your own store but don't know how to start a business, you'd have to talk to even more people. You'd need to ask a lawyer about permits, consult a business coach on the best strategies, and then later on ask a recruiter to help you hire the best talent.
This is where a project management communication plan comes in. The plan can help you organize your communication tasks that are relevant to the overall project's success.
If you're not the only one coordinating with different project stakeholders, the plan can help your team members be on the same page. Just share the plan with them so they'll know their specific communication tasks.
Here's a great project management communication plan you can use as a template or get inspiration from:
PROJECT MANAGEMENT COMMUNICATION PLAN
Job Details
Client and Brand:
Job Name and Number:
Project Summary
Communication Goals
1.
2.
3.
4.
Stakeholders' Overview
PERSON CONTACT INFO FREQUENCY FORMAT/CHANNEL
1.
2.
3.
Just adjust the specifics and the scope of your communication plan depending on the project type.
As with your other communication plans, you'd need to outline the communication methods and the channels you will be using to contact stakeholders. These could include in-person or video meetings, emails, phone calls, DMs, social media, or any other methods.
Also, include the hows. Will you be providing weekly or biweekly status reports to the client? Will you be talking to your building material suppliers on Wednesday or Thursday? Again, the more detailed your communication plan, the better for you.
5. Strategic communication plan template
A strategic communication plan helps you communicate your organization's vision for the future and its goals. The plan should specify the different ways you can make everyone in the company—from the upper management to the rank-and-file employees—aware of these. The goal of communicating these goals is to motivate everyone to take action so that the company can achieve them.
What are some sample business goals? For instance, you might want to improve your brand's reputation in X months. Or you might want to enhance partnerships with other organizations.
Because business goals, the order in which these should be achieved, and the employees in a company tasked with communication roles change, you need a communication plan template in this situation, too.
A good strategic communication plan template leaves room for the specific goals of the business. It also allows you to easily change each person's communication responsibilities.
STRATEGIC COMMUNICATION PLAN
Initiative/Goal:
Communication Objectives:
1.
2.
3.
4.
Audience:
1.
2.
3.
4.
Key Messages:
1.
2.
3.
4.
The template should also allow you to specify a timeline for the company-wide dissemination of the business goals. Don't just give a general timeline. Everyone involved in the dissemination process should have a deadline to meet. For instance, you can say in your plan that X should have spoken to the senior managers by May. Y, meanwhile, should have informed the rank-and-file employees by August.
That's the only way you can ensure the seamless dissemination of business objectives across the company.
Above is a strategic communication plan template that you can adjust for your use.
6. Internal communication plan template
An internal communication plan ensures your stakeholders, including your team, are up-to-date on what's going on in the company.
The change management communication plan we discussed above is, in fact, a type of internal communication plan. There are, however, other internal communication plans worth discussing.
For instance, you'd use an internal communication plan to communicate new onboarding strategies or workplace arrangements (i.e., a new arrangement that sees half of the workforce working remotely and the other half on-site).
In the first case, a good communication plan template should allow you to specify what tools to use to onboard new employees. It should also allow you to explain the platforms you'll use to disseminate your corporate values and policies to the new hires. You should be able to specify the messages you'll give, too.
Meanwhile, a communication plan template for new workplace arrangements should allow you to specify the team collaboration tools to use. An internal communication plan template will help you with everything you need to keep your team on track.
This template will work great as a starting point for your communication outreach within your organization. It's free and you can print it for use.
INTERNAL COMMUNICATION PLAN
OBJECTIVES AND GOALS
AUDIENCE
MESSAGES PER STAKEHOLDER
The template is quite self-explanatory. First, you'd need to decide what details to share with the stakeholders. Those stakeholders are essentially the people in your company who need to know about those new internal arrangements or policies.
So, the stakeholders in our new workplace arrangement example would be practically everyone in the company. However, your messages would be different for different stakeholders. You'd tell half the workforce to report on-site and the other half to report online.
You'd also have to include in your communication plan template the new policies you'll communicate to the remote workforce (for instance, what time they should be online, how they should respond to co-workers' messages, etc.).
How can a communication plan help you?
Communication plans can help you disseminate the correct information effectively to appropriate stakeholders. Business templates for communication plans, meanwhile, help you create these plans. So, instead of writing them from scratch every time a situation crops up, you just have to fill in the important variables to ensure effective communication of goals.
You saw examples of business templates for communication plans for different scenarios: a change in management, marketing, product launch, project management, strategic, and other internal changes.
Use the templates to your advantage or take inspiration from them. See how they can help you get the right messages to the right people. The other good news? You didn't have to spend too much time writing.