Live chat software has been booming before the pandemic, and will continue to do so for the foreseeable future. Allied Market Research projects its value at $997 million by the year 2023, with a compound annual growth rate of 7.5%. The software-as-a-solution (SaaS) has also evolved beyond the simple chat groups where individual team members meet virtually and exchange ideas. There is more to it, too, than being a virtual avenue that arranges a question-and-answer period between a brand representative and a customer.
Features to look for in selecting the best live chat software
There are certain features and functions that you should look for and prioritize in selecting the best live chat software for websites, or for your own internal corporate use. Remember that they go beyond the basic services that we have come to expect from the usual actual chatting, tagging of members, and transfer of files. Here are some of the more important and unique elements that will make your chat activities stand out:
1. Organize your conversations and history of messages
One of the most irritating aspects of participating in multiple live chat groups is that the conversations can become chaotic and disorganized. It can be nearly impossible to keep track of every message as they accumulate over time. However, with cutting-edge instant messaging solutions, your chat groups can be transformed into a centralized hub that enables you to effectively monitor and categorize conversations. Such tools usually include a search feature that enables you to locate a particular member's recent contributions, a crucial document, or an entire chat thread related to a specific brainstorming session that took place on a particular day.
The search function in instant messaging tools can save you a significant amount of time, perhaps even an hour, that would have otherwise been spent scrolling through many messages. Moreover, this feature can be leveraged to keep track of tasks in a more efficient manner. This goes beyond the typical chat functionality and enhances the accountability of your team members. With just a few clicks, you can monitor the progress of specific tasks among individual team members. You can also directly notify team members of incoming projects by tagging their names or inquire about the status of ongoing tasks.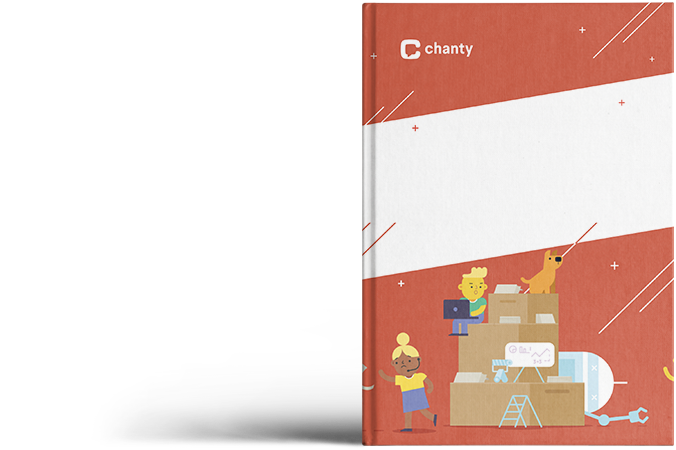 Communication issues at work?
"50 Surefire Ways to Improve Your
Team Communication"
Get eBook
2. Share and collaborate on ideas
The innovative kind of live chat support can become a wellspring of insights, ideas, and campaigns that can captivate both your workforce and your audience. Communication, external, and internal, will always need powerful and persuasive messaging. This happens when you can share multiple content in your group without drowning them with so much data.
You can also place a pin on the articles, videos, and images that you want them to prioritize in reading or viewing. Again, that pin will place your message at the top of their minds, without having to do unnecessary scrolling.
Choose a live chat software that can start a thread for context-based discussions. The discussions that spring from your shared content must be set apart from other conversations. Team members will not stray away from them, or mistake them for something else. The contextual thread also serves to keep one particular idea continually flowing, preventing other loose small chats to break it up.
3. Manage your members
Live chat service providers do not just streamline discussions—they also manage the membership in your group. Let's face it:  sometimes, even in business-related chats, some discussions can get heated, leading to virtual spats and fights. Team members throw themselves into an online brawl. The good news is:  you, as the moderator, are in a position to suspend any or all of them should they not stop or shape up.
When managing larger groups using instant messaging, workforce management becomes increasingly important. Unlike typical free chat groups, the conversations do not have to be a chaotic free-for-all. There are various ways to exercise control over the chat groups. For instance, you can regulate the level of participation of each member across all your groups. As the leader, you have the power to determine who has posting privileges versus those who are only granted viewing rights.
It's important to keep in mind that workplace dynamics can be complex, and not all colleagues will get along with each other. In some cases, there may be unspoken feelings of resentment, envy, or anger between team members. As the moderator of an instant messaging group, you can prevent those simmering tensions from boiling over into online conflicts by carefully managing the viewing parameters of your members. For instance, you can choose to prevent embattled co-workers from seeing each other in any group if you believe it would be best for the overall harmony of the team.
4. Synchronize with other third-party apps
When using instant messaging tools, you can receive notifications from third-party apps that keep you informed about the progress of your team members. These third-party apps include social media platforms, file-sharing services like Dropbox, web-based email services, and cloud storage solutions, among others. By receiving these notifications, you can stay updated on the tasks that your team members are working on and relate them to the progress your team has been making overall.
For example, the live chat software notifies you that John just uploaded his infographic to the chat group—just right in time for your own internal deadline. Had he uploaded it an hour after the deadline, the chat notification would have alerted you, too.
Another advantage of integrating your live chat software with your third-party apps is that it saves you time and preserves your focus. Again, there would be no need for you to switch from one third-party app to another, then back to the live chat software, just to monitor the activity. Everything can be seen in one platform. Your concentration does not falter even as the work moves forward.
5. View all the chat-related activities in one dashboard
Live chat software gives you an overview of the dozen chats and conversations you are monitoring. This holds true for the files you pinned, the threads you are prioritizing, and the members who have pressing deadlines to fulfill. At one glance, you see the phase that has been completed, and the others that still have to be fulfilled. Its board view also enables you to follow up on these activities and nudge the members who need a reminder.
Using instant messaging, you can create and manage the settings of your chat group activities. For instance, you can adjust deadlines to be more flexible if certain challenges are impeding workflow. Additionally, you can call attention to tasks that are being neglected and prioritize them accordingly. This way, you can easily update the status of the projects that each team member is working on, keeping everyone on the same page and helping to ensure that the team stays on track.
The efficiency that live chat software brings has made it a must-have, especially with remote teams. It makes the list of top work from home communication tools from FinancesOnline, especially during the pandemic crisis. Managers who keep in touch with dozens of people working in different locations can use it as a central hub.
What live chat software can do for your business
Chat room software has evolved to become an essential platform that can organize workflow, manage projects, and boost productivity. It can actually facilitate discussions and make the transfer of information to the members comprehensible and manageable. Ultimately, the creation of ideas and implementation of deliverables can make your organization more robust
These constant, clear streams of dialogue formed by live chat can also encourage your workforce to become more collaborative. ClearCompany's research says that organizations with effective communications strategies have a 50% chance of suffering a low staff turnover.
One by-product of the chat-related harmony is the increase in employee engagement and retention.