You take on a project and start working on it right away.
But, as you don't have a project management tool in place, it becomes a little difficult to streamline the entire process and ensure efficient team collaboration.
This makes you think that deploying a tool is the best way to ensure effective project management. But which one is the right one for you?
When it comes to project management, most of the businesses trust Wrike. It is a globally-renowned work management and collaboration tool known to boost productivity.
Though Wrike is an amazing tool, it has some shortcomings.
One of the major shortcomings is that Wrike doesn't come with an inbuilt invoicing system.
It has no invoicing features, therefore it becomes really difficult for you to keep track of project budget and client payments.
The good news is that Wrike is not the only project management tool available in the market.
We have curated a list of the best Wrike alternatives that you can consider. We found our top Wrike competitors after analyzing factors such as features, pricing, ratings, and reviews. Check it out!
ProProfs Project is one of the best project management tools and number 1 on the list of Wrike alternatives.
It is an online project management and collaboration software that is easy-to-use. In 2006, the software was rolled out. Using this tool, you can:
Organize all your projects from a single place
Create projects, define project goals, and set deadlines easily
Delegate tasks to team members and track their progress anytime, anywhere
Create insightful reports and accurate invoices effortlessly
ProProfs Project comes with an intuitive interface that doesn't require any technical expertise. Your team can understand how to use this tool in just 2 minutes. It has integration with other productivity apps along with file sharing apps such as Dropbox.
The software has received 5 out of 5 ratings from players such as G2 Crowd and Capterra.
Who can use it?
Businesses of all sizes ranging from solopreneurs to large-sized businesses can use this software for efficient project management.
Features
Shared Calendar
Team Collaboration
One Dashboard View
Task Dependencies
Gantt Charts
Timesheet Entry
Reporting & Analytics
Invoicing
Pricing
The software comes with a subscription-based model priced at $ 19/month for small businesses (up to 10 projects), $49/month for medium-sized businesses (up to 50 projects) and $199/month for large enterprises (unlimited projects).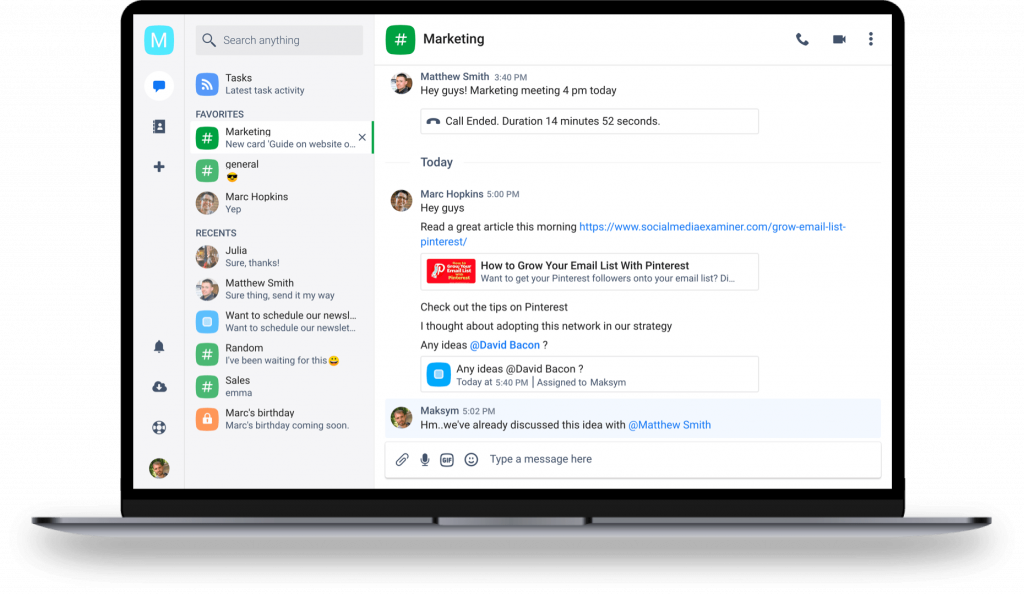 Chanty is one of those management tools that can help project managers to boost their team's productivity.
This software delights its users by ensuring these:
Team communication
Team collaboration
Painless organization of team activity
Thanks to its easy-to-use interface, chanty gives a seamless user experience. What's more, the kanban board view makes the life of project managers far easier.
The software has received ratings of 5 by Capterra and G2Crowd.
Who can use it?
All kinds of businesses can deploy this tool to hit better productivity levels.
Features
Threaded replies are there to preempt any sort of confusion.
A powerful dashboard helps to keep a close eye on the progress of tasks.
The luxury of file sharing promises a better workflow.
Granular permissions make sure every individual gets work-related authority as per the designation and expertise.
Pricing
The pricing of chanty starts from $3/user/month.

3. Asana
Asana is a user-friendly project management software. This tool was launched in the year 2008. Those looking to escape from the complications of using a complex tool like Wrike can try this tool.
Asana simplifies the day-to-day operations of businesses. It helps in:
Organizing projects
Setting priorities
Allocating tasks
Establishing project timelines
Sharing of information
Tracking of the project.
It has received 4.4 ratings in Capterra, 5 ratings in Finance Online and a rating of 4.4 in Software Advice.
Who can use it?
Though it can be used by businesses of all sizes, it is ideal for small businesses with basic project management needs.
Features
· Visual project plans to see the progress of projects with time
· Multiple workspaces and task dependencies
· Easy accessibility from multiple devices
· Integration with other apps
Pricing
The software is available in three versions-free, premium and enterprise. The premium plan starts at $9.99/month (up to 15 members). Costing for the enterprise plan varies according to business needs.
4. Instagannt
Instagantt is an online project management software that helps teams plan, schedule and keeps track of their projects. This Gantt chart method tool was created in 2013.
The software relies on an intuitive and easy-to-navigate interface that quickly allows its users to streamline their work, thanks to features such as automatic project scheduling, estimated hours and costs, and the ability to create projects from different types of Gantt chart templates based on their needs. 
This online Gantt chart creator is an ally to any team out there struggling to organize, visualize and keep track of their work status, and it has received a 4.3 rating on Capterra and a 4.8 rating on G2Crowd.
Who can use it?
Instagantt is ideal for teams, businesses, and projects of all kinds and sizes.
Features
Drag-and-drop functionality for task creation
Workload management and board view
Unlimited workbooks and projects
Task dependencies, milestones, progress checkpoints, deadlines, and priorities.
Project budget management
Team communication and collaboration
Inbox for comments and notifications
Shareable options for clients and stakeholders
Mobile version
Integration and two-way synchronization with Asana
Pricing
Instagantt is available in single and multiple-users plans. It offers a $7 per month solo plan, or a multiple-user plan that allows you to pay $5 per user, per month.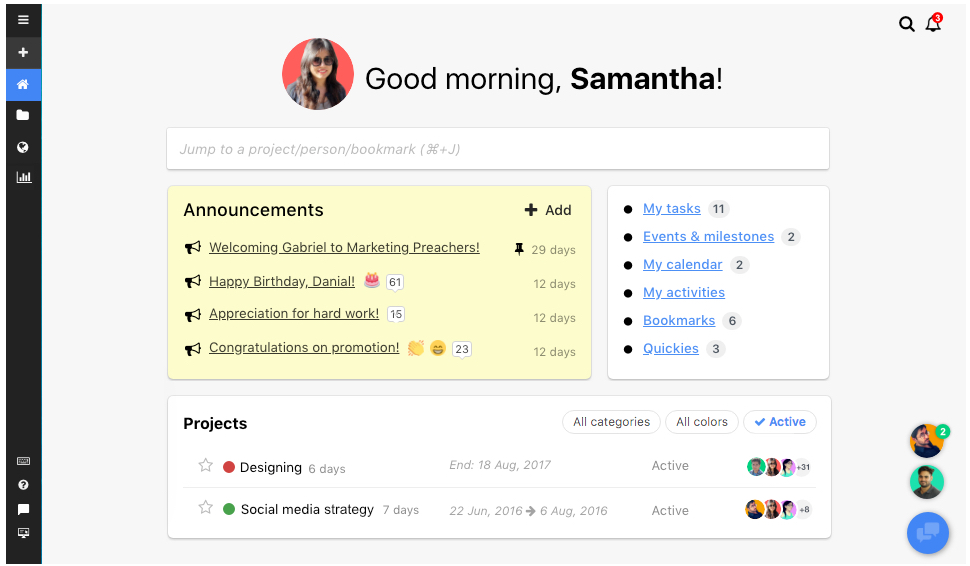 ProofHub is an all-in-one project management tool that helps teams through every single phase of a project — planning, organizing, collaboration and tracking progress. It is both a task and project manager that also helps with making team and client communication easier than ever.
Using this tool, you can:
Put all your teams, clients, and projects under one roof
See tasks in multiple views: Kanban boards, List view, Calendar, Gantt chart (timeline view)
Track progress using project, resource, workload reports and even custom reports
Assign tasks to multiple people, set deadlines, set estimated time
Attach files and organize them at one place
ProofHub also allows you to turn off certain project tabs and get a clutter-free workspace that has only the things that you want to see. This feature called 'project tabs' makes ProofHub the best choice for teams who do not only find Wrike's interface less interactive, but also find it incredibly overwhelming.
Who can use it?
It is ideal for any organization — small or big — that needs to get work done. It is suitable for all types of businesses, remote teams, and even cross-functional teams.
Features:
Custom workflows
Kanban boards to drag and drop tasks through various workflow stages
Gantt charts
Calendar
Integration with FreshBooks, QuickBooks, Google Calendar, iCal, Box, Dropbox, Google Drive, and OneDrive.
The software has received 4.3 from Capterra, 4.5 from Software Advice and 4.5 from FinancesOnline.
Pricing: Ultimate Control plan is for $99/month (limited time offer) with a 10% discount on annual billing. There is no per user fee.
6. Basecamp
Basecamp is an advanced online project management tool. It was founded in the year 1999.
This project management software facilitates users to:
Create projects
Plan & allocate tasks and resources
Schedule projects
Share files
Create a to-do list.
Basecamp is a good Wrike alternative for those who want to get away with Wrike folders. It contains long documents where you can organize tasks in a top-down hierarchy.
It has a simple interface that mitigates training time. Finance Online gave it a rating of 5 while Capterra gave it a rating of 4.3.
Who can use it?
Freelancers, Entrepreneurs and small businesses can use Basecamp to manage their projects seamlessly.
Features
· Multiple templates for ease of users
· Facilitates easy resource allocation and forecasting
· Compatible with mobile devices
Pricing
The pricing of Basecamp starts at $99/month supporting unlimited projects and users.
7. Jira
Jira is a robust project management tool for software development. It was founded in the year 2002.
The software facilitates agile team to:
Create a roadmap of the project
Track project execution
Monitor all project phases
It has a simple, easy-to-navigate and intuitive interface. Regular updates are rolled out by the company to enhance the user experience.
The software has received ratings of 5 by Finance Online and 4.3 by Capterra and Software Advice.
Who can use it?
The software is great for the IT development team as it is loaded with different functionalities for efficient project management.
Features
· Issue-tracking and bug-tracking for agile project management
· Supports Hybrid, Scrum and Kanban model
· Flexible deployment options
· Customizable to fit any workflow
Pricing
Jira comes with variable pricing ranging from $10/month (up to 10 users) to $ 300/users (50 users).
Monday is a popular and award-winning project management tool. This task manager came into inception in the year 2014.
It acts as a collaboration, knowledge-sharing, and communication tool. The software is customizable and facilitates fast onboarding for the team.
It is rated as the best project management software of 2019 by Finance Online. Capterra has given it a rating of 4.7, and Software Advice has given a rating of 4.6.
Who can use it?
It is ideal for small to midsize businesses. It is suitable for all types of businesses and cross-functional teams.
Features
· Drag-and-drop interface for easy navigation
· High-level views
· Customizable workflows
· Project dependencies
· Integrations with third-party applications
Pricing
Monday comes with four types of plan-basic, standard, pro and enterprise. The basic plan is priced at $39/month. The cost of a standard plan is $49/month, Pro plan is $79/month and users have to request for a quote in the case of an enterprise plan.
9. Trello
Trello is a leading web-based project management tool. This collaboration software was founded in the year 2011.
It has a unique concept of boards and cards. The boards represent projects while cards represent tasks within projects. Cards contain lists that help in tracking the progress of projects.
Using boards, you can create and prioritize actions; define workflows; allocate tasks and map the progress of the project.
Trello has received ratings of 4.5 from Software Advice, 5 from Finances Online and 4.5 from Capterra.
Who can use it?
Trello can be used by small and mid-size businesses. It is best for agile application development team.
Features
· Drag and Drop functionality
· Accessible from multiple devices
· Natural Language Processing
· Integration with different apps
Pricing
It comes in three plan-free, business class and enterprise. The cost of a business plan is $9.99 per user/month while that of the enterprise plan is $20.83/month (up to 100 users).
10. ClickUp
Founded in the year 2016, ClickUp is intuitive project management and collaboration software. It is a cloud-based tool that allows users to create projects; allocate tasks and monitor the progress of projects.
The software offers a user-friendly interface. It comes with a single and centralized dashboard. In Clickup, projects can be organized on the basis of hierarchy.
It got ratings of 5 by Finances Online and 4.7 by Capterra and Software Advice.
Who can use it?
It is suitable for all types of users and the size of the business.
Features
· Customizable workflows and statuses
· Handles agile methodologies like Scrum and Springs
· Facilitates comments and discussions within the task
· Machine Learning capability
Pricing
It is available in a free and unlimited plan. The cost of an unlimited plan starts from $5 per user/month.
11. Gantt Pro
Gantt Pro is a cloud-based project management tool. It was founded in the year 2015. The tool uses the Gantt Charts approach.
The software allows users to create tasks; allocate to team members; monitor tasks; set dependencies and track their progress visually. It has an intuitive UX design so users can start working on the software immediately.
It has ratings of 4.7 in Capterra, 4.65 in Software Advice and 5 in Finances Online.
Who can use it?
From solopreneurs, small businesses to mid-size businesses, everyone can use this tool.
Features
· Gantt Charts for visual tracking
· Drag and drop functionality
· Comments and discussions of tasks
Pricing
It is available in individual and team plan. The individual plan is priced at $15 per user/month and the team plan starts from $5.9 per user/month (in case of 15 users).
12. Active Collab
Launched in the year 2007, Active Collab is a collaboration and work management app. It is integrated software offering work management, time tracking and billing.
It is an easy-to-use online software. It organizes all data, projects and tasks in a single place to keep your team on the same page. The software facilitates users to take full control over data by opting for a self-hosting license.
It has got ratings of 4.5 in Finances Online, Capterra and Software Advice.
Who can use it?
Businesses of all sizes ranging from individuals to large-size companies can use this tool seamlessly.
Features
· Filters based on assigned users, due date, custom label, etc
· Gantt timeline to facilitate planning
· Shared calendar for seamless collaboration
Pricing
It is available in the cloud version with the pricing of $25/month and a self-hosted version with prices starting from $ 499.
Closing Note
Whether you are looking for simpler and user-friendly Wrike alternatives or you are looking for economical Wrike competitors, you can try these tools.
In case you are looking for robust communication software that is user-friendly, then you can consider Chanty. It is a collaboration tool that comes with live chats for seamless communication.