If you've been following Chanty, you know that a lot of our success with marketing can be attributed to SEO. In fact, we've written about our techniques extensively in publications such as Hubspot. Building links remains one of our main tactics for getting new visitors and users to this day.
We don't stick to just one method of link building; we try out new ones all the time. From guest posting to lost link recovery and getting links from "borrowed" images, we've tried it all. Most recently, we decided to build links using the HARO platform. Using this approach, we've been able to consistently get 5–10 backlinks every week and even get published on websites such as American Express and Business Insider. Here's how we use HARO to get high-quality backlinks.
What is HARO?
For those unfamiliar with this platform, Help a Reporter Out is a free platform for journalists. They sign up to get sources for their newest story, article, interview, case study, research, or whatever they are working on. They ask questions, and you can answer them as a source. The selection of questions is very wide and spans across industries, so you can always find something to reply to.
You can join HARO either as a source or a journalist, depending on your goals. If your aim is to get PR exposure, links, traffic, and leads like us, you want to sign up as a source. Here's what you need to do.
Getting started with HARO
First, you want to get an account on HARO and sign up for emails. The platform sends emails three times every day at specific times, although the time you will get the emails varies since the mailing lists are enormous.
When you get to the signup form, you have some basic data to fill out, including (for some reason) the annual revenue of your company: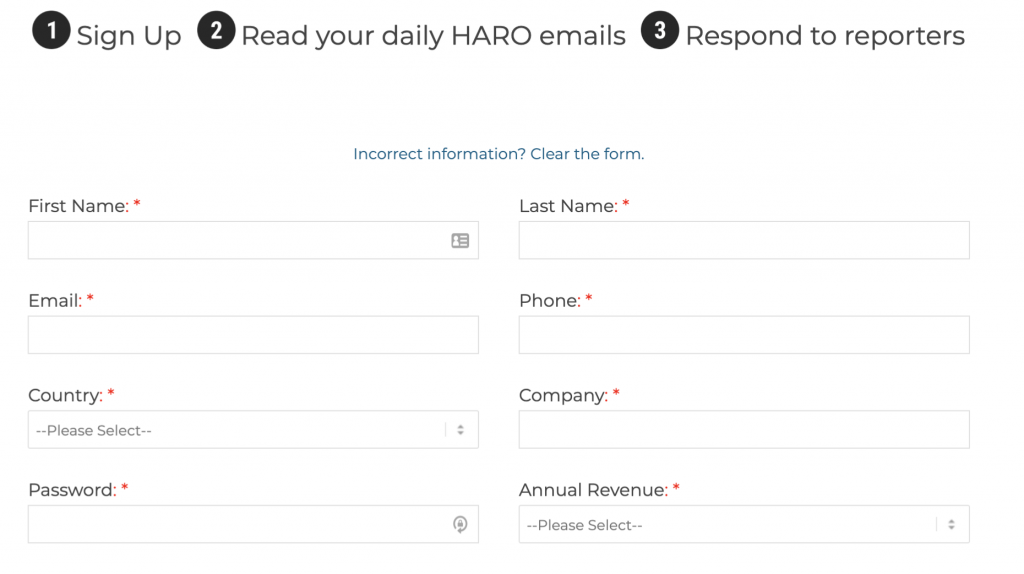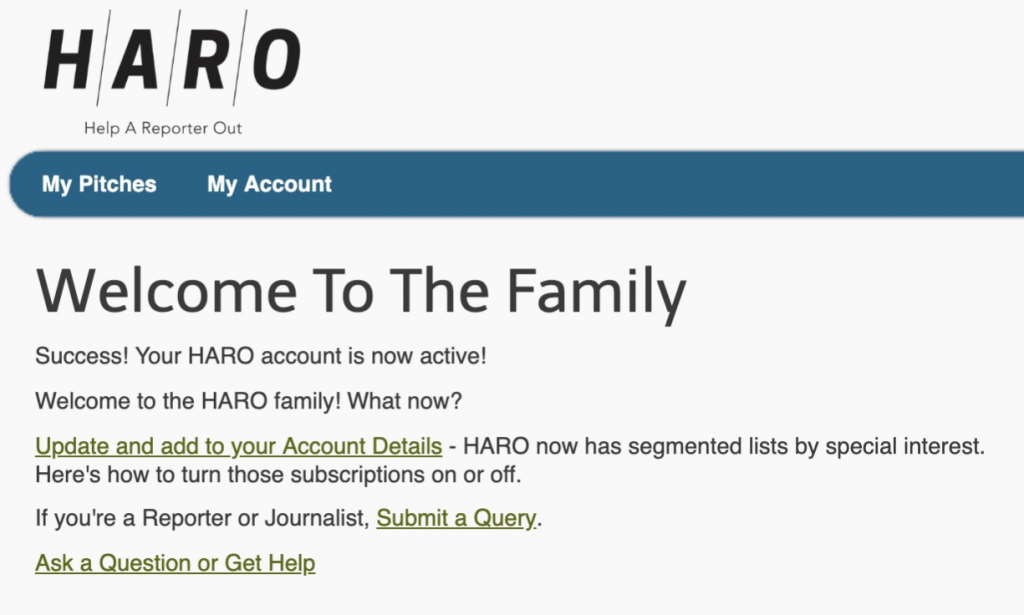 Once that is done, you can move on to your settings to choose your preferences, which is the most important part of the setup. Choose the industries that apply to you so that you only get queries that are relevant to you.

You may be tempted to check everything off, but you will get a lot of emails. We only have 2–3 categories activated at a time, which results in 20–30 emails in each round, with 3 rounds per day.
When we got started, we were subscribed to the Master HARO list and several other lists, which resulted in a lot of doubles showing up. Instead, we are subscribed to the Master HARO list only now, and we quickly scan through the queries every day to find the best fit. However, wading through 100 emails every day can get pretty old, pretty quickly. That's why you need to do the next step…
Set your goals first
Before responding to any queries, it's best to determine what your aim is with HARO. We've used it as a way to get links and that's where our story ends. However, you may want to get more visitors to your site, more leads, more conversions, or some other goal. While we can't make any claims for all of these goals, make sure to carefully weigh out if it's worth investing time in HARO for these efforts, considering you can do something more effective and with a better ROI.
How to get backlinks through HARO
Now that you've registered and entered your preferences, you will start getting emails. In the beginning, two things will happen:
You will feel overwhelmed with the number of emails
You will try to respond to every query you get
Once you get past this initial gut feeling, it's time to save some of your time and maximize your efforts on HARO. First, determine whether the query is relevant to your industry and business. In other words, only respond to those queries where you can provide a relevant opinion and where you have actual hands-on experience.
At Chanty, you'll see us responding to queries on marketing, SaaS, work-life balance issues, public relations, company culture, etc. On the other hand, we won't be responding to queries about food production or organic waste. While we theoretically could get a link from these sources, it's not our area of expertise and chances are, it's not worth investing time in these queries.
Second, you need to determine which journalists and outlets are worth responding to. You will always see the outlet where your query will (ideally) be posted in the emails you get. Once you see an outlet (a website link), head over to the site to check it out.
We're looking at two things: the domain authority (DA) of the website and its monthly traffic. You can check the site's DA with a Chrome extension called MozBar; it will automatically show you the number once you load up the website in your browser. At the moment of writing this article, our own domain authority at Chanty is 40, so we're looking to pitch websites around that number or higher.
You can check the amount of monthly traffic on a website using a tool called SimilarWeb. Just load up the URL and you can see the estimated number of monthly visitors. There is no rule of thumb here, but try to aim for more than 10K monthly visitors.
On HARO, you will also see anonymous queries. These can be a shot in the dark, because it could be a really cool, high-profile resource or just someone who's wasting your time. In fact, many professionals want to remain anonymous and not disclose their contact information, but they will catch up with you later if your response is good.
One way to tell if an anonymous query is worth your time is to carefully read it. Are the grammar and word choice appropriate for a journalist? Is the question thoughtful and does it make sense? Does the query contain any links?
If there are links in an anonymous query, simply click on them to head to the source and if the domain authority and traffic are low, this query is not worth your time.
Before you start responding to queries
The main aim of each query is to get information from you. In exchange for this information, the journalist will give you credit as the source. With this in mind, always have your most relevant information on hand, including:
Your byline (what you do, your company, contact information)
Relevant links (website, LinkedIn, Twitter, etc.)
Headshot (As a file and hosted somewhere online – you cannot send images through the HARO platform, so have a Google Drive link with your image ready at all times)
Your email (they will see it in the header of the email they get, but repeat it just in case)
All queries will require most of these bits of information, so you really should keep them handy.
Speaking of which, all of our pitches are sent on behalf of our CMO, or our founder. Some queries will require responses from people in certain positions (Founder, CEO, CTO, CMO), others will not. However, the idea is that someone in a position such as a CMO will have more authority on a marketing topic than myself as a writer. Ideally, you should have an expert on your team answer a query so you can give a proper, meaningful answer.
You're ready to go
Once you've hand-picked your ideal queries, it's time to start responding to them. Here are some basic guidelines:
Follow all the guidelines in the query and answer the question as best as you can
Answer promptly – pitches that get to the writer sooner have higher chances of getting published
Respect the deadline and mind your time zone
Aim to be helpful and not promote your business directly
Keep it short and sweet (some queries have word limits)
Once you've done all this, you can send your pitch in the format your journalist prefers and all you have to do is sit back and wait. Ideally, you'll soon get notified that your pitch was accepted and published.
After sending your pitch and getting published
Your pitch may have been published but the journalist didn't notify you. Keeping track of all your queries can be complicated, so we use a Google sheet. In this sheet, we have the following data:
The source of the query
In whose name the pitch was sent
The response we sent over
The email of the source (once they respond)

You may think this is all too complicated, but it makes us that much more efficient. We save every response we send so that when a similar topic comes up, we can re-use answers that never got accepted.
We keep track of our published responses using a tool called Ahrefs – we get notified about new backlinks every day. If a journalist has used our pitch and given us a link, we'll see it in our dashboard. On the other hand, they could notify you by email or social media (Twitter, LinkedIn, Facebook, etc.). A lot of times, journalists will even ask you for additional information – to set up a phone or email interview to learn more about your experience. With each response you send, make sure you're ready for an interview.
Whichever the case, thank the journalist for their time and including you in their piece of content. Once you have the link, promote it all over your social media channels, your website, newsletter and wherever you can. To take this one step further, you can also use a tool like Rebrandly URL Shortener to embed retargeting pixels in the links you're using to share the content. What this means is that you can add whoever clicks on that link to your Google AdWords, Facebook, or LinkedIn retargeting audiences — even though they're not even being directed to your website.
Is HARO really worth it?
It depends on your business and your goals. Once you get familiar with the platform and how to scan your inbox for queries, you can find queries and respond to them in about 1-2 hours every day. Depending on what you want to use HARO for, this could be a good time investment or you may find that your time and money are better spent elsewhere.
For us at Chanty, we were able to get 5-10 links every week from HARO, which would have taken considerably more time and money if we were using guest posting. For us, the effort is worth it because the links we get are from high-authority websites and the time we spent building them is considerably smaller than that spent on pitching editors and securing guest posts.
Have you used HARO in your marketing efforts? What kind of results did you get? Do let us know in the comments!