Microsoft and Google have been battling for years to own the future of tech.
Today I'll compare two of their products – Skype and Google Hangouts.
Thanks to building Chanty – a simple team chat, our team had to perform an in-depth analysis of our competitors. We've considered their pros and cons from a customer's perspective and tried to come up with a better, cleaner and more user-friendly chat alternative.
My team and I will share the things we love about Skype and Google Hangouts as well as some things that got us confused. Meanwhile, feel free to book a demo with our team to learn how your business can benefit from using Chanty.
Google Hangouts vs Skype launch
It looks like Skype has been there for ages. It was 2003 when the world heard of Skype for the first time and in eight years it's been acquired by Microsoft.
Launched 10 years later, Hangouts is one of the Google products that combined what was previously known as Google Talk, Google Plus Messenger and Hangouts feature of Google plus.
I bet you've tried them both – It's hard to find a tech savvy person who hasn't.
However, this week our team has taken a closer look at both of the tools. Now we are up to decide who's the winner.
Let's go.
Google Hangouts vs Skype features
Both Skype and Hangouts are quite similar when it comes to communication features. The apps let you chat, make audio and video conferences, call mobile and landline. Let's take a look.
Google Hangouts vs Skype features

| Features | Google Hangouts | Skype |
| --- | --- | --- |
| Instant chat | Up to 100 people | Doesn't specify |
| Audio and video group calls | Up to 10 people | Up to 25 people |
| Screen sharing | Yes | Yes |
| Chat extras | maps, emojis, stickers, and GIFs | Skype emoticons, mojis |
| File sharing limits | Images only | 300 MB (larger files could be sent via OneDrive, their cloud storage). Files are available for 30 days on all devices |
| Supported platforms | Android, iOS, and the web | Android, iOS, web, desktop app |
| SMS | No | Yes, paid option |
| Landline and mobile calls | Yes, paid option | Yes, paid option |
| Price | It's free on your gmail account and $5 for GSuite package with Hangouts included into it. | It's free until you want to send SMS or call mobile/landline numbers. |
| In-app ads | Hell no | Em…yeah |
Google Hangouts vs Skype interface and design (0:0)
Skype interface has always had a familiar "chat" look. It's either because we grew up on Skype or because every other chat interface has pretty much the same looks. However, if you use Skype a lot you couldn't help but notice the latest radical redesign.
This is what some of the reviewers said about it:
This latest update is the most thrown-together looking thing I've seen in a long time.
The layout looks and feels nothing like Skype, the chat system is a mess and the Highlights system just screams 'we want to be as successful as SnapChat.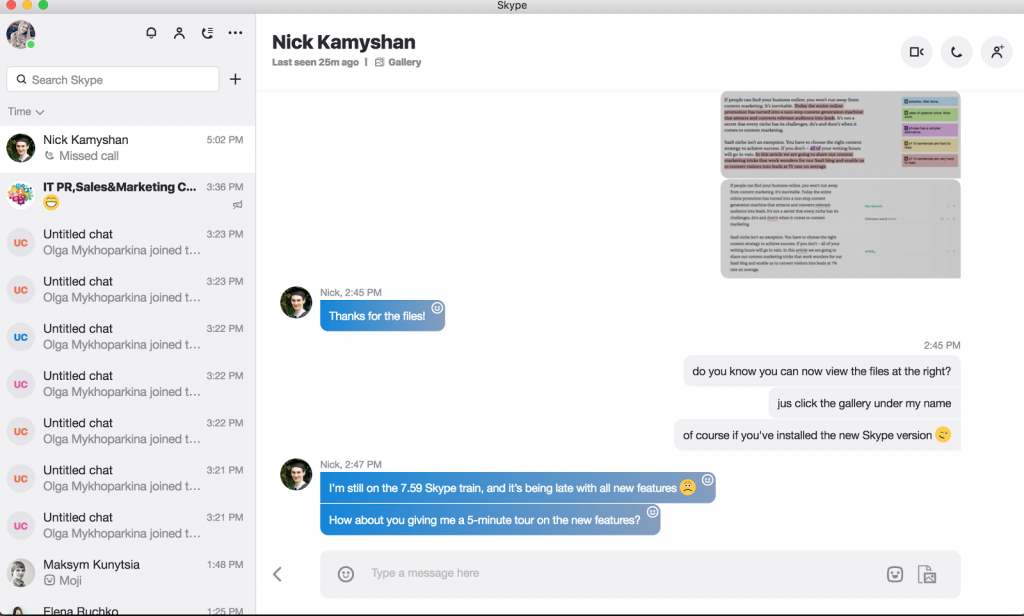 Skype 8.9.0.1 desktop interface design
In terms of interface, I was surprised that you can create unlimited number of untitled chats in Skype now by clicking Add People and removing the existing contact from that chat.
Personally, I don't hate the new redesign, but I can't say I like it either. What I know for sure is that my Photoshop tutor would've killed me if I were to use this kind of gradient: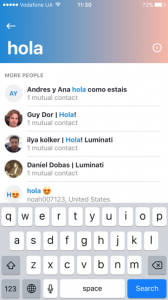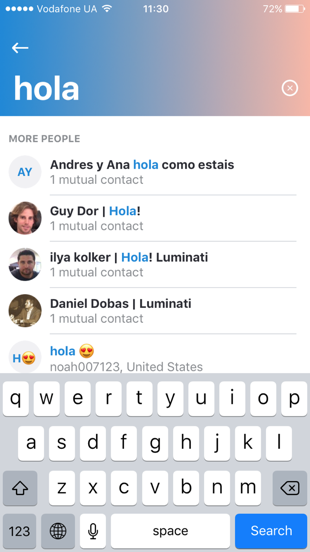 Skype mobile app interface
Hangouts looks very different from all the chat apps we've tried so far. Initially you get to see the three round buttons (Video call, Phone call, Message). When you message your friends, every new chat opens up in a new window: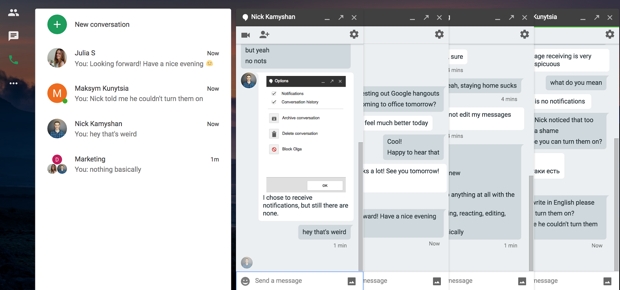 Google Hangouts interface
Which is fine when you have a few, but here's what happens when you have 10 chats: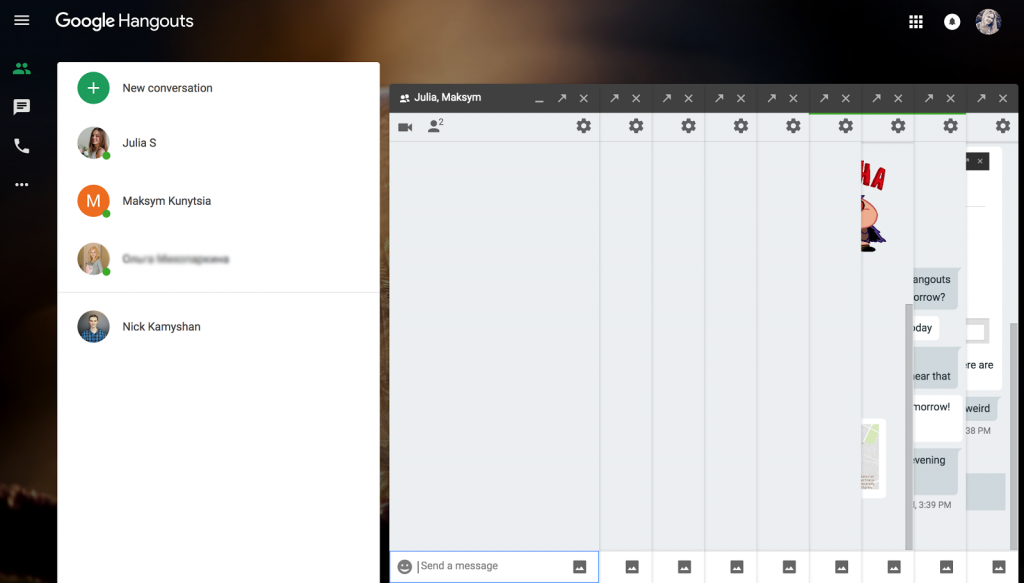 Google Hangouts interface
Chat windows get all mixed up. Depending on your screen size, you'll have to keep the number of windows up to five-six to feel comfortable. The video interface is quite interesting too.
As you can see from the screenshot above I've already added a few guys from the team to my contact list. When you click the video button in the middle which is the only obvious button to start a video call you get to a new window with no contact options in it.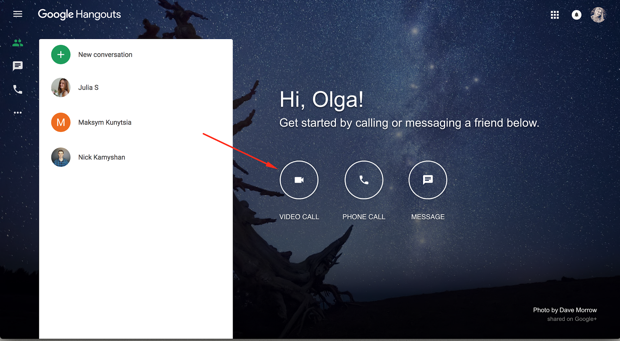 Video call button in Hangouts
Moreover, when you type the name of the contact you'd like to reach, there are no prompts or dropdowns suggesting me an email of Julia from my contact list. Well, this is what one would expect from a user-friendly tool, isn't it?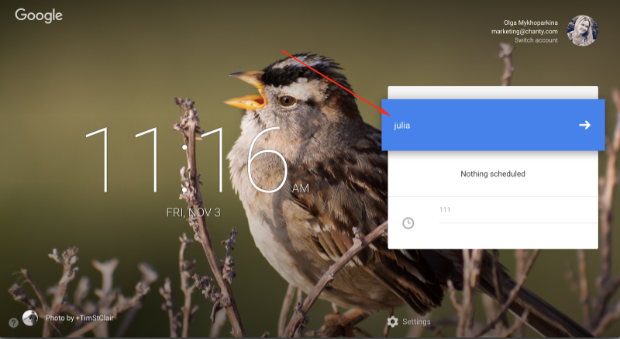 Video call window Hangouts
Unfortunately, we didn't give any UI and design points to Skype or Hangouts.
Google Hangouts vs Skype instant messages (0:1)
Hangouts is obviously not designed for a day-to-day chat. When used on the computer, It's just as uncomfortable as Facebook messenger due to the narrow chat windows. You can't do much with your messages either.
E.g. our team is used to editing, deleting, forwarding and pinning messages in Chanty. However, Google Hangouts doesn't give you any of these options. Moreover, you can't search through your messages in Hangouts while you can perfectly do it in Skype.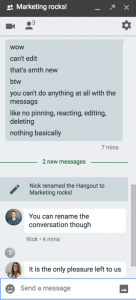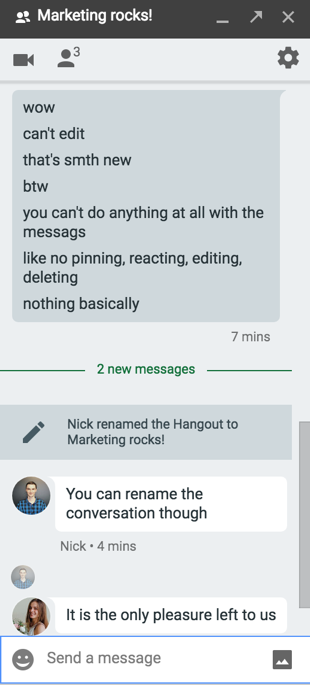 Chanty team discussing message options in Hangouts
Skype is more friendly in this case and here's what you can do: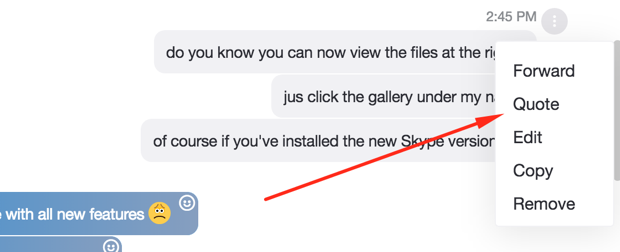 Skype message options
Overall, instant messaging in Skype is more comfortable and once again in our review Skype scores 1:0 against Hangouts.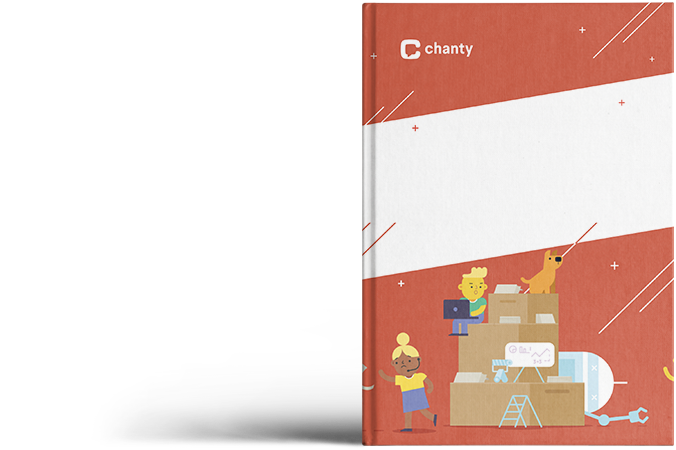 Communication issues at work?
"50 Surefire Ways to Improve Your
Team Communication"
Get eBook
Google Hangouts vs Skype audio/video calls (0:1)
People choose Skype or Hangouts mostly because of their audio and video call features. That's why it's important that they work perfectly. And the fact is they do. We had no concerns whatsoever with the quality of video and audio calls in Skype and Hangouts – they are great as long as your Internet connection is great. We had a group call with the team and I could hear and see everyone perfectly. There's also a screen sharing option that works just fine in both apps.
However, the devil is always in the details.
When you make a call in Hangouts, chances are the friend you are trying to reach won't hear the call. You can easily miss it unless one of the following is true:
Computer volume is on
Gmail tab is open
Hangouts tab is open
You have Hangouts browser extension installed
Although Hangouts call is hard to notice, Google is kind enough to send an email, telling you there's a video call waiting for you. Quite an interesting choice of notification options considering picking up a video call requires instant reaction.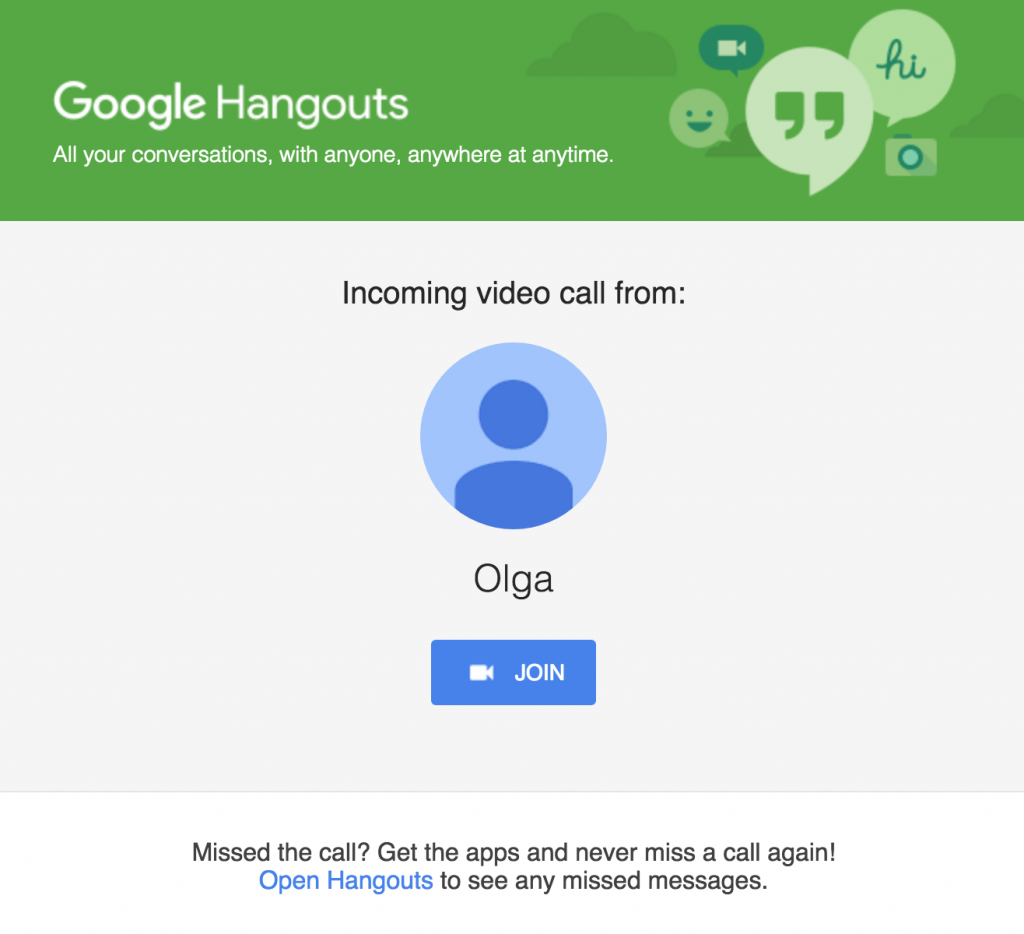 An email notification from Google about an incoming video call
There's no popup. No push notification. Unlike Skype where no matter what you are busy with on the computer, the popup with a call will cover it all.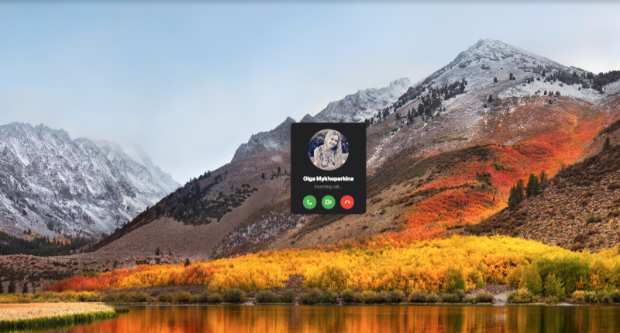 Skype call notification
There's one more thing that could potentially make Skype video calls more attractive to you. Reactions. Although, I doubt it's very useful for work communication, it's still fun to have.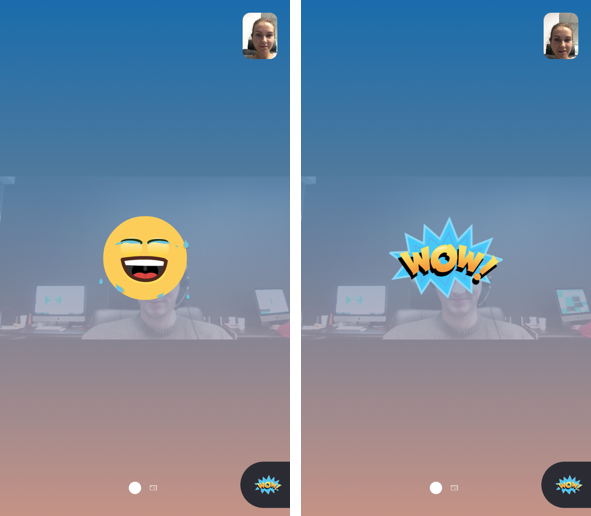 Skype reactions
Along with graphic reactions, you can also type in text that will appear at the screen.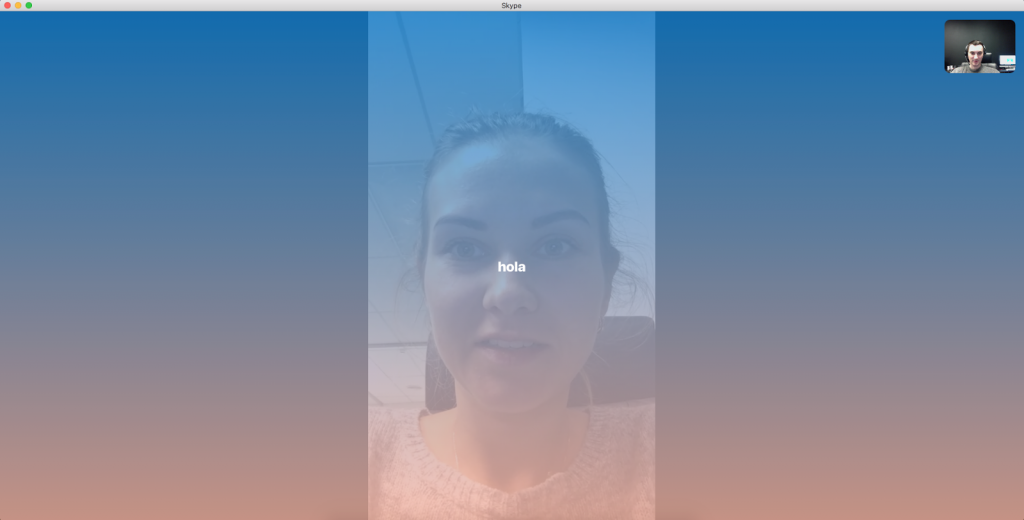 Skype video call text
This novelty tells us Skype is doing its best to follow the trend. I bet the next thing we'll see in the Skype releases will be augmented reality.
Google Hangouts vs Skype: task management (0:0)
Neither of the tools has a built-in task manager. So in order to give someone a particular piece of work to do, you'll have to use a third-party app. Just for the record, in Chanty your task management workflow will be much easier. Right within the tool, you can create new tasks from scratch or turn any message into a task.
Google Hangouts vs Skype limits (0:1)
Video conference is limited by 10 people in Hangouts and 25 in Skype. Which makes Skype a better choice if you want to jump on a call with a big team.
It's interesting that Skype doesn't specify the limit of people for group instant messaging (unlike Hangouts, where you have 100 people maximum). Does it mean there's no limit?
I'm a member of a Skype group with more than 500 people and to tell you the truth, I've never experienced issues or seen a popup telling me I've reached my limit. If you find that limit, however, feel free to share in the comments.
Google Hangouts vs Skype platforms (0:1)
While you can enjoy Skype on various platforms – iOS, Android, Mac, Windows, Linux as well as web, Hangouts isn't available for a desktop use. Instead, you can open it in your browser or download mobile apps. I must say though Skype web version is quite limited compared to the desktop app. There's another option to download the browser plugin both for Skype and Hangouts to have a quick access.
Google Hangouts vs Skype file sharing (0:1)
What caught me by a complete surprise is this – you can't send or receive files other than images in Google Hangouts. The icon at the right bottom speaks for itself.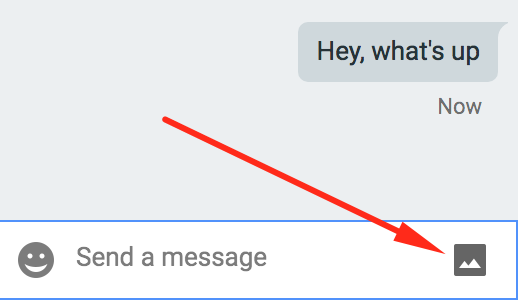 Looks like Google wants you to engage with Google Drive and send a link to a file you want to share.
On top of that, keep in mind that Google positions Hangouts as a video conferencing tool, therefore their chat is far from being user friendly.
I can't say I like the file sharing flow in Skype either, however the fact that you CAN share all kind of files there makes me pretty happy. Moreover, you can view all the files you've shared with a particular Skype contact now. However, the comfortable file search that we are so used to in our Chanty messenger isn't yet available.
In the previous Skype version you can view your files in a dropdown like this: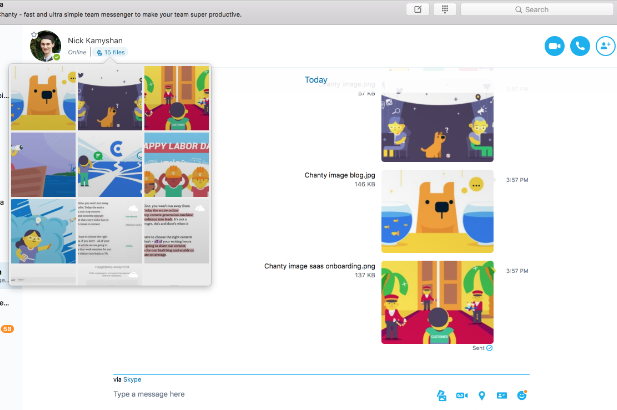 File gallery in Skype 7.59
The new Skype version (the one with a redesign) displays them at the right panel.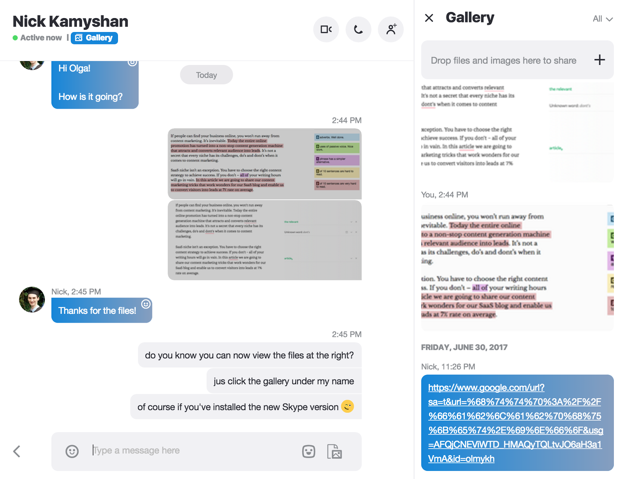 File gallery in Skype 8.9.0.1
Obviously, Skype scores 1:0 for file sharing.
Google Hangouts vs Skype landline/mobile calls (1:0)
Phone calls are available both in Skype and Hangouts. However the flow is a bit different. While in Skype you can call right away as long as you have Skype credit, Hangouts requires to confirm your telephone number first.
Another difference is Hangouts claims that most calls to US and Canada are free while you'll definitely pay some kind of fee (depending on the country) when calling landline or mobile in Skype.
Now let's see some real life example. Here's Filipe, my friend from London and no, that's not his car;).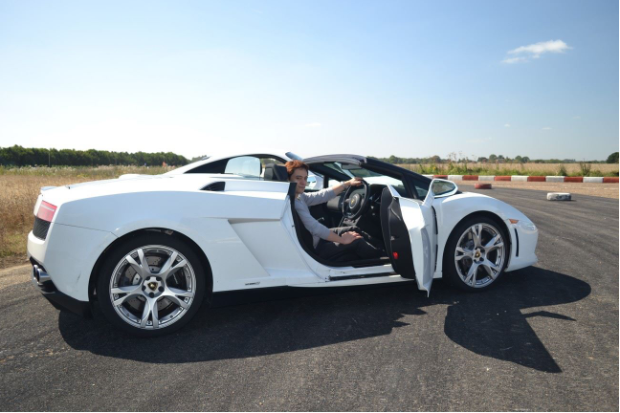 What if I'm in a desperate need of calling Filipe, but he's suffering from Internet outage? Let's check which way of calling UK Orange mobile operator is less expensive.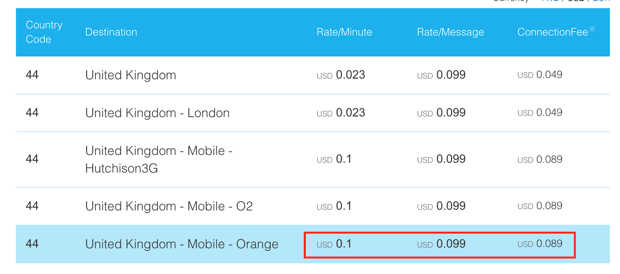 Skype landline/mobile calls prices
Skype would charge me 0.1 USD per minute plus 0.089 for a connection fee. For a 10-minutes phone chat, I'd pay a little more than $1. Not bad, right?
Let's compare to Google Hangouts fees.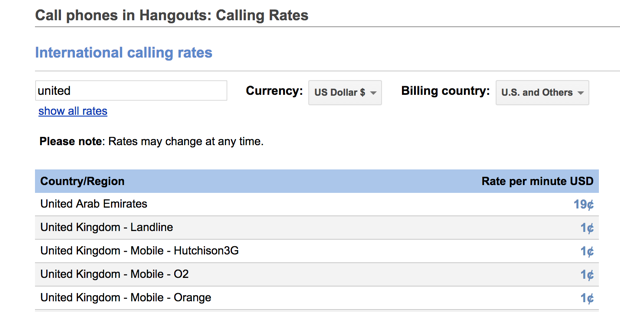 Google Hangouts landline/mobile calls prices
The same 10-minute call using Google Hangouts would cost me 10 cents only. Wow! It's like 10 times less than Skype. It wouldn't be a deal breaker for me since I don't really call London that often, but if you get to call a lot, 10 times difference would be quite substantial.
Congratulations, Hangouts, you've just scored 1:0 for landline/mobile calls.
Google Hangouts vs Skype notifications (0:1)
While I personally dislike push notifications both on the phone and desktop, it's still good to have an option to turn them on. I was surprised to find out Google Hangouts doesn't have them.
I mean, they claim to have notifications, there's even a notification check mark in the settings, but once you check it – nothing happens. Unfortunately, you won't receive push notifications in Google Hangouts even if you turn them on. However, you'll be able to see the new Hangouts message if you are currently in Gmail.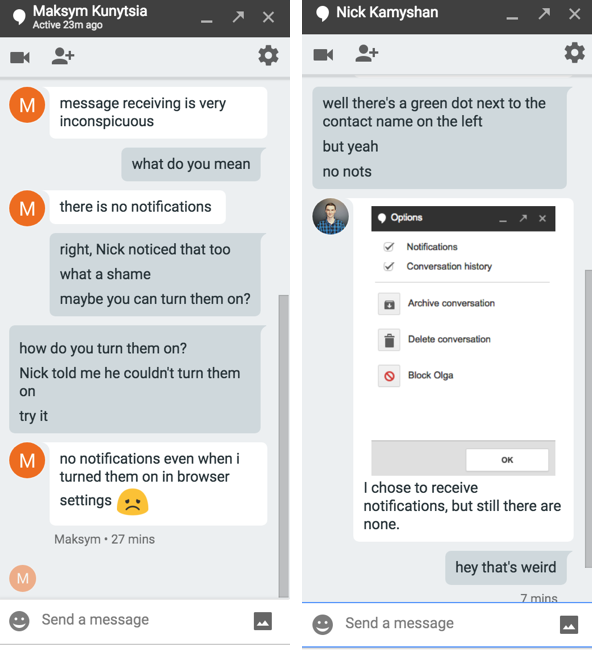 Hangouts notifications feedback from our Chanty team
At the same time, you won't miss a single message in Skype as it has no notification issues.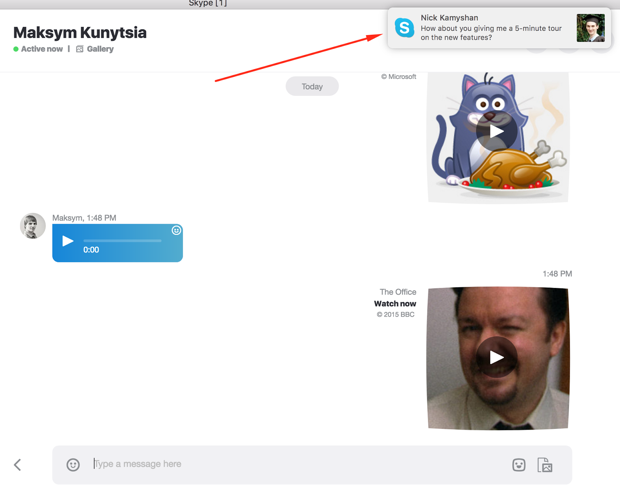 Skype push notifications
Google Hangouts vs Skype bottom line
Let's face it – Hangouts is designed mostly for video calls and the chat functionality is quite poor. You can't send files other than images, you can't delete, edit or do anything else with messages, you can't even search through the message history. Moreover, you don't get notified of a new message in the chat most of the time.
However, video calls work just fine with the only exception – it's pretty easy to miss them if your volume is off. There's another thing you have to keep in mind – Google Hangouts works under a Google account. In case you are no Google fan without a Gmail, you'll have to create one to start using Hangouts.
What's definitely good about Hangouts though is the price of the mobile/landline calls. If you get to make international calls frequently, Hangouts could save you big bucks.
Therefore, I recommend to use Google Hangouts for video calls, mobile/landline international calls, but not for a day-to-day chat.
In its turn, Skype has had it all until they've decided to redesign. People don't seem to like the new Skype and many are looking for Skype alternatives now. However, apart from ambiguous design, Skype remained the communication app we've known – with the powerful chat functionality, file sharing, comfortable search and high-quality audio and video calls.
If you need a tool for personal communication, Skype is still a great choice.
Looking for a team communication app?
If you need a communication app for a team at work, not for personal use, we recommend you to choose the tools designed for business needs. You will realize the difference is enormous.
Team communication tools like Chanty save your time by creating the closed universe with your coworkers. It means no more unnecessary chit-chat at work with a random Skype contact, just you and your colleagues.
Powerful search within messages, files and links make your day less stressful and more productive. But here's the most important – integrations. Connecting various apps you use at work to your team chat is extremely beneficial.
From now on you will get all the notifications in a single place. Imagine receiving a new email lead from MailChimp, a new support ticket from Zendesk, a new GitHub commit – all of those in one place, your team communication app. As mentioned, to assign a task in Chanty you won't even need an integration with a third-party app. At the same time, you can enjoy high-quality audio and video calls in Chanty just like in Skype or Hangouts.
Join Chanty today to enjoy the team communication app of tomorrow.