WhatsApp is one of the most famous mobile-first tools.
The messenger started out in 2009 as an idea to send notifications to friends. At the moment, 1.5 billion people use WhatsApp for both personal and work-related conversations.
The company has recently launched WhatsApp Business—a separate application for small companies. Steady progress in the business communication industry makes WhatsApp a rival for other team chat apps. Despite occasional problems with WhatsApp like the desktop app crashing on Windows, the messaging app remains widely used and popular. Its consistent updates and widespread adoption have cemented its position as a reliable choice for staying connected with a team.
Short disclaimer: Our team works passionately on Chanty, a team collaboration app. From time to time we try different team chat software and analyze their strengths and weaknesses as customers. The lessons we learn help us develop a cleaner, faster and smarter tool.
Chanty team is well aware of Slack. We've tested a fair amount of team communication apps and described our experience in a series of articles: Slack alternatives, Discord vs Slack, Ryver vs Slack, and many more in the Team Chat Wars category. We also got excited to check out how Slack can compete with WhatsApp Messenger.
Here and now I'll share the most up-to-date WhatsApp vs Slack comparison. Let's put down a puzzle together, shall we?
WhatsApp vs Slack features
If you are not interested in a detailed description of these two messengers, I offer you to check the following table. It shows all core features of Slack and WhatsApp. Plus, I've covered the latest information on WhatsApp Business you may have missed.
Slack
WhatsApp
WhatsApp Business

Pricing

Free plan

Pro plan (starts at $7.25 user/month)

Business+ plan (starts at $12.50 user/month)

Free

Free

Message history limit

90-day searchable message history in Free plan

Unlimited

Unlimited

Audio/video calls

Unlimited 1:1 audio and video calls in free plan

Unlimited 1:1 and group voice and video calls with 15 members in paid plans

One-to-one audio and video calls

One-to-one audio and video calls

File storage limit

Free plan: 5GB file storage for a team





Standard plan: 10GB per user





Plus plan: 20GB per user

Up to the storage space of your smartphone

Up to the storage space of your smartphone

Money transfer

PayPal integration

Coming soon

No

Business profiles

No

No

Yes

Limit for conversation members

Up to 8.5K members

256

256

Confirmed Accounts

No

No

Yes

File upload limit

1GB

100MB

100MB

Integrations

Limit of 10 integrations in free plan





Unlimited integrations in paid plans

No

No
WhatsApp vs Slack design
Usually, I don't pay much attention to how the interface of any messenger looks on different mobile platforms. WhatsApp made me change my mind.
WhatsApp Messenger mobile app interface (Android and iOS)
If somebody asked me to comment on these two screenshots, I would never say that it was the same app. Colors, panels, and buttons are absolutely different. At the same time, the interface looks clean in both cases.
As for web and desktop applications, the user interface of WhatsApp and Slack has something in common. The left sidebar displays all your conversations, the right one—the history of opened dialogue. Other features are hidden behind different buttons.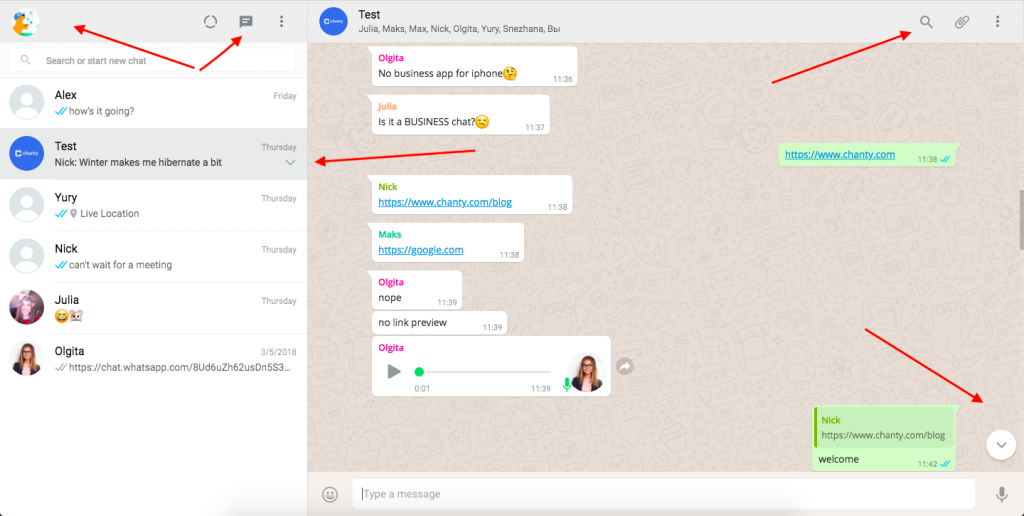 WhatsApp Web interface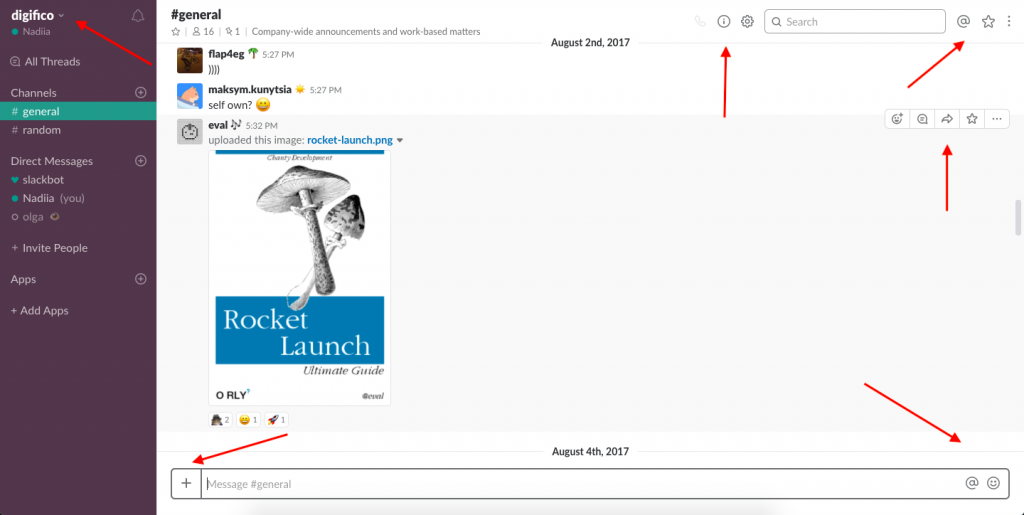 Slack Web interface
To improve user-friendliness, Slack manages its space more efficiently. First, it divides conversations into Public, Private channels, and direct messages, while WhatsApp offers only one-to-one or group chats. Second, Slack lets you customize the colors of the left sidebar greatly improving the user experience. Once you change the theme, new settings are automatically applied to your mobile application.
WhatsApp vs Slack conversations
Joining WhatsApp is easy: choose a country from the drop-down list, enter your phone number and confirm creating an account with a 6-digit code.
WhatsApp Messenger uses the data from your phone contacts and provides you with a list of people you can connect with this tool.
To verify whether a person uses WhatsApp or not, you should save a contact's name and phone number. If they don't have a WhatsApp account, you can ask to download this app via email or another messenger.
Text and voice messages ensure the chat feature in WhatsApp. You can reply to a message, star, or forward it. I find the last feature confusing. It would be great to have extra info about the sender of the message.

WhatsApp forward feature
Check your messages twice before sending, because for some strange reason WhatsApp has no Edit button! In case of a mistake, you can delete the message for everyone in a limited time period. If you succeed, there will be a corresponding notification.

Delete for everyone feature in WhatsApp
In case you need a direct access to a particular dialogue, you can create a home screen shortcut. This feature is very handy with a very long list of chats.
Apart from that, you can take photos or videos right in the app, add filters, stickers, text and send them to others, share a place or your live location on Google Maps.
Slack offers a wider set of features: sharing, starring, commenting, pinning, editing, deleting, following messages and adding reactions to them. The Remind me and Mark unread buttons won't let you forget about a particular message.

Threads feature in Slack
Urgently need to reach your colleagues in Slack group discussions? Make targeted announcements with @mentions. Threads, in turn, encourage a fully-fledged discussion tied to a specific message, link or file without distracting the general channel flow.
[Tweet-middle "Give @Chanty a try to save your time while working smarter, not harder."]
WhatsApp vs Slack video calls
WhatsApp provides one-to-one audio and video calls without screen sharing. The web and desktop applications lack the audio/video calling feature. That means you can make calls from your mobile phone only.
My colleague and I had video calls on WhatsApp several times. I heard her pretty well during our conversation but ran into the overexposure problem. It might be my phone camera or some software-related issue, so mind that while using phone calls on WhatsApp.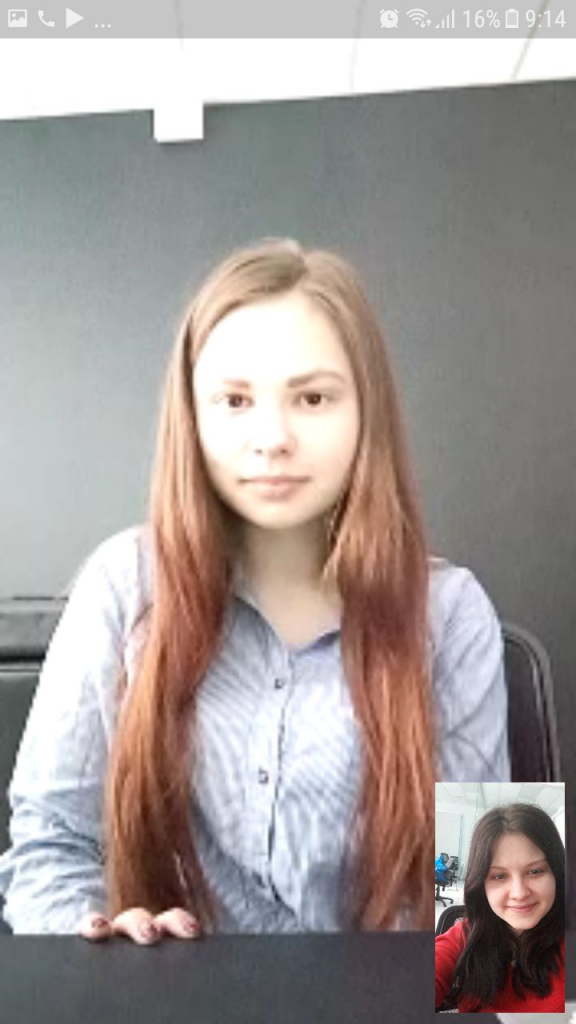 Video call in WhatsApp
Slack's built-in video calls become a legit alternative if you don't want to integrate your account with other video conferencing tools like Skype, appear.in or Blue Jeans.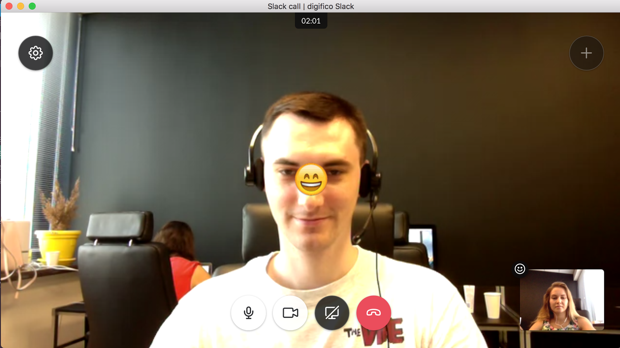 Video call in Slack
Slack allows you to call one person at a time for free. The paid plan offers a screen-sharing feature and video conferences with up to 15 people. You can also let others draw on your screen and share the mouse control.
WhatsApp vs Slack notifications
We all have some moments at work when we need maximum privacy and time to focus. In WhatsApp Messenger, you can choose different settings for notifications from a single person or a group and set a ringtone with vibration for calls. There is also a mute feature that you can turn on for a particular conversation.
WhatsApp offers iPhone users to configure notification settings during the first launch. I suppose this popup should appear only once. Nevertheless, my colleague saw it every time he opened the messenger.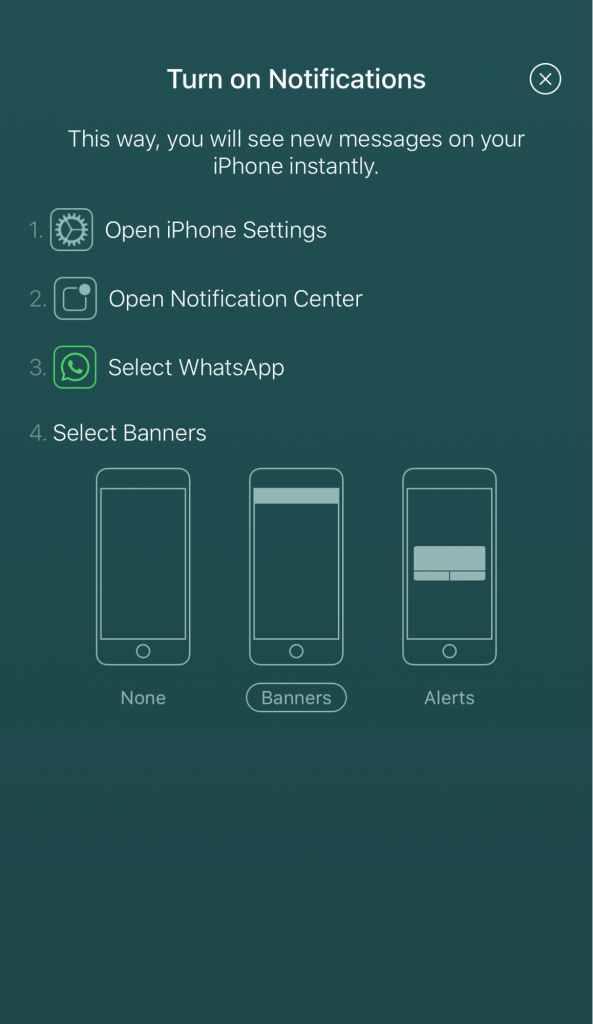 Popup notification settings in WhatsApp for iOS
In Slack, you can feel like a boss with all kinds of notifications. Keep your concentration under control with Do Not Disturb mode, channel-specific settings, keyword alerts and many more options.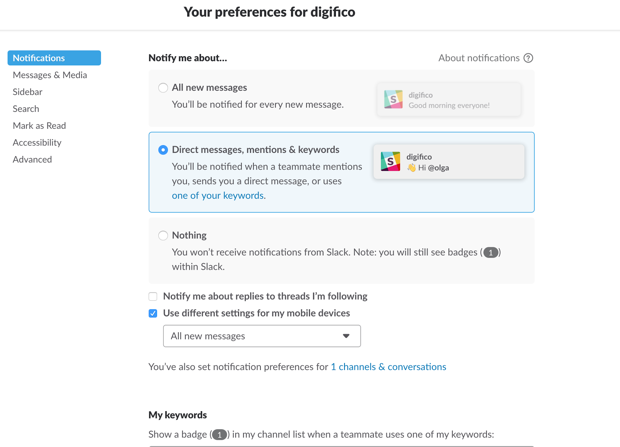 Notification preferences in Slack
You can also mute channels, ignore @mentions and set different settings for your mobile devices. Enjoy the silence or get notifications on what's important for you.
WhatsApp vs Slack search
WhatsApp delivers a very simple search tool. You just type whatever you need to find in the search field, and WhatsApp shows you all the relevant messages.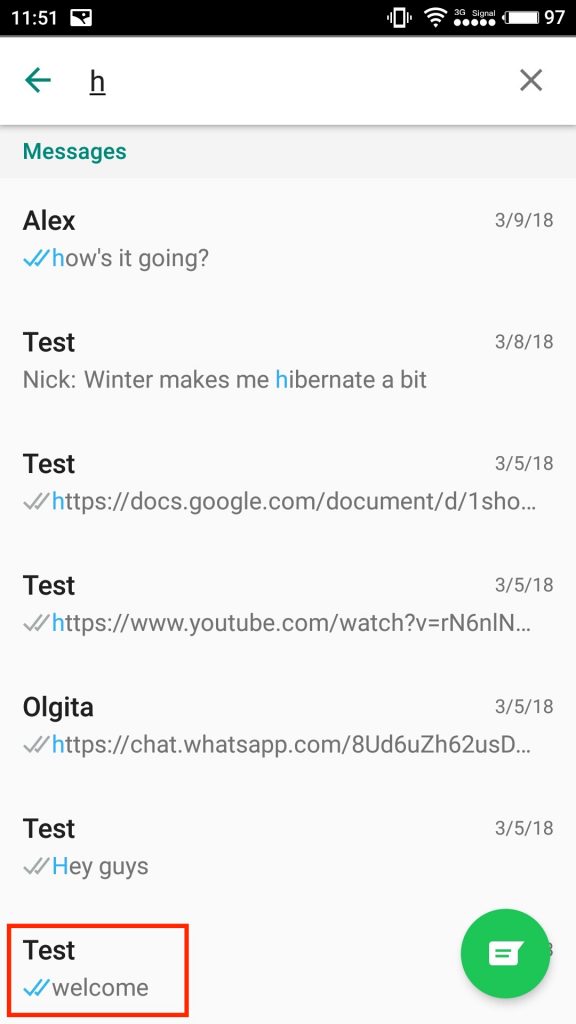 Search feature in WhatsApp
I tried to find messages with the letter h in order to test the search feature. As you can see, the results are pretty unpredictable.
Slack comes with a more advanced search. You can specify results with a particular person, channel or time period.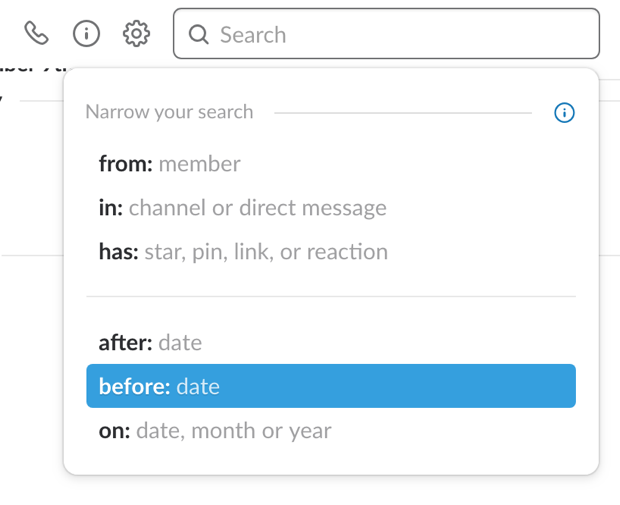 Search options in Slack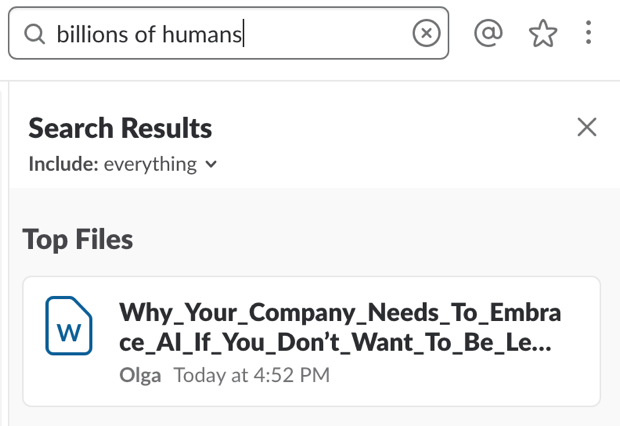 Slack search within file
What I highly appreciate is the search within documents. Office employees regularly share documents and it's simply impossible to remember all file names. In Slack, you can recall words that the document contains for sure. And voila. Here it is.
WhatsApp vs Slack money transferring
While I was searching for information about these two messengers, I came across the article about the official launch of WhatsApp's new service. Express.co.uk writes: "WhatsApp has confirmed long-rumored plans to roll-out its in-app payment system, allowing users to transfer money within the chat app."
This limited service is now available only in India. Here is what this option looks like.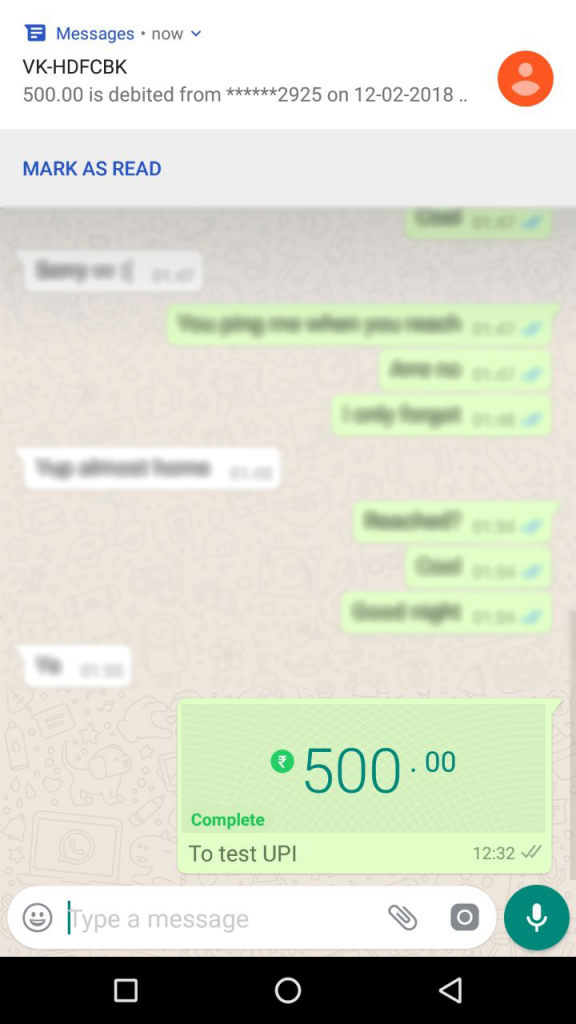 Image source
Slack doesn't have a native in-app payment system. However, if you want to send and receive money right in the messenger, the PayPal integration is at your service.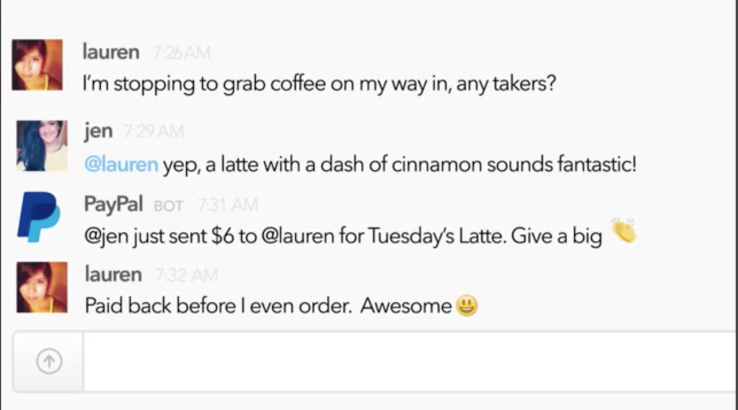 Image source
Slack also offers chatbots for tracking financial operations. You can find more information on the Slack website if necessary.
WhatsApp vs Slack integrations
Need to integrate your messenger with third-party apps? It's up to Slack for sure. You can connect your account with 2000+ different tools you use at work. This team messenger offers only 10 integrations in the Free plan. That is why you should be ready to pay if you need more.
WhatsApp Messenger doesn't integrate with third-party apps. Are integrations a deal-breaker for you? A large amount of other team communication tools will help you out.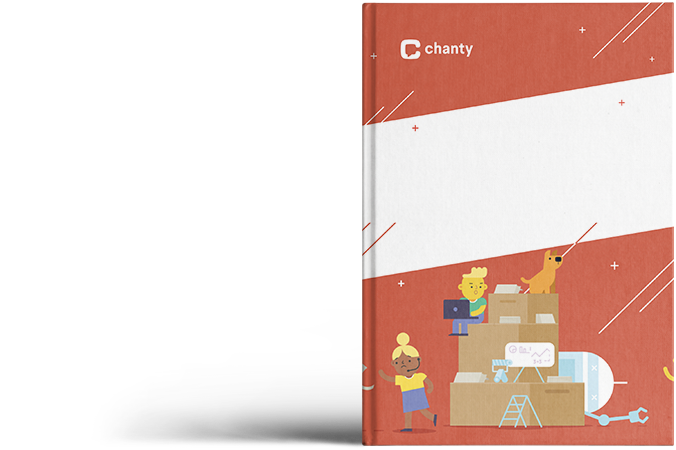 Communication issues at work?
"50 Surefire Ways to Improve Your
Team Communication"
Get eBook
WhatsApp Business
This article is more of WhatsApp Messenger versus Slack, but I couldn't resist trying the new WhatsApp Business. This tool is free for now and is currently available on Android only. Sadly though, I didn't find any mention of an iOS release.

WhatsApp Business follows the design of WhatsApp Messenger for Android yet comes with some extra features. It offers to create a business profile with the description, category, address on Google Maps, business hours, email and website.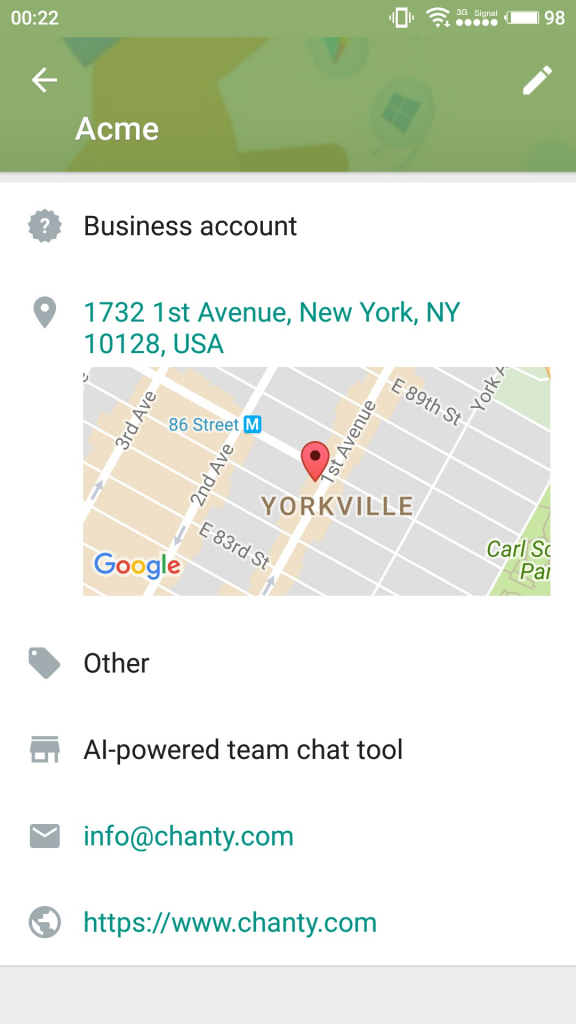 WhatsApp Business profile
Quick replies, Greetings and Away messages help people speed up the response time. Labels, in turn, divide contacts and messages into easily renamed groups.
WhatsApp Business Messaging Tools
To sum up, WhatsApp Business strives to be more suitable for the needs of business communication. However, this messenger offers neither web nor desktop applications. That means WhatsApp Business has a big room for improvement for now.
WhatsApp vs Slack bottom line
WhatsApp is a great tool for personal communication. It helps people to stay in touch with friends and family, share funny photos, and send voice messages. However, this messenger lacks some vital features like a detailed search, video calls for more than two people and the most important – integrations. For the above reasons, I find this messenger not powerful enough for internal communication at work.
Slack is a great tool for businesses. It helps workers organize in-office conversations and connect apps they use daily. At the same time, this team chat tool imposes considerable limits in its Free plan (10 integrations, 5GB total storage and access to recent 90 days of messages). If people don't want to pay for more, they begin looking for more affordable alternatives.
We are building Chanty  – a simple team chat that keeps the balance between powerful communication features and reasonable pricing. Our key benefits include a built-in task manager, high-quality audio, video calls and voice messages, integration with third-party apps and unlimited message history for all pricing plans. Give Chanty a try to save your time while working smarter, not harder. 
Schedule your demo call with the Chanty team.