If you are wondering which tool to use – Asana or Slack – you've come to the right place.
This article is a part of our "Team Chat Wars" series, in which we compare Slack to its rivals. Understanding the features of different communication apps helps us in designing a better tool for our customers – a simple, fast and smart Chanty team chat.
This time, however, we compared Slack to the tool which is not much of a direct competitor. Though Asana can be used by team members to connect, basically, it's a productivity tool. Still, we gained valuable insights exploring Asana features and comparing them to the core features of Slack. Let's share our findings with you.
Asana vs Slack: overview
Slack and Asana are almost the same age. Asana launched to the public in 2012. Slack's initial release happened in August 2013. Through the years, both tools made quite a journey. Slack recently boasted 10 million daily active users with 6 million paid users. While Asana claims to have 100K paid users and 1.5M individual users.
Both – Asana and Slack – are used by many blue chip companies. PayPal, Santander, Vodafone, Deloitte, Uber and NASA are among Asana's clients, while Airbnb, Capital One, Venture, Target, Los Angeles Times, Oracle and Ticketmaster adopted Slack for their business purposes.
As mentioned, Asana and Slack solve different challenges, which are productivity management and communication respectively. Actually, they complement each other quite well, so integrating the tools seems like a good idea. No wonder, according to Alex Hood, head of product at Asana, roughly half of the company's customers also rely on Slack for day-to-day workplace communication.
At the same time, Asana, used separately, can still help you chat with your team. Slack, in its turn, has a couple of ways to transform your conversations into actions without using integrations. We'll explore them below. For now, let's talk money.
Asana vs. Slack: pricing
Asana
Slack

Premium
$10.99 per member, per month, billed annually

Business $24.99 per member, per month, billed annually

Enterprise
Price is available upon request

Pro
$ 7.25 per active user, per month, billed annually

Business +
$12.50 per active user, per month, billed annually

Enterprise
Price is available upon request
Asana and Slack are in the similar price range. Both have the Freemium price models, apart from the paid tiers. The free version of Asana gives you the possibility to add up to 15 members to your team. It also provides you with unlimited Tasks, Projects and Conversations. Slack's free version is limited to 90 days of your team's most recent messages and 10 third-party or custom integrations.
Reasons to upgrade to the $6.25 per month version of Asana include access to unlimited Dashboards, advanced search and Timeline – a visualized map of projects.
Upgrading to Slack's Standard version means unlocking your searchable message history, unlimited apps, and some more benefits.
If you'd like to learn more about the pricing of both tools, check out the information on Slack and Asana official pages.
Slack vs. Asana: signing up
In brief, both – Slack and Asana – are simple to sign up for. Unless you are up for an upgraded version, all you need is an email.
Asana will ask for your work email, but actually, you can also enter a personal address. Signing up with your work email allows you to auto-connect with your colleagues by instantly joining the organization affiliated with your domain.
During the sign-up, Slack requires a couple more steps than Asana does, but not too many. The process of signing up is quite intuitive in both tools, so don't expect any troubles.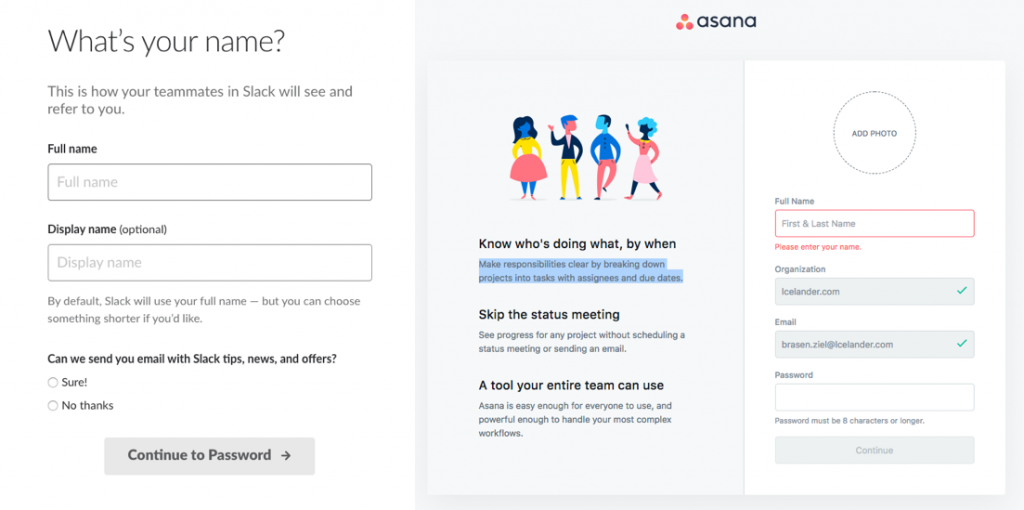 The registration modal boxes in Slack and Asana
Slack vs. Asana: layout and design
The layout of Asana and Slack looks very similar. Both tools provide a left sidebar and the main pane, which is a big space for conversations (Slack) or projects and tasks (Asana). There's also a top bar in the upper-right corner with a search feature.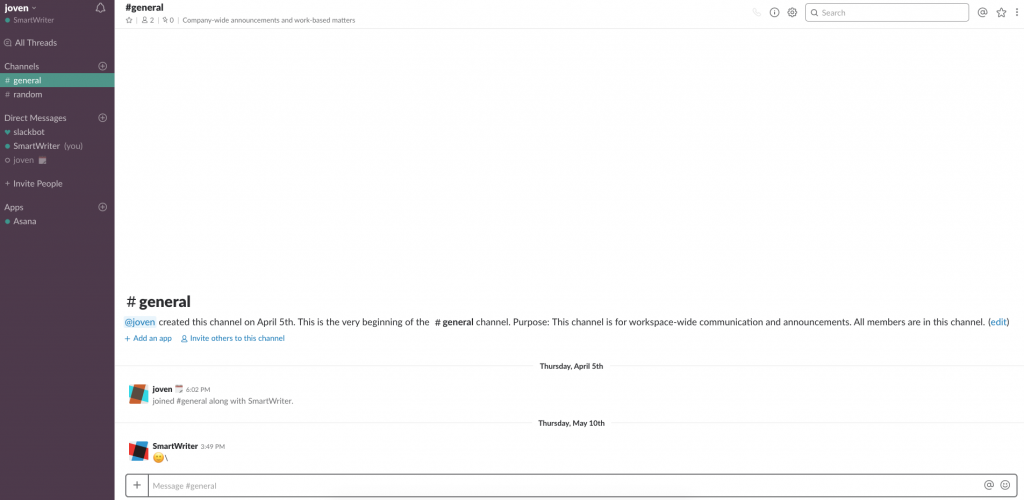 Slack workspace

Asana workspace
In both tools, you can customize your workspace. In Slack, you can change the color of your left sidebar in any way you wish.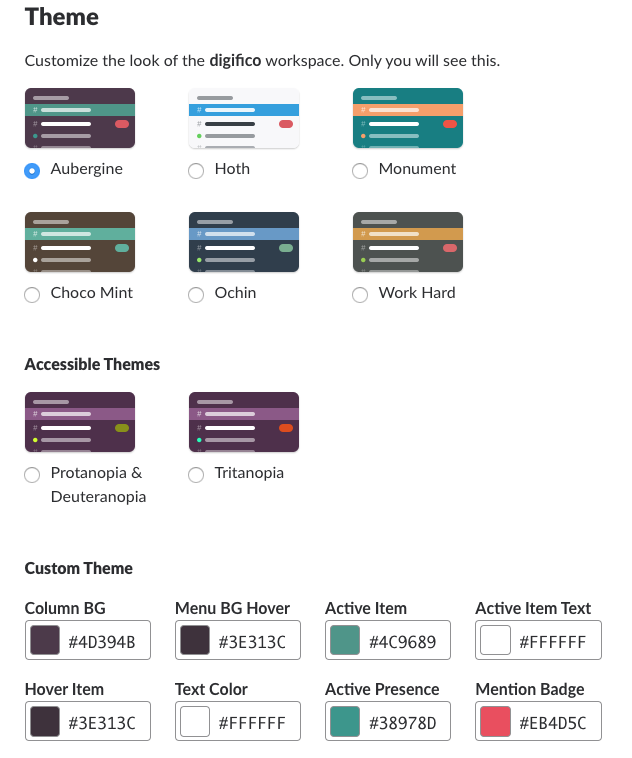 Options for customizing your workplace in Slack
In Asana, you can change the background of your workspace  "My Profile Settings" to choose a theme you want. As an option, you might enjoy the forest background instead of a usual gray one.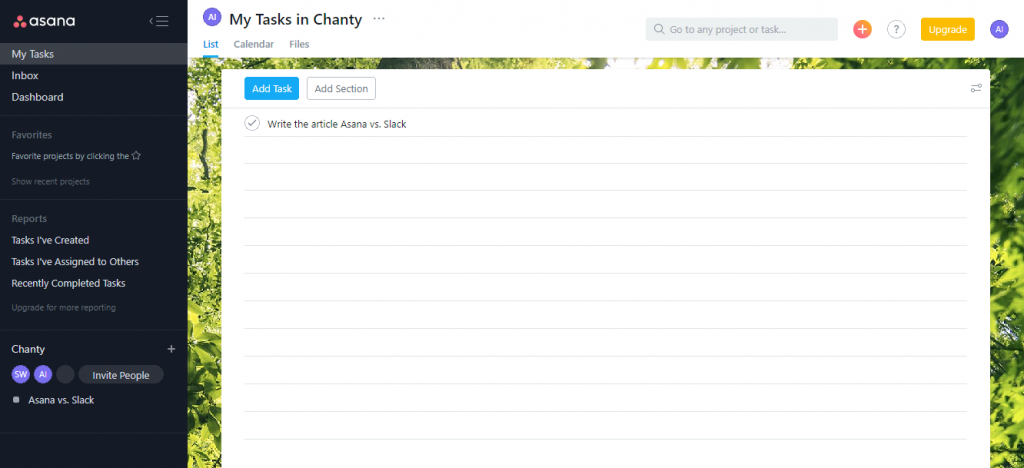 Forest background of workspace in Asana
Slack's main features (comparing to Asana)
Messaging. Since Slack is primarily a communication tool, its main features are those relating to chat. It enables exchanging messages via Channels, Direct Messages and Threads.

Image source
Asana has no messaging features. But still, it provides a means of communication – so-called Conversations – available within Teams, Projects and Tasks. This is a space where you can chat and exchange comments using @mentions. We'll get back to the Conversations feature in Asana later.
Voice and video calls. Unless you are on a paid plan, you can make one-to-one calls only in Slack. Yet, the conferencing feature, even limited, is a valuable advantage for a business team tool.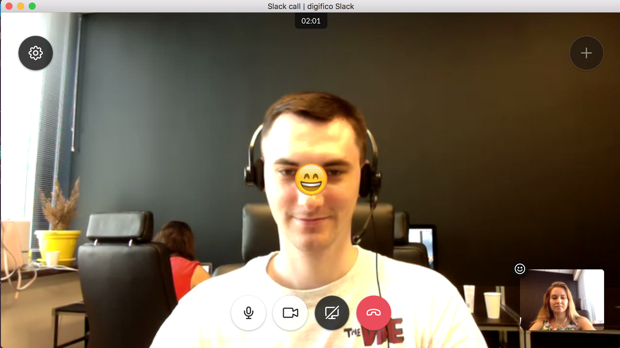 Video call in Slack
In Asana you can't make calls directly. So if you use it and need a conferencing tool, consider integrating Asana with GoToMeeting or Zoom via Zapier.
File sharing. In Slack, you can upload a file up to 1GB no matter the pricing plan you are on. In Asana, the upload limit is even smaller – 100MB per file for attachments from your computer. Therefore might be a good idea to share your large files via Dropbox and Google Drive in both tools.
Integrations. Slack has more than 2400 integrations – with nearly every piece of software. Asana can boast of 1500+ with the help of Zapier. In some cases, it integrates into the tools you already use, not vice versa. E.g. if you want Asana and Microsoft Teams to work together, you add Asana plugin to MT app – not the other way around.
As we see, Slack being primarily a communication tool lacks built-in features for managing projects. But if you're not up to using integrations for some reason, there are still the features that help you handle projects and tasks.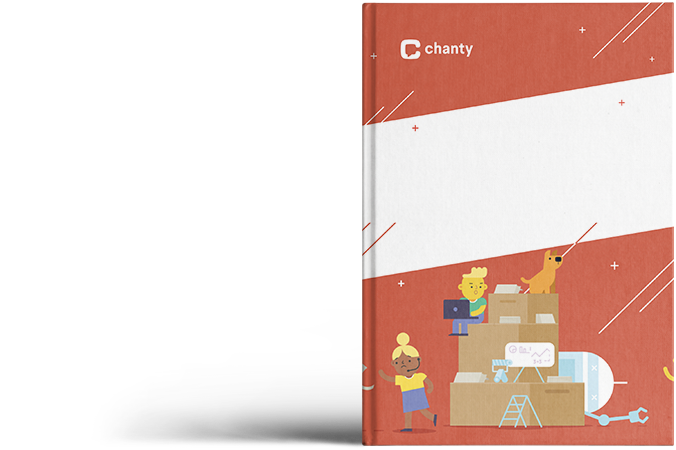 Communication issues at work?
"50 Surefire Ways to Improve Your
Team Communication"
Get eBook
Ways of managing projects and tasks in Slack
1. Star or pin messages to create to-do items
Track tasks by starring messages you send. As an option, you can pin messages to a conversation. Set an assignee using Mentions. Review starred messages by clicking on the star figure in the upper-right corner of the workspace. Or check the pinned messages in Pinned items at the top bar. When the task is completed, remove the star or unpin a message.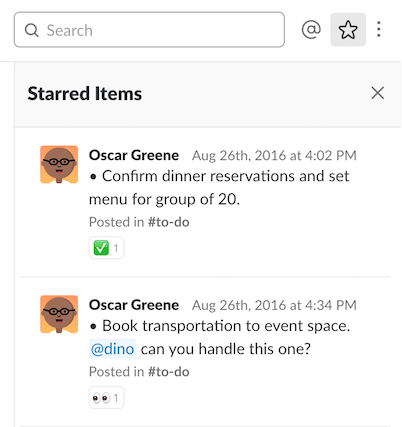 Image source
2. Create a #to-do channel
Create a #to-do list channel to assign and track group tasks in one place. You can add eyes emoji 👀 to say "I'm checking this!" or the emoji ✅ for "all done". If it's a personal to-do list, send to-do items to yourself via direct messages.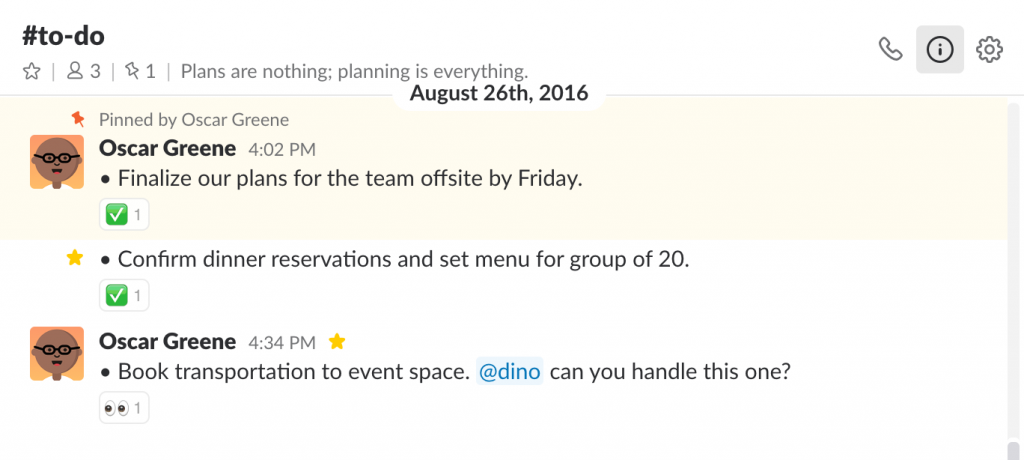 Image source
3. Create a post with a checklist
Organize a set of your tasks into a checklist and put it into a post. To create a message, click on the "+" sign next to the message box, then select Post.
4. Integrate a third-party app
There's always an option to integrate Slack with a productivity app. If you are not keen on Asana, there are plenty of other tools you can use including Trello, Jira and Microsoft To-Do.
Asana's main features (compared to Slack)
Asana has multiple features that basically serve one purpose – coordinating all the work your team does together.
First, in Asana you can set up your Projects and Tasks within your Workspace/Organization. Put an assignee for each of them, a due date, attach any files relevant to the projects, etc.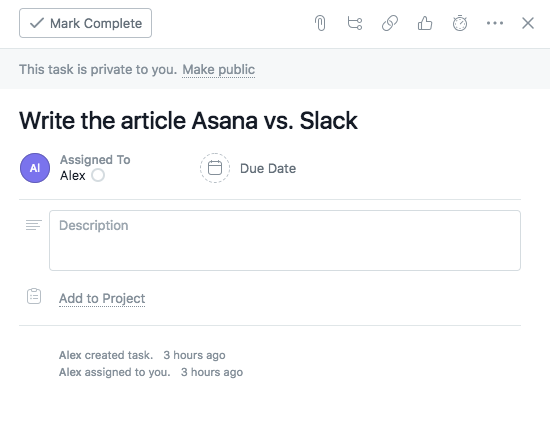 Creating a task in Asana
Second, in Asana, you can track your tasks through every stage until they are completed. The list of your Projects, Calendars and Dashboards will help you with this. If you are on a Paid plan, you can also use Timeline to plan projects. It allows creating a visual plan for your project that helps you stay on schedule.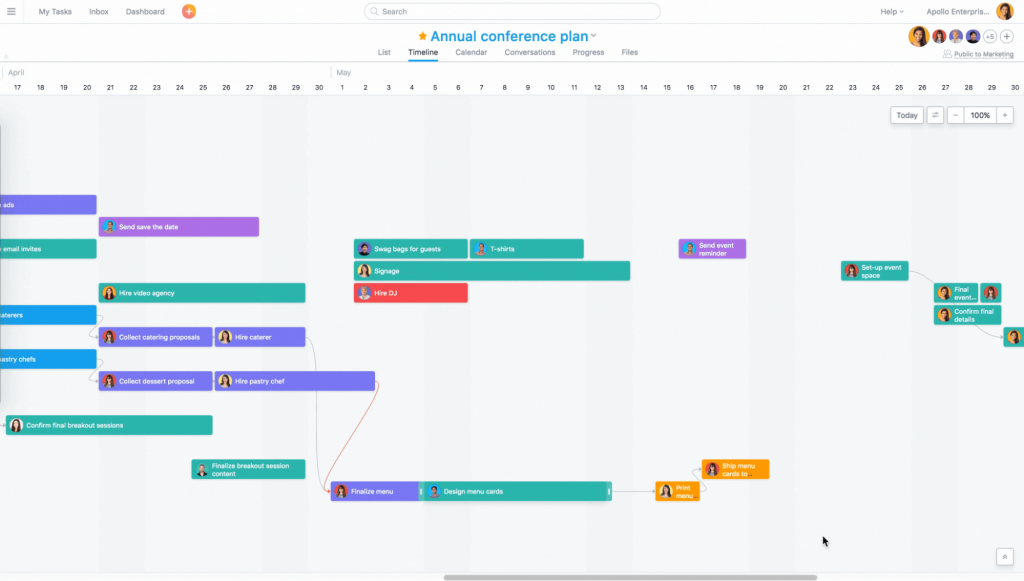 Image source
Slack has no built-in instruments for task management. So it can't replace Asana without integrations. Asana can't substitute Slack either. However, it has some features that help you communicate while setting up projects.
Ways of communication in Asana
Use Conversations feature
Whether you find yourself in a particular Team, Project or Task, you'll see Conversations tab in the Workspace. This is where you can discuss tasks or brainstorm ideas, while also using Mentions. Any comment can be posted by simply sending an email. Here you can learn more about Conversations in Asana.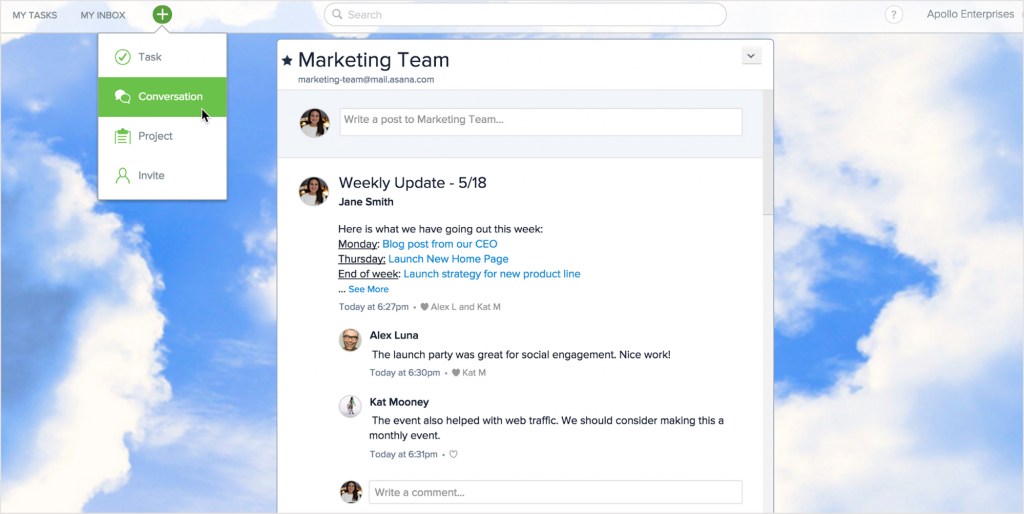 Image source
2. Create a particular project for conversations
Asana does not allow private messaging. However, users share a trick that lets you communicate with your colleagues. Create a personal/private project named e.g. "Private Messaging". Then set up a conversation for the project and name it after the team member you are contacting. In your first conversation comment, @mention the team member you are private messaging to. That's it – instant private messaging in Asana!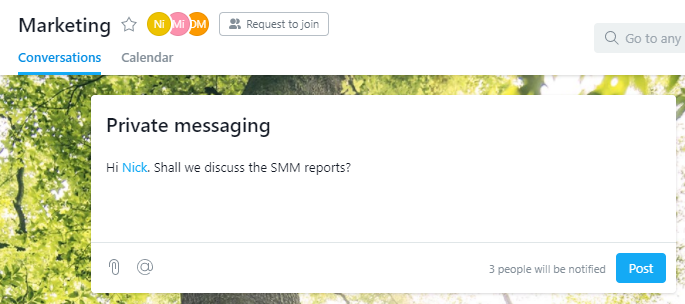 Exchanging private messages in Asana
You can repeat this for each team member who you want to be able to message in private.
3. Integrate Asana with a team chat tool
Consider integrating Asana with team chat tools. If you are not up to using Slack, try Flip, Ryver, or Twist. Or how about giving Chanty a try? Our powerful team chat has built-in project management tools, and allows integrations with hundreds of apps.
Slack and Asana: integrating the tools
Integration of Slack and Asana seems a legitimate choice if you need to use features of both tools. This will give you the possibility to:
create Asana tasks from any Slack message
get project notifications in a Slack channel
take action on Asana tasks from Slack
Here's a video with some more information on what you can do by integrating Asana and Slack.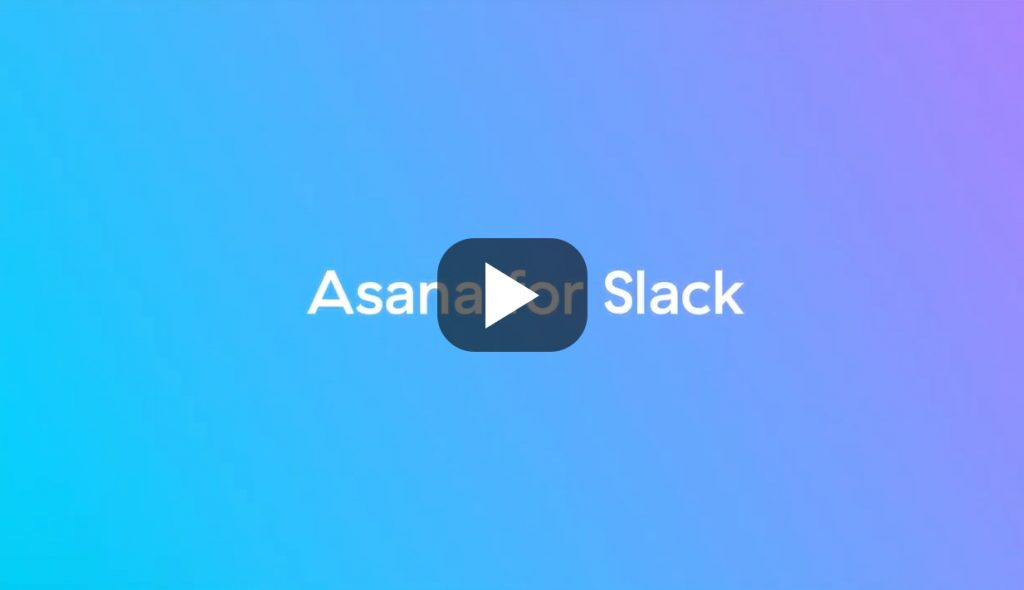 Video source
Wrapping up:
Both – Asana and Slack are the business team tools. However, their basic features differ. While Slack is primarily a team communication tool, Asana is a project management software. These tools can't really substitute for each other without integrations with third-party apps. Although, Slack has a means for coordinating your teamwork, while Asana provides some ways for communicating.
Making a quick comparison between Asana and Slack, here's what's important to note:
Pricing. Both tools have Freemium versions. If to compare the paid plans, Asana and Slack are in a similar price range. Asana's upgraded (Small Teams) version costs nearly the same as Slack's (Pro) one.
Layout and design. The layout and design of Slack and Asana are very similar. Both tools provide the possibility to customize your workspace.
Slack features. Slack's basic features related to communication. You can chat in Channels, Threads, via direct messages, make audio and video calls, etc. Since Slack isn't a project management tool, it lacks built-in features for task tracking.
Ways of managing tasks in Slack. There are some ways you can coordinate your teamwork in Slack. E.g. you can star and pin messages to create to-do items, set up a to-do channel or write a post with a checklist.
Key Asana features. Asana's key features relate to tracking your teamwork. You can create Projects and Tasks within your Workspace/Organization and Teams. Put a due date and an assignee for each of them. Track you Projects with various features, such as Calendar, Timeline, etc.
Ways of communication in Asana. To communicate in Asana use the Conversations feature within a particular Team, Project or Task. You can also set up a private conversation by creating a personal Project and chatting within it.
Slack with Asana. Since Asana and Slack have different features and purposes, it could be a good idea to integrate them. Then you'll be able to create Asana tasks from any Slack message, get project notifications in a Slack channel and much more.
Chanty users can enjoy the integration with Asana too, among other numerous apps.
f you don't feel like using Asana, we have also come up with a built-in task manager that lets you seamlessly assign tasks to your teammates.
Have I missed something? Feel free to share your experience of using Asana and Slack.