With the coronavirus pandemic not going away any time soon, a lot of businesses are looking for a way to communicate in a remote setting. However, there seems to be a vast array of apps to choose from and finding the best one can be a bit of a challenge.
When building Chanty – our own team chat app for communication and collaboration – we've had the opportunity to test quite a few team chat apps. We test each app for a few weeks to find its strengths and weaknesses and ultimately, to learn from it and try to create something even better.
Today, we'll be talking about two competitors with similar offerings: Slack vs. Flock. Let's see how they compare in 2020 and beyond and which one is a better solution for your team.
Slack vs Flock pricing (0:1)
One thing that makes the team chat app business model unique is that the more uses a team has, the more money can be made. With this in mind, team chat app companies like Slack and Flock create freemium business model – to attract companies with a large number of users. You get to try the free version of the product with some limitations and in order to access the full package, you have to upgrade to a paid plan.
Speaking of paid plans, Flock has two at the moment. The cheaper Pro plan is $4.50 per user per month and unlocks unlimited messages and an unlimited searchable history, as well as 10GB of storage per member. The more expensive Enterprise plan starts at is $8 per month and it unlocks 20Gb of storage, Single Sign On and 24/7 dedicated support. Since both teams offer unlimited messages and other similar features, I don't think that the extra $3.50 is worth the upgrade. With a team of 100 people, this could make a difference of $450 and $800 per month without a significant difference in use.
On the other hand, Slack pricing has been the same for years now. The Pro plan will set you back $7.25 per user while the more expensive Business+ plan is $12.50.
Slack vs Flock pricing
Slack
Flock
Pro $7.25 user/month

Business+ $12.50 user/month

Pro plan $4.5 user/month
When it comes to pricing, the decision is simple. Flock offers more features in the free plan and its paid plan is cheaper in comparison. So, the winner here is obvious – Flock.
Features available in free version of Slack and Flock
Slack (free)
Flock (free)
Video conferencing
For no more than 2 users
For no more than 2 users


Up to 20 mins/call

Screen sharing
No
No
Message history
90-day messaging
10 000 messages
Integrations
Limit of 10 integrations
(with 2000+ integrations in Slack to choose from)
Unlimited (with 50+ integrations overall in Flock)
Slack vs Flock interface (1:0)
Perhaps I've been spoiled with too many SaaS applications I've used to date, but I was not too pleased when I first opened Flock. The interface is split up into no less than five different sections on your screen and finding the right piece of information can be a hassle. It takes quite a bit of time to get used to this arrangement and a confusing mix of icons, windows, bars and features. After a while, you get familiar with it but I couldn't stop wondering if things had to be this complicated.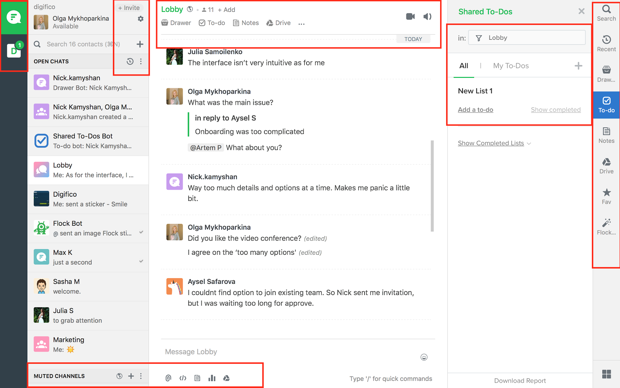 Flock interface
On the other hand, Slack is much simpler and its two basic features are displayed from the start. Each additional feature is hidden behind some sort of a button. The best of all is that the buttons are placed intuitively in the places where you would expect them. For example, the attach button is right next to the chat window.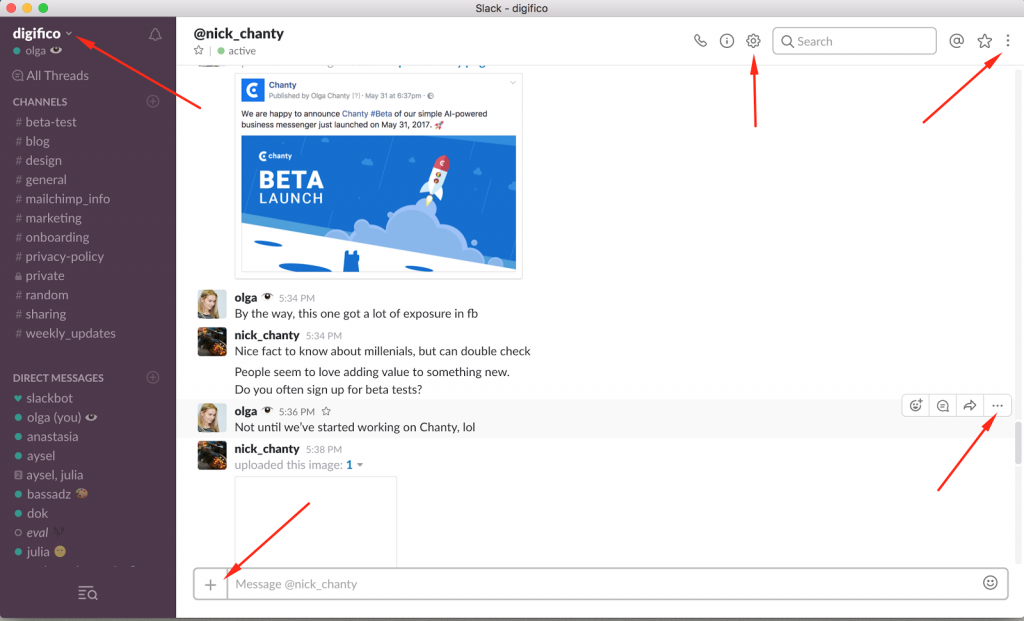 Slack interface
In this category, Slack takes the win.
Slack vs Flock conversations (1:0)
One of the best things in Slack is being able to start a conversation with yourself. Simply click on your own name on the left side of the screen and type any messages that you only want to see for yourself. It's great for leaving notes or links you want to review in the future and you can use Slack as your own notepad.
The problem is, those messages will disappear after a certain time period. Slack has a limit of 10,000 searchable messages in its free plan, so once you run out of those 10k, you won't be able to find your old messages. Unfortunately, the same goes for Flock. With both tools, you have to upgrade to a paid plan to get an unlimited search history.
When it comes to Flock, the one thing we didn't like was the fact that everyone in your team can see what you're doing. Whether you create a to-do item or pin a message, everyone in the team is able to see this action.

Threads feature in Slack
Threads are another feature which I've come to love in Slack. For each message you write, you can reply to it in a thread. Answers in a thread are displayed under the original message, which keeps things nice and orderly. In Flock, replying to a message does not open a thread but instead creates a completely new message. The same happens when you reply to an existing reply in a thread. In other words, it's downright confusing.

Reply feature in Flock
Out of a perspective of pure user experience, Slack's conversations are much easier to use and read, which is why Slack wins in this category.
Slack vs Flock video calls (0:1)
In the very beginnings of its journey, Flock used Appear.in as an integration to make video calls possible. However, it now offers standalone video calling as a feature. Both tools do video calls fairly well and there were no major hiccups when using either of them. However, the video quality in Flock is noticeably better than that in Slack, which is why we'll give Flock the upper hand in this category.
Free plans
| | | |
| --- | --- | --- |
| | Slack | Flock |
| Amount of users | 1-to-1 calls only | 1-to-1 calls only |
| Call duration | not specified | 20 minutes per call, you can place as many voice and video calls as you need |
| Screen sharing | not available | not available |
Paid plans
| | | |
| --- | --- | --- |
| | Slack | Flock |
| Amount of users | up to 15 users | up to 20 users |
| Call duration | not specified | unlimited |
| Screen sharing | yes | yes |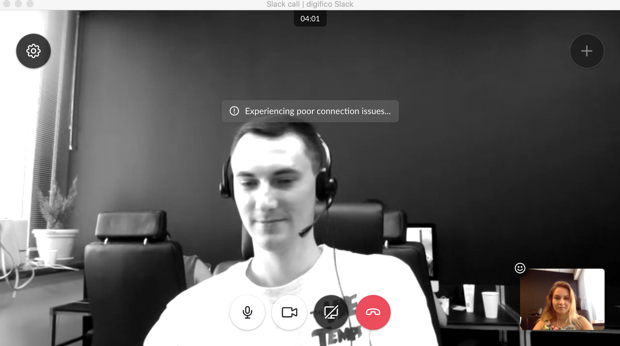 Some bugs occurred during a video call in Slack
Slack vs Flock notifications (1:0)
We all know how important notifications are for our everyday functioning in the workplace. In Slack, you can tinker with notification settings down to the minute details. You can choose when you receive them, for what types of messages and when specifically you do not want to be disturbed.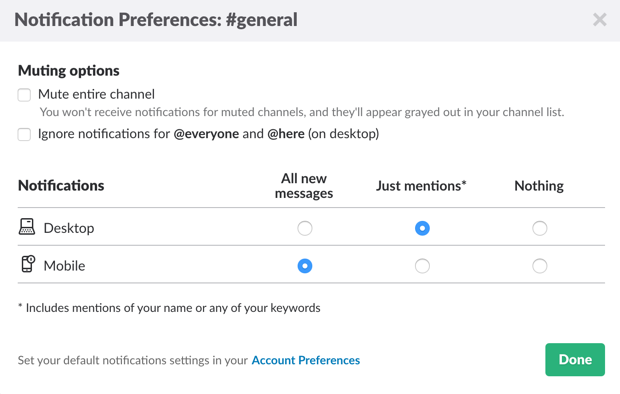 Notification settings in Slack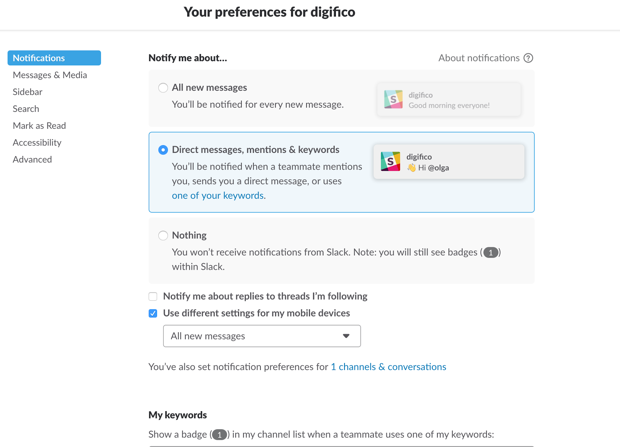 Notification preferences in Slack
Flock's notifications are not so sophisticated. You can turn on your do-not-disturb mode, but only at the press of a button. In other words, you cannot set a certain time frame when you won't receive any notifications. The other notification settings are very basic as well.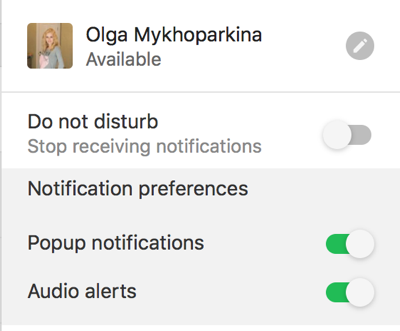 When it comes to notifications, Slack takes the prize.
Slack vs Flock file sharing (1:0)
Without beating around the bush, I'll go ahead and say that Slack has better file-sharing options. First of all, you can upload files of up to 1GB in size, compared to 100MB in Flock. What's even better is that Slack allows you to search within your uploaded documents, which is a feature that Flock is missing – but more on that in the next section.
Slack vs Flock search (1:0)
As mentioned, both apps have a limited search history of up to 10k messages. When searching in Flock, you can specify what you want to search in: a contact or a conversation, making the search quicker and more efficient. On the other hand, Slack even allows you to choose the time period you want to search for and you can exclude certain search elements as well.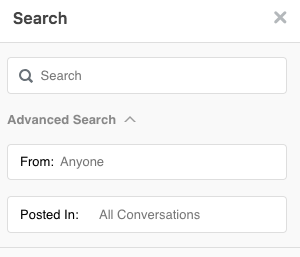 Search filters in Flock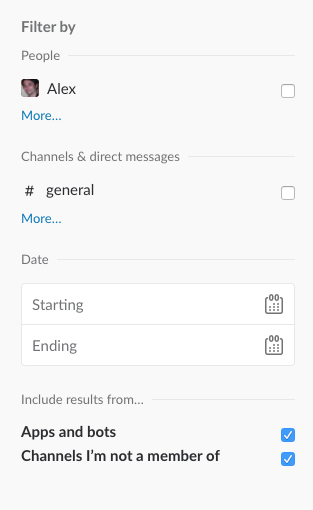 Search filters in Slack
One super cool feature in Slack is that you can search the documents you uploaded. For example, you can search the contents of a Word or PDF file, which can come in very handy.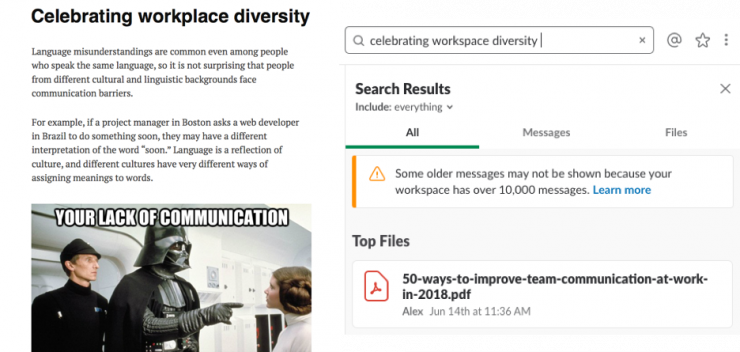 With everything said and done, the search feature is much more advanced in Slack, so it wins in yet another category.

Slack vs Flock integrations (1:0)
When it comes to integrations, they've started as something nice to have and become an integral part of any team chat app. Among others, a good team chat app needs to have integrations with key workplace apps, such as Google Workspace, Dropbox/Box, various project management apps and others.
Once again, Slack is the clear winner here, purely on the basis of numbers. At the moment of writing, Slack integrates with more than 2,000 third-party applications, while Flock only integrates with the help of Zapier, which becomes quite expensive at some point.
Conclusion
After taking a look at Slack and Flock from different angles, we've come up with the following table with the results of Slack vs Flock battle.
Results of Slack vs Flock battle

| | Slack | Flock |
| --- | --- | --- |
| Interface | 1 | 0 |
| Conversations             | 1 | 0 |
| Pricing | 0 | 1 |
| Video calls | 0 | 1 |
| File sharing | 1 | 0 |
| File search | 1 | 0 |
| Notifications | 1 | 0 |
| Integrations | 1 | 0 |
| Total score | 6 | 2 |
Even though they seem similar, Slack and Flock are two completely different beasts. Even though it costs more, Slack comes out on top as the more capable tool, with better interface, conversations, notifications, file sharing and integrations. If you want the tool which is overall better, go for Slack. If price is your main concern, Flock may still be a good option.
However, if you want the best of both worlds – a capable tool with amazing features and a great pricing – take a look at Chanty! Our free plan comes with unlimited search history, while our paid plans have amazing features like audio and video calls and screen sharing. Give it a try today for free! 😉