Basecamp is one of the oldest project management platforms out there, founded in 1999 — which makes it only a year younger than PayPal. Since then, it has grown to become a top competitor in the space, with over three million users to date.
The Chicagoan company has gone through multiple Basecamp pricing systems over the past two decades. For this article, we'll only concern ourselves with the current plan structure since that's all that matters for our loyal readers who want to save some money on their subscription.
We're going to go over the differences between Basecamp Personal and Basecamp Business, the limitations of the free version, as well as some alternative project management software that you might want to consider if Jason Fried's renowned solution isn't right for you.
Be sure to read the guide all the way through to get the full benefit and share it with a friend or two afterward so they too can cut down on their overhead costs. Without further ado, let's get right into it!
Basecamp pricing plans
Basecamp pricing system is remarkably simple since there are only two plans available: Personal and Business. The former is their free option for those with simpler needs, while the latter is Basecamp's premium offering.
Basecamp Business will run you $99/month, which might seem expensive at first, but that all changes when you realize it's a flat rate that doesn't increase as you add more users. Being able to invite an unlimited number of users without paying more has always been a selling point.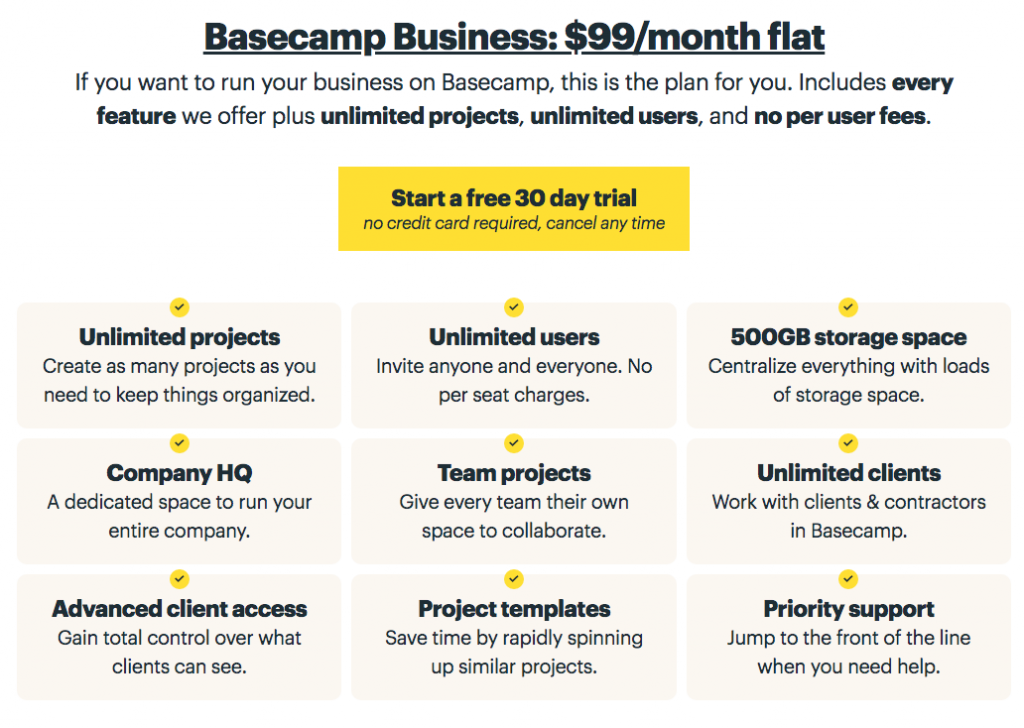 Big teams actually pay less for Basecamp than they would if they subscribed to a similar service with per-user pricing. The Basecamp homepage estimates that companies would pay over four times the price for similar functionality if they use other applications for their needs.
This estimate wasn't even for a huge corporation, just a team of 10 people. We'll dive deeper into the limitations of the free plan below but for now, let's take a quick look at the benefits that a paid Basecamp subscription can bring:
Unlimited users
Unlimited projects
Half a terabyte of storage to stow all your files away
Priority support with the Basecamp customer service department
Dedicated team workspaces
Client viewing permissions
Free Basecamp pricing plan limitations
The good folks who spend hundreds of days each year developing Basecamp deserve to get compensated for all their hard work. This is why it's not surprising that some features are reserved for the premium plan — otherwise, no one would upgrade!
Honestly, the freemium business model is the best compromise between userbase accessibility and company sustainability. In the interest of keeping the business afloat, the limitations below have been set on Basecamp Personal:
User cap
Basecamp Personal aims to make the platform more affordable for smaller organizations that can't afford to pay $99/month, so it makes sense that there'd be a user cap in place. The cap isn't too restrictive, though, since many projects don't have more than 20 people on them.
The website literally says, "great for personal projects, students, freelancers, families, and light use," so we're not in a position to criticize the company for limiting team size.
If you think the capacity isn't enough for your current team, or you plan on expanding with new employees soon, then you'd probably be best off going for the premium plan. Otherwise, this restriction is not only reasonable but easy to ignore if you're an SMB.
Finite projects
Perhaps more concerning is the fact that you can only manage three projects on Basecamp Personal. If you need to take care of more than three, then you'll need to upgrade to a paid subscription.
Marketing agencies and similar organizations tend to work with multiple clients at a given time, so this limitation could make it hard for them to stick to the free plan. Although, those who don't take on too much work at once shouldn't run into any issues.
A good example would be a developer who only programs code for one or two applications at a time or a book author that only publishes one title per year. But if your business juggles multiple projects, then you'll likely have no choice but to upgrade.
1 GB storage space
We can't be too hard on Basecamp since it was nice of them to include any storage at all on a free plan. That being said, 1 GB isn't as much storage as it used to be — especially if you're working with hefty media files.
If your team primarily uploads word documents and other file formats with a small footprint, then a gig of storage shouldn't feel too cramped. However, companies that handle video editing would hit the ceiling so fast that they'd get a concussion.
In fact, 4K video takes up a gigabyte of storage for every minute of footage if you're filming at 30 frames per second. Shooting at 4K60 will take up even more space. It all comes down to what your company does and how much storage it realistically needs to function.
Note: if all else fails, you can always keep your files on a separate storage platform like Dropbox or Google Drive.
How to save money
Basecamp Personal
The most obvious way to save money on your Basecamp subscription is to stick to the free plan instead of upgrading. Of course, this only applies to businesses that don't need the extra features that come with the premium tier, but it's still worth noting.
You can always switch to Basecamp Business when the time comes if the needs of your organization become too diverse down the road, or the team size surpasses 20 people. In the meantime, enjoy the extra money that the free plan will leave in your pocket.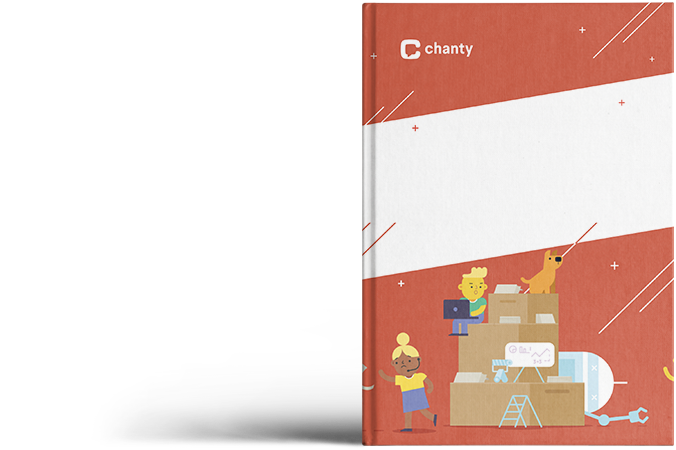 Communication issues at work?
"50 Surefire Ways to Improve Your
Team Communication"
Get eBook
Annual billing
If you pay for a year upfront, you'll get a 15% discount. That means you can save almost $200 — the equivalent of two free months on your subscription — just through annual billing. This is a pretty big discount that can really help cut down on the yearly costs.
Still, I wouldn't recommend going straight for it. Testing Basecamp Business out with your team for a couple of months before you pay a grand for a 12-month subscription would be the wisest path. As Reagan says: "trust but verify."
Free trial
Making use of free trials is a no-brainer since it saves you from wasting your money on software only to realize that it doesn't align with your needs. Basecamp's trial doesn't even require a credit card, so there's no reason not to try it out.
Even if you're already 100% certain that Basecamp Business is the project management platform for you, we'd still recommend that you go for the 30-day free trial first. By doing so, you'll lower your total first-year cost by $99.
Note: Basecamp has publicly stated on their website that they're willing to extend trials.
Promo codes
Another way to save money when upgrading to Basecamp Business would be to find some promo codes on websites like Coupons.com and RetailMeNot. It won't be anything significant but getting $10 off on your first premium month is better than nothing.
If you've been using the free version for some time, you could even try to reach out to the Basecamp team to see if they're willing to give you a discount when you upgrade. It's a longshot but it's worked for other software platforms like AND CO in the past.
Nonprofit and education discounts
Those running a 501(c)(3) nonprofit organization can get 10% off their subscription. This is on the condition that the Basecamp account is used exclusively for nonprofit work. All you have to do is email a copy of your 501(c)(3) paperwork over to nonprofits@basecamp.com.
Students and teachers at a K-12 school or university get an even better deal: free. The same exclusivity restriction applies, which means you can't use the account for unrelated projects. Students and teachers can email their proof to students@basecamp.com.
Picking a Basecamp alternative
This is usually the part of the pricing guide where we put together a fancy-schmancy table like something straight out of a GetVoIP software alternatives piece. Not this time, as we already have a comprehensive article that covers six great Basecamp alternatives!
Conclusion
As you can see, you don't have to break the bank to leverage the functionality that Basecamp brings. Many smaller companies will be fine with Basecamp Personal and thus be able to utilize the software without paying a dime.
Even those who are large enough to warrant the premium subscription can still minimize the cost by billing annually. Ultimately, there's something for everyone, and I'd be hard-pressed to think of a reason why a business wouldn't use Basecamp.