Basecamp has always been a top project management solution due to the fact that it charges a flat monthly fee regardless of how many users you have besides also being jam-packed with features. That being said, the unorthodox Basecamp pricing system has put it in a rather awkward position.
While the $99/month price point is actually a pretty good deal if you're working with large teams, it can be pretty expensive for companies of lesser scale.
Small businesses make up a big portion of the project management industry, and Basecamp simply wasn't designed for them. While it's true that compact teams can use the free version of Basecamp, it isn't as feature-rich as the business plan.
Furthermore, there's a 20-user cap on the free version of Basecamp meaning that any business team with more than 20 members will be forced to upgrade to the pricier business plan.
Fortunately, we at Chanty have your back and will take you through five of the best Basecamp alternatives. We're also going to list out some of the essential features that you should look for in a project management suite to help you pick a solution that's best tailored to your needs.
Let's get right into it!
Note: if all you're looking for is reliable software that helps your team communicate then you should save yourself some time and use Chanty instead. It will cover your chatting needs, help you manage projects, and to top all that off, it's totally free!
Basecamp top 6 alternatives
The world has no shortage of project management suites, but the tricky part is finding one that provides real value. We've searched far and wide to compile nothing but the cream of the crop. This condensed list of the top project management tools will help you pick the ideal solution.
ProofHub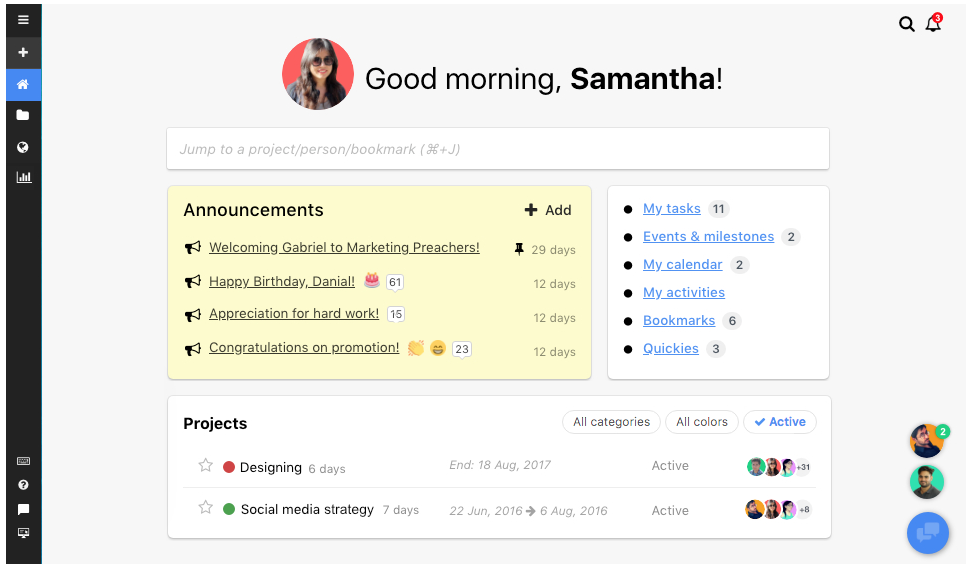 ProoHub was launched in 2011 and there has been no looking back for it ever since. Apart from being a complete package in terms of the number of tools it provides, it has a full-fledged free trial for a fixed time. Users get access to all the features without any need to upgrade to a premium one till the free trial ends. So the guesswork decreases and potential clients can have a literal understanding of how ProofHub will manage their work.
ProofHub has an easy-to-operate interface. It is fairly reasonable in terms of pricing. It costs $99 billed monthly and $89 billed annually. The best part is that this plan is valid for unlimited users without any per-user fee. So however big your team might be, you can get hold of ProofHub to manage your tasks at this nominal price.
Apart from pricing, the integrations that ProofHub provides are another added advantage. ProofHub integrates with a number of applications like Dropbox, Google Drive, iCal box, Onedrive, Outlook, etc.
Advanced Kanban boards with drag and drop, and other features like Gantt charts, timesheets, and proofing tool make ProofHub a lucrative option for project management.
Pros:
No per-user fee
Simple interface
Exhaustive number of tools
Sound customer support service
Cons:
No integration with Zapier
Trello

Trello is one of the oldest project management solutions out there. It's been around for as long as anyone can remember and remains a top option to this day. There are quite a few things that have helped Trello stay ahead of competitors since its 2011 release.
First of all, the simple and intuitive user interface ensures anyone can use the platform without a hassle. Someone who's never tried Trello out before could become proficient at it in a matter of minutes.
Another factor that has helped Trello retain its position as a leader in the project management industry is how customizable it is. You can tailor its look to your preferences. Everything from color palettes to custom backgrounds is within reach when you use Trello.
Furthermore, Trello also provides one of the most accommodating free plans out of any project management suite. You can collaborate with as many users as you want without ever upgrading to one of the paid tiers.
Even things like automation or two-factor authentication are available to free users, despite the fact that these features would normally be reserved for premium subscribers on most other project management suites.
However, if you want to create more than 10 team boards, set up email notifications, or integrate apps then you'll need to upgrade to the paid tiers which will run you $5/month/user on the Standard plan, and $10/month/user on the Premium plan.
By upgrading, you'll also unlock the custom backgrounds that we talked about earlier and get priority support whenever you encounter an issue. If you're running a team with five members then Trello's premium class is still half the price of the paid plan over at Basecamp.
Pros:
User-friendly
Customizable
Expansive free tier
Two-factor authentication
Workflow automation
Cons:
10-board limit unless you upgrade
Custom backgrounds, integrations, and email notifications are locked to business class
Asana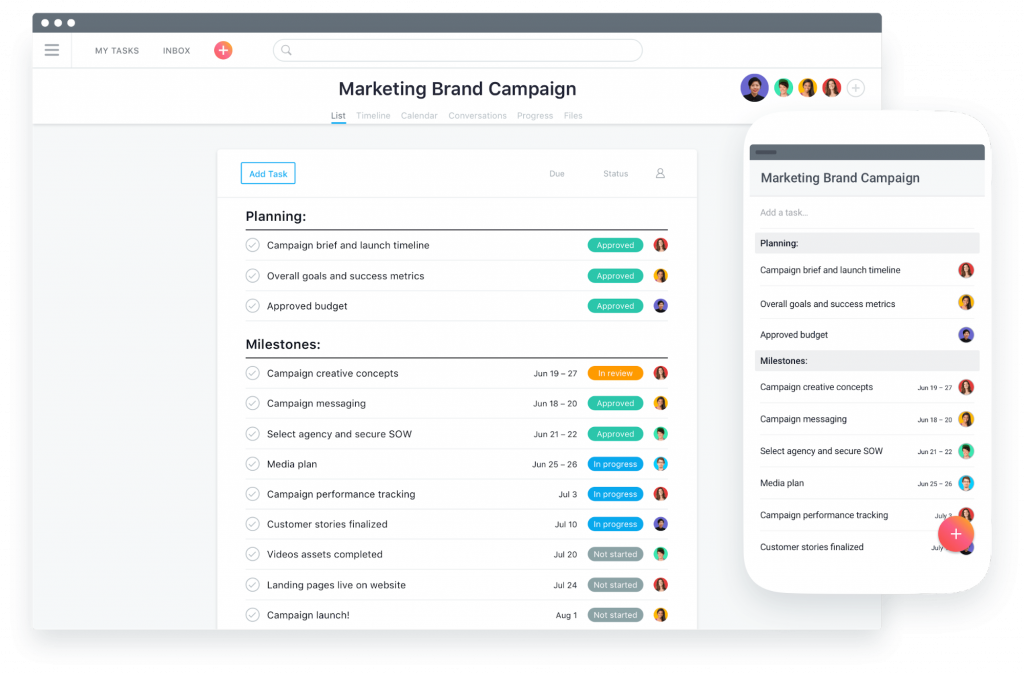 Asana was founded over a decade ago in 2008 and has since grown to become one of the most popular project management suites. Its prestigious rise to fame is no doubt a direct result of the countless features and clean design that Asana boasts.
The fact that Dustin Moskovitz — the co-founder of Facebook — was behind the application didn't hurt either. The aptly-named basic plan gives you access to most of the essential features without charging a single cent.
Sadly, unlike Trello, there's actually a limit to the number of users that you can collaborate with on the free plan. If you don't want to upgrade beyond the basic tier then you'll be restricted by the 15-user cap.
Task assigning, due dates, and the Asana calendar view are all available to free users. The most noteworthy feature of the basic plan is by far the ability to use integrations. Unlike Trello, you don't have to pay extra to integrate your favorite apps.
Slack, Dropbox, Google Drive, MailChimp, and Evernote are just a few of the apps that you can use with Asana. In fact, you can even integrate Trello with Asana giving you the best of both worlds if you're struggling to pick between the two.
Of course, Asana can't give you everything with the basic tier or there'd be no incentive to upgrade in the future. That's why paid members get additional features like custom branding, forms, reporting, and priority support. Their pricing is pretty reasonable though.
If you upgrade to the premium plan — which costs $11/month for each user — then you'll get access to all the exclusive content in Asana Academy. The academy features courses on marketing, productivity, and a slew of other topics.
Pros:
Basic tier includes all essential features
Integrating apps is available to free users
Asana Academy courses for premium members
Cons:
A 15-user limit on the free plan
Reporting and custom branding is restricted to the paid tiers
Monday.com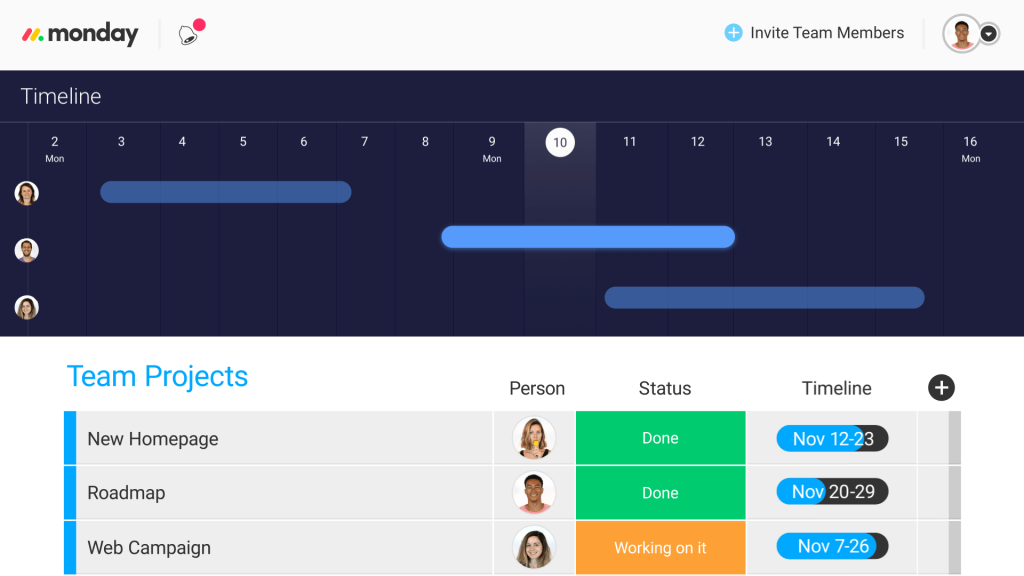 While monday.com is an amazing project management suite and a collaboration tool, it finds itself in an awkward position similar to Basecamp.
If you have more than 15 users then it'd be more cost-effective to go for Basecamp Business, but if you have less than 15 users then why not just go for the basic tier of Asana?
That being said, small teams consisting of five members might find some value in its pro plan which costs $59/month in total (not per user). It includes many handy features and still comes in cheaper than Basecamp Business.
Some of the premium features that you'll run into include integrations, automation, authentication, and time tracking. There are also a wide variety of views to choose from when using Monday.com.
You can use the timeline, calendar, map, or chart view depending on your preferences. This versatility with regard to display options means that the Monday.com interface has something for everyone.
One thing that we really like about Monday's mobile apps is that the design is so similar to its desktop version that you'll find yourself forgetting which platform you're on. This immersive compatibility helps you conduct business while on the go without losing focus.
All tiers also come with 24/7 email and phone support ensuring that you'll always have a representative available to help you resolve any problems that may arise. Overall, it's not the best pick for everyone but there are some niche instances where Monday.com excels.
Pros:
Feature-rich
Versatile display options
Immersive compatibility across all platforms
24/7 support on all tiers
Cons:
Pricey for large teams
Smaller teams would get similar functionality out of Asana's basic tier
Hive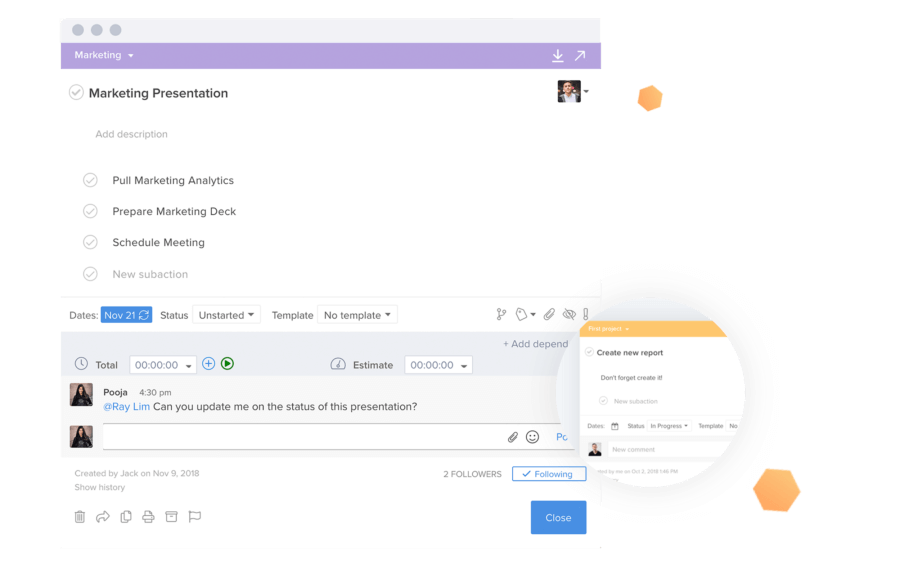 Hive is a bit younger than the other project management options that we've covered in this article. As a matter of fact, it isn't even five years old yet. However, we at Chanty like to judge software based on their capabilities rather than their age.
While Hive is relatively new to the project management industry, it has certainly caught up with its competitors in terms of functionality. If you pick Hive, you'll only pay for the features that you intend on using — and the base price is an affordable $12/month for each user.
Analytics, time management, and task approvals are all add-on features that you can affix to the existing plan if your needs justify the extra cost. This feature-based pricing system is a bit of a double-edged sword though since it can drive up the price for some users.
Apart from pricing, one of the big pluses of using Hive for your project management needs is the fact that it has an integrated email inbox. You can use this inbox to assign and schedule tasks directly from emails.
The "my actions" to-do list compiles all your tasks across every active project so that you can easily keep track of what's on your plate. Much like with Monday.com, you'll be able to choose from a variety of display options when using Hive.
As if all that wasn't enough, Hive also has a chat that integrates with Zoom. If the chat feature is the main thing that appealed to you when considering Hive then why not give Chanty a try? Not only is it a simple and intuitive team chat, but it's totally free for up to 10 members!
Pros:
Add-on pricing system
Hive Mail inbox
Various display options
Aggregated to-do list
Zoom-compatible chat
Cons:
Freedcamp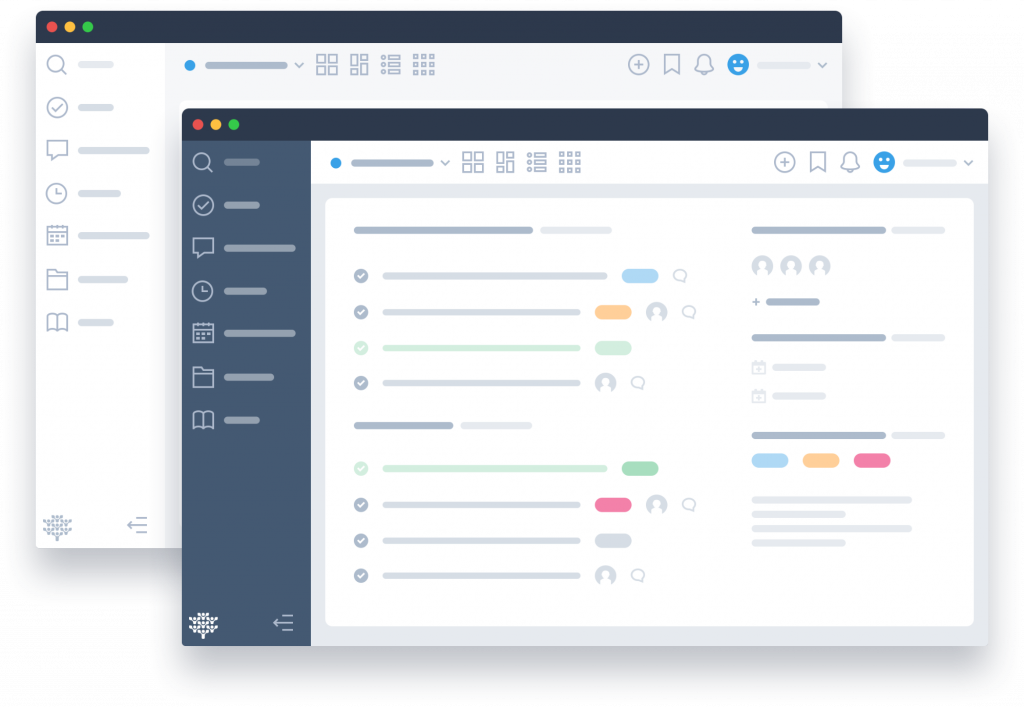 Freedcamp is exactly what it sounds like, a free version of Basecamp. "But wait a minute, Jake, isn't there already a free plan on Basecamp?" Yes, there is, but that one has a user limit.
If you're running a large marketing team and want the functionality of Basecamp without the limitations set by the personal plan then Freedcamp is your best bet. In fact, Freedcamp is even open-source ensuring full transparency and better security.
You might think that Freedcamp is nothing more than a knockoff, but that couldn't be farther from the truth. In fact, major companies such as Google, Apple, PayPal, and Airbnb use Freedcamp for all their project management needs.
Some might even say that Freedcamp is a superior option rather than a cheap replica since it offers unlimited storage and doesn't put a cap on the number of users you can add to your team. You can also integrate Google Drive, OneDrive, and Dropbox for easier file sharing.
It's worth noting that the storage integrations are limited to the paid plan, but it's still very affordable at only $1.50/month for each user that you add. You would have to add over 60 users for Freedcamp's minimalist tier to surpass Basecamp Business in its monthly cost.
One aspect that Basecamp beats Freedcamp at though is the interface. The Freedcamp interface is rather bland. If you're the type of person who prefers creative UIs then you might want to pick one of the other options listed in this article such as Monday.com or Trello.
Pros:
No user limit
Open-source
Used by some of the largest companies in the world
Cloud storage compatibility
Affordable premium tiers
Cons:
ClickUp
ClickUp is an all-in-one productivity app designed to manage everything—from your daily to-dos to complex projects, even your business' entire workflow. Teams of any size and across industries rely on ClickUp for its powerful customization abilities and feature-rich experience to automate processes, monitor project updates, and collaborate with the team, no matter what project style you use.
Unlike Basecamp, ClickUp allows teams to customize their entire workflow. Set Custom Statuses, Custom Fields, create custom templates, and even customize individual color pallets to tailor your platform to your needs. ClickUp offers multiple ways to visualize your work with over 15 unique views including List, Board, Box, Calendar, and Gantt view.
Collaboration is at the core of every ClickUp feature, with a built-in Chat view for instant messaging, collaborative editing in Docs, an option to add multiple assignees in tasks, create Teams, and more. Resolve issues faster by using the comment feature—easily chat within a task and assign comments to a particular team member for seamless, actionable feedback.
As one of the most flexible workflow apps available, ClickUp enhances your productivity and scales with you as you grow. With hundreds of advanced tools, over 1,000 integrations, and a user-friendly, drag and drop interface, ClickUp makes work management a breeze.
Plus, ClickUp is extremely affordable. Whether you lead a smaller team, are a solopreneur, or a large-scale enterprise, ClickUp offers comprehensive project management features, quality customer support, and top-notch data safety across every plan. Add unlimited members and tasks and get 1,000 MB of storage with the Free Forever Plan and get access to more advanced features with paid options starting at $5.
Pros:
Scalable structure
Fully customizable
Feature-rich free plan
Workflow automations
Built for teams of any size
Cons:
Some users might have a steeper learning curve
Customization abilities could feel too unrestrictive for some users
Essential features
As you can see, there's a significant level of feature variation between the options that we've reviewed in this article, so how do you know which ones matter most? This section will cover the key features that you should look for in a project management solution.
Task assignment
Of course, at the heart of every good project management software is the ability to assign tasks. No matter how many features a particular solution has, it would all be for nothing if you can't accomplish the base goal: assigning a task to one of your team members.
Due dates
Being able to set a due date on each task is just as important as being able to assign them. After all, you're going to have a scheduling nightmare if the members of your team don't know when they need to complete a certain task or which one should be prioritized.
Automation
Good project management software should help you save time rather than take up more hours of your workday. That being the case, look for an option that lets you automate actions. It may seem insignificant, but the ability to automatically assign tasks will cut down on your input.
Integration
We've said it before and we'll say it again: there's no such thing as a perfect project management solution. That's why you should find one that lets you integrate various apps as it will make it easier to expand the base functionalities of the software.
Security
With the ever-present threat of corporate espionage, you need project management software that keeps your data safe. Two-factor authentication can defend your company from spies and eavesdroppers. Open-source options tend to be more secure due to community vetting.
Mobile apps
The modern business world is dynamic, not static, which is why you should choose project management software that lets you run your team while on the go. Mobile apps help you do just that since you'll have the full power of the software in your pocket at all times.
Team chat
Communication is a cornerstone of success, so having a robust team chat on your project management suite is crucial. Sure, you could use a separate solution for chatting, but separating your needs across different platforms will make management much harder.
After all, team communication is all it takes.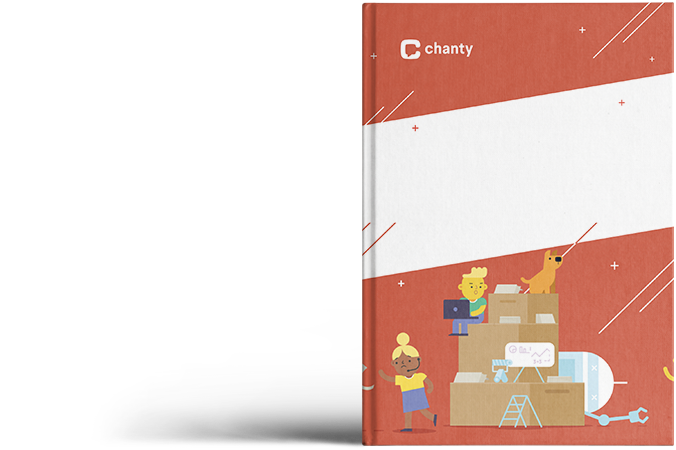 Communication issues at work?
"50 Surefire Ways to Improve Your
Team Communication"
Get eBook
Picking for you
We can't tell you which software is the best one for your company. All we can do is show you some of the top options and highlight key features. At the end of the day, it's still your decision to make because no one knows your company better than you.
It all comes down to choosing a solution that fits in with your needs. When communication among team members is the core goal then just go for Chanty since it's free for up to 10 team members. If you want a user-friendly platform with an expansive free plan then Trello is a great pick.
If you value education, enjoy integrating apps, and don't have more than 15 members on your team then Asana is a prime choice. However, those who want exellent functionality and don't mind paying a premium for it might take a liking to Monday.com.
Minimalists who only want to pay for the features that they'll actually use will love Hive's pricing system. Lastly, if your sole complaint with Basecamp was the monthly cost then go for its open-source cousin — Freedcamp.
You really can't go wrong with any of the options that we've covered in this article, so just pick whichever one you like most. It's not possible to find a solution that checks all your boxes, but there'll definitely be one that fits in better than the others.
Conclusion
We hope that our guide has helped you find the right project management software for your business. If it was helpful, consider sharing a link with one of your entrepreneurial friends.
Are you tied between Asana and Trello? Asana vs Trello. It breaks down everything you need to know about the two services so that you can compare them side-by-side and pick the one that suits you best.
Now that you have reliable software to cover all your project management needs, it's about time that you broke up the monotone workflow with some fun-but-harmless pranks. Check out our article on the best office pranks for some clever ideas.
You could also browse our blog to learn more about productivity, communication, and project management. That's all for now, but stay tuned for some upcoming articles that will keep you on the cutting-edge of the software world. Happy managing, everyone!