There are around 270 million Microsoft Teams users in the world. However, the tool is only compatible with Microsoft 365 subscriptions. So, companies that aren't using Microsoft's ecosystem would need a different team communication tool.
What's more, Microsoft Teams has a free edition but lacks key features like task manager, cloud recording storage functionality, flexibility in a monthly subscription, etc. Thankfully, you have plenty of options and better alternatives to Microsoft Teams.
So if your business requires virtual tools for team communication and is not using Microsoft 365, check out the following ten solutions.
#1. Chanty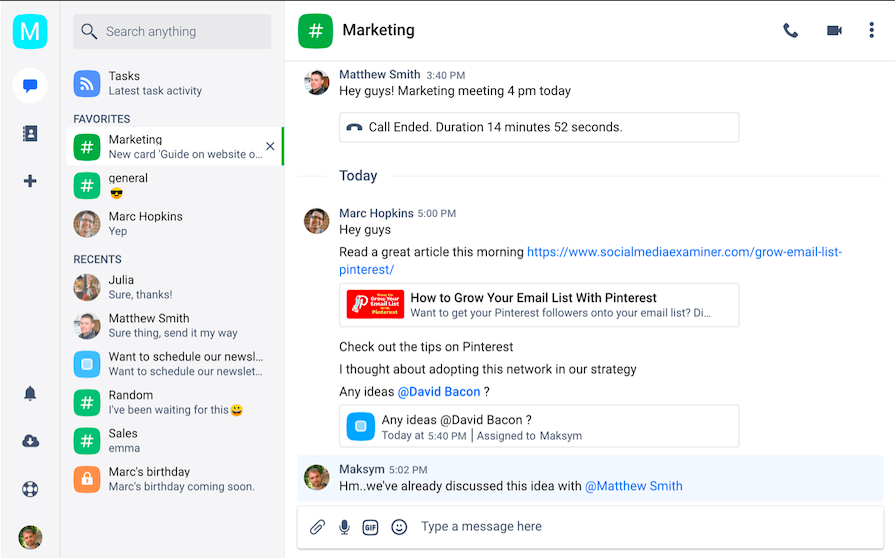 If you are looking for a one-stop solution for synchronous communication, Chanty is the answer. It lets you centralize your work in a single location called Teambook. You can create accessible catalogs for teams' discussions, projects, and pinned messages here.
Also, Chanty offers cost-effective options for businesses looking to simplify communication within the teams. More than just conversations, you can use Chanty for project management, turning messages into actionable items and manage them with the help of Kanban board.
Chanty offers audio calling and video conferencing with screen sharing.
Leverage its Integrations with services like Trello, Asana, Google Drive, Asana, GitHub, Dropbox, etc.
Key Features
Creating and assigning tasks, Kanban view
Voice and video calls
Link and file sharing
Custom roles for users
Voice and text messages
Pinned messages
Pros
Timely app notifications
Quick load times
Cost-effective
Cons
Lacks video call invitation by link
No quick auto response messages
Pricing
The free plan provides up to 10 members.
The business plan with more features costs $3/ user yearly or $4/ user monthly.
#2. 8X8
8X8 offers a powerful VoIP phone system that can grow your business from supporting a few employees to hundreds in a call center. With customer service software, like Hiver in place, you can use its data to communicate with customers using 8X8 effectively. It works as a complete business phone system that is a better substitute for Microsoft Teams. You can also integrate it with Salesforce, HubSpot, Freshdesk, and many others.
Use it to streamline your communication and enhance collaboration with employees. Businesses may get valuable insights into their consumers' experiences across all touchpoints and channels using real-time business analytics and intelligence.
Key Features
Advanced call management helps streamline your call management by creating visible voicemail, an auto-attendant, a dial-by-name directory, and more advanced calling capabilities.
8X8 offers voice, video, and messaging facilities — under a single roof. It can transform your PC or mobile phone into a dedicated workstation for seamless collaboration and communication.
A slew of features like caller ID, call blocking and do not disturb mode improve productivity and privacy.
Other features include call waiting, call parking forward, transfer, and hold calls coupled with three-way calling that offers multi-party communication without extra equipment or time.
Pros
A low-priced, all-in-one platform for unlimited voice and video communications
Services may be adjusted to fit your needs, and you can customize benefits for each employee individually
We provide over 50 commonly used functions for chatting, video chatting, and voice chatting completely free of charge with all of
Cons
The 8×8 Express subscription does not include 24/7 customer support
Upgrades are not available for more conference capacity than Zoom offers
Its admin control is quite complex to use
Customer service is not to the mark
Pricing
You have different options for Business Communication and adding a contact center.
Three price plans for business communication
8X8 Express: $15 per monthly user for up to 10 users. You can get a 30-day free trial
X2: $24 per user a month with unlimited voice calling to 14 countries and video meetings with up to 500 participants
X4: $44 monthly for each user with international calling for 45+ countries.
Three price plans to add contact center
X6: $85 a user per month with analytics and collaboration
X7: $110 a user per month with voice and digital interactions
X8: $140 monthly for each user with auto-dialing, quality management, and analytics.
#3. Zoho Connect
Get quick access to all the team members in one location thanks to the popular team communication software Zoho Connect. Use this tool to encourage team members to voice their thoughts and ideas together as you get to set a group's privacy level — open, closed, public, or private.
Leverage its feeds to keep tabs on any communication that matters. Also, you can craft posts and publish them on your profile or group walls. It's a great tool that drives collaboration by letting everyone attach files to your posts and share them across the organization.
Key Features
Secured communication within and outside the organization
Create custom channels
Instant Messaging and Chatting
Connect to other Zoho apps.
Create activities, weblogs, wikis, discussion boards, and polls
Integrating with Active Directory
Pros
One-touch video conferencing in a closed group
Lets you pin key chats and mute channels
Share and edit files in real-time while working on group projects such as papers, presentations, etc.
Get quick access to relevant search information through its powerful search option
Analytics offer
Cons
Pricing
Standard – $1 per month for the first 100 users, $0.80 per person for 101-500 users, and $0.50 for over 500 users.
#4. Nifty
For groups searching for a flexible cloud-based platform to manage processes and collaborate on a variety of projects, Nifty is an excellent option.
Nifty has a calendar, a to-do list, documents, and direct messaging. Nifty's dashboard can be adjusted to meet any process, allowing users to prioritize insights while spending less time looking for them.
Key Features
Check late, in-progress, and completed project milestones
Efficient task management with Kanban-style tasks to organize, communicate and prioritize work
Create and save collaborative documents with your team by integrating presentations, Google Docs, Sheets, Etc.
Document commenting and editing notification.
Benefits
Your teams can collaborate on multiple tasks simultaneously.
Fragment your projects into smaller tasks and track progress using to-do lists and other tools.
The project timeline shows where everyone is on the project to keep track of time and ensure nothing gets missed.
Put your team's file-sharing capabilities at the tip of your finger.
Gain faster, deeper visibility into all of your projects and team members.
Cons
Multiple system notifications may appear on discussion streams, and it gets hard to delete them all at once.
Lacks custom automation
There is no native printing feature
The iPad app does not work up to the mark
Pricing
There are three price bands apart from Forever Free version; $5, $10, and $16 for Starter, Pro, and Business, respectively.
#5. Mattermost
Open-source software Mattermost competes with Microsoft Teams as a self-hosted and modifiable tool, allowing you to create a solution tailored to your business needs. It enables cloud-based server registration, which is quick and easy — allowing you to start communicating with your team immediately.
The teamwork app is similar to Slack in appearance and operation, but it boasts the enterprise-grade functionality of Microsoft Teams and the option to use your in-house server.
Key Features
Mobile access with a comprehensive app
Project management that helps organize everything on the card
Real-time chat options for teammates
Voice calling and screen sharing in channels
Custom alerts and notifications
File sharing in chat
Pros
Sleek, minimal UI to help focus priorities
Simple to connect with multiple teams
Support for Gitlab integration
Provides full-text search
On-premise deployment
Cons
No email notifications of missed conversations.
It's not easy to trace the conversational thread back through time. The chat room is too specific to allow for a search.
Most individuals will struggle with installing a mobile app and getting it to work since it requires knowledge of the user's chat server.
Pricing
The starter pack is free forever.
The professional package costs $10 per month per user.
There is also an enterprise edition with prices depending on your requirements.
#6. Zoom
The onset of the Covid-19 pandemic saw many businesses adopting Zoom for fast, simple, and effective communication. You can make Zoom calls from invite links on the email, making it easier to include it in your workflow.
However, Zoom isn't just a video app. Zoom also offers chat messages, groups, and channels to organize your conversations. That's what sets it apart as a true alternative to Microsoft Teams.
Zoom's cloud servers deliver high-quality video and audio in a simple, affordable way, making it a video conferencing powerhouse.
Businesses of any size (barring enterprises) can leverage Zoom, which offers up to 1000 interactive video participants and 10,000 view-only participants. Also, it has easy accessibility from mobile phones and PCs.
Key Features
Conduct quick meetings on private and public channels
Access to the personal location where you track files and reminders
Light and dark themes in the chat panel
Channel customization
Third-party integration for archiving messages
Putting up time constraints on chat message history
Many third-party connectors like Slack, Drive, Teams, Dropbox, Facebook, Intel Unite, and more Zoom connectors are available.
Pros
No cost to host up to 100 participants in a video conference
No caps on group meetings
Unlimited personal meetings
Access to screen sharing and whiteboard tools
Access to recorded meetings with transcripts
Cons
No control to delete comments users
Cluttered mobile UI for meetings
Lacks the necessary security
Pricing
Apart from the free plan, it has a Pro plan costing $149.90, a Business plan that costs $199.90, and a Business Plus plan that costs $250 a year.
#7. Cisco Webex
Webex is the best alternative to Teams for hosting large-scale conferences. Cisco Webex Productivity Tools, which may be downloaded for free, can also facilitate the management of invitations and agendas for bigger events. You may connect the tools to Microsoft products, including Office, Outlook, and Teams.
Businesses must contact a Cisco agent for pricing, but it has capabilities that other video conferencing software lacks. Unlimited hosts, 100,000 meeting participants, and unlimited cloud storage for recorded video meetings are provided.
Key Features
Meetings and Video Conferencing
The speech-to-text transcribing is precise
Record and transcribe calls up to 10GB in size automatically saved in the cloud
Utilize call waiting, routing, and call forwarding
Provides "advanced calling capabilities" such as calling analytics.
Enhanced security with an enterprise plan that comes with a FedRamp-authorized program, HIPAA and BAA compliance, and TLS (Transport Layer Security
Real-time video conferencing
Pros
The host can bring in anyone to the conversation when in a meeting by shooting an email or chat message link.
Leverage the HD video resolution available in both the paid and free versions of Cisco Webex meetings.
Seamless and centralized interface for managing voicemail, Contact Center Express, and internal extension dialing.
Cons
Data storage eats up a lot of memory. For instance, saving a single 1-hour meeting recording might require up to 1.5 GB of space.
It is difficult to pinpoint an issue unless it is tangible — a broken desk phone as your admins may lack the necessary resources to fix it themselves. You need to route problems through their customer support instead.
Many users experience audio problems when connected to other than Webex.
Migrating from older Webex systems to the newer cloud-based version may be time-consuming and frustrating.
Pricing
The basic package is free to use but offers a meeting duration of up to 50 minutes and caps meeting capacity to 100 participants.
The business plan costs $25 a month per user and offers meet + call features with up to 24 hours of meeting time and up to 200 participants.
You can contact their sales team for enterprise plan rates that requires a minimum of 100 licenses.
#8. Salesforce Chatter
Salesforce's Chatter offers an organization-wide social collaboration and networking system. It helps to connect, collaborate, communicate, and share with your team has never been easier than with this program.
Your team will appreciate the platform's simplicity of use, accessibility, and enhanced capacity for collaboration, information sharing, and connection.
This platform allows staff members to easily share files and information that promotes meaningful communication, just as they do over social media.
Features
Mobile app for quick use
Access to salesforce records
Enables creating feeds, topics, and polls
Creating and sharing knowledge centers
Allow people outside organizations to join the channel
Pros
Get a personalized news feed
Add users without purchasing new licenses
Ensuring secure collaboration
Enable posting status updates within Salesforce
Cons
Best suited only for large organizations
You need to be a Salesforce user to leverage full access
Lacks workflow automation
Expensive without a Salesforce subscription
Pricing
The team edition is free. Enterprise version (E10) costs $3.25 per user/month when billed annually. And, Enterprise (E20) costs $8.50 per user/month
#9. Twist
Twist is a more relaxed messaging platform that helps drive business collaboration.
It serves as a central meeting place for the whole team. Moreover, PCMag labeled it one of the best communication apps for distributed teams. Threaded conversations are a feature of Twist that makes it simpler to follow conversations.
Features
@mentions to tag team members
Provides access controls and permissions
Quick access to news feed
In-built collaboration tools
Use data import/export for migration
Leverage its document storage
Create employee directory
Offers file sharing and file transfer
Live chat
Pros
Easy to create threads and start a new conversation
Simple to create a new group and invite members
Integrations available for 12+ apps
Twist helps create custom integrations using webhooks and other simple tools
Cons
Custom notifications for keywords are missing
It can get expensive when the number of users increases
Finding a specific word, sentence or piece of advice you shared somewhere on Twist should be something that's found quickly and easily – but, unfortunately, that isn't often the case.
No option for audio/video calls, keyword alerts, and screen sharing options.
Pricing
There is a free trial available that offers access to up to 1 month of comments and messages. And there is only a single package that costs $6 per user a month.
#10. Twilio
Twilio is a business cloud telephony platform. Through its web service APIs, Twilio enables businesses to make and receive phone calls and text messages. But, compared to the other Microsoft Teams competitors we've covered thus far, Twilio is useful for companies for internal communication and promotes ways to communicate efficiently with clients.
Apart from being a messaging platform, it provides numerous Application Programming Interfaces (APIs), enabling businesses to create custom software. Create features like short message service (SMS) messaging and phone number forwarding.
Although Twilio is primarily designed for developers, some of the largest companies in the world use it due to its flexibility to construct anything from scratch. Uber, Airbnb, and Netflix are three noteworthy examples.
You can incorporate voice, video, and Messaging APIs with its Twilio Flex cloud contact center that works as a CPaaS and CCaaS solution.
Features
Offers CodeExchange in beta
You can leverage integrating multiple third-party apps
Customization options for channels, routing rules connectors, and user interface design.
Strong integration of SMS and phone services
Pros
Provides an interface that allows you to monitor your virtual line and balance
Pricing is per message
Integration with third-party productivity applications.
Fast message delivery
Real-time messaging engagement with customers
Cons
Setting up the routing of many channels to the same agents can get challenging.
Even if you have some familiarity with development or coding, the process of setting up the various functions may still prove to be a baffling one.
Clients using the free version are informed that they are in a trial period.
Pricing
The Pay-as-you-go pricing model starts at $0.0085/min to receive and $0.013/min to make a call.
Over to You
While there are plenty of amazing tools for team collaboration, these ten are great ones to fit your requirements. Depending on your budget, you can choose from free, freemium, and paid tools.
Consider the features your team needs, the size of your team, and the monthly cost to determine which option is best for you.