With over 10 million daily active users and 150,000 paid customers, Slack is not just the biggest team chat app out there. It is also one of the most successful SaaS businesses in the world.
Although Slack is generally loved, there are a few complaints that we all have about it. Primarily, the price. It's not the most expensive team chat app out there, but certainly not the cheapest either. This is the number one complaint you get when browsing social media for feedback on Slack.
As you'll find out, Slack can cost a pretty penny. But is that money really well spent?
In this piece, we'll take a look at the cost of Slack. We'll show you what you get when you pay for Slack, whether you save any money, and whether it's a good investment at all.
Before we start, here's a quick disclaimer: we're interested in Slack pricing for a specific reason. We have created a great Slack alternative – Chanty team chat. It's not only designed to be more affordable than Slack but also easier to use and more intuitive for the average user. We often look at different team chat apps and analyze what could be done better. We then take our learnings and apply them to our own app, with one purpose: to make Chanty the best team chat app out there.
By the way, you can try out Chanty right now. For free! Just sign up in the form below.
Let's talk about money now.
How much is Slack pricing?
Let's take a look at the table below. This is how much Slack will cost you monthly per user when you pay annually.
Free

$0

Pro

$7.25

Business+

$12.50

✓

Recent 90 days of message history and file storage

✓ 1-1 video and audio calls

✓ Up to 10 integrations

✓ Unlimited search and apps

✓ Video and audio calls for up to 50 participants

✓ Guest access

✓ 99.99% guaranteed uptime SLA

✓ SSO
Besides these prices, you can also choose their Enterprise Grid plan, built for large teams. You can contact their sales team to find out more.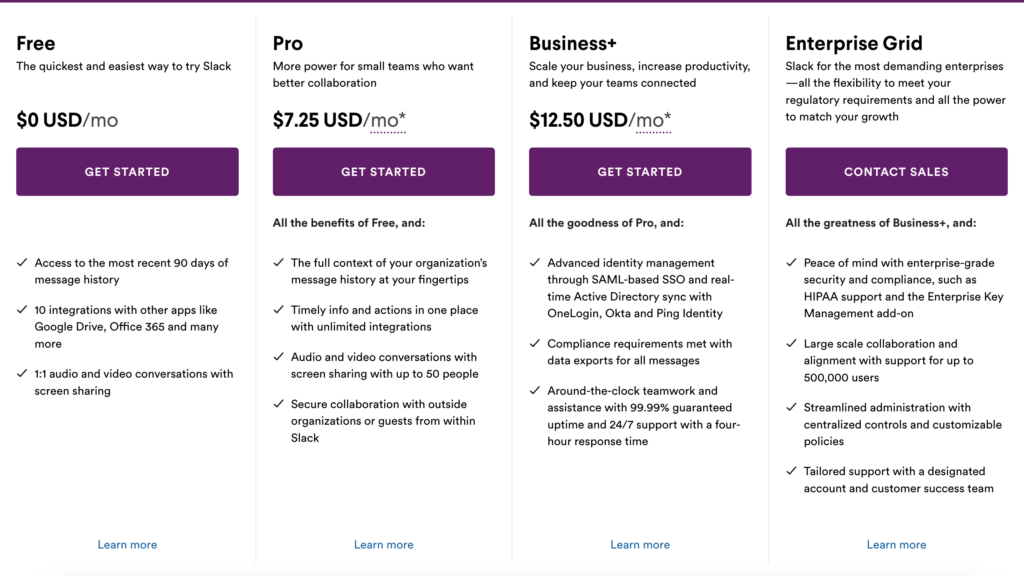 As you can also see, Slack had a freemium plan ever since it was launched in 2014. This is also the first plan that we will take a look at today.
Slack's Freemium plan
While some of its newer competitors like Ryver and Flowdock don't have a freemium plan, Slack has had one since its launch.
After all, using Slack without paying sounds great, right? However, no tool could stay in the market while providing access for free. This is why the freemium plan offers some basic features with serious limitations. The most important ones are related to searching your message history, integrating your favorite apps, and making calls.
Let's take a look at what Slack does NOT give you in its freemium plan.
Key drawbacks of Slack Free plan
1. 90 Days of message history and file storage
You can access only the latest 90 days of message history and file storage in the freemium plan in Slack. This means that the oldest messages slowly get deleted and you won't find them anymore.
This is a major drawback for many teams. Imagine you need to find a link or a file you sent to a coworker 3+ months ago. On the freemium plan, you can't, so Slack forces you into paying $7.25 per user per month (at least) just so you can access your message history. Not fun.
2. Up to 10 apps and integrations
One of the main reasons why people love Slack so much is the fact that it has so many integrations. At the moment of writing, there are more than 2,400 with new ones announced daily. Simply put, if an app is any good, there is a Slack integration for it.
However, you can only have 10 apps connected to Slack on the free plan, which you will quickly max out. In most cases, people constantly install and delete integrations to stay within the limit. This is not ideal and of course, you have to pay for the premium version to get unlimited integrations.
3. 1-1 video and audio calls only
If you're on the freemium plan, forget about having big team conferences and meetings. While Slack does have this feature, you can only use it to talk to one person at a time. Want to speak with two or more people at once? You have to upgrade. As of recently, however, you can finally make video calls using the mobile app.
Any more drawbacks in the Freemium plan?
Slack does not offer guest accounts on its freemium plan. Moreover, you can't share any channels with other companies until you pay up. There are also no custom retention policies for messages and files.
Now, let's take a look at each paid plan.
Slack Pro plan pricing
Once you make a payment of $7.25 for each of your users (or $8.75 if you pay monthly), there are integrated apps to your heart's desire. You can make group calls with up to 50 participants, share your screen, add guest accounts, share channels with other companies, and more.
You also unlock Google authentication and you get priority customer support – although it's not 24/7. It's not the full Slack package just yet, but you get a lot of great features. However, what's the full story?
Let's say that you have a medium-sized business with about 80 employees and all of them need to be on Slack. That means you'll have to pay at least $700 per month. Furthermore, that's at least $8,400 per year. If you have a bigger team than that, there is no doubt that the annual Slack bill will hit your budget hard.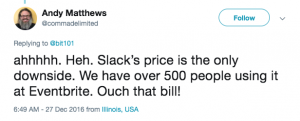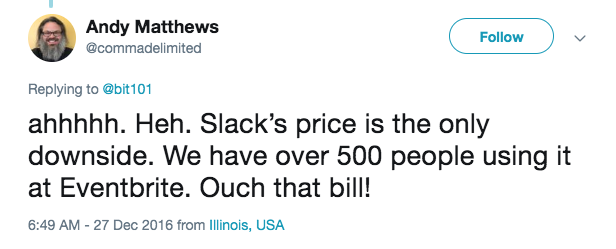 Slack Business+ and Enterprise Grid plans
Besides the standard plan, there are the Business+ and Enterprise Grid plans which cost more.
When you upgrade to the Business+ plan, you get some additional features, such as 99.99% guaranteed uptime. This means that Slack will refund you if their servers are down for a particular time period. You also get 24/7 support.
This will cost you $12.50 per user per month when paying annually or $15 per user per month when paying monthly.
The Enterprise version comes with unlimited workspaces and shared channels that let you connect workspaces.
So, can you save any money when using Slack? Let's find out.
How to pay less for Slack?
There are a few ways to save your pennies when you're using Slack.
Cut down on the number of users.

While some team chat apps charge by the team (e.g. Ryver), Slack charges per user. You can limit the number of your coworkers using Slack so you can pay less. However, this could hinder your team communication.

Pay annually.

Just like every other SaaS application in existence, the annual price is cheaper than paying per month.

Sometimes Slack will give you credit

to get you hooked into paying for a plan – use this opportunity.
You can also try the trial version of the free plan.
I

f your organization is a non-profit or works in the education or coaching industry

, you can get upgraded to the paid plan

s

for

free or with a nice discount

.
With all of this being said, Slack may still be expensive for you, or you may not be satisfied with the features it offers. If this is the case, it's time to look for alternatives.
Looking for a Slack alternatives
We've covered some of the best Slack alternatives in our article here and showed you the best apps for your team communication. Here is a short table comparing the prices of these top Slack alternatives.
Team collaboration tool
Paid plans
Price tag in 2021
Slack
Pro

Business+

$7.25 per person, per month (annually)

$12.50 per person, per month (annually)

Chanty
Business
$3 per person, per month (annually)
Microsoft Teams

Essentials
365 Business Basic
Office 365 Business Standart

$4.00 per person, per month (annually)

$6,00 per person, per month (annually)

$12.50 per person, per month (annually)

Flock
Pro

Enterprise

$4.5 per user, per month (annually)

Available upon request

Google Workspace
Business Starter
Business Standart
Business Plus
Enterprise
$6 per user, per month
$12 per user, per month
$18 per user, per month
Custom
As you can see from the table, there are quite a few options that are more affordable than Slack. Some of them are even better than Slack in terms of features.
One of these tools is Chanty.
How does Slack compare to Chanty?
These two apps have one thing in common. They're not just communication tools – they're also collaboration tools with a host of features. They also both have freemium plans and similar features such as audio and video calls.
However, Chanty is better than Slack in several ways.
Chanty is easy to use since it's an agile tool.

Slack has a lot to offer but it can get complicated to use. On the other hand, Chanty is very intuitive to use. In the Teambook, you can find all of your files, links, and conversations.

Chanty is more affordable.

The Business plan costs half of the cheapest Slack plan. You can learn

more about Chanty pricing here

.

Chanty has no limits on your message search history

, no matter which plan you are on. Freemium? Doesn't matter, you can see all of your messages.

Chanty has a built-in task management feature, unlike Slack.

In Chanty, you can turn messages into tasks, assign them to your team members, discuss them, and set deadlines.

Chanty allows you to send audio messages

by hitting the record button on any device, which is ideal for anyone not working from an office. That way, you can get your message across quickly, without typing.
Even though Chanty is a newcomer compared to Slack, there are lots of reviews from happy customers and we can confidently say that it's a worthy Slack alternative.
If you want to learn more, book a demo today and we'll show you how your business could benefit from Chanty!
A close look at Slack pricing
Taking a close look at Slack pricing, we can see that the freemium and paid plans have some serious limitations. The biggest ones are the 90 days history limit on the free plan, as well as the fact that for bigger teams, Slack paid plans can cost a fortune.
There are ways to reduce the Slack price, but none of them are really effective. However, there are lots of Slack alternatives on the market worth considering if you want to pay less for the same, and in some cases even better, features.
How do you feel about Slack pricing? Let us know in the comments!