With more than 10 million daily active users and 85,000 paid customers, Slack is a well-established team chat market player.
At the same time, its price bites. Slack is not the most expensive tool on the market, but it is certainly not the cheapest. If you ever search social media for some feedback on Slack, you'll probably find dozens of such reviews.
Post source
So Slack does cost a pretty penny. The question is whether the tool worth money spent on it?
In this article, we'll look at Slack exactly from the point of view of pricing. What exactly do you get by paying for Slack? Could you save up using Slack? Let's provide you with answers to these and some other questions.
Here's a little disclaimer about the reasons I became interested in Slack. Our team is developing a smart yet easy-to-use Slack alternative – Chanty team chat. It's also much more affordable than the venture-backed tool of Silicon Valley. By looking at the pros and cons of Slack (and other communication apps), we analyze what could be done better in a team chat app. Then we implement the most useful features in our tool.
By the way, you can try out Chanty right now. For free! Just sign up in the form below.
Now, let's talk Slack. And money.
How much is Slack pricing?
Slack pricing is best described in the form of a table. 
Here's how much Slack cost per user per month billed annually: 
Free 

$0

Standard 

$6.67

Plus 

$12.50

✓ 10K message search limit

✓ 1-1 video and audio calls 

✓ Up to 10 integrations

✓ Unlimited search and apps

✓ Video calls for up to 15 participants

✓ Guest access

✓ 99.99% guaranteed uptime SLA

✓ SSO 
Besides, Slack has Enterprise Grid plan for large teams. It has scalable pricing estimated by contacting Slack sales team.

Before we move on to review each plan, it's worth noting that Slack's pricing has been weirdly consistent for more than 5 years already. It hasn't changed since the official launch of the tool. Spot the difference.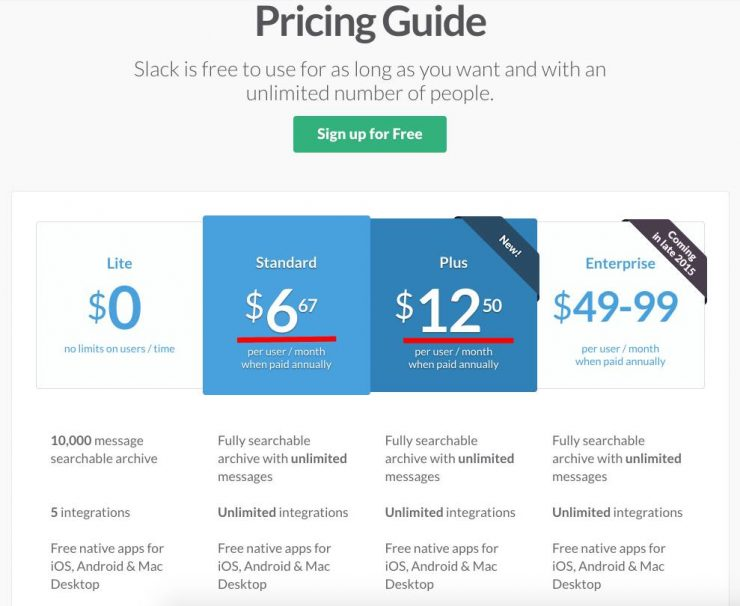 A snippet of Slack's pricing page in February 2014
As we can also see, Slack embraced the freemium plan from its very launch in 2014. Let's take a closer look at this pricing model first.
Slack's Freemium plan
So, Slack does have Freemium plan unlike some other team chats like Ryver and Flowdock.
Using Slack at no cost sounds cool, right? However, it's hard to imagine that a well-established team chat market player would give away some crucial goodies for free. Slack Freemium plan comes along with some serious limitations. Mostly, they are about message history search, apps and calls.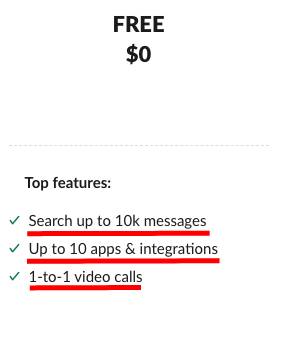 Let's take a closer look at Slack restrictions.
Key drawbacks of Slack Free plan
1. 10K message search limit
In Slack, only 10K messages are searchable. This number may seem big enough only to those who never really used team chats.
Let's do simple math: if you have 15 people in your team, they'll generate around 3K messages per week. It means that in less than a month you won't be able to restore any of today's conversations. Having a bigger team, you'll run out of 10K searchable messages even quicker!!
This seems like a crucial drawback. Imagine you need to find a link or report you sent to a colleague just recently? Having the Freemium version, it would be impossible, so you'll have to pay $6.67 per user, per month (or more) for Slack to reveal your message search history. Bummer!
2. Up to 10 apps and integrations
Integrations are Slack's strong point. Mostly because the tool has really a lot of them – more than 1,500 as of the beginning of 2019 – with new apps constantly being added. For example, in spring 2019 Slack announced Office 365 Integrations for Outlook, OneDrive, Word, Excel and PowerPoint. In other words, Slack integrates with nearly every popular tool. However, you'll run out of your 10 free apps pretty quickly if you use integrations heavily. You'll probably need to constantly delete old integrations and install new ones to stay within the limit of 10 apps, which can make your collaboration flow quite a mess.
3. 1-1 video and audio calls only
Provided you are on Slack's Freemium plan, forget about team conferences and big meetings using a built-in feature for calls. Also, no video calls on mobile apps even for Paid plans
Any more drawbacks in the Freemium plan?
Unlike Flock, Slack doesn't offer guest accounts in Freemium plan. Also, no shared channels with other companies are available unless you pay. Custom retention policies for messages and files are not provided as well.
Now let's see how much are Slack paid plans and what exactly do users get when upgrading?
Slack Standard plan
Once you open your wallet and pay $6.67 for each user (or $8 monthly) Slack's restrictions mentioned above are lifted. Users get unlimited search and apps, group calls (up to 15 participants) with screen sharing, guest accounts, shared channels and more storage.
Apart from that, Google authentication in Slack becomes available, as well as priority (although not 24/7) support. It's not Slack's full package yet, but there are quite a lot of useful features. However, what about the total price?
Suppose you have a medium business with, let's say, 80 staff members – and everyone needs to be on Slack. Then, you'll have to pay at least $640 a month, which makes it almost $6.5K a year. If you have a bigger business (with hundreds of team members), there's almost no doubt you'll be taken aback with Slack's bill.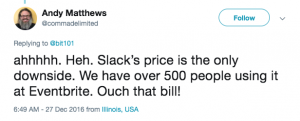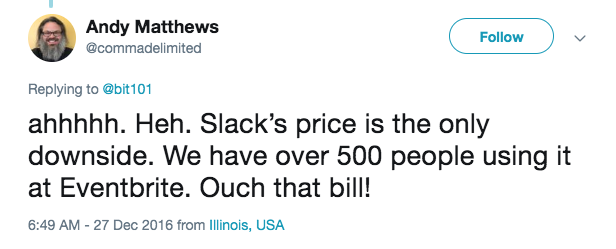 Post source
Slack's Plus and Enterprise Grid plans
If you choose Slack's Plus or Enterprise Grid plans, you'll spend even more.
By upgrading to Plus plan, you'll get some specific features like 99.99% guaranteed uptime SLA. It means Slack will refund users if its servers are down for a particular period of time. Also, 24/7 support is included in the package.
These and some other features come at a pretty penny: $12.50 per user, per month, billed annually and as much as $15 per user, per month, billed monthly.
Enterprise version of Slack will include unlimited workspaces, shared channels between workspaces to connect teams when needed.
Now, are there any ways you can save up using Slack? Here are some of the tips.
How to pay less for Slack?
Minimize the number of active users. Unlike Ryver, Slack charges for a user – not for a team. So you might limit the circle of your colleagues working in the tool. It might lead to communication challenges, though.
Pay yearly – not monthly. Like in nearly every team chat tool, it's more cost-effective to purchase an annual subscription than to pay for the tool on a monthly basis.
Sometimes Slack gives you credit to engage you into paid plans. Why not take an opportunity?

Also, don't forget to utilize trial versions of paid plans.
If you are a non-profit, or work in education, you can get a free or discounted upgrade.
However, chances are Slack is expensive for you anyway. Or you might be not satisfied with some of its features. In this case, it's time to consider using a Slack alternative.
Looking for a Slack alternative
In case you are interested, here's our top article on Slack alternatives, in which we've briefly covered the best apps your team might enjoy.
Below, we'll explore the pricing of the tools. Here's a short comparative table.
Team collaboration tool
Paid plans
Price tag as of March 2019
Slack
Standard

Plus

$6.67 per person, per month (annually)

$12.50 per person, per month (annually)

Chanty
Business
$3 per person, per month (annually)
Microsoft Teams
Office 365 Business Essentials

Office 365 Business Premium

$5.00 per person, per month (annually)

$12.50 per person, per month (annually)

Flock
Pro

Enterprise

$4.5 per user, per month (annually)

Available upon request

Hangouts Chat
Basic

Business

Enterprise

$5 per user, per month

$10 per user, per month

$25 per user, per month
As you can see, there are team chats more cost-effective than Slack. Some of them can even outperform the market leader when it comes to different features.
Among these tools stands out Chanty.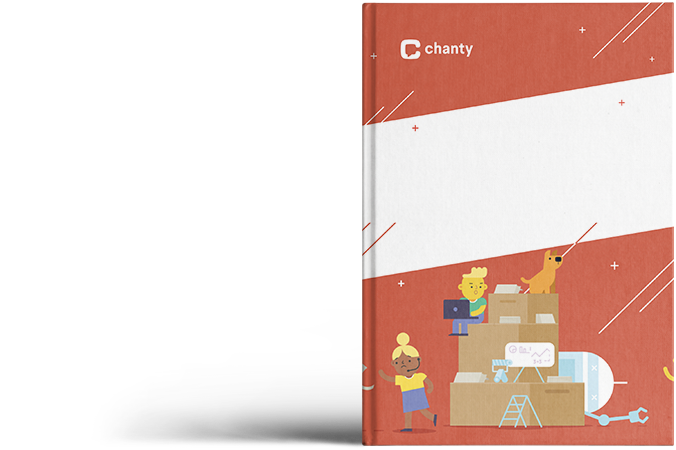 Communication issues at work?
"50 Surefire Ways to Improve Your
Team Communication in 2019"
Get eBook
How does Slack compare to Chanty?
In fact, Slack and Chanty have something in common. Both are not just chat apps, but rather team collaboration tools with multiple features. They provide freemium plans, have the built-in audio and video meetings, etc.
However, Chanty has a couple of advantages over Slack:
Being an agile tool, Chanty is easy to use. While Slack tends to become cumbersome,  Chanty is so intuitive that you'll use it by feel. Thanks to Teambook feature, all your files, links, conversations and tasks are neatly wrapped up and within reach.
Chanty is more cost-effective. Its Business plan is more than twice cheaper than Slack Standard plan. Here you can learn more about Chanty pricing.
Chanty provides no limitations for your message search history, even in the Freemium version. You won't ever worry about losing an important file, message or link.
Unlike Slack, Chanty has a built-in task management feature, so you can assign, filter and discuss tasks. In Slack, you'll need to use integrations for that.
Want to send a message on the go? It's easy-peasy with Chanty. The tool has a built-in feature for audio messages, which makes it a perfect fit for deskless workers.
Although Chanty is a brand-new tool, our customers say it's a decent Slack alternative and they really enjoy it.
Book a demo with our team to learn how your business can benefit from using Chanty.
Wrapping up
We've looked closely at Slack pricing. Its Freemium plan has some serious limitations like 10K messages searchable archive. At the same time, Slack paid plans may cost you a fortune.
You may try to save up by decreasing the number of active users and paying monthly – not yearly fee. However, there are many Slack alternatives on the market you can definitely consider and be surprised with the results.
What is your take on Slack pricing? Share your thoughts in the comments.