In today's era when we are all physically distant, technology has taken the throne. Video conferencing software has become the poster child of working from home. It became vital for business organizations around the globe, enabling collaboration among business partners.
As a matter of fact, it's now a key factor in how businesses function, how families and friends interact, and how schools conduct their classes. Video conferencing software allows us to have face-to-face talks no matter where we are, and it helps us feel more engaged.
Even though the market offers different video conferencing software and tools, two of them have forged ahead: Microsoft Teams and Zoom.
With many organizations turning towards a hybrid model of working and employees splitting their time between working from home and the office, tools such as Teams and Zoom will continue to play a huge role in the business world. 
If you are not sure what you need, you've come to the right place. Here, we are going to compare the two platforms so you can decide which one is better for you.
So, without further ado, here is our review for the two platforms.
Microsoft Teams
Launched in 2017 as part of the Microsoft 365 package, it has become one of the most famous tools, and not just for video conferencing, but also chat and voice calling, sharing and editing files through the virtual workspace. In fact, Teams is more of a collaboration platform. What is interesting is that Teams was created as a Slack competitor and not Zoom.
However, Microsoft realized that the natural progress of Teams would be implementing VoIP feature which made it a Zoom competitor. The app is also available on desktop, Android, and iOS, with texting, video meeting, and voice conversation.
Zoom
You probably think that Zoom appeared right about the time when the pandemic started. However, that was the beginning of its glory. The start, on the other hand, was a decade ago, back in 2011. Even though it's been around for a while now, the growth was noticed during the pandemic by going from 10 million daily participants in 2019 to 300 million daily participants in 2020.
The reason for its success? Probably the strategy towards a video-first culture. Same as Teams, Zoom is available on desktop and mobile (Android and iOS) too, without having to sacrifice any of the key features such as virtual background, screen sharing, etc.
Microsoft Teams vs Zoom: Getting started
Getting started with Teams is no picnic, let me tell you that! Setting it up can be quite intimidating. Once you sign up and download the app, it asks you to share a lot of personal data, even your credit card, email, and phone number. When you complete your registration, you get access to the deployment portal. This includes tools and you have to go through it all to start using the app.
Afterward, you get to the Admin Panel, and here you can launch the app which takes a lot of time. Finally, you get to Teams and you can start using it.
If you want to start using Zoom, you first need to register and create an account. Do this, and you will soon get a link to your personal meeting URL. Copy the URL into your browser and you'd be prompted to download Zoom. Once you download it, you are ready to go. Click the New meeting icon and start your video call.
If you want to invite people to your meeting, which I'm sure you do, just send them an email with the info on how to access the meeting. The downside is that, if your participants want to join your Zoom call, they need to download Zoom themselves.
Microsoft Teams vs Zoom: Interface
Team's interface will be clear once you understand where everything is. If you've used Microsoft 365 products, you'd know that it will take some time to get to know the tool and navigate around it. Naturally, this is the case with Teams as well, since it was not made just to be a conferencing tool like Zoom. For example, if you are trying to find the Settings just by opening the app, it will take you a while. The Settings is next to the user's profile.
So, there is a learning curve you need to cope with if you want to use its features. When it comes to video call features, they both offer options such as custom presentation backgrounds, text chats, and breakout rooms. It offers simple options for the host and participants and you don't need to download any external apps to have your video and audio chats.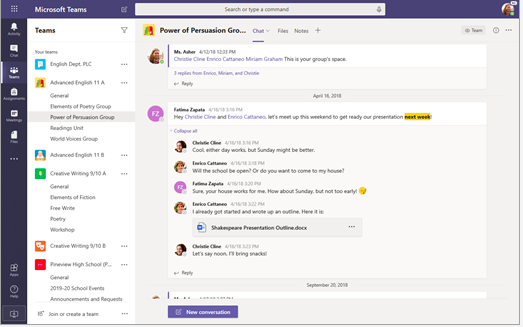 Zoom's interface is way simpler to use than Teams. However, mind you, Zoom has the advantage because it's a video-only product. It takes very little training to set it up. As a participant, it will only take you a few steps if you have already installed the software. If you are a host, you can choose to turn off the participants' camera or microphone whenever you want.
Additionally, you'll get to see a few more buttons that will give you access to several other functions, such as creating a waiting room for new participants, locking the meeting, allowing your participants to share screens or chats, etc. Another aspect is that the host can check if there is a problem with the connection of some of the participants.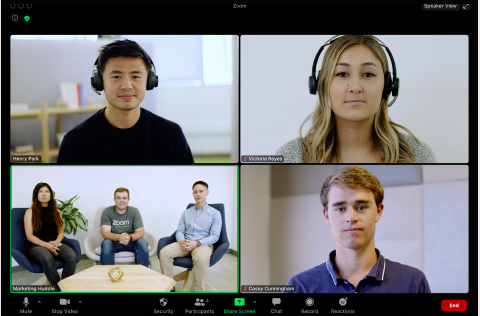 Microsoft Teams vs Zoom: Features and Functionalities
As you might have guessed, Teams and Zoom share the same basic collaboration features, such as text chats, high-quality video, and group messaging.
When it comes to video calls features, they both offer options such as custom backgrounds, text chats, and breakout rooms. You can also share your screen so your audience can follow along. You can record your meetings on both apps, which means that if there are people who couldn't join, they'll be able to catch up on anything they've missed.
Additionally, they now offer transcription features and live captions. You get gallery views, hide non-video members, access speaker view to focus on someone specifically, and the together mode to appear together on screen.
Teams being a collaboration tool helps its users jump on call from a text thread. The options such as screen sharing or call recording are quite easy to use. Once you record a video or audio call it is later assigned to projects so you can revisit them later on.
One of the downsides of Teams when it comes to video calls is inviting external users. It requires additional steps and it is far from ideal. The default video quality is 1080p, allowing up to 20000 users on a single call by using the feature Teams view-only meeting if you have the paid version. If not, you'll have to settle for 100 participants.
As an app whose core focus is messaging, it offers some other features. You get some sidebar customization options, you'll have the option to create channels for your discussions, select preferred font colour and size, send emojis, GIFs, and stickers, use polls, and stream videos from Microsoft Stream or Office 365 Video directly in the tab. When it comes to the search functionality, everything is saved on the cloud, so you'll always work with the latest version.
Zoom is a video platform that shines in this role. It is simple, user-friendly, and intuitive. Once you are in the video call, you'll be able to use the navigation menu to manage recordings, meetings, and contacts. The default video quality is 720p to help reduce the strain in the bandwidth, but feel free to change it whenever you want. One of the things people hate about Zoom is the time limit of 40 minutes in the free version.
But other than that, apparently, it works for most. You can make public or private group chats, send images, files, and have meetings with or without videos. If you have a public channel, you can add up to 10 000 members, or if you have a private channel up to 5 000. You'd have to pay first I'm afraid, But we'll get to that a bit later.
Since Zoom is the king of video conferencing, it offers a variety of features: virtual backgrounds as mentioned earlier, support for meetings, whiteboarding, calendar integrations, and the Touch up my appearance feature.
Microsoft Teams vs Zoom: Integrations
The biggest win of Teams is its family – Microsoft 365. Additionally, outside the Office buble, Teams can integrate with other software tools – 472 apps to be exact. Try Polly, Trello, Karma, Wiki, ScrumGenius, YouTube, and so much more. If you want to enjoy Teams to its fullest, you should check out its integrations and simplify the workflow: work smarter not harder.
Zoom offers integration with more than 3000 apps with the help of Zappier. Integrate with all the Google apps, Microsoft OneDrive and Dropbox to share content, Microsoft Teams, Outlook, Panopto, Zylo, etc.
Microsoft Teams vs Zoom: Security
When it comes to Teams, you have one thing that is guaranteed – security. Teams saves its recordings in a controlled repository secured by encryption, and it erases everything once the subscription has ended. It has two-factor authentication and SSO via SAML and AD.
Zoom is not that lucky with its security. It made headlines with some privacy issues it had, making companies concerned. Some uninvited third parties would interrupt their meetings and cause trouble. After facing the backlash, Zoom had to step up its game. Zoom offers end-to-end encryption and AES 256 encryption, as well as some additional security features such as audio signatures, screenshot watermarks, and passcode-protected meetings.
Microsoft Teams vs Zoom: Pricing
The free plan for Teams gives you online meetings, 100 participants on a call with a maximum duration of 60 minutes per call, and no recordings of your calls.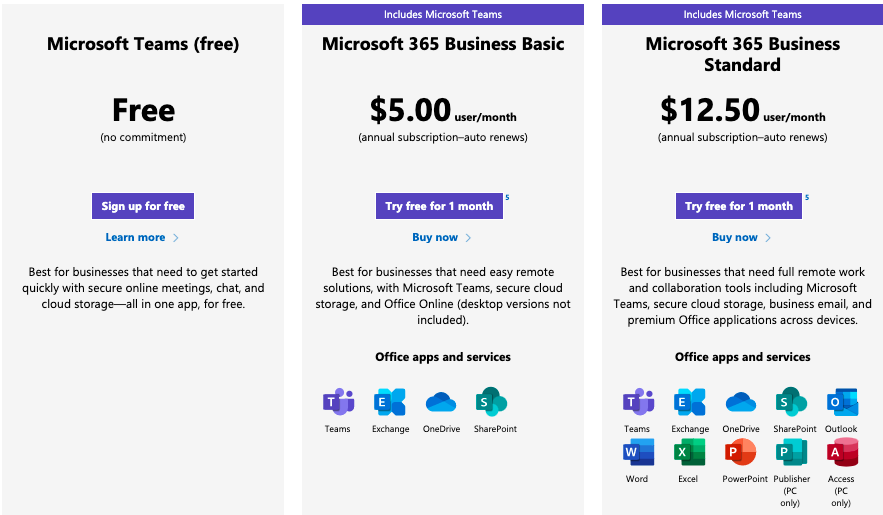 However, if you want to get the best of Teams, you'd want the paid plan – Microsoft 365 Business Basic. This one is $5.00 per user per month. You'd get 300 participants with 24 hours duration per call.
The most expensive offer is Microsoft 365 Business Premium which is $20.00 per user per month with a maximum number of users up to 500,000. The plan offers online event hosting for 10,000 users and unlimited cloud space.

Zoom has several plans.
The free one is limited to 40-minute meetings with up to 100 participants, as well as video conferencing features.
The Pro is $14.99 per month. It offers 30 hours, 1GB of cloud recording, and social streaming.
The Business is $19.9 per month. It can have a maximum of 300 participants and adds on Single Sign-On, managed domains, transcriptions for cloud recording, and company branding.
The Enterprise plan is again $19.99 per month. It includes everything from the Business offer. In addition, you can have up to 1000 participants, a dedicated customer success manager, and unlimited cloud storage.

Verdict
Both platforms have achieved phenomenal success in the last few years, paving the path to a new era of hybrid and remote work. Obviously, there is no clear answer on which one is the better choice. The answer lies in your own organizational structure, its needs and requirements. Teams is great if you are already using the Microsoft 365 package. However, if your organization has video-first culture, then Zoom is the right choice for you.
Many organizations opt for using both tools simultaneously. Usually, companies love Teams for internal collaboration, while Zoom for the external one. Since they can integrate with each other, it can be very easy to set clear boundaries on when to use one or the other.
However, if you are still not convinced, you should try Chanty. It is a team chat that offers video calls with screen sharing, task management and unlimited chat history even when you have a free plan. And all of this is quite easy to set up. Additionally, the paid plan is just $3 per user per month, which makes it far more affordable than Teams or Zoom. If this is something that interests you, feel free to book a demo so that we can show you around.