Asana was built to make modern work easier, and it's beloved by teams around the world. Founded by a Facebook co-founder and an ex-Google engineer, it's no surprise that Asana is a powerful piece of software.
Asana lets teams organize and track tasks simply; it's a single platform to replace an endless stream of emails. But if you've been doing your research, you've realized Asana pricing is not as straightforward.
We're building Chanty – a simple team chat + task manager that's free for teams for up to 10 users and then just $3 per user. If you are looking for a simple task manager built with love, we encourage you to join our growing family of Chanty advocates and give our product a go:
Here we'll help you understand Asana pricing and decide if it's the best team collaboration tool for your budget and business needs.
Asana pricing plans
Asana pricing is complicated, so much so that entire Asana Community Forum threads are devoted to explaining how much plans cost.
Asana offers four plans, a freemium version called Basic and three paid options: Premium, Business, and Enterprise. Costs depend on the number of users, and the main differences between the plans are admin controls, task management features, and project management functionality.
All plans come with app integrations and access to the Asana support team. Though, higher tier plans will get priority support and customized onboarding.
Here's an at-a-glance Asana comparison. All costs are per user per month billed annually.
| | | | | |
| --- | --- | --- | --- | --- |
| | Basic | Premium | Business | Enterprise |
| Cost | Free | US$10.99 | $24.99 | Custom |
| Team size | Up to 15 team members | Buy in seats of 5 up to 30; after 30 users buy in seats of 10 | Buy in seats of 5 up to 30; after 30 users buy in seats of 10 | Custom |
| Task and project management | Basic task management, e.g., assign tasks and status updates | Project management features like task dependencies | Real-time project updates with Portfolios | Export data and data backed up on seperate server |
| Team management | Share tasks with users | Admin controls and console | Control who can edit custom fields with data control | User provisioning and deprovisioning; access to admin API and SAML |
Asana pricing structure
Asana has changed its pricing structure several times; the most recent price hike was September 2019.
Asana pricing is based on a flat-rate tiered system. Pricing starts at five seats and scales up in seat increments of five. What this means is that a team of six will need to pay for 10 members.  After 30 users, you pay per 10 members. (Small teams can negotiate discounts – more on that later.) Asana says it packages plans in groups of five because it's designed for team collaboration.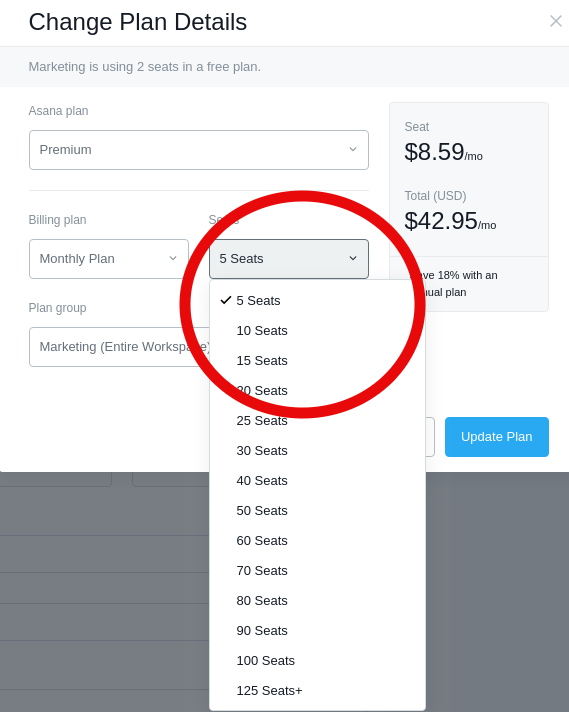 This pricing structure is not always popular with customers.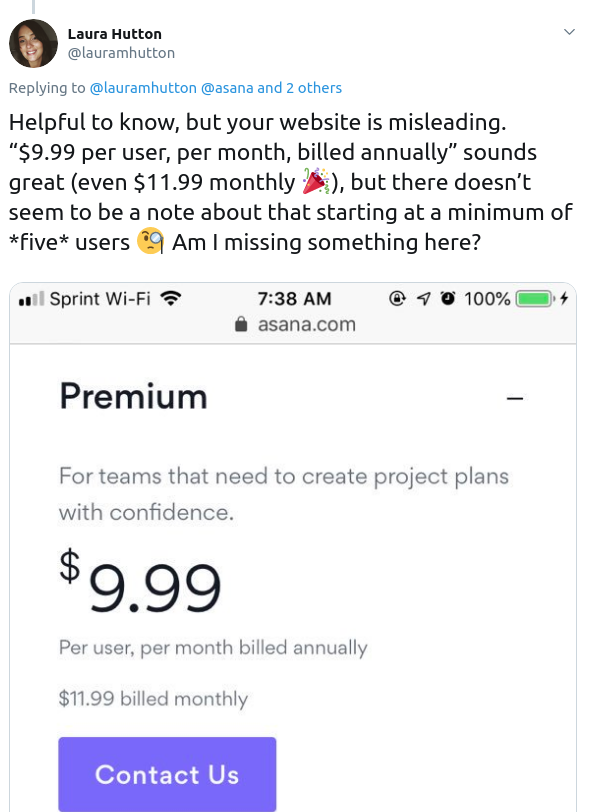 For some solopreneurs, paid plans are just too expensive. To its credit, Asana does listen to customer feedback and has given users the opportunity to have their say on pricing structures, e.g., customers can vote for premium solo plans.
Asana pricing: organizations vs workspaces vs teams
To figure out how much you will need to pay, you'll need to understand Asana's hierarchy of organizations, teams, and workspaces.
Organizations are based on a company or business domain, e.g., www.yourdomain.com. So anyone in your company who signs up with their email address, e.g.,email@yourdomain.com, automatically becomes a member of your organization. Companies can set up different teams inside an Organization.
Workspaces are used for personal tasks or if your company doesn't have a business email domain. These groups are great for flexible projects.
If you're on a free account, you can add up to 15 members to your workspace or organization. Both organizations and workspaces let you add Limited Access Members. Need to collaborate with a client on only one project? Add them as a limited access member. Keep in mind that these members do count towards your total seat tally.
When you upgrade the entire organization, you will pay for every member in that organization, which includes all members of all teams. If you upgrade only one team, the rest of the Organization and other teams will remain on the free plan. Consider your company's teams and the complexity of their projects. You might find that only one team requires Premium features. For the rest, Asana's task management tools could be more than enough.
Now, we'll take a closer look at the features that come with the free and paid plans.
Asana's free plan
Depending on the number of people you're collaborating with, Asana's free plan may be just what you need to manage projects.
You get access to a solid set of task management features:
Create unlimited tasks
Assign tasks to team members
Assign due dates to tasks
Add comments
Attach files to tasks
Kanban board view
Calendar view
Status updates
Key drawbacks of Asana free plan
While the free Asana plan is great for basic task management, you might find it lacking if you're dealing with complex projects and mid-size to large teams.
Here's some of the Basic plan's restrictions:
Limit of 15 team members
You won't get the Timeline view or advanced search
No task dependencies, a key project management feature that shows how tasks are linked, e.g., who needs to finish a task before someone else can start work
Limited admin controls mean you can't designate an administrator to manage users and teams. It might be difficult to manage permissions and remove team members. So if an employee leaves, for example, their private tasks will not be viewable and their work may be unassigned.
You can add limited access members but you won't be able to set controls like comment-only access.
Asana premium pricing
Asana's Premium plan offers multiple ways to manage the progress of your team's work.
Advanced search lets you filter projects and tasks by parameters like completion status, due dates, and attachments. You can also search by team and team members.
With admin controls, you can view an Organization's full list of members and guests.  Delete members easily when they leave and reassign their tasks. You can also assign comment-only status, giving you more control over who can edit and delete tasks.
For project management, Premium users get timeline view, a Gannt chart feature ideal for more complex projects. Task dependencies let you mark a task as waiting on another before it can commence. That's great for helping teams prioritize work.
Asana Premium costs $10.99 per user per month when billed annually and $13.49 per user per month when billed monthly. These prices are per groups of five users, so Premium starts at $54.95 on an annual billing cycle and $67.45 for monthly billing periods.
But if you're a small team, you pay less. Teams under 15 members will pay $6.99 per user when billed annually, working out to $34.95. Once you get to 15 members, your annual cost comes in at $1978.20
Asana business and enterprise
Asana Business offers all the Premium features and additional functions like Portfolios for a real-time overview of projects. There's also the Proofing feature that gives teams the ability to leave feedback on images.
Of course, more features come with a higher price tag, too. You pay $24.99 per user per month when billed annually and $30.49 when billed monthly. This means a small team of 15 users will pay $4498.20 annually.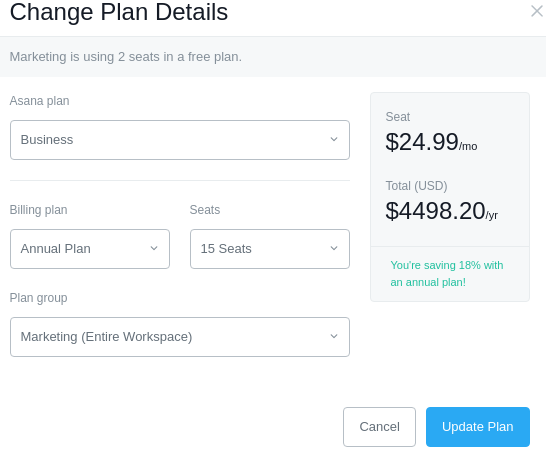 Enterprise users get advanced features like access to the Admin API and a 99.9% uptime SLA. You'll need to contact Asana for a quote.
How you can pay less for Asana
Small teams of fewer than 15 pay a discounted rate of $6.99 per user per month when billed annually, compared to $10.99.
Asana offers special non profit pricing rates: qualifying organizations get a 50% discount.
Asana alternatives
If you're not convinced Asana is the best fit for your business, there's multiple alternatives to help you manage projects and improve collaboration.
Most project management software like Jira and Monday offer pricing dependant on the number of users. Basecamp, though, is all-inclusive.
Tool
Paid plans
Price
Asana
Premium

Business

Enterprise

$10.99

$24.99

Contact sales

Chanty
Business
$3
Trello
Business Class

Enterprise

$9.99

$20.83

Jira
Standard

Premium

$7

$14

*Monday
Basic

Standard

Pro

Enterprise

$39

$49

$79

Contact sales

Basecamp
Basecamp Business
$99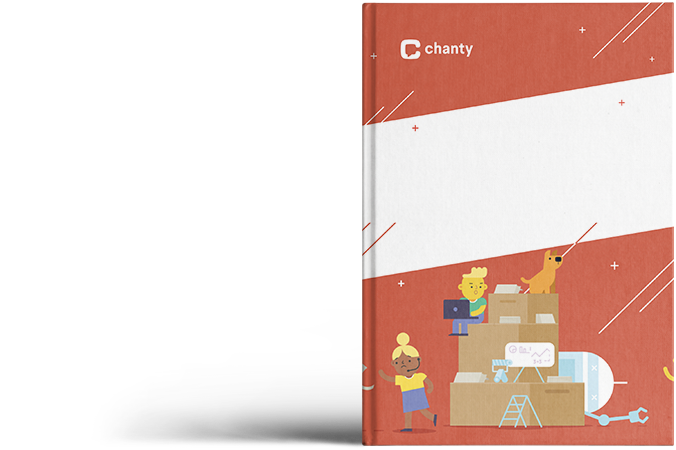 Communication issues at work?
"50 Surefire Ways to Improve Your
Team Communication in 2019"
Get eBook
How does Asana compare to Chanty?
So, how does Asana compare to Chanty? Both make it easy for teams to work together and keep tasks on track. But the two apps provide different features and pricing plans.
Let's take a closer look at how they stack up.
Pricing. Unlike Asana, Chanty has a simple pricing structure. You're billed per active user, which means you only pay for the people who signed up to use the product. At the same time, with Asana a six-person team will need to purchase ten seats. You also have to keep in mind that Chanty premium plan is up to 7(!) times more affordable than the one in Asana.
Task management. Task management is Asana #1 features. You can use the tool to assign tasks, add due dates and track progress. Chanty, on the other hand is a team communication tool where you communicate around projects and tasks. At the same time, you can turn any message into a task, assign it to your colleagues and manage your to-do lists at work. Kanban board view will also be available soon in the new releases.
Messaging. Asana does have conversations for discussions around the projects; however, there's no support for messaging. (There is a workaround if you want to send private messages.) Chanty, on the other hand, lets you send private messages in the app easily. Moreover, you can organize your communication into public, private and one-to-one conversations. On top of that, all your messages, tasks and files you exchange are added to your Teambook, keeping all your in-app-activity in one place.
Calls. There is no way to make calls in Asana, but you can use Zapier to integrate a call service. Chanty comes with built-in capability for audio, video calls and voice messages.
For teams who want an advanced suite of task and project management features, consider a paid Asana subscription. You don't need to sacrifice team communication, though. When you connect Chanty and Asana, you get to automate actions that give you the best of both applications. You can, for example, send private messages in Chanty to relevant team members when new projects are created in Asana.
Summing up
There're a few reasons why Asana is one of the most popular work management tools. It improves planning and productivity, keeping teams on the same page. For very small teams after a simple project management tool, Asana's free plan is adequate. As you add more users and your projects grow more complex, Asana's tiered pricing plan structure becomes expensive. Mid to large teams could end up with hefty bills if they want to take full advantage of Asana's paid features.
What are your thoughts on Asana's pricing strategy?