If you google "project management tools", there are a number of them that will show up in every review, comparison, discussion, and post in general. One of them is Asana, a great project management app created by a Facebook co-founder and ex-Google engineer.
Besides its features, there is another thing that a lot of people are interested in: Asana pricing. In companies with a lot of employees, every additional seat means more money to spend every month. So, how does Asana fare in terms of pricing, and how does it compare with industry giants such as Trello or Monday?
Let's find out.
Asana pricing plans
Asana's pricing system is not so simple. In fact, it's complex enough that it's one of the most discussed topics on the Asana Community Forum.
Simply put, there are four plans in Asana. The freemium version is called Basic and there are three paid options: Premium, Business and Enterprise. All of the plans have prices based on the number of users.
Here is a quick overview of the plans:
| | | | | |
| --- | --- | --- | --- | --- |
| | Basic | Premium | Business | Enterprise |
| Cost | Free | US$10.99 | $24.99 | Custom |
| Team size | Up to 15 team members | Buy in seats of 5 up to 30; after 30 users buy in seats of 10 | Buy in seats of 5 up to 30; after 30 users buy in seats of 10 | Custom |
| Task and project management | Basic task management, e.g., assign tasks and status updates | Project management features like task dependencies | Real-time project updates with Portfolios | Export data and data backed up on seperate server |
| Team management | Share tasks with users | Admin controls and console | Control who can edit custom fields with data control | User provisioning and deprovisioning; access to admin API and SAML |
Asana pricing structure
During the course of its lifetime, Asana changed its pricing a few times. Most recently, they had a major pricing change in September 2019.
The pricing system is based on a flat-rate system of five seats. That means two things: you cannot get any number of seats below 5 and everything more than that will have to be purchased in batches of 5. In other words, if you have 6 people on your team, you'll have to pay for 10. After you've gone past 30 users, you pay for 10 members, which is even more complex and inconvenient.
To explain their odd pricing logic, Asana says that the reason why you can only buy packages of five seats is that it's a tool made for team collaboration. Small teams can arrange a discount, but we'll talk more about that later on.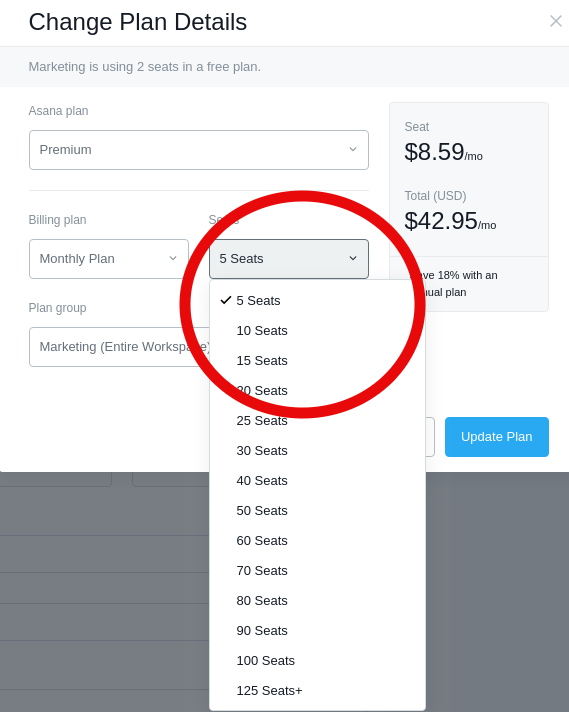 Needless to say, this pricing structure is not a favorite with Asana's customers.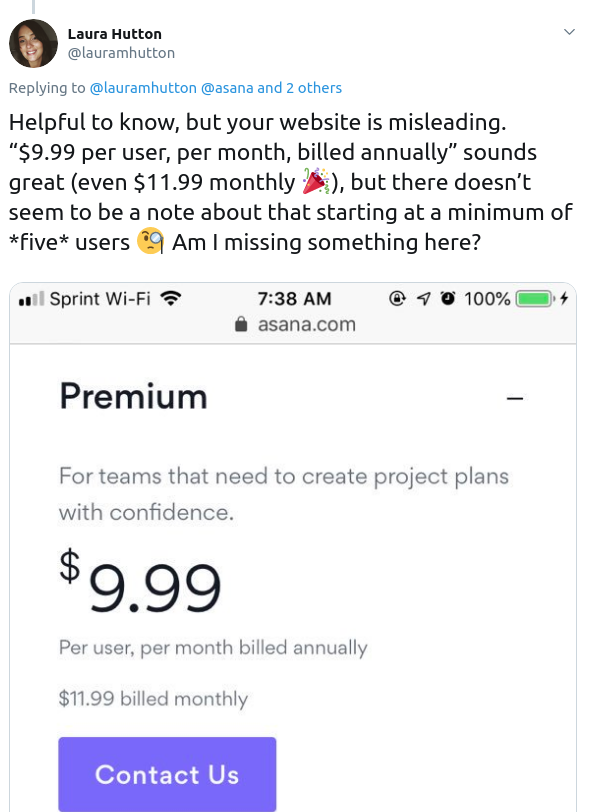 If you're a solopreneur or a very small company, the paid plans can be just too expensive. However, the team is listening and giving their users an option to comment on pricing structures. In other words, they can only vote for now.
Asana pricing: organizations vs workspaces vs teams
Before you find out how much you're going to pay, you need to get familiar with Asana's terminology.
Organizations are based on your company or business domain. For example, anyone at Chanty who signs up with an @chanty.com address will automatically become a member of the Chanty organization. Within one organization, you can set up different teams.
Workspaces are meant for personal tasks – if you want to use Asana but you don't have aa company domain. They're also great for flexible projects.
If you're not paying for Asana, you can only add up to 15 members to a workspace or organization. You can also add limited access members to your organization or workspace. Essentially, these are members that you don't want around all the time, such as clients participating in a project you're doing for them. Bear in mind that limited access members count towards your total number of seats.
If you want to upgrade from a free to a paid plan, there are different scenarios. If you upgrade the whole organization, you will have to pay for each member, including all team members. On the other hand, you can upgrade only one team within your organization, while the rest remain on the free plan. This arrangement may work well for some companies – perhaps you have just one or two teams that need the premium Asana features.
Speaking of features, let's see what you get in the free and paid plans.
Asana's free plan
If you don't work in a large team, the free plan could be just what you need to manage your projects. Here is what you get in the free plan, among other things:
– Unlimited tasks
– Assigning tasks to team members
– Setting due dates for tasks
– Commenting on tasks
– Attaching files to tasks
– Kanban board and calendar view
– Status updates

Major drawbacks of the free plan
Let's get one thing straight – for the very basic task management, Asana's free plan is great. However, if you're dealing with complex projects and larger teams, it will be inadequate. Here is what the free version Asana is lacking:
– A limit of 15 members per single team
– No Timeline view and no advanced search
– No task dependencies – you can't see which task has to be done for the task after it to happen
– Limited admin controls – you can't assign administrators to manage users and teams. Difficulty managing permissions
–
The ability to add limited access members not but not set permissions for them
Asana premium pricing
Asana's Premium plan offers multiple ways to manage the progress of your team's work.
Advanced search lets you filter projects and tasks by parameters like completion status, due dates, and attachments. You can also search by team and team members.
With admin controls, you can view an Organization's full list of members and guests. Delete members easily when they leave and reassign their tasks. You can also assign comment-only status, giving you more control over who can edit and delete tasks.
For project management, Premium users get timeline view, a Gannt chart feature ideal for more complex projects. Task dependencies let you mark a task as waiting on another before it can commence. That's great for helping teams prioritize work.
Asana premium pricing
The premium Asana plan offers more ways to manage the way your team works. Here are some of them.
– Advanced search – filter projects and tasks by different criteria such as completion status, due dates, assignees, and more.
– Admin controls – view one organization's full list of guests and members. Delete members, reassign tasks, set different permissions
– Timeline view, Gantt chart view, and task dependencies
Asana Premium will cost you $10.99 per user per month if you pay annually, or $13.49 if you pay monthly. Of course, you pay in packages of 5, so the cheapest Premium package is $54.95 when paying annually or $67.45 when paying monthly.
If you have a small team though, you can pay less. If you have fewer than 15 members, you'll pay $6.99 per user per month if you pay annually, or $34.95. Eventually, you may get to 15 members, and you'll pay $1978 annually.
Asana Business and Enterprise
Asana Business is a plan that gives you all the features from Premium, as well as some additional ones, such as portfolios that let you see projects happen in real-time. Moreover, you get the proofing feature, allowing you to leave feedback on images.
Of course, that means more money as well. You'll have to pay $24.99 per user per month if you pay annually or $30.49 when you pay monthly. This amounts to $4,498 for a team of 15 users, which is quite a price.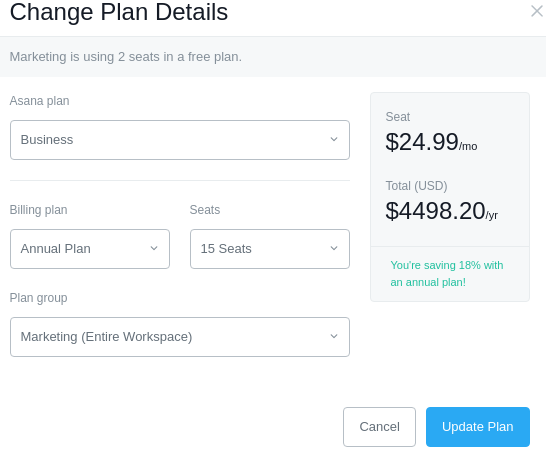 As for Enterprise, you get advanced features such as Admin API access and 99% uptime SLA. However, you'll have to get in touch with the Asana team to get a quote.
How you can pay less for Asana
As already mentioned, smaller teams with fewer than 15 users will pay a smaller rate of $6.99 per user per month when paying annually.
If you have a non-profit, Asana will give you a 50% discount on all plans.
Asana alternatives
Perhaps you're not convinced that Asana is the right project management tool for your business. The good news is, there are lots of alternatives to choose from so you can manage your team's work better.
If you look at the pricing table below, you'll notice that most project management software like Jira and monday.com offer plans based on the number of users. The only notable exception is Basecamp.
Tool
Paid plans
Price
Asana
Premium

Business

Enterprise

$10.99

$24.99

Contact sales

Chanty
Business
$3
Trello
Business Class

Enterprise

$9.99

$20.83

Jira
Standard

Premium

$7

$14

*Monday
Basic

Standard

Pro

Enterprise

$39

$49

$79

Contact sales

Basecamp
Basecamp Business
$99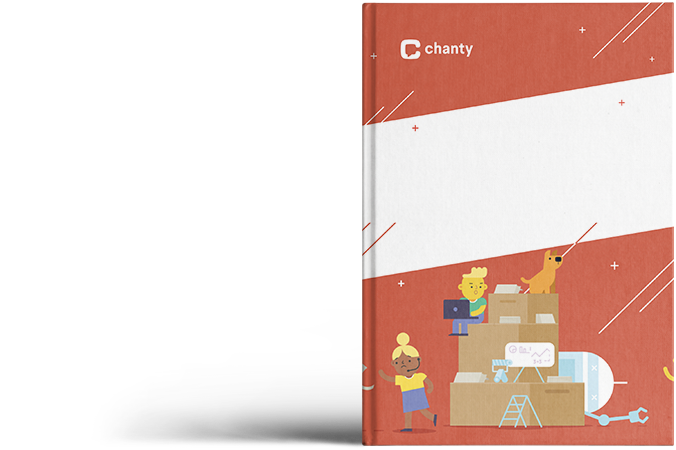 Communication issues at work?
"50 Surefire Ways to Improve Your
Team Communication"
Get eBook
How does Asana compare to Chanty?
Perhaps you've considered Chanty as an alternative to Asana. Both are easy to use and both help your team work together and get more things done in less time. However, they have different features and pricing.
Let's take a better look.
Pricing.

Compared to Asana, Chanty's pricing is much simpler. You only pay per active user, which means that you pay for those people in your team that signed up to use the product. That means that if 6 people use Chanty, you only pay for 6 people and you don't have to pay for any additional seats. With this in mind, it's worth saying that Asana can be up to 7 (yes, seven) times more expensive than Chanty.

Task management.

At the core of Asana's features is task management, the ability to track and assign projects. On the other hand, Chanty is a tool for communication where task management is a secondary feature. However, you can turn any message into a task and assign it to your colleagues, set due dates, and manage your to-do lists.

Messaging.

In Asana, you can discuss your projects but there is no built-in messaging feature. Although, there is a workaround if you want to

send private messages

. With Chanty, you can easily send private and group messages in the app. Choose from a variety of communication types: public, private, one-to-one. All of your messages, files, and contacts are stored in the Teambook so you can find them with ease.

Calls.

You cannot make calls in Asana at all. With Chanty, you can make audio and video calls with ease, both one-to-one and in groups.
If you want advanced project and task management features, Asana is the better choice for you. However, you don't have to use Asana and miss out on team communication! With a Chanty integration, you can use Asana and Chanty together and maximize your productivity!
Summing up
Asana is one of the most popular project management apps out there for a good reason. It will make your team more efficient and productive, streamline your workflow, and keep your team in sync. If you have a fairly small team and need a premium plan, Asana is a great choice. As your team and your demands grow, Asana may get a tad bit expensive and your annual bills could get pretty high.
What do you think about Asana's pricing? Let us know in the comments below!