If you are that person who says "I don't use task management apps because getting into them takes too much time", chances are, you simply haven't found a platform that fits your team's needs. As soon as you find the right task manager, you will be surprised by the staggering difference using such a platform makes.
The good news is, there are so many tools on the market that it's not that hard to find the one that fits your team's needs and processes.
For this post, I decided to create a full rundown on top task management tools — their features, benefits, and pricing plans.
Chanty is a full-package tool for remote team management. It's a powerful alternative to Slack, Google Hangouts, and other collaboration platforms. Chanty is cost-efficient, user-friendly, and down to business.
The tool gives business owners an easy way to manage robust teams – it comes with a large-set of built-in integrations and supports multiple types of attachments (as well as sharing code snippets) effortlessly. There's a special treat for designers as well – a sleek dark theme.
Top features:
Unlimited searchable message history.
Group calls and video chats are supported.
Task manager on a centralized Kanban dashboard.
Convenient shortcuts to the most important messages save managers time and effort when organizing the communication process.
Code snippets with custom formatting make help developers communicate clearly.
Customizable privileges help business owners ensure nothing confidential slips through the crack when working with third-party collaborators.
Pricing:
Free account for small teams (up to 5 people)
Paid subscription full of advanced features (group audio and video calls, screen-sharing, a dedicated support line etc) – $3/month/user.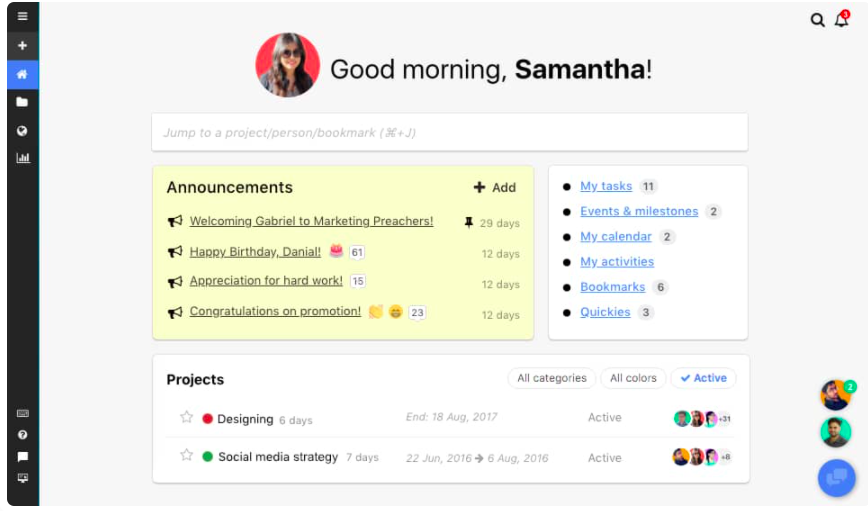 Remember when assigning projects to your team was just an agile mess? Things don't have to be this way! With ProofHub, you can streamline your tasks, turn complex timelines into simple breakdowns, and keep everyone informed on the progress. And it's affordable for teams of all shapes & sizes.
Collaborate easily with a unified workspace, intelligent task management, and reporting. Use to centralize, delegate and plan. That's a smart way to get things done.
ProofHub has everything you need to keep your projects moving forward on time and within budget. We've packed this project management app with sharing files, conversations, calendars, tasks, assigning roles, and all the other tools you need to take your team to the next level.
Top Features
Create customized workflows across multiple work streams to help you manage your projects efficiently, making managing projects easy and fun.
Set a milestone in your project that helps you view your progress and adjust your project plan according to the adversity or challenge you might face.
Easily visualize your project and evaluate your task progress with the Kanban boards and table view.
Login to your account from anywhere and anytime to collaborate with your team, see who's working on what, view progress, and share documents.
Its ridiculously easy interface makes tasks simple for teams and gives them all tools in one space.
Pricing: For more information about our pricing, visit our pricing page.
ClickUp is an all-in-one productivity tool designed to manage everything from your daily to-dos to complex projects, even your business' entire workflow. Whether you're a solopreneur or a large-scale enterprise, teams across industries rely on ClickUp to stay ahead of any task.
Efficiency is at the core of every ClickUp feature with hundreds of flexible tools to boost productivity, along with a user-friendly interface to make task management a breeze, no matter what project style you use.
Easily organize your work in ClickUp's unique and scalable Hierarchy structure — even break down your most complex tasks into manageable subtasks that can be easily edited and rearranged. Then visualize your work in over 15 different ways with customizable views including List, Gantt, Calendar, and its Kanban-like Board view.
Beyond organization and structure, task automation, customizable ClickApps, Custom Fields, and more are there to help you streamline your processes and optimize your workday in ClickUp.
Top Features
Fast-track teamwork with multiple assignees and comment threads for any task.
Assign comments as action items and save time with sharable screen recordings.
Set Custom Statuses to establish clear workflows for any use case and create templates to replicate those workflows in a matter of seconds.
Create checklists within tasks to track anything from multi-step workflows to simple to-do lists.
Add relationships to tasks to jump to related items and create dependencies to set an order of operations.
Pricing:
Free Forever: unlimited members and tasks, 100MB of storage, 24/7 customer service, collaborative Docs, Whiteboards, Chat, and more.
Paid plans start at $5 per month for more advanced features, storage, and permissions.
Contact ClickUp for custom Enterprise pricing.
4. Trello
Trello is one of the most widely used and convenient task managers out there. If you haven't heard of it yet, the platform is worth checking out. It allows team managers to allocate tasks effortlessly by dragging and dropping task cards onto boards.
Trello has a ton of integrations — (for example, it supports Dropbox and Google Drive file previews). Other than that, the interface is fully customizable — if you have a soft spot for aesthetics, the platform will give you all the creative freedom you need.
Trello is mobile-friendly — Android and iOS apps are easy to use and give team members on-the-go access to daily tasks.
Top features:
Chrome extension that keeps teammates updated on tasks without having to switch tabs or open an app.
Keyboard shortcuts save a ton of time when navigating workplaces with multiple boards.
Labeling and board covers make it easier to keep track of new tasks.
Checklists are a manager's way to ensure that teammates are attentive to details.
Pricing:
Free plan: 10 team boards with an unlimited number of tasks.
Basic (an unlimited number of team and power-up boards,) — $9.99/m.
Enterprise (improved permission settings, flexible attachment management, and more advanced features) — $17.50.
If I were asked to describe Monday.com in a few words, without a doubt, my answer would be "in style". Though the tool's range of features is impressive, the platform's visual orientedness takes the user experience to a new level.
Monday feels like a one-stop-shop for all things business — it has powerful integrations with communication platforms, a calendar, and other apps, offers full data encryption, and a built-in chat.
As more teams all over the world explore the remote work frenzy, Monday.com is exactly the tool you need to move your entire office online. Using a tool like this helps improve productivity and avoid chaos and mismanagement. Project management can be challenging, but good software and a decent work breakdown structure can greatly ease the process.
Top features:
Batch editing and high application speed — Monday is practically unrivaled when it comes to performance.
Templated workplaces help team managers save time when setting up the remote office. 
No data is lost — even after a teammate deleted the board, it can be rescued from the recycle bin for 30 days.
Customizable design — change the view and color palette of your workplace to make the working experience as enjoyable.
Pricing:
Basic plan (for 5 users) — $25/m.
Standard (for 5 users) — $39/m
Pro (for 5 users) — $59/m.
Enterprise (for 5 users) — $188/m.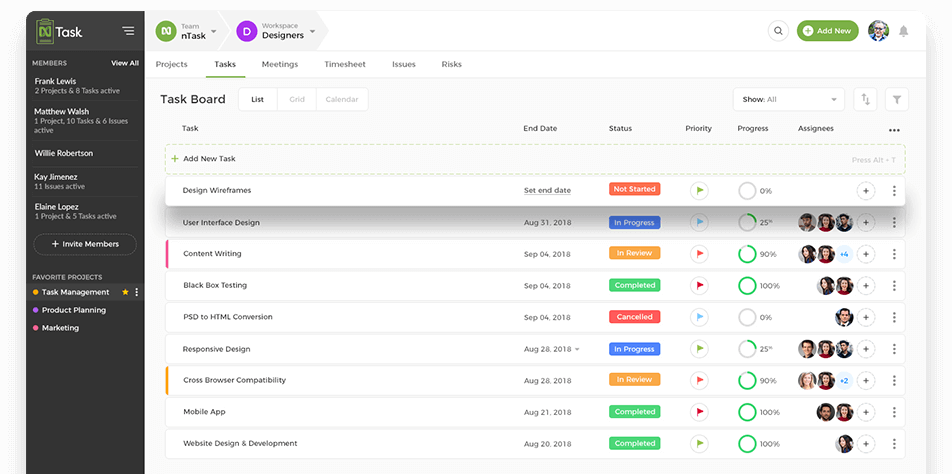 If you are looking for a task manager that is free to use and loaded with workflow planning features, then nTask is for you. This tool is new to the task management space, but have gained much traction in recent time. Used by more than 100,000 teams world-wide, nTask is the go-to task manager for SME's, freelancers, startups, and large enterprises.
Why managers are showing more interest in nTask app? It is equipped with many robust features that are necessary to manage projects and businesses in an efficient manner. This app is used for ideation, planning, task execution and reporting on multiple projects.
Top features:
Interactive To-do list: easily create and assign to-do items to your team members by giving due dates.
Visualize progress with Gantt charts: get the ability to manage workflows in a visual manner through nTask Gantt charts with drag and drop feature.
Team collaboration: use if for team communication and collaborating on tasks, projects, issues and risks.
Free plan with affordable paid option
Pricing:
Free plan with 5 team members
Premium plan starts at $2.99/user
Business plan starts at $7.99/user
Did you know that, in one year, businesses lose up to $2.5 million in productivity due to the lack of asset management infrastructure? The costs of marketers or designers struggling to find the right file are huge — that's why having a reliable digital asset management platform in your task management infrastructure is crucial.
Our top among DAM tools in 2020 has to be Pics.io. The platform draws upon the benefits of Google Drive (storage and accessibility), adding a ton of fully custom features as well.
Team managers, marketers, and designers can use the tool to organize files in just a few clicks, exchange data within the team, track changes, and present portfolios to clients. These advanced features are well-wrapped in an intuitive, easy-to-use interface that makes getting used to Pics.io a walk in the park. 
Top features:
Wide range of file organization tools — AI-based and keyword-based search, metadata editor, and location-based tagging.
Built-in branded tools — choose the among 10 templates and you can learn how to create a website that presents your designs or marketing materials in their best light.
Flexible access settings — Pics.io allows business owners to limit data access ensuring that freelancers or partners don't have access to restricted assets.
Version control — designers and marketers can use Pics.io to store draft versions without cluttering the storage and track changes.
Pricing:
Pay-as-you-go (for freelancers and individual creators) starts at $18/m.
Small (small teams and boutique agencies) — $120/m.
Micro (SMEs, local NGOs, and state organizations) — $480/m.
Medium (medium-size companies) — $840/m.
Enterprise (custom set of features) — the pricing is calculated for each client depending on the complexity of added features.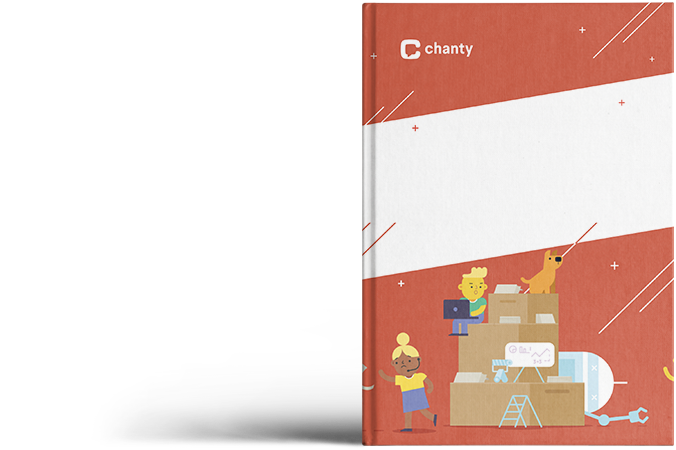 Communication issues at work?
"50 Surefire Ways to Improve Your
Team Communication"
Get eBook
8. Automate.io
There's no denying it — today, team managers use a lot of apps to have full control over processes and stay productive. At times, connecting these tools with each user is challenging.
That's where Automate.io comes in handy. It empowers creating custom workflows that involve several apps. For example, if a project manager wants to create a Trello card anytime there's a new message in a Slack #tasks channel. With Automate, creating such a sequence of events takes only a couple of clicks. That's some next-generation task management.
Top features:
Easy to use interface and excellent customer service.
Team-friendly — Automate.io allows teams to create shared workflows.
Detailed field mapping that allows for flexible automation.
Affordable for small teams and local businesses.
Pricing:
Free plan with a limited number of bots available — 5 bots.
Startup (faster data check, 50 bots available). — $49/m.
Growth (the limit is at 100 bots) — $99/m.
Business (team accounts and data controls are supported) — $199/m.
Enterprise (unlimited number of bots, advanced features) — starts at $399/m.
9. Basecamp
"Old but gold" is exactly the case for Basecamp. Granted, this tool is not the newest kid on the block but it's still highly relevant among startup managers, SME business owners, and large-scale teams.
What's the secret behind Basecamp's longevity? To me, it's the powerful mix of all features a team needs to manage projects remotely — a real-time chat, a reporting dashboard, a task manager, and many more. There's a fair share of gamification elements in the platform as well — it makes project management fun and engaging.
Top features:
Robust checklists — it's easy to track subtasks in Basecamp.
Detailed reports allow tracking each employee's efficiency and keep track of status updates.
Hill charts do a great job at representing the project's progress visually.
A separate inbox for notifications so that they don't clutter the chat.
Pricing:
Free for personal task management.
$99/m for teams.
Jotform Tables
Every business needs spreadsheets. It's what keeps all your data organized and helps you easily manage all types of information. Jotform Tables is designed to be an easy-to-use, feature-packed spreadsheet solution that you can use to manage your projects and track the progress of your tasks.
Jotform Tables gives you the ability to share your workspace with your team via email or a link. With automatically updated spreadsheet data, you can collaborate with your team and assign tasks directly from your workspace without leaving the app. Your assignees get notified instantly and they can take action from any device.
When you send out forms for your team to submit, the data is imported to your spreadsheet in real time. Add columns and extra sections to innovate your spreadsheet without changing anything on the original form. The productivity and workflow possibilities are endless, especially for enterprise-level companies.
Top Features
Collaborate with team members on the same Table in real-time.
Add many different types of columns that include tags, assignees, or star ratings.
Use approval workflows to make sure your tasks are being handed off to the next person.
Switch to card view for a more traditional task management tool.
Use app integrations to send your data to dozens of other software tools within your workflow.

Pricing:
Free Plan: Includes all features with a form creation and submission limit.
Paid Plan: Starts from $34/month and includes higher limits with HIPAA Compliance
Enterprise Plan: Contact sales for unlimited use of the tool, real-time support, and more
Conclusion
This was our take on top task manager apps that help teams stay productive even far away from offices. There are plenty of other platforms on the market — make sure to check them out as well.
Keep in mind that the path to a perfect task management app is different for each team and depends on the budget, the tech-savvy of your employees, and personal preferences. That's why it's alright to take as much time as needed to find the tool that fits your needs — the gain will be worth the effort.