Since the advent of technology, the business world has taken on a faster pace. Project management software, automated programs, and other gifts from the digital realm have made it possible to get a lot more done than we were once used to.
However, with so many options at our disposal, it sometimes becomes a question of which one is the best pick. The debate between Kanban and Scrum methodologies is one that has plagued those efficiency junkies for as long as anyone can remember.
This article is going to go over the key differences between the two, the benefits of each one, and which applications they're best suited for. Hopefully, all this will help you make the decision once and for all based on your own needs.
Without further ado, let's get right into it!
What is Kanban
The Kanban methodology is all about being able to visualize your workflow in an easily digestible way. The ultimate goal for a team that uses Kanban-style management is to minimize the total amount of time consumed between the start of the project and the end of it.
To achieve this, teams are frequently tweaking their Kanban board to optimize it as things fluctuate. This dynamic optimization provides a high level of flexibility to everyone involved in the journey. It relies on the fact that the quickest path isn't always the straightest road.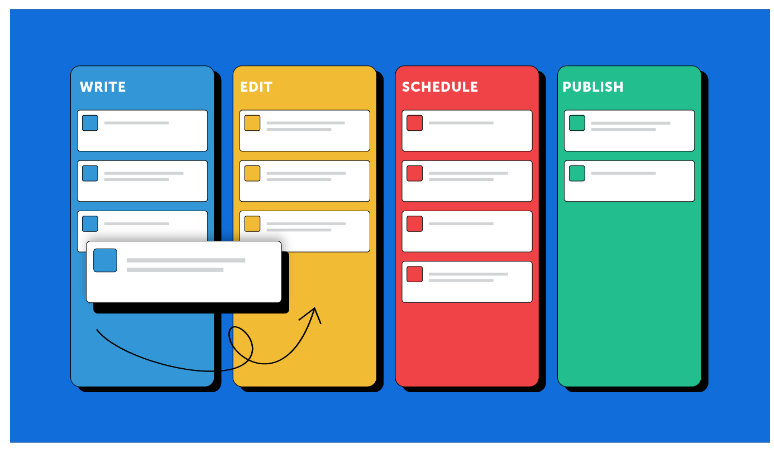 What is Scrum
Rather than flowing continuously and modifying things along the way, the Scrum methodology suggests that short bursts are the best way to maximize productivity. Proponents believe it lets them get the most work done in the shortest amount of time.
These set intervals are fixed in length and can vary from one team to the next. In general, two weeks is a common duration for projects because it's long enough to hit multiple goals in a single round but short enough to get fast results and encourage a rapid-fire attitude.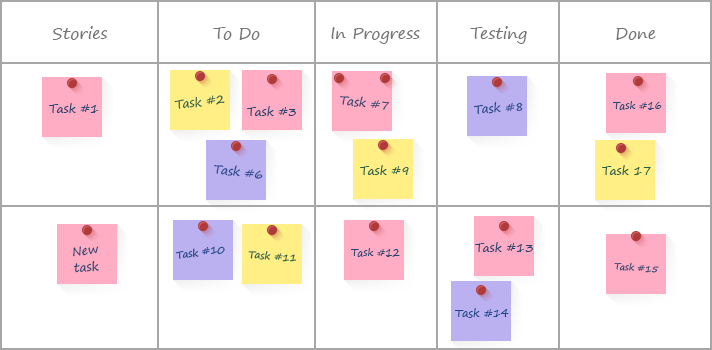 Kanban vs Scrum: Differences
The easiest way to figure out which methodology would work best for you is to understand the differences between the two. There are many ways that Kanban differs from Scrum but these are the four main differences:
Roles
While project manager roles may be assigned to those who organize a Kanban board, there's no actual requirement for collaborators to hold a specific role. In fact, that's one of the reasons why Kanban-ran teams are so flexible — anyone can make changes and optimize the board.
This stands in stark contrast to the Scrum system in which you have a product owner, scrum master, and development team that are all separated into a hierarchy. The argument is that this tiered system, despite being less flexible, keeps things more organized.
Neither option is objectively better than the other but that's not to say that one may be more fitting for a specific application. Company culture also comes into play as some businesses have pre-existing hierarchies.
Kanban board vs Scrum board
Although both of these methodologies do use boards, they have more differences than similarities due to how the information is organized. Scrum board label columns based on the workflow periods. The beginning consists of backlog tasks and the ending is reserved for completion
There's a sense of fixed continuity since tasks that are added to the board at the start of the sprint will later appear at the end of the sprint, and can be discussed in the sprint retrospective . Then, after analyzing the sprint as a whole, the board is cleared of tasks in preparation for the next sprint.
Kanban board, on the other hand, generally limit the maximum card capacity for any one column. This encourages team members to moderate the number of tasks on each stage rather than letting everything pile up on "in-progress" and spreading themselves out too thin.
Schedule
The next and perhaps most identifying difference between Kanban and Scrum is the fact that one uses a static schedule while the other is always in flux. Like we mentioned above, the fixed nature of Scrum can make people work faster as the deadline nears, but it's not always ideal.
Kanban schedules tend to be less stress-inducing since they're dynamic and easily shift as the needs of the project evolve. This could make it a good choice for companies that operate in stressful industries and want to avoid raising the anxiety level within their workforce.
At the same time, the fluid schedule of Kanban may be detrimental to projects that are on a rushed timeline since there's a lower sense of urgency across the staff. There are certain companies that use both methodologies and switch between them based on the timeline.
Changes
Finally, one major difference between Kanban and Scrum is centered around the changing of tasks — or lack thereof. The philosophy of Scrum says that no changes should take place before the sprint ends unless it's absolutely necessary.
This makes the entire structure of the project rigid for the full duration of the sprint. The upside is that people won't have to keep checking the board whenever an update is made since there aren't any moving pieces.
Kanban takes the opposite approach by letting team members make changes at any time. This provides the opportunity for constant optimization since the structure of workflow will always be shaped around the project rather than the other way around.
Kanban vs Scrum: Picking the right one for you
It's hard to figure out which one is the best option if you haven't tried either. That being said, there are a few things you can consider that may sway you one way or the other. Here are some of them:
Expected level of change
If you think your project is going to be constantly changing, then the ideal choice would be to go with Kanban since it will be better at adapting to these fluctuating needs. It will be far easier to edit things on the fly if you're using a Kanban methodology instead of Scrum.
Conversely, if it's easy enough to predict all the tasks that need to be done over the next couple of weeks, what order they need to be completed in, and won't require much tweaking, then you could go for Scrum.
After all, its fixed structure can make it a lot easier for everyone to see who's doing what. This applies to cyclic projects where you've already gone through the workflow in the past and thus know that the next round will generally be the same.
Workflow management
Another important factor to consider is the current state of your team's workflow. If people have been using Kanban board for the past years, then the minor benefits of Scrum may not be worth the jarring effect of switching organizational systems.
There'll be an adjustment period that could slow down your employees while they take the time to get better acquainted with the new system. Furthermore, there could be a higher frequency of human error if you're making people use a new methodology after they were so used to using another one.
If two departments use different workflow methodologies, then you could always segregate project management thereby allowing each department to use whichever solution they're more comfortable with. This can be more beneficial than forcing multiple areas of the company to unify systems.
Team experience
Finally, the last thing to ponder before you decide on which method to go with is how much experience the team in question has. If the team consists of people who have years of experience working together and already have that element of rapport, then Kanban would work.
They don't need strict hierarchies to stay on track since they've been together long enough to be able to work together even under looser terms. The opposite is true for rookies since onboarding can be daunting enough without having to deal with dynamic workflow systems.
Using Scrum can make it easier for senior employees to show others the ropes and thus shorten the entire onboarding process as a whole. Scrum may not always be the best solution to go with, but it can be easier for newbies. The exception would be fresh recruits who have used Kanban.
Conclusion
As you can see, both Kanban and Scrum have their own merits. The answer as to which one you should use will always come down to the use case and specific needs of the people involved.
Not sure which one to go with? Try both out and see which methodology is more effective for the task at hand. Alternatively, you could let the entire team vote on which system would make their job more efficient.
If you end up going for Kanban, then you might want to check out the Kanban feature that we recently debuted on Chanty. You can also read our full article on Kanban if you want to learn more about it.
That's all for now, stay safe, and stay productive!