Team chat software is a place where you can connect and communicate with your team members in a secure and dedicated professional environment.
A lot of people refer to team chat software as a business communication tool, but it is much more than just this. Team chat software is a powerful invention that helps you connect with people from across different departments, countries and even continents.
With the help of this software for teams and businesses, companies can now hire talent from across the globe and help build a diversified team as communication and collaboration has become just a matter of software now.
Having said that, even businesses that have a physical space and work under the same roof also depend on such communication tools to be connected with their team members.
According to a Statista report, 53% of organizations globally have implemented collaboration technologies since 2016 and the figure has been steadily increasing since then. Communication between teams and colleagues is more important than ever, no matter how or where they are working.
Team chat apps and team collaboration tools are becoming more popular as firms explore digital solutions to increase teamwork.
How can team chat software help productivity?
Team chat software also allows workers to be efficient and more productive. Employees can communicate with each other easily and everyone can participate in these chats and professional communications and the flow of information becomes simpler with this software.
Some well-known and well-established workplace chats include the likes of Chanty, Zoom, Microsoft Teams, Slack, Google Hangouts, Amazon Chime and the list goes on.
However, our favorite one is Chanty because it's an easy-to-use application that lets you communicate and collaborate efficiently.
Chanty's Teambook simplifies messaging by bringing important messages, contacts, and other content in one place.
Audio and video calls, screen sharing, to-do lists, on-the-go voice messages, and more are all available through Chanty.
You can also take advantage of Kanban project management and transform communications into tasks in addition to communicating.
Google Drive, Trello, Dropbox, and Github are just a few of the many handy connectors.
Out of the many alternatives, one of the best things about Chanty is its affordability. Chanty is free for teams of 5 users, after which it costs only $3 per user/month which is payable annually.
Now that we know what team chat software really is,  let's move ahead and dive into what it actually does and how it can help revolutionize your team's performance:
1. Improve productivity
In today's digital age, smartphone applications are prevalent. Everyone's phone has a variety of apps, and each notification might be yet another thing to deal with.
Many social networking apps, for example, are distracting and hamper work efficiency. However, using a team messaging tool to streamline project processes and communication can boost productivity and help with time management as everything is integrated into one app.
2. Manage your conversations
Team chat software makes it possible to organize your communication with everyone and anyone.
At times, there is a need for the entire organization to take part in a conversation and sometimes it is only aimed towards a single team or a member. Tools like team chats allow this customization and easy-to-flow conversations to take place.
This means that team members can either or not join channels based on what's important to them. With the help of team chats, you can even tag people and request their contributions in specific areas.
3. On the go search
Have you ever lost something and wish you could ring it or Google where it was?
Well, team chat software may well be the solution for you! Now, you don't have to think what exactly someone said, what time they said it or what day. Everything is recorded and just a search away. Your team can easily find past conversations for relevant information and filter out the important things.
4. Get to see and hear each other
Some conversations flow better when spoken aloud. Voice and video communication are included in most team chat apps, as well as the ability to share a user's screen for collaboration or presentation purposes.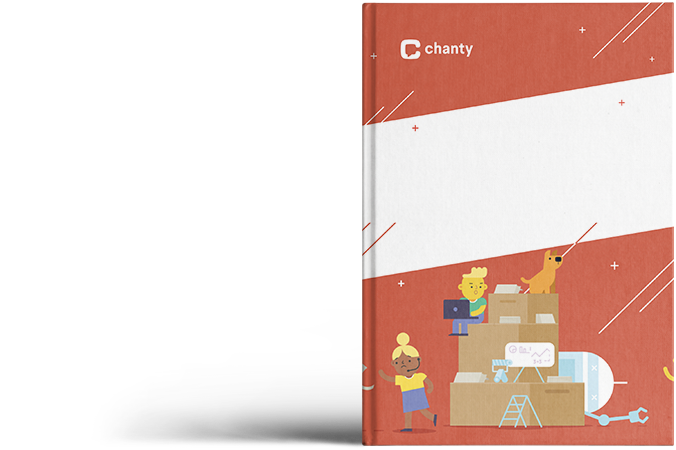 Communication issues at work?
"50 Surefire Ways to Improve Your
Team Communication"
Get eBook
5. Working remotely made easier
Have a brilliant idea and a team from around the world?
Team chat software will help you collaborate and make remote working easier! Execute your idea and get the team working at the comfort of their home.
6. Save time and money
Speaking of working from home, team chat software helps you save a lot of money compared to what a conventional office requires by way of rent and running costs.
Even with traditional office spaces, teams prefer to stay connected on team chats to save the fuel costs of traveling from one place to another and easily collaborating with one another.
7. An open communication tool
Integrate communication into your workflow from across your organization, regardless of whatever team or department you're working with, so you can receive prompt responses to your questions. The flow of communication is made easier and better with the help of team chat software.
8. Ability to make quicker decisions
Have you ever faced a situation in which you need to make a quick decision but do not have access to the relevant material or getting consensus means going to different places?
Well, team chat software solves this problem as you can establish a consensus and make decisions faster if you have a central location where you can discuss ideas and solicit feedback from your team and other departments.
9. Sharing and storing of files
The best team chat apps allow you to share project-related files, store them in the cloud, and search them right inside the app.
Don't be concerned about whether the appropriate individual has access to a file. They can look for it in any of the conversation streams for which they have access. Moreover, this feature allows you to access information from anywhere at any time.
10. Strengthened team camaraderie
From experience, everyone always enjoys going to a place more if we have friends there. Similarly, employees enjoy their jobs more when they have friends at work.
Having said that, electronic communication can never replace face-to-face interaction, but the consistency and convenience of inter-office chat can help strengthen workplace relationships, especially for remote teams.
It enables teams to share birthday celebrations, anniversary, and other victories at work by sharing meaningful and fun GIFs, emojis and even memes in the groups.
Team collaboration and business processes are becoming more complex as the modern office shifts to distributed teams, digital nomads, and remote consultants, necessitating cloud-based solutions and automation technology.
As a result, team chat software must do more than just keep everyone in the loop. It must allow for effective yet meaningful collaboration, as well as the protection of company data and information and an increase in team productivity.
In short, your business should be driven by a team chat app.