The scope of collaboration has changed drastically over the last few years. With the introduction of remote and hybrid work, many companies have had to change how they operate without an in-person work environment.
Over the past few years, remote work has become the norm and many people are seeking new roles. While many companies had to quickly adjust to this format due to COVID-19, organizations have successfully adapted and evolved.
As some companies have transitioned into a hybrid work model and others have stayed remote, it can be tough to stay connected. Luckily, there are various platforms available to help.
Here we list group chats built for teams in a remote and hybrid work environment that can help your employees thrive no matter where they're working!
17 Best group chat tools
Chanty
Chanty is a team collaboration platform for group communication and task management. This workplace chat offers an unlimited searchable messaging history even in its Free plan.
With Chanty's built-in task manager, you can create and assign tasks to your team, set deadlines and prioritize certain responsibilities.
Along with managing your projects, you can even turn messages directly into tasks and have the ability to share your screen or files.
This group chat lets you host audio calls and video conferences, which can help improve your organization's productivity and efficiency.
Using the Teambook feature, all of your important notes, tasks, pinned messages, and conversations can be accessed from a single location.
Key features
Group chat for business teams
Audio and video calling
Kanban board for managing tasks
Access to the teambook feature for easy management of tasks
With these features, Chanty can help your remote team if they struggle with:
Prioritizing which tasks to complete on time
An overall lack of productivity
Lack of communication and time management skills
Pros
The app focuses heavily on task management
Customizable features and easy-to-navigate UI design
It's compatible with other product management software to maximize productivity
Pricing
Chanty has two pricing plans, depending on the needs of an employee or individual. The free plan is suitable for teams with up to 5 users.  
Alternatively, for scaled businesses, you can get started at $3/user/month.
ProofHub
One of the most powerful project management and team collaboration software available today, ProofHub eliminates communication gaps within your team with its innovative communication capabilities.
The group chat brings together all project stakeholders in a single collaborative space to help you get the most out of your team by streamlining work processes and replacing unorganized, scattered projects with a neat, filtered to-do list of all your tasks.
Project managers can plan and track projects at every stage, check progress, and identify potential bottlenecks to ensure timely completion and delivery. This platform ensures that all team members have access to the same information, which promotes transparency and helps everyone stay on the same page.
ProofHub's customizable interface allows teams to set up their projects and workflows in a way that suits their needs. In a hybrid work environment, where employees may have different work styles and preferences, a customizable interface can be particularly useful in ensuring that everyone is comfortable and productive.
Key features
Task management to ensure clear distribution of job responsibilities
Time tracking to manage and ensure that the team stays on schedule
Real-time collaboration through instant Chat, Discussions, & file sharing
With these features, ProofHub can help your remote team if they struggle with:
Prioritizing tasks and staying organized on a centralized platform
Miscommunication and misunderstanding within the team
Identifying areas where they are wasting time and alter their approach.
Pros:
The tool offers an "all-in-one" project management and team collaboration solution to project teams of all sizes across various industries.
You can assign multiple users to a single task and vice-versa
The Online proofing tool helps review, proof, and approve designs and documents from anywhere through markup tools.
Pricing
ProofHub offers a free 14-day trial and two "fixed-rate" pricing plans. The Essential plan is priced at $45 per month when billed annually and allows unlimited number of users. This plan is ideal for project teams managing fewer projects and do not need a long list of tools for project management. You can manage 40 projects, get 15GB storage, and CORE features with this pricing plan.
The Ultimate Control plan is a premium-tier plan that is priced at $89 per month when billed annually and allows unlimited number of users. This plan is more suitable for project teams managing multiple projects simultaneously and need a suite of tools to efficiently manage their tasks and projects. You can manage unlimited projects, get 100GB storage, and CORE+PREMIUM features with this pricing.
Basecamp
Basecamp is primarily a project management tool built for medium to large-sized companies. Its features include task management, chat features, file sharing, document management, and goal tracking.
It allows team members to assign projects to colleagues and seamlessly pass them to others in new stages of the project, much like a remote assembly line.
Basecamp is a great way to track deliverables and goals on projects to stay organized and keep track of your company's time management. This tool is simple for project managers and non-project managers alike.
Key features
Task management
File sharing and document management
Chat features
With these features, Basecamp can help your remote team if they struggle with:
Deciding who completes which phase of a project at what time
Meeting deliverable deadlines
Overall organization
Pros
The app focuses heavily on task assignment and completion of deliverables
The ability to chat with product managers referencing deliverables
Easy to use file sharing, so all important documents can be accessed by all team members
Pricing
Basecamp has two pricing plans that you can choose from, depending on your business's size and needs. The first is for more personal needs which allows work on three projects, up to 20 users, and up to one gigabyte of storage. Perfect for small businesses or individuals working online. This tier is free to the user.
The second plan is considered Basecamp's business plan which allows the business unlimited projects, unlimited users, 500 gigabytes of storage and priority support. This plan is priced at $99/month.
FreeConference
FreeConference is a free online conferencing system best for small remote teams or even freelancers. This is a great option for new businesses because of no cost. If you're looking for something with more features such as screen sharing or a whiteboard feature, this isn't the product for your team.
Sometimes, you need a no-stress way to meet up with your team in order to collaborate in a remote environment without all the extra bells and whistles, and this is the perfect way to do that. It's an easy-to-use conferencing system, but its capabilities don't go beyond that.
Key features
Audio and visual conferencing
Screen share and whiteboard features
No cost
With these features, FreeConference can help your remote team if they struggle with:
A lack of collaborative meetings
Difficulty in managing regularly scheduled meetings
Lacking communication among team members
Pros
Budget-friendly for all users
Screen share and whiteboard screens to increase collaboration in meetings
Easy-to-use communication system
Pricing
FreeConference has a unique payment system, they allow you to pay what you are able to instead of mandating one price for all users. Their average monthly payment from users is $8.21. This video conferencing system could fit into any budget.
Bonusly
One of the most difficult challenges in managing a remote or hybrid team is preserving your work culture and the company's core values. Establishing a fun, positive work culture without a feeling of separation can be tough in a remote work environment. That's where an employee recognition tool like Bonusly comes in handy.
With Bonusly, you're able to recognize and reward your colleagues. The program gives employees a monthly allowance of bonus points they can use to celebrate their coworkers. Employees can redeem points for rewards such as gift cards, charity donations, and more.
Bonusly can help foster increased collaboration and engagement and prevent burnout within your team through meaningful recognition of hard work and accomplishments.
Key features
Monthly points that can be redeemed for prizes
Accessible dashboard where employees can see which coworkers are being rewarded
Celebration of employee achievements
With these features, Bonusly can help your remote team if they struggle with:
Building a culture of recognition among employees
Difficulty improving motivation among coworkers
Burnout related to lack of recognition
Pros
Provides reward and recognition for hardworking employees by their peers
Employees can cash in points for rewards they actually want
Fosters an engaging and collaborative remote work environment
Pricing
Bonusly also has a different plan pricing structure depending on which types of features you are looking for and the size of the company. The Core plan gets you all the basic features of the product that allows your employees to recognize each other accordingly at $3/user/month.
There is also a Pro plan which comes with the same features but also includes Bonusly's proprietary software that removes the work of awarding manually. This plan is priced at $5/user/month.
There is also an option to talk to someone on the Bonusly team to create a custom plan that includes discounts for companies with 99 employees or more.
Invision
Invision is a great collaboration tool for creative companies that often brainstorm and manage campaigns. This collaboration app and digital whiteboard allow multiple users to hop in and brainstorm at once, mimicking an in-person experience.
This is a great tool to use for some of your bigger projects that require a hybrid or completely remote experience and any sort of creative-based meeting. The creative aspect of meetings is something that remote workers miss when transitioning from an in-person to an at-home environment. Invision is a great way to regain some of that creativity in your new remote environment.
This product can help design teams do anything from simple brainstorms to complex storyboards and everything in between. It also allows you to create client deliverables from start to finish in one easy to navigate location. Sounds great, right?
Key features
Management of the design process from brainstorming to deliverable
Digital whiteboard and chats for meetings
Simple to use project management system for deliverables
With these features, Invision can help your remote team if they struggle with:
Having collaborative brainstorming and design sessions
Difficulty delivering tasks on time
Lacking unique and effective creative meetings
Pros
Gives an in-person feel to remote creative work
Easy-to-use system to create deliverables from start to finish
Diversifies the creative process
Pricing
Invision is free for individual use and for small teams. However, there is an upgraded version for $8/month that is better suited for cross-collaborative teams.
If you need additional features, your company can contact Invision for a custom-created enterprise plan.
Gather
Gather is another easy-to-use video conferencing tool built for small to medium organizations. However, there's a fun twist. Gather allows users to create their own spaces, utilize whiteboards and even use their built-in games throughout meetings and conferences. This system is great for collaboration, creativity, and fostering unique company cultures.
While this might not be the perfect system for your business's weekly or daily meetings, this can help elevate your company culture. Consider adding a monthly meeting focused on playing some games and getting to know your colleagues. For a remote-first company, this can take the place of in-office parties or Friday happy hours. It's a great way to de-stress and reward employees.
Key features
Audio and visual conferencing system
Built-in games and desk layout
Simple to use project management system for deliverables
With these features, Gather can help your remote team if they struggle with:
Having collaborative and communicative meetings
Lack of fun and rewarding meetings
Getting everyone involved in meetings in remote sessions
Pros
Fosters a creative remote culture
Built-in games make meetings more rewarding and entertaining
Offers a unique take on the usual meetings
Pricing
Gather has a plan pricing based system dependent on the number and time of user. The first option is free for up to 25 users with customizable maps. The second option is a $2/user with up to 500 people and allows for two hours of use. This tier is specifically designed for remote office parties and social events.
The next plan is priced at $3/user. This is designed with conferences of 500 people in mind.
The final plan is priced at $7/user per month. This is designed for companies who use gather frequently for most of their meetings and activities.
Spring
Something that might be overlooked by organizations is the importance of financial wellness for employees, especially for those who work remotely. These days, offering a retirement plan isn't enough.
According to the 2022 PwC Employee Financial Wellness Survey, 76% of financially stressed employees said monetary worries hurt their productivity, and they were attracted to other companies that cared more about their financial well-being. This stress can be detrimental for remote or hybrid workers as it can harm their mental health, among other effects.
In this case, a tool like Spring can be a helpful resource for your team. This platform has customized educational content, a simple budgeting tool, goal setting and tracking reports, a financial health summary, and one-on-one professional coaching with financial experts. With this resource, your team can improve their financial wellness and educate themselves on financial requirements and best practices to reach their goals.
For instance, if one of your employees is interested in buying their first house, they can research the home loan pre-approval process and other details to prepare themselves for a large investment. Having a good understanding of money management skills and more advanced practices will ensure your remote team feels better and more prepared for work.
Key features
Customized financial wellness plans catered to each individual
One-on-one guidance so employees can better understand their finances
Easy to navigate learning center for financial education
With these features, Spring can help your remote team if they struggle with:
Productivity related to financial stress
Longevity of employees due to finances
Emotional and mental support during remote working periods
Pros
Increased productivity because of a lack of financial stress
Longer tenure of employees
All-in-one learning center for employees at all stages of financial education
Pricing
The pricing of Spring includes a base price for the use of the Spring platform and interface and increases in price per the number of employees they wish to add financial counseling.
The base price for use of the Spring Platform is $2500/year. Financial wellness counseling gets less expensive per employee the more employees the company has.
For instance, the price of 10 employees is $80/month, but the cost of 100 employees is $700/month.
Zoom
Zoom is an online tool for group communication that allows you to host video conferences, webinars, live chats, and screen shares. Zoom is great for synchronous communication, as a video conferencing tool is a must to increase collaboration amongst colleagues, as it's as close to in-person collaboration as remote work will allow.
Because of all these great features, Zoom can be great for a business, a freelancer, or just someone looking to connect with others who are remote. A great feature of Zoom is that you can sync your meetings to whatever calendar system your company uses so that way your colleagues will never miss a meeting.
Zoom also has a myriad of apps that you can connect to the platform that can make your meetings interactive and exciting. Using some of these additional features that other video conferencing tools don't have can be a great way to foster a connected and inviting company culture with effective team dynamics.
Something that can be challenging to build in a remote setting. Zoom is a great way to be collaborative while staying organized.
Key features
Easy-to-use audio and visual conferencing
Additional apps that can enhance meetings
Chat feature for additional communication
With these features, Zoom can help your remote team if they struggle with:
Connecting during remote periods of work
Missing meetings that are not on employee calendars
Hosting meetings for teams big and small
Pros
Increased communication for remote workers
Additional webinar settings where all participants are muted so only the speaker presents
An easy-to-navigate interface
Pricing
Zoom has a tiered pricing structure based on the needs of the individual or company. The free plan includes meetings for up to 100 people for 40 minutes with three whiteboards and messaging and file sharing.
There is a pro tier at $149 a year per user which has meetings for up to 100 people with no time limit with three whiteboards, messaging and file sharing and three gigabytes of cloud storage.
The business plan is priced at $199 per year per user. The plan gives you meetings with up to 300 attendees, unlimited whiteboards, messaging with file sharing and five gigabytes of cloud storage.
Ideanote
Ideanote is an innovation software dedicated to helping companies develop new ideas for products and services. It allows teams some structure to innovation, and helps solve any issues the company may be facing. It centers on collecting, engaging, managing, measuring and automating any innovative ideas.
Ideanote can be used for either internal or external company use. Internally to improve company engagement, solve problems, and scale communication. Externally Ideanote could be used to improve company offerings and products to customers.
Key features
Idea Collection from a multitude of audiences
Included training and support
Custom features designed per company
With these features, Ideanote can help your remote team if they struggle with:
Measuring valuable contributions from individual team members
Developing new ideas to improve the company and its products
Working collaboratively in remote environments
Pros
Tracks ROI per custom contribution
Established process for innovation creation
Custom domains for unique projects
Pricing
Ideanote has a tiered system based on what your business needs. The first option is free for up to 10 members. This includes all the features in the collect, engage, manage and automate core functions.
The next plan is the business plan. Which is $49 per month for 15 members, and up to $1249 per month for 2,500 members. This up to 25 teams, custom domains, increased branding and engagement insights.
There is also a third option for businesses which includes a custom pricing plan for your teams with larger businesses and complex innovative needs.
Hive
Hive is a time tracking and billing system that's great for remote companies big and small. It allows you to create ticketed projects where you can tag the employees you want to complete the tasks. This allows you to closely monitor the amount of time it takes to complete the task and then you can bill time to a task.
This is a great management system in that it allows you to evaluate whether you've too many or not enough people working on a project to get it done on time.
Hive can also double as a project management tool, as your manager can create the project and the objectives, then tag the team that'll work on the project. That team can then access the ticket and put their deliverables into the created project with the manager overseeing the entire process.
This can be helpful in any environment but particularly a remote one as it keeps track of all your projects and tasks notifies you when you have a new one or a deadline coming up and allows you to collaborate with your colleagues.
Key features
Track time for tasks on billable clients
Simple to use project management software
Additional apps to help you streamline stages of a project such as editing or research
With these features, Hive can help your remote team if they struggle with:
Tracking how long it takes to complete deliverables
Over or under-allocation of resources
Completing projects on time
Pros
Assignment of projects to specific team members
Accurate billing based on tasks for clients
Manager oversight throughout all stages of a project
Pricing
Hive has a solo user tier which is free and includes unlimited storage, projects and tasks, cloud integrations, collaborative notes and chat messaging. This is best for the freelancer or entrepreneur.
There is a team price at $12/user/month which includes external guest access, time tracking and Zoom in Hive in addition to the features included for free.
Alternatively, if you have a big business you can customize an enterprise plan which has enhanced security, a customer success manager and unlimited onboarding.
MS Teams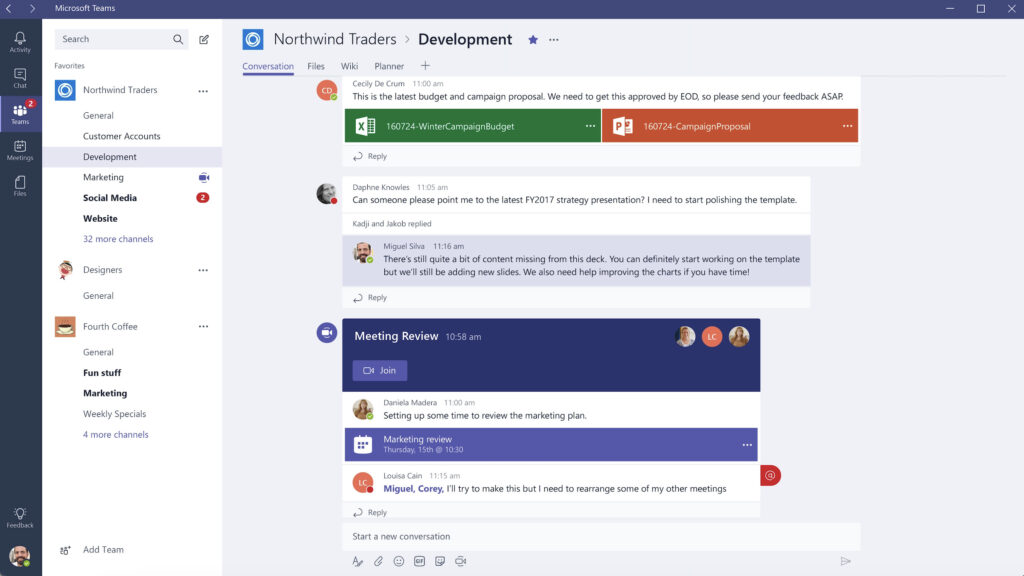 Microsoft Teams is a great group chat for organizing and collaborating. The four main functions of Teams include chatting, meeting, call,ing and collaborating. The chat function is an instant messaging tool that allows one-on-one or group messaging. This is a great way to increase collaboration remotely without needing a video call. However, if you prefer calls the meet function is a video conferencing system and the call function is a voice-only call option. Finally, the collaborative function allows you to share documents, PowerPoint, and Excel spreadsheets with other colleagues to work on. You can consider teams a one-size fits in terms of catering to what remote employees need to be successful in the workplace since every employee has different preferences.
Key features
Work collaboratively on all the usual Microsoft Office products
Instant messaging system for fast group communication
Call feature for conferencing
With these features, Teams can help your remote team if they struggle with:
Decreased collaboration on projects in the remote setting
Effective group chat
Collaborative meetings
Pros
All-in-one software for projects, messaging and calling
Access to important Microsoft Office products
Never lose a document again with the Teams organizing function
Pricing
Teams has four pricing options depending on the types of features the individual or company is looking for. The first option is free and includes one-on-one meetings for up to 30 hours. It also includes five gigabytes of storage and file sharing, but no additional Office apps or services.
The next level is priced at $4/user/month, which includes unlimited group meetings for up to 30 hours for 300 people. Additionally, this pricing level includes 10 gigabytes of storage, however, it does not include additional Office apps and services.
The next level is the Microsoft 365 Business Basic, priced at $6/user/month. This level includes all the conferencing perks of the previous membership levels but also includes most of the Office apps or services like: OneDrive, outlook, excel, word, PowerPoint, exchange, and SharePoint.
The final option is Microsoft 365 Business Standard, priced at $12.50/user/month. This pricing option includes desktop versions of all office products, webinar hosting, and publisher and access tools for PC conversion.
Confluence
Confluence is a team workspace that primarily allows top-down communication perfect for announcements, project management, and collaboration. It's a centralized location that allows for the use of different pages and page trees, so every team member has visibility into institutional knowledge and access to the information they need to do their best work.
This is a great place for company-wide announcements and initiatives. That way, if you have a hybrid office, all of your remote employees and in-person employees receive messages at the same time. It also allows employees to ask questions to the leadership team and HR without having to access email or another messaging system.
Key features
Centralized messaging hub for company announcements
One-on-one guidance so employees can better understand their finances
Easy to navigate learning center for financial education
With these features, Confluence can help your remote team if they struggle with:
Missing company-wide announcements
Unsure where to go to find company documents and policies
Emotional and mental support during remote working periods
Pros
Effective company-wide communication
Easy to navigate centralized posting boards for a record of company announcements and policies
Direct access to company leadership and HR for all employees
Pricing
Confluence has four different pricing models depending on the size of your team. The first option is free for 10 users or less.
The next is a standard price of $5.50/user/month, designed for growing teams to collaborate and share knowledge.
The third option is premium at $10.50/user/month for organizations to scale with.
A final option is an enterprise option, which is billed annually and is custom-made for each unique business.
GoToMeeting
This is another popular video conferencing tool, which is built specifically for remote businesses. Colleagues can collaborate with audio and video, and also the ability to use on-screen drawings. This on-screen whiteboard is specifically great for design teams or creative-focused meetings.
After the meeting, you can download the transcript to reflect on later, and this is a great feature for colleagues who missed the meeting or parts of the meeting for whatever reason. The remote environment can sometimes get chaotic, especially when working from home.
You never know when your pets or family members will come and distract you with something they need. The downloadable transcript allows everyone to be on the same page regardless of meeting attendance. While very similar to Zoom, GoToMeeting is built to help businesses grow and communicate more efficiently.
Key features
Audio and visual conferencing software
Downloadable transcripts for absent employees
Screenshare for collaboration
With these features, GoToMeeting can help your remote team if they struggle with:
Missing meetings
Getting distracted by additional functions in competitor conferencing software
Collaboration in the remote environment
Pros
Built precisely for remote businesses
Allows employees to reflect on important meetings
Increased collaboration for the remote environment
Pricing
GoToMeeting has a professional option which is priced at $14/user/month which is billed annually. This includes all the features with up to 150 participants.
The next plan is a business plan billed annually at $19/user/month. This plan includes all the features with up to 250 participants. If you have more than 250 users, you can also create a custom enterprise plan, which will get you bundled discounts and additional features like webinars and room solutions.
G-Suite
Organizing your projects is essential for any team, but for those working in a remote or hybrid environment, this is even more important. Depending on how large your team is, managing several documents, spreadsheets, and presentations can quickly become overwhelming and complicated without an organizational system.
Especially for a mix of remote and hybrid employees, it's important to be able to have easy access to the projects you're working on and a system to track them.
Using a resource like G-Suite is helpful for this, as it provides you with an extensive suite of apps your team can use to organize their work. This includes tools such as Gmail, Google Calendar, Meet, Chat, Drive, Docs, Sheets, Slides, Forms, and Sites.
With G-Suite, your employees can share and collaborate on documents simultaneously and it allows you access to shared team calendars to help you keep track of tasks, deadlines, events, and reminders. Google Drive is especially helpful in storing and sharing files as you can organize your projects into different folders and categories, and also have offline access to them.
Not to mention, G-Suite instantly syncs changes made, so anyone working on a project can view updates in real-time. The features within this program give your team the ability to seamlessly connect and collaborate online, which can boost productivity and performance.
Key features
Familiar systems like sheets, presentations and documents
Chat and conferencing Systems
New unique softwares like forms and synced calendars
With these features, G-Suite can help your remote team if they struggle with:
Organization of documents and projects
Sharing documents with team members
Collaboration on projects and activities
Pros
Ability to share documents with colleagues for increased collaboration
Centralized hub for increased organization
Boosted productivity with less hassle
Pricing
The G-Suite has four different tier options; the business starter is priced at $6/user/month. Which includes a business email account, 100 participant meetings, and 30 gigabytes of storage.
The business standard pricing is $12/user/month with 150-person meetings, two terabytes of storage with increased security and management reports.
The next available plan is business plus at $18/user/month. This plan includes 500 participant meetings, five terabytes of storage per user, and standard support.
The final option is an enterprise plan for large businesses that can customize plans based on the number of users, but includes unlimited storage and enhanced support. The price per user varies depending on how many users the company employs.
ZoomShift
ZoomShift is a work scheduling and payroll system that allows you to streamline your schedule-making process, push the calendar to all employees and manage payroll efficiently. That way all your employees, remote or not, know what their working hours are each week without managers needing to contact each employee individually.
The mobile time clock allows the management of working hours for remote employees easily and calculates them in payroll, removing a step from the process compared to manually compiling the information.
In a remote environment, this also removes some responsibilities of employees to clock into a separate location daily, as ZoomShift monitors it all independently. This removes some of the biggest headaches that managers and HR employees face during their weekly payroll checks.
Key features
Scheduling software for all employees
Easily compiles all working information for automatic payroll
Remote clock in
With these features, ZoomShift can help your remote team if they struggle with:
Knowing working hours
Receiving accurate paychecks
Completing payroll in a timely manner
Pros
Pushes work schedule to all employees
Employees can clock in from anywhere, making it perfect for remote work
Reduced stress when completing payroll information
Pricing
ZoomShift includes three pricing options among its plans. Beginning with the Starter program at $3/user/month. The starter plan features all the basic benefits of ZoomShift such as calendar syncing, PTO management, shift swap requests, break tracking and a payroll report.
The next plan is premium pricing at $4/user/month. Which includes all the starter features and additional features like overtime warnings, view history, and preventing overlap between shifts.
The final pricing option is a customizable enterprise option with custom pricing based on the business's needs. The included features are all the features included in the starter and premium plans with priority support, personalized onboarding and custom employee training videos.
nTask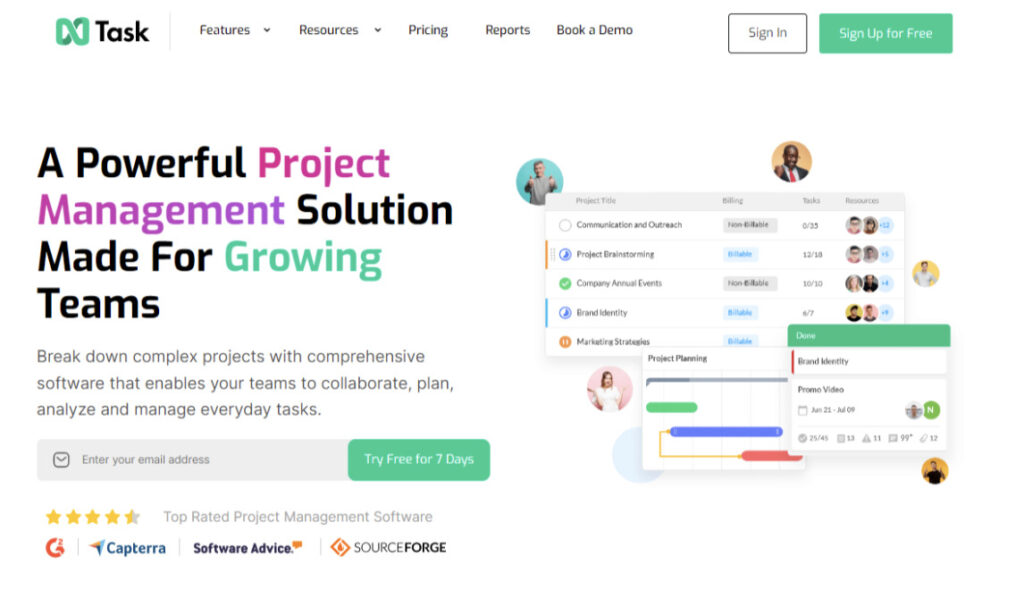 nTask is an incredible task management and collaboration tool that allows you to make sure that all of
the team members working on the same project can stay in contact with each other seamlessly without
any issues.
The application is also equipped with a risk management and meeting management tool that allows you
to make sure that all the tasks and processes are risk-free and that the team members can have all of
the meetings that they want regarding the work that they do.
The application also has Gantt charts and Kanban boards to help users have a different view of all of the
tasks and processes and the related dependencies in a project.
Key Features
Meeting management
Task management
Team management
Project management
With these features, nTask can help your remote team if they struggle with:
Task management
Team management
Meeting management
Pricing
The application has 3 different types of subscriptions apart from the free trial which is free for 5 people
(7 days).
The first paid subscription (Premium) starts at $3/month when billed yearly.
The second subscription (Business) starts at $8/month if you pay yearly.
The third subscription (Enterprise) is available for users that want to get the application customized according to their needs and requirements, in addition to all the features that nTask has to offer.
What is the best group chat?
Remote and hybrid work environments can be difficult to adjust to, but there are ways to ensure your teams are well-supported and given the tools needed to succeed. Utilizing the wide array of online group chats available will help your organization grow and evolve no matter where your employees are located.