Here's the truth: there are hardly any 'team chat apps' left on the market. Today's corporate messengers are not about communication only. As demands of businesses have risen, team chat apps turned into powerful collaboration tools. They mix chats, work items and integrations with third-party apps, becoming a kind of 'work hubs' to satisfy business needs.
fBack in 2013, Slack pioneered with this approach to team chat apps. Today, with 8 mln people using it daily, the tool definitely has the momentum in business collaboration. But chances are Slack will not be on top forever or even for long. For the last couple of years, many brand new tools have arrived and they are doing great catching up with a market leader.
At Chanty, we love to explore team chat tools. Learning about different features our colleagues-slash-competitors helps us in making our app better. We have already given a comprehensive feedback on Slack alternatives. Here's a bit more extended review of business communication tools.
I'll list team chat apps, focus on their key features, and share opinion on the pros and cons of every app. Each description contains 'Will this tool serve me?' section to help you make a reasonable decision on a particular app.
In case the freemium plan is all you need, take a look at the table we've made for you.
What is the best team chat software?
Voice and video calls
Message history limit
Integrations
File storage limit
Chanty

Unlimited 1:1 audio calls

No limits

10 integrations limit

10GB per team

Slack

Unlimited 1:1 voice and video calls

10K messages

10 integrations limit

5GB file storage for a team

Microsoft Teams

1:1 and group audio and video calls

No limits

140+ integrated apps and services

2 GB/user and 10 GB of shared storage

Facebook Workplace

Voice and video calls (desktop and mobile)

No limits

Integration with file storage providers only, the rest are paid

Unlimited file, photo and video storage

Google Chat

No freemium version

Flowdock

(for no more than 5 users)

Yes, via Appear In (for voice calls cam can be switched off)

Unlimited

Unlimited

Not specified

Rocket.Chat

(Self-Managed plan)

Via Jitsi Meet integration

Unlimited

Unlimited

Unlimited

Flock

1-1 Video calls, up to 20 users, up to 20 mins/call

10K messages

Unlimited

10GB per team

Ryver

No Freemium version

Glip

500 min. of shared video chat

Unlimited

Unlimited

Unlimited
1. Chanty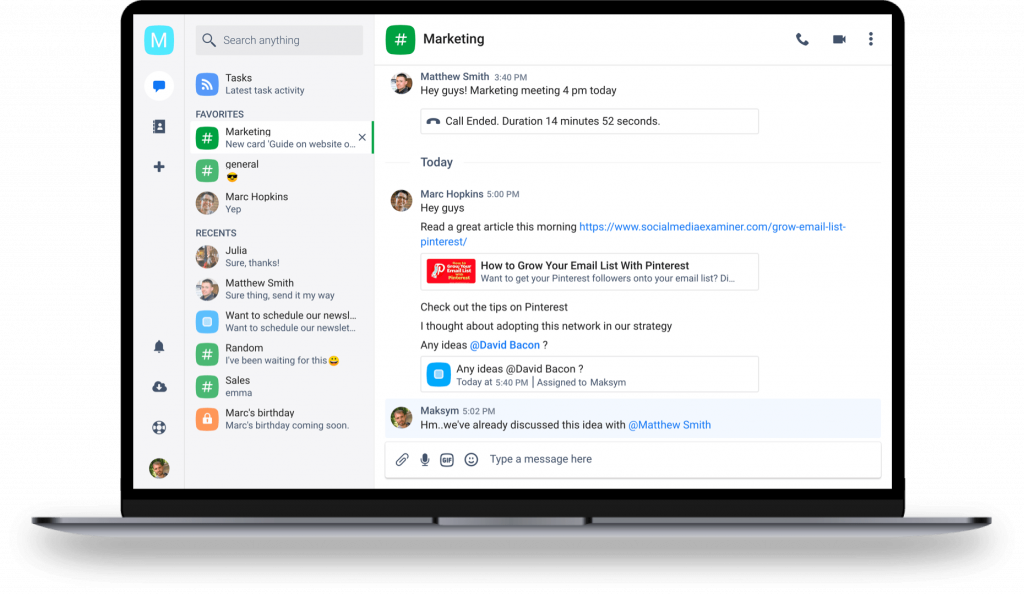 It wouldn't be our blog if we didn't put Chanty team chat as #1 on this list. We've designed a team collaboration tool with intuitive and easy-to-use interface. Chats are neatly organized in public, private, one to one conversations. Unlike some of our competitors, we decided not to limit searchable message history creating seamless and stress-free experience for our users. Links, files and pinned messages of every conversation are neatly organized making it easy to instantly find what you need.
One of the handy features in Chanty is built-in Task Manager that is a breeze to use so you can turn any message into an assignment. Moreover, we've recently launched voice, video calls and voice messages. Now Chanty is a go-to app not only for office workers, but for deskless workers as well. If you are tired of switching between the tabs at work, connect any app out of 1500+ available in Zapier to Chanty and turn your team chat into a single notification center. Although some of the features are coming soon, you can already enjoy the super fast and easy communication in Chanty.
Feel free to join our community of Chanty users!
How much?
Chanty's free plan is limited to 10 people on a team. The paid plans start at $3 per user, per month.
Supported platforms:
iOS, Android, Windows, macOS, and web
'Is Chanty a good fit for me?'
If you need an app with intuitive user experience, organized communication, seamless collaboration, powerful search, audio & video calls, voice messages, integrations, adjustable notifications and many more features to come, you are definitely on the right track.
2. Brosix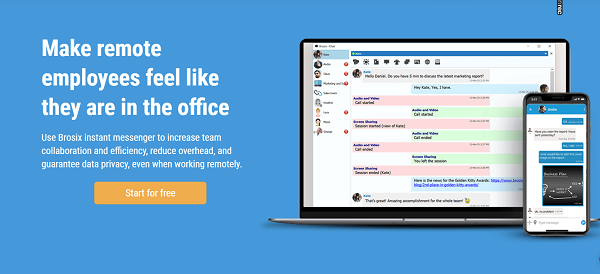 Brosix IM is an enterprise IM service specializing in team communication solutions. While there is a free Brosix app similar to other IM apps, their main focus is on business communication services. This is done through their private team networks that provide organizations with their very own internal network.
These networks come with a range of collaboration features including p2p file transfer, screen sharing, audio and video calls and persistent chat rooms. The networks are also fully administrable, meaning businesses can control who uses them and how.
Brosix pays special attention to security, with all communication channels fully encrypted. Its user interface will seem familiar to those used to using older instant messengers like AIM.
How much?
Startup
Business
Premium

Free

Private team network with up to 3 users

Limited collaboration features

Control over users accounts

$4 per user per month when paid annually

Unlimited number of users

Audio and Video calls

Chat rooms and file transfers

$6 per user per month when paid annually

Multiple network administrators

Full administrative features

Full collaboration features
Supported platforms
Brosix has apps for Windows, Mac, Linux, iOS, Android and Web.
Is Brosix right for me?
If you're looking for a private, secure network for your team, then Brosix IM could be a good choice. It allows you to administer your team communication as you see fit, meaning it's a solid choice for those who are looking for a more hands on approach.
3. Slack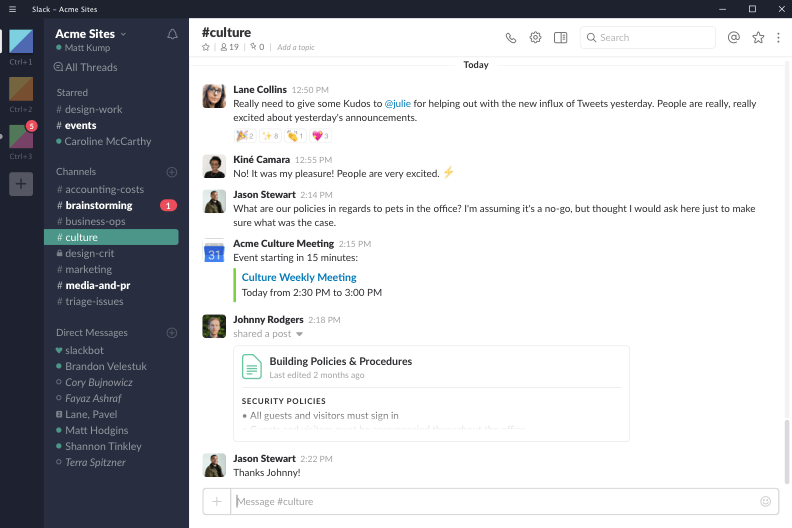 Slack, a team chat tool released in 2013, is ahead of the curve when it comes to team chat apps. It's been often praised for having 1000+ integrations, friendly UX and a powerful search.
At the same time, some users describe their interaction with Slack as a love-hate relationship – primarily because notifications are not so easy to handle. In the Freemium version file storage is limited to 5GB and only 10K last messages are searchable.
And yes – Slack is pricey, which is pointed out by many of its competitors. However, Slack keeps growing – in 2018 it acquired the major competitor – Atlassian Stride and HipChat.
How much?
Slack for Teams has 3 plans and Slack Enterprise Grid available on request:
Freemium
Standard

$6.67 per user, per month

Plus

$12.50 per user, per month

Limited with 10K of your team's most recent messages, 5 GB storage space per team, 10 third-party apps or integrations and 1-to-1 calls only.
Unlocks screen sharing, 10 GB storage per member and group calls up to 15 participants, among other things.
Adds extra security features, SSO, compliance exports, 24/7 support and 99.99% guaranteed uptime SLA.
Supported platforms:
iOS, Android, Windows, macOS, Linux, and web
'Is Slack a good fit for me?'
Slack is not the cheapest tool on the market, especially for a rather big team. But if you are ready to pay a pretty penny for unlimited 1000+ integrations among other advantages, Slack can be your choice.
4. Microsoft Teams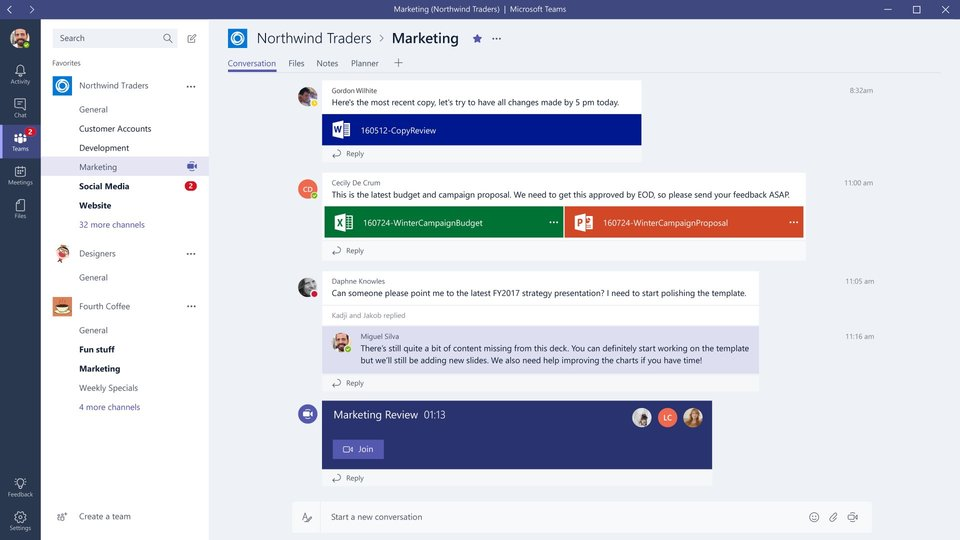 Microsoft was one of the first tech giants that saw a great potential in the team communication apps niche. In 2010 it designed Lync, then – Skype for Business. Later on, in November 2016 the chat-based workspace Microsoft Teams made its official launch. After releasing the Freemium version, the tool strengthened positions in the pursuits to dethrone Slack. Of course, Microsoft Teams has deep integrations with Office 365 tools. E.g. you can share
any Office or OneDrive document – access it and edit it together with your team without leaving the app. However, Microsoft Teams is not easy to deploy and manage, what we described sharing our experience while comparing the tool to Slack.
How much?
Microsoft Teams offers 4 price tiers:
Freemium
Office 365 Business Essentials

$5 per user/month (billed annually)

Office 365 Business Premium

$12.50 per user/month (billed annually)

Enterprise

Pricing details available upon request

For those who don't have commercial Office 365 subscriptions. Unlimited messages and search, audio and video calls for up to 300 people.
Enables scheduled meetings and meeting recording, among other features.
Enables phone calls and audio conferencing.
For those who have more than 300 team members.
Supported platforms:
iOS, Android, Windows, macOS, and web
'Is Microsoft Teams a good fit for me?'
If you already purchased Microsoft Business Essentials or Business Premium package, using MS Teams seems like a reasonable choice. The same is true if deep integrations with Office 365 tools are critically important to you. However, be ready to face challenges with tool deployment and administration.
5. Facebook Workplace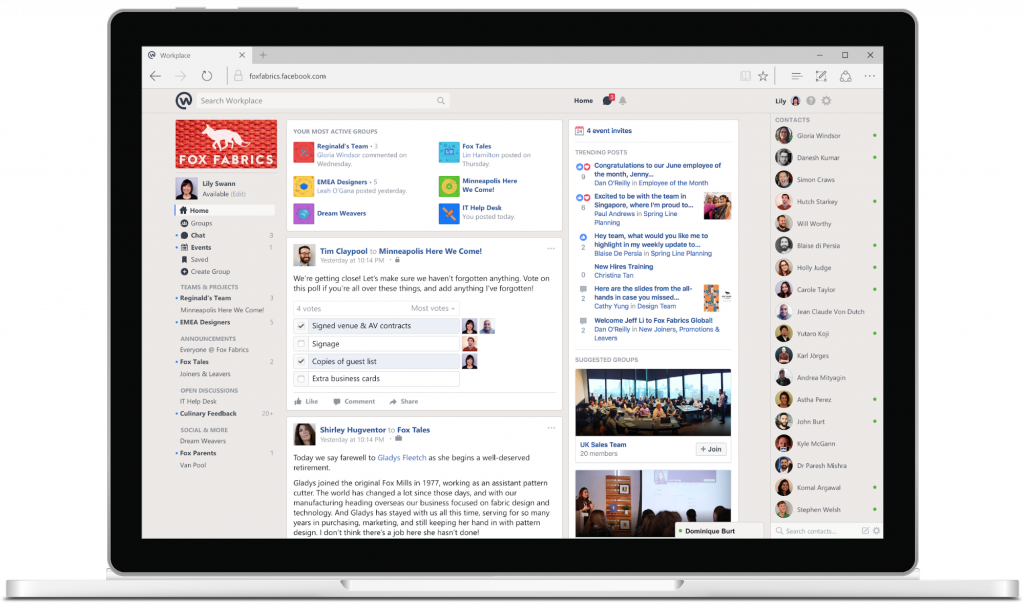 If you can't live without Facebook, it's likely that you consider Workplace platform to use as a team chat app. Introduced in October 2016, it has quite an unusual layout and features for a collaboration tool. How about live streaming your meeting? Starting a day with reading posts from your colleagues in News Feed?
Unlike Facebook social media, you'll encounter no ads in Workplace platform, as Facebook charges you with subscription fees. For those having security concerns, Workplace is about to use the new domain to protect customers' data.
How much?
Standard

Free

Premium

$3 per active user, per month

Voice and video calls (desktop and mobile) are available among other features.
Integrations with Google Workplace, Okta, Windows Azure AD and more. Enables messaging with

up to 5000 users
Supported platforms:
iOS, Android, Windows, macOS
'Is Facebook Workplace a good fit for me?'
If you are a Facebook ecosystem fan, Workplace can be your choice. Diving into a familiar interface can reduce the learning curve. But be ready for a different workplace collaboration experience compared with using other team chat apps.
6. Google Chat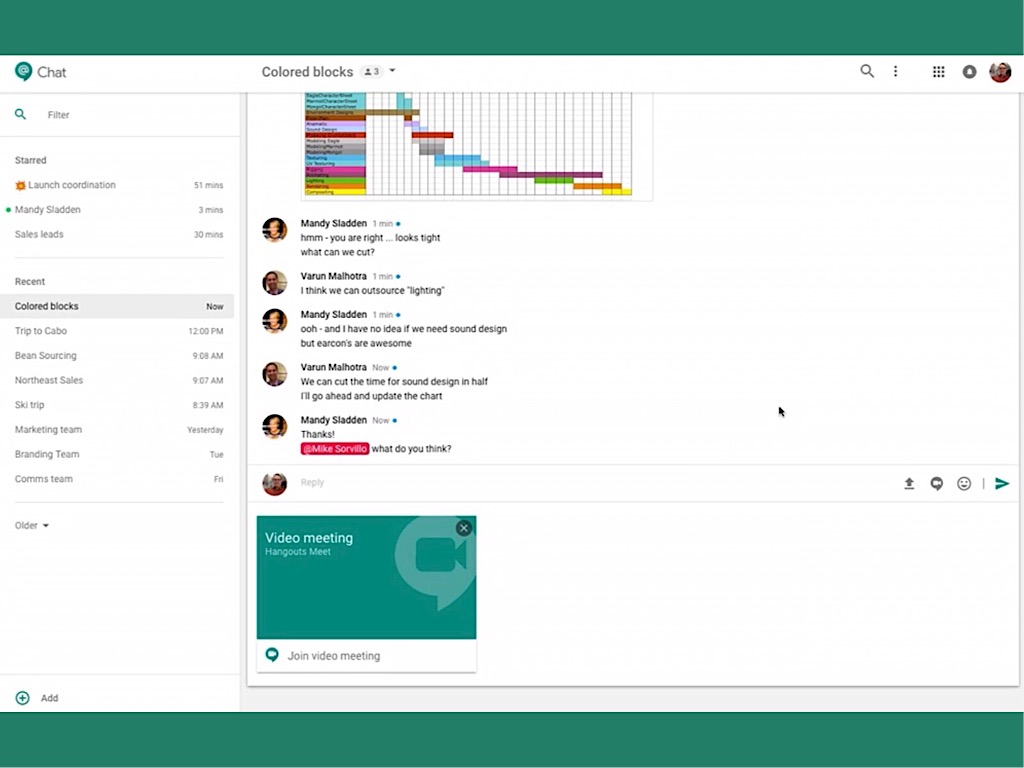 Here's Google's take on creating a world-class team chat app. Google Chat was made generally available in February 2018. It comes in Google Workplace subscription plans – so expect no Freemium version. The app has deep integrations with Google Workplace tools, such as Calendar and Drive. Online meetings are available via Hangouts Meet. The multiple languages support works well for multinational teams.
Having released just recently, the tool is constantly adding new features. Since August, Google Chat has added notification snoozing feature and some emoji reactions.
How much?
Basic

$5 per user, per month

Business

$10 per user, per month

Enterprise

$25 per user, per month

Professional office suite with 30GB storage space
Enhanced office suite with unlimited storage and archiving
Premium office suite with advanced controls and capabilities
Supported platforms:
iOS, Android, macOS, and web
'Is Google Chat a good fit for me?'
If you already have Google Workplace subscription, feel free to explore Google Chat. However, the tool may lack some important features, as it was recently released.
7. Flowdock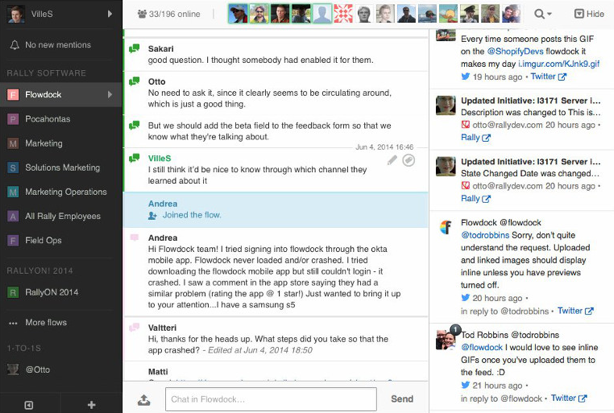 Flowdock has Freemium version for up to 5 people
Initially, Flowdock was a real-time collaboration service designed for developers. However, now it positions as a team communication platform for multiple use cases. A shared inbox is the main feature of Flowdock. This is where the activity from project management tools, version control systems and customer feedback channels is stored. Threads are used for keeping topics organized – they make it easier to follow multiple discussions simultaneously.
The video conferencing feature is implemented via appear.in. To have a voice chat you can switch off the cam. Flowdock has no Freemium version, but If you have a team of 5 people or less, you can actually use the tool for free.
How much?
Standalone

$3 per month, per user

Enterprise

$9 per month, per user

Unlimited flows, message history and

integrations.

SSO, integration auto-removal, custom data retention policies.
Supported platforms:
iOS, Android, macOS, Linux and web
'Is Flowdock a good fit for me?'
Flowdock can be your choice if you find the concept of team inbox with chat appealing. Developers may make special notice of the tool, as it was specifically designed for tech specialists.
8. Rocket.Chat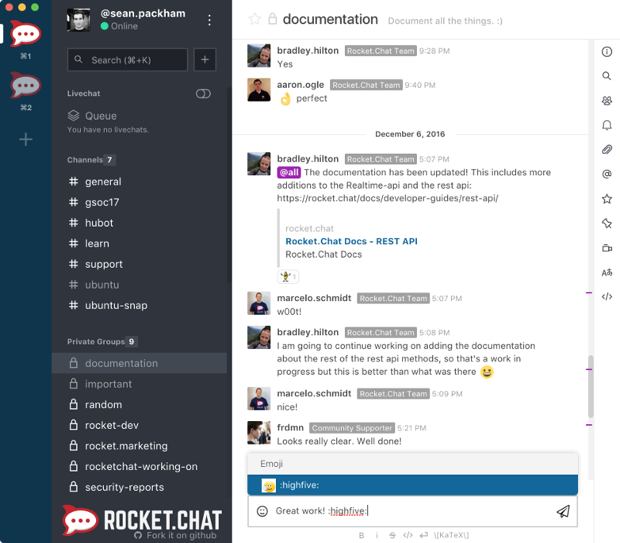 Rocket.Chat is a Brazil-based tool released in 2015. Unlike Slack, this is an open source app, which means you can customize, extend or add new functionality to the tool according to your needs.
Also, Rocket.Chat has a generous Freemium tier for those who choose a self-hosted version: the unlimited search history and dozens of integrations including Zapier. Customizable UI and threading add up to its list of features. The tool also has its automatic real-time message translation feature which might be convenient for co-workers and partners who speak different languages.
However, as some reviews suggest the tool is not great for technologically challenged users.
How much?
Here is the pricing for the self-managed version of the tool:
Community

Free

Pro

$3 per user, per month

Enterprise

The price is available upon request

Unlimited users, search history, integrations
Dedicated conferencing, onboarding assistance
Audio to text conversion and high scalability cluster
Supported platforms:
iOS, Android, Windows, macOS and Linux
'Is Rocket.Chat a good fit for me?'
In case you need an open source tool – Rocket.Chat can be your option. But give yourself a considerable amount of time to explore it in case you are not tech-savvy.
9. Flock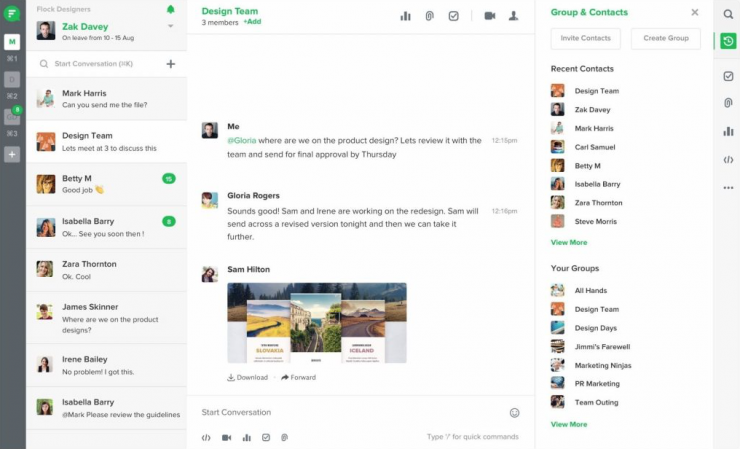 Let's move away from Brazil – right to Indian Mumbai where Flock is based. The tool clearly positions as a Slack alternative, trying to dethrone a red-hot player and surpass Microsoft Teams. In the comparison reviews, the lower price is mentioned as an advantage of Flock over Slack. Indeed, Flock's most affordable paid version is $2 cheaper than Slack. However, the Freemium tier of tools has the same drawback – 10K message history limit.
When our team tested Flock, we noticed the tool has high-quality video calls, but its interface is rather overloaded.
How much?
As of November 2018, Flock will provide you with 3 tiers:
Free

$0

Pro

$4.5 per user, per month billed annually

Enterprise

The price is available upon request

Search up to 10K messages, 10GB file storage for your team.
Search unlimited messages,

10GB file storage per licensed user.

20GB file storage per licensed user and dedicated support.
Supported platforms:
iOS, Android, macOS, Linux and web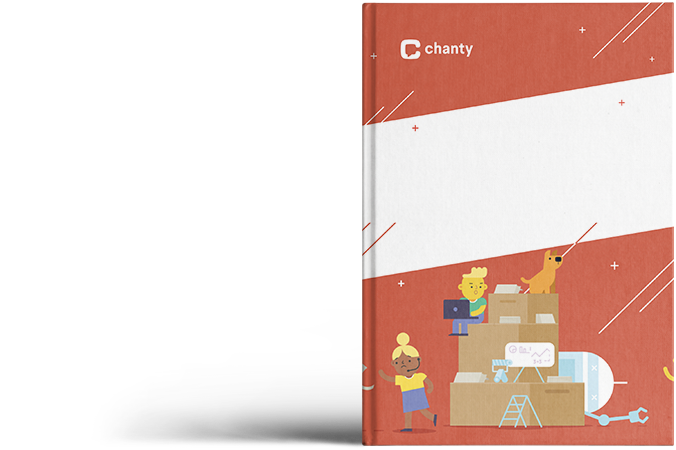 Communication issues at work?
"50 Surefire Ways to Improve Your
Team Communication"
Get eBook
'Is Flock a good fit for me?'
Flock was designed to suit many use cases. Its pros and cons are better assessed when tested personally.
10. Ryver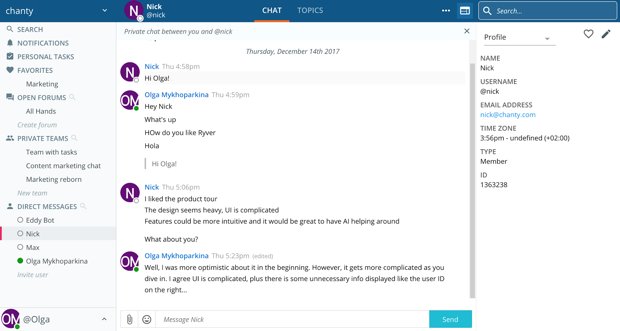 In conclusion, let's move to the US-based apps. Ryver launched in 2015 in order to 'solve the world's email problem' and replace 'the outdated way many teams collaborate'. Two years later the tool came up with its top feature – the built-in Trello-like task manager. As for a native solution for calls, Ryver doesn't provide it, at least, yet.
The audio and video conferencing is available via integration with FreeConference app. Since 2018 Ryver is not a free tool anymore. As Ryver CEO Pat Sullivan explained, the company started charging its users, because the app became 'mission-critical for most customers'. Unlike many (I would even say most) team chat tools, it charges for a team – not for a user.
Starter

$49 per team, per month

Unlimited

$99 per team, per month

Enterprise

Starting at $399 per team, per month

Up to 12 users, unlimited chat and file sharing
Unlimited users, custom invite links
Workflow automation,

premium support
Supported platforms:
iOS, Android, macOS, and web
'Is Ryver a good fit for me?'
Basically, Ryver is like putting Slack and Trello into a single tool. Explore it If you like the idea of combining team communication and task management in one app.
11. Glip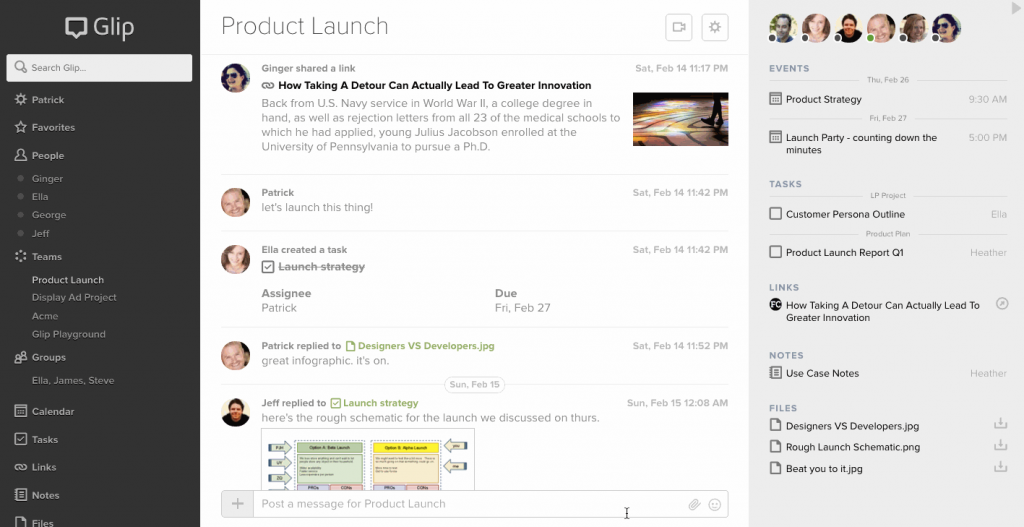 Glip is yet another veteran tool released in 2012. Before RingCentral bought it in 2015, Glip had already become a solid team chat app with third-party integrations. Its new owner, the prominent US-based cloud operator, integrated the tool to the RingCentral Office phone system. This enabled Glip users to make calls anywhere in the world.
Having quite a generous Freemium plan, Glip provides its clients with unlimited integrations. The video chat time, however, has limits in both – Free and Standard tiers. When testing Glip, our team noted the tool might seem rather messy with lots of information stuffed in the app interface, while the search feature in Glip might need some improvement.
How much?
Glip has got two plans:
Free

$0 per user, per month

Standard

$5 per user, per month

Includes unlimited storage, integrations and guest users, 500 min. of shared video chat.
Extends the limit of shared video chat to 1,000 min.
Supported platforms:
iOS, Android, macOS, and web
'Is Glip a good fit for me?'
Using Glip seems like a reasonable choice if you are a RingCentral Office customer.
Have a first-hand experience with Glip to fully assess its pros and cons.
Conclusions
For now, we've explored best team chat apps:
Chanty is a simple team chat with an intuitive and easy-to-use interface and unlimited message history in a free plan. Give it a try if you want to make your team communication simple and effective.
Slack is the safe bet for those who are ready to part with a round sum of money for unlimited 1000+ integrations and other popular features.
Microsoft Teams is a solid, but not the simplest tool on this list. Explore it if you are not afraid of challenges in deployment and team administration.
Embrace Facebook Workplace if you like the world-known social media platform ecosystem. But be prepared for some differences in its functionality compared to other team chat apps.
Explore Google chat in case you are interested in deep integrations with Google Workplace tools. This is a recently released team chat tool with many features to come.
Traditionally, Flowdock was the developers' choice. However, if you like the idea of Team Inbox feature, this app will fit you well too.
Rocket. Chat is an open-source tool, which tech-savvy users may find quite beneficial.
Flock seems like a well maid Slack alternative, however, its Freemium version is quite restricted with 10K message history limit.
Ryver can suit for bigger teams, as it charges per team, not per user. Try it if you like the idea of putting Slack and Trello into a single tool.
Glip is a reasonable choice for RingCentral Office users with a sizable list of integration solutions.
These first tools are just the beginning. The list of team chat apps can be endless and we're looking forward to introducing you to other apps. Stay in touch.
Have I missed anything? Feel free to share your thoughts in the comments.
The article was updated in Aug 2021