The era of remote working and internet connectivity is upon us, and the communication tools are the talk of the global town. It seems as though the pandemic has brought the world to a standstill. But this is not quite so, is it? As a matter of fact, it triggered the biggest working experiment in the world – the remote one.
Being the need of the hour, the pandemic has shown how remote working can still be managed successfully via video conferencing and other remote working tools. These apps allow us to continue working with our colleagues face-to-face…digitally, anyway. The apps have developed so much so that it makes you wonder if we'll ever need to go to the office again.
In this pool of apps, Google Meet and Zoom are some of the most popular and widely used tools. So, it's only natural to get confused in deciding between the two for your organization. Therefore, I did a little digging and I'm here to provide you with some info. 
Oh, and by the way, keep in mind that there are always other options out there. If you think neither of these two apps is a good choice for your business, welcome to try Chanty. We created a team chat with video conferencing functionality, which I'm sure once you try it, you'll never go back.
So, without further ado, let's compare Google Meet and Zoom and see which one is better.
Background
Formerly known as Google Hangouts, Google decided to rebrand its communication service back in 2017 to Google Meet. Together with Google Chat, they form part of the standard G Suite, Google's office suite.
The app was described as an enterprise-friendly version of Hangouts, suitable for the web, Android, and iOS. Initially, it supported 30 participants, but later on, that number increased up to 250 participants for the G Suite users. For the non-G users, it allows 100 participants.
The software is great not just for work-related workshops and calls, but also for a little get-together with some friends.
Let's have a look at Zoom.
Zoom was launched a bit earlier, in 2013. By the time Google Meet was out, Zoom already made $1 billion making it a unicorn company. As a platform, Zoom is cloud-based and it can be used with all major devices and operating systems, such as Windows, Mac, Android, iOS, etc.
When it reached its peak during the pandemic, with about 300 million daily users, it faced security issues for which it was widely criticized. Since then, it has gone above and beyond to make security changes and strengthen its privacy measures.
The user-friendly features that Zoom offers made it a popular video conferencing app among everyone.
Google Meet vs Zoom: Getting started
Now, both apps offer a simple way to connect and even the least tech-savvy person I know can join.
Anyway, Google Meet is quite easy to use, which is why we love it. If you have a G Suite account, you can just use your credentials and you are in. If you are not a G Suite user, then log in to your Gmail account and that's it. However, you need to have a Google Workplace account for a business.
Once you sign in and create the meeting, you'll get a meeting link, code, dial-in number, and a PIN. Share the details with whoever you want to join the meeting. They can just click the meeting link, enter the code to join, or dial the number and enter the PIN. It's that simple!
Zoom too. All you need is to download the Zoom installer and start the application. If you want to create a meeting, go to the sign-in option on the installer screen, or if you are invited to a call you can just directly click the link and join the meeting.
Anyone can join in with a single link and you don't need to create an account. It's perfect for a last-minute video call between individuals across companies.
Google Meet vs Zoom: Video recording
The recording on a Google Meet call includes the active speaker and anything that is presented. The recording is saved on the organizer's Meet Recordings folder in My Drive.
Once the recording is done, you'll get an email with the link, and that same link is added to the Calendar event. For users on a subscription plan, the meetings can be automatically saved.
The recording in Google Meet is currently limited to the desktop client version of the platform.
Video call recording in Google Meet
Cloud recording is automatically enabled for Zoom users, that is if you have the paid plan. The recording covers the video, chat, and transcript of the audio.
Zoom lets you record calls whether you're a free user or a paid user. However, if you're a free user, you'll only be able to save recordings to your computer.
If you want to save recordings to the cloud, you'll need to be on one of the company's paid offerings.
Google Meet vs Zoom: Messaging
In terms of messaging, Google Meet enables you to do so during the calls, but once they are over, so is the history of that chat. Also, you cannot see the messages sent by others before you joined the call. The only way you can save messages is when you record your own video calls.
Zoom offers two types of messaging. You can share messages with everyone, or send direct messages to individual participants which is quite handy when you need to say something private during the call. Unfortunately, this feature is not available on Google Meet.
Google Meet vs Zoom: Participants limit
As a platform, Zoom supports up to 1000 participants unlike Google Meet that supports "only" 250 participants. However, you can host a large, live stream event. In that case, the maximum number of live-stream viewers depends on your Google Workspace edition. Both platforms allow you to see 49 videos on screen without disrupting the video quality.
Google Meet vs Zoom: File sharing
When you schedule a call on Google Meet, you are able to attach all sorts of files (PDFs, video files etc.) prior to that call. This means that everyone on that meeting will get an automatic access to those files. Additionally, you can share documents, presentations, spreadsheets, etc. during the call itself.
Regarding Zoom, file transfer enables you to send files to other participants during the meeting or webinar through the chat. Files can be specifically sent to all participants, directly to one participant, or specific predefined groups.
Google Meet vs Zoom: Screen sharing
Screen sharing is quite similar for both apps. Google Meet has a button called Present Now that enables you to share the entire screen, a window or a tab. However, if you are using Safari, you are only able to share your entire screen.
Zoom lets you choose what to share too and stops us from revealing anything embarrassing.
The difference between the two is that Zoom allows screen sharing by multiple people at the same time, while Google Meet allows only sharing by one person.
Google Meet vs Zoom: Integrations
Regarding integrations with other apps, Google Meet is fully integrated with Gmail, Google Calendar, and Google Drive, as well as the Microsoft 365 apps, such as Outlook. This means you can access your meetings directly from your calendar, even if that calendar is not Google calendar.
Zoom offers some great integrations too, including the Google apps. You can also integrate it with Microsoft OneDrive and Dropbox to share content. As a matter of fact, Zapier allows you to integrate Zoom with more than 3000 apps. Not bad.
Google Meet vs Zoom: Security
Security is not an issue for Google Meet. They include numerous security features such as encryption both in transit and at rest, DLP for Google Drive storage, Advanced Protection Program Enrollment, and 2FA.
As I mentioned earlier, Zoom did face a lot of security issues during the pandemic. Since then, the main focus was its privacy measures. The new AES 256-bit GCM Encryption will protect your calls from interference and hackers.
Google Meet vs Zoom: Extra features
When it comes to general features, both platforms offer similar basic features, such as presentation modes for screen sharing, support for up to 720p HD video, and call encryption.
Google Meet has done some major improvements in the last few months and included some features that were previously reserved for Zoom. It finally has breakout rooms, polls, background filters, tiled gallery layout for larger calls, and whiteboards.
An interesting feature in Google Meet is the direct transcript option which can be used once the speaker starts talking. However, the feature is still in development, so it's not smooth sailing, per se.
Zoom enables you to view diagnostic information while in a meeting, to determine if the issues you are facing are caused by audio, video, or network. This can help you solve any issues you may have, instead of running to the IT administrators for help.
The only thing you need to do if you want to use this function is to have a Zoom Desktop client which is a downloadable application used to participate in Zoom calls.
Google Meet vs Zoom: Pricing
Both Google Meet and Zoom have similar plans, but I have to say it, Zoom is a bit pricier.
Google Meet has three plans.
The first one is Free and includes calls up to one hour and a maximum of 100 participants.
The paid one is $8 per active user per month and enables you to include 150 participants during your calls that could last up to 24 hours.
The final plan has custom pricing, so you'll need to contact their sales team. It gives you a chance to invite 250 participants to your calls.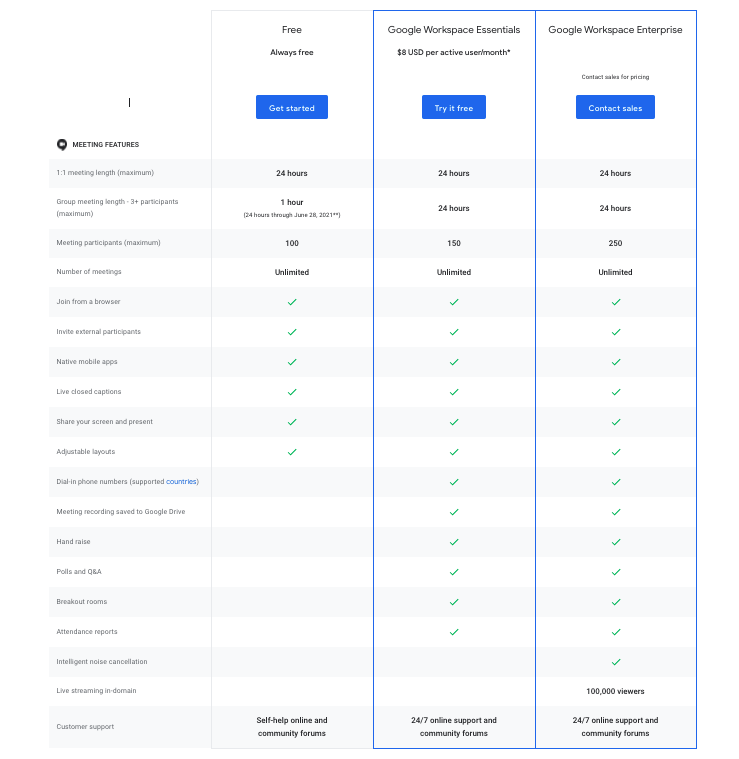 Zoom offers a variety of plans, starting with the Basic one which is free and gives you a chance to host meetings with up to 100 participants for 40 minutes.
The Pro plan is $149.90 per year and it's suitable for small teams. It has the same features as the Basic plan, but instead of 40 minutes per meeting, it offers 30 hours, social streaming, and 1GB of cloud recording.
If you have a small or medium business, you'll benefit from the Business plan which is $199.90 per year, or the Zoom United Business which is $350 per year.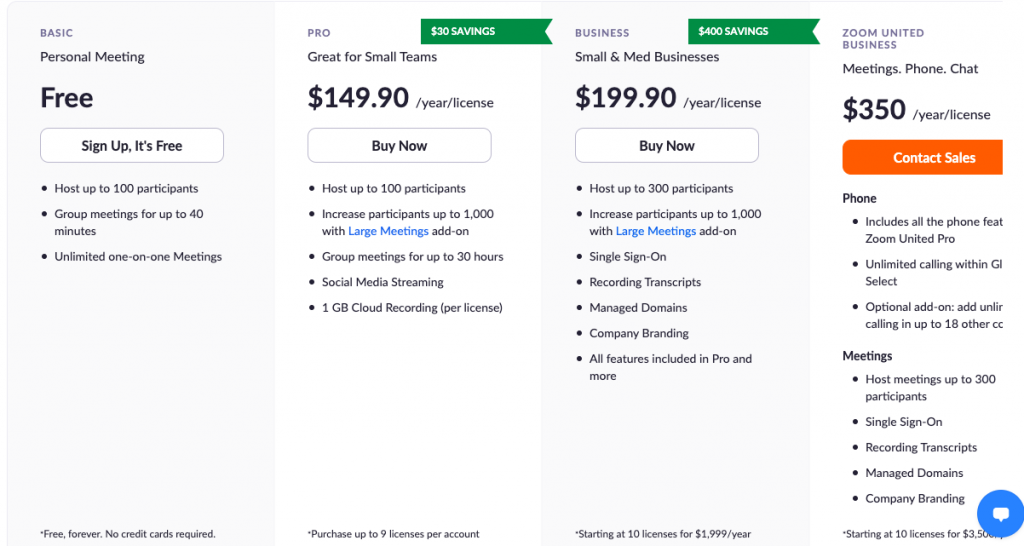 The Verdict
Needless to say, we are comparing some of the best video conferencing tools out there. They pretty much have similar features and can make video conferencing work for your organization. If your business uses other Google products or has members that use dial-in to join the meetings, then you should definitely try Google Meet.
However, if your business has more than 250 people that should join the calls, or you need conference room support or whiteboards, then Zoom is the right choice for you. Whichever you choose, you can't go wrong.
Having the right video conferencing tool isn't going to make you a communication wizz. In order to achieve that, you'll also need dedicated collaboration software. From video calls to managing your projects, Chanty can handle whatever challenge you throw its way.
Feel free to try it out and let us know your thoughts.