Remote workers face many challenges, but the most pressing one is the lack of clear structure in communication and collaboration processes.
Asana and monday.com are two popular tools trying to bring some discipline into this otherwise very fluid world. Both platforms offer top-notch features and tools to help remote teams with collaborating, tracking, and managing work. But which of them is right for you?
In this article, we'll compare Asana and monday.com side-by-side, evaluate their pricing, and analyze their stand-out features to help you determine which platform will best meet your needs.
Before we start, feel free to check Chanty all-in-one collaboration platform to boost team productivity.
Asana vs Monday: How can remote teams benefit?
Before we get started with the comparison, let's take a look at what these project management platforms can do for remote working teams.
Project management. This is pretty self-explanatory. Tools like Asana and monday.com make it easier for task organization, management, and tracking.
Product development. Project management platforms allow remote development teams to remove obstacles that typically affect their planning and execution process. For instance, they can streamline the process of constructing product roadmaps, articulating iteration plans, and monitoring bug reports.
IT support. Most project management platforms provide real-time dashboards that can track open tickets, IT orders, and agent time logs. This makes it easy to stay on top of support tickets and keep things running smoothly.
HR. These tools can help remote HR teams plan for new hires, monitor staff performance, and even create the ideal workflow for conducting productive employee evaluations.
Inventory organization. You can integrate your work management tool with inventory tracking by generating QR codes corresponding to each task. That way, you and your remote team can keep track of tasks and inventory in one place.
Sales. Project management software can enhance your lead generation workflow, maintain mailing lists, and help you manage customer queries.
Creative projects. Project management tools can also help you visualize how your creative projects will unfold. By providing you with templates for videos, editorial pieces, and marketing materials, these tools make it easy to manage your creative projects cohesively.
In addition to the above use cases, there are several other functions that project management programs can assist remote teams with, such as contextual communications, knowledge sharing, and scheduling activities.
Now that the appeal of project management software for remote teams is acknowledged, it is time to dig into the competition between Asana and monday.com.
So without further ado, let's begin!
What is Asana?
Launched in 2012 by Facebook alums Justin Rosenstein and Dustin Moskovitz, Asana is a cloud-based task management and project management platform that allows users to create efficient workflows and collaborate in a centralized location.
Asana's platform is all about being on top of your game at all times and managing your tasks more effectively. That's why every Asana feature you come across is designed with two things in mind: saving you time and making you feel more productive.
What is monday.com?
Everything about monday.com is designed to bring clarity and efficiency into your workday. With customizable workflow visualizations, time-tracking features, and insightful dashboards, monday.com simplifies work processes and connects team members in one workspace.
Founded in Israel in 2012 as DaPulse Labs, the company was spun off of Wix.com, where its platform was used as an internal communications tool. The company launched a public version of its product in 2014 and changed its name to monday.com in 2017.
The platform's visual board system lets you track every task necessary to complete your project with customizable progress indicators. You can choose from over 200 ready-to-use templates to find the perfect workflow for your needs. Or, you can create a custom board from scratch. Whatever your project requirements are, monday.com has you covered.
Asana vs Monday: Features showdown
Let's compare some of Asana and monday.com's key features to see how they stack up against each other.
Dashboards
Project management tools wouldn't be complete without dashboards to help teams track progress, identify potential problems, and get a high-level view of where the project is going.
Asana
Asana's dashboards provide a clear overview of your projects and help you examine your processes from a strategic standpoint.
Asana.com
Its simple and intuitive design lets you gain a bird's-eye view of the process by allowing you to analyze the status, progress, and flow of your project from all angles. The platform also provides teams with an abundance of graphs and other visualizations, which is critical for maintaining project momentum.
On contrary to this, if you want to take a look at some more amazing features that a collaboration tool can offer – try out Chanty today.
monday.com
monday.com offers some of the most impressive project dashboards in the industry.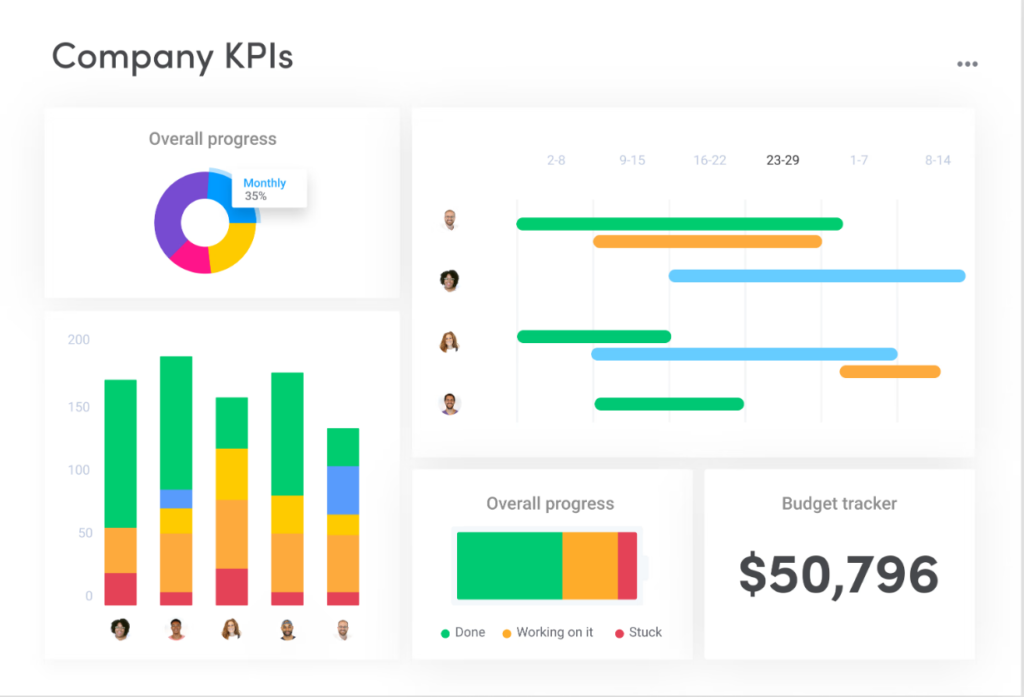 monday.com
They are highly customizable to fit your specific project needs and come equipped with various charts and visualizations to help you see your progress at a glance.
Winner: monday.com
Asana and monday.com's dashboards are both great tools for productivity and task management. However, monday.com stands out with its more visual layouts and customization options.
Workflow management
You always want to get the best out of your time management, and that is why a workflow monitoring feature in project management software is important. Through it, you can keep track of each member's workflow, allocate resources as needed, and prepare for any potential resource limitations. That way, you can ensure everything is moving along as planned.
Asana
Asana has an extensive set of tools for managing workflows that will assist you in streamlining your business processes. With its various project views, you can easily visualize your workflows and develop optimized processes that fit the needs of all your stakeholders.
The platform's color coding feature allows you to easily see who is working on what tasks and what needs to be done next. Plus, Asana facilitates easy ways of communication via messaging, comments, status updates, and more to stay organized and on top of your projects.
monday.com
monday.com's workflow builder is the perfect tool for coordinating work across teams from the same or various departments.
By creating efficient workflows and connecting groups in a centralized location, users can streamline projects and make sure everyone is on the same page. With the ability to report on progress and adapt to changing workflows, team members can stay organized and up-to-date no matter what comes up.
Winner: Asana and monday.com
Asana and monday.com are both great for building workflows and optimizing productivity. Both have multiple features for workflow visualization, leading this round to a tie.
Automation
Automation features are an excellent way to save time, decrease the workload, and introduce your team to new levels of digital efficiency.
Asana
Asana offers awesome automation features to cut down on the time required to manage and collaborate on projects.
It allows you to easily organize your tasks, delegate responsibilities, and deliver updates to team members and clients as needed. You can also create custom automation rules, ensuring that your team members follow the processes you want them to.
monday.com
monday.com's code-free automation features take the hassle out of workflows, helping you get more out of your team and increase efficiency.
With pre-made templates and the ability to create custom workflows, you tailor the perfect workflow to meet your specific needs and watch your team's productivity soar. The platform also sends out automatic updates in real-time, eliminating the need to bother with long email threads.
Winner: monday.com
Both Asana and monday.com offer many automation capabilities. But when it comes to usability, intuitiveness, and scope of those capabilities, monday.com wins out.
Integrations
The world of project management is a messy place — there are nearly a dozen different tools for each step in a project. That's why you need task management tools that seamlessly synchronize and integrate with the rest of your business's apps and systems.
Asana
By far the most exciting aspect of Asana is the seamless integration into tools that you already use daily. The software's ever-growing list of integrations includes apps that cater to:
productivity
marketing
customer relationship management (CRM)
sales
HR
communication, and so on
Asana integration repository spans hundreds of applications, making it the ultimate solution for optimizing efficiency and maximizing productivity.
monday.com
With seamless integrations with all your favorite tools, monday.com gives you the power to boost your productivity and get things done faster than ever before. Some popular integrations include:
Outlook
Dropbox
Slack
Zoom
Google Drive
With monday.com's vast integration library, you can align the entire team, assign tasks, and manage your projects from start to finish.
Winner: Asana and monday.com
In terms of integrations, both Asana and monday.com offer an impressive array of options to choose from. For this reason, we're calling it a tie.
Which offers the better deal: Asana or monday.com?
Pricing is an essential aspect to consider when choosing a platform for your business. Let's compare the pricing structures of these two popular platforms to see which one offers more value for your hard-earned money.
Asana
Asana's basic plan is perfect for remote teams of 15 people or fewer. It has all the basic features that you need to get the job done, and it's free to use. However, if you're working on a larger project with more complex requirements, you'll need to upgrade to the Premium plan. This will give you access to additional features and automation, and costs $10.99 per person per month if you subscribe for a year.
If you're managing cross-functional teams, Asana's Business plan might be your best bet. For a monthly fee of $24.99 per person, you'll get access to all the features you need to keep your team on track. There is also a custom enterprise package option available for teams with more advanced requirements.
monday.com
monday.com's free Individual plan is rather restrictive, but might be a good choice for someone working solo. The Basic version is the most affordable, costing just $8 per month per seat, but it only comes with 5GB of storage space and a one-week activity log. The Standard package costs $10 per month per seat and comes with 20 GB of storage space and a six-month activity log.
monday.com's Pro plan unlocks all the premium views, like the Gantt chart and Timeline, as well as more integrations and automation. It's a monthly fee of $16 per month per seat with up to 100 GB of storage and one-year activity log. In addition, monday.com offers enterprise pricing plans through custom quotes, similar to Asana.
What would be a better option: Asana or monday.com?
At the end of the day, you've got two super-popular task management tools to choose from for your team. Both are constantly adding new features and capabilities. Both offer terrific task management solutions. And both are widely used by teams all over the world.
But which of them will be the best fit for your remote business? The answer depends on your team's needs and preferences. If you need a tool that's capable of handling large projects and can integrate with other apps, Asana is a great choice. But if you're looking for a visually driven platform, that's got tons of functionality, monday.com might be the better option.
Chanty: a powerful, smarter, and more versatile alternative
If you're not entirely sold on Asana or monday.com, we've got an alternative that's sure to impress. Chanty is a simple, yet powerful, team communication and task management tool that's perfect for remote teams.
The platform provides an array of features to help you manage your virtual team more effectively, including task management, file sharing, real-time chat, video conferencing, and more. Plus, it's free for teams of up to 10 people.
So, if you're looking for a smarter, more efficient way to manage your remote team, check out Chanty today.