Coffee could be killing your productivity. As former Googlers say, relying on your morning cup of Joe is likely to worsen your work rate.
But there's also one thing that can actually boost your output – not undermine it. I'm talking about productivity tools. They save our time, effort and money – even if we indulge ourselves in a cup of coffee once in while. So let's talk about productivity software.
At Chanty we are keen on exploring digital tools. Understanding the features of different apps helps us in designing a better tool for our customers – a fast and smart Chanty team chat. Usually, we review communication apps, but it's always rewarding to explore different kinds of software.
Traditionally, productivity tools fall into two categories: time and project management.
However, in a broader sense – any piece of software that allows you to stay productive is a productivity tool. Moreover, there are specific tools for different business fields. E.g. marketers use Hootsuite, Buffer, Sprout Social and other apps.
For starters, I'll list productivity apps for solving different challenges. Our team tried most of them ourselves, so we're basically sharing our first-hand experience. You are welcome to give your impression of a particular tool in the comments.
Manage your projects
1.
Google Tasks

Google Tasks workspace
If you are an undemanding essentialist, rejoice! This might be exactly the tool for you. Google Tasks has a minimalist layout and simple interface. Within it you can create and manage multiple task lists, subtasks, add notes and set due dates.
The simplicity of Google Tasks is its main advantage and flaw at the same time, as it's missing some advanced features. Google Tasks doesn't support time-based reminders – you can only set a due date.
Search is another feature the tool lacks. It doesn't support themes or color coding either – there's no way to visualize your goals in some fancy way.
Still, Google Tasks can serve as a powerful tool, especially after Gmail got an update and this Google side project became a full-blown app of its own. In April 2018, Forbes contributor Anthony Karcz praised Google Tasks as a "perfect productivity tool".
Pricing
Google Tasks is completely free. It offers no paid tiers.
Platforms
2.
Calendar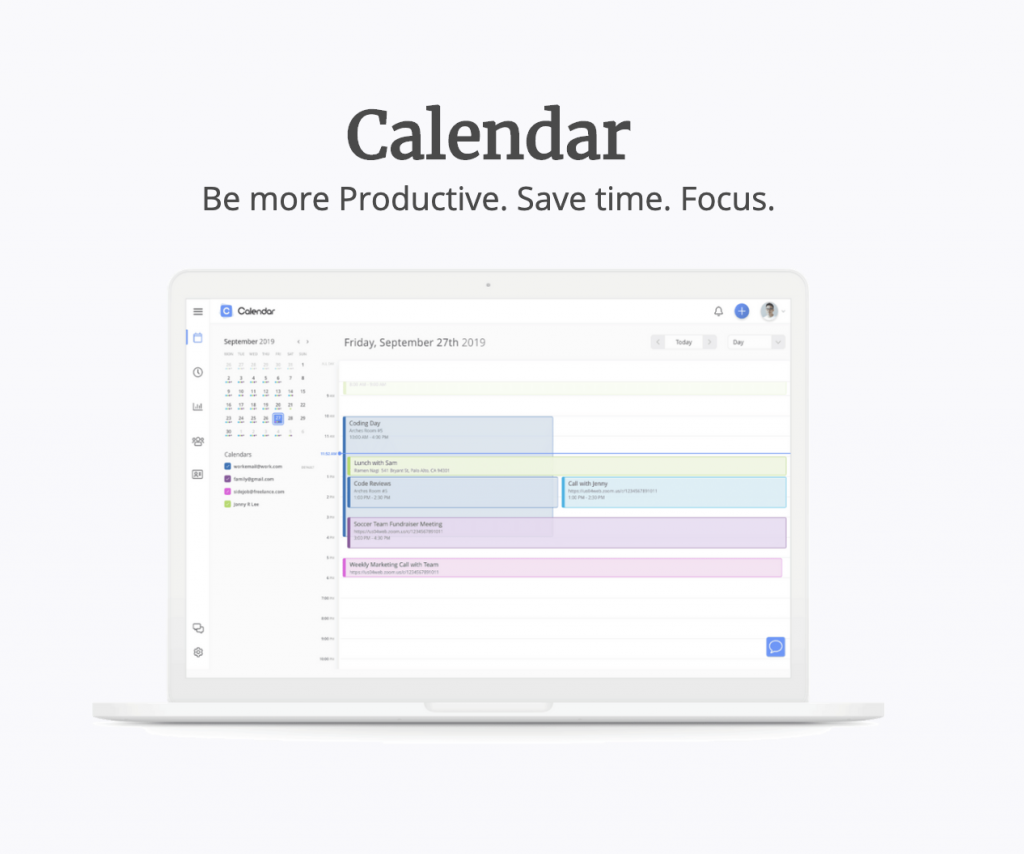 Calendar is a smart scheduling tool that is powered by machine learning. Not only does it learn your schedule across synced and integrated calendars, it also begins to invite attendees as well as automatically schedule meetings, events, and tasks for you.
It offers a simple, easy-to-use intuitive dashboard to give you a unified view of your digital calendars as well as anyone else who is sharing their calendars with you. 
The color coding and customization options make it easy to locate upcoming events along with the daily, weekly, monthly, and yearly views. You will always have a real-time view of what you need to accomplish while also tracking your team's productivity. 
The premium versions add other productivity features, including meeting transcriptions and a suite of analytics tools. The analytics tools provide a way to understand how you are using your time with others during the meetings, leveraging your calendar data and delivering clear reports. 
Pricing
Calendar has a basic free version. They offer both monthly and annual subscriptions prices, saving you money if you sign-up for the annual payment plan. The Pro Plan is $10 per month if paid on an annual basis or $13.33 if paid on a monthly basis. The Business plan is $12 per month per user if paid on an annual basis or $16 per user per month if paid on a monthly basis. Free estimates are provided for the Enterprise Plan. 
The Pro Plan comes with a 30-day trial offer.
Platforms: Web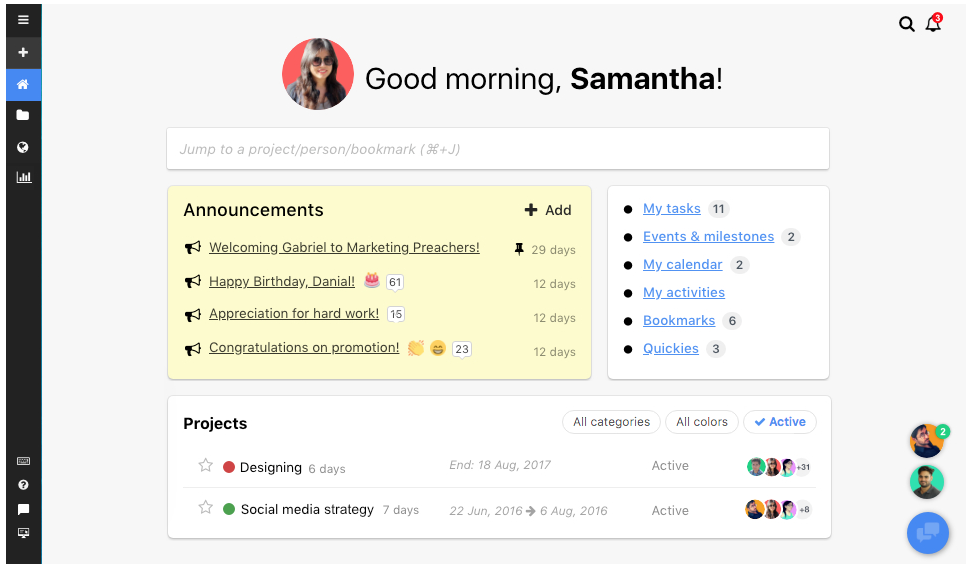 ProofHub is the ultimate project management solution. It's the most intuitive and robust solution any organization, team, or individual can find to stay on top of their deliverables, deadlines, and communications.
For those who have to manage a lot of people as well as projects daily, ProofHub helps to keep strategic vision aligned, collaboration seamless, overall scope managed, and projects/tasks/subtasks progressing, as planned.
ProofHub offers scalable features and tools, including Custom Roles, Private Task Lists, IP Restriction, Calendar, Automatic Reminders, Kanban boards, Chats, Discussions, Reports, Files, Notes, Gantt Charts, Proofing Tool, Email-In, Time Tracking, Mobile App, etc. Plus, the latest version (still updating) of the software is bringing a variety of new, helpful features, including @Mention, Announcements, Multiple timers, New Languages, New Calendar View, Recurring Events, Recurring Tasks, Request Forms, and much more.
Overall, ProofHub has everything an individual or a group needs to get their job done.
Pricing
ProofHub comes with an initial 30-day FREE trial offer (all features and tools included).
When the free trial ends, you get to choose from two paid plans, both fairly priced and feature-packed. The Essential plan is available for $45 per month for unlimited users (billed on an annual basis). The Ultimate Control plan is available for $89 per month for unlimited projects and unlimited users (billed on an annual basis).
Platforms
Windows, Linux, Android, iOS, iPhone, Mac, Web
HubSpot's task management software includes task creation, task automation, and notifications. This tool is natively integrated in the CRM platform and is specifically designed for sales and marketing teams that manage tasks regarding prospects and customers. With HubSpot, you can keep track of tasks alongside your marketing projects — so that both are integrated and not managed on different tools.
For each task, you can add details and notes, set a due date, set an email reminder, attach files like contracts or project scope; task type, and task owner. Then, you have one easy-to-use dashboard where you can see all open tasks and their due dates. 
Pricing
You can get started with HubSpot's task management software for free. If you are looking for more advanced features to help automate and scale your support operations, HubSpot offers premium features with its Starter ($50/month), Professional, and Enterprise options.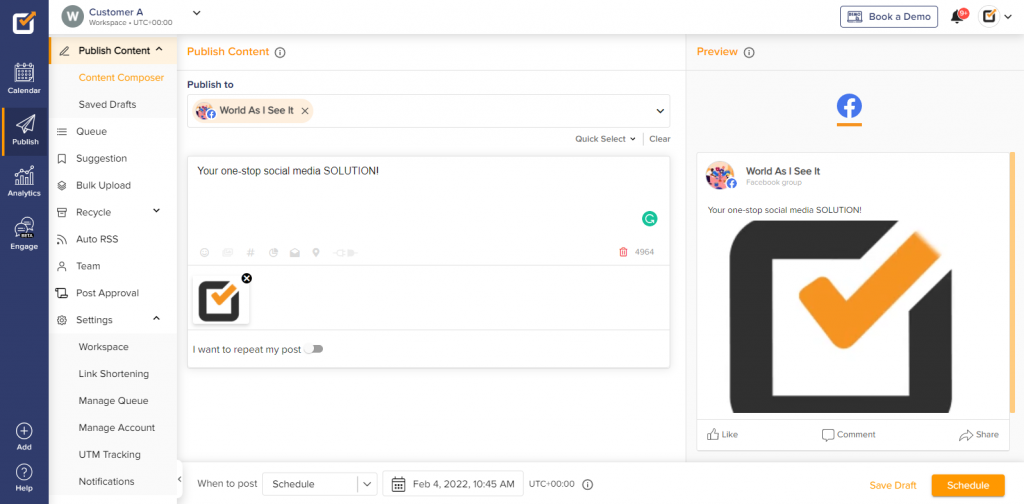 Working on the socials of your business could get on nerves a couple of times. How about using a reasonable and pocket-friendly social media management tool? Social Champ is the answer to your hundreds of queries about social media profiles and content management. 
Comes with the minimum pricing plan, the tool allows you to customize the budget as per the need of your business. With a vibrant user interface on the go, the super management tool of Social Champ allows you to post and schedule content on Facebook, Twitter, Instagram, Pinterest, Google Business Profile, and YouTube. It enables your business to implement several automation features including the auto-post RSS feed, bulk uploader, content recycle and suggestion, social media calendar, and much more.
With this, all of your social media postings and content management would become easier than ever before. The best part is buyer persona, it caters to all you name it startups, agencies, influencers, agencies, entrepreneurs, and marketers, offering versatile automation features.
So, it's time to say goodbye to manual handlings and get your hands on Social Champ. 
Pricing 
Get the coolest and simplest social media management tool for all your social needs. Social Champ offers a free plan which includes UNLIMITED scheduling options, 3 social accounts, and 1 user. 
If you are looking for more advanced and amazing features then you can go for Social Champ's premium versions starting from $26/per month.
Platforms 
Android, iOS, Chrome extension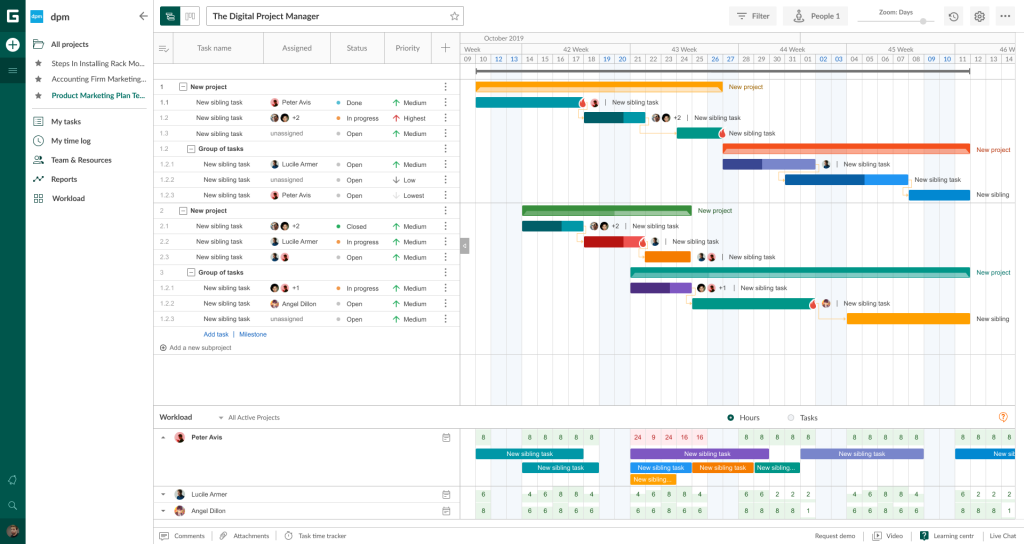 For those looking for one of the most visually appealing ways to organize a team's workflow, GanttPRO is a perfect solution. It offers an intuitive Gantt chart timeline that is very easy to understand and read throughout the whole project lifecycle.
However, besides a Gantt chart, the software also offers the Board view that is close to the Kanban approach, and My task list giving project teams different ways of working on their assignments.
The intuitive drag & drop interface makes GanttPRO stand out among competitors. If you are a manager who schedules a project beforehand and starts assigning tasks to team members, you may rest assured that they will begin working on them after 10 minutes of exploring the tool. It allows teams not to waste time and boost their productivity right away.
Also, GanttPRO comes with a wide range of project management and productivity features: progress tracking, resource management, team collaboration, time tracking, and cost management.
Overall, GanttPRO is a good fit for project managers as well as teams who need to get a clear picture of activities and the tools needed to accomplish projects on time.
Pricing
GanttPRO has a free 14-day trial with all the features available and unlimited projects.
When it comes to the paid subscription, users may choose between the Individual plan and Team plans. The Individual costs $15 per month billed annually, while monthly options are not available. Team plans and their cost differ by the number of team members with a minimum cost of $4.5 per user per month billed annually.
Platforms
Web, Windows, Linux, Mac.
7.
Trello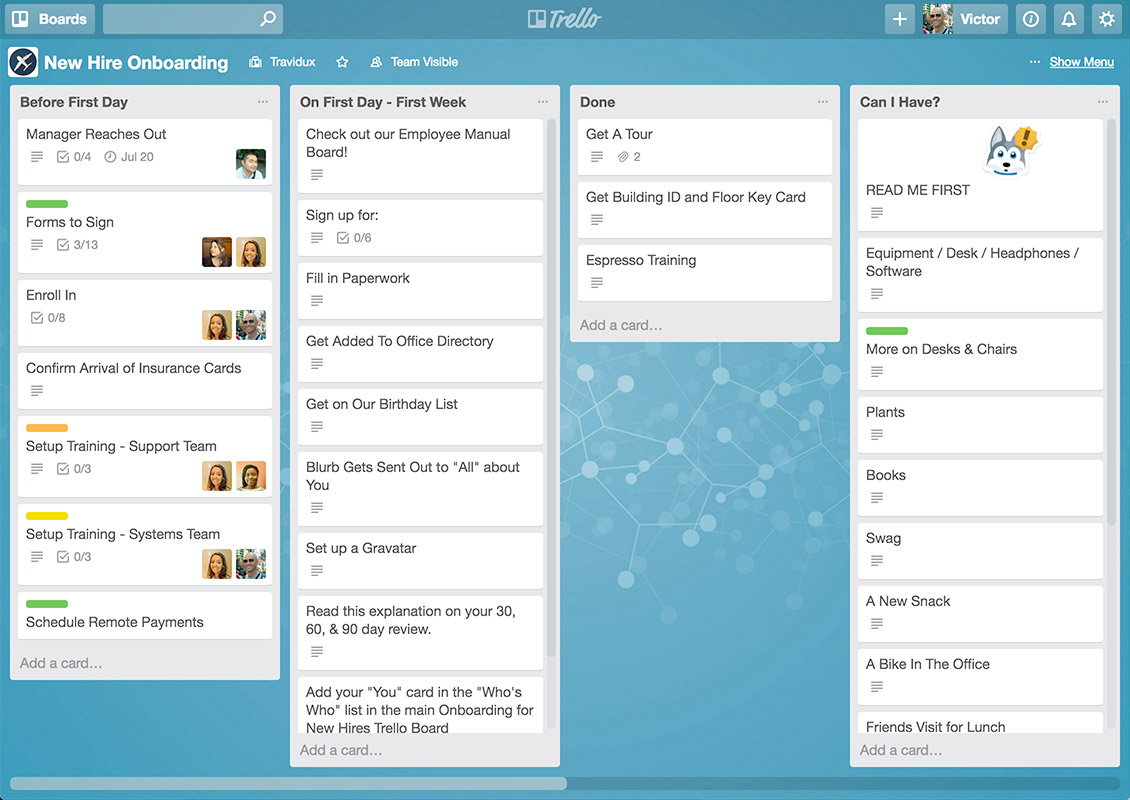 Trello's workspace

For those who like classic pinning boards and would prefer them over a digital tool, Trello has the solution. It offers a card-based approach to project management, as its interface mimics real-life boards.
Basically, you create to-do cards within your Trello board and then drag and drop them from To Do to Doing and Done lists. That's a gist of Trello, however, it also provides multiple features such as a possibility to add comments, attachments, and plugins. Trello can be used for almost any case – be it a business project or household chores.
Recently, Trello made the biggest updates – got a newsfeed and improved notifications. Now you don't have to wade through a number of boards to figure out what to focus on next. So far, Trello users created more than 2 billion cards to manage projects.
Pricing
Trello has three tiers: Freemium, Business Class, and Enterprise. Within the Business tier, which is $9.99, you'll be able to add integrations to your Trello space. Enterprise plan is $20.83 per user, per month (billed annually) and can work for big companies with many teams. 
Platforms
iOS, Android, Web, Windows, Mac.
8.
Zenkit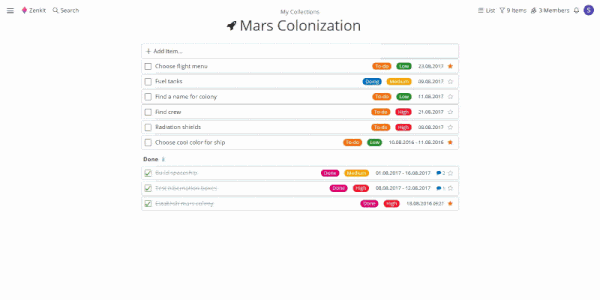 If you are up to exploring multiple ways of organizing your task boards, Zenkit might be the tool for you. Apart from the card-based approach, it also offers Mind-Map, Spreadsheet, List, and Calendar views that can be switched easily.
All the basic features of a project management tool are also at hand: you can create items with due dates, assign responsibility, tag tasks as favorites, make checklists, etc. However, Zenkit doesn't offer milestone tracking, recurring options for tasks, and has few native integrations.
Pricing
Zenkit has three tiers – Personal, Plus, and Enterprise. Plus tier is $9 per month per unique member. Within it, you'll get 10x more items and 2 times more attachment space. The price of the Enterprise plan is available upon request.
Platforms
iOS, Android, Web, Windows, Mac, Linux.
9. ClickUp
ClickUp is an all-in-one productivity tool that small and large teams across industries turn to for a powerful work management solution. It is completely customizable and offers a flexible, feature-rich experience to manage your workload, monitor project updates, and collaborate with the team—no matter what project style you use.
Collaboration is at the core of every ClickUp feature, with hundreds of functional tools to keep everyone updated and aligned on goals. Optimize your processes with dynamic features like ClickUp Docs and Whiteboards designed for in-person or distributed teams to comment, edit, and act on ideas without overlap. ClickUp is simple to set up and easy to use with its user-friendly interface and drag and drop functionality to enhance your experience using task views like Gantt, Mind Maps, and Board view.
Its productivity abilities are virtually unmatched, starting with ClickUp's unique organizational Hierarchy to structure even the most complex of projects. Then create subtasks and Checklists directly within tasks to manage anything from multi-step workflows to simple to-do's. At a granular level, use ClickUp's global time tracker, real-time reporting, multiple assignees, and watchers on tasks to keep up with your team's progress at all times. Plus, ClickUp seamlessly connects to over 1,000 other work tools to streamline your workflow even further.
Pricing
Best of all, ClickUp is affordable and offers a feature-rich Free Forever Plan; add unlimited members and tasks and get 1,000 MB of storage with ClickUp's Free Forever Plan, and gain access to more advanced features with paid plans starting at $5.
Platforms
Web, macOS, Windows, iOS, mobile app, Android
Communicate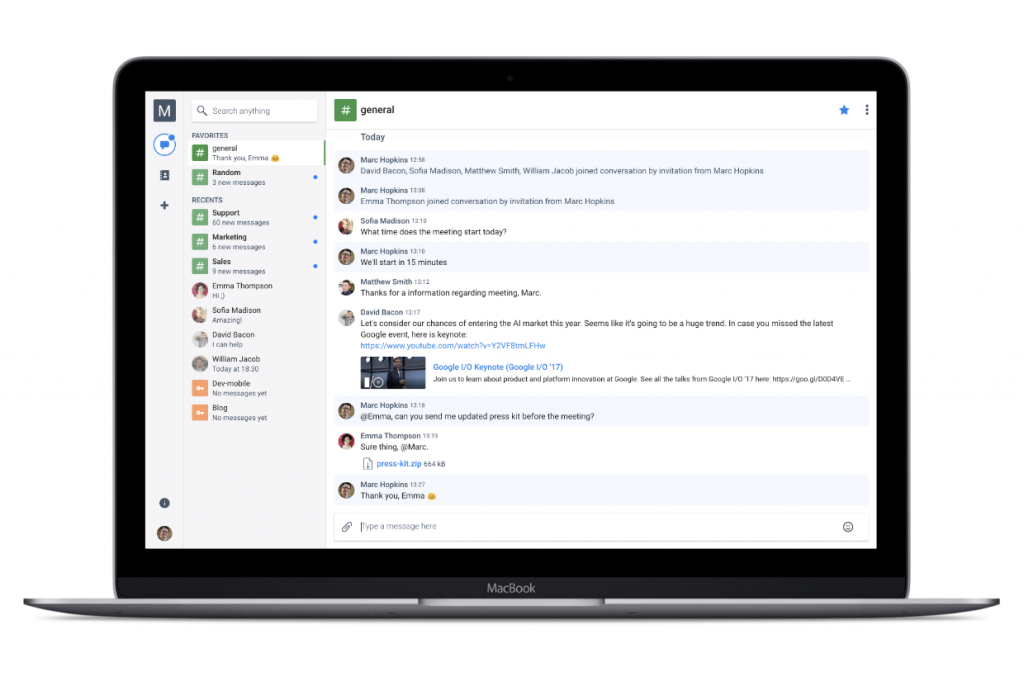 Chanty is a team chat we've been passionately building – with a clean interface, friendly UX, and unlimited message history. Chats are organized into public, private and one-to-one conversations. All files and links that your team shares are neatly in order and are easy to find.
We've added a whole bunch of features to Chanty. You can already use the built-in task manager that lets you seamlessly assign tasks to your teammates. Connect Chanty with a ton of apps through Zapier and enjoy high-quality audio and video calls, as well as voice messaging.
Pricing
Chanty has the Freemium version for smaller teams, while its paid plan starts at $3 per user for each month.
Platforms
iOS, Android, Web, Mac, Windows.
10.
Slack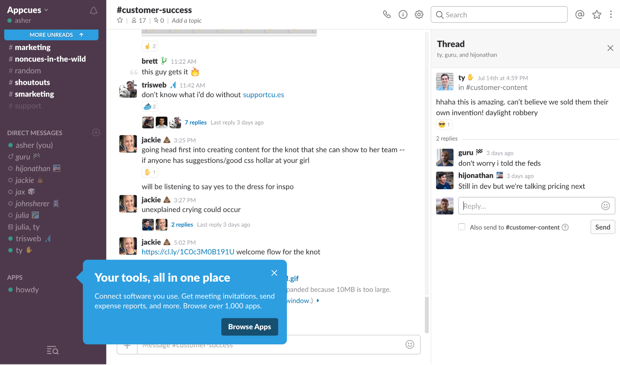 Slack's workspace

Slack is a wide-known tool for businesses. Having popped up in 2013, it became the trendsetter in the world of business communication apps. Initially designed as a team chat tool, Slack now positions itself as a "collaboration hub", because of its extensive software integration.
The tool is often praised for its user-friendly interface and well-thought user experience. Threads, conferencing and advanced search features are often listed among its pros.
However, some find Slack cumbersome to use, claiming its notification system is not easy to manage. Moreover, Slack limits your message history in the Free version, which is quite a setback even for small-sized teams.
Pricing
Slack has Freemium, Pro ($6.67 per active user, per month, billed annually) and Business ($12.50 per active user, per month, billed annually) tiers. Upgrading to Slack's Pro version means unlocking your searchable message history and getting access to unlimited apps.
Platforms
iOS, Android, Web, Windows, Mac, Linux.
Save your time
11.
RescueTime
Curious to know where your time goes? RescueTime has you covered. It runs in the background on your computer and mobile devices. The app tracks time spent on websites and applications. At the end of the day, you get a detailed report and data based on your activity. This might help you to prioritize work on the most meaningful activities.
E.g. you can set weekly goals and track if you get to achieve them. Weekly reports on your performance will arrive in your email box. I tried Rescue Time by myself. Here's the report I got for last Sunday when I decided to work from home.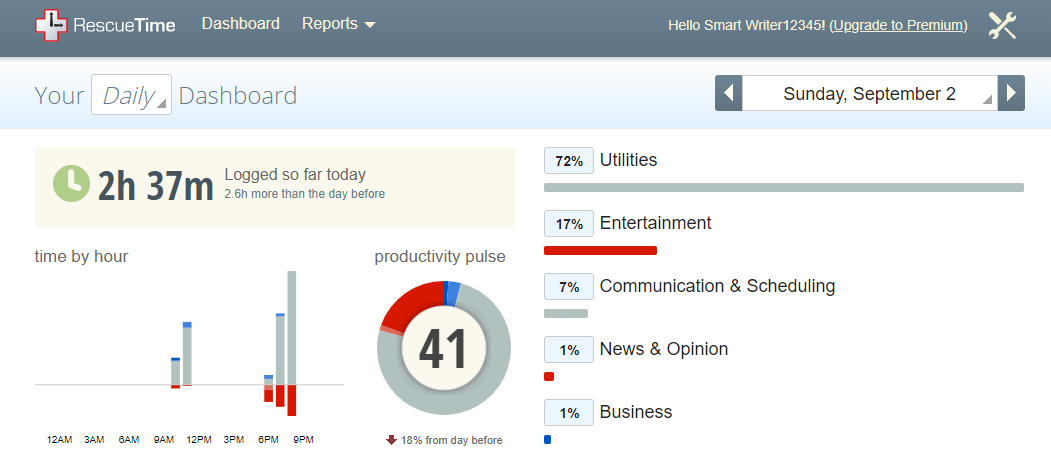 RescueTime's workspace
It showed I spent 17% of my time on entertainment! Argh! I guess I need to ditch YouTube and Spotify.
Pricing
RescueTime has three tiers. The Freemium one provides you with all the basic features. For reports, you're limited to a three-month history, though. The Premium is $54.00 per year if billed annually. It gives you a possibility to track time offline, receive alerts, block websites etc. There's also a plan for organizations that allows visualizing company patterns.  
Platforms
Android, Mac, Windows, Linux, iOS.
12.
Toggl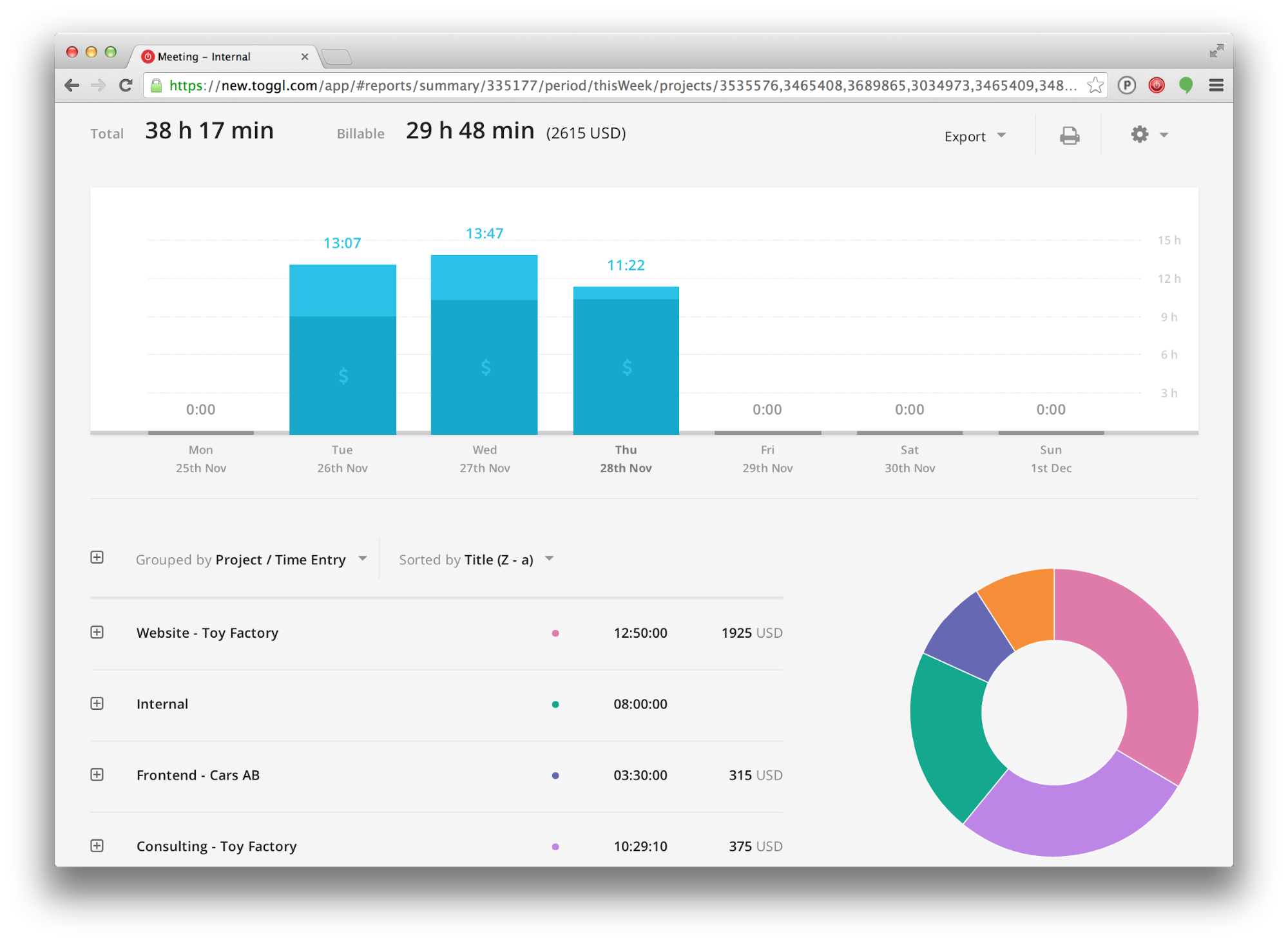 Toggl workspace

If you wish to know how much time you spend on a particular task, Toggl might be the tool. It's praised by being quick, nimble, intuitive and easy to use. Basically, all you should do after signing up is to toggle the time clock and start working. You don't even need to add any information about the project – you can do it later.
Our Chanty design team has been using Toggl for years. We appreciate its convenient reports for our projects sorted by day, week, or month. Also, Toggl serves our leads, providing the possibility to notice any overdue projects and current logged time.
Basically, Toggl is designed for business use, and it will particularly work for freelancers and small companies.   
Pricing
The Basic plan is free and provides the core time-tracking tools. There are also 3 paid tiers (Starter, Premium, Enterprise) – $9, $18, $49 per user, per month billed annually. You can free trial all three.
Platforms
iOS, Android, Web, Mac, Windows, Linux.
Take notes
13.
Evernote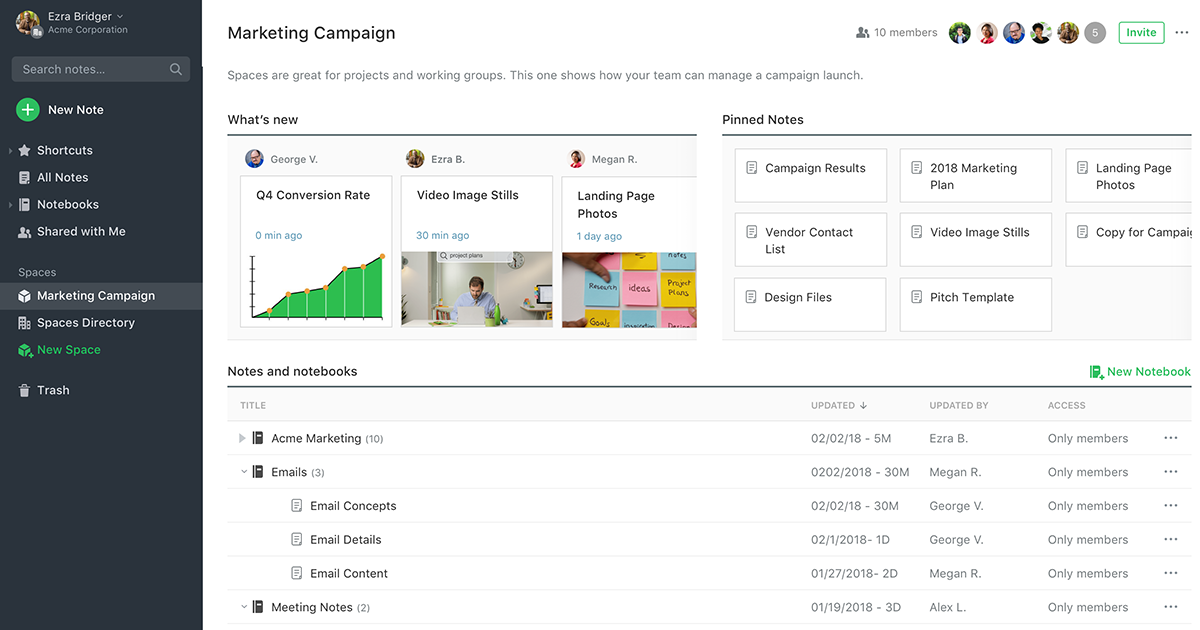 The workspace of an Evernote Business account

Basically, Evernote is a tool for writing your notes down. You can collect, organize and archive them. If necessary, clip anything from the web. Attach pictures, video, audio and other files. Your account auto-syncs across your devices, so files are available from anywhere. Tags and search help to manage your notes, while you can share them via links with anyone.
Evernote is not necessarily used for business purposes. Many use it for storing personal matters. Students find it helpful when writing course papers. (That's how I used it and I have to say I was very pleased).
Evernote is probably one of the oldest productivity tools – it turns 18 in 2018. At last check, 225 million people use Evernote's products.
Pricing
Evernote has 3 tiers – Basic, Premium, and Business. Within the Free tier, you'll be able to sync your account on up to two devices only. The premium tier costs $7.99 per user per month and will remove this restriction. The business tier is $14.99 per user per month and is designed to serve larger teams. 
Platforms
iOS, Android, Web, Windows, Mac.
Share files
14.
Google Drive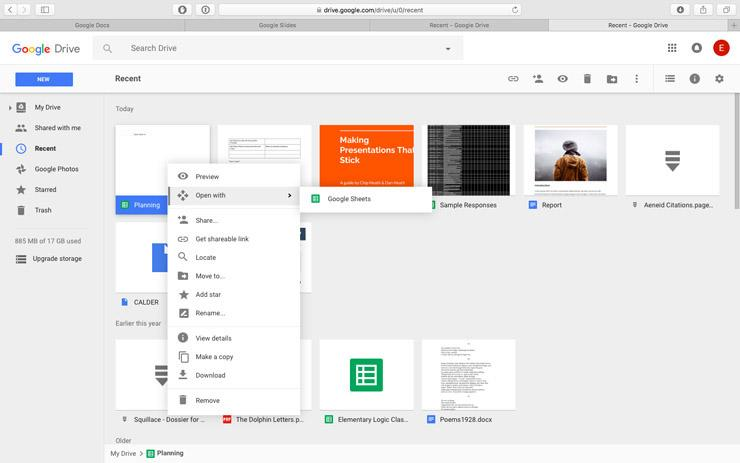 Many tools in this list hardly need any introduction. Google Drive is certainly one of them.
Basically, it's a file storage space where you can keep any docs, images, videos, recordings, etc. Your files can be reached from any smartphone, tablet, or computer. Share files and folders with others, inviting them to view, download and collaborate on them. Perform a quick search within your files.
If you need a space bigger than 15 GB, there's a possibility to upgrade. The tool is great for personal and business use – no wonder it's growing so fast. In July 2018, Google Drive was on a clear path to hitting 1 billion users.
Pricing
In August 2018, Google rebranded its Google Drive plans under the name Google One. Basically, the US tech giant cut the storage prices. Google One plans start at the same place as Google Drive plans — $1.99 per month for 100GB of additional storage — but the other tiers are cheaper. For example, Google introduced a new $2.99-per-month plan, which includes 200GB of storage, and it's upgrading the $9.99-per-month tier to include 2TB of storage instead of 1TB.
Platforms
iOS, Android, Web, Windows, Mac.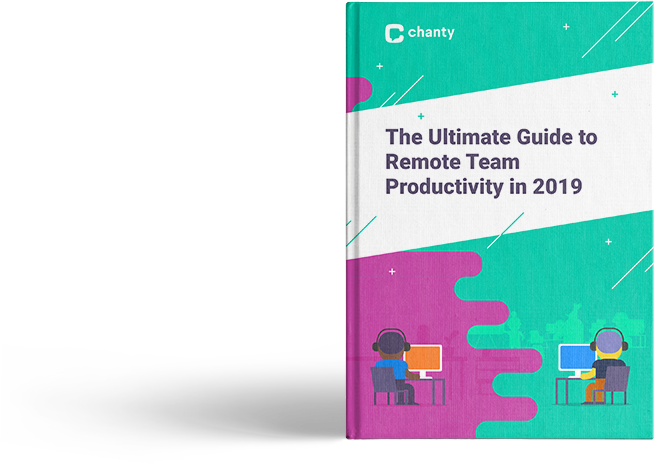 Remote team challenges?
"The Ultimate Guide to
Remote Team Productivity"
Get eBook
Schedule a meeting
15.
Doodle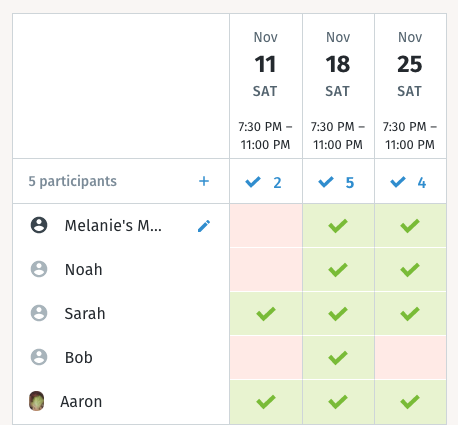 A poll in Doodle

If you need to get a date and time fixed for a large group of people, Doodle is the tool. It allows you to send a quick poll where people can pick from dates and times you offer. You see the results and then choose the best option.
That's it! No more endless emails and schedule-juggling. It will work great for international teams, as the time zone sets automatically according to the IP address.
Not only businesses can benefit from Doodle, but also absolutely everyone.  You can arrange a party, dinners, trips or your child dates. Nothing basic is missing in the free tier so you might be all set for free. In 2016 HBR article listed Doodle as a digital productivity tool everyone should adopt.
Pricing
Doodle offers 3 plans: Free, Private and Business. Private is $39 per year and includes 1 Premium user (the one who creates polls). It enables you to get rid of the ads, send reminders about your poll, etc. This seems like an option for freelancers and sole proprietorships.
The Business plan is for teams and starts at $69 per year. Within it, you'll get some additional features, such as user management and branding. The final price depends on how many Premium users are included.
Platforms
16. Paymo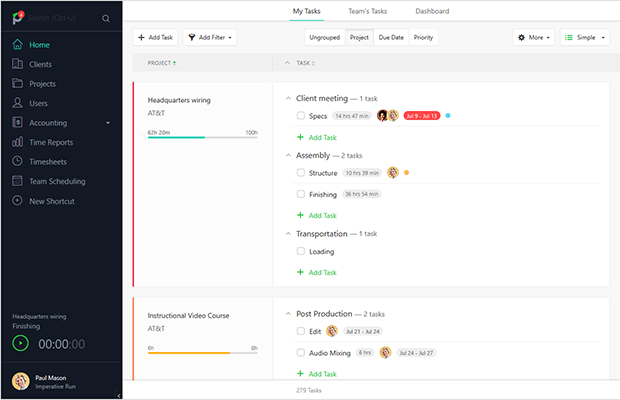 Paymo is a complete project management platform that helps freelancers and SMEs with contracting work in the form of projects, all the way to completing them and getting paid.
It includes features such as task management, planning, scheduling, team collaboration, invoicing, time tracking and reporting – all under the same roof. This means you can integrate your whole workflow and be able to view the big picture in terms of the project portfolio, as well as zoom in to oversee the daily operations of your team.
For this, you have Team's Tasks which reunite all your team's tasks under a single screen and group them by priority, due date, and the project they belong to. Extra filters can be added too. You can then change this task format to Table View, for a tabular perspective of all task details, or a Meta Kanban Board for increased workflow visibility.
Bonus: Paymo comes with a suite of time tracking add-ons, among which is an automatic time tracker and a desktop widget that can be docked in the panel of any Adobe CC product with a 2017+ license.
Pricing
There is a free plan for freelancers and individual users, plus two paid ones: The Small Office plan (starting from  $9.95/user/month) and the Business Plan (starting from $15.79/user/month). 
Platforms
Web, Mac, Windows, Linux, iOS, Android.
Create online forms
17. JotForm Mobile App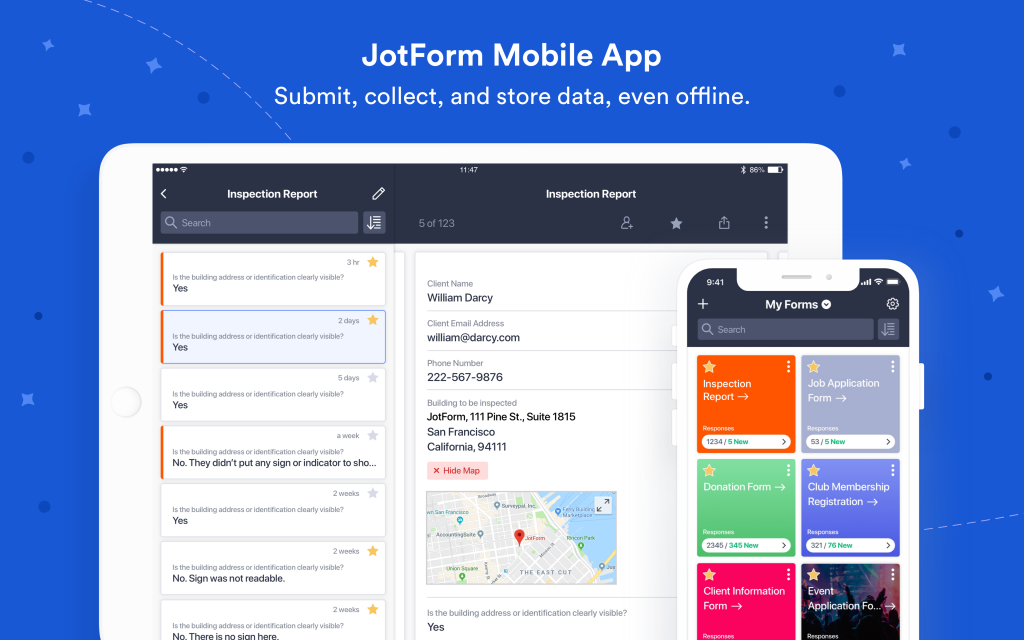 JotForm, in its core, is an online form builder. But it's also so much more. It's an extremely versatile tool that can be applied to many facets of your daily work routine.
JotForm draws its strength from its ease of use, customizability, versatility and a large number of use cases.
It's really easy to create some visually appealing forms that will help you to schedule and track tasks, report bugs, collect feedback, audit and much more.
JotForm boosts your productivity when you include it into your toolset as it solves a couple of issues that different tools solve on their own. The best part? You can even use it on the go as they also have a mobile form builder which helps you stay productive even while you are away from your desk.
Pricing
JotForm has 4 tiers in its pricing. Free, Bronze, Silver and Gold priced at $15.83, $32.50 and $82.50 per month billed annually. The free plan has a lot of features and can be easily used by small teams. Upgrading each tier adds more usability and capability to form builders. Check their pricing page for more information.
Platforms
Tracking time spent on projects
18. Timely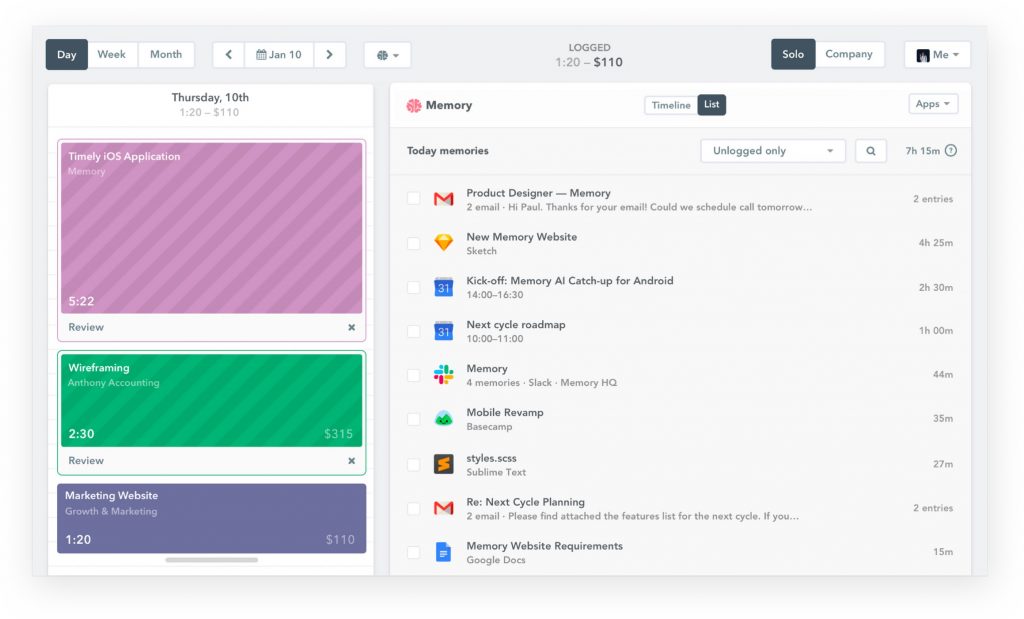 By automatically tracking everything you work on, Timely keeps all your efforts visible. It completely removes the need for manual timers, creating a flawless digital memory of your day as you work.
This effectively holds up a mirror to your ways of working – revealing the apps, documents, websites and even locations you spend time in. By seeing how long you spend on tasks and clients, you can create better schedules, fine-tune your performance and address inefficient processes holding you back.
The makers of Timely have also built AI into their product, so Timely can draft timesheets for you – meaning you have more time to focus on the work that actually matters.
Pricing
Timely has plans to suit every budget, whether you're using it as an individual or with a team. The cheapest plan for individuals is just $5 a month and comes with 5 projects. You can easily scale your subscription as your needs change, and save 20% on every plan by opting for annual billing.
Every plan comes with automatic time tracking, scheduling and project dashboards – upgrade for AI timesheets, team dashboards and project budgets as you need them.
Platforms
Web, Mac, Windows, iOS, Android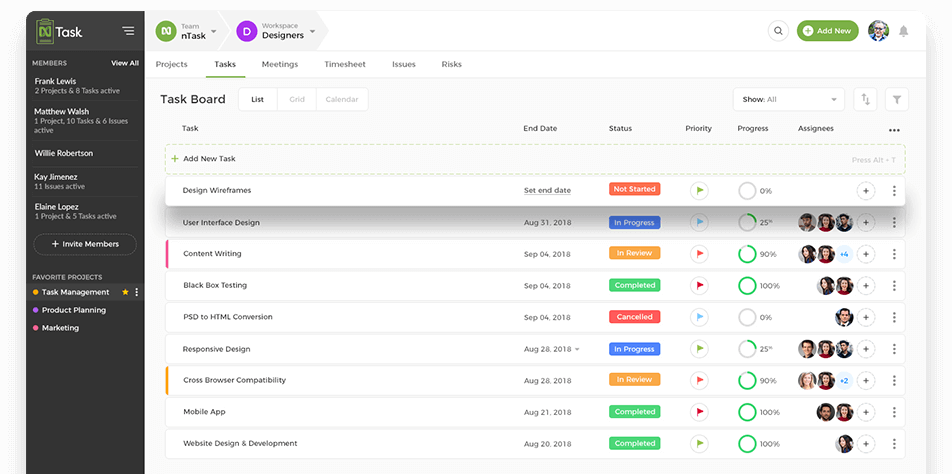 nTask is definitely worth your attention if you are looking for project management software. This platform has a free plan and is loaded with workflow planning features. The app is ideal for project planning and working on multiple projects at the same time. nTask has an interactive To-do list, lets you visualize progress with Gantt charts, great for team communication and collaborating on tasks.
Pricing:
Free plan with 5 team members

Premium plan starts at $2.99/user

Business plan starts at $7.99/user
Platforms:
Android, iOS, Mac, Web, Windows.
Conclusion
We have explored the best productivity tools that solve different challenges. For now, the following apps got the review:
Google Tasks

Calendar
ProofHub
Hubspot

Trello

ZenKit

Chanty

Slack

Toggl

Rescue time

Evernote

Google Drive

Doodle

Paymo
JotForm
Timely
nTask 
These first tools are just the beginning. The list of the productivity apps can be endless and we're looking forward to introducing you to other apps. Stay in touch.