Does your small business have remote workers? Or are you allowing your employees to work from home owing to the pandemic?
You are not alone. In fact, 57% of small business owners are considering allowing their employees to work from home post-pandemic.
While doing remote work is achievable and more productive, according to studies, you need to implement some effective brainstorming tools to facilitate creativity and improve teamwork.
But with so many tools out there, it can be difficult to settle for the right tool.
In this article, we will be focusing on 11 brainstorming tools to help you pick the right tool. Your team can use them to improve collaboration, facilitate innovation, and increase productivity.
1. Google Documents
Though popularly used for file sharing, Google Documents can serve as a simple yet useful brainstorming tool for your team.
Since it is shareable, you can create a new doc and share it with your team members, allowing them to edit.
Ideas can be built in real-time while motivating each other. As you can see who is typing what and leave comments, it is very practical. Plus, the Google Documents tool is free.
Have a look at Google Documents' user interface:
Key Features:
Suggestion mode – When working on a shared document, Google Doc allows you to change the edit mode and it tracks changes. There is an Accept and Reject button for each comment.
Voice typing – If you would rather use your voice than type, Google Docs have a voice typing feature. However, note that is presented only in the Chrome browser
Tag feature – It also has a feature that allows you to tag a person when you want to draw their attention. They will get an email alert.
Platform: Compatible with Windows, macOS, Linux, Chrome OS, and also with mobile platforms. Google Docs apps are accessible for Android and iOS.
Pricing: Google Docs is free to use.
2. Bubbl.us
Using Bubbl.us will make it easier for your team to organize your ideas visually. It is designed to help you stay on task and capture your thoughts instantaneously.
Have a look at Bubbl.us' user interface:
Apart from brainstorming new ideas, you can take notes, collaborate, and present more effectively.
To collaborate with your teammates, just add the contact/email id.
And click sharing. A menu will pop up.
Click on the mind-map that you want to share and on the contact. You can allow the edit option to let other team members work on mind-map.
Key Features:
Share and collaborate with others: The intuitive mind-mapping tool allows you to type ideas, plan and manage meetings, and share them with your team members.
Intuitive interface: You won't find any difficulty in navigating the tool as the intuitive interface and menus are laid down in a very simple way to meet your expectations.
Print, save, and share diagrams: It allows you to print the diagrams in docs, save it in different formats such as PNG, HTML, JPG or PDF, and share your work via a link.
Platform: Browser-based – it works the same on mobile as well as on desktop.
Pricing: Bubbl.us offers a free trial and a premium plan at $6 per month.
3. Coggle
With the help of Coggle, you will be able to share complex information clearly. It allows you to share notes quickly and easily and map out processes, systems, and algorithms with the flowcharts, making it perfect for brainstorming.
You can use it online in your browser. It doesn't require any downloading or installing.
Key Features:
Collaborative and interactive app: It supports real-time collaboration. You can invite other team members to work on diagrams all at the same time. You can also share a secret link with your team members where they can make edits without logging in.

Mind-mapping and flow-charting made easy:  You can upload unlimited images to the online diagram using its drag-and-drop feature. You can also join branches and design loops to represent process flows. Plus, it allows you to add floating text labels and images to explain parts of the map.
Platform: It works online in your browser and offers support for desktop, tablet, and mobile interfaces.
Pricing: Coggle offers three pricing plans:
Freemium: $0 – it offers 3 private diagrams, including limitless public diagrams, core features, and shared folders.
The Awesome plan: $5 per month – includes additional offers like unlimited private diagrams, high resolution image uploads, and collaboration via a link.
The Organization plan: $8 per member per month – gives you all features you get in the Awesome plan. Additionally, you get features like bulk export, separate personal workspace, user and data management, and more.
4. WiseMapping
You can use this free java-based tool online or install it on your server to collaborate on mind maps. It has cool features, including customizable fonts and colors and icons.
When you are done building your mind maps, you can export it or embed it from WiseMapping on your blog. The tool integrates with LDAP to secure your data.
Here's WiseMapping's user interface:
Key Features:
Complete mapping features: WiseMapping comes with varied tools that can create maps that reflect the users' thoughts. The drag-and-drop interface is easy to use and you can freely move objects around and rearrange your diagrams on the platform.

Public and personal workspaces: WiseMapping allows a private mind mapping environment for personal ideas. But you can also use the public mapping feature and invite other team members.

Flexible: Though WiseMapping is originally designed for the web, you can also install it on the organizations' servers and distribute them within their system securely.
Platform: Compatible with all modern browsers, including Microsoft Internet Explorer 8 and above, Firefox 12 and above, Google Chrome 19 and above, Safari 5 and above, and Opera 11 and above.
Pricing: WiseMapping is a free tool.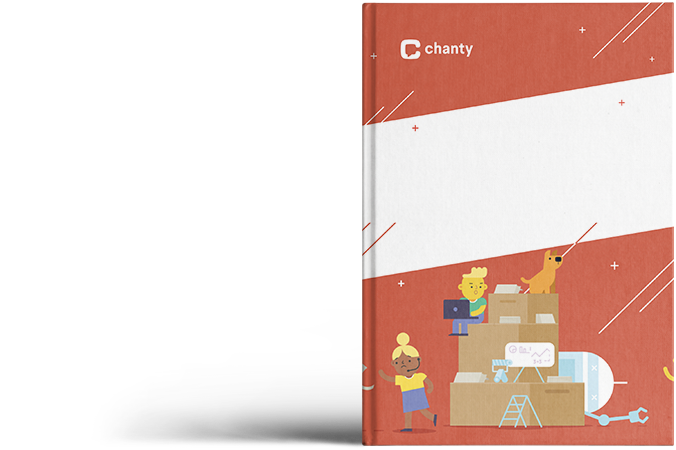 Communication issues at work?
"50 Surefire Ways to Improve Your
Team Communication"
Get eBook
5. LucidChart
A visual workspace that enables diagramming, collaboration, and data visualization, using LucidChart will accelerate understanding and boost innovation.
It is an intuitive, cloud-based solution that allows you to collaborate in real-time and allows you to create whiteboard, brainstorm, or build flowcharts, UML diagrams, and mockups, among others.
Here's what LucidChart's user interface looks like:
Key Features:
Easily style shapes: LucidChart makes it super easy to style shapes as it gives you the option to choose the font, size, color, and line style before you drag any shapes on the canvas. After that, the styling you choose will be automatically applied to the shapes you drag and drop on the canvas.

Expandable canvas: With Lucidchart's one-click solution, you can expand the canvas and make big diagrams when required.

Keep diagrams organized with containers: You can keep your diagrams organized and easy to read by using containers or swimlanes features.

Collaborate and get feedback: Once you create your diagram, you can collaborate without leaving the platform. There is a commenting feature where your team can leave comments on specific shapes or the document as a whole.
Platform: Lucidchart is compatible with Mac, PC, Linux, iOS, and Android operating systems.
Pricing: Lucidchart offers four pricing plans:
Freemium: It's a free plan.
The Individual Plan: Starts at $7.95. With this plan, you get unlimited editable documents, 1000+ professional templates, and more.
The Team Plan: Starts at $6.67 per user. It can be used by 3 users minimum and you will get to enjoy advanced collaboration and integration features.
The Enterprise Plan: Quote-based plan.
6. Milanote
If your business needs to create high-quality documents fast with ease while collaborating with multiple contributors, this tool is for you. It is a great organizing tool where you can bring your best ideas and see them grow.
Many use this tool for group brainstorming as it allows you to see what other team members are working on and make comments.
Its drag-and-drop interface will allow you to arrange images, notes, links, files, videos, and tasks on a virtual canvas. Plus, all the content you place in Milanote will be synced to the cloud.
Key Features:
Easy to use drag and drop interface – With Milanote's drag and drop interface you can easily arrange things in a way that best suits your project.

Shared workspace – You can either use Milanote's boards to think privately or use it as a shared workspace for collaboration.

Edit in real-time – You will be able to see the changes your team makes and leave comments. It also offers smart notifications and alerts so you won't miss a thing.

Share the result – When everything is done, you can invite your team members to view and edit your boards. You can also download a high-quality printable PDF.
Platform: It is compatible with iPhone, Mac, Windows, and Chrome and Safari browsers.
Pricing: Milanote offers two plans:
Freemium Plan: A free pricing plan which offers features like sharing unlimited boards, adding 100 notes, images or links, and uploading 10 files.
The Professional Plan: Priced at $9.99 per month per person billed annually and $12.50 when billed monthly. You will get everything on the free plan, unlimited notes, images, and links, upload unlimited files, and search board and content.
7. Miro
Miro features a versatile virtual whiteboard with which you can conduct remote brainstorming. You will get a lot of pre-built templates and sticky notes.
Here's Miro's user interface:
You will be able to easily import images, PDF, keynotes, PowerPoint files, and more. After you are done, you can export the board and share it with your team.
The tool can be integrated with Slack and other instant messaging apps.
Key Features:
Zoomable canvas and whiteboard: With Miro's infinitely zoomable canvas and web whiteboard, you can unleash your creativity, plan projects from different angles, and create centralized hubs of information keeping everyone in the loop.

Extensive Integration: The tool can be integrated with Slack, Dropbox, Box, Google Suite, and other instant messaging apps.
Platform: It is compatible with PCs and laptops, iPad, Windows, or Android Tablet.
Pricing: Miro offers four pricing plans:
Free: With Miro's free plan, you can avail features including 3 editable boards, premade templates, and core integrations.
The Team Plan: $8 per month. It provides features like unlimited boards, unlimited external board viewers and commenters, and advanced attention management.
The Business Plan: $16 per month. It comes with features like Single Sign-On (SSO), day passes for occasional collaborators, external editors, and more.
The Enterprise Plan: Custom plan.
8. Mural
A digital workspace for visual collaboration, Mural can help you to think and collaborate visually while solving important problems. You can create diagrams fast and with ease, and there are tools to facilitate meetings and workshops.
Have a look at Mural's user interface:
Moreover, its sticky notes feature will allow you to organize lists, flowcharts, diagrams, frameworks, methods, and drawings.
Key Features:
Collaborate visually – Mural helps your team to think and collaborate visually to solve problems.

Enjoy speed and ease of use – You can benefit from Mural's speed and ease of use while creating diagrams.
Thinking canvas – You can put your thoughts on sticky notes and organize in lists, flowcharts, diagrams, frameworks, methods, and drawings.

Visual teamwork – Have impactful meetings and workshops. Enjoy shared workspaces, remote facilitation features, conduct expert coaching and education, and more.
Platform: It supports browsers including Chrome, Edge, Firefox and Safari. The apps support Windows10, iOS, and the Microsoft Surface Hub.
Pricing: Mural offers three pricing plans:
The Starter Plan: $12 per membership/month. It will give you access to collaboration in a single workspace, unlimited visitors, library of frameworks and templates, and more.
The Plus Plan: $20 per membership/month. It offers features like unlimited guests, SAML or oAuth2 single-sign-on, priority support, and more.
The Enterprise Network Plan: It offers customized pricing.
9. Whatfix
Considered the biggest WalkMe alternatives out there, Whatfix is a training tool that any business can use with ease. It allows you to adjust to your users' onboarding needs.
Its real-time, in-app help is customized to individual roles. And the tool adds context and relevance to a learner's experience, making the training more effective.
What's more? You can hold brainstorming sessions with managers and get valuable insights from them.
Key Features:
Offer a superior user experience – You can adjust to your users' onboarding needs and offer personalized journeys.

Real-time in-app help – Use Whatfix's real-time in-app help that is customized to individual roles.

Offer on-the-job learning – Your training will be more effective when you add context and relevance to a learner's experience offered by Whatfix.
Platform: It supports mobile devices and browsers, including Firefox, Chrome, Internet Explorer, Edge, Safari, and Opera.
Pricing: You can request a custom pricing quote.
10. Otter.ai
You can use this AI-powered tool Otter for brainstorming, generating notes for meetings, interviews, or voice conversations.
Their new release, Otter 2.0, comes with more functionality to increase collaboration and productivity. The Teams plan has features designed especially for SMBs and teams in larger enterprises.
Key Features:
Create rich notes – You can create rich notes for meetings, interviews, lectures, and other voice conversations.

Make fast, accurate transcriptions – You can make fast, accurate transcriptions with Otetr.ai. It also offers speaker identification and streamlined management tools.

Enjoy more functionality with Otter 2.0 – The new Otter 2.0 will give you improved collaboration and productivity.
Platform: It supports Google Chrome (version 67 or higher), Safari (version 11 or higher), Firefox (version 59 or higher), and Edge (version v80 or higher). The mobile app supports iOS and Android. Plus, it works with Zoom meetings.
Pricing: Otter offers three pricing plans:
The Basic Free Plan: $0. It offers many core features including record and playback, transcribe in real-time, search by keywords, and more.
The Premium Plan: $8.33 per month. It offers all the premium features like import audio and video, advanced export, custom vocabulary, and more.
The Teams Plan: $20 per month. It offers advanced features like Otter live notes for Zoom, team vocabulary, time codes, centralized billing, and more.
11. Canva Online Whiteboard
People are discovering new ways to work together online and accomplish goals as remote work quickly spreads throughout society. When you and your team are bringing your ideas to life, Canva's Online Whiteboard makes it enjoyable and simple to workshop, brainstorm, collaborate on an endless canvas, and see each other's contributions as they happen.
Have a look at Canva Online Whiteboards' user interface: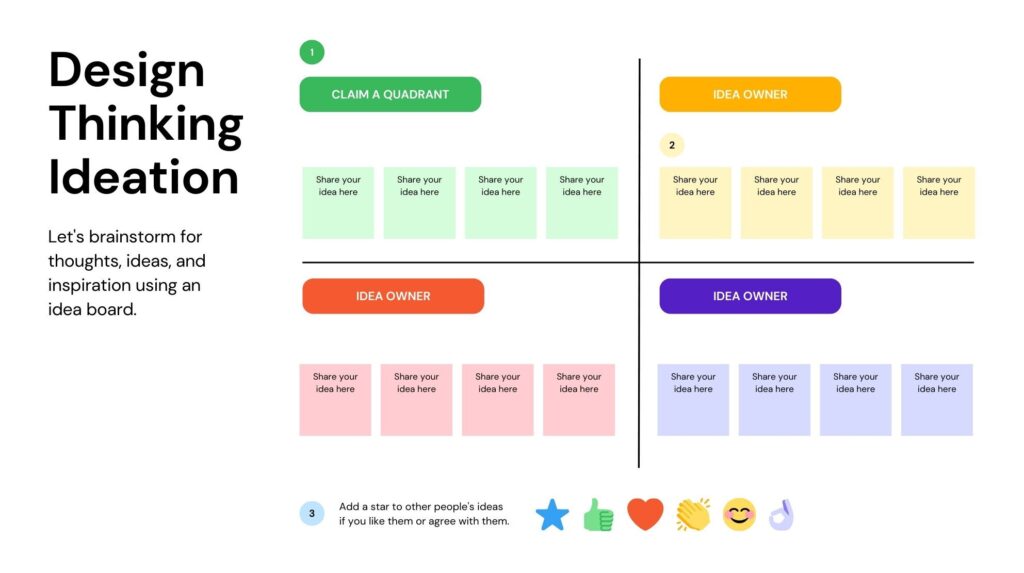 Key Features:
Unlimited space for unlimited ideas: infinite canvas on Canva Whiteboards, you have all the room you need to unleash your best ideas.
Collaborate with ease: Invite the entire team to work on your design and easily collaborate in real time
Customizable charts and tables: Data visualization made easy. Easy flowcharts with features like Quick Flow, Connecting Lines, and Shapes
Extensive library: Hundreds of templates with popular use cases
Platform: It works online in your browser, and Canva App, and offers support for desktop, tablet, and mobile interfaces.
Pricing: Free
Wrapping Up
There you have it, 11 brainstorming tools that you can start using right away to improve teamwork. Brainstorming and collaborating is crucial as it boosts your critical thinking and problem-solving skills as a team.
However, in order to do that while working remotely, you need essential tools that can allow sharing your innovative ideas with ease.
Ensure that the tools that you choose to use are easy to navigate and can record the ideas while you share them. Good brainstorming tools also allow users to vote or comment on the ideas.
The tools mentioned in this article are some of the best tools that you can implement to boost your creativity and be more productive. Start using them today to see positive results.