The machines are taking over, it's true. But you don't have to run and hide just yet. At the moment, artificial intelligence is still run by humans. And billions of us all over the world use it every day of our working lives.
You may be a business owner who has heard of AI and its benefits for business use. But like 45% of US respondents surveyed for Computer Weekly, you may not feel ready to embrace machine intelligence within your current business infrastructure.
This article explores the relationship that your business needs to have with AI. Among the issues I consider are: your business goals, the price of AI, how it can help your company get ahead of your competition, and security.
You have a unique set of business goals
The first thing that you should consider is where AI apps fit into your company's unique business goals, as for each goal there will be a range of different AI enhancement options.
This is to ensure you are bringing the relevant qualities AI offers to the areas of your business that will benefit from the technology. For instance, you may want to consider updating your operations to:
 1. Increase customer service capabilities
AI chatbots can help homepage visitors complete transactions without having to speak to a real-life person. You can also use AI to collect customer service feedback and improve your team's productivity. AI-led customer service tools can even make it possible for customers to track their deliveries or raise query tickets, without human intervention. Self-service technologies like order tracking take some of the responsibility for mundane tasks away from your staff.
 2. Reduce inefficiencies in your supply chain
AI in your supply chain means that your solutions and frameworks will be constantly improving themselves and developing over time. The best way to use AI is to enable autonomous action – like having AI-assisted machines monitor POS data and make predictions about future purchase habits and consumption trends. This kind of real-time data could have a major positive kickback from a scalability and roll-out perspective.
 3. Get better ROI from your marketing campaigns
You may have  have poured lots of time and money into marketing campaigns, yet you still can't seem to garner a regular stream of audience interaction. If this is so you may want to consider how AI can help you.
AI bots are able to draw from a deeper range of source data than traditional marketing research techniques. This allows you to be more refined in your method of targeting your customers and increase the engagement and response levels you see from your campaigns  – David Steinberg, the co-founder and CEO of Zeta Global, has claimed that marketing campaigns that incorporate AI have an ROI that is up to 1600% higher than those which do not.
You can find AI at every price point
You don't have to shell out on Amazon warehouse style robotic systems to reap the full benefits of AI within your business.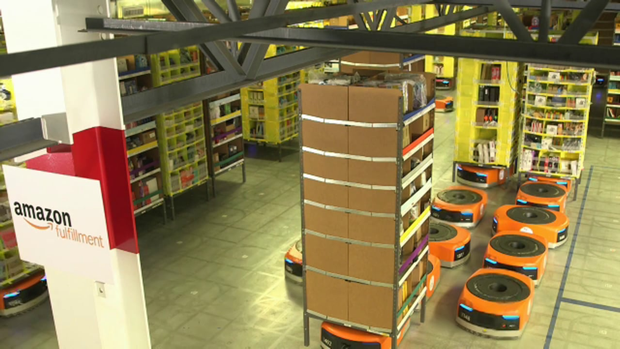 Image source
In many instances, just ensuring that you incorporate the basic AI technology that is relevant to your business and industry will be enough to help you stay in the loop.
For ecommerce brands, the shopping cart service you choose will be vital to scaling your brand's growth. Make an online store with access to a continually developing list of AI functionality, such as marketing coaching tips through a service like Kit.
You can also access higher-priced AI tools such as beacon technology for brick and mortar retail outlets. These tools help brands create immersive advertising campaigns that send connected mobile users push notifications with incentivizing offers.
The options and scale with which a brand can utilize AI can be staggering and awe-inspiring. While this may seem daunting, it is important for you to remember that, whatever your budget is, you must make sure that you get to grips with AI.
AI can help you develop unique ideas to beat the competition
AI-assisted tools are helping retail brands stay ahead of the competition by ensuring that their stores look lovely at all times. Shelfie cameras attached to shop shelving provide live feedback data to staff's mobiles. Here, they can be notified when an item is missing or misplaced within the store.
The addition of RFID tags can also be used within retail to create a unique and immersive shopping experiences. Burberry, for instance, offers shoppers a 'magic mirror' that will recommend clothing to customers in fitting rooms.
Further, IBM created E.L.F for Mall of America in the run-up to Christmas 2016. By logging in through Facebook Messenger, mobile users in the mall could access ELF's services, offering suggestions for customers searching for gifts for their loved ones.
AI will be at the forefront of security
As internet payment and technologies expand and increase, so will the need for tighter security against data breaches. Analyzing and protecting your customer's data is an integral part of building trust as a business. AI can help your business track buying behavior and alert you to any areas of unusual activity within your business operations.
Using deep learning and NLP processing, AI is becoming all the more sophisticated in recognizing and alerting to possible cyber threats. While this is, of course, very useful to your business, you will also need to make sure that investigations into threats are lead by your data team.
This is to ensure that there is accountability for your AI, so that you are certain it is accurately recording threats. In addition to this, having your data team overseeing the process means they can draw lessons from the threats your AI notes, meaning that you can continue to improve the range and level of security offered by your business
However, without AI intervention, in the years to come it may become harder to stay on top of the hundreds of 'strikes' that may befall your company's systems daily.
So, there you have the reasons why your company needs to embrace AI to stay ahead of the game. You can start off small and gradually scale up your AI offerings to build a highly efficient network of systems.
The future is bright for AI, so make sure you invest if you don't want to be left behind.