Jive is a well-known intranet and collaboration software. Founded in 2001, it is one of the pioneers in the team collaboration industry. 
Having said that, Jive is not the only team collaboration software available in the market. There are plenty of tools (both old and new ones) which are great alternatives to Jive. 
In this article, we have used our experience in the team collaboration space and compared Jive with similar tools based on features, price, and user reviews.
Note: If you are looking for a team communication tool that is easy to set up, consider Chanty – a team chat we are passionately building. It is designed to improve team communication, collaboration, and productivity and is free forever for up to 5 users!
What is Jive?
Jive (previously known as Jive-n) is an intranet software used for employee collaboration and communication. With Jive, you can communicate with colleagues, share documents, conduct polls, schedule events, integrate your favorite tools and do a lot more things. 
Jive stores all communication and documents in a single place, making it fast and easy to search. It has pre-built pages for employee onboarding, IT help desk, HR portal, and more. Jive is not only used for internal but also for external communication (with partners and customers). 
Being one of the early players in the communication industry, Jive is widely used across enterprise organizations. 
One major shortcoming of Jive is that it is a complex tool. A few users have complained that it takes significant time for training and deployment.
Top 6 Jive alternatives for team collaboration
Yammer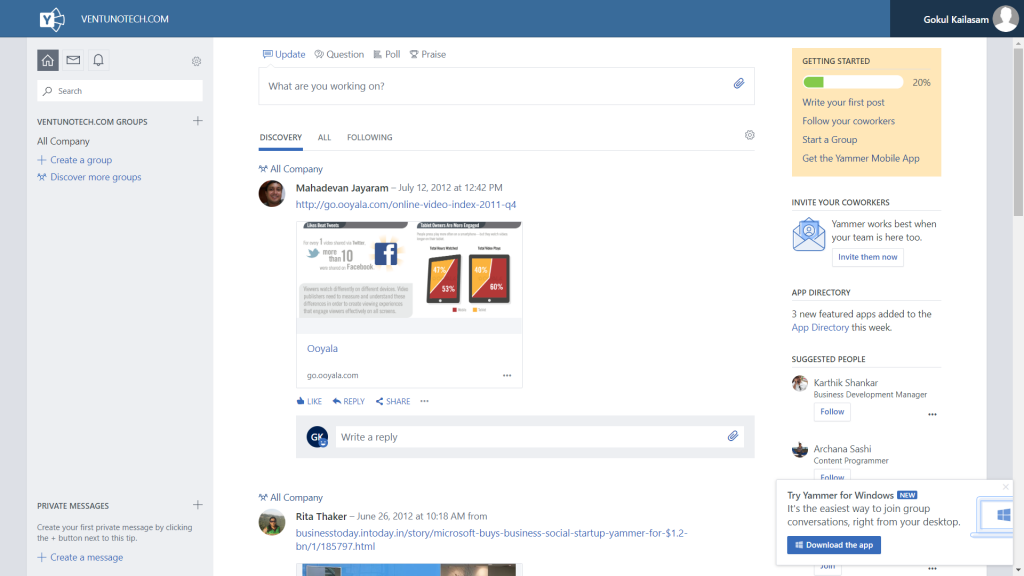 What if there were social media tools like Facebook but for internal communication within an organization?
Turns out, there is a tool called Yammer which is built for the same purpose. In fact, the first time we signed up for Yammer, it looked like an older version of Facebook!
Yammer is an enterprise social network for employees to interact with their colleagues. With Yammer, you can connect to the right people in your organization, share and search for information across teams and organize projects and ideas.
Yammer was acquired by Microsoft in 2012 and comes along with the Office 365 package. Yammer is the best option if your organization is already using the Office 365 as it is already integrated with other Office 365 apps. 
Suggested for:
Enterprises 

Organizations already using Office 365
Key features:
All the features you can think of in Facebook (feed, groups, chat, people, tagging, etc)

Office 365 integration
Pricing:
Yammer cannot be purchased separately as it is a part of Office 365 suite of products. The basic plan costs $8/ user/ month and includes Yammer, OneDrive, SharePoint, and a couple of other Microsoft products. 
Interested in learning more about Yammer and its alternatives? Check out our article in which we compare Yammer with 9 alternatives.
Simpplr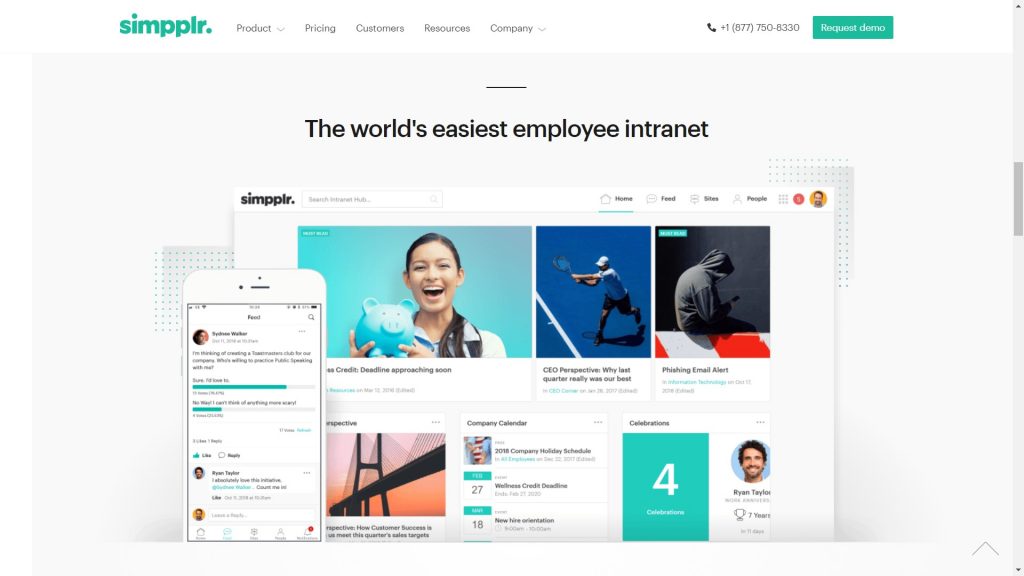 Simpplr is an employee intranet software that helps connect and engage employees to boost productivity, increase retention, and drive engagement.
Simpplr was founded in 2014 and has become a popular intranet software in such a short time. 
We found Simpplr simple and straightforward to use (maybe that's why they named it Simpplr?). The interface is slick and it has a lot of integrations with popular tools like Salesforce, Box, Dropbox, YouTube, Slack and more.
According to Dana D,
"My favorite thing about Simpplr is its intuitive design and organization. The way the site is laid out is very clean and straightforward. The powerful search also makes it easy to find content quickly."
Karen, another reviewer, says
"From kick-off to go live we were up and running within 6 weeks and required minimal admin support outside of Simpplr's team"
Suggested for:
Medium to large companies (Minimum 250-user subscription required)
Key features:
Lots of integrations

Powerful search – search people, files, sites and more

Straightforward design

Easy to implement and use – setup takes days instead of months
Pricing:
Starts at $8/ user/ month. Pricing available upon request. 
Jostle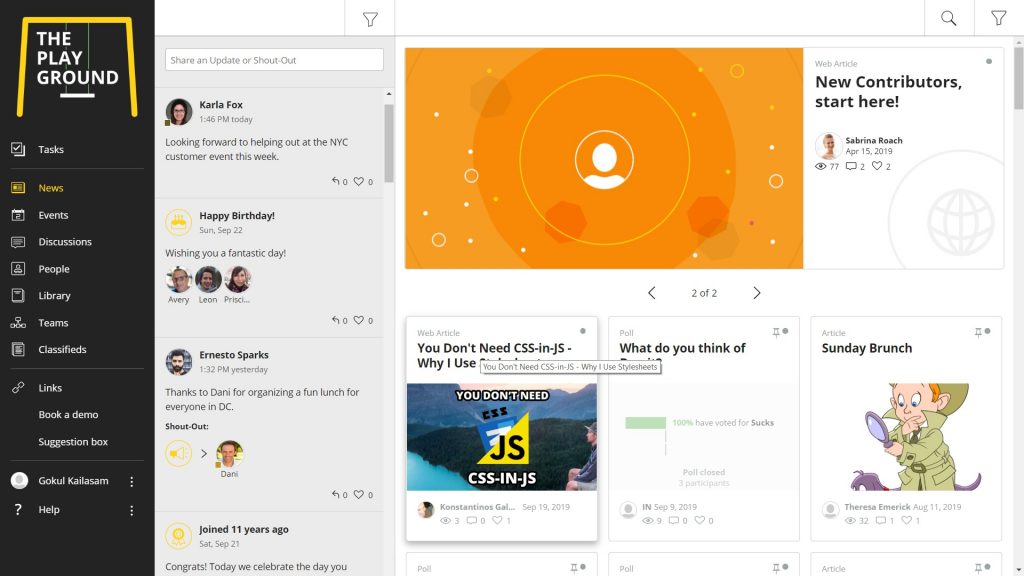 Jostle is an employee intranet platform designed to improve employee engagement across organizations. Jostle helps businesses share news, align teams, invite participants and recognize contributions. The platform allows employees to discuss topics and share their ideas within the organization. 
We signed up for a free trial and the first impression of the dashboard was that it is a bit confusing. There must be a better way to showcase all the latest articles and polls on the dashboard. We liked the discussions tab where you interact with individuals and teams but it is not as user-friendly and feature-rich as Slack or Chanty. 
Jostle is really useful to find the directory of all employees and understand the hierarchy of all the teams. You can learn more about a person from the 'People' tab and directly message them from over there. 
According to Jose Manuel,
"Jostle is a great tool for information and collaboration. The design and navigation are simple and easy to use and also very intuitive. It doesn't require advanced IT expertise to use or even set up the system. The search function is excellent and returns a good set of relevant results to all users from all areas"
Some of the reviewers have mentioned that the admin functions are hard to navigate and that multiple photos (for galleries) can be slow to upload.
Suggested for:
Medium to large companies (minimum 20 users required)
Key features:
News – create articles, polls, photos, and job posting for all employees to see.

Search – quickly find documents, people, teams, news items, events, and more.

Jostle TV – stream your intranet to any TV continuously and display the latest news and announcements 

Calls – make calls to your colleagues directly from Jostle
Pricing:
Jostle has 2 plans: 
Essentials – starts from $7/ user for 20 users. Price per employee decreases as the number of employees increases. Pricing is $3.25/ user for 500 users

Complete – includes all the features and starts from $10/ user for 20 users. Pricing is $5.53/ user for 500 users
ThoughtFarmer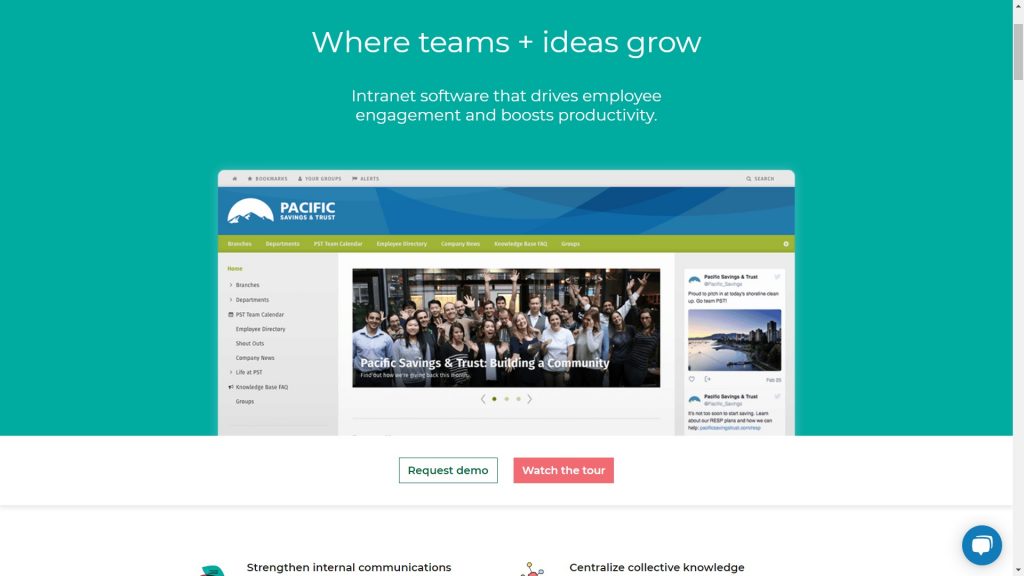 ThoughtFarmer calls itself "Social Intranet Software" as it combines the features of a traditional intranet (news, structured content, search and employee directory) with the features of social software (blogs, feeds, wikis).
The Vancouver based company, whose parent company OpenRoad was established way back in 1995, has a lot of well-known customers such as The Guardian, Canadian Medical Association and Hormel Foods.
ThoughtFarmer has all the essential features you would expect from an intranet – news publishing, powerful search, microblogging, organizational chart, drag-and-drop templates, document library, and more.  
With an average score of 4.5 out of 5, ThoughtFarmer has great reviews on G2. According to a reviewer named Theresa,
"ThoughtFarmer's CMS is easy to use, intuitive, and engaging. The social component for employees to be able to like, comment and share information opens the door for more cross-functional and bottom-up communication that we struggled with in the past"
Suggested for:
Medium to large companies (minimum 50 users required if used on the cloud and 100 users required if used on-premise).
Key features:
Search –  search people, pages and text from a single place

Expertise locator –  find the perfect person to join a project, or to answer your questions. 

Video –  interact with colleagues through video

Document library – easily manage, edit, and download a large collection of documents

Organization chart –  find the right people in your organization, and connect with a click.

Drag-and-drop templates –  design your own layouts and templates. No help from IT is

required.
Pricing:
ThoughtFarmer can be used either on the cloud or on-premise. Pricing is different for both models.  
Cloud pricing has 5 slabs:  
| | | | | | |
| --- | --- | --- | --- | --- | --- |
| Number of users  | 50-99 | 100-199 | 200-499 | 500-999 | 1000+ |
| Monthly fee per user | $10 | $8 | $6 | $5 | $4 |
On-premise pricing also has 5 slabs: 
| | | | | | |
| --- | --- | --- | --- | --- | --- |
| Number of users  | 100-249 | 100-199 | 250-499 | 500+ | 1000+ |
| One-time fee per user | $199 | $99 | $6 | $89 | Contact sales |
At $10/ user for 50 employees, ThoughtFarmer is costlier than most of the tools we have reviewed so far in this article. 
Microsoft SharePoint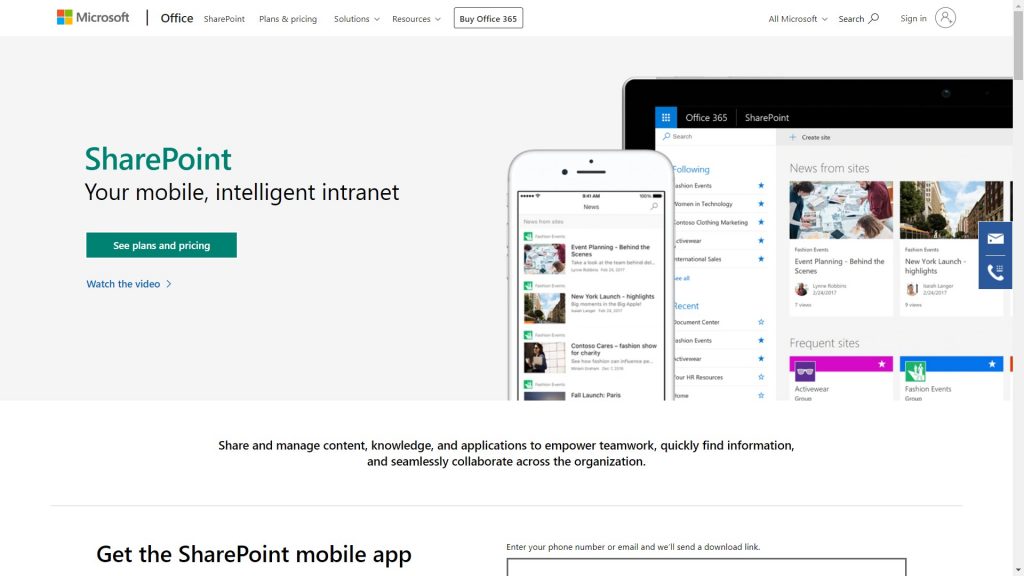 Microsoft has done extremely well under the leadership of Satya Nadella. Since he became the CEO in 2014, Microsoft's share price has tripled, their workplace atmosphere has improved and their focus has shifted from consumer to enterprise products. 
SharePoint, with 190M users across 200,000 organizations, is one of the most widely used enterprise collaboration software out there.
SharePoint is used to share documents within an organization. Think of it like Microsoft's version of Google Drive. 
You can use SharePoint if you are mainly looking for a document collaboration tool. If you are looking for a solution that can completely replace Jive, you would need to use SharePoint with other Microsoft products such as Yammer and OneDrive (SharePoint is already integrated with these Microsoft products)
With 7000+ reviews on G2, SharePoint is the most reviewed product among all the products we have compared in this article. 
Elvin says, 
"What I like most about Sharepoint is the ability to share and access your company information and Docs in one place. The facility you have for edit, manage documents on the go and share it instantaneously with your colleagues. You can organize and arrange the hierarchy of how you like your Docs to be presented. You add your daily tasks, manage your calendar, your meetings, display announcements for your whole team to see. it's a powerful tool for managing internal information in your company."
Key features:
Co-author in real-time

Offline sync

Calendar – Single page for everyone in the team to view important meetings and events
Suggested for: 
Companies of all sizes 

Organizations already using Office 365
Pricing:
SharePoint has 3 plans:
SharePoint Online Plan 1 – You get limited features for $5/ user/ month (ideal for small and mid-sized businesses)

SharePoint Online Plan 2 – You get all the features for $10/ user/ month

Office 365 Enterprise E3 –  You can purchase it as an Office 365 package for $20/ user/ month. The package includes SharePoint, Outlook, Word, Excel, PowerPoint and few other Microsoft products.  
Samepage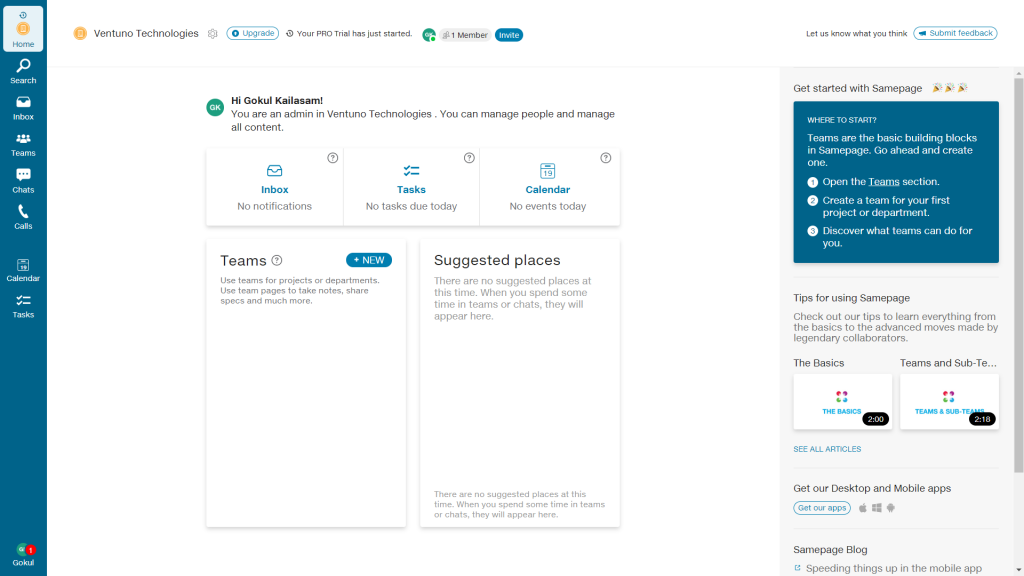 Samepage calls itself "All-in-one collaboration software" as it aims to replace multiple apps with one. It combines team chat, video conferencing, screen sharing, task management, file sharing, and real-time document collaboration in a single app. 
Samepage's USP is that it's simpler and less time-consuming to use one app instead of juggling between multiple apps. 
Setting up Samepage is fairly easy. We signed up for a free trial and configured the tool with the help of a guided tour of the dashboard. We created a 'Team' by adding our colleagues. Once a team is created, you can chat with your teammates, create and assign tasks for each team member, set up events and share documents. 
With 135 reviews on G2 and an average score of 4.4 out of 5, Samepage has gotten overwhelmingly positive reviews.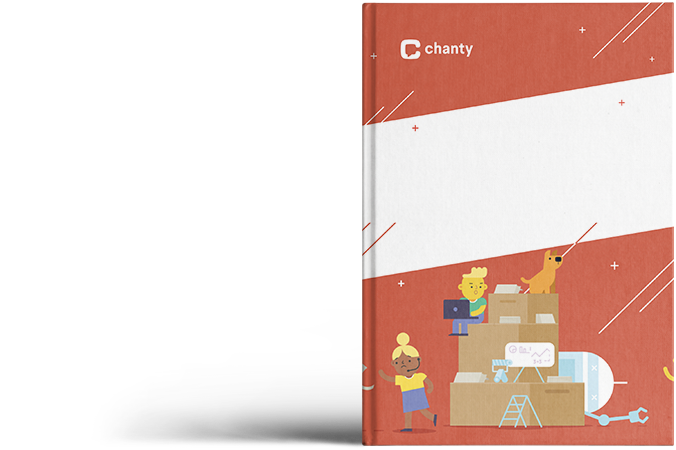 Communication issues at work?
"50 Surefire Ways to Improve Your
Team Communication"
Get eBook
Melvin, a Samepage user, says, 
"Samepage is quite flexible and customizable when it comes to configuring projects, tasks, assignments and goals. It has an array of visual tool like workflow charts, calendars and Kanban boards that allow us to get a quick glance at ongoing activities and upcoming deadlines. Using Samepage to set up and manage project updates is simple for most of my team to do. The menu items and actions are all intuitive and relatively simple to comprehend."
Key features:
Teams – space for employees to interact internally within their department (eg: sales, marketing, finance)

Tasks – create, assign and manage tasks for individuals  

Search –  search for teams, pages, tasks, events, and more

Calendar –  keep track of upcoming events and task deadlines across multiple projects

Chat –  chat with groups and individuals with text, voice, and video
Suggested for:
Small and medium-sized companies 
Pricing:
Samepage has 3 plans: 
Free –  The free plan has a limited set of features and limits the storage to 2 GB

Pro –  Costs $9/ user/ month and includes everything in the free plan, storage is increased to 1TB/ user

Enterprise –  Includes all features. Pricing available on request
Nectar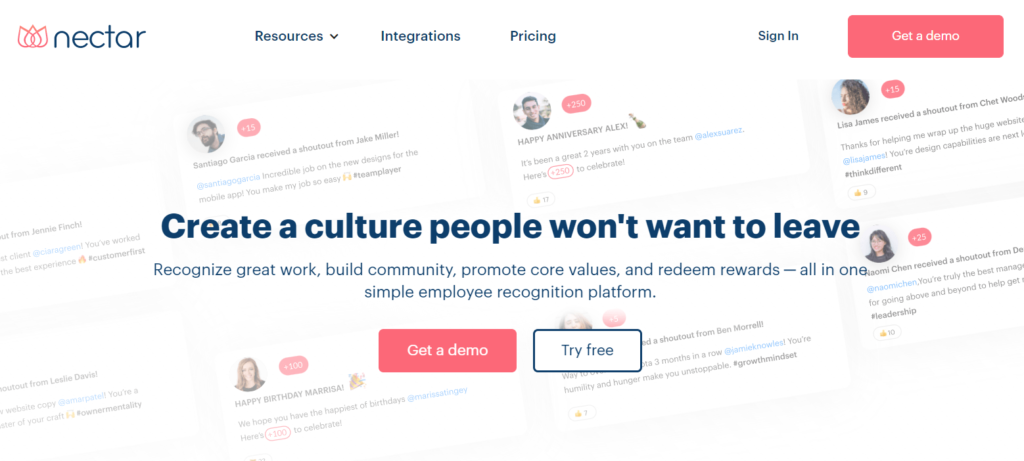 Nectar provides the latest in HR software to help you manage your employee data and keep track of employee performance and compliance. You can also use Nectar to create custom reports and analytics. Nectar is the perfect tool for small to medium businesses that want to improve their HR management.
Especially useful is Nectar's peer recognition features, which allow managers to give employees and employees to give their coworkers kudos for a job well done. This is a great way to boost morale and keep employees motivated.
Key Features:
A social recognition platform that allows employees to give and receive recognition in

real-time

Integration with popular communication tools like Slack, HipChat, and Microsoft Teams

Recognition can be given for a variety of achievements, big or small

Employees can set personal recognition goals and track their progress over time

Recognition can be given in the form of virtual "badges" or real-world rewards

A variety of leaderboards and social features to encourage friendly competition

Custom recognition rules and workflows to fit their company's needs

An analytics dashboard that provides insights into recognition trends

A mobile app for giving and receiving recognition on the go

A flexible API
Pricing:
Nectar have a free plan with limited features, their standard plan is $2.50 per user per month billed annually or $2.75 billed monthly.
Conclusion
Jive is a well-known employee intranet platform out there, but it isn't perfect. 
You might be looking for Jive alternatives for various reasons – more features, less complexity or better pricing. Whatever your reason may be, this list of Jive alternatives will help you compare Jive with other solutions and choose the right tool for internal communication.
If you are looking for an easy-to-use team communication tool, try Chanty. Although Chanty is not a Jive alternative (Chanty is a team communication tool while Jive is an intranet software), you will love Chanty if you are mainly looking for a team chat software and don't need all the complex features of Jive. 
What are your thoughts on these 6 Jive alternatives? Did we miss mentioning any Jive alternative that you use? Please comment below and let us know what you are using for team communication.