I know that a piece of content about too much content is kind of ironic, but hear me out. With every company out there putting out blog after blog, reading all the latest content seems like a chore. That's good news for a content creator, but if you're trying to catch up on your reading list, you could end up spending hours every day just to stay on top of the latest content.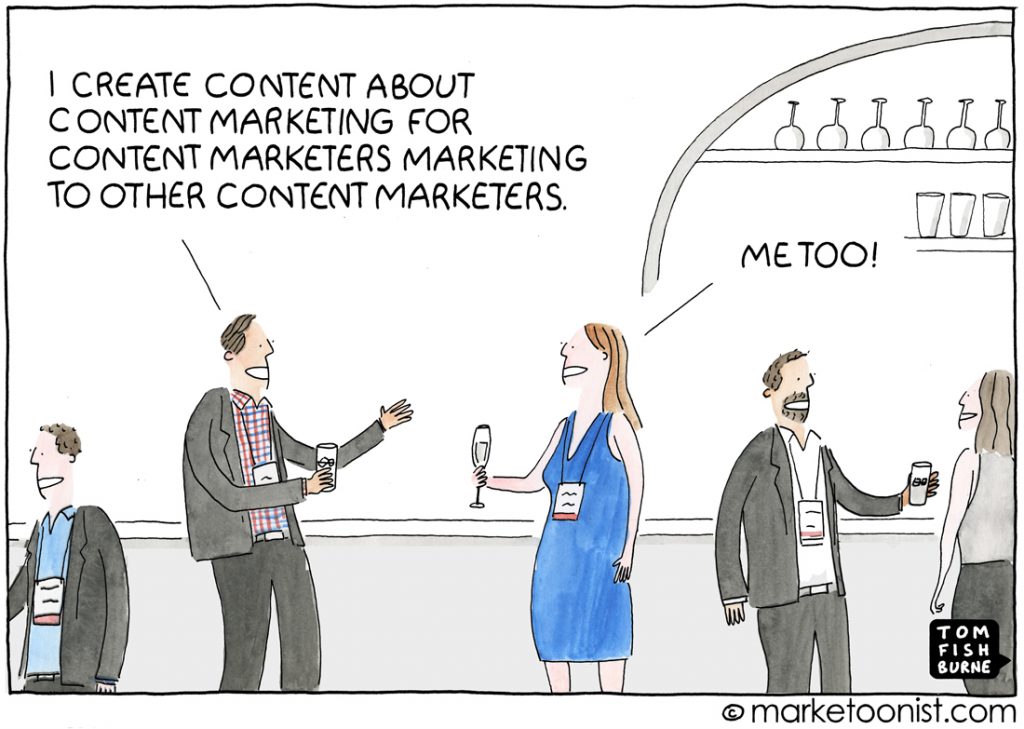 This is obviously not a viable strategy, so it's highly important to hand-pick your reading list, unless you want to spend the better part of your workday wading through countless blogs and LinkedIn posts.
If you'd like to free up more of your day and become more productive with your use of time, here are a few ways to battle the avalanche of content management being created every day.
How did this all happen?
Unfortunately, the world didn't all of a sudden develop a love for the written word. Blogging was quite popular even before content marketing became big, but the advent of content marketing really made blogging blow up to what it is today.
While writing content for the sake of providing valuable information to readers is a noble cause, it's not what drove the increase in the amount of content published. At a certain point in time, content creators realized that by writing content for specific keywords and aimed at specific audiences, they could increase visits to their business website and ultimately improve their bottom line.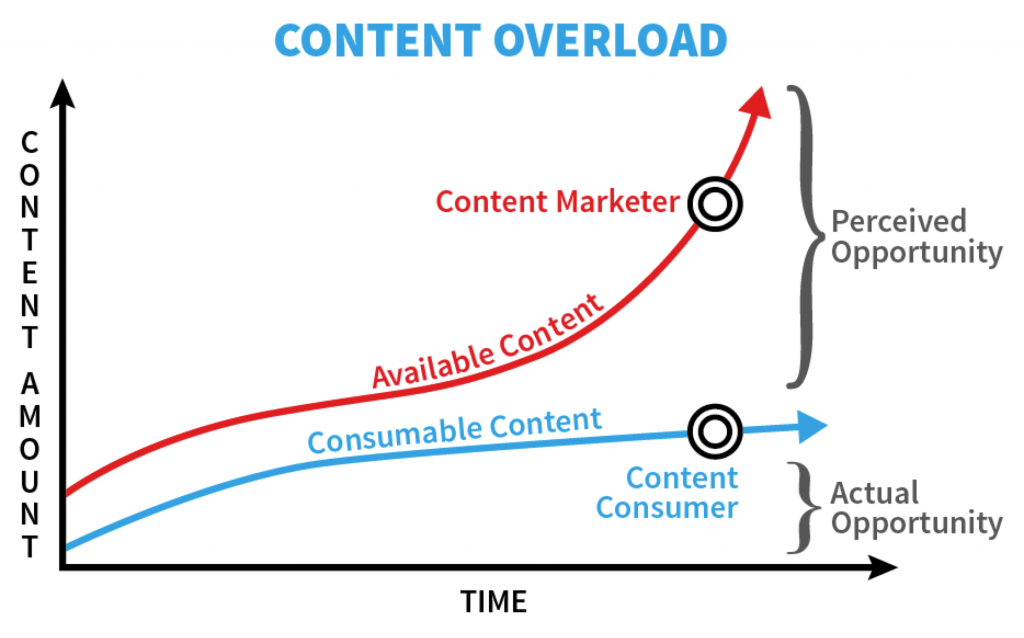 Ever since, there's been an avalanche of content from a content creator, different companies and individuals battling for keywords, visitors, shares, and backlinks. As a result, there are now more than 2 million blogs posted every day.
If you're a marketer or a content creator, tough luck, as you have to break through a lot of noise to get to your target audience. On the other hand, if you're a reader looking for valuable content, you'll also have to sort through lots of fluff and poorly written listicles to get to truly valuable, actionable content you can learn from.
Here's how you can do that in a few easy steps:
Set up an RSS feed
When you're used to reading several dozen blogs at a time, it can be overwhelming to check them for new updates. Imagine opening 30 different tabs to see if there's something new posted to read, and doing that every other day.
RSS feeds are a convenient way to tackle this problem. Simply subscribe to your favorite websites' RSS feeds and you'll get their latest updates in your preferred feed reader. Instead of manually visiting each website, the feed reader will give you a headline, a short description, and a link for each new post.
You can sort and manage your RSS feeds according to category or how important they are to you. In this way, you'll always be on top of what's left to read.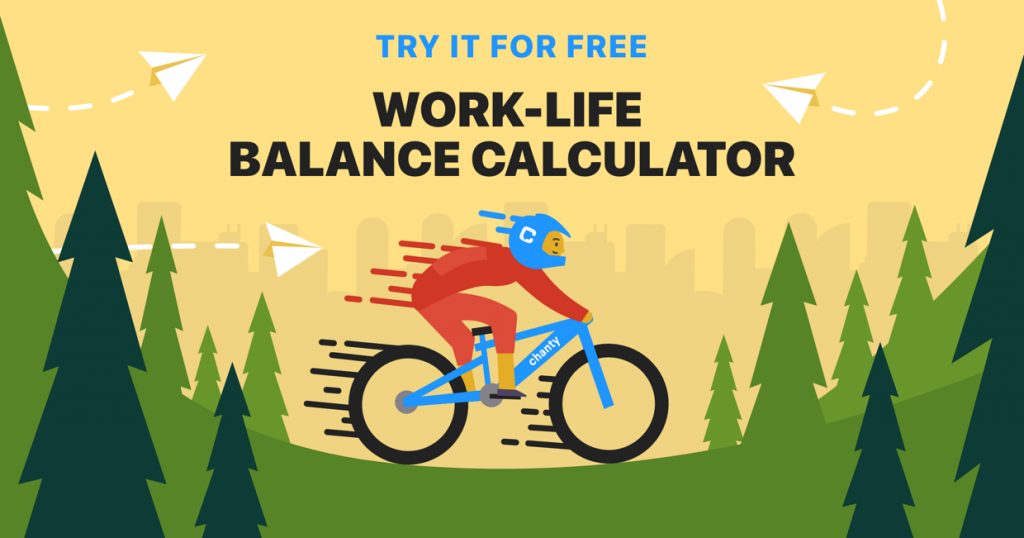 Don't go too broad
You may have heard of the Shiny Object Syndrome, or SOS. Say that you've just found a blog post on finding Instagram influencers. Then you delve deeper and find another one on how to use Instagram stories for advertising. Then an article pops up on how a sneaker brand uses stories for ads, and you go to a video on sneaker trends, ending up on a podcast about collecting sneakers in 2019. This is all very interesting, but you've strayed far from your initial topic of research.
Although having many interests is an admirable trait, it won't help you decrease the amount of content you consume every day. In order to avoid a cluttered reading list, focus only on topics that you need to learn about at a given moment.
The human mind is prone to wandering—about 47% of the time every day. If you don't want each of your reading sessions to turn into an endless search for interesting information, stick to what you want to learn about and go over your content topics one at a time for better content management.
Set things aside to read for later
Has it happened to you that you run into a great blog or case study, but you just don't have the time to read it immediately? You can simply put it away for later. However, there's a chance of forgetting what you want to read, so you can try out some of these techniques.
First, you can use bookmarks. I belong to the minority of people who still use them, but I have to admit that they're not practical or easy to handle. If you're already using them, make sure to sort them properly immediately after you bookmark a page.
Second, if you're using RSS to catch up on your blogs, try a tool like Feedly. It has a list of all the blogs that you're following, so you can simply add some to your "Saved for later" column to catch up with. If you're more used to reading on the phone, you can use the mobile app called Flipboard to get the same RSS functionality on the go.
Skim through content
As a writer, I'm probably going against myself when writing this, but you really shouldn't be reading everything you lay your eyes on. There's an immense amount of poorly written content out there which simply does not deserve your attention, so you should know from the start if a blog is worth 5–10 minutes of your time. In fact, 43% of blog readers admit to skimming through content for better content management.
First, check out the headline. As much as writers dislike this fact, 80% of all readers pay attention to the article headline only, while 20% will go on to read the body. A great way to consume less content is to stick to this rule and decide whether something is worth your time based on the headline alone.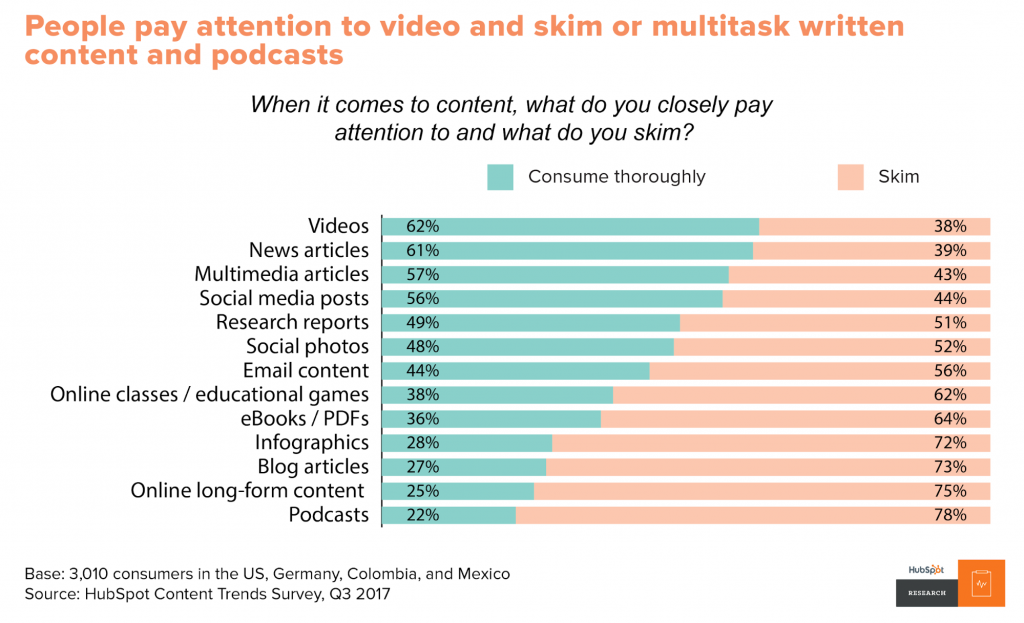 However, note that you're missing out on the big picture, so it's a good idea to scroll through the article for more information. Luckily, we're past the era of clickbait titles, so nowadays you will see less of those. However, even the best content creator is sometimes constrained by things such as keywords, character limits, or perhaps even editor guidelines.
That's why you should take a glance at the article body as well. First off, make sure that it looks readable—this means short paragraphs (3–4 lines) and plenty of white space. Second, pay attention to the subheadings. They need to be present (of course) and break down the topic into logical chunks of information so that you get an idea of what the blog is about just from the subheadings.
Finally, check to see if there are any photos. While they aren't necessary for great content, they break up the monotony of too much text and provide an opportunity to illustrate a point from the text. The overall effect is staggering—blogs with images get 94% more views than those without them.
By devoting just 5–10 seconds to skimming through a piece of content, you'll save yourself the time of reading something that is uninteresting, provides no value, or is just poorly written.
Pay attention to links
If you know a thing or two about SEO, you're probably aware that links are good for your blog for better content management. Links pointing to you mean higher authority and better positioning in search engine results. However, great content also has links going out to other, relevant websites.
Think of Wikipedia—all the facts in their entries have to be backed up by data, either from books, research papers, or some other source. If the piece of content has a statement somewhere, it should have a link to it. For example, blogs are the 5th most trusted source of online information.
Naturally, if the piece of content reflects the personal opinion of the content creator, it won't need too many sources and links. However, by taking a quick look through links, you can figure out the credibility of the content, the content creator, and the website where it's posted.
Conclusion
Even though there are countless blogs being published every day, you can stay on top of your reading list by applying some of the content marketing tips outlined here. As SaaS content marketing doesn't seem to be going away any time soon, it will be increasingly important to properly budget the time you spend on consuming content. You can use the screen time calculator to monitor how much time you spend reading content.
How do you deal with content overload and improve content management? Is there a method that we missed that you personally use? Do let us know in the comments!