As we are building Chanty – team communication app, we make sure to check our competitors, analyze them from a customer's perspective and learn about their pros and cons.
We've already written a few reviews on Slack alternatives, compared Slack vs Flock and Slack vs Skype. The insights we received helped us come up with a better, cleaner and more user-friendly chat alternative. Today we are going to compare Slack and Ryver.
Ryver vs Slack TLDR
For those of you who are in a hurry, here's a brief comparison table covering the main points of the article. Continue reading further for an in-depth feedback and our key takeaways.
Ryver vs Slack
Ryver
Slack

User interface

Rather heavy and complicated interface

More organized, cleaner and friendlier UI

Pricing

Starter: $49 per team, per month  

(up to 12 users)

30 user pack: $99 per team, per month

(up to 30 users)

Enterprise: $4.67 per user, per month (with workflow automation, advanced team management, etc.)

Free:




(limited by 10 integrations, 90 days of recent messages 5GB file storage per team).

Pro: starts at $7.25 per user, per month (with unlimited search, apps and group calls with screen sharing)

Business + starts at $12.50 per user, per month

Notifications

General settings, e.g. notifications about specific topics and tasks

More advanced settings available, e.g. notifications for specific keywords or @mentions

Video/audio calls

Native audio/video calls (unlimited for all plans)

1-to-1 video calls in Free plan; up to 15 people on Paid plans

Audio/video calls via third-party apps integration

Integrations

Integrates via Zapier which requires Zapier paid account if you use integrations heavily; webhooks support

2000+ seamless integrations with third-party apps; webhooks support

Conversations

Open forums, Private teams and Direct messages.

Topics (equivalent of Threads in Slack)

Public and Private channels, Direct messages.

Threads to keep the replies in a single conversation

Task manager

Native Trello-like task manager

Task manager via third-party app integration (Actions feature)

File sharing & storage

File storage limit: claim to have it unlimited in all plans

File upload limit: 200MB

Free plan: 5GB file storage for a team

Standard plan: 10GB per user

Plus plan: 20GB per user

File upload limit: 1GB

File search

Simple search, no file or date-specific filters

Advanced search, lets you search within the documents or specify the time period
Ryver vs Slack in a nutshell
Slack is a popular team communication tool with powerful features, smooth interface and a big price tag. This well-known team communication app was founded by Stewart Butterfield, co-founder of Flickr. It was launched in 2013 and has grown insanely – the company value has been estimated at more than seven billion dollars as of 2018.
Slack is a leader when it comes to the number of seamless integrations with third-party apps. You can go ahead with their free version, however, it has significant limits e.g. 90 days of searchable messages per month or only 10 integrations.
Ryver was founded in 2015 by Pat Sullivan when Slack was already flourishing. You might've seen their Twitter ad where 'free' Ryver is confronting 'so-last-year' Slack. Ryver has chosen to make a power move and combine team communication and task management in one app.
Basically, it's like putting Slack and Trello into a single tool. The idea sounded fascinating. When we dived into the app, however, the implementation didn't get us excited. I'll focus on this little later, though.
Ryver vs Slack integrations
When it comes to integrations, Slack is obviously winning with its 2000+ integrations that are easy to implement. All you have to do is click the 'Next' button a few times and you are all set.
Here's the tricky part with Ryver. The tool claims to have 500+ integrations with other apps and services via Zapier. Well, it's true that Zapier lets you choose out of 500 integrations in its free version. However, you can use only 5 app automations (zaps) with Zapier in a free plan.
It means you'll run out of your zaps in a free plan very quickly. The paid plans in Zapier aren't too inviting – if you want to get unlimited access to zaps, get ready to pay $250 per month. That's how much the 'free' Ryver could cost you.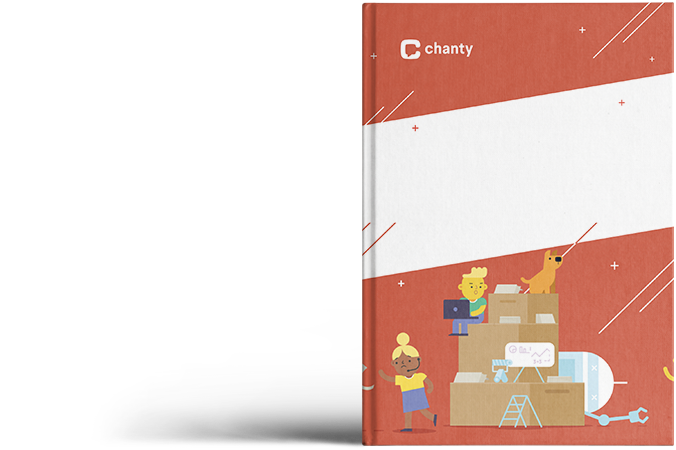 Communication issues at work?
"50 Surefire Ways to Improve Your
Team Communication"
Get eBook
Moreover, integrating Ryver with another app via Zapier is more complicated than it's in Slack. For starters, you'll have to create Zapier account, then Zapier will ask you to run a test that may result in some errors you don't know how to deal with.
The good news is there are some built-in integrations in Ryver e.g. Google Drive, Dropbox, Box which means you could upload files directly from these services to your conversations. The downside, however, is that you can't remove them from the upload popup in case you don't use them. And, of course, in both tools you can use integrations by creating webhooks.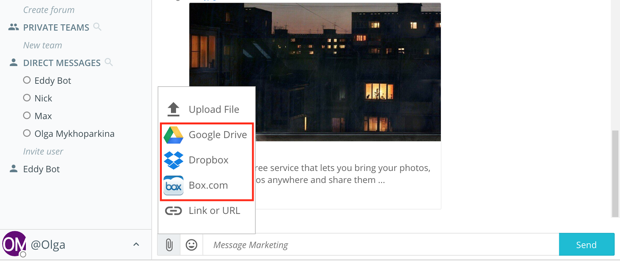 Takeaway? If you use integrations heavily, Slack is the way to go.
Ryver vs Slack interface
The first impression you get when you open Ryver is that it feels a bit like '90s. The design seems kinda heavy and user interface is rather complicated.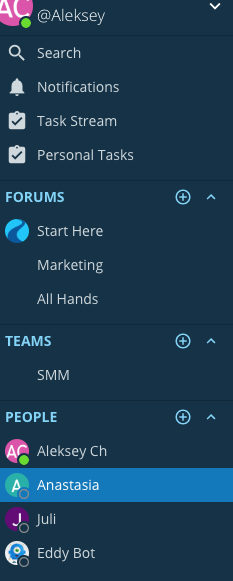 The left panel in Ryver
What is the difference between Forums and Teams? What does 'All Hands' mean? Why 'Task Stream' and 'Personal Tasks' cannot be wrapped up under a single 'Tasks' menu item? I had a lot of questions. My first impression is that Ryver can do better when it comes to creating great user interface and user experience.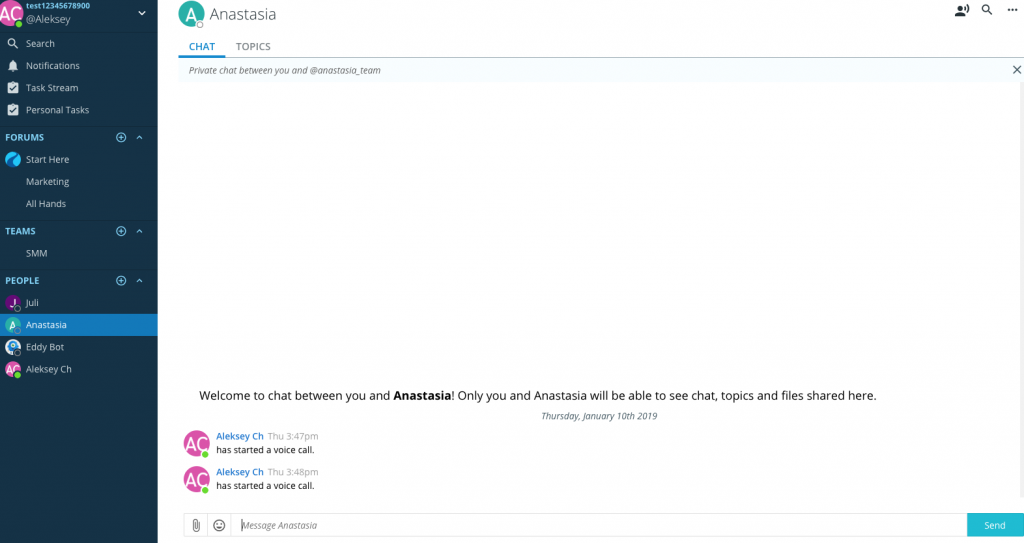 Slack interface looks cleaner, friendlier and more organized. The variety of different features is hidden behind the buttons: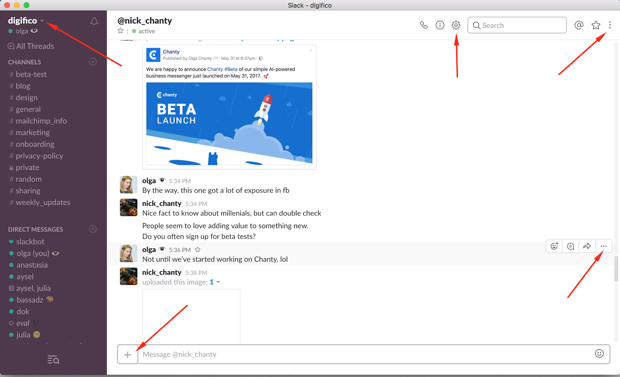 Slack interface
When it comes to design and interface, Slack beats Ryver 1:0 with flying colors.
If the ease of use and simplicity of a team communication tool is what you are after, you should totally take a look at Chanty, the team chat we are passionately building.
Ryver vs Slack conversations
Just like Public, Private channels and Direct messages in Slack, conversations in Ryver are organized into open Forums, private Teams and direct messages with People. Slack lets you share, pin, comment, add reaction, edit, delete a message or even follow the particular message and send a reminder.
In Ryver you can create a task out of a message, set a reminder, add a reaction, start a topic (it's like threads in Slack), edit, delete or reply. I didn't see the pin option in Ryver which is quite handy. E.g. you can pin any message in Chanty and view all the pins any time to quickly get back to what's important.
Ryver vs Slack video and audio calls
For a few years Slack was doing just fine without built-in video calls. Google Hangouts integration used to take care of this issue. Finally, in 2016 Slack has introduced their native video calls so the teams are now able to make a voice or video call directly in Slack.
As we've tried video calls in Slack with our team, we haven't experienced major issues, except some minor bugs while turning camera on and off during the video conversation.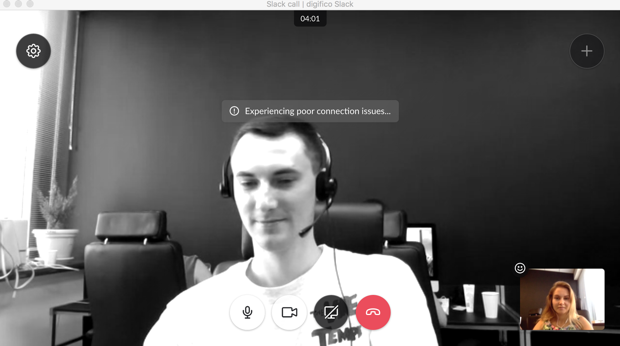 Some bugs occurred during a video call in Slack
Slack supports emojis that you can add to the middle of the screen while having a video call which honestly look a bit weird.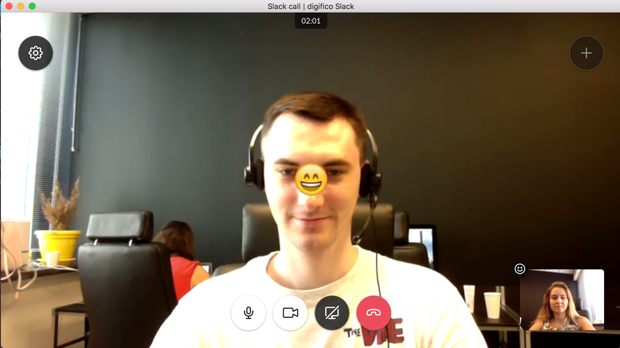 Using emojis during the video call at Slack
Earlier, Ryver voice and video calls were possible thanks to integration with FreeConference. However, since 2018 Ryver provides a built-in solution for audio and video meetings. As we tested them briefly, we noticed no advanced call features. E.g. you can't react with emojis to what your colleague said (like in Slack) or record a call (compared to Microsoft Teams). However, the call quality was rather good.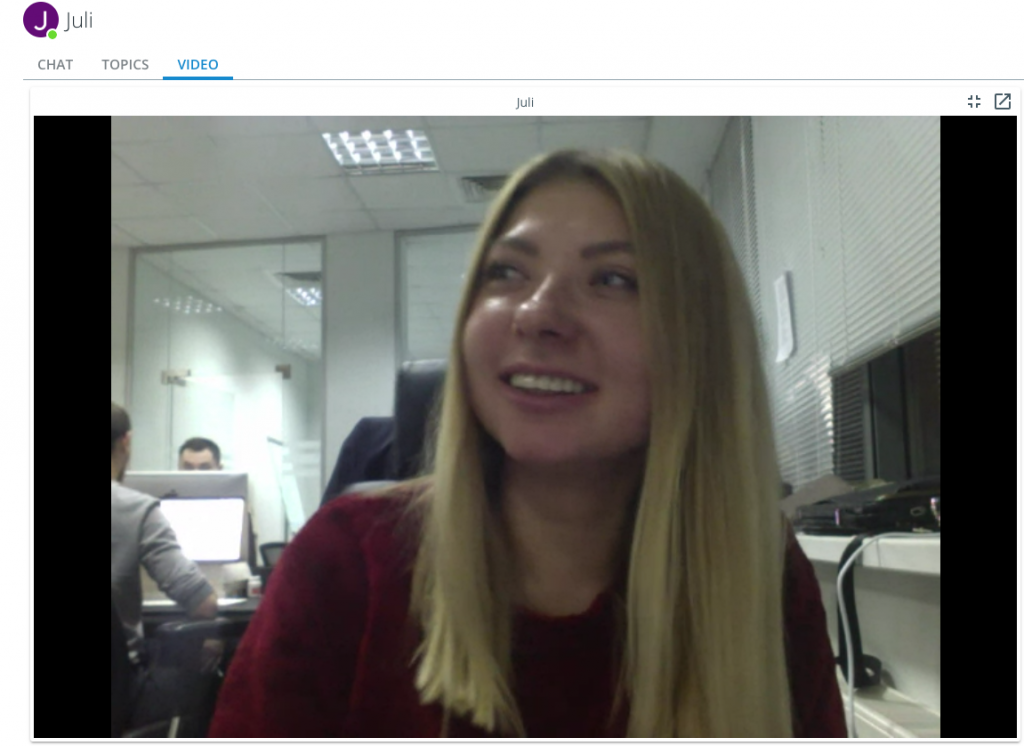 Video calls in Ryver
There's no single answer which app is better when it comes to voice and video calls.  However, keep in mind that in the freemium version of Slack you'll be able to make 1-to-1 calls only, while Ryver claims to have unlimited audio and video calls in all plans.
At the same time, none of the tools delivers the built-in voice messaging feature, which is really handy if you are on the go and need to share a quick thought with your colleague. This is where Chanty might step in. You can record voice messages in the tool to deliver important information asap. Being a smart yet easy-to-use Slack alternative, Chanty has all basic team chat features, along with useful advanced goodies like a built-in task manager.
Book a demo with Chanty team and enjoy boosting your productivity with our tool.
Ryver vs Slack search
Search functionality in Ryver is quite simple. It lets you search within a particular conversation as well as across all your team conversations. You type in the word you are looking for and it gives you the results. That's pretty much it, no search operators, filters or search within documents.
In Slack, for a change, there are more options like specifying a time period to search for.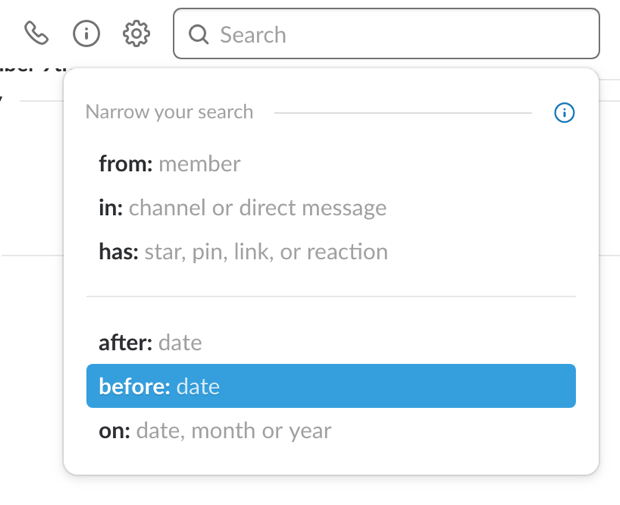 Search options in Slack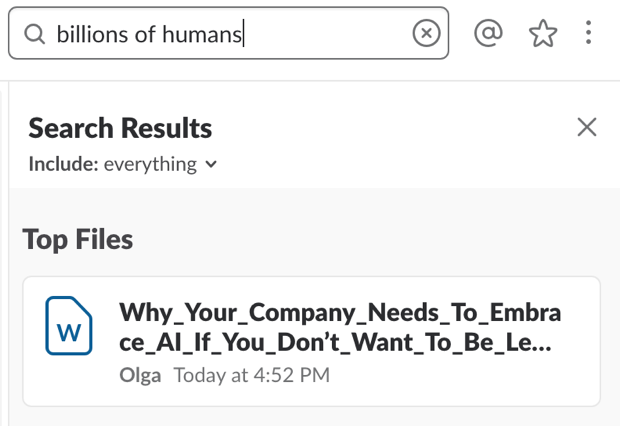 Slack search within file
What you can find particularly helpful in Slack is its search within files. Say you are searching for a doc, you don't remember its title, but you can recall some of the words in the text. You can type them in and Slack will find that document.
Here's the takeaway – choose Slack for more advanaced search options. If your teammates aren't too demanding when it comes to search or don't use it that much, Ryver does its job just fine.
Ryver vs Slack file sharing and storage
Ryver offers unlimited file storage, but they don't specify the file upload size. We've experimented with it and it turned out 200MB is the maximum file size you can upload. (In 2018, when we first wrote this article, it was 300MB). Ryver has a built-in integration with Google Drive, Box, DropBox, for you to  upload multiple files. If you don't use these apps to store your files, you'll still see the cloud storage options every time you choose to upload a file.
Slack Free plan lets you store up to 5GB (for the entire team) while Pro plan allows up to 10GB per member and Business+ up to 20GB per team member. The maximum file size that you can upload to Slack is 1GB.
Ryver vs Slack notifications
The amount of information people share via team communication tools could become overwhelming at times. Therefore, the app you use should be smart enough to keep you away from the unwanted notifications.
In Ryver, you can manage notifications on both conversation and app levels. It's also possible to control email notifications, setup do not disturb mode and choose the specific sound for alerts. We haven't found keyword notifications available in Ryver. What's nice though, is the Notifications menu where you can view all of the updates in a single place. It's where you go if you'd like to quickly get up to date with all the missed messages.
Slack notifications are highly customizable. At 'Notification preferences' you can even set up a keyword notification, so when someone types a specific keyword in a particular channel, you'll get notified. There is also an option to set up the time when you don't want to get notified (do not disturb mode) and more.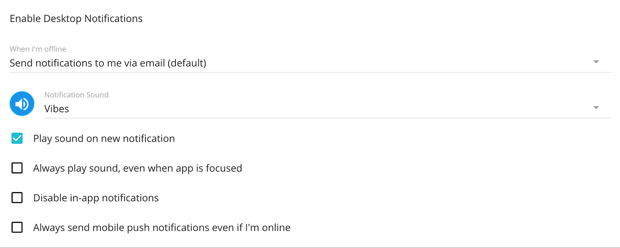 Ryver notification settings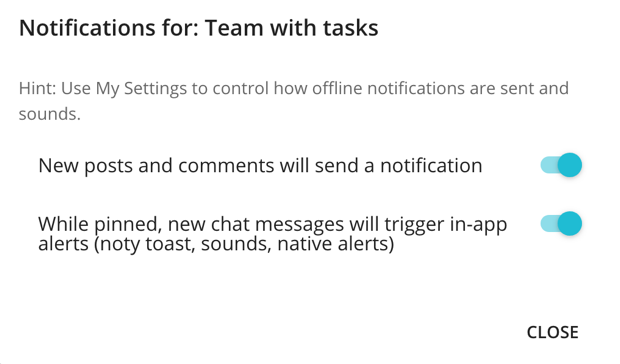 Ryver in-conversation notification management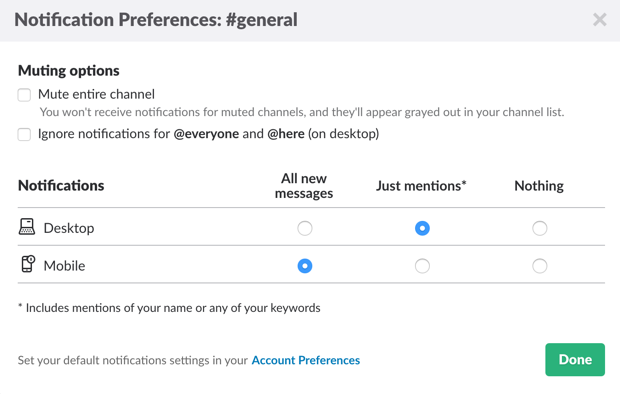 Notification preferences in Slack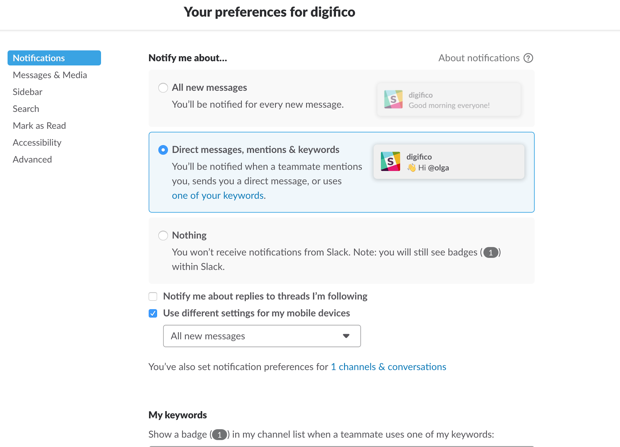 Notification preferences in Slack
The key takeaway is that notifications in Slack have more advanced controls. If you need to trigger alerts based on the keywords, mentions or specify the time when to get notified, Slack would be a better option. In case you need one place to read all the messages you've missed – Ryver is the way to go.
Ryver vs Slack pricing
Slack has adopted the freemium pricing model which means its light version is available free of charge. It's limited with 90 days of messaging which is a big pain for many Slack customers, 10 integrations and 5GB storage. You can't make a voice or video call unless it's one-to-one. Screen sharing and many more useful options are also unavailable for free users.
The paid plans in Slack start at $7.25 per user, per month giving you options like guest access, screen sharing, up to 15 people in voice and video calls and much more.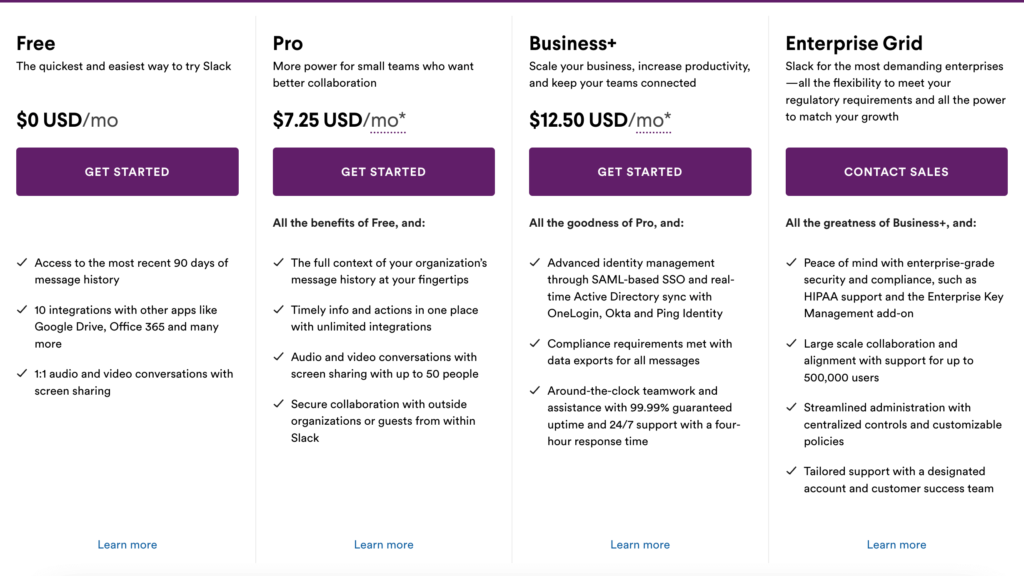 Slack pricing plan
Ryver was positioned as a free alternative for quite a long time. Since 2018, it has no Freemium plan, even for small teams. It only practices per user pricing for the enterprise plan, while for the other plans, charges per team, per month. Now every team of more than 12 people is charged $99.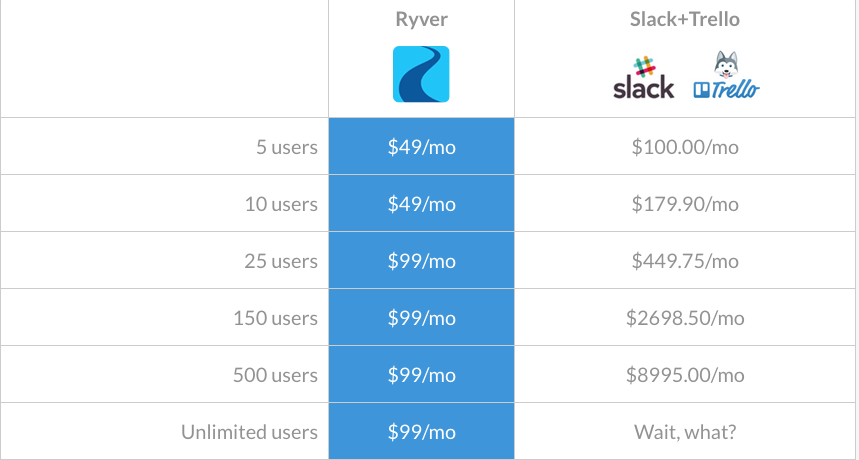 Ryver pricing plan
Ryver vs Slack customer service
In the first edition of this article, I wrote about my poor experience with the Ryver support. I asked them how they handle integrations and didn't receive any answer even a week later. Their replies on the blog weren't so timely as well.
However, I must admit, Ryver support seems much better now. Recently, I turned to it twice, exploring the tool, and they got back to me within just ten minutes.
I didn't turn to Slack support in a while. Last time we checked it took about two hours for its support team to get back.
It seems like both tools made customer care a priority. At Chanty we are doing our best to move the same way and go every extra mile to meet our customers' needs.
Ryver vs Slack task manager
Ryver combines team chat and task manager. That's how they are different from Slack, they say. Luckily, once you sign up for Ryver, you receive 14 days access to all features, including the 'assign-a-task' feature in the task manager. We were able to give Ryver task manager a try.
The Trello-like Kanban task board looks like this: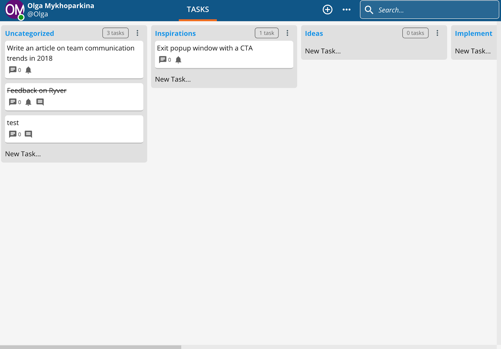 Ryver task board
You get categories, tasks that you can tag, comment, set due date, attach files, etc. What's useful is that you can create a task out of any message in Ryver. The difficult part started when we've tried to set up some tasks.
Initially, I wasn't able to assign a task to my colleague out of the message in a conversation with her. The search results did not return any Forum or Team, that's why 'Assign to field' was disabled and no team member could be assigned to the task.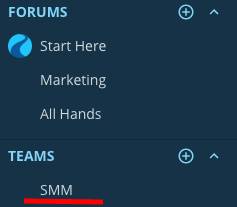 I created 'SMM' Team in Ryver

I couldn't find it when setting up a task.
I turned to the Ryver support team, and it turned out that Tasks must be 'initialized' before you can use them. This should be done by clicking on the "Tasks" tab within the Team or Forum.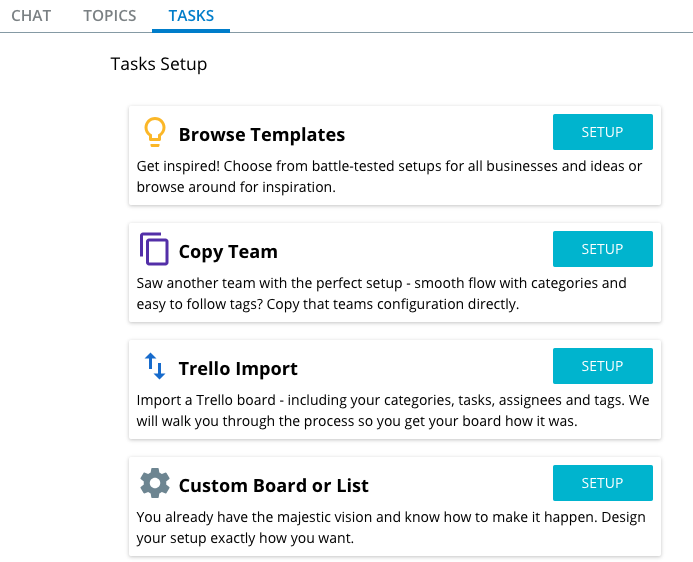 "Tasks" tab within a Team
This didn't seem intuitive to me. It's very hard to guess you need to do 'Tasks Setup' for each Team or Forum before assigning a task. All this brought me to thought that 'Tasks' feature in Ryver might need some improvement.
Slack doesn't have a built-in task manager. But you can still turn any of your message into a next step due to Actions feature available via deeper integration with enterprise software Jira, Asana, Zendesk and more.
Let's have a brief look at how it works on the example of Asana. After adding the app to Slack, it appears as a separate channel.
Then, you type in any of the suggested commands depending on what you want to do. E.g. for creating a task you would type "/asana create@.

Typing in a command to set a task in Slack
After this, Asana's modal box will pop up so you can set up a task.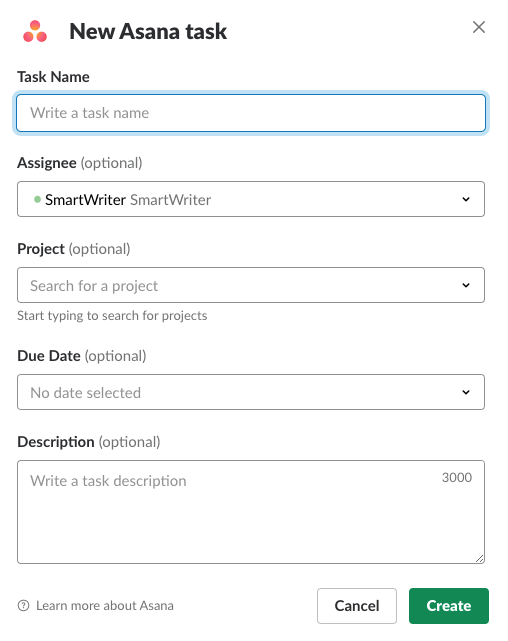 Creating a task in Asana via Slack
Finally, the task appears in your Asana workspace.  
To wrap it up, integrations whether they are built-in or not are tricky. Implementing them should be easy enough, so it would be practical to use one app with an integration rather than two dedicated apps.  
Key takeaways
Was Slack the pioneer in a team communication niche? No. There were many apps people have used for communication at work before. However, Slack managed to create a buzz about their product, brought in several conceptual innovations into organizing communication. Here's another pro: Slack is fun to use (unlike the well-known apps that existed before Slack was even launched).
Is it the task manager that Slack lacks? Integrations with to-do lists and task managers make it possible to effectively manage tasks in Slack.
Well, what are the cons then? Many consider Slack expensive and cumbersome. It continuously becomes slower with the insane amount of freemium users leading to a steadily increasing volume of server traffic. Slow, expensive and overcomplicated – these are the pains our customers point out as well.
Ryver is on the mission to make an even better Slack-like app. Obviously, it doesn't have the budgets of Slack. It does its best trying to gain the competitive edge. The battle gets especially difficult when you are fighting against a very strong niche leader backed up by billions of investments.
This is when you get creative and come up with all kinds of innovations for your product. Ryver has chosen to combine task manager and team chat in one product. After using Ryver for a while, I can't say it was very intuitive or simple. They do have many features, but their interface makes you wonder which button or icon to click next.
After using Slack and Ryver you can clearly feel the need for a simple, very simple tool. This is where Chanty comes in. Give our team chat a try and make your life at work a bit easier.