Zoom has exploded in popularity and therefore so have alternatives to Zoom, and there are a lot of them!
But, when someone mentions the word meeting to you, you probably imagine a room full of people in a corporate building. What about a classroom? A room full of kids at the school, right?
This was certainly the norm a couple of years ago, but all that has changed in a matter of minutes. Two years ago, it would've been hard to imagine the struggles of organizing a class or a meeting without leaving your home. When the pandemic happened and forced us to think of some alternatives, Zoom had our backs.
Even though Zoom was around for quite some time, it wasn't until the pandemic that it rose to its fame. In fact, it had a 225% increase in March 2020, in comparison to the previous month. This conferencing tool became the place to be for company meetings, events, parties, classes, reunions, and some besties quality time.
However, after a while, people started to question how much their servers cound handle. There were even some security issues that Zoom was facing, called zoombombing (when an uninvited guest joins the call), and the companies weren't happy about it.
Even though it's a lot safer than it was back in March 2020, people still want to be cautious. Zoom is trying to cater to a huge number of people, and it might be too much for it to cope with.
On that note, it is always a good idea to have some alternatives, just in case. If you plan to continue using conferencing tools, it's worth looking at some of the alternative platforms we've picked out as our favorites.
So, let's make a quick review of the best Zoom alternatives out there: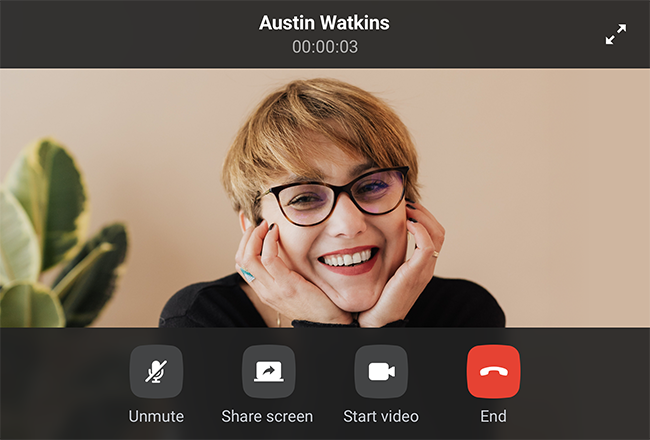 We launched Chanty in 2017 as an all-in-one collaboration tool that covers communication, audio & video calls, as well as task management with the Kanban board.
As a collaboration platform, it combines communication and management. You can share your screen while presenting, share documents, and send text messages, set tasks, and use Teambook to access all your content.
The messages and files you share are saved and you can always go back to them. The chats are organized in private, public, and one-to-one conversations. In addition, you don't have a limit in your searchable message history.
Similar to Zoom, Chanty is quite easy to use, so kiss goodbye to that learning curve and reading the guides on how to get started.
Chanty also integrates with other apps such as Google Drive, Asana, Giphy, Trello, Github, Zapier, Onedrive, Mailchimp, Gitlab, Bitbucket, Dropbox, and many others.
The one-on-one audio meetings and voice messages are offered in the free version of Chanty, while the group audio and video calls are available in the business plan.
However, unlike Zoom, the business plan is quite affordable – only $3 per month. In the business plan, you also get unlimited integrations and a dedicated support line.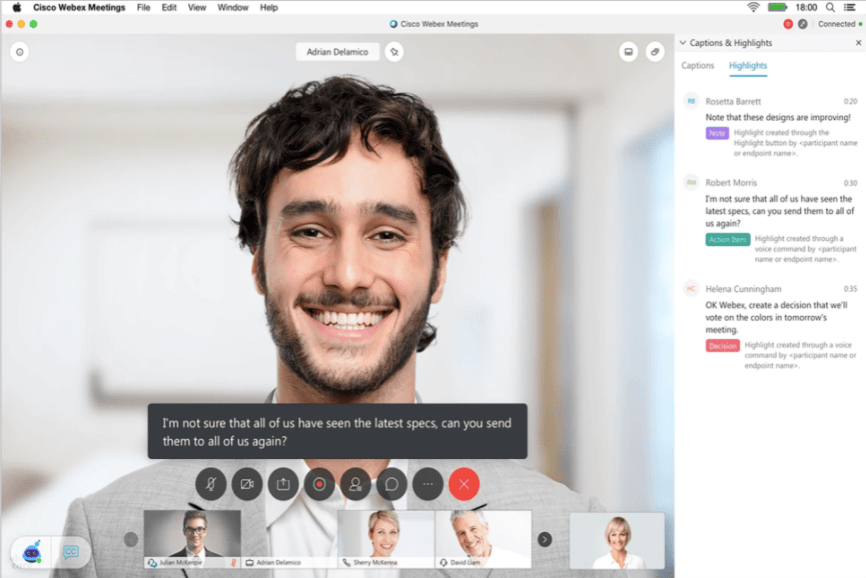 Having in mind Cisco's reputation, this platform is one of the best. It enables video and audio conferencing along with the tools you can normally use during calls. It is famous for its flawless audio and video calls.
In addition to your everyday features, Cisco also offers virtual whiteboards. You can even separate and then navigate them as thumbnails. Other trademarks are record and playback ability, screen sharing, and presentation tools.
Cisco lessens the background noise, and you can use video callback features with ease. You can also have a meeting with thousands of participants across the globe without a language barrier since it supports over 10 languages including French, Chinese, Russian, Italian, Turkish, and Spanish.
Its interface is quite simple to use, and you can easily share documents or other applications, navigate, and schedule meetings, and record your calls.
The price range goes from a free plan to a business one which would cost you $29.95 per month. With the free plan, you get to have one host, but with the business one, you can have up to 100. The business plan also offers unlimited hours of calls, unlike the free one which will only give you 50-minutes meetings.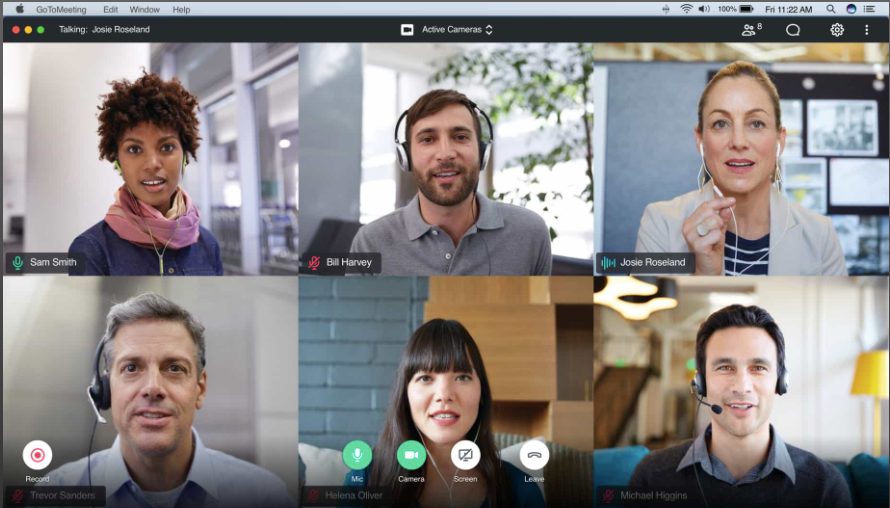 GoToMeeting is one of the best choices out there due to the number of features it offers, such as screen share, unlimited recording, calendar integrations, more than 25 active web cameras during calls, personal meeting rooms, downloadable reports, admin center, mobile app, meeting transcripts, meetings with up to 250 people, and many more.
The app allows you to schedule meetings and include people from across the globe. With its 365 plugin, you'll get flawless management of meetings from your calendar.
There are other features too, such as cloud recording for mobile app, on-the-go commuter mode, as well as voice commands, and the ability to transfer your mouse and keyboard control to another participant during the meeting (cool, right?).
Feel free to use GoToRoom option to convert your conference rooms into collaboration centers, use features such as raise a hand, polling, etc. if you want to make your meetings more intuitive. Also, the communication is encrypted and protected from hackers.
Unfortunately, it might get pricey since they don't have a free plan. They start with the basic one which is $24 per user, and up to the premium which is $39 per user. The basic offers 40 minutes per meeting with a maximum of 4 participants, while the premium provides you with an unlimited duration of meetings with up to 250 participants. You can always get the standard plan which is $29 per user with an unlimited duration of calls and up to 150 participants during a meeting.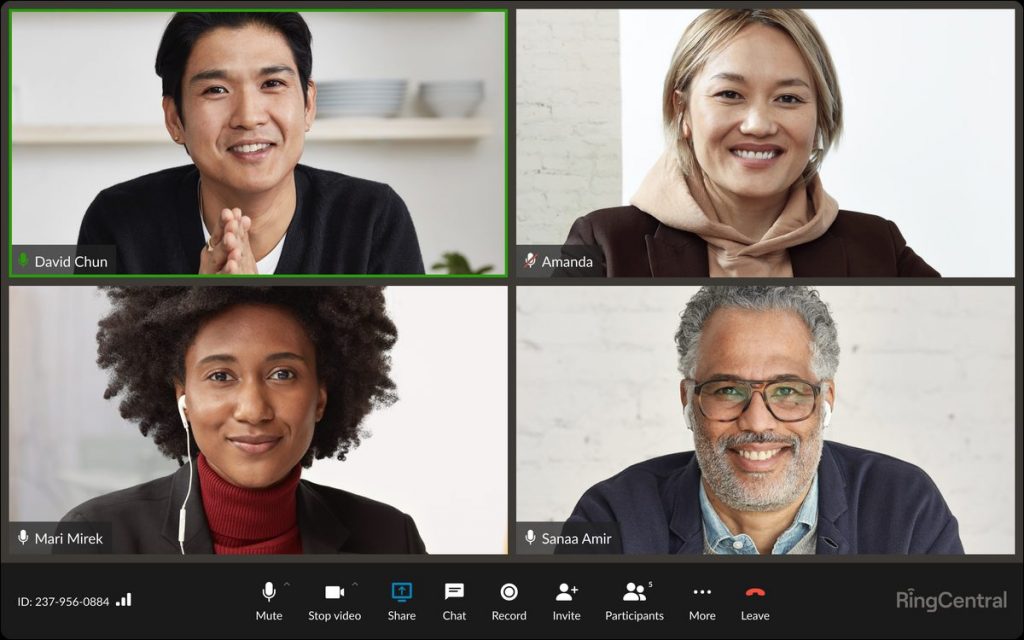 As a Zoom alternative for audio and video conferencing, RingCentral offers its video meetings solution—RingCentral Video Pro. Its free version allows you to host online meetings for up to 24 hours and invite up to 100 participants.
To make virtual meetings more engaging and interactive, meeting participants can use different features such as virtual backgrounds, screen sharing, raise a hand, and the chatbox to send private and group messages.
With the RingCentral App for mobile and desktop, meeting participants can use any device to join meetings. The Call Flip feature also allows them to seamlessly switch a meeting between devices with just one click.
If they don't want to download the app, they also have the option to instantly join the meeting from their web browser.
RingCentral Video makes it easier to review the content of your meetings with its call recording and live transcription features.
If you want to upgrade the number of meeting participants to 200 people and get access to more advanced features—including business app integrations, data analytics, and admin controls—consider getting RingCentral Video's paid plan, RingCentral Video Pro+, for as low as $11.99 per user per month.
As one of the leading UCaaS providers, RingCentral also offers an integrated communications solution called RingCentral MVP that combines message, video, and phone capabilities into one unified platform. Plans start at $19.99 per user per month.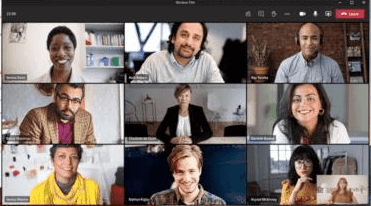 If you rely heavily on Microsoft, then this is the right choice for you. Naturally, it offers the essential messaging features and all the media you'd expect from a chat app: emojis, stickers, or GIFs.
Feel free to hop on spontaneous audio or video calls since they are kind of a big deal with Microsoft Teams just like its alternatives. Also, you get the chance to create channels, use polls, transcriptions, and live captions during your calls, hide non-video members, use gallery views or the together mode to appear together on the screen.
It integrates with the Microsoft Office suite for collaborating on notes, documents, or calendar appointments. Outside of Microsoft 365 products, it also integrates with Trello, YouTube, Karma, etc.
One of the downsides is the process of getting started with the app. The setting up might be intimidating since there are few steps you need to follow: sign up and then download it. The same goes for the interface too. If you are familiar with Microsoft Office products, you'll know it takes a while to learn how to navigate around them.
Teams offers several plans. The free version doesn't let down. It gives you online meetings, 100 participants on a call with a maximum duration of 60 minutes, storage of 10 GB, and unlimited integrations with Trello or Evernote among others.
However, if you want to get the best of Teams, you should pay. The most expensive one is the Microsoft 365 Business Premium which is $20.00 per user. With it, you'll get up to 500,000 users. In addition, you can have online event hosting for 10,000 users, and unlimited cloud space.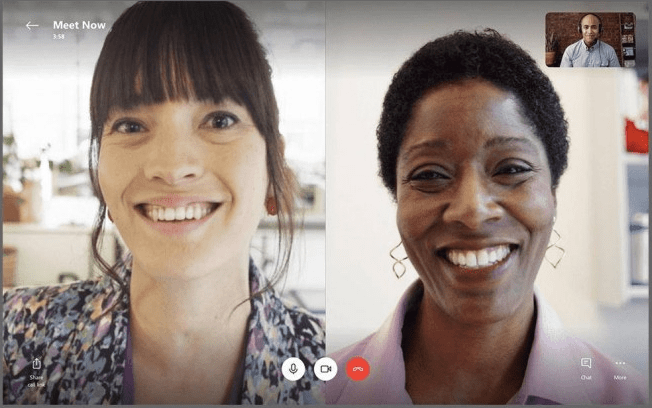 When it comes to online meetings, Skype is probably the first thing that pops into your mind. As a matter of fact, Skype was the one that introduced us to online meetings, so it wouldn't be right if it didn't make it on this list.
Initially, it was used as personal video chat, but with its newest feature Skype Meet Now, it can be used as business video software. With Meet Now, you can have your meeting without signing up or downloading the software. Just create a meeting room and share your link with the participants you want to join the call. So starting a meeting became a walk in the park.
It offers everything you need for your calls to run smoothly: share documents, GIFs, emojis, screen share to share images, presentations, or anything else you want for up to 300GB, and even though you cannot have a different background during your call you can still blur it.
Additionally, it offers call recordings with live auto-generated subtitles. Once the call has finished, you can easily get back to the link whenever you want, listen to the recording, and check any shared files.
Meet Now integrates with Outlook, it has end-to-end encryption, it is capable of translating voice calls, instant messages, even video calls in real-time. Besides, it will forward your call to a different number or send it to voicemail if you are not available.
The good news is that it is free, but landline or calling services start at $2.99 a month.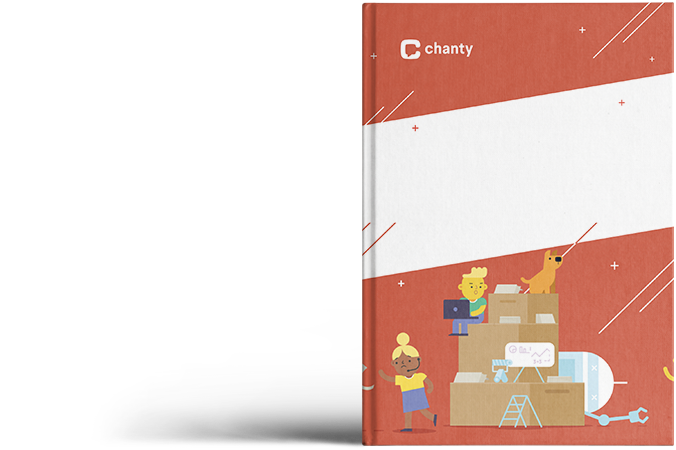 Communication issues at work?
"50 Surefire Ways to Improve Your
Team Communication"
Get eBook
Zoom Over
Having the right video conferencing app is essential for any business and its teams. And while Zoom is great, its issues made people think of other solutions out there.
There is no one-size-fits-all solution. At the end of the day, when it comes to choosing the best one for you, it boils down to your goals, use case, number of participants, and budget.
However, remember that if you need to tackle project management, you might need something more than Zoom.
We believe that Chanty is the pick of the bunch, even though we are a bit biased. In addition to the impeccable video quality, you get to manage your teams, create tasks, and track progress.
For a true alternative to Zoom…why not zoom on over to Chanty?