Following the current world events, your company's financial health is probably consuming your thoughts more than normal. You can be more cost-effective with your employees, time, and assets by collaborating in innovative ways.
Many businesses save money by eliminating the need for several communication apps by using all-in-one collaboration tools. Using a single tool allows you to focus on other integral parts of your organization.
Collaboration has been spoken about more than ever in recent years. Communication and collaboration tools are among the most crucial components of any successful corporate objective, and each organization's definition of collaboration is different.
This is highly dependent on the products and services provided, as well as the organization's overall aims. Generally speaking, collaboration is defined as two or more team members working together to solve a problem and accomplish a shared objective.
Here's how organizations can save money by using collaboration tools:
Cost-cutting through reduced complexity
Even though various team collaboration tools are meant to help us, you may overlook the hidden expenses associated with it. However, combining numerous collaboration technologies into a single suite can result in significant cost savings.
Instead of dealing with several providers, you can choose a platform that provides all-in-one services and incorporate a single contract. When compared to combining services from various best-of-breed solutions, usually results in a substantially cheaper overall cost. It also alleviates the administrative strain of frequent renewals.
Chanty is an easy-to-use team collaboration tool that ​​turns a simple team chat into a powerful business tool and helps achieve new levels of productivity with third-party app integration, all under one roof. Make use of organized notifications on everything that happens in your team, track progress, and automate tasks. Free your time from switching between multiple apps and accumulate collaborative efforts in a single place.
According to Forrester Research, firms can save $8.8 million by migrating to an all-encompassing platform. Over three years, total costs average $3.2 million, resulting in a net present value (NPV) of $5.6 million.
Work more efficiently and save time
Saving on time and being more productive can lead to cost savings associated with unproductive employees and lost time. Teams can work quickly and efficiently when they can access information and interact effortlessly from anywhere, using a single tool.
With employees of different departments working across various floors, offices, or even continents; it can become difficult to exchange ideas and stay consistent. A combination of solutions allows you to store material both in-office and online.
An all-in-one team collaboration software can boost productivity more effectively than discrete solutions. Everyone wins when your employees get the tools they need to succeed.
Ensure security and compliance
What is more precious than the information held by your company? Your security team is probably concerned about your firm's data security posture as the possibility of data breaches continues to climb. You should be, too.
Hackers are much more prevalent than before, causing financial, brand, and employee relations damage. Risks can also come from within an organization when an employee mistakenly puts the company at risk by clicking on suspicious links or transmitting critical information externally using an unsafe app.
It's not only easier, but it's also safer to use a set of collaborative tools. You'll know where your company's data is kept, who has access to it, and what security and compliance measures are in place to keep it safe.
Reduced employee costs
When employees are able to work from any place, you have the option of allowing them to work from home more frequently. This not only lowers your costs, but it also boosts motivation among employees who have young kids or other obligations that necessitate flexibility.
Moreover, the costs of renting an office space is significantly reduced. Besides this, you can employ talent from all around the world, allowing you to get a hold of an efficient pool of employees that will result in increasing your profitability.
Reduced travel costs
Traditional teamwork is primarily reliant on costly face-to-face interactions, especially when dealing with colleagues from various parts of the world. As stakeholders go online and share materials, monitor projects, and invite answers, cloud collaboration technologies allow you to reduce meetings to a bare minimum. Also, your team does not have to travel to work every day saving everyone tons of travel costs.
Reduce cost with cloud storage
Employees may collaborate and share remote work with greater precision and timeliness when organizational data is stored in the cloud—key elements in productivity improvement and cutting costs. When compared to obsolete and restrictive in-office systems that don't work well, the financial benefits are clear.
Furthermore, cloud technology quickly replaces all types of rigid and costly technologies.
Tips on implementation of collaboration tools
Collaboration tools might have a lot of various elements that can take some time to understand. However, if utilized correctly, it can prove to be really effective. If you can internalize the following tips, you should be able to get back on track with minimal disruption.
Start slowly, but start soon
It might be difficult to adjust to a whole new work environment, especially for team members who have never utilized collaborative tools before. Starting slowly helps you and your team to dip their toes into the water rather than diving in headfirst, resulting in less stress and problems. If your employee is unduly perplexed, productivity will suffer.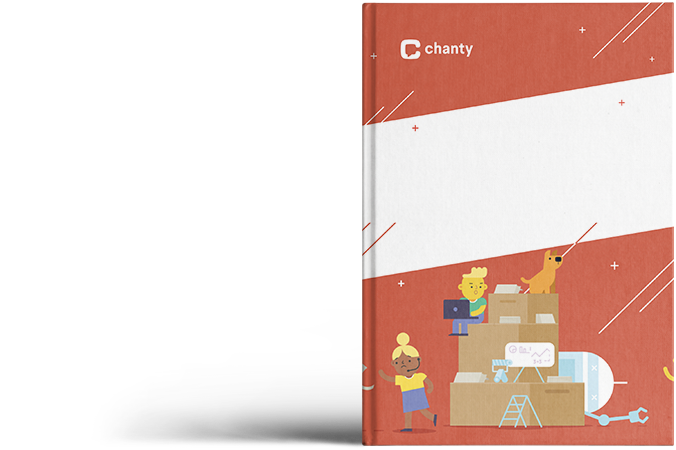 Communication issues at work?
"50 Surefire Ways to Improve Your
Team Communication"
Get eBook
Select the correct software
Finding the right software that is ideal for your company can be a difficult task with so many options to pick from. Look for anything that lets you collaborate easily, exchange documents effectively, and pitch ideas to the broader community. To make it easy, we recommend Chanty as your ideal software to invest in as it has many useful features – all in one app which makes everything much more effective.
Book a demo before implementation
It's always a good idea to get a sneak peek of something before fully implementing it. Therefore, from your list of collaboration tools, ensure to take a tour by booking a demo for it. This will make you understand whether the software aligns with your company culture and if your employees can get handy with it.
Saving money using collaboration tools
Work has now become less about a physical place and more about access, which is provided by online collaboration tools. You can receive and post updates from any device with a browser, including phones. You can get your team to work together even if they're working remotely by employing collaboration tools.
The more your team works together, the more money your company will save. Using an online collaboration tool will undoubtedly save your department money – and you'll rapidly discover more savings as you use the system in new ways.
Making informed decisions about collaboration tools and tactics can result in a 55 percent increase in productivity.