To commence this discourse regarding effective employee communication we shall, before all else, formalize a definition for the term.
The above is an example of over-inflated written communication. Big words are used making the sentence unnecessarily complex.
In a 2019 study, Microsoft found that over a third of staff at SMBs say their biggest cause of stress is a failure to communicate effectively, and looking at how they communicate gives us a clue why:
"When asked what methods of communication they use on a daily basis, face to face engagement came out on top with 74 per cent of staff stating they use it, followed by email at 69 per cent and phone calls at 55 per cent."
But it's not just outdated approaches which determine whether communication is good or bad, but how that communication is handled.
This includes poor communication from over-inflated language, sharing important information by email only, or failing to follow up.
The importance of effective employee communication cannot be overstated. In this article, we'll show you how to make your communication smooth and useful by using the right tools and techniques.
Let's jump straight to it!
What do we mean by effective employee communication?
Effective employee communication means information is conveyed in a manner that minimizes confusion, error, and maximizes productivity.
I write for Process Street and we're a remote-based team that chats daily, online across different time zones. You can imagine how this could cause issues in our communication.
E.g. I send a message to a colleague at 9:00 am GMT. My colleague doesn't receive that message until 9:00 am EST (13:00 GMT). A lot of time has already been lost here and I don't want to lose any more time. So I should include all the information I want to convey to reduce back-and-forth. This saves time – one clear-cut benefit of effective team communication – through a technique called asynchronous communication.
7 communication mistakes that could be holding you back
Communicating effectively means encouraging dialogues within your team. It also means positioning a company's strategy to align with employee beliefs. Who wouldn't want that?
For effective team communication, the first step is to acknowledge and recognize common communication mistakes.
7 common communication mistakes are detailed below, as given by Bizfluent and Smarp.
Email overload creating confusion among employees: A 2018 study indicated 124.5 billion business emails were sent and received each day, with the average employee spending 13 hours a week on email management. This creates information overload, frustration, and stress. Employee communication via email may not be your best bet.
Dealing with device chaos: Using multiple tools and channels to coordinate workplace communication can confuse, making it difficult for employees to find the information they need. In this vein, keep reading and discover our top 5 effective team communication tools and how they can help you optimize workplace communication.
You're not communicating the right information to the right employees: You want messages to be read and engaged with. Consider organizing pulse surveys or focus groups to identify topics your employees want to hear about. Pulse surveys are super short surveys you send regularly to check in with employees.
Using over-inflated written communication: Using unnecessary big words and convoluted sentence structures is a common form of poor business communication. It creates confusion and makes it hard to understand the information.
Using selfish communication: If you're only quick to reply in conversations which benefit you, yet leave other people on read for hours, you're probably a selfish communicator. If you can't respond to someone now just ping them and let them know when you might get to it. If you're using Chanty you could turn a message into a task to come to later.
Lack of consideration and follow-through: Bad business communication occurs when one person fails to return calls, emails, return reports, or even neglects to say thank-you. Be nice. It doesn't cost you a thing.
Dialogues within your workplace are not encouraged: You want to encourage a two-way communication flow, which means supporting dialogues and conversations across the organization. It's helpful to get teams to talk to each other and to create spaces where people can run with ideas without having to think twice.
Using the right tools will help you avoid these common communication pitfalls. Keep reading to discover 5 top tools you can use to establish effective workplace communication. But first, what benefits does effective employee communication bring to a business?
Benefits effective employee communication brings to business
In addition to reducing time wasted, effective employees' communication can:
Create faster response times to problems and emergencies.
Help employees feel valued via installing and embracing feedback loops, with internal communication techniques creating a safe and encouraging environment.
Increase employee contribution and engagement because employees feel more valued.
Reduce retention, since more engaged employees are less likely to look for alternative employment.
Establish better informed and more capable leaders. Leaders who utilize modern internal communication techniques are more in-the-know regarding what their employees think and are working on.
Improve the ability to set and achieve goals, with correct identification and continual adaptation of these goals.
Enhance relationships by strengthening interactions between employees as they grasp each other's prospects and goals.
Inspire innovation with good communication acting as a motivator for constructive feedback, opinions, and new ideas.
Deter disputes with non-violent forms of communication preventing workplace clashes.
Improve employee morale via motivation and maintaining good team spirit.
Achieve collective team harmony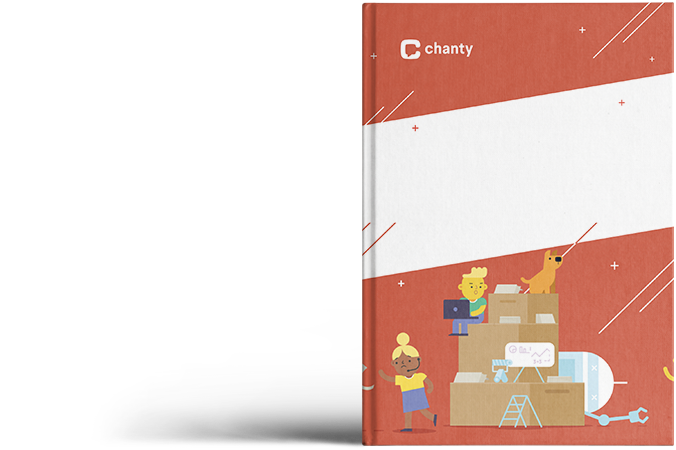 Communication issues at work?
"50 Surefire Ways to Improve Your
Team Communication"
Get eBook
5 top employee communication tools you should use
Too many tools lead to device chaos, as discussed above. You must use the right tools for effective team communication. Below are the top 5 employee communication tools you can jump in and use today.
Tool #1, Chanty for internal team communication
A simple and easy to use tool for synchronous communication, Chanty provides a secure and unlimited means for team-wide communication. Collaborate on information, files, links, set tasks, and bring more context into discussions, guaranteeing the right information is shared.
Information overload is prevented, with full control over what information you receive notifications for. Also, if you are using many applications, and running the risk of device chaos, messages between apps can be integrated within Chanty, making your life easier.
Tool #2, Process Street for SOPs and recurring processes
Process Street is superpowered checklists.
That is, Process Street is a checklist app and BPM software allowing you to document, standardize, and store business process information. From employee onboarding to setting up Quality Management Systems (e.g. ISO 9001), information for any business operation is communicated as in each checklist.
Process Street can be used to standardize and communicate all of your recurring workflows.
With Process Street's inbox, only relevant tasks will appear to avoid confusion. You can also connect Process Street to other communication apps like Chanty via Zapier.
Tool #3, Zoom for long meetings and webinars
Zoom is the ideal video conferencing tool for business.
A cloud-based platform that can hold online meetings, you can see how Zoom fits into your communication toolbox.
The application works on PCs, smartphones, and mobile devices, providing audio and visual forms of communication. Zoom rooms allow meetings to be split up into teams to convey information as needed to each employee.
Tool #4, Blogin for long-form internal communication
Blogin is an internal company blog. Think of Blogin as a space to relay news, feedback, and project information to your team. Everything is gathered in one place that can be viewed internally.
Employees can pick and choose the information they consume, granting them the ability to personalize their newsfeed. Also, feedback on ideas is easily given as people have been able to read a long-form explanation of the other person's idea. Sometimes taking a little time goes a long way.
Tool #5, Gmail because you have to use email sometimes
Despite questions over the effectiveness of email-to-email communication, most businesses need an email account. Gmail has 1.5 billion active users worldwide. As a service, it doesn't need a lengthy introduction.
With 15 GB of storage, Gmail can be used for businesses of all sizes to share information externally. It is a reliable, polished application, with advanced features, and reasonable spam filters to avoid information overload and malware protection.
On top of all that, it is possible to connect applications, like Gmail and Chanty, using Zapier. Zapier is an online integration tool that can move information between different applications automatically. With this, you can easily transmit external communication directly to your team.
Start strategizing for effective employee communication today
Without effective team communication, your business will see lower performance and it will hurt the bottom line. Luckily, poor communication is a problem that can be easily solved. Start by identifying the poor communication pitfalls highlighted in this article.
Next, sign up and implement our top 5 communication tools listed:
These tools are easy to use – designed to help you avoid the financial toll of non-effective employee communication.