Trello is a universally loved task manager among teams of all sizes. However, if for some reason, you are not fond of the platform, there are plenty of other options on the market. In this post, we are going to review the top Trello alternatives among project management and chat apps, comparing their respective features, advantages, and disadvantages.
What is Trello?
Trello is a task manager built as a stack of cards with tasks inside. To change the status of the project, the team switches tasks between boards. The platform has a ton of convenient features:

Easy file upload (you can attach documents straight from Google Drive or Dropbox)
Checklists – remind your employees to double-check their work before submitting it for review
Gmail integrations – you can reply to Trello texts from the email client.
Notifications that keep you updated on new assignments and the feedback on pending tasks. It's worth noting that Trello notifications have high email deliverability score – they don't end up in spam folders.
Color-coded labeling
Customizable theme
Friendly mobile interface
Lots of integrations. You can easily setup Trello Google Sheets integration or connect Trello with dozens of other tools and platforms you use.
For smaller teams working from home, there's hardly a better project management tool than Trello. However, large companies aren't as happy with the platform – they remark loading issues, belated notifications, Trello pricing and other little frustrations that can get in the way of completing projects in time.
Top 10 Trello Alternatives
If Trello is too messy for you, doesn't have the features you are looking for (such as built-in time tracker), or you want to shake the routine and try a new tool, here's the review of project management platforms project managers from all over the world swear by.
1. Jira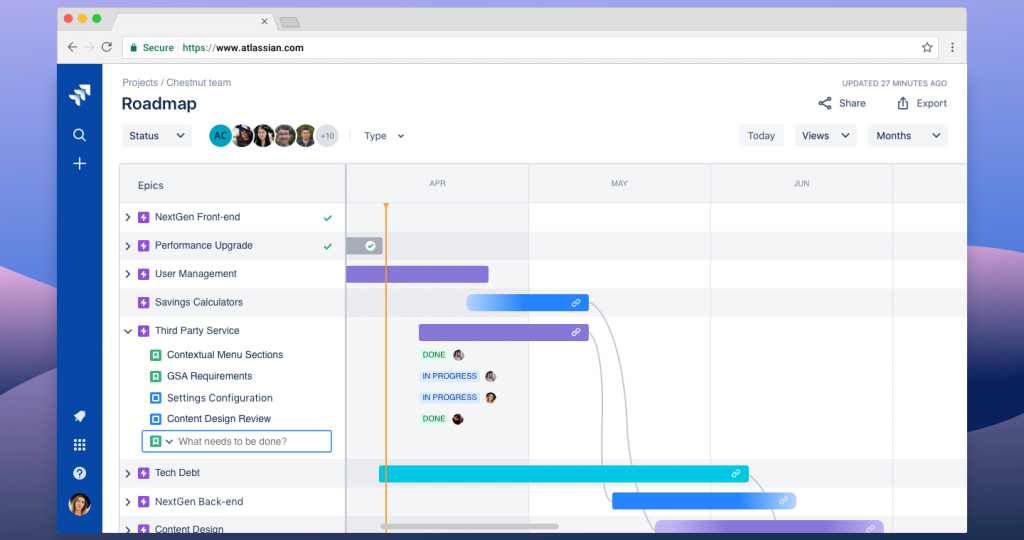 Pros:
Fully customizable
Easy to use
Cross-platform
Designed to fit the agile framework
Cons:
No features for testing and pass/fail tracking
No robust reporting
Maximum file upload size – 2GB

Jira is a project management tool designed to assist software development teams. If you work in marketing or design, programming-faced features might feel redundant – however, Jira offers a lot of universally useful features as well.

For instance, PMs can add third-party integrations from the official marketplace, switch between Kanban and Scrum, and other types of boards depending on the methodology they use, and track each employee's individual productivity.

Main features:
Custom workflows
REST APIs integration
Bug management and reporting tools
Data import from other systems
Issue and source integrations
Pricing: for teams with up to 10 members, Jira offers a free cloud version. You will be able to access an Agile task board, build reports and custom workflows for free. However, the file storage at your disposal is limited to 2 GB.

Larger teams should choose among paid Jira plans:
Standard: $7/m/user (up to 5,000 users)
Premium: $14/m/user (up to 5,000 users)
Self-managed (a server-based platform): starting from $10 as a one-time payment
Self-managed (a data center): starting from $20,400/year.
2. ProofHub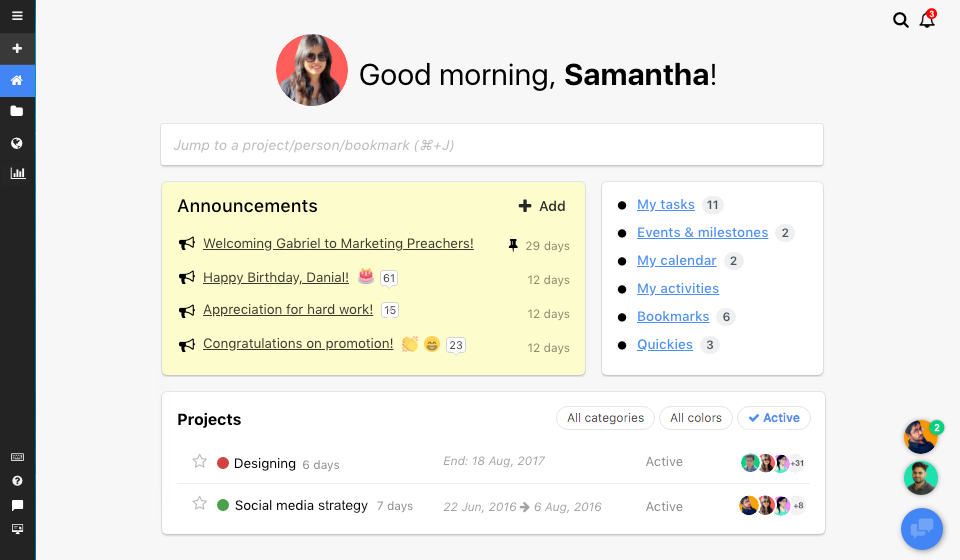 Pros
Easy to use
Real-time collaboration
Flexible
No per user pricing
Cons
Limited no. of app integrations
No video proofing
Limited AI
ProofHub is a popular project management software with powerful collaboration features. This all-in-one software allows you to stay in ultimate control of tasks, teams, and projects. You can add tasks with deadlines and assign them to team members. There are custom workflows for agile task management.
ProofHub also has an in-built chat app, and a dedicated space for real-time discussions to boost your team collaboration efforts. Custom reports allow you to set parameters of your choice so that you can plan your projects and resources more efficiently.
Main Features
Task management
Custom workflows
Online proofing tool
Real-time discussions
In-built chat app
Gantt charts
Custom reports
Pricing
There's a free trial, and the Ultimate Control plan with unlimited users and projects is available at $89 per month.
3. Teamwork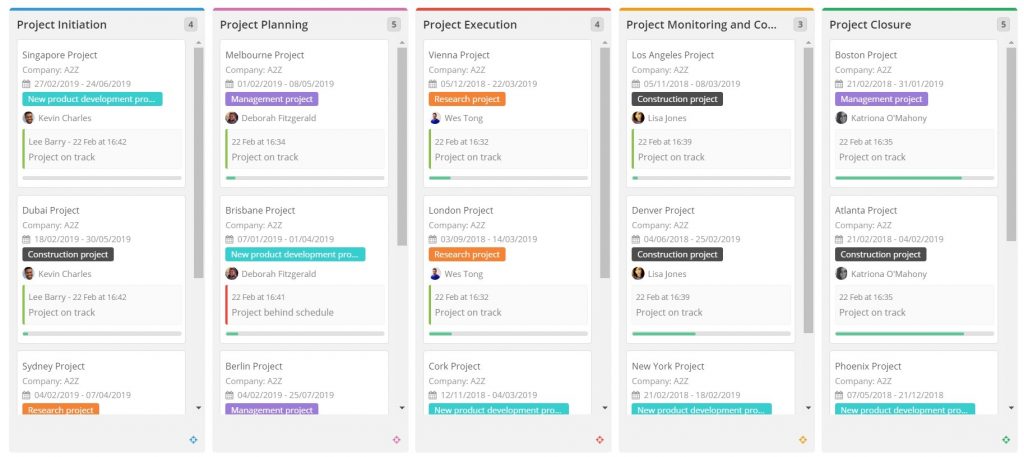 Pros:
Automate your workflows and cut out, manual repetitive tasks
Organised document sharing
Connect with all your favourite tools
Track your to-do's by creating tasks only visible to you
Cons:
· Free version is very limited
Teamwork is an all-in-one project management platform made for teams and client work. Collaborate in real-time and deliver projects on time and on budget.
Main Features:
Track every detail of your project from start to finish
Choose pre-built templates from the template gallery
Record custom details for your projects or tasks
Mobile app to manage projects and work on the go
Track, report, and bill client requests
Pricing: Free, paid
4. Asana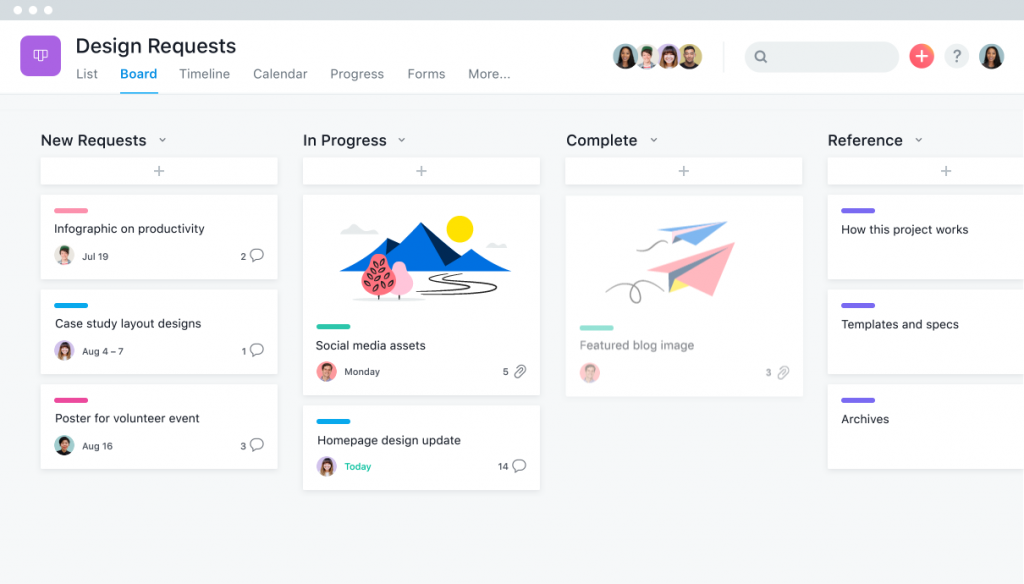 Pros:
Hundreds of third-party integrations
State-of-art storage security
Customizable dashboards
Clear task prioritization system
Cons:
Can get overwhelming for inexperienced teams
One task can only be assigned to one person
Limited report exporting (as JSON and CSV)

When PMs are discussing Trello alternatives, Asana comes up immediately. It is a favorite task manager for teams of all sizes – it's responsive, intuitive, with every tool you need to assign and track the completion of tasks.
Although Asana has a couple of evident drawbacks – a 100MB file size limit for one, robust sharing possibilities, advanced reporting, and dozens of integrations fully make up for these.

Main features:
Fully customizable interface
Robust project permission settings
Email client integrations
Tracking tools
Third-party plugin support
Simultaneous support for multiple workplaces
Pricing: Asana is available as a limited free version that supports up to 15 users. Larger teams will have to pay $21/m for 5 users.
5. Good Day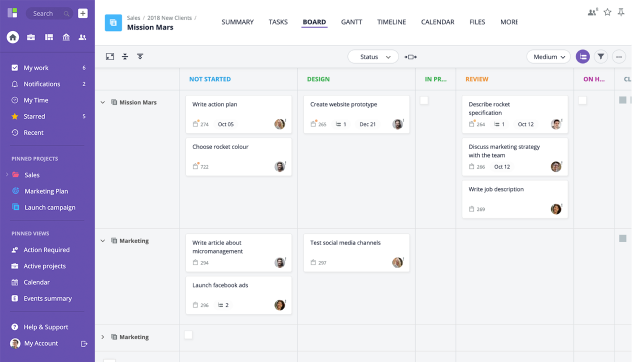 Pros:
Intuitive, with drag-and-drop navigation
A wide range of project management tools
Proactive customer service
Cons:
Low mobile-friendliness
Few third-party integrations
Limited collaboration tools (you can't assign a task to several users or create subtasks)

If you haven't heard of Good Day before, it's time to give this Trello alternative a try. You can use the platform for project planning, budget and deadline estimates, researching business opportunities, data visualization (Gantt charts are supported) and other routine tasks.

Good Day offers feature packages for marketers, programmers, CEOs, and executives. The platform is an excellent tool for resource and project management, with proactive customer service.

Main features:
Kanban board
Gantt charts
Customizable report templates
Resource management tools
Custom workflows
Pricing: there's a free version and a free premium trial. To make the most out of Good Day, you will have to pay $5/user/month.
6. Monday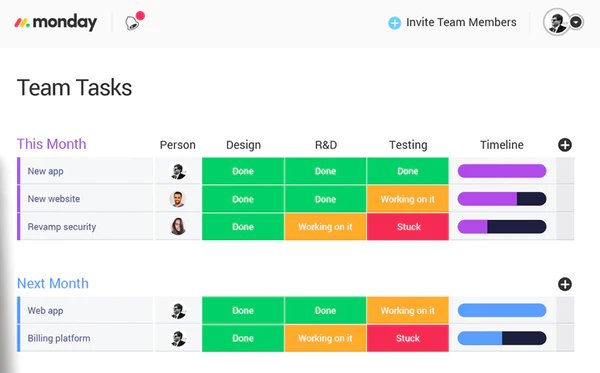 Pros:
Customizable dashboards and workflows
Robust reporting features
Time-saving workflow and reporting templates
Color-coded labeling
Cons:
Impossible to share tasks between boards
Notifications can get annoying
Low user-friendliness of the mobile app

Monday is another feature-rich project management platform, with detailed reporting, task management, and collaboration features. The tool allows project managers to create tasks and workflows, track the amount of time team members spend on every task, and manage clients.
Having a talent management, task tracker, and a CRM solution in one platform is extremely convenient – that's why a growing number of teams and ecommerce startups migrate to Monday.
Main features:
Budget management
Agile and traditional task boards
Customizable interface
Tracking transactional email campaigns
Time tracking
Real-time document editing
Pricing: Monday doesn't have a free version although there's a trial period that lets managers evaluate the platform. To use Monday, you will have to pay a $8/user/month subscription fee.
7. ClickUp
Pros:
Built-in notes and calendar
Different task board modes (list, Kanban, Gantt chart)
Managers can create subtasks
Cost-effective pricing
Cons:
Cumbersome interface
Poor mobile app functionality
No Gmail integration
ClickUp is similar to Trello in that the platform uses a card-based interface. Similarly, you can start a conversation thread next to each assignment by tagging other users. There are other ways to view assignments – in the form of a list or a Kanban chart.

App boasts a wide range of integrations – from ClickUp time tracking to file-sharing tools. It allows teams to integrate the tools they are using into the platform seamlessly. There's built-in email tracking software as well.

Main features:
Gamification
Different task board views
Subtasks support
Progress tracker
Built-in office suite
Resource management tools
Pricing: a free trial and a subscription for $5/month/user
8. MeisterTask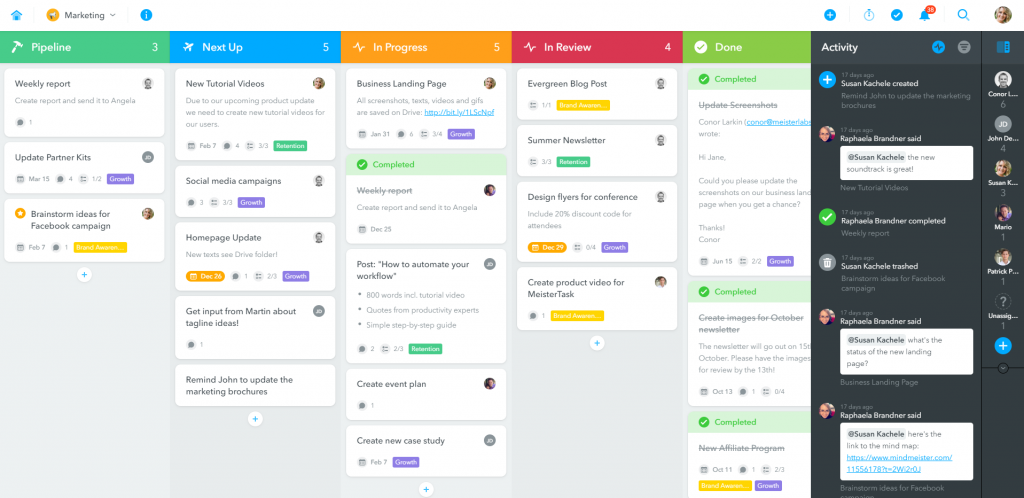 Pros:
Intuitive interface
Convenient pricing model
Third-party integrations
Cons:
Task boards don't have a hierarchy
Attached files are downloaded slowly
Too many redundant feature

A Kanban-style board like Trello, Meister Task is sleek, feature-rich, and reasonably priced. It's an all-in-one team management suite, with a built-in calendar, a range of integrations, and features like custom workflow design.

TaskMeister is highly automation-friendly. You can create task or report templates, ready-to-deploy checklists, or send notifications as soon as the task is moved or completed.

Main features:
Collaborative project management platform
Time tracker
Tagging and keywording
Real-time reports
Built-in completion notifications
Pricing: There's a basic free version and two premium subscription plans

Pro – $9/m/user
Business – $20.75/m/user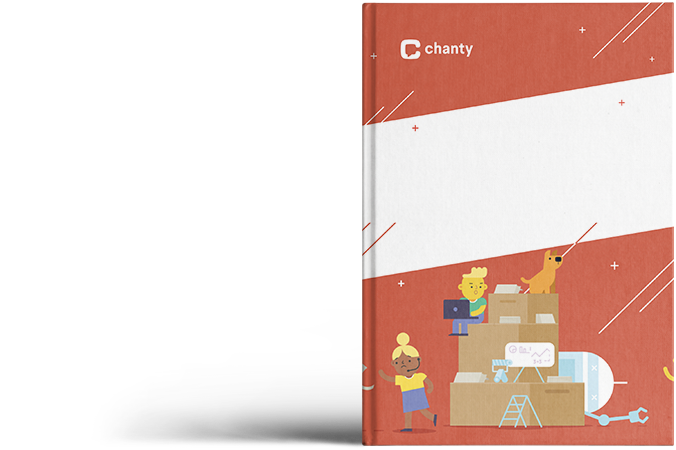 Communication issues at work?
"50 Surefire Ways to Improve Your
Team Communication"
Get eBook
9. Zoho Projects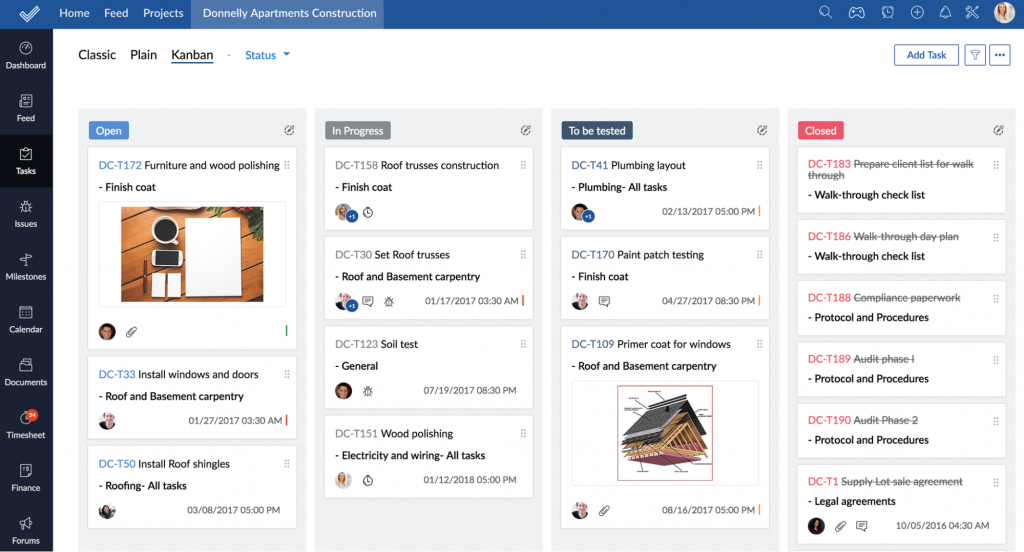 Pros:
Wide range of team communication tools
Knowledge-sharing platform
Project planning features
Robust time management toolkit
Cons:
Narrow range of task filters
Steep learning curve
Limited bug reporting
Projects are placed on the dashboard randomly
At first glance, Zoho Projects is so similar to Trello you might confuse the two. However, once you start digging into the nitty-gritty of the platform, you learn that it brings some unique features to the table. For instance, Zoho Projects is one of few tools with a powerful suite of communication tools – there's a team forum, a project wiki, a built-in chat, and a possibility to run live streams.

Zoho offers a variety of features targeting IT teams, such as bug reporting. There are talent management tools as well – time tracking, billing management, and others.

Main features:
Document management
Timesheets
Team feeds
Custom reporting
Integrations
A user-friendly mobile app
Pricing: there's a highly limited free version – you can only manage one project and upload files with the size up to 10MB. As for premium subscriptions, the platform offers a few options to choose from:
$25/m – managing up 20 projects, 10 GB of storage
$50/m – managing up to 50 projects, 100 GB of storage
$80/m – unlimited number of projects, 100 GB of storage
10. Narrato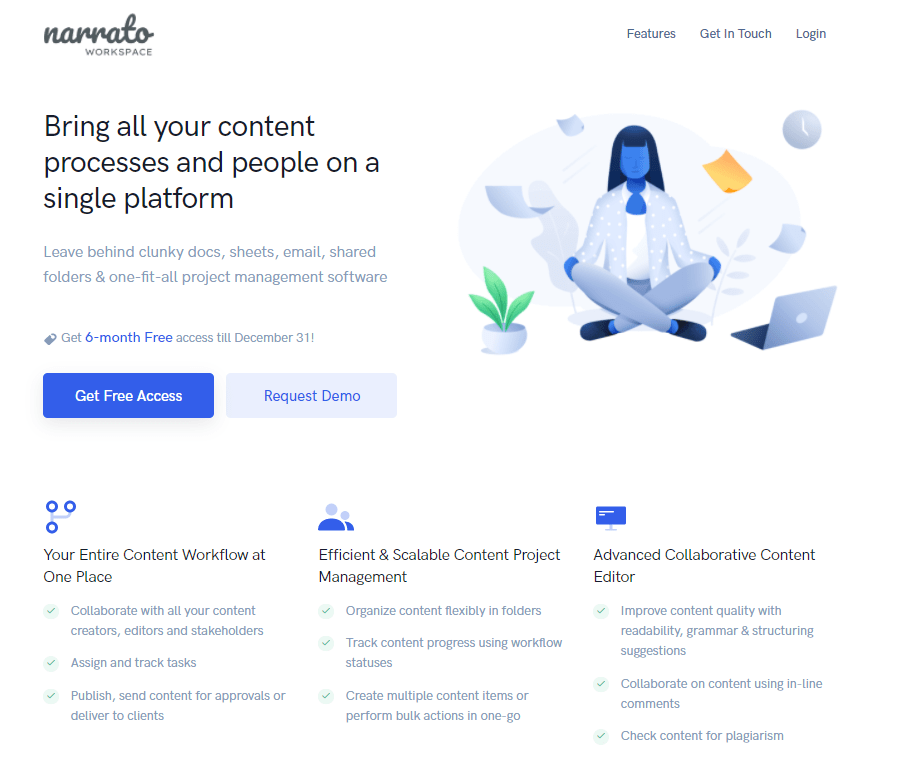 Pros:
All-in-one creation and collaborative content platform
Task is where the actual work (content creation) also happens
Rich content creation and quality tools
All important content task views including folders, boards and calendars
Easy to use, intuitive
Cons:
Works best for content teams, not a generic project management use case
Third party integrations like Zapier are not yet there
Narrato is content creation and collaboration software made for content teams. Content teams can manage their campaigns and projects end to end on this software.
Main Features:
Assign, track and manage content tasks and projects
Create content faste with AI writing and grammar/readability assistant
Collaborate on content creation and collect feedback
Manage writers, team and projects – all in one place
Publishing to WordPress supported
Content workflow automation
Content calendar, Kanban board and planning (including AI content ideas generator)
Freelancer payment reports
Pricing: Free at the moment!
Conclusion
Whether you like Trello or not is a matter of personal preference and the type of projects you are managing. The good news is, if the platform doesn't cut it for you, there are plenty of convenient task managers on the market. You can either switch to a different Kanban board or give a new management framework a try.

Set some time to test the Trello alternatives reviewed above – your next favorite project management platform is definitely on this list.