Technology has revolutionized the workplace, making the option of working remotely an attractive business lifestyle choice that promises both efficiency and convenience.
However, as advantageous and appealing as remote teams may sound, there are still problems that arise with distance. For example, facing issues in communication and the chances of demotivation.
As a result, building opportunities for interactions and strengthening relationships with remote teams is a priority for most businesses. Collaboration fosters productivity and effective working.
In this article, you will discover the solutions that tech has to reduce conflict and promote effective collaboration in your remote teams.
Challenges in remote working
Remote teams can bring in a great deal of flexibility and cost-savings for a company but they also pose challenges for the people involved.
According to Hassan Osman, an expert on virtual teams, "Companies should set clear and digestible goals that are unanimously agreed upon by the cross-functional teams involved."
Basically, communication is key.
The lack of face-to-face communication and in-person interactions in a shared space can lead to misunderstandings and conflicts. The lack of social interaction can lead to further problems such as employees feeling isolated from their peers and a loss of morale.

However, these pain points can be easily addressed through smart tech, which brings me to my next point
How to use tech to improve remote team collaborations
Tech has all the solutions if you know where to look. By leveraging the right communication and organization tools, your remote teams will feel engaged and continue to stay productive.

Here are three strategies you can start with to strengthen your remote team collaboration:

Video conferencing and chat tools for effective team meetings
Global connectivity has never been easier.

Whether you're looking to have a daily catch up with your remote teams or end-of-the-week progress meetings, there are a number of tools available at your disposal such as Lifesize, or Zoom.

Video conferencing enables additional tools such as chat functionality, sharing screens and documents.

Nico Prins, founder of Launch Space, mentions the importance of touching base with important stakeholders via video conferencing. "At least once a week, I'll touch base with colleagues via a video call. At a minimum of once a fortnight, I'll chat with clients," he says.

Communicating all the time is not necessary for remote teams. It's about having a healthy balance as per the nature of the work and teams.

Nigel Lindemann of SurveyAnyPlace adds to this point, shying away from meeting overload by holding weekly meetings. "The perfect tool here is Google Hangouts," he says, "especially in combination with Google Calendar as a hangout link is automatically created when you set up a meeting."
Case: Mailshake's vid-con tool of choice
Mailshake is a service-offering business focused on helping users with their email outreach efforts and strategies.

Working on a fully remote business model, their sales teams are scattered across the country with some of their members in different parts of the world.

Mark Lindquist, marketing strategist at Mailshake, shares that one of their biggest challenges was communicating and troubleshooting problems the teams faced with each other.

"The same goes for training," he added. "It can be hard to show someone a process if you're not in the same place."

Their solution? Loom.
Loom videos allow you to easily create screen share videos on the cloud and share them with teammates.
"If we're ever having issues, our default isn't to message on Slack or send an email. It's to hop on Loom and make a quick video."
With a free screen and video recording services like Loom available, one doesn't have to worry about communication issues.
Videos act as solutions that make for quicker and clearer explanations that solve problems much faster.
Shared team collaboration apps to drive team engagement
Technology provides businesses with the opportunities and freedom to hire, manage and encourage employees remotely.
To efficiently manage all this as a business owner, systems need to be well defined and put in place. Sujan Patel, the founder of Voila Norbert and a leading expert in digital marketing, recommends this highly.
"Putting everything down on paper, and then sharing these resources online provides your colleagues with a reference point for their work. You should also share a to-do list, so people are aware of tasks that need completing," he says.
There are a number of tech solutions that have been developed for this purpose, in the form of online collaboration tools. 
Online collaboration can help remote teams build, share and effectively communicate a framework for shared activities and tasks. Having a platform for unified communication and task management can boost a remote team's productivity.
Case: Chanty, team chat with video calls and task manager
Chanty is a team chat and collaboration app designed to boost productivity in remote teams.

Chanty's primary function is centred around a team-chat service but provides additional functionalities such as:
Audio and video calls with screen sharing,
Task manager with the Kanban board allowing you to turn messages into tasks, assign team members and set deadlines,
3rd party integrations,
Pinned messages
Discussion threads and many more.
Launch Space founder Nico Prins says, "Tools like Chanty are great for on-going work, raising questions, or just chatting to colleagues".
The simplicity of the interface makes it user-friendly and easy to integrate for businesses.
Project management tools to inform organized management
Does your remote team manage multiple projects across varying timelines, while balancing priorities for a number of clients?
Online project management apps can make all the difference between a cluttered remote team workspace versus a smooth and punctual project management system.
It's crucial to establish clear communication channels and manage time-sensitive tasks for this purpose.
This is where tech comes in.
Case: Monday, the intuitive project management platform
Nico Prins shares, "Project management tools help centralize essential information and allocate tasks with deadlines." His preferred tools for this purpose include Monday.
Monday is a team management platform that focuses on building transparency and encouraging team collaboration. One of its most popular cases? Project management.

With Monday, you can easily manage all your projects by:
Keep track of all your projects' progress with visual timelines
Assign tasks to owners and stay on top of deadlines
Track progress and resource allocation with reports
Kelsey Reaves from Organic Growth Marketing, shares how all of their client accounts are managed using Monday.
"Monday has allowed us to easily track the status of deliverables for each client. I love using the My Week feature to get a quick snapshot of all the tasks I need to accomplish for the week and what I have coming up so I can allocate enough time."
By giving you various template options to choose what works for you, Monday is customizable to your team's requirements and helps you stay ahead and on top of your commitments.
Coordinate effectively with the right tools
Effective coordination drives the success of a remote team, big or small.
You might be thinking, "if I stay on top of my communication channels, coordination is a given. Two birds, right?"
Don't be fooled. Yes, streamlining your various communication methods for specific purposes and teams is an element of coordination but certainly doesn't guarantee that your team is 100% aligned with each other's goals.
Everyone must be clear and have a visual of what they are working towards: the big picture.
Creating well-defined roles, assigning responsibilities and balancing resources are all different elements of organizing and managing your team.
Overdoing it on the communication front won't cut it if each team member isn't inherently aware of what they are working towards.
There are tools to ensure everyone is on the same page that can help you avoid the arduous task of digging through all your emails and notes. One popular tool for this purpose is Trello.
Case: Trello, the kanban-inspired list-making app
You know that mental picture you have of everything you want to do for your team? You're trying to communicate it in words with your colleagues and you've even connected over video-conference about it but everyone's still not quite set on the big picture?
This is where Trello comes in.
Operating as a web-based, Kanban-style list-making app, Trello gives you the option to create various workflows/lists in the form of different boards.
Trello makes the idea of 'managing' less daunting. By having everything mapped out on one platform, everyone gets a bird's eye view of the teams' goals.
Jenna Scaglione, Managing Editor at Foundr, tells us how she utilizes Trello to keep everyone aligned. She says, "With my editorial calendars, I create one Trello card for each blog post. And all communication related to that one blog post must go inside the Trello card, whether it's a layout, tech, design, editing, etc."
By putting all the relevant info in one card, people don't waste time searching through their emails for the same and ensures everyone has up-to-date info.
"If the comment needs more room, some reference must be made in the Trello card and include a link to the additional information if it exists outside the card," she adds.
On a similar note, Nigel Lindemann's content team uses Trello to highlight the many activities in their workflow.
"Our content team works with the following stages: Ideas, Qualified ideas, Todo, Ongoing, Review, Published/done, and Backlog," he shared. "You can easily assign members or labels to each card and keep each other in the loop by tagging," he shares.
If you're looking for a unified platform to tie together a high-level activity overview for your team, Trello is the place to go.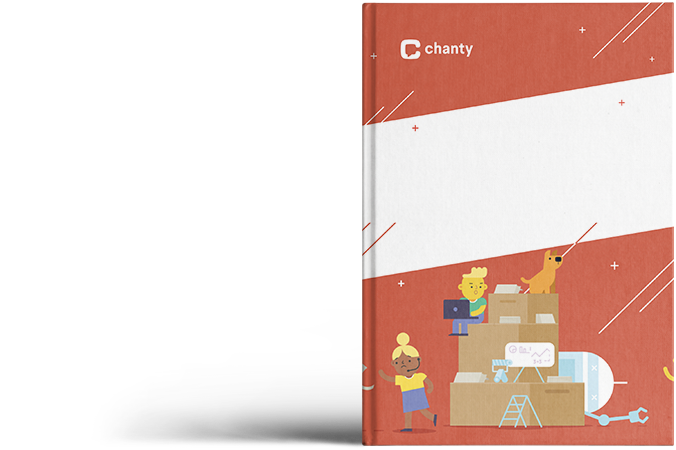 Communication issues at work?
"50 Surefire Ways to Improve Your
Team Communication"
Get eBook
Don't forget to have fun
It's no secret remote work comes with its share of challenges, but beyond tracking projects and keeping communication tight, maintaining your team's mental resilience should be a top priority.
Buffer recently surveyed over 2,500 US workers and revealed some pretty troubling issues with remote working such as never unplugging from work, loneliness and more:
"As the team leader, it's easy to get wrapped up in the pressure of project goals and deadlines but you have to remember that we're all just people. We need to stop and have a laugh sometimes," says Brittany Ryan, Founder and Content Chief at Pointed Copywriting.
As a fully remote content agency, the pressure on teams like Brittany's is very real.
"We've done a ton of work in the HR space and in those circles, leaders have known for quite a while that happier teams are more productive but in a remote structure, it can be tough to nurture the type of camaraderie that comes from physically sitting next to each other for 40 hours a week. The temptation is to get straight to the serious stuff, then put your head down and get straight back to work" she explains.
It's true. According to some studies, happy workers are roughly 13% more productive but that's usually because they take the time to enjoy each other's company and give each other props.
So, how do you keep your team happy and motivated when you can't even see each other in the flesh?
Brittany has a few tips for that:
Give your team the tools and info they need to get the job done and actually apply your team member's tips and suggestions to your systems
Schedule extra time for weekly or monthly team meetings so you don't have to freak out if the conversation meanders into the fun zone
Send your team members a little care package with fun stationery, a travel charger, or other remote-work friendly gifts (and don't be afraid to sprinkle a little confetti on top)
Keep the professional conversations to a professional medium (like email or your dedicated project channels in Slack) and the fun stuff to your other mediums (like WhatsApp or the Slack Random channel)
For more information, I recommend checking out BambooHR's guide to improving your team's culture.
"Never hide your human side. As the team leader, you're going to feel the pressure to be someone worth following every minute of every day. Remember, your remote team members have pressures of their own, too. If you give them the tools and kudos they need, you can make it easier for them to love the work," says Brittany.
Pro Tip: Brittany and her team even go as far as to share their team Zoom outtakes on their company LinkedIn page, which also helps bolster their brand as a remote employer. Here's a recent video from one of their team meetings.
Stay remote and connected through tech
Building remote teams is just the start but slaying the communication barriers and continuing to deliver on the job forms the challenge.
Tech is the future for remote teams.
With new research and investments in the field, the number of effective tools in the space continues to grow.
Companies that invest in the right tools for their teams are more likely to increase employee morale and improve their results, especially those that work on fully remote team models.
So what are you waiting for?
Start exploring your favourite tools and experiment what works and doesn't for your team.
Do you have any preferred tools and apps for remote team collaboration? What are your success stories? Let us know in the comments.