According to a survey by Workopolis, 90% of people believe that telecommuting contributes to more productivity. However, these are the people who have had a practice of working from home, unlike most employees today, who find themselves in an unprecedented situation in the year 2020 as a global pandemic rages and their bosses have ordained work from home as mandatory.
Initially, the new work order and the opportunity for telecommuting may seem like a heaven-sent miracle. Your boss, who was previously averse to approving a work-from-home request, may now be emailing everyone about the benefits of working from home, and you might be thrilled with the idea of how to be productive at home. However, it's important to remember that being productive at home requires discipline, focus, and a structured approach to your workday.
However, you may not have been prepared for the potential death of your productivity as soon as you started telecommuting and working from home, and you might be wondering how to be productive at home. After all, we were used to the hullabaloo of the workplace, to the stern eye of our bosses, face-to-face discussions and debates, a dedicated workspace equipped with all the required paraphernalia, and fun break times.
Now that you've been telecommuting for weeks or even months, you may be realizing that the new work setting isn't as motivating as you had hoped, and you might be wondering how to be productive at home. Despite your best efforts, you may be facing myriad unforeseen obstacles at home that bludgeon your productivity as if it's its mortal enemy.
Things that distract you at home
It's easy to recognize what's taking you away from work in a professional space, but at home, your every personal issue fuses with your work; there's no clear boundary. Chances are that you aren't even aware that certain things are hitting your productivity like nothing else.
So being aware and recognizing distractions as they are may enable you to avoid them during crucial working hours.
Home Chores: Chores are your excuse for delaying in getting started with the newest assignment looming over your head. You used to do laundry, cook, and clean even when you were going to the office, then why are you letting these chores interfere with your work at home now? Set aside a specific time to do these chores.
Family Members: No one can avoid them while at home, and especially when you have little kids who are quite demanding of your time. You will need to be strict about when you can interact with them at home if you are serious about boosting your productivity.
Once you know what external distractions are inhibiting your productivity and have dealt with them accordingly, you may now want to focus on internal elements, i.e. concerned with yourself and are a roadblock to your productivity.
Here are a few strategies you need to go about:
Accept it as the new normal
Many of us have a hard time digesting the fact that telecommuting and working from home is going to be our new situation for a while, and we may be struggling with how to be productive at home. When we think that the situation is temporary, we may blame our lack of productivity on the current environment. "Things are going to fall into place once we get back to work," we tell ourselves.
But the reality is that we are going to be working from home for some period of time, and we must make the best out of it by treating our current workspace as the real one.
Start your day with some energizing boosters
How you begin your day really predicts the tone of the rest of your day. Woke up late? You're going to feel lazy all day. Feeling groggy? Can't concentrate on work? Let's procrastinate by doing house chores.
You need to set up a specific time you wake up on. Sure, it doesn't have to be the ungodly hour you used to wake up at, so you could have ample time to commute to work. Give yourself a little leeway here, get that much-needed sleep, but do it in a timely manner.
Start your day with some good ole' exercise, anything that suits your pace and energizes your mind and body. A study at the University of Bristol found that people who are in the habit of exercising during the workday have ample energy and a positive outlook to conquer the workday.
Before you get your shot of caffeine, have some lemon juice with warm water first. If your health doesn't permit to consume the drink, make up a nice healthy smoothie. There are myriad benefits of lemon water, including the improvement of nutrient absorption in your stomach and energy that lasts the entire day. Also, keep a gap of 15–20 minutes between the lemon water and your breakfast— you can even exercise during that time.
Now have that most important meal of the day. Ever heard anyone prescribing you to skip breakfast? No. Then, you have no excuse to avoid it. Plus, when you get over the food part, you are not going to get distracted with hunger pangs while working.
Also, stay away from those screens until you are done with your breakfast. News, social media, e-mails, or texts, tend to take away the precious peace and calm of the early morning time as you jump headfirst into the frenzy of the outside world. So give yourself that me-time, or else you'll be longing for that break throughout the day.
Dress yourself and your work space
How can you bring yourself to work at home when you are dressed in your night suit and have your work laptop placed on your unmade bed? Not very motivating as you get those casual home vibes while working, and you can easily fall into the routine of working ungodly hours in order to meet a deadline while telecommuting.
So, if you want to know how to be productive at home, as you wake up, dress in your work gear and set up your workspace where there are no distractions. That means a clean uncluttered desk free of dirty mugs, old sticky notes, half-eaten snacks, etc. Make your workstation as professional and conducive to productivity as possible.
You would actually feel that you are at work in a professional setting. Plus, the anticipation of shedding that work uniform after a long day and getting into your comfy clothes and bed would be a good motivation to get your work done quickly.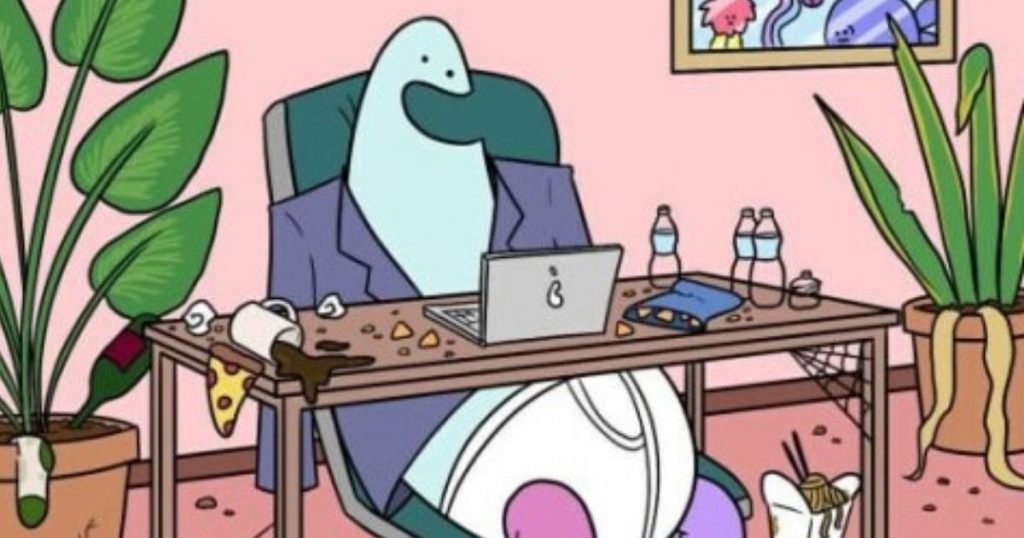 Set your daily goals
A little bit of planning can go a long way in getting things done throughout the day. A case study reveals that 98% of executives attribute their success to 'results of plans and strategy'. Another concluded that concrete goal defining tends to instill 50% more confident about achieving their goals and 32% more in control of their lives.
Besides, a sense of control tends to generate a much-needed 'grit' that enables most of us to persist and attain what we set out to do.
Setting specific goals and deadlines for the day is crucial when working from home. This will help you stay focused and motivated throughout the day, and avoid distractions that can eat up your time. By breaking down your goals into specific tasks and allocating a certain amount of time to each task, you can manage your time effectively and avoid overworking yourself. Remember, being productive at home during telecommuting requires a different mindset and approach than working in the office, but with the right strategies, it is possible to maintain a high level of productivity and achieve your goals.
Do one thing at a time
One thing that badly demotivates us and puts us off from our goals is the unnecessary load that stems from multitasking. Accept it that when you dive into several things at once, you end up pulling your hair from stress while achieving nothing. Even when you get things done, they are missing the quality level that would have been otherwise present if you had directed all your energies at that particular task.
So stop yourself if you find that you're two or three things at once. That means getting things done within the deadline. No harm would befall if you complete it long before the deadline, so you aren't overwhelmed at the last moment struggling with a bunch of those at once.
Don't let yourself burnout at home
Most people have the image that working from home is undemanding and uncomplicated, due to which you would experience more pressure from the top-level management to achieve more results. Consequently, you will end up working longer and more strenuous hours than you used to. This can affect your productivity, and it's important to understand how to be productive at home and while telecommuting.
Moreover, no one even considers the responsibilities of home life thrown into the equation amid a pandemic, which on the top isn't allowing you to socialize and cool off like before. So it's easy to lose track of the amount of time you're spending working and how much you're dedicating to home life.
It falls upon you to focus on your work within allocated hours of your job, and communicate with your boss if you're being overloaded. Learn to say No, when things are going out of hand, and avoid utilizing phrases such as, I don't think so, let me see, etc. It's important to set boundaries and establish a routine to balance work and home life when telecommuting.
Research by the University of California, San Francisco, concluded that the more trouble you have conveying the word 'No', the more likely you are going to be prey to stress, burnout, and even depression.
Work on a combination of easy and difficult projects
You may end up working on difficult tasks at once in order to alleviate the ennui you have begun to experience since work from home started, but rest assured, your brain will get used to this level of intensity and you will eventually end up bored again.
These constant extreme levels of the workout will leave you burned out and unsatisfied. So it is essential that you create a balance as you start on with your tasks. Include a good combination of difficult tasks that will keep you adequately challenged for the day, and throw in some easy tasks that let steam out.
No deviation until you're done with at least one important task
E-mails, texts, phone calls, or even indulging in lunch preparations for the day are a part of your procrastination habit. One sure thing to put a stop to procrastination is doing the ugliest and the toughest job at the first opportunity.
That means strictly no deviation from the set task, you can cool off with those mundane chores once you are done.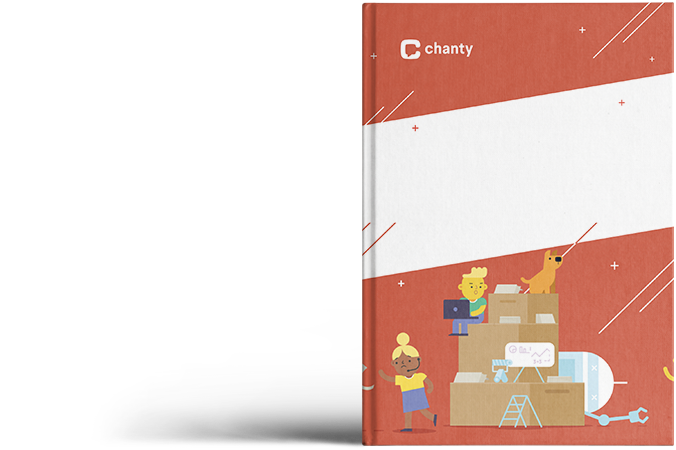 Communication issues at work?
"50 Surefire Ways to Improve Your
Team Communication"
Get eBook
Start virtual socialization
According to the 2018 State of Remote Work, remote working employees claim that loneliness is the biggest drawback to the remote working environment.
You transitioned from a traditional office setting, where there were frequent face-to-face informal discussions and fun-fueled lunch breaks, to an environment, where there is nil interaction unless you pop a non-work-related message to your favorite colleague.
This pitiful level of socialization can drive even the staunchest introvert out of their minds. So you and your team must ensure to socialize over a good quality internet connection and have casual non-work-related conversations to cool yourself off and foster a sense of community belonging.
Interactions with the family are good and all, but no one else can empathize with the annoyance and problems you face at work like your colleagues.
So set a specific time when you all can video call through a private channel, maybe have a virtual lunch together? Moreover, you can add to levity and laughter with online game-based group quizzes through apps.
In a case study from the Bank of America call center, those employees who shared breaks together and indulged in casual fun discussions together were more successful with a 15-20% boost in productivity, a 19% decrease in stress levels, and even less turnover.
End your day at a decided time
As discussed before, work from home tends to blur the lines between home and work life. You often lose track of how much time you are dedicating to which and which. Moreover, if you start late, you are definitely going to have to stay late and put a tick mark on all those daily tasks.
The flexibility of work from home can leave you burned out and stressed instead of productive and fulfilled, so you would have to summon all the discipline you have and set a time when you are going to open and close that laptop.
Don't be lenient towards an unnecessary task that requires your attention towards the end of your workday, you used to leave them for tomorrow when you set out for home, you are going to leave them alone now as you go and spend some quality time with your family or even yourself.
Celebrate while you have it
No matter how your day goes while telecommuting, it is crucial to know how to be productive at home and make sure to celebrate what you have. Work from home is a blessing that many of us are not giving its due during a global pandemic, and it can be challenging to stay motivated. Even during normal days, flexible working time isn't granted so easily. So consider it a gift and celebrate the opportunity to better yourself for the upcoming future by creating a productive workspace, setting specific goals for the day, and learning how to manage your time effectively while balancing home life and work responsibilities.