Team communication tool is a must-have in a today's office. But with so many products available these days, the question is "Which app is the best for my team?".
Thanks to building Chanty – a simple, AI-powered team chat, our team had to perform an in-depth analysis of our competitors. We've considered their pros and cons from a customer's perspective and tried to come up with a better, cleaner and more user-friendly chat alternative.
We have an entire article with the results of competitors' research, covering our feedback on various Slack alternatives. However, this time we would like to focus on two rivals: the well-known Slack and its Indian competitor Flock. Our team has dived into these tools for two weeks and we are ready to share our impressions today.
Slack vs Flock pricing (0:1)
Communication apps tend to receive some level of virality as a single customer may invite hundreds of teammates. Both Slack and Flock employ the freemium business model to get the word-of-mouth effect. It means they both offer a free version of their product. If you'd like to upgrade and unlock additional features, get ready to pay $3 per user, per month for Flock Pro plan. With Slack, prepare to spend $6.67 (Slack standard plan) and $12.50 (Slack Plus plan) per user, per month.
Slack vs Flock pricing
Slack
Flock
Standard $6.67 user/month

Plus $12.50 user/month

Pro plan $3 user/month
Speaking of prices, Slack is the most expensive app out of all team communication tools we've analyzed so far. Flock is obviously more affordable, so this is the moment to consider when making your choice between Flock and Slack.
Let's have a quick comparison of the features available in free plans of Slack and Flock:
Features available in free version of Slack and Flock
Slack (free)
Flock (free)
Video conferencing
For no more than 2 users
Up to 8 users
Screen sharing
No
Yes
Message history limit
10 000 messages
10 000 messages
Integrations
Limit of 10 integrations
(with 800+ integrations in Slack to choose from)
Unlimited (with 40+ integrations overall in Flock)
As you can see, Flock offers more features in its free version and is less expensive when it comes to paid plans, so we are giving it its first credit for pricing.
Slack vs Flock interface (1:0)
The impression you get once you open Flock – it's overloaded with too many icons, controls, options, features and information. The interface of the app is divided into five bars with icons everywhere: on the top, on the left, on the right and even on the bottom. It was honestly hard to understand where should I focus first. Moreover, Flock has two search fields and two icons for 'recent conversations' on the same screen.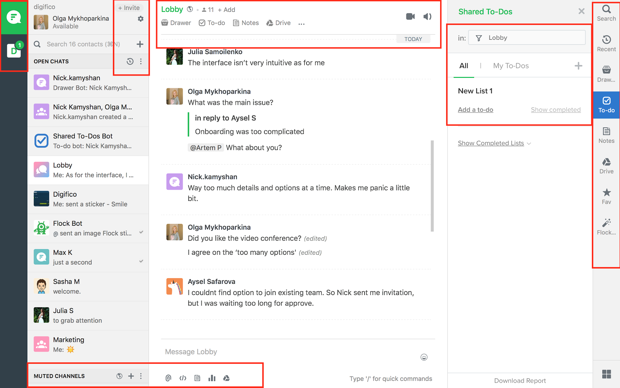 Flock interface
Slack was able to achieve a more simple interface while keeping rich functionality by hiding its features and multiple options behind the buttons like these: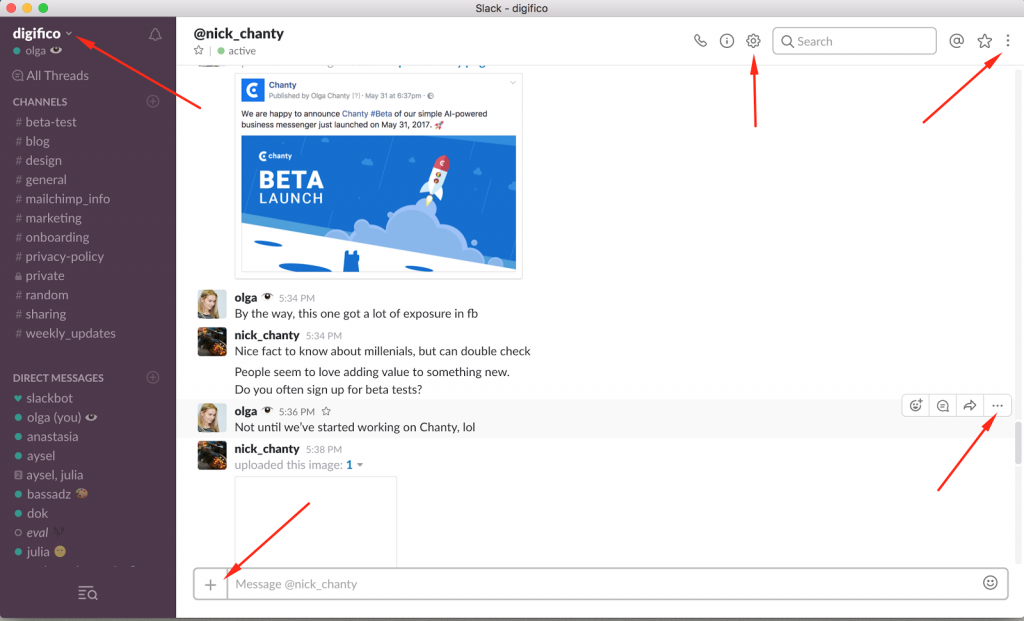 Slack interface
Overall, Slack is more convenient and friendly when it comes to the user interface. You can fully focus on conversations in Slack without being distracted by too many icons around.
Slack vs Flock conversations (1:0)
Sending and receiving messages is the core functionality of every instant chat. It should be highlighted that 'conversation with myself' is an extremely handy feature in Slack. I can keep some private info and files there that are only available for me. However, if you are using a free version of Slack, keep in mind that your private conversations, as well as any other, will start to disappear from the history once you hit the 10K messages limit. Yep, the searchable message history is limited in the Slack freemium plan.
Just a few months ago you could enjoy searching messages as deep as you want in Flock, but they've changed it recently and put a 10K limit just like at Slack. Unfortunately, there are no conversations with myself which I missed badly after using this feature in Slack. There is also an obvious lack of privacy in Flock. It seems like everything you do – from creating a to-do item to uploading a file to pinning a message is instantly available to your colleagues. Transparency in communication at work is great, but there is still a need for some privacy which is unfortunately of a short supply in Flock.
Both Slack and Flock have an option to reply to any message in a channel conversation. When you use Slack, your reply creates a new thread and you can clearly see that the message was answered as well as click it through and view it in the right sidebar.

Threads feature in Slack
In Flock, it's also possible to write a reply, but it will appear as a new message in a conversation. You can't really create a conversation with multiple messages in the thread. Once you hit the reply button to respond to an existing reply you are basically creating a new reply once again to the first message. This makes the whole "reply" functionality somewhat confusing in Flock.

Reply feature in Flock
Both Slack and Flock put the limit to their searchable message history in a free plan. When it comes to Slack, you can enjoy some privacy thanks to 'conversations with yourself', the thread feature is also well thought-through in Slack and is less confusing compared to Flock. Our team believes Slack wins the conversation battle 1:0.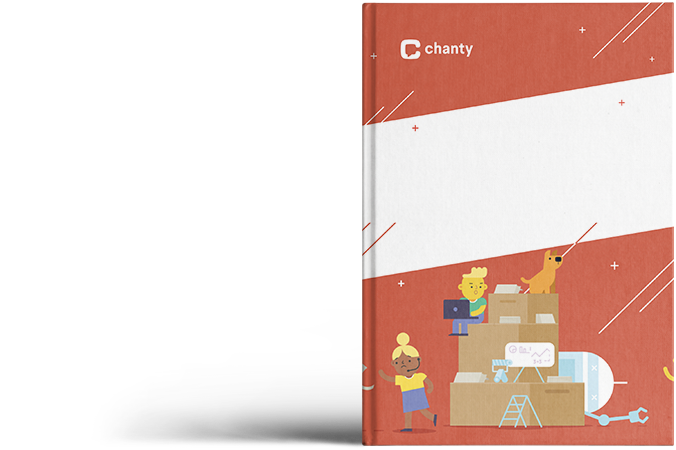 Communication issues at work?
"50 Surefire Ways to Improve Your
Team Communication in 2018"
Get eBook
Slack vs Flock video calls (0:1)
Flock offers free video calls and screen sharing for multiple participants via the preinstalled integration with Appear.in. At the same time, video calls at Slack's free account are only available for two participants with no screen sharing option. However, you can unlock this feature and enjoy video conversations with multiple teammates along with screen sharing in the paid plan.
Due to using third-party integration, it takes 4 clicks to start a video conversation in Flock (opens up in a new window) while it's a click-away in Slack (opens straight in the app). On the other hand, we've experienced a better video quality while calling in Flock while we had no issues with audio quality both in Slack and Flock.
What fascinated me about video conversations in Flock was the augmented reality. It came with the Snapchat-like stickers for you to play with. By the way, our marketing team couldn't help but had fun with it.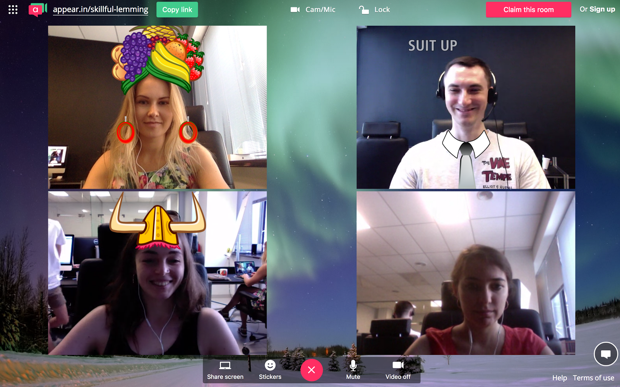 Augmented reality during a video call in Flock
Although I can't say it's a must-have feature for a business chat, it's still fun to have. We've been eager to find the similar feature in Slack, but they only support emojis that you can add to the middle of the screen which honestly look kind of lame.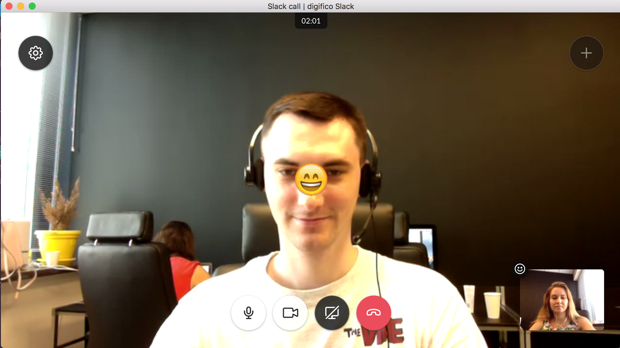 Using emojis during the video call at Slack
We've also experienced some bugs while turning a camera on and off during the video conversation in Slack.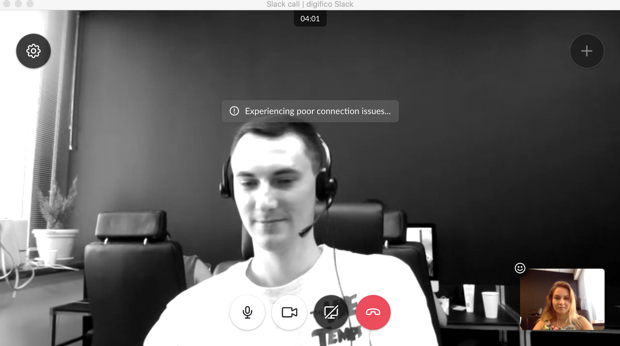 Some bugs occurred during a video call in Slack
Note that Slack offers integrations with Appear.in as well as Google Hangouts. However, they are not pre-installed like in Flock. Moreover, considering the limited integrations in a free plan (ten integrations only), it's not always easy to find a room for another third-party app.
We believe Flock wins the video conversation battle as it offers more functionality in a free product version (screen sharing, multiple participants) and has a better video quality. On top of that, the funny special effects in Flocks integration Appear.in made our day.
Slack vs Flock notifications (1:0)
Notifications are an integral part of every business chat tool. It's crucial to be able to control your notifications not to irritate you every minute, but at the same time not to miss something important. Slack offers an in-depth control over all kinds of notifications.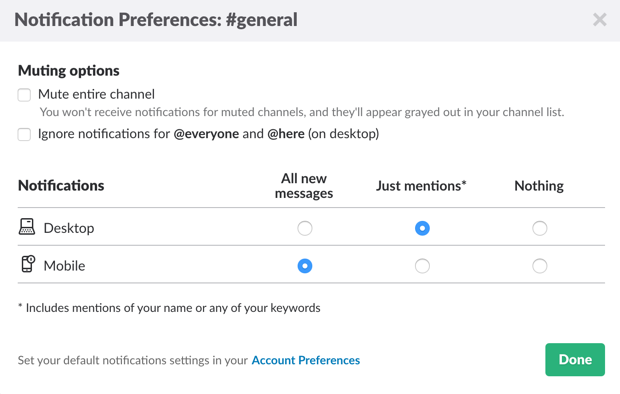 Notification settings in Slack
Apart from these settings, you also have an entire page of Notification preferences in Slack. E.g. you can set up a keyword notification (if someone types in a specific keyword you'll get notified) for a particular channel, set up the time when you don't want to get notified (do not disturb mode) and many more options.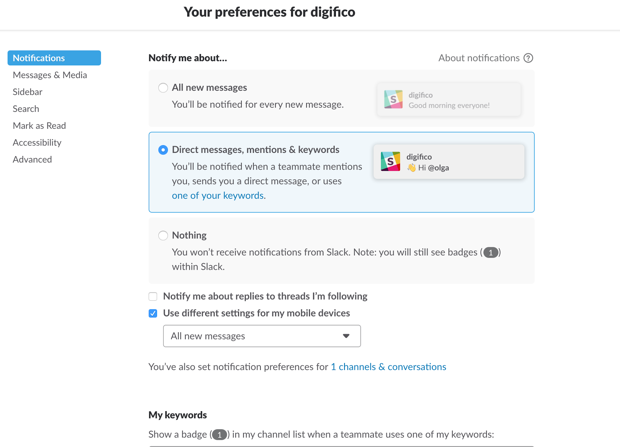 Notification preferences in Slack
At the same time, you have limited options when it comes to notification settings in Flock.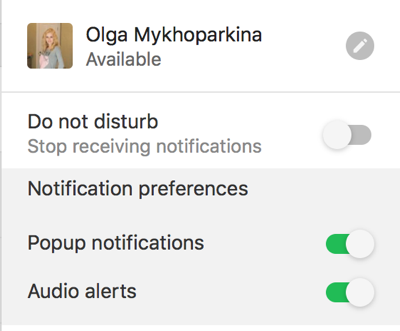 There's also an option to mute the entire channel in Flock.

'Mute a channel' option in Flock
This is pretty much it when it comes to notification settings in Flock. Considering the in-depth customization of notifications in Slack, our team believes Slack wins this battle 1:0.
Slack vs Flock file sharing (0:1)
What instantly made me confused while using Slack was the file sharing feature. Firstly, once you've chosen a file to upload from your computer, you click Open and Slack opens up another window asking you to click Upload a file. That makes two steps instead of a convenient one. Secondly, you can't upload multiple files to Slack. If you choose to upload a hundred files from your computer, you'll have to push the Upload a file button for a hundred times (!).
It's more simple in Flock where there's no need to waste your time clicking the buttons. All you have to do when uploading a hundred files is to choose them on your computer and click Open. And it's done. Considering the above, we believe Flock wins the file-sharing battle.
Slack vs Flock file search (1:0)
It's was a surprise for us to find out that there is no file search option in Flock. While you can view all the files you've shared with a particular contact at the right sidebar, you still can't search for it. There's a search field at the top, but it only allows you to explore the text messages, not the files. At the same time, Slack offers search within both texts and files which is quite useful.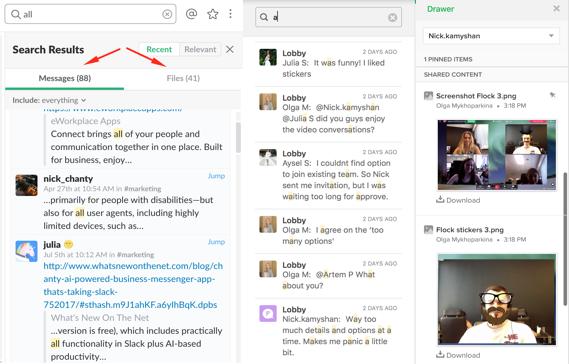 Slack vs Flock integrations (1:0)
When you are not into business communication tools, chances are you don't understand why one would pay 8$ per employee just to have a team chat. However, it's a bit more complicated. Integrations make business chats like Slack, Flock and Chanty different from personal communication apps like Viber, Telegram, WhatsApp or even Skype.
Why do you need integrations anyway?  
Imagine having one single place to have all your notifications. No need to open several browser tabs or desktop apps to keep everything at work under control. Whether you are using MailChimp, Zendesk or Salesforce, all the pings come directly to your business communication app. It saves your time tremendously giving your team a productivity boost you've been craving for.
Let's go back to our rivals and see who's winning. While Flock is integrated with around 45 apps so far, Slack was able to cover more than 500 third party apps. It makes a serious difference for those who have discovered the real value of integrations.
Conclusion
After taking a look at Slack and Flock from different angles, we've come up with the following table with the results of Slack vs Flock battle.
Results of Slack vs Flock battle

| | Slack | Flock |
| --- | --- | --- |
| Interface | 1 | 0 |
| Conversations             | 1 | 0 |
| Pricing | 0 | 1 |
| Video calls | 0 | 1 |
| File sharing | 0 | 1 |
| File search | 1 | 0 |
| Notifications | 1 | 0 |
| Integrations | 1 | 0 |
| Total score | 5 | 3 |
If you are choosing between Slack and Flock, you have to clearly define your business needs, budget and workflows. With Slack, you get a more user-friendly interface, convenient conversation structure, customizable notifications and a powerful file search. On the other hand, file sharing could be a pain, video calls have a room for improvement and free Slack version comes with a more limited environment compared to Flock.
At the same time, Flock is a more affordable alternative offering extra functionality in its free version along with a fun, higher quality pre-installed video calls and more comfortable file sharing compared to Slack. However, multiple user interface issues could be improved as well as file search feature could be added in Flock.
If you are still hesitating which team messenger tool to choose, we strongly recommend you to try out Chanty – simple AI-powered team chat and a single notification center. We are well aware of the existing messengers' pros and cons. We've considered them all while building the better business chat – Chanty. Sign up for a beta test and give us a try;)
---
Also published on Medium.