A positive team culture encourages people to express themselves freely – while still being professional, of course.
Teams need to work as a unit for a company to grow. And they work best when the team culture facilitates and rewards healthy collaboration based on honesty and transparency. Given how dramatically the work culture has changed in the last few years, you need the right tools to keep going.
In this article, let's look at ten tools that will help you keep your workflows aligned while promoting a healthy and positive team culture.
What is team culture?
You can't touch it, but you can feel it!
Team culture can be described as a common set of beliefs, values, objectives, and behaviors that define a department or an organization as a whole.
In a similar vein, a team's culture refers to its shared attitudes, values, objectives, and methods of operation. Every business has a dominant culture. However, a company has a lot of teams. Does each team have the same culture? No.
Every team has a manager who has a particular management approach. The way an engineering team communicates may differ from how the sales team does. While some managers may like synchronous communication, others might favor asynchronous communication. These teams will also have their own hierarchies, whether formal or informal.
In this article, let's look at ten tools that will help you keep your workflows aligned while promoting a healthy and positive team culture.
1. Chanty: Team communication
Chanty is a simple yet sophisticated team collaboration tool that streamlines internal collaboration and positive team culture. Team members can send messages individually and in groups, send audio and video messages, make calls, and even manage tasks.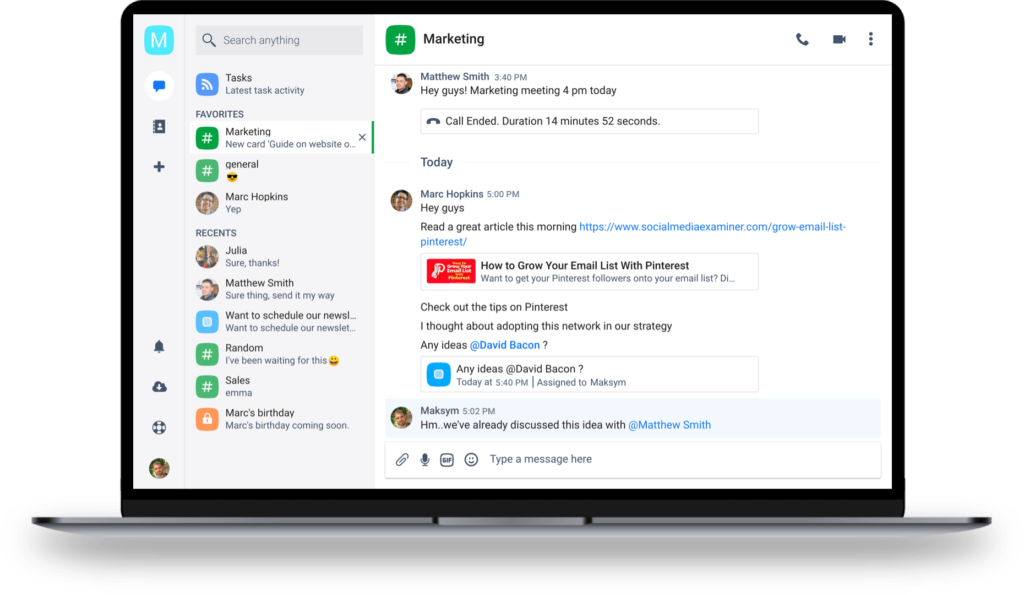 You can also view tasks in Kanban or list view so that you can see the latest status of all projects the way you want. The real-time notifications feature and mobile apps bring you closer to your team on the go.
Chanty offers a free pricing plan where you can add up to 5 members. The paid plan begins at $3 per month. 35 reviewers from G2 have given Chanty 4.5/5.
2. vcita: Scheduling and appointment management
A small business management platform, vcita helps service providers manage their human resources better by managing client appointments and bookings. vcita's scheduling portal and widget allow businesses to receive bookings and assign a team member for each appointment based on availability.
All the appointments and bookings are auto-synced with your organizational calendar, which enhances visibility between team members. Furthermore, vcita automatically sends appointment reminders to reduce no-shows, and all service bookings are synced with the built-in CRM, client communications portal, billing system, and sophisticated business intelligence dashboards.
As a platform, vcita's plans start at $19 per month for one user, where you can gain access to an entire suite of customer management features such as a self-service customer portal and automated reporting. vcita has received 4.4/5 stars from 47 G2 reviewers.
3. Zoho Desk: HR ticketing
Zoho Desk helps HR teams remove any roadblocks your team members face during onboarding or working. This tool serves as an easy solution that makes sure that each employee is heard and valued.
Apart from getting support tickets, you can communicate with your employees to resolve their queries about the terms and conditions, create and manage an internal knowledge base, and build a virtual community.
Zoho Desk offers a free plan for up to three agents, and after that, you will be charged $14 per agent per month, billed annually. Over 4000 G2 users have given it a rating of 4.4/5.
4. Time Doctor: Time tracking
Time Doctor is a time tracking and management tool that helps businesses eliminate distractions at work while improving the work-life balance. It provides insights such as productivity reports and offline time tracking as well.
This is a great tool for ensuring each workflow and team member is efficient while empowering them to take more control of their workdays. This helps them create sustainable daily schedules that don't burn them out while promoting the team culture.
Time Doctor's Basic plan charges $70 per user per year and is rated 4.4/5 on G2 by over 300 reviewers.
5. Trello: Task prioritization and management
Trello is a widely-used task and project management tool, and its easy-to-use interface helps teams of all sizes align their efforts. Here you can share all the details about a task, including deadlines, attachments, etc., and have a task-related conversation with relevant people.
Team members not only know what they need to do next, but they also know what others are working on and what the progress is on each task or project. It serves as a single source of truth for managers to monitor current tasks and keep track of past activities. Product teams can also use it to easily collaborate through various stages of the product management process.
Trello has a free plan that is loaded with a lot of features. The paid plans start at $5 per user per month, billed annually. Over 12,000 Trello users have rated it 4.4/5 on G2.
6. GetAccept: Contract management
GetAccept is a contract creation and management tool. It will help you start off on the right foot with your employees by removing ambiguity with the help of legally binding contracts. With various templates and a drag-and-drop builder, you can build contracts in no time.
You and your team members will have complete clarity before working together, which reduces the possibility of conflicts stemming from unclear terms of engagement. This will help you build honest relationships with your employees right from the start.
GetAccept offers a free plan that allows you to manage limited contracts, and the paid plans begin at $15 per user per month. Over 500 reviewers have rated GetAccept 4.6/5 on G2.
7. Google Workspace: Documents management
Google Workspace has evolved as a must-have tool in almost every company's tech stack, regardless of your niche domain. You can create and share docs, spreadsheets, presentations, and more with your team and also with collaborators outside your organization.
Its friendly user interface helps team members share information in any format, get their feedback, have in-depth discussions, make edits, and approve documents asynchronously. This enables work-life balance, which leads to a better team culture.
You can experience all the above features for free with limited storage. The pricing plan for Google Workspace depends on your requirements. Over 40,000 reviewers have given this tool a 4.6/5 on G2.
8. HubSpot: CRM tool
HubSpot's CRM solution helps the marketing, sales, and customer support departments of a company work together. It collates all the data of a customer in one place by creating dedicated profiles since they were leads.
This simplifies collaboration between multiple departments, which not only attracts the most qualified leads that become highly valued customers but also keeps on improving all the relevant processes associated with them.
HubSpot offers a free plan for its CRM tools. The pricing plan depends on your requirements and the features you want to use.
9. Notion: Collaboration and productivity
Notion is a collaboration and productivity tool that can be customized in any way you want. It allows teams to create, share, and manage information in almost any format effectively.
You can collaborate with your team, manage your projects, and share documents in one place where each team can uniquely build its workflows. With a supportive global community of creators and various templates to get you started, Notion helps people work together.
Notion offers a free, forever plan for personal use with limited features. The paid plans start at $4 per month, billed annually. Over a thousand reviewers have rated it 4.6/5 on G2.
10. Miro: Collaborative whiteboard
Miro is a visual collaboration tool where all the members of a team work on an infinite canvas at once. You can draw sketches, add notes, build wireframes, and more, while commenting and annotating each other's work to share feedback.
As hybrid work becomes more common, Miro's collaborative solution enables companies to equip all their teams to better align their efforts. Miro offers a lot of templates and integrations that will help you hit the ground running in no time.
Miro offers a free, forever plan that lets teams explore the tool at their own pace. The paid plans begin at $8 per user per month, billed annually. Nearly 4000 reviewers have rated it 4.8/5 on G2.
Summing up the team culture
All the teams within a company and the members within a team need to align their efforts for overall success. A healthy team culture is crucial for workflow alignment, as it brings teams closer by encouraging honest and transparent communication.
Therefore, teams need to be equipped with the right tools, listed below, that help them align their workflows while fostering a healthy team culture:
Chanty: Enable all types of communications between team members.
vcita: Manage your booking calendar to help you serve your clients better.
Zoho Desk is an HR ticketing tool that helps you answer all of your team's questions.
TimeDoctor: Track how long you work to make work-life balance easier.
Trello: Track the progress of tasks and projects collaboratively.
GetAccept: Make sure you start working with your team members on the right foot.
Google Workspace: Create and share documents on the go.
HubSpot CRM: Align the efforts of marketing, sales, and customer service teams.
Notion: Create, share, and manage documents during project collaboration.
Miro: Visual collaboration on infinite canvas for fast-moving teams.