Presenting to your remote team is key to collaborating when you can't be in the same room. But while we have plenty of software solutions at our fingertips, there's more to effective engagement than just having the right tools.
With many of us now working from home or moving to a hybrid workstyle, it's never been more important to prioritize good communication and collaboration.
Getting these practices right can help to avoid unnecessary back and forth (and wasted time and budget), get the best out of your staff and freelancers, and help avoid the awkwardness of misinterpreted briefs. But how do you deliver a good presentation in an increasingly virtual world?
In reality, virtual presentation tips are important even aside from the pandemic changing our office-based ways of working; whether you're dealing with freelancers working from home, working with colleagues in another city, or presenting an initial pitch to an interstate or overseas client.
In any case, you need to make sure you find the right tone, stay clear and concise, and keep your team focused. You should be looking to make it count every time you present to your team members, even if it's your day-to-day team.
So without further ado, let's delve into the best practices for group communicating and collaborating remotely with these five virtual presentation tips.
Engage your team
When working remotely, keeping up with consistent communication is really important. By now most of us have become masters at using video tools like Zoom and Google Hangouts. But, with so many virtual meetings and check-ins on our calendars, it's extra important to keep your team interested and engaged.
While engaging your team and audience is key for virtual presentations, it can also be applied to all kinds of meetings, including less structured WIPs and team catch ups.
Virtual meetings and presentations can benefit from adding some structure (think a theme, not an agenda). For example, choose a topic and brainstorm ideas for future projects. Or for easy, non-work-related engagement, there's no shortage of online games and quizzes.
Drawing games, like Gartic Phone can be a low-barrier way to involve everyone and are an especially good way to break the ice for newer teams.
Get interactive
Whether presenting to your immediate team, wider company, or external collaborators – interaction and engagement are always possible. One of the best ways to go about it is by adding interactive elements to your presentation.
Low-stakes interactivity can be appropriate if you've spent a session running through new systems or delivering training on internal processes. For example, use a quick poll to recap new information (often polls can be quickly added through your chosen meeting platform). Other types of easy wins could be adding interactive visual elements, like animations and GIFs.
If you're feeling more creative, try going a little bit further with something like a 'choose your own adventure' presentation. They're actually easier to create than you might think! You can set them up yourself in PowerPoint or with Google apps by hyperlinking between your slides.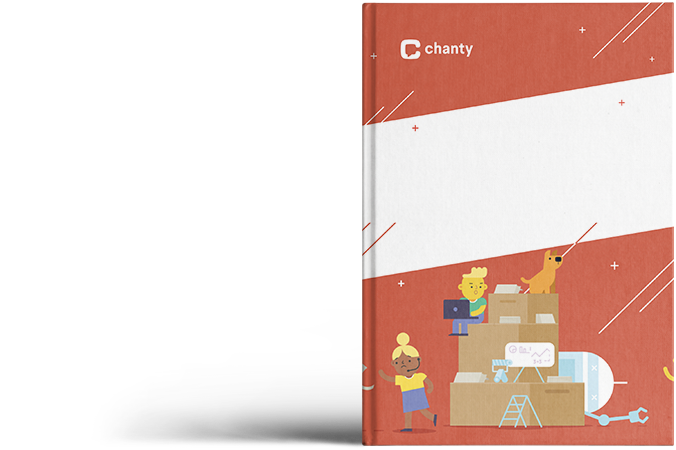 Communication issues at work?
"50 Surefire Ways to Improve Your
Team Communication"
Get eBook
Level up your presentation design
Here's a secret – even if you're working within the constraints of a straightforward PowerPoint presentation, most presentations can still be (at least a little) more fun and engaging. While the standard company template might suffice, it can be a good way to lose your team's attention if it's the tenth time they've seen something on the same template that week. In this case, the idea of using professional presentation templates is perfect.
Sprucing up your design can be a quick and easy way to refresh an otherwise stale presentation. When you're putting together your next slide deck, take a look at current presentation design trends and experiment with different kinds of data visualization or animated infographics.
Even changing up some colors or fonts can go a long way. (If you do, pastels are having a moment, and it's easy to create visual interest by subtly contrasting a serif and sans serif fonts). You can also have some fun with it by designing fancy text. Whether it's a big bold headline or a subtle accent in the body text, adding some interesting typography can really make your slides stand out.
If your presentation could do with some images, try using simple sketch-style or abstract illustrations instead of stock photography. There are lots of ways to switch it up and make your meetings and workshops more interesting by thinking more broadly.
Use a team collaboration tool
Not all tools are created equal. Preferably, they'll be intuitive and have all the kinds of functions you need – instant messages and group chats, tasks, content sharing, and the list goes on. Chanty is a great team collaboration tool that will be sure to keep your team aligned across any device with its Teambook interface.
But don't stop there. You can mix tools to compliment your main working hub. Collaborative organizational tools like Clickup, Figma, Trello and Google calendar can add more consistency for how your team is tracking milestones or ticking off tasks – or simply help out with your team being in the right (virtual) places at the right times!
When it comes to creating presentations, all types of collaboration tools are handy. They make it easier to communicate effectively and regularly, as well as send and store the clear, detailed briefs team members need to do their work.
Ask for your team's feedback and input
Lastly, never underestimate the importance of asking for feedback. This means asking well-thought-out questions – not simply asking a cursory, open-ended "What can be improved about x?". If you're asking for a specific input, put some work in yourself to frame or structure what kind of feedback would be helpful. (And when you're not actively asking for feedback, work to make sure open and honest communication is encouraged within your team.)
This is especially important during your presentation because asking for feedback can help make your team feel heard and valued. Depending on your preference, let them know at the start that you're open to suggestions or questions throughout, or alternatively, have set times for questions built into your presentations. And don't forget to keep a record of any feedback and ideas that are raised, so you can incorporate them into future presentations.
So that's it! Some of these tips are a matter of shifting your mindset, others require looking into what's possible and thinking outside of the presentation box. With these presentation tips, you'll get just as much engagement and positive collaboration with your team remotely as in person – and perhaps even more.