You're likely handling many projects at any particular time, regardless of what your business card says. It's certainly a regular weekday if you're calling a foreign client with Chanty while also sending out meeting invites and emailing your current reports to your boss.
Multitasking isn't just a hot trend; it has become the key to success. It's not easy to manage so many responsibilities at once, but it's relatively easier if you have great time management abilities.
You don't have to feel like you're being tugged in multiple directions to get through your workday without feeling accomplished.
The real kicker is that technology can act as a catalyst to improving your time management skills. Perceiving the importance of time management and scheduling, organizations have started to integrate appointment scheduling software. Using a range of apps and tools, you may attain maximum productivity with minimal effort. Let's look at ten of the best time management tools in more detail.
Chanty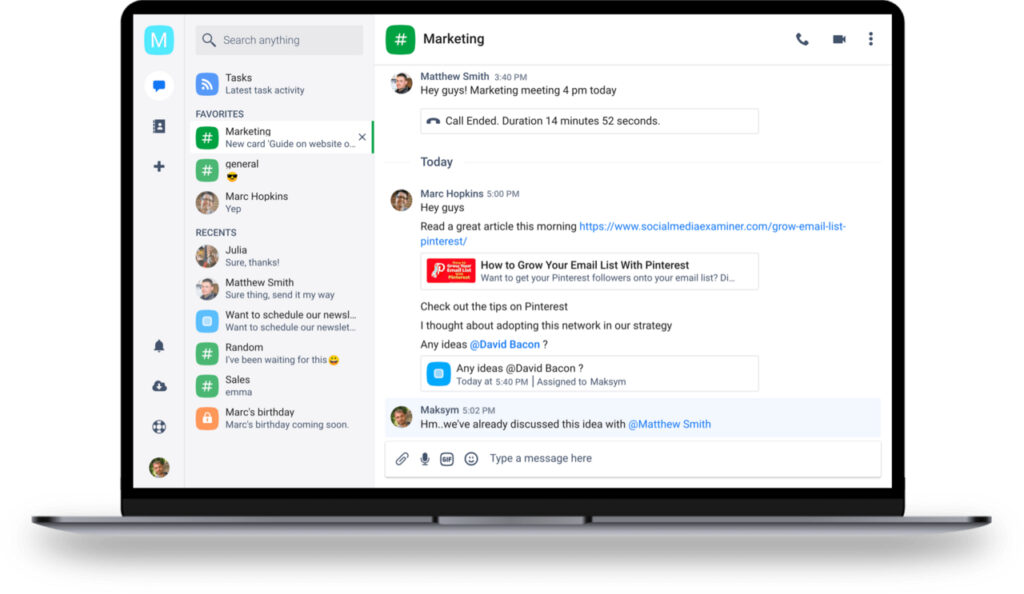 Chanty is a team communication and collaboration tool that helps you get all your work done together. It promises to increase your productivity and work more efficiently than before. As a result, you save a lot of time being unproductive or feeling like you accomplished nothing even after a hectic day,
Switching to the Kanban board can improve your workflow by allowing you to manage all of your tasks in one place from a bird's eye view.
Chanty can also be used for more than simply communication by combining other apps and avoiding the hassle of switching between them.
Key features
An unlimited conversation history
Audio and video conferencing
Searchable history
Kanban board for task management
With its efficient features, Chanty can assist your team if you struggle with:
Being productive during work hours
Collaborating while working remotely or in the office
Missing project deadlines
Lacking effective communication and time management
Pros
It's compatible with other project management software
Customized security features
Notifications tailored to you
The operating systems Windows, Mac, Linux, and Chrome are all supported
Chanty's user-friendly UI boosts your productivity
It features effective search functions that assist in locating the information needed
The app focuses heavily on task management.
The messaging functions concentrate on task assignment and completion
ProofHub
ProofHub is an easy-to-use time management program with robust project management and team communication capabilities.
It lets you construct timeframes and time summaries, which is an excellent method to keep track of how much time your employees spend on projects or tasks.
You have the option of manually monitoring time in timesheets or using a timer when it comes to time tracking. These timesheets can also be exported to make invoicing and billing more convenient.
Key features
Using online proofing tools to share input saves a lot of time
To capture time data, create numerous timesheets
Gantt charts in ProofHub provide a visual representation of projects
For Android and iOS users, there is also a mobile app
Price friendly
With its efficient features, ProofHub can assist your team if you struggle with:
Creating a less stressful task management environment for teams
Creating time estimates to determine how long it should take to complete tasks
Viewing time statistics for all projects, whether billable or non-billable, as well as project progress.
Entering the number of hours it takes to complete the task
Pros
Use timesheets for customer billing, payroll, estimating, and even time management by exporting them
Timesheets from the time section can be saved and used as needed
Make personalized time reports for projects and people
Using timers, keep track of how long it takes you to complete tasks
Tools for real-time reporting
Discussions, chat, and collaborative proofing are all part of the project status tracking process
Intuitive interface
Pocket friendly
Time Doctor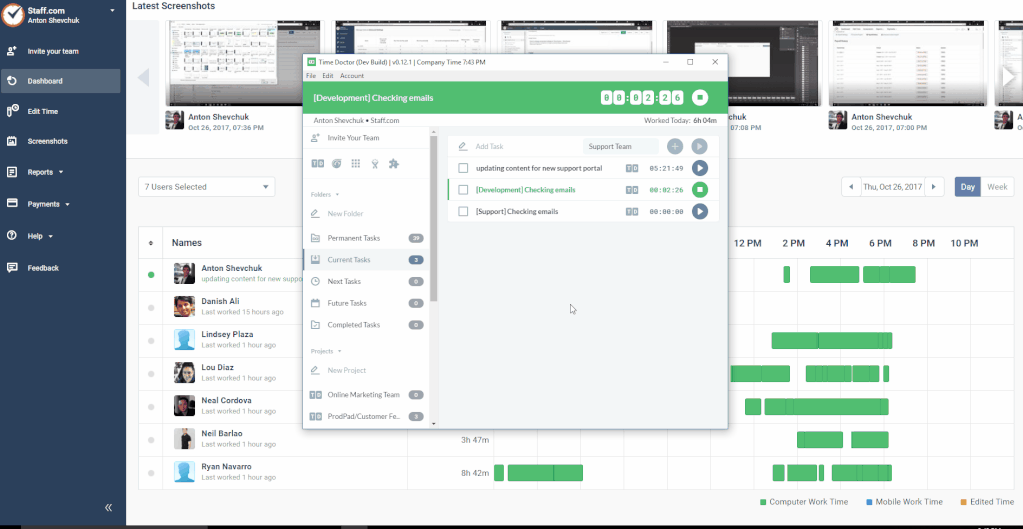 Managers, employees, leaders, and even freelancers are continuously seeking methods to boost their productivity and competitiveness at work.
To organize your time more successfully, you should be conscious of how you invest it.
Time Doctor keeps track of all of your weekday activities and provides you with real-time, actionable information to help you manage your time better at work.
Key features
Productivity ratings
Comprehensive reports
Integrations and extensions
Project and task management
Silent and interactive time tracking
With its efficient features, Time Doctor can assist your team if you struggle with:
Inability to focus on work
Not being able to track work hours accurately
Regularly missing project deadlines
Identifying the reasons why your team isn't productive
Pros
Detailed reports that aid in the understanding of time management
The operating systems Windows, Mac, Linux, and Chrome are all supported
Accurately bills all your clients with a robust invoicing management system
Data encryption that is state-of-the-art to assure security and privacy
You can keep track of time even if you don't have access to the internet
Customer service representatives who are quick to respond
For Android smartphones, a feature-rich mobile app is available
Provides low-cost pricing plans to fit a variety of purposes
Toggl Plan
This software will greatly assist you in getting things done if you are a busy project leader.
Toggl Plan gives you a live picture of your team's goals, allowing you to track performance and react fast on adjustments. It also generates a visual roadmap that ensures that everyone is on the same track, facilitating improved team cooperation.
Toggl Plan's Chrome extension connects to any other online tools you use, giving it the versatility that firms like Spotify, Buzzfeed, and Microsoft value.
Key features
Tracking time with reminders
Report scheduling
Auditing of time
Project dashboard
Calendar information
With its efficient features, Toggl Plan can assist your team if you struggle with:
Difficulty in tracking projects
Stressing over work management
Difficulty in planning and delivery projects
Difficulty in identifying timeline and roadmaps
Pros
Productivity and time management are improved
Helps ensure that all projects are completed on time
Effective for tracking and project management
Suggestions on delayed project reports and improvements
Intuitive and simple user interface
Compatible with a wide range of applications
Easy to set up compared with other time tracking apps
Employers can get a daily, weekly, or monthly email with a time tracking report
Zapier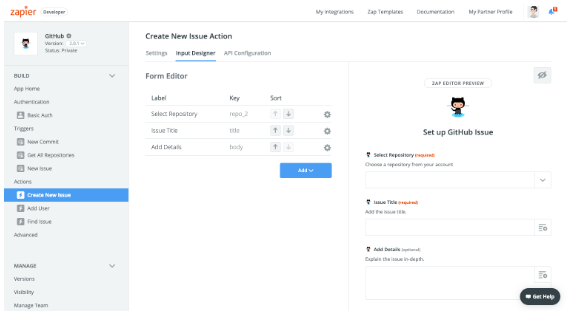 Zapier is a web-based automation platform that allows you to link two or more apps to automate operations. With Zapier, you can link and automate your apps in a matter of seconds.
You may use Zapier to find your favorite apps and select from a list of "Zaps" (integrations), or you can construct your own process.
Key Features
Accounting integration
Activity dashboard
Application management
Automation of business process
Automation of work by written codes
With its efficient features, Zapier can assist your team if you struggle with:
Automating work-related activities
Connecting various software and integrations
Automate repetitive tasks and shift in focus
Hiring an expert to get tailored automation built for you
Pros
Easy to use interface
Efficiently connects all other software you rely on with 3,000+ integrations
A simple and easy-to-use dashboard that keeps everything in order
Thousands of useful apps have excellent support
Each Zap is simple to put up, regardless of coding knowledge
Paths, filtering, formatting, and webhooks are just a few of the advanced features
Even the most complex workflows can be automated in multiple steps
Budget-friendly
ClickUp
ClickUp is a dynamic productivity tool that allows individuals or teams of any size to better manage their time, interact more efficiently, and keep all of their work in one place. It's fully customizable and provides a feature-rich experience for staying on track, meeting goals, and keeping track of project updates.
With ClickUp's global time tracker and time estimates capabilities, you can challenge yourself and increase your productivity on any job.
Key features
Multiple integrations
Task management that can be customized
Keep track of how much time you spend on various tasks
Gantt charts can be used to organize tasks
To visualize your plan, workflows, and ideas, make mind maps.
With its efficient features, ClickUp can assist your team if you struggle with:
Being productive during the day
Making customized reports
Customizing calendars
Monitoring your team
Pros
Allows you to save time and achieve your goals more quickly
Allows you to estimate how long it will take your coworkers to accomplish tasks and subtasks
If you're working on a large project, divide your time across tasks
Keep track of how your team spends their time
With its drag-and-drop functionality, you can rearrange dates for missed meetings in a calendar view
The completion rate of your tasks over the last 1 to 12 months is displayed in a timeline format
Allows you to see time entries, apply custom filters, label them, and generate time reports in general
Create reports for each team member
Scoro
Are you looking for a time management solution that can help you enhance your time effectively and optimize your workflows? Scoro allows you to manage all parts of your business in one location, including time management, activity scheduling, and tracking whether everyone on your team is using their time effectively.
Scoro allows you to schedule activities and projects, define priorities and timelines, share calendars with your team so they are always up to date on updates, and track progress with the Project Timeline feature. Scoro's Planner makes it easy to plan tasks, distribute resources, and keep track of time like an expert.
Key features
Keep track of both real and billable time
Reminders for late invoices, as well as planned and recurring invoicing, can all be automated
Clients are emailed invoices depending on the hours completed
Project, task, and customer management expertise
Work, sales performance, budgets, and other metrics can all be reported
With its efficient features, Scoro can assist your team if you struggle with:
Monitor who's working on what
Time tracking of tasks and subtasks
Optimize and analyze activities using dashboards
Monitor the billable and non-billable time your co-workers spend on meetings and projects
Pros
Produce thorough work reports
Divide reports into categories like activities, projects, partners, clients, and more
Putting your team's time to good use by identifying and resolving problems
Reduce the amount of time you spend on activities that take up a lot of your time
Helps to increase productivity
Capabilities for time locking
Dashboards with lots of themes
Provides low-cost pricing plans to fit a variety of purposes.
Harvest
Harvest is a time tracking tool that can help you log time, build successful invoices, and keep a closer watch on your labor expenditures. It works across all of your devices, both on the web and mobile apps.
Harvest is one of the most well-known time and invoicing applications available. Harvest makes it simple to log time and charge your clients with its basic interface and feature set.
Key features
Creating estimates and invoices based on the time worked
Time tracking from any browser, Mac, iPhone, or Android
Integrations for tracking time across all your favorite project management tools
Real-time reports on time spent
Keeps a track of billable hours and expenses for easy invoicing
With its efficient features, Harvest can assist your team if you struggle with:
Creating estimates and bills based on the amount of time spent on the job
Integrations for monitoring time across all of your favorite project management applications from any browser such as Mac, iPhone, or Android
Reports on time spent in real-time
Keeps track of billable hours and expenses so billing is simple
Pros
Start and stop timers as you work through your to-do list
It's compatible with the apps you're already using
Keeping track of spending is as simple as taking a picture
Correct time tracking errors directly from the reports
Weekly, review and approve your team's timesheets
Pocket friendly
Easy-to-use interface
A very responsive customer support team
RescueTime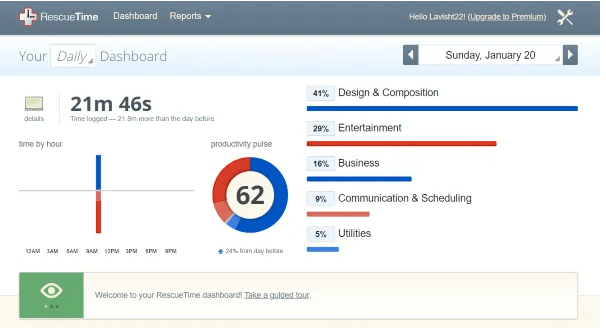 RescueTime is a desktop or mobile device tool that works quietly in the background and provides weekly reports outlining where you're spending your time.
You may really configure notifications that appear when you hit a self-imposed restriction or prohibit your access to certain time-wasting websites.
RescueTime is a well-known productivity tool. To boost your productivity, you must be able to see where you spend the majority of your time. As a result, ResueTime's insights will show you where you spend the most time.
Key features
Online and offline time tracking
Friendly user interface
Setting smart goals
Customized reminders
With its efficient features, RescueTime can assist your team if you struggle with:
Concentrating on the most crucial things
The ability to keep track of events that happen offline
Obtaining comprehensive reports, trends, and insights
Setting smart goals and receiving real-time notifications
Pros
Reports and insights
Alerts in real time
Distracting websites are blocked
It's compatible with all of your favorite apps
Limit the amount of time you spend on certain applications and websites each day
Users' time spent on apps, websites, and even specific papers is automatically tracked
Create alerts and notifications
User friendly interface
Infinity
Everyone has their own preferences when it comes to time management, which can make life difficult for time management software designers. Infinity's primary idea is that you start small and work your way up to whatever goal you have in mind.
What you can do is only limited by your imagination. You may handle everything from a simple personal to-do list to extensive project management for several team members using the tool's building blocks—workspaces, boards, folders, and items.
Every item has adjustable properties, which are the primary means of tailoring your time management system to your specific needs.
Key features
Choose from six different perspectives to find the one that best suits your needs
The structure of Infinity makes it simple to organize and alter workflows
Specify your jobs with over 20 parameters that can be customized
Establish reasonable timelines and keep track of everyone's progress on tasks
With its efficient features, Infinity can assist your team if you struggle with:
Getting a comprehensive picture of all your teammates' updates on the boards
Organize and display the information you want or need to view right now
Sort tasks by due dates or start dates
Investing effort in time-consuming administrative duties and repetitive tasks
Obtaining detailed information on your team's productivity and efficiency on a weekly or monthly basis
Pros
Promising roadmap
Easy to use
Responsive support team
Saves time by increasing productivity
Great for collaboration between employees
Different templates are supported for all of your needs
Infinite storage and structuring of project data
Determine when someone is behind schedule and requires additional time to finish duties
With its efficient features, ProofHub can assist your team if you struggle with:
Creating a less stressful task management environment for teams
Creating time estimates to determine how long it should take to complete tasks
Viewing time statistics for all projects, whether billable or non-billable, as well as project progress.
Entering the number of hours it takes to complete the task
Apploye
Apploye time tracker will help you increase the productivity of your team, by tracking and managing time more effectively.
It makes it easy to understand how time is being spent by the employees or team members. Apploye's beautiful UI will also rank employees based on productivity and total tracked time.
Apploye gives you detailed reports to take informed decision for your business.
Key features
Accurate time tracking with detailed reports
Project management and task time tracking
Timesheet Approval
Clock in, Clock out
Real time view of who are working right now
With its efficient features, Apploye can assist your team if you struggle with:
Managing projects and tasks with deadline
Tracking billable work hours.
Managing remote workers
Keeping your team productive
Pros
Comprehensive reports for detailed insight into the work
Available in all the major operating systems and Chrome browser.
Mobile apps support employee GPS time tracking.
Managing payroll of employees or Invoice clients based on the time tracked.
Excellent customer service, with very friendly and fast response
Offline time tracking helps, even if you face issues with internet.
Increase productivity by tracking time with projects and tasks.
Pricing is affordable, compared to other time tracking systems.
Conclusion
All of the applications on this list do an excellent job of helping you increase your performance and manage your time effectively.
Try a handful to discover which one best suits you, or if you're feeling adventurous, try them all!
If you only want to use one time management software, Chanty is a good choice because it can handle all of your project and time management needs in the most convenient way possible.