Slack has quite a buzz. With 10 million+ daily users and more than a $27 billion valuation, it is undoubtedly one of the most popular team communication platforms.
However, Slack has gained a lot of competitors throughout the years (Microsoft Teams, Facebook Workspace, to name a few) that offer highly competitive features and packages. And since Slack's price tag is quite high many tools deliver more affordable solutions. So, who is breathing down Slack's neck? Let's find out.
1. Chanty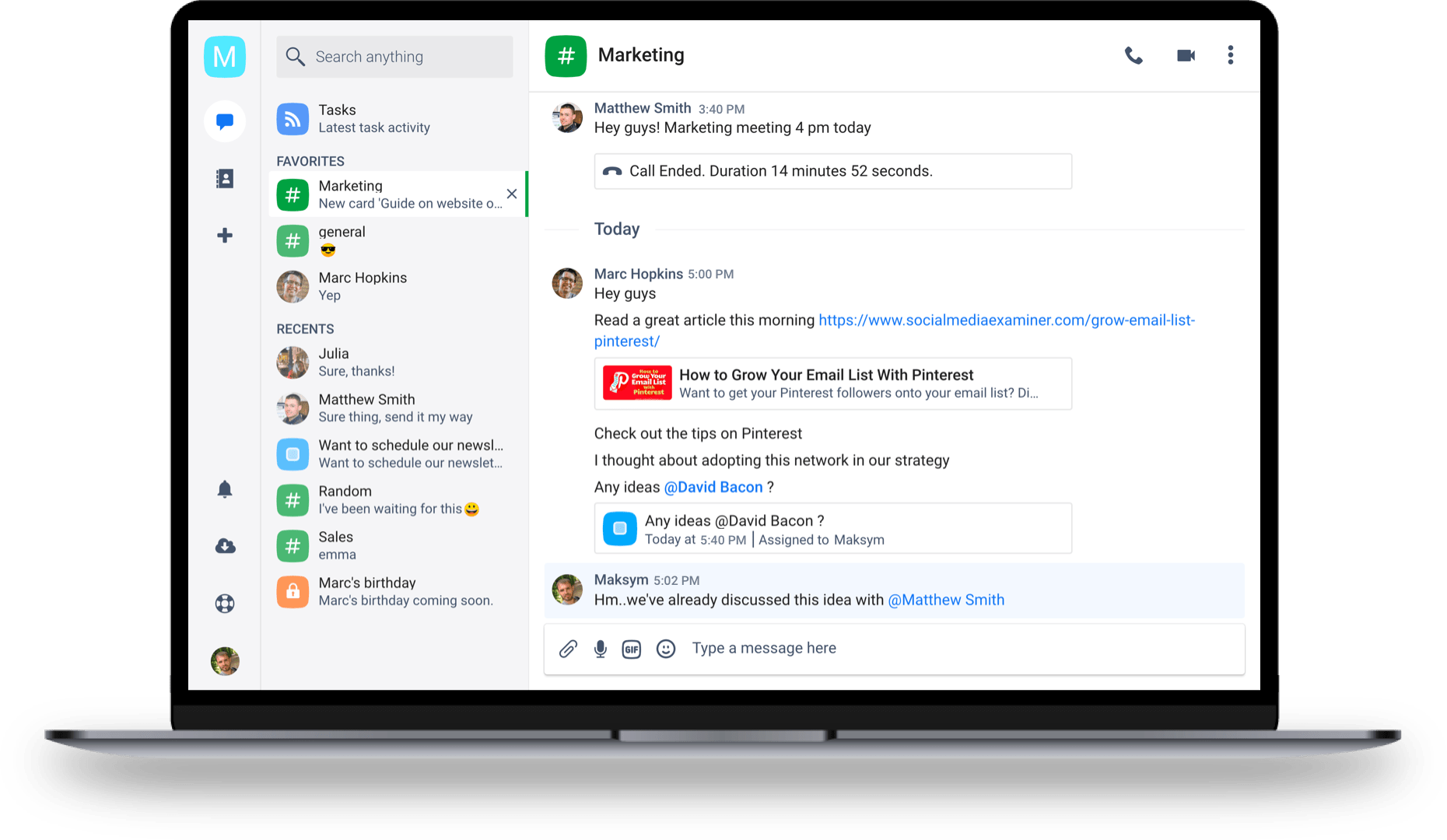 Let us start with Chanty—a simple team chat that we are passionately building. Our app lets you communicate with your colleagues via text messages, audio / video calls, or voice messages on the go. 
Similar to Slack, chats are organized into public, private and one-to-one conversations. We've made sure all files and links that your team shares are neatly organized and easy to find.
The built-in task manager lets you turn any message into a task, assign it to team members, and get notified when the task is done. You can also keep track of your own to-do list for the day. 
Audio and video calls with screen sharing are also available in Chanty, as well as voice messages.
If you are looking for a fast and secure team chat with built-in task management features you should definitely give it a try. Our customers appreciate the clean interface, friendly UX, and unlimited message history in the freemium plan.
Moreover, you can connect Chanty with a myriad of apps through Zapier. 
Watch the latest video about getting the most of Chanty! 😎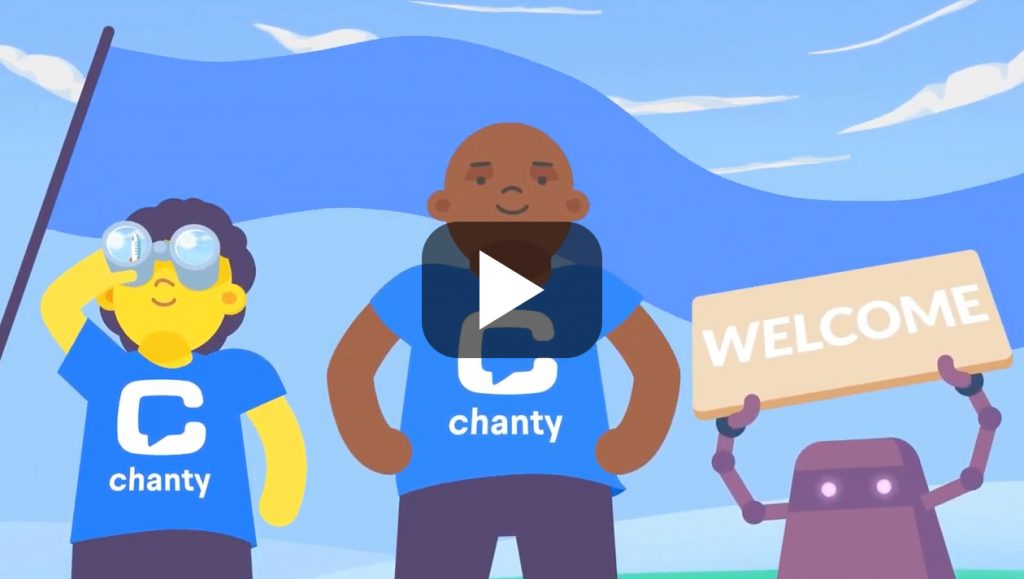 If you have any questions about Chanty, feel free to leave a comment. Otherwise, feel free to join our close-knit community of Chanty users and give our app a try ⬇️ We are looking forward to your feedback.
Here's what our early adopters have to say about Chanty: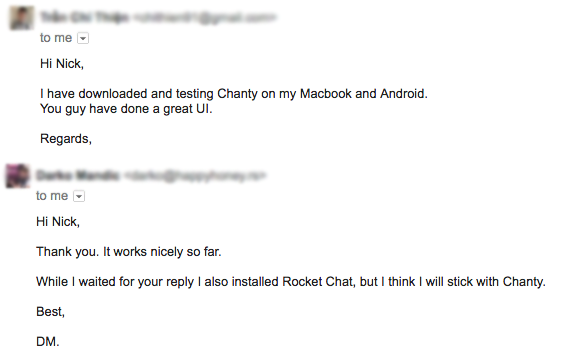 We are looking forward to getting you onboard 🙂 
2. ProofHub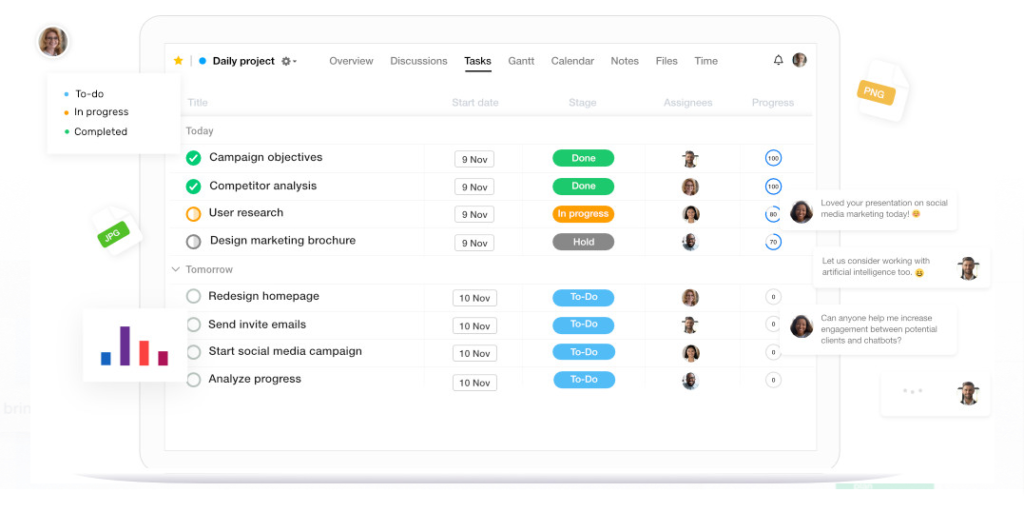 While ProofHub is more of a project management and team collaboration tool with inbuilt communication features, Slack is primarily a messaging app for businesses that gives people easy access to all the information they need. 
ProofHub is designed to help users manage and organize all their work on a centralized platform while collaborating seamlessly with others. Like Slack, ProofHub focuses heavily on team communication with features like Instant chat, Discussions, Real-time updates, Announcements, etc. 
With its intuitive and neat user interface, ProofHub is more effortless to use as compared to the overwhelming user interface of Slack. When you send direct messages in ProofHub, you can see if the recipient has read your message or not, which is something you can't figure out in Slack. 
With ProofHub, you don't have to worry about losing your chat history as Slack deletes your entire conversation after 14 days. 
However, unlike Slack, ProofHub does not allow team members to communicate with people outside your organization. ProofHub's "flat" pricing plans start from $45 per month when billed annually, with unlimited users allowed.
3. Rocket.Chat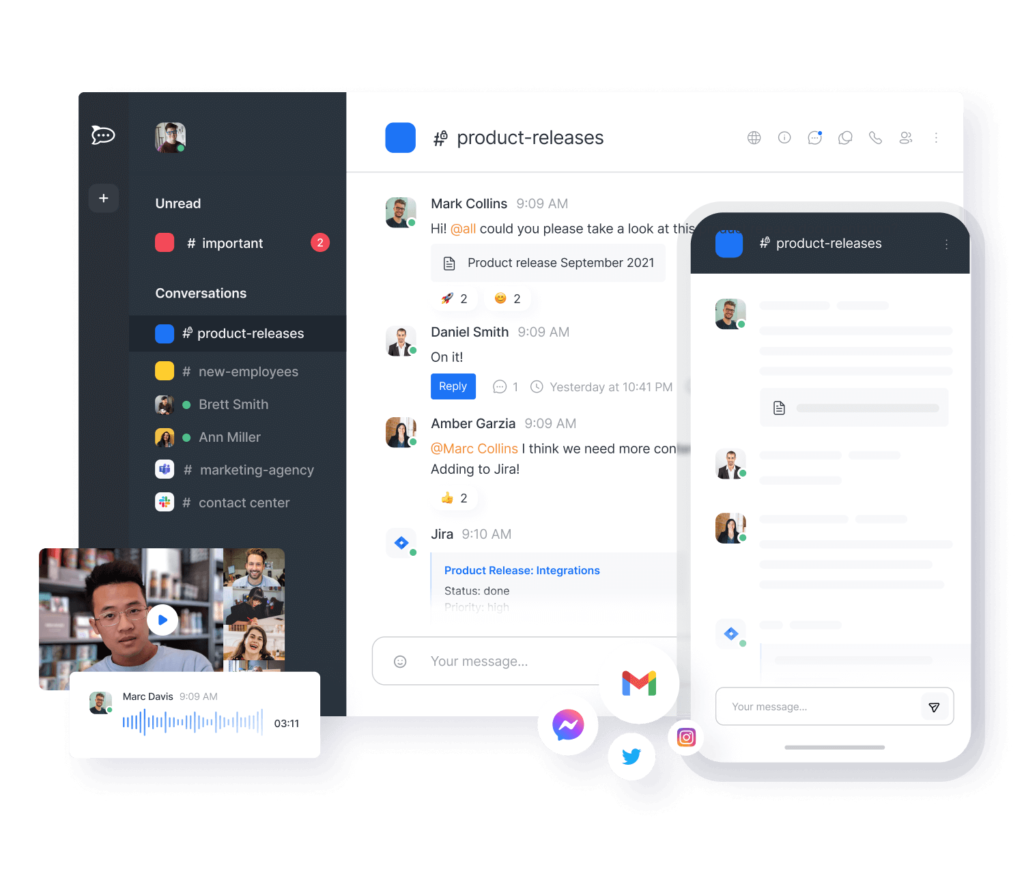 Rocket.Chat is an open-source alternative to Slack. Besides messaging, it offers audio and video conferencing through native integrations with Jitsi and Pexip. Users can chat via direct messages, channels, discussions, teams and threads.
Rocket.Chat enables users to talk to their colleagues via their platform even if they're not using Rocket.Chat on their end – making it easier to stay in touch with external collaborators or even clients. Due to its security features and the possibility of on-prem hosting, it's used by organizations in highly-regulated industries such as government, healthcare, and finance.
Rocket.Chat has a free plan and a paid enterprise plan that starts at $7/user/month (with minimum 25 members) or $35/agent/month (with minimum of 5 agents).
4. Flock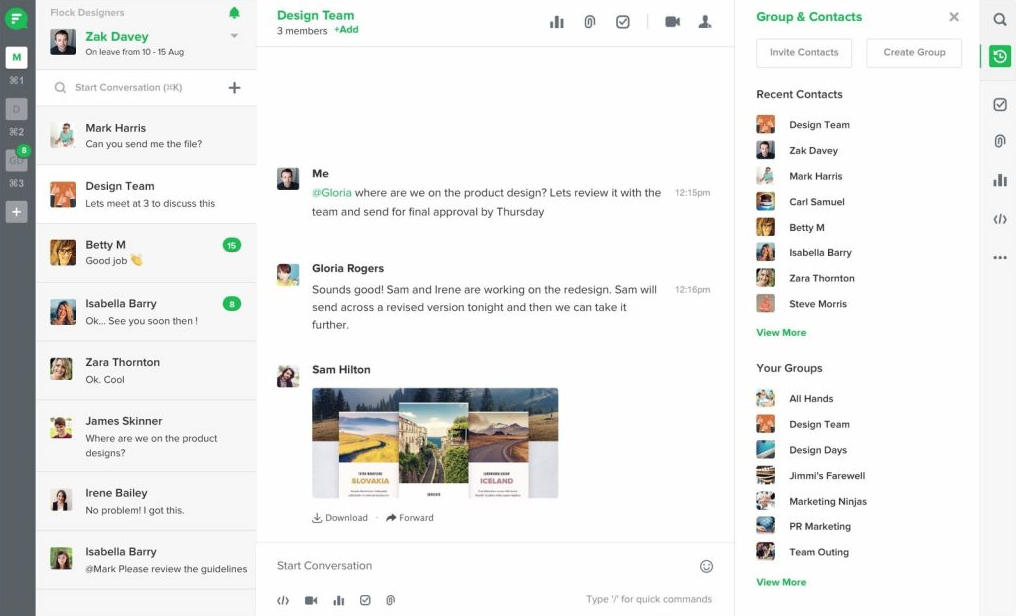 Flock is an Indian platform that appeared a year after Slack. Since 2014, it argues to have witnessed a growth rate of over 200%.
Last year Forbes claimed that Flock is "richer in features" when comparing to Slack, while also having "deep integrations." "The broad multiple languages support goes in its favor," as stated by the Forbes contributor. However, at our review, we noticed that Flock's interface seems overloaded, less convenient and user-friendly. We also found that Slack has a wider stack of options when it comes to notification settings and easier file sharing.
While comparing the free plans of Slack and Flock, the latter lets 8 users participate in a video conference (compared with only two users in Slack). Besides, Flock has unlimited integrations with apps – although it has far less of them than Slack. Flock's paid plan starts with $4.50 a month while Slack's Standard plan is about twice more expensive.
5. Ryver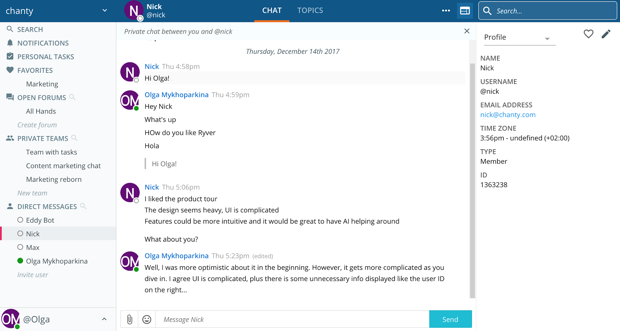 The main feature Ryver boasts is having a Trello-like native task manager. It suggests turning any messages into trackable tasks can happen with the push of a button. Also, Ryver claims their tool is more agile, while Slack's free version is too restrictive. Among its considerable pros – a built-in integration with FreeConference app, allowing audio/video conferences with up to 400 people.
However, when testing Ryver, our team faced some possible disadvantages. The main one might be the integrations issue. Ryver integrates via Zapier which requires a Zapier paid account if you use integrations heavily. Also, Ryver seems to have a quite stuffed interface, no notifications for specific keywords or @mentions, and a search with no file or date-specific options.
Ryver has recently changed its pricing from free to a starter plan at $69 for teams of twelve and more regardless of the features required, which frustrated some users. Other plans include a standard package that charges $129/month for up to 30 users, and a medium package that charges $4.67 for 30+ users.
6. Facebook Workplace