If you've been using Google Workspace in the past years, you must have noticed one aspect of their offer – Google Chat. While it has changed over the years, Hangouts has stayed as one of the most prominent team chat apps out there, primarily because it's so well integrated into Google's offer.
If you've been following our blog, you may have noticed that we love comparing team chat apps in our team chat wars. While getting familiar with other apps, we learn about them and find out how to make something better with Chanty. If you're interested in a workplace chat app that is simple, easy to use and affordable, consider giving Chanty a try!
Today, we want to find out how Google Chat compares with the most successful app in the game – Slack.
Google Chat vs. Slack: overview
Compared to Hangouts, Slack is kind of a dinosaur. Launched in August 2013, Slack was created by Steward Butterfield, co-founder of Flickr. Seven years later, Slack is one of the most successful startups in the world and the fastest-growing software company ever.
In comparison, Google Chat is much younger. It was launched in 2017 for early adopters, with the official release happening in February 2018. Ever since, Google has added a large number of useful features, including notification snoozing and emoji reactions.
If you're in a hurry, here is a table of a quick overview of Slack and Google Chat:
Slack
Google Chat
Plans
Free (Up to 10k messages, 10 apps & integrations, 1-to-1 video calls)

 

Pro $7.25 per active user, per month (billed annually)

Business+ $12.50 per active user, per month (billed annually)

Available in Google Workspace editions:

Basic $5 per user, per month

Business $10 per user, per month

Enterprise $25 per user, per month

Message history limit
10K messages in Free plan; unlimited in Standard and Plus plans
Not specified
Audio/video calls
Unlimited 1:1 voice and video calls in Free plan;

Conference calls for up to 15 participants in Paid plans

Available via Hangouts Meet, the maximum number of users – 25 in Basic and Business plans and 50 in Enterprise plan.
Integrations
10 integrati2ons limit in Free plan, 1000+ integrations in paid plans
150+ integrations
File storage limit
Free plan: 5GB file storage for a team

Pro plan: 10GB per user

Business+ plan: 20GB per user

Basic Google Workspace plan provides you with 30GB storage, Business and Enterprise give you unlimited storage
Screen sharing
Unavailable in Freemium version, available in paid versions
Via Hangouts Meet in all plans
Interface color options
Custom sidebar themes
Not specified
Conversation threads
Yes
Yes
Now, let's go into more detail.
Google Chat vs. Slack: pricing
Let's get the obvious out of the way first: Hangouts does have a freemium version, although it's extremely limited. So, if you're not ready to spend money on a team chat app, it's clear that Hangouts won't be the right fit for you.
If you do want to spend some cash, it's worth considering Hangouts. Bear in mind that it doesn't come as a separate product – it actually comes with Google Workspace. If you're already using Google Workspace, it's a no-brainer to try this tool out. If not, it's worth considering the extra perks of Google Workspace such as more file storage and the ability to use all of the tools that come besides Hangouts.
To make it clearer, here is a table comparing the pricing of Slack and Google Chat:
Slack
Free
Search up to 10k messages
Up to 10 apps & integrations
1-to-1 video calls
Pro

$6.67 active user/month (billed annually)

Unlimited search
Unlimited apps
Group calls with screen sharing
Guest accounts & shared channel
Business+

$12.50 active user/month (billed annually)

Some business-grade features
Google Chat (Google Workspace editions):
Google Meet

Free

15 GB storage

Up to 25 users in video and voice calls

Business Individual

$7.99 USD per user, per month

Unlimited storage and archiving

Up to 100 users in video and voice calls

advanced search (across content in Google Workspace)

Enterprise

$25 per user, per month

Some advanced control and security Google Workspace features
Google Chat vs. Slack: onboarding
The onboarding process in the two apps is fairly similar. Both tools will welcome you with a few modal boxes, with basic information to get you started. Once you join a workspace, both Hangouts and Slack will give you boxes that help you get familiar with the key features of the app.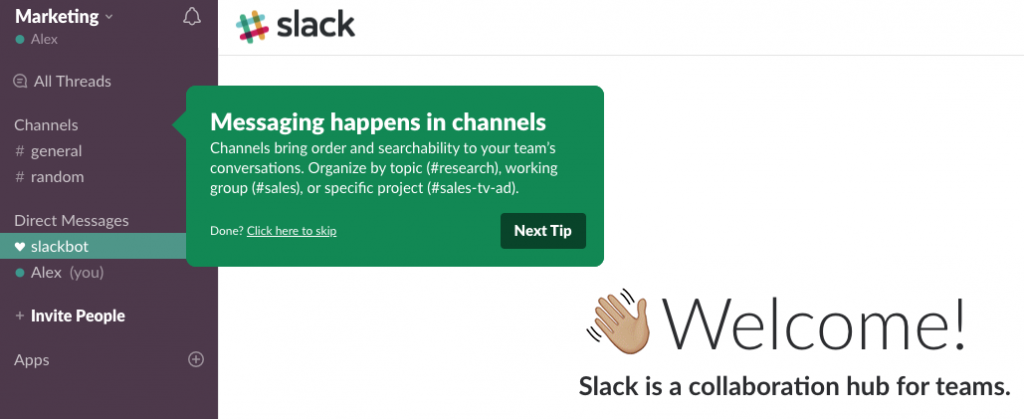 A box with pointers in Slack
Google Chat vs. Slack: design and UX
Both tools have vertical layouts with just two basic fields: contacts, bots and settings on the left and conversations on the right. Also, both Slack and Google Chat come with a smaller horizontal panel for search and additional features.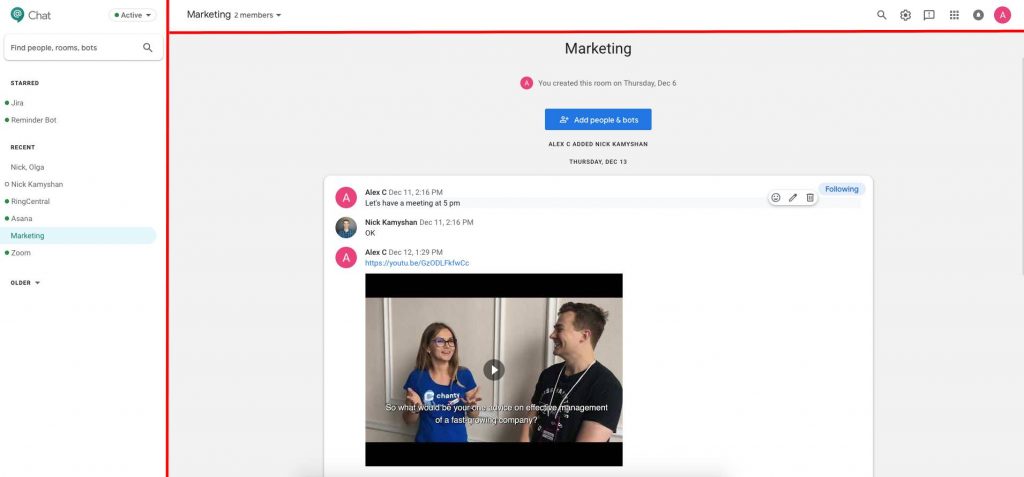 Google Chat layout
You can't customize your workspace in the web version of Hangouts, while Slack has this feature.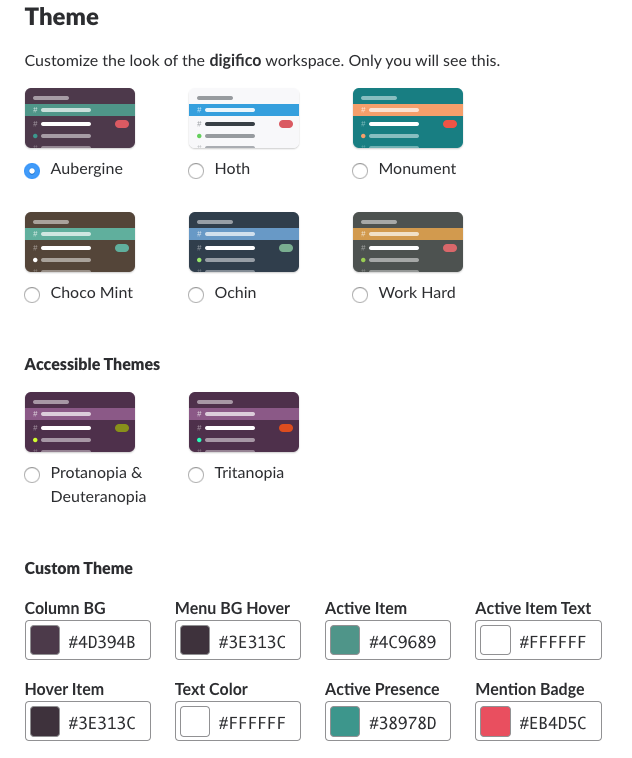 Options for customizing your workplace in Slack
Google Chat vs. Slack: messaging
This is one aspect where the two apps are very similar. Both have special places for group conversations: they are called Rooms in Google Chat and channels in Slack. Both apps let you send private messages (one-to-one), as well as group ones. However, there are some differences.
First, Rooms in Google Chat are private by default. No one outside of your Google Workspace can see them or join them unless they are invited. On the other hand, when you create channels in Slack, you choose between making them public or private.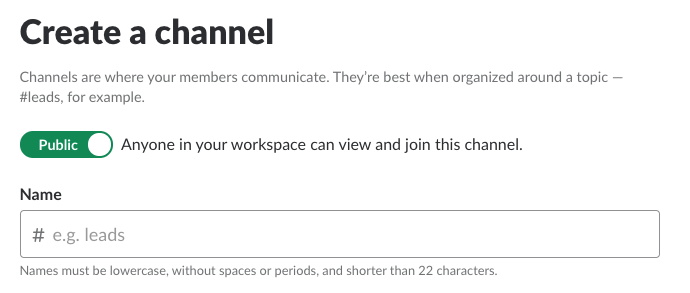 Moreover, Hangouts doesn't have something similar to public channels in Slack.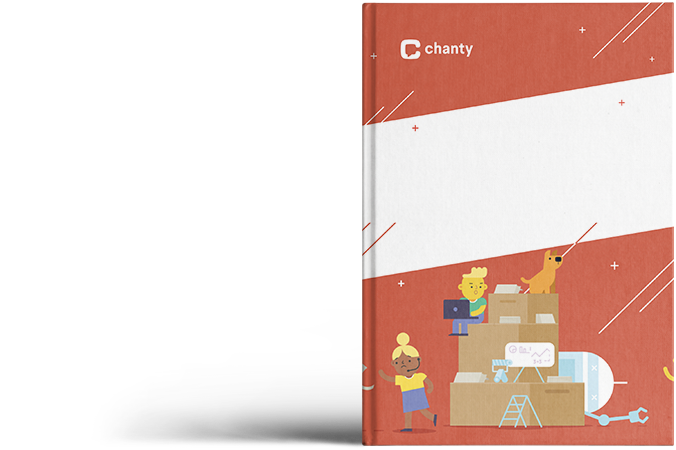 Communication issues at work?
"50 Surefire Ways to Improve Your
Team Communication"
Get eBook
Two, Google Chat bases its entire public communication on threads. On the other hand, threads are an additional feature in Slack.
Once you launch Hangouts, you're using threads, even though you may not know it. You can start a new thread at any time.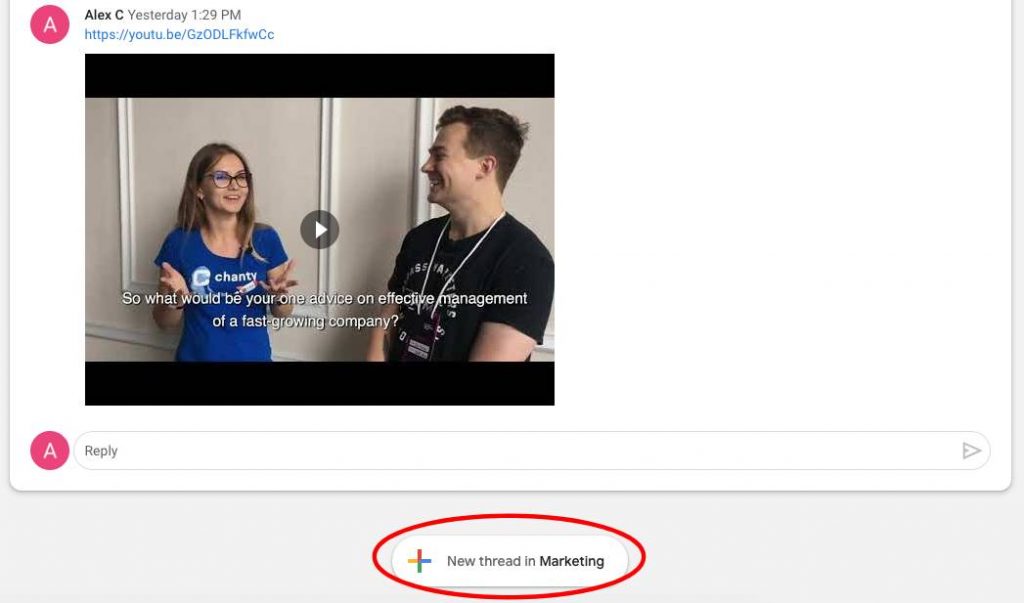 In Slack, you can use threads if you like, but they are completely optional. Each channel is like a chatroom that focuses on a single topic. If you want to spread the conversation, you can open up a thread. However, this is not a primary feature in Slack.

Threads in Slack
Third, Google Chat has Smart Reply. On the other hand, Slack allows you to create posts and add code snippets.
While not an ideal comparison, it's worth mentioning that these features are unique for each of the tools mentioned.
Smart Reply is a feature that you've probably used in your Gmail inbox. The algorithm will anticipate what you want to write and offer you smart reply suggestions, which can be rather neat and save some time every day.

Slack has something unique too – you can create posts within a single message, as well as add code snippets. Also, something else that some users may appreciate: Slack has more text formatting options so you can edit your text in a variety of ways.

Formatting options in Slack
If you want to do some message formatting in Google Chat, you have to snoop around a little bit to find this feature. If you don't know the usual text formatting commands (such as adding an asterisk before and after a word to make it bold), you'll have to search a bit to find the text formatting features in Hangouts.

As you can see, the two tools are slightly different when it comes to messaging, so it's a good idea to try both and see how you like them before committing.
Google Chat vs. Slack: Notifications
To keep it short and simple, Slack's notifications are much more powerful and diverse than those in Hangouts.
First, you can set up notifications for specific channels and keywords in Slack. Moreover, you can set up your Do Not Disturb mode for certain hours in the day.

Slack DND notifications
On the other hand, Google Chat lets you set up different notifications preferences for your devices – web, email, desktop and mobile.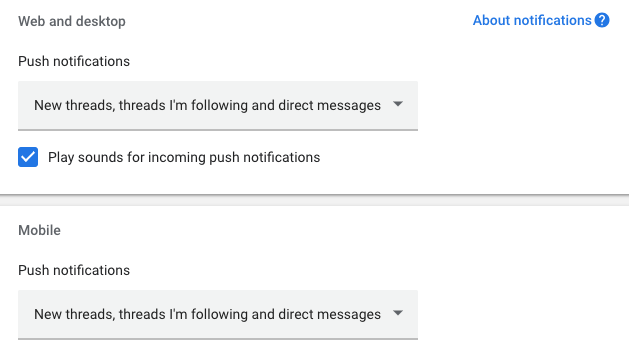 Notification settings in Google Chat
Slack does the same thing but in a very limited manner – you can only set up notifications for periods when you're not active on desktop.

Google Chat vs. Slack: search
Here are the basic remarks we have after using the freemium versions of both apps.
First, Slack's search is more advanced.
Both tools let you specify results for a specific person, channel and file type. However, Slack is more advanced – you can search within a specific time period and you can even exclude some channels from your search.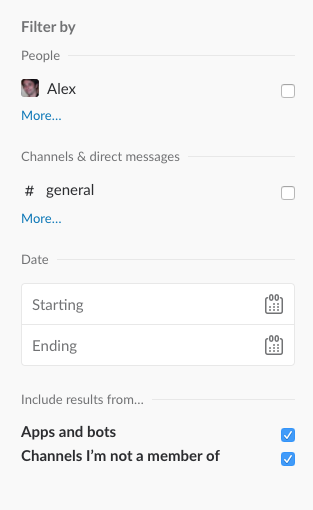 Search filters in Slack
Second, Slack lets you search within documents.
If someone sends you a document and you forget what it's called, don't worry. You can search the document based on the words mentioned. This is really useful if you work with a lot of Word or PDF documents.
I wanted to test out this feature, so I sent a document to a colleague, one of the ebooks which we wrote. I typed the name of the last chapter in the search box, and of course, Slack was able to find it.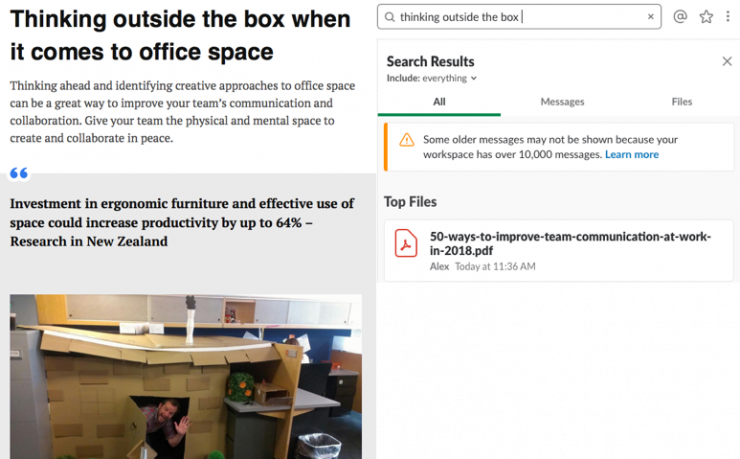 A snippet of the book Slack found it!
On the other hand, if you want the advanced search options in Google Chat, they are only available within the Business and Enterprise packages in Google Workspace. When you upgrade to these plans, you can search your entire company's content in Google Workspace, which includes Gmail, Drive, Docs, Slides, Calendar and much more.
Integrations
Once again, this section will be sort of lopsided, for one reason. At the moment of writing, Google Chat has around 50 available integrations, while Slack has more than 2,000. So it's a good idea to check your most-used apps and see if they integrate with Slack or Hangouts before choosing them as your team chat app.
I wanted to test out integrations really quickly, so I tried to connect the Reminder Bot with both apps and everything went great. You can easily connect the service in both tools if you just follow the instructions.

Using Reminder Bot in Slack
Both apps have integrations with task management tools like Asana and Trello. Slack has an Actions feature, which lets you create and finish tasks without leaving the app, which is something I didn't find in Google Chat.
By the way, one app that lets you create and manage tasks directly from your chat is Chanty. Your workflow will be even smoother than it would be if you integrate a third-party app like Asana or Trello. If you're ready to give Chanty a try, sign up for a free demo today!
Slack vs. Google Chat: voice and video calls
Before going any further, let's mention one important fact: you cannot invite more than 15 people on a single call in Slack, no matter which plan you choose. If you're on the free plan, you can only make one-on-one calls.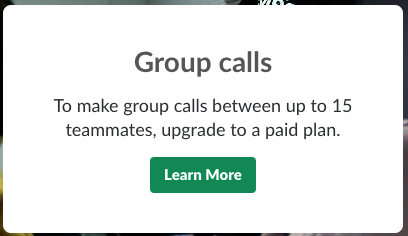 Notification about Group calls limit in Slack
If you want to have video calls in Google Chat, you have to use Hangouts Meet. With the most basic Google Workspace account, you can have calls with up to 50 team members. If you upgrade to Business or Enterprise, the number increases to 100 call participants. However, both apps let you bypass this limit by connecting with third-party apps and integrations.
The second difference is that it's easier to call people in Slack – it's just one push of a button. In Google Chat, you need to click quite a few buttons to start your call.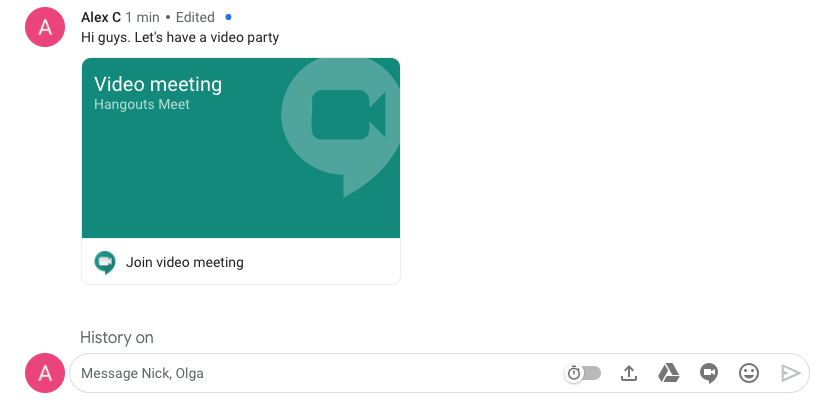 Both tools let you talk during the video call, mute your microphone or turn off your camera.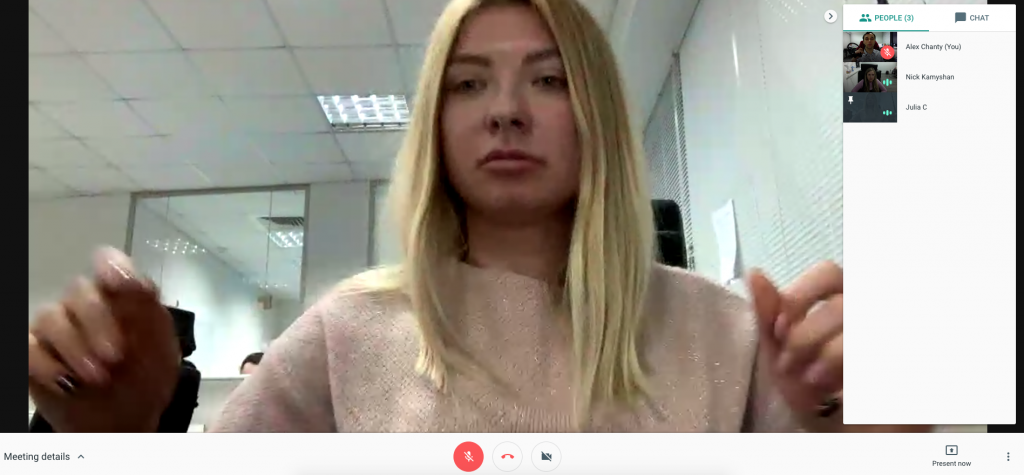 Chanty team is testing video calls in Google Chat.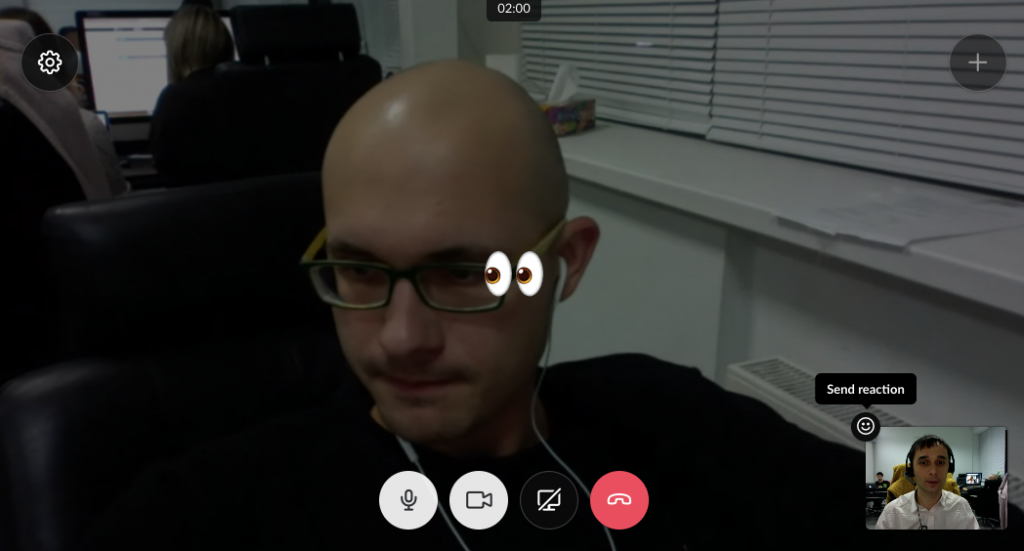 In Slack, there's a fun feature unavailable in Hangouts Meet. You can react with emojis to what your colleague said.
Wrapping up
If you want a quick summary of the comparison between Slack and Google Chat, it would be this: Slack has more features and Hangouts is easier to use.
If you're deciding which of them to use, consider the following:
Pricing. Google Chat doesn't have a premium version and Slack does. The cheapest Hangouts plan is $7.99 per user per month while Slack's cheapest plan is $6.67 per user per month.
Messaging. Google Chat is based on threads, while this is merely an extra in Slack.
Notifications. Slack's notification settings are more diverse. However, both tools have basic notification functionalities.
Search. Both tools let you search messages, links, and file names. Slack has the extra feature of searching within documents, even in the free version. In Hangouts, you can only do this with a Business or Enterprise plan.
Voice and video calls. You can only call up to 15 people in Slack, no matter which plan you are on. In the free plan, you can only make one-on-one calls. In Hangouts, you can talk with up to 250 people, depending on your chosen plan.
If you're still looking for a great team chat app but you cannot decide between Slack or Hangouts, why not try the third alternative? Chanty is an intuitive team chat app that lets you communicate and collaborate with your team with ease. Besides text messages, it also supports audio and video calls, screen sharing, voice messages, task management and much more.
What's more, Chanty offers an unlimited search history and unlimited messages even in the free plan. If you want to learn more, book a free demo today!